Having the right backpack is essential. You might need it for carrying your laptop to work or you might need it for a two day camping trip in the mountains – perhaps you even need a versatile model for both situations. If so, you have come to the right place.
In this Mystery Ranch Urban Assault review, we're going to cover everything you need to know about this backpack, what its pros and cons are if the Mystery Ranch Urban is worth the price and if there are any other alternatives on the market.
Before we get into our full review below, here is a quick snapshot of our thoughts on this backpack:
The Mystery Ranch Urban Assault backpack provides many great features such as water resistance, a pretty cool design that benefits from the 3 zip system for easy access. While it falls down on a few points such as its cost and limited versatility, overall it is a sturdy backpack that is made by a reputable and well-known manufacturer.
Pros and Cons of the Mystery Ranch Urban Assault
Pros
Offers good water resistance
Cool design with easy access to the top pack
Good storage space at 21L
3 zip system
Cons
Straps can make it a bit uncomfortable
The price tag can be steep for some
Can hold a laptop but not ideal for bulkier devices
Introducing the Mystery Ranch Urban Assault – In Depth
Mystery Ranch backpacks are among the most popular on the market. Their products are widely used and known for their durability coupled with being reliable in many situations.
We've looked at several types of Mystery Ranch backpacks in the past from their ASAP Assault Pack and Metcalf Hunting Backpack but in this review, we're going to dive into their Urban Assault Backpack.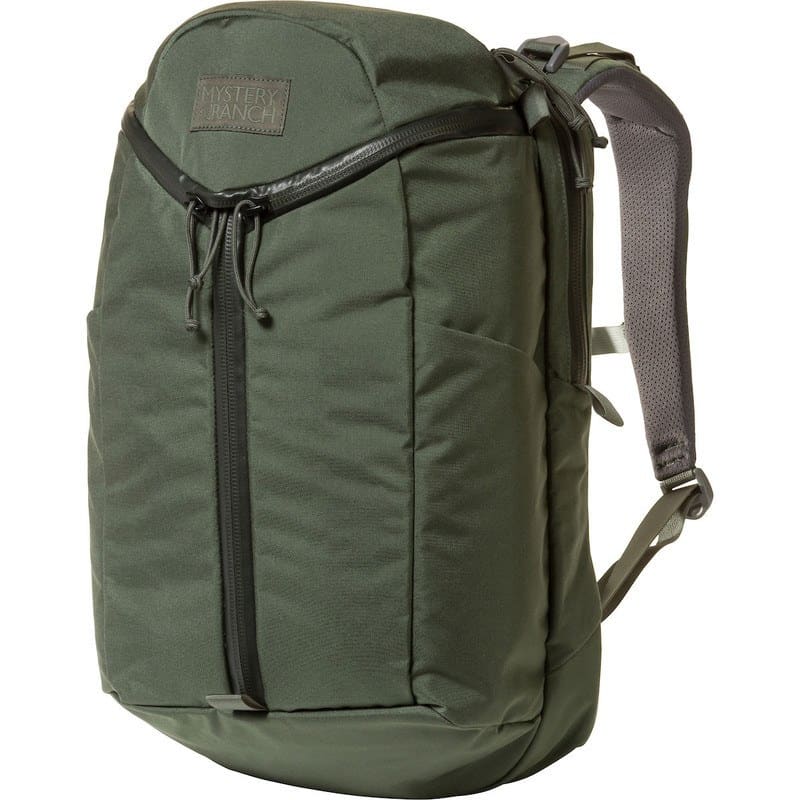 Inspired by military-grade backpacks, the Mystery Ranch Urban Assault comes in at the more expensive end of the market for the everyday consumer.
That isn't to say that price is the main determining factor as to whether you should buy this or not – there are plenty of bad budget backpacks out there and plenty of bad expensive one too – but it is something to be aware of from the start.
If you are on the hunt for every day back or perhaps one to take on an overnight trip, you've come to the right place. So, let's dive right in and find out what this backpack offers.
Specs and Features of the Mystery Ranch Urban Assault
This backpack is more than just your typical bag and it has a range of features.
Find out the specifications of the Mystery Ranch Urban Assault below.
Weight 2 lbs 12.8 oz. (1.27 kg)
Capacity 21L
Material 500D Cordura, YKK Zippers
Adjustable Torso? No
Hip Belt? No
Exterior pockets 1
Laptop holder Yes for devices up to 15"
Hydration sleeve no
Access to the main pack 3 zip system
Sternum strap? Yes
Load range 10-18 lbs. (4.5-8.1 kg)
Warranty Yes (limited lifetime)
Cost Click here to find out the price
Advantages of the Mystery Ranch Urban Assault
Finding the right backpack for your usage is important. Imagine buying the perfect looking backpack only to find out that it isn't water-resistant and you have your laptop in there during a downpour?
Or what about purchasing a backpack to take on a 3-day hiking trip only to discover that it is very uncomfortable and doesn't hold much? Luckily the Mystery Ranch Urban Assault backpack has some great advantages.
Water Resistance
This is perhaps one of the single biggest things we look out for when reviewing backpacks (alongside how comfortable it is).
The exterior of the backpack is created with a 500-denier Cordura fabric which means that it will be able to protect its contents even in the most outrageous of downpours. We found that water resistance is really one of the biggest plus points in using this particular model.
The 3 zip design (in a Y shape) means that the center point where all three of the zippers meet won't be 100% completely sealed shut. Does this really matter for its water resistance? Not really. As long as the central zipper is all the way up and the other two zippers are closed two the very small hole will be pointing downward.
You would also think that drenching it in water would cause it to leak too but that isn't the case. The Urban Assault backpack does a stellar job of ensuring that your contents are kept protected from water.
Accessing the pack
Keeping everything safe and secure is all well and good, but what about if you want to access what you have stored in your backpack? The good news is that the Urban Assault by Mystery Ranch provides really easy access to your items.
We'll look at the 3 zip system in a bit more detail below but at the top of the backpack you have a zippered lid pocket for essential items. So, think about things like your phone, wallet, glasses or even your gloves – you want to be able to reach them pretty easily, right?
By storing them in this additional pocket at the top you can get to them right away without having to search through the main compartment. You will still need to take the backpack strap off one of your shoulders but it is a better option than taking the whole thing off and unzipping the main storage compartment.
3 zip system
The impressive 3 zip system on the Mystery Ranch Urban Assault is one of its main benefits and a big plus point if you are thinking of buying one.
You are able to open up the two top zippers and use it like you would a normal backpack or you can open up all three and make it much easier to load up the contents. If you haven't used one of these backpacks before you'll wonder how you ever did without it.
The massive advantage is that you can simply unzip the middle zipper and access what is in the bottom of the bag which is much better than having to wade through all your items to find that one thing you are looking for.
As we mentioned above, the 3 zip system means that it looks as though it doesn't close entirely, however the backpack is extremely water-resistant both from a heavy downpour and actually being in the water as well.
Style
We really enjoy how this backpack looks. It is a unisex model so it isn't aimed at anyone in particularly which is great because it means anyone can use it.
The backpack is really stylish and we'd have no problems using this at all. In fact, it doesn't look out of place if you are intending on having this backpack for work, school or heading off into the mountains for an overnight trip.
It isn't likely that someone is going to stop you and comment on how amazing it looks but you won't be getting any funny glances either. The backpack also comes in a range of colors if you want to coordinate yourself too.
Disadvantages of the Mystery Ranch Urban Assault
Not everything with this backpack is as good as our four points above so we need to make you aware of a few drawbacks before you can make an informed choice.
Comfort
We're not really saying that the Urban Assault backpack is massively uncomfortable. You won't put it on and want to immediately take it back off again.
That being said, it isn't the most comfortable backpack out there and for the price, we were probably expecting something a bit more in this regard. The shoulder straps as well as the sternum strap do add extra comfort and also help you to support the weight and the back panel is pretty good as well.
We would have liked to have seen a hip belt because it lacks this feature and you also can't attach one either. This might not be too big of a deal if this backpack is for everyday use but if you are carrying a lot of gear on hikes then it can be sore on your shoulders.
It isn't the worst backpack out there for comfort – far from it – but for what you are paying it could be a bit better.
Cost
There are much more expensive backpacks on the market but this version by Mystery Ranch isn't the cheapest either.
When you think of some things that this backpack doesn't include – such as a hydration reservoir – then you begin to wonder if it is really worth the money. We do like a lot of features of this bag but the cost is a tricky one to evaluate. Although if you are going to be using this backpack every day as opposed to now and again then you'll be getting value for money from it.
It isn't wildly expensive but it is towards the higher end of the market. We'll leave this one up to you to decide but we do think it's somewhat more expensive than it should be although it does have many advantages over its competitors.
Laptop pocket
Our last drawback is the laptop pocket. That isn't to say that it doesn't have one because it does, it is just that we aren't totally convinced of its capabilities.
There are two sleeves inside the backpack where you can carry around your devices and they are both padded. You'll be able to put in a 15" laptop if you wish and it comes with a webbing strap as well as a Velcro strip so it stays secured and doesn't move around.
There is also a tablet sleeve which means you'll be able to store a 13" device in there too such as an iPad. So, why is this in our disadvantages list? After all, it has a decent padded space for two devices if you want. Well, in terms of how much protection it offers you can find better out there. It'll keep your laptop fairly secured. There is no question about that but it doesn't have any additional security which might swing it for some people.
The straps inside could be a bit tighter as well so that it is held firmly in place although we never felt as though our laptop was in any danger of moving about too much.
No place for a water bottle
Our final gripe with this backpack is that it doesn't offer anywhere to put a water bottle. What we should say is that there is no specific place for a water bottle to go.
It is pretty strange because this is almost a standard feature on most backpacks these days. You can put it into the main compartment but that causes a couple of issues. One is the ease of access especially if you are off on a hike because you'll need to open the whole pack up to get it and there isn't a filtration system either.
The other issue is that if you are carrying a laptop or tablet with you then there is the chance of water leakage inside your bag.
It might not seem like a massive problem but for us the lack of bottle storage really takes away from an otherwise very well made backpack.
Mystery Ranch Urban Assault Alternatives
#1 High Sierra Swerve Backpack
It might seem a little strange that we are offering an alternative that offers a much bigger capacity size – 36.5L compared to 21L for the Urban Assault – but it is the other features we're more concerned with.
OK, so it does provide much more space but it also comes with better laptop protection as well. It has more padding for impact protection and can carry a slightly bigger device as well. This backpack also comes with a separate tablet storage space.
Perhaps the big advantage of the High Sierra Serve is the fact that it has a water compartment which is a major plus point. You can find out more information about this backpack here.
#2 Dakine Heli Pack
The other alternative to the Mystery Ranch Urban Assault backpack is the Dakine Heli Pack.
We've gone to the other end of the scale with this because this particular backpack only has 11L capacity which is much less than the Urban Assault and way less than the High Sierra. If you are looking for a backpack for everyday use then this can be a credible alternative.
While it has less storage space it does come with some great features such as padded laptop storage and room for a filtration system. This backpack is ideal for either everyday use or taking on a day trek as well.
It is also immensely comfortable and if you are looking for a lighter backpack, this is a very credible alternative. If you want some more information about this backpack you can find it here.
FAQs