Black Crow recently introduced their new line of ski gear, which is stylish and does a great job with insulation. Black Crows Ventus Alpha Jacket has been a crucial element in mountain skiing and can be worn as an intermediate or an outer layer.
Ventus Alpha jackets are top of the line and feature Polartec alpha, Polartec power stretch, Pertex quantum air, and DWR features. These features allow for maximum insulation with breathing space. This article will review the jacket's notable features, style components, cost and will also have alternatives for Black Crows Ventus Alpha line for you to get an idea about what to wear in this year's ski season.
Looking for a great softshell jacket to prepare for winter? Here are the best softshell jackets for men and women on the market!
Key Specifications of the Ventus Alpha
| | |
| --- | --- |
| Gender | Male, Female |
| Material | Pertex Quantum Air, Polar Tech, Powerstretch, Mini Ripstop, and DWR Coating |
| Insulation | Polartec Alpha |
| Material Characteristics | Insulated, Breathable, Water-resistant, Wind resistant |
| Fit | Regular |
| Length | Hip |
| Recommended Use | Skiing |
| Latest Price | Check out the latest price |
Materials and Specifications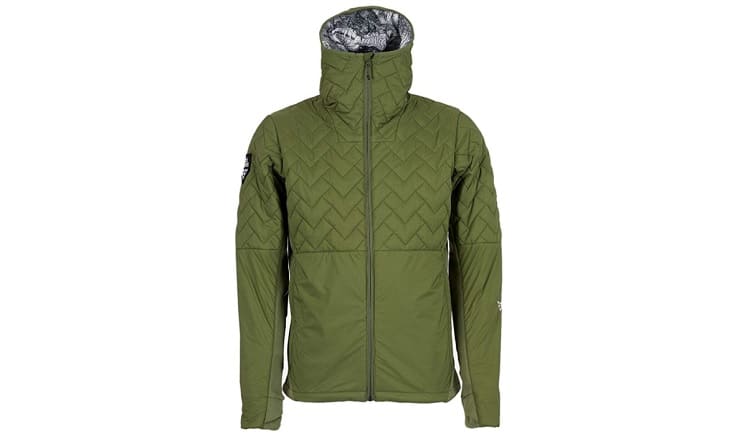 Pertex Quantum Air
Black Crows Ventus Alpha is made with a high-tech Mini-Ripstop, which is ultra-lightweight. The jacket also has a water-resistant finish. Pertex Quantum Air is a lightweight and breathable fabric that focuses on air permeability. It helps to let air in and body heat out. It also provides extreme wind and water resistance for great workability in the mountains.
DWR Outler Layer
The outer layer also has DWR, which stands for Durable Water Repellent. It is a coating applied to the fabric, which makes it hydrophobic, meaning that it will repel any water it gets in contact with. The outer layer of the jacket has a wax finish which gives it a glossy finish.
Polartec Power Stretch
This feature gives the jacket the ability to retain body warmth without restricting sharp movements during physical activity. One other specialty of the Polartec Power Stretch is that the jacket fits the skier perfectly, giving him confidence while skiing.
Polartec Alpha Insulation
The insulation of the Ventus Alpha features Polartec Alpha; Polartec Alpha is a patented technology by Black Crow for its Ventus Alpha line. The Polartec Alpha is a versatile high loft fleece that minimizes excess heat and moisture to provide active insulation. This translates into freely running around and sweating in the cold without being uncomfortable.
The jacket is hip length and features two pockets for storing your electronics and the necessary items required while skiing.
Looking for a great jacket for your next winter adventure? Check out the best fleece jackets for men in 2021!
Features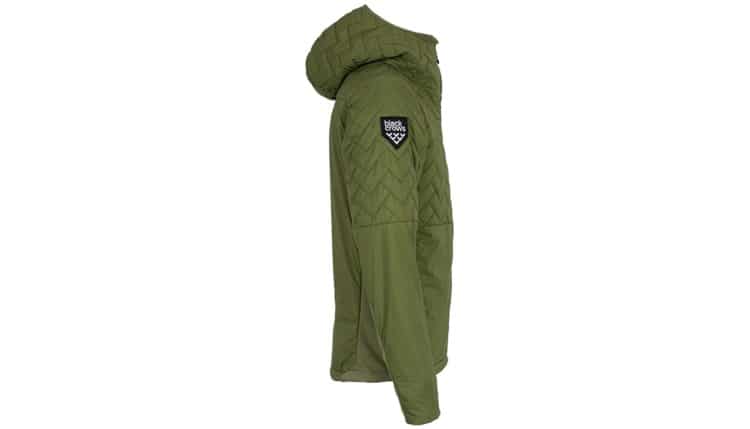 Ventus Alpha Jackets are a go-to jacket for skiers for several features introduced in the Ventus Alpha line.
Insulation
Removing layers of clothing to release excess body heat and moisture is not a viable option during physical activities. Instead, vents and pit-zips have been a go-to solution for releasing excess body heat and moisture vapor.
However, the same has resulted in left surface areas that then get exposed to cold and snow. Polartec Alpha is the patented fabric used in Ventus Alpha jackets which aid in active insulation during physical activity.
Compression
Polartec Alpha is also highly compressible, capable of easily layering with other woven materials and for storage in smaller spaces. The base of the jacket is made of lofter knit fibers which stops fiber movement to keep uniform consistency in the jacket after laundry and wear and tear.
Ventus Alpha has also placed patented low-density fibers between layers of the fabric, helping it be more efficient in regulating body heat and moving moisture. This particular feature helps the most in adapting to changing conditions during physical activity.
Ventilation
Ventus Alpha has increased overall air exchange and increased dry times due to the ability of the jacket to help move moisture vapor freely.
This feature reduces discomfort while wearing the Ventus Alpha and stops it from absorbing excess moisture. In addition, the DWR layer placed on the outer layer aiding water repulsion makes Polartec Alpha perform in the most challenging environments.
Other Features
Ventus Alpha jackets can be worn as a mid or outer layer too. The jacket's material is made of Pertex Quantum air, and Polartec Alpha makes it warmer, lighter, breathable, and more comfortable in challenging environments.
The jacket features a fixed hood that completely wraps the skier's head to avoid contact from the outer. It has zippered hand pockets that can store electronic items and other necessities that need to be carried while skiing.
It is finished with Hemstitching, providing more space for the skier to adjust within the jacket easily. The jacket has you covered even if you increase a few pounds till your next ski season.
A packable down jacket is both functional and stylish. We have ranked the 7 best packable down jackets.
Performance
Insulation
Insulation means the amount of body heat retained to maintain body temperature. The Polytech Alpha insulation used in the Ventus Alpha jackets has provided excellent insulation.
The advantage of using a Ventus Alpha is that the jacket does not pack in extra pounds to provide excellent insulation. The Polytech Alpha provides exceptional thermal regulation as well as breathability for active air regulation.
Ventilation
Ventilation in a ski jacket is a necessary trait. Some skiers tend to warm up quickly when working out on a ski course. It is crucial in a ski jacket as it helps regulate body temperature and also helps in off-gassing.
The Ventus Alpha has exceptional thermoregulation and breathability; thanks to the patented Polytec Alpha, the low-density fibers are packed between the layers making the fabric more efficient in regulating body head and moving moisture throughout the jacket. This feature of the Ventus Alpha makes it more efficient in ventilation.
Pros of Ventus Alpha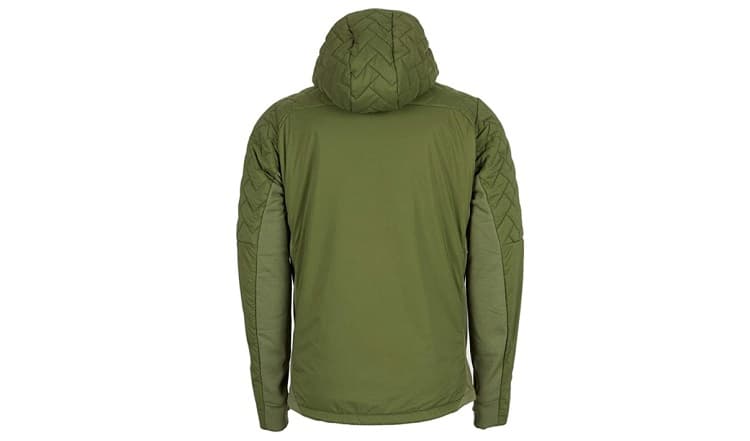 Excellent Breathability
Patented Polytech Alpha provides excellent thermal regulation and active air regulation to aid in breathability while skiing.
Lightweight Insulation
Pertex Quantum Air is a lightweight and breathable fabric that focuses on air permeability. It helps to let air in and body heat out. It also provided extreme wind and water resistance for good workability in the mountains. The ability of Polytech Alpha to compress easily helps pack extra layers without adding much volume to it.
Easy to Store in Small Spaces
Polartec Alpha is also highly compressible, capable of easily layering with other woven materials and for storage in smaller spaces. The base of the jacket consists of lofted knit fibers that stop fiber movement to keep uniform consistency in the jacket after laundry and wear and tear.
Fast Drying
Ventus Alpha has increased overall air exchange and increased dry times due to the ability of the jacket to help move moisture vapor freely.
Cons of Ventus Alpha
Not to be Used in a Humid Climate
The DWR layer in the jacket's outer layer works well in cold and dry environments. However, it tends to get clogged in humid climates, reducing the breathability of the jacket.
Wear and Tear
The Ventus Alpha is not a very rugged jacket. It can get ripped if any extra pressure is added or used in extreme conditions.
Pricey
Compared to similar jackets in the market, the Ventus Alpha Jacket is a little pricey. Admittedly, it's a premium product, but if the price is a concern, there are more affordable options.
Alternatives
Helly Hansen Blazing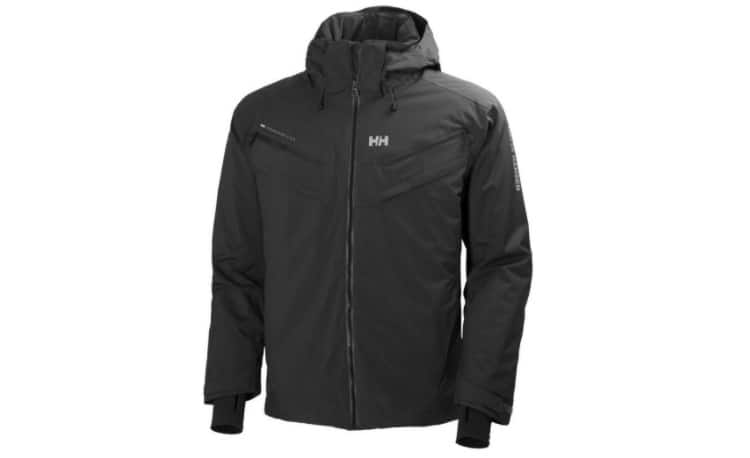 Helly Hansen Blazing is a 100% polyester jacket for men. It is water repellent and is one of the most stylish choices available in the men's skiing jacket from Helly Hansen.
The Blazing is built with HELLY Tech performance fabric and features a 2 ply stitch. The jacket is pretty durable and is also windproof. The jacket also has a 2-way stretch feature making the skier's movement easier and comfortable in sharp maneuvers.
It is also an elastic wrist gaiter made of polyester. The write gaiter comes with thumbholes for a better grip. It also helps in cutting off any wind entering the jacket. It has a fixed hood and high collar for extra protection from cold winds.
Helly Hansen Blazing is a breathable jacket with great insulation due to the PrimaLoft Insulation that helps maintain optimum body temperature without adding more weight to the jacket.
The ventilation areas are placed in the front of the jacket above the chest pockets. It has 2 pockets on either side, seconding as hand warmers. There is also an earphone duct stitched into the jacket.
Pros of the Helly Hansen Blazing
It is lightweight
It has excellent insulation
It has great ventilation
Cons of the Helly Hansen Blazing
Helly Hansen Spirit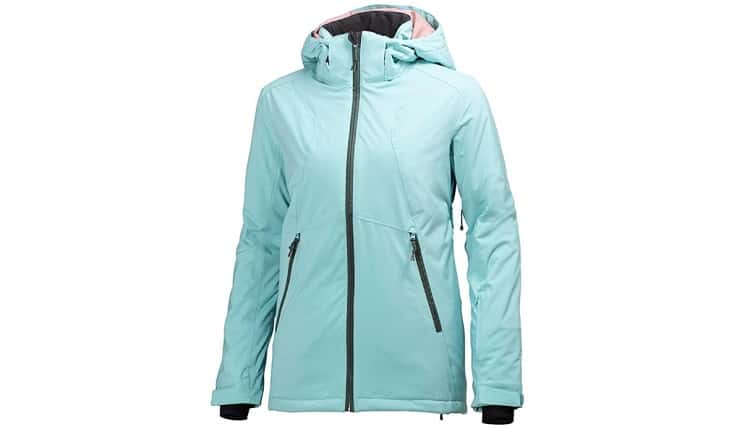 Helly Hansen Spirit is for Women. It is a lightweight and non-bulky jacket for women. It is waterproof and has good insulation making it a stylish choice for women. HELLY TECH performance fabric is used to build the jacket. It features a 2 ply construction making it waterproof, windproof and durable.
Helly Hansen Spirit is breathable with a ventilation slit under the armpit, the neck, and waist to keep the hot areas ventilated and dry.
There are 2 zipper pockets on the side and one pocket on the sleeves. One pocket is given inside the jacket for extra storage. The cuffs on the jacket are adjustable, and the sleeves are articulated, making it easier to fit on shorter individuals.
The collar of the jacket is hooded and is adjustable. The jacket also comes with a chin guard for safety. The jacket also comes with a wrist gaster making the jacket more sturdy and avoiding incoming air through the wrist opening.
It comes in a wide variety of colors and can also be worn on days when you are not skiing.
The Helly Hansen Spirit is not suited for freezing weather.
Pros of the Helly Hansen Spirit
It is Lightweight
It is Comfortable
It has adjustable cuffs and a collar
Ventilation slots are available in all hot areas
Cons of the Helly Hansen Spirit
Not for extreme cold weathers
Helly Hansen Alpha 3.0 Jacket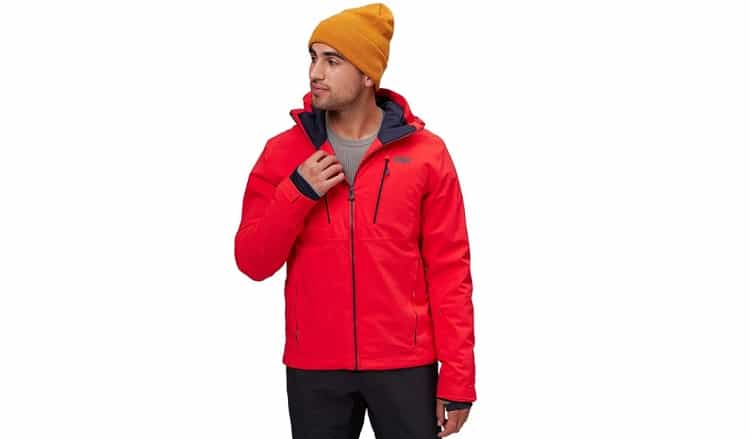 Helly Hansen Alpha is a great overall jacket that can handle icy weather conditions. It is comfortable, durable, and available in many different colors and sizes. It also features a safe pocket to store your precious items. The jacket is built-in with a 4-way full stretch fabric built-in 2 ply construction. It helps the skiers to maneuver in sharp corners. Materials used in the making of the jacket are waterproof and windproof.
A good feature of the Alpha is the H2 flow system which provides great ventilation aiding in optimal body temperature. The arms and elbows of the jacket are articulated. The material used in the linen is the snap-away stretch powder. It makes the jacket easier for the skier to wear and feel dry at the end of his skiing session.
The Primaloft Gold insulation is for the body piece, and Primaloft Black Hi-Loft is used for the sleeves and the hood for maximum insulation. The jacket also has a life pocket with insulation and 2 additional hand warming pockets with a google shammy for safely storing the goggles while at rest.
The Alpha is a little too pricey for a skier with a big budget. Therefore, it is mostly used by professionals who ski a lot.
Pros of the Alpha Jacket
Stylish
Well built
Articulated arms for a better fit
Many color options
Excellent Insulation
Safe pocket
Cons of the Alpha Jacket
FAQs
Question: Is the Ventus Alpha Unisex?
Answer: No, the Ventus Alpha has a separate line for both men and women. Ventus Alpha for Men features broader shoulders, whereas Ventus Alpha for Women has a wider hip area.
If the jacket's fitting is not an issue for you, you can wear it either way as it does the job. But I recommend men lining for men and women lining for women.
Question: Can the Ventus Alpha Jacket be Used for Other Adventure Sports Other Than Skiing?
Answer: The Ventus Alpha is a jacket primarily made keeping skiers in mind. But the jacket's features suggest that it can be used for other adventure sports if they are done in cold environments. I do not recommend the jacket be used in warmer areas and environments.
Question: Is the DWS System in the Ventus Alpha Better Than the Other Alternatives Available in the Market?
Answer: As far as I have experienced, the DWS featured in the Ventus Alpha has done a great job thus far. But the jackets such as Helly Hansen Jackets and GEMYSE Jackets also do a great job at water repellency.
Question: Is the Ventus Alpha Jacket Uncomfortable to Wear?
Answer: It usually is pretty comfortable to wear. The Polytec Alpha gives it a softer finish on the inside when you wear it. The articulated arms on the jacket help give you freedom of movement when wearing it during physical activities on the snow. The jacket has excellent breathability due to its trait of using many layers of compressed fibers, allowing the jacket to breathe and move moisture within the jacket, making the skier comfortable.
Men with extra inches on the belly might find it a little uneasy when wearing the jacket, as the Ventus Alpha jackets for men have a narrower waistline.
Still not sure if this is the jacket for you? Check out our essential guide to buying the best jacket for the outdoors!
Ventus Alpha Jacket Review: Conclusion
While it depends on your personal preference, if price and extreme use are not your concerns, then this is a great jacket for you. The Ventus Alpha Jacket by Black Crow, in my opinion, is great. Yes, it is a little pricey, but the jacket's durability makes it worth the expense, provided you don't take it in harsh weather.
The patented features in the jacket have made me comfortable in saying that this is a solid jacket to have for the upcoming ski season.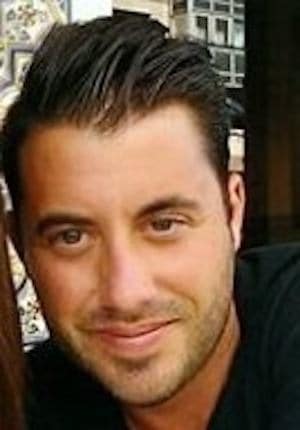 David is a strong advocate of outdoor-related activities and has many years of experience backpacking and hiking around the world, including the Italian and Austrian Alps in Europe as well as central and southern Asia.
Locally, he has also led many groups cycling through Vermont, Nova Scotia, and Wisconsin. David constantly uses and tests the latest gear for the outdoors, which in turn allows him to help others make more informed buying decisions. He's excited to share more of his knowledge and to see others enjoying the great outdoors more because of his advice and recommendations.