Many outdoors people have a tendency to view newly established outdoor brands with a degree of skepticism. When your gear choices could feasibly make the difference between a healthy, cozy night's sleep and a dose of hypothermia and a night spent shivering your proverbial a** off, their preference for the tried and tested is perhaps understandable.
This loyalty to the status quo has seen many a fledgling brand fall by the wayside, and given the glut of established brands producing awesome gear out there, it takes a lot of balls, hubris, and no small amount of belief for any newbies to try to break into the market.
But one budding brand from Cedar City, Utah by the name of Outdoor Vitals has done so with room to spare, mainly thanks to products like the Outdoor Vitals Summit 20 sleeping bag, a creation they have boldly baptized "The Cadillac of Sleeping Bags".
Outdoor Vitals prides itself on an environmental and humanitarian ethic that puts many of its peers to shame, donating 1% of all revenues to those in need in developing countries and living by a company motto of "Living Ultralight", which boils down to refurbishing used products and not just using the lightest of gear but also reducing waste by producing products of such high quality that they last a lifetime.
All sounds good so far, right? But just how do OV's products measure up in practice? And does the Summit 20 live up to their lofty claims?
Bottom Line Up Front: The Outdoor Vitals Summit 20 is an EXCELLENT value for the money. Yes, it could have a few more features, but you will be hard pressed to find ANY alternative with this level of quality at in the low to mid price range that OV is in.
We decided to do a bit of digging and diagnosis. In this article we'll deliver our findings, starting off with a more general overview of what makes a good sleeping bag before then delving into the specifics of the Summit 20 to reveal just how this pretender to the throne currently held by Patagonia, Rab, Mountain Hardwear et al. might fare in its attempts to knock the heavyweights off.
Warmth
Almost all sleeping bags come with both a season rating and temperature rating. While the latter of these can give you an accurate reflection of how your sleeping bag will perform out in the field, the former should always be taken with a pinch of salt.
Many manufacturers choose to slap a "4-season" rating on their sleeping bags despite their "low" temperature rating being a few degrees higher than bags produced by other (more honest) brands and given a 3-season rating.
Temperature Ratings
The take home from these season-rating discrepancies is to pay more attention to the temperature ratings. These ratings are usually accompanied by the letters "EN" and a sequence of figures that show the bag has been tested in accordance with the European Norm (EN) 13537 testing protocol, an internationally recognized standard for sleeping bag temperature ratings.
EN testing generally assigns sleeping bags three ratings: comfort, lower limit, and extreme.
Comfort: the lowest temperature at which the bag will keep the average woman or "cold sleeper" comfortably warm
Lower limit: the lowest temperature at which the bag will keep a man or "warm sleeper" comfortably warmExtreme: this is a survival-only rating for cold sleepers, and should not be used as an indication of the temps at which you'll be able to get a decent night's sleep
A few tips on Sleeping Bag Selection…
Be wary when deciding which temperature rating will be best for the locations and seasons in which you do most of your camping and how you tend to sleep.
A number of factors other than your sleeping bag can contribute to how cold or warm you feel while camping, most notably your tent, altitude, humidity levels, your gender (women tend to be cold sleepers, men warm sleepers), your metabolism and daily calorie intake, how many layers of clothing you sleep in, and also whether or not you're using a sleeping bag liner, which can add a few degrees of warmth.
It's also well worth noting that EN ratings assume that any sleeper will be wearing a layer of long underwear and a hat and also using a one-inch thick insulating pad. If you prefer to go "commando" at night, therefore, or have a thinner sleeping pad, then you might want to opt for a sleeping bag with a warmer temperature rating.
One expression you are highly unlikely to ever hear from any camper is "Gee, I wish I'd brought a sleeping bag that wasn't quite so darn toasty!" Sleeping bags, indeed, are one item of gear that you don't want to mess around or cut corners with.
Above all, this is one of the foremost contributors to ensuring our well-being while out getting our camp on and — without wishing to do any unnecessary scaremongering — the potential consequences of choosing a bag that's inadequate for your outdoor adventures can range from a mildly uncomfortable night or two to a dose of hypothermia or, dare we say it, biting the proverbial dust.
In short, when choosing your sleeping bag, err on the warm side rather than the cool side. Even if you think there's a chance that the temperatures where and when you do most of your camping may be a lot higher than the comfort rating, you can always shed any excess heat by availing yourself of every sleeping bag's built-in AC fixture — also known as "the zipper"(!) — when necessary.
Sleeping Bag Weight
As with most outdoor products, opting for the ultralight variety of sleeping bag often means compromising on other important factors such as ruggedness, durability, and warmth, and/or paying a lot more than you would for a heavier product.
For campsite campers, weight isn't such a big issue, but if you happen to prefer pitching up farther out in the backcountry or envision taking off on multi-day treks, then unless you happen to have a personal Sherpa who turns up on trail days to do your carrying for you, then that means the added burden is going to fall on your shoulders, back, quads, and calves.
Ultimately, how light or heavy you need or are willing to go will depend on a few personal preferences and other factors such as your budget and where and when you intend on doing your camping.
Sleeping Bag Size
Generally speaking, sleeping bag sizes vary from one brand to another, and within brands can vary from model to model. For example, Rab's "Standard" length sleeping bags have a max user height of 185cm, or 73 inches, whereas Mammut's "Regular" length can range from as little as 180cm for backpacking models to 200cm for some alpine models.
Most brands will offer both a Standard/Regular and a Long option, and in some cases even an Extra Long and Short version. While it may seem logical that shooting for a larger size is the way to go, a few points are worth noting:
Bags that are too big give your body more space to heat up
A bag that's too long is likely to leave you with cold feet
That said…
Having a little bit of extra space at the bottom of your bag gives you a very useful storage space to stash clothes and keep them warm overnight.
In particularly cold temps, a wider bag will allow you to throw on an extra layer or two (and, maybe, take your teddy bear in there with you). The moral of the story? Do your research before buying and pay especially close attention to the specs — just as much as you would when buying a pair of shoes.
Insulation Type
The type of insulation used in your sleeping bag goes a long way to determining its suitability and practicality for your type of adventures in the outdoors.
The two types of insulation used in almost all sleeping bags are down (duck or goose) and various forms of synthetic material.
Down Insulation vs Synthetic Insulation
Down sleeping bags have long been considered the gold standard of backcountry bedding owing to their stellar warmth-to-weight ratio and small pack size, but over the years have been snubbed by many campers due to their high price and inability to insulate when wet. More recently, waterproof varieties of down have gone some way towards mitigating the latter of these two drawbacks but done little to lessen the former.
For the most part, synthetic sleeping bags are slightly heavier and bulkier but also more friendly on the contents of your wallet and blessed with the added bonus of providing insulation even when wet. To a certain extent, these days the old distinctions between down and synthetic sleeping bags are starting to blur as more and more synthetic products appear on the market that comes close to matching down equivalents in every aspect of performance barring packability.
The insulation type you choose will ultimately come down to your budget, how much weight you're willing to carry, and a few personal preferences regarding materials, feel, and features. If you happen to be flush or prioritize quality over price, then we'd opt for a down bag with a high fill (higher fill power also means lighter weight) and solid water resistance provided by both hydrophobic-treated down and a DWR finish on the shell.
If you're on a budget, there are plenty of affordable down sleeping bags out there, but in most cases, these won't offer as much warmth as (slightly heavier) synthetic bags in the same price bracket.
Synthetic
Pros
(Usually) cheaper
Quick-drying
Insulates when wet
Non-allergenic
Cons
Poorer warmth-to-weight ratio
Large pack size
Can lose loft (and thus insulating capacities) over time
Down
Pros
Lightweight
Highly compressible
Ideal for cold, dry conditions
Maintains loft for longer
Cons
All but useless when wet
Usually more expensive
Shell Material
Your first line of defense from the cool air and ambient moisture or condensation inside your tent is your sleeping bag's shell. Typically, these are made with some form of ripstop nylon or polyester of varying degrees of thickness to avoid rippage and enhance durability. The thickness of this material is generally quantified in denier (i.e. "10D", "20D", etc.), and the higher the denier count the tougher the material.
Both synthetic and down-filled bags now often use shells that have a durable water repellent (DWR) finish, a treatment applied to the outer surface of materials which causes moisture to bead up on the surface instead of saturating the fabric.
This is a fairly major selling point — those who've camped in very humid conditions and suffered the consequences of using a non-DWR coated bag will understand why! As such, if it isn't mentioned in a product's specs then it pretty safe to assume it doesn't have it (or else the marketing people deserve the sack). This, however, needn't be a deal-breaker. You can add DWR properties to your sleeping bag shell using a number of products like Nikwax TX Direct.
Ten-word tick list:
DWR coated
Ripstop nylon or polyester
Minimum 7D fabric thickness.
Pack Size
If you happen to be pitching your tent near where you park your car, then the pack size of your sleeping bag isn't such a great concern. For those who plan on being out on the trail for multiple days, and particularly for long-distance thru-trekkers, however, every last inch of space in your pack becomes prime real estate.
As a general rule, a decent pack size is anything under 14" x 14", though these judgments are of course relative and you alone will know how much space you're willing to sacrifice in exchange for, potentially, added warmth and performance.
Generally speaking, down sleeping bags are much more packable than equivalent synthetic models, though a few more recent synthetic bags have come close to matching down in the squeezability stakes.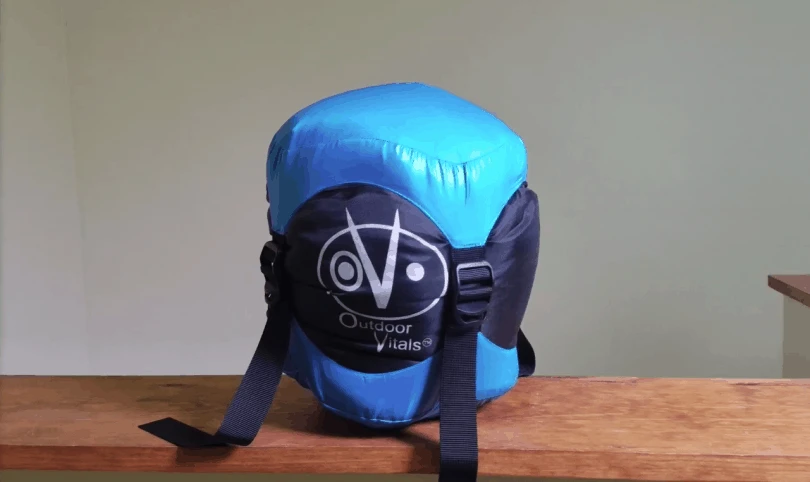 Additional Features
Handy for keeping important items such as keys, glasses, headlamps, medication, or your phone close to hand.
While this should be a given, we've come across some horrors in our time. If buying online, it's hard to gauge how useful a stuff sack will be, so try to read a few user reviews to find out more about this feature that's often overlooked in product descriptions.
These allow you to secure your sleeping pad directly to your sleeping bag so you won't roll off during the night — very handy for those who happen to toss and turn or shift around a lot in their sleep.
Value for Money
Gauging value for money in any gear item is a tricky business but ultimately comes down to measuring performance, quality, and durability against price. Relativity, of course, comes into play more markedly with the last of these factors, and comparing the features and performance of any potential purchase with those of others in the same price category is the best way to go about getting an idea of whether you're overpaying or getting a bargain.
Got all that? Great! Then let's get down to our review of the Outdoor Vital Summit 20 to see how it measures up in each of the above categories.
Key Features of the Outdoor Vitals Summit 20
Warmth
Many sleeping bags fail to live up to the temperature ratings tagged onto their specs sheet, but the Summit 20 is true to its 20-degree lower limit and 30-degree comfort rating. In addition to the high-loft, 800+ fill duck down, it also compartmentalizes its insulation effectively with grid-style baffle separation that ensures there are no cold spots caused by the downshifting around inside the shell.
The only way in which the Summit 20 lets itself down warmth-wise is a slight lack of insulation in the zipper and collar baffles, which may leave slight cool spots on nights closer to the low rating of 20 degrees.
Weight
The Summit 20 weighs in at 2 lbs 6 oz in regular and 2 lbs 8.7 oz in long. This means that, while it's unlikely to be breaking the back of any future owners anytime soon, it's also a touch heavier than many competitors that offer similar performance. That said, the Summit 20's total trail weight (including the 3.7 oz stuff sack) and warmth-to-weight ratio are comparable to many more expensive models such as Mountain Hardwear's only slightly lighter HyperLamina Flame.
The bottom line? There are lighter models out there that perform similarly, to be sure, but the vast majority of these are priced far less favorably.
Size
The OV Summit 20 sleeping bag comes in three sizes: short, regular, and long.
Short — 69 x 31 inches (fits those with height of 5′ – 5'6″)
Regular — 75 x 31 inches (fits those with height of 5'6″ – 6′)
Long — 81 x 35 inches (fits those with the height of 6′ – 6'6″ and has extra 2" of width)
Insulation Type
The Summit 20 uses 540g of StormLoft 800+ fill power hydrophobic duck down. While StormLoft isn't as efficient in dealing with moisture as some other downs used in pricier competitors, it does help the bag retain loft in damp conditions, if not in very damp ones.
Shell Material
The Summit 20°F uses very tough 20D ripstop fabric and 320T ripstop fabric on the exterior and interior respectively. While this figure is fairly standard for interiors in the Summit 20's range, the 20D exterior fabric represents a toughness upgrade on most other competitors, many of which go as low as 7D on the exterior shell.
The Summit 20's shell is also treated with a VitalDry DWR coating that is reasonably effective at repelling water off of the shell of the sleeping bag and is also highly breathable. We've seen better DWR coatings in our time, but this one works well for the first ten or so outings, after which you'll probably need to renew it with a treatment like Nikwax TX Direct.
Pack Size
The Summit 20 compresses to a very pack-friendly 10"x 8". To put that into perspective, the comparably priced North Face Inferno 20 compresses to 9" x 16" and the doubly expensive Mountain Hardwear Ghost Whisperer 20 to 6" x 13".
Additional Features
Stow pocket: Not included
Functional stuff sack: Check!
Closures/Openings: Two-way zipper; drawcords in shoulder and hood
Value for Money
The best way to demonstrate what you get from the Summit 20 in terms of value for money is to show how it performs compared to other sleeping bags in the three-season category.
| | | | | |
| --- | --- | --- | --- | --- |
| Model | Weight (regular size) | Insulation | Lower Limit Rating | Price ($-$$$$$) |
| OV Summit 20 | 2 lbs 6 oz | 800+ fill StormLoft hydrophobic down | 20°F | $$ |
| Mountain Hardwear Lamina Z Flame | 2 lbs 13.2 oz | Thermal.Q™ 120 g/m² (synthetic) | 22°F | $$ |
| Rab Mythic 400 | 1 lb 7 oz | 900-fill-power European Goose Down | 21°F | $$$$$ |
| Patagonia 850 Down | 2 lbs | 850-fill-power goose down | 19°F | $$$$$ |
Outdoor Vitals Summit 20 Pros and Cons
For the more verbally minded amongst you, the following summarizes the info contained in the above table and adds a few additional points pertaining to the finer details.
Pros
It's (damn) cheap! It lives up to its 20-degree rating
It's very light for such a warm bag
DWR finish reasonably effective
Grid-design baffle system distributes insulation well
Hanging loops for drying
20D ripstop nylon shell
Hydrophobic, 800+ fill down
Cons
Drawstrings a touch flimsy and fray easily
Slight shortage of down around the zipper baffle leaves a small cool spot/potential for drafts
Zipper snags quite easily
It failed to arrive on the market sooner, when we were out spending $500 on a sleeping bag that doesn't offer a great deal more performance-wise (sigh)
Outdoor Vitals Summit 20 Q and A
1. How does this compare to more expensive competitors?
In a word, favorably. Compared to many $300-$500 sleeping bags the Summit 20 makes a few compromises, sure, but most of these are very forgivable and justifiable given the savings entailed.
So, what are the compromises?
Weight: Finding a 20°F-rated sleeping bag that weighs under two pounds isn't hard to do if you're willing to surpass the $250 mark at the checkout
Water resistance: while the DWR coating on the Summit 20 does its job on the first few outings, it isn't as effective or as long-lasting as that used by other brands.
Overall quality: A few small details lack the quality found in bigger brands, namely the zippers, drawcords, and the draft collar. An interior stow pocket would've been nice, too. Whether or not these are worth paying an added handful of $ for is for you to decide!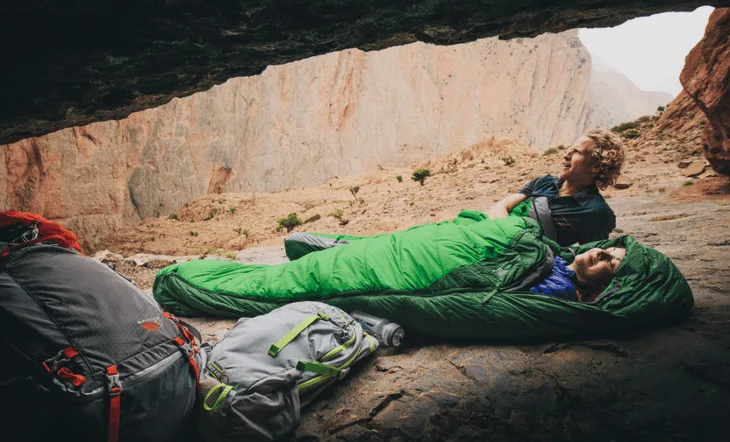 2. Is the "Low" temperature rating given by the manufacturers accurate?
If used in combination with long underwear and a suitably thick (more than 1") sleeping pad, yes, this bag stays comfortable for warm sleepers down to 20 degrees. For cold sleepers, we'd suggest that the Summit 20 should be good down to 30 or 25 with extra layers, but going all the way down to twenty's going to mean a chilly night.
3. What is StormLoft Insulation?
In short, this is OV's take on the various treatments used by different brands to give the down inside their sleeping bags water-resistant (hydrophobic) properties. While this is no guarantee of performance if you happen to expose the bag to excess moisture (i.e. rainwater or serious humidity), it does mean that if it gets damp, the water-resistant down will be able to maintain loft better than untreated down products, thus ensuring it continues to provide insulation.
Untreated down, as mentioned above, loses loft when damp and only insulated when completely dry.
Obviously, this treatment is a bonus for campers in any part of the globe at any time of year (condensation inside your tent is, alas, life's third great inevitable after death and taxes), but especially important for all-weather campers and those on multi-day trips who won't have the chance to let their sleeping bag dry out thoroughly between sleeps.
4. What can I do to enhance the waterproofing capacities of this sleeping bag?
We'd recommend picking up Nikwax Down Proof, a water-repellent treatment that can be washed into down products and helps them maintain insulating capacity and breathability in damp or humid conditions by adding or rejuvenating durable water repellent properties.
5. I'm 6'3" and weigh 220 lbs. Is the long version of this bag big enough for me?
In a word, yes. In a few more words, the long version of this bag is designed for users between 6' and 6' 6" and is 2" wider than the standard model. As a small caveat to this claim, we'd add that users closer to that 6' 6" mark might find the Summit 20 a bit of a squeeze, particular if their sleeping position is flat-on-the-back style and not on their side with the knees bent.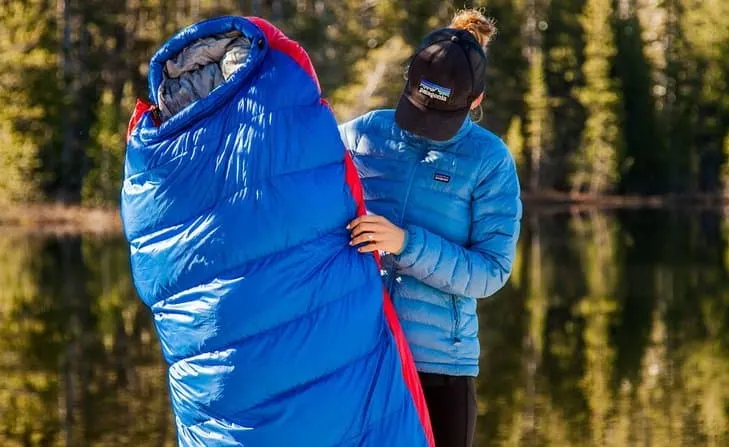 Conclusion — Is the OV Summit 20 Worth Purchasing?
The Outdoor Vitals Summit 20 gets our vote on account of doing everything we need a three-season sleeping bag to do to an exceptionally high standard given its relatively low cost. It's reasonably light, feels good against the skin, packs a healthy amount of water-resistant down, has a tough, DWR-treated shell, and compresses down to a reasonable size.
On top of all this, the Summit 20 is very reasonably priced, and here at All Outdoors Guide we're suckers for a bargain, particularly when the product in question delivers on every front almost as well as many of its (far) pricier competitors.
As a fan of the finer details, I'd have liked to have seen a little more fill in the draft collar and the zipper baffle, and maybe a sturdier set of drawcords at the neck and hood. However, if asked whether or not I'd be willing to pay an extra $100-$200 to get them, my answer would be an emphatic "no", at least until that lottery win I've been promising myself finally transpires.
Bottom Line: The Outdoor Vitals Summit 20 is an EXCELLENT value for the money. Yes, it could have a few more features, but you will be hard pressed to find ANY alternative with this level of quality at in the low to mid price range that OV is in.
Where to Buy Outdoor Vitals Summit 20?
On Amazon: Right now, the best spot I've found is via this Amazon listing here.
Further Reading on Sleep Systems and Sleeping Bags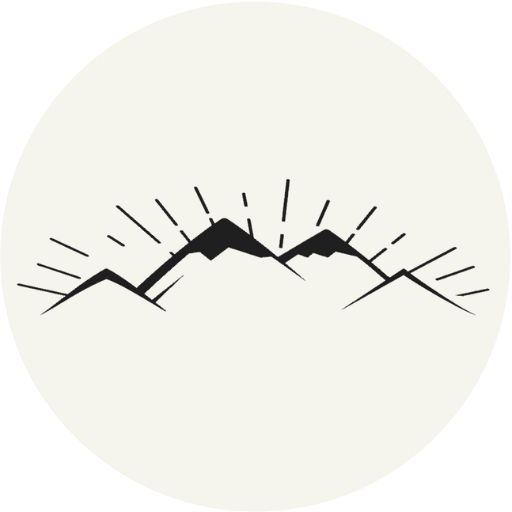 The All-Outdoors Guide team is comprised of enthusiastic experts that enjoy helping others that aspire to be better at outdoor fun. Part of that is making sure you have the right gear and information when it's time to go out and have fun. Some of our team have accomplished amazing feats like climbing 6000 feet to the top of mountains, others have explored every dirt trail they could find and we even have some people that have backpacked solo on various continents. No matter what our readers want to learn and do, our team is here to help them accomplish those goals.