There was a time when purchasing a well-made, efficient, down, four-season sleeping bag meant having to consider remortgaging your home and/or resigning yourself to carrying a very hefty and bulky load with you wherever you planned on doing your camping.
Thankfully, times have changed. Four-season sleeping bags are now not a great deal heavier or bulkier than their three-season competitors and, while the astronomically priced variety is still going strong, there are a lot more affordable options at our disposal than ever before.
Outdoor brand Kelty has developed a bit of a reputation in recent years for pulling rabbits out of the proverbial hat by producing high-quality products that cost a fraction of the price of comparable items from bigger-name brands.
When they pitched the Kelty Cosmic Down 20 onto the sleeping bag market, accompanied, no less, by a price tag that falls distinctly into the "friendly" category compared to its water-resistant down competitors in the three-to-four-season range, we naturally had a few questions.
But just how would this sleeping bag measure up to its competitors in terms of performance? And could we really expect such a cheap sleeping bag to do what we need it to do in harsher three-season or even winter conditions?
In this article, we aim to answer the above questions and give you a thorough lowdown on the Kelty Cosmic Down 20. Before we get down to our review, let's first take a look at some of the important factors to consider when weighing up a sleeping bag purchase.
How to Choose a Sleeping Bag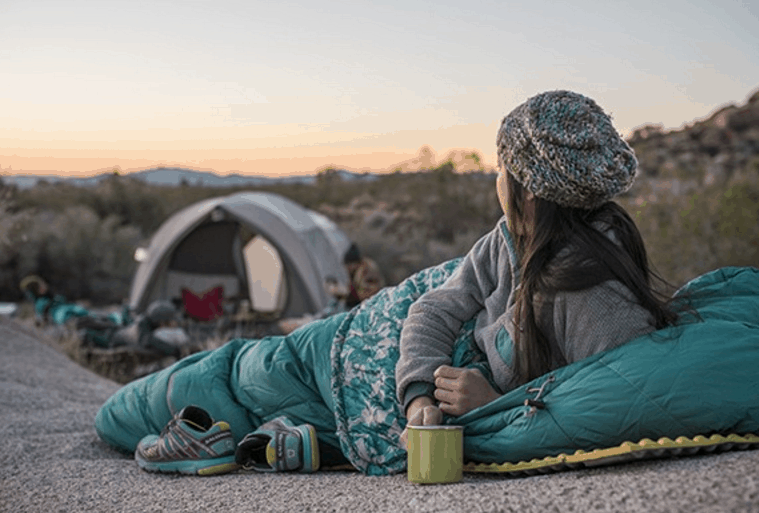 Warmth
A sleeping bag's warmth is quantified by what is known as the EN Rating, which stands for "European Norm." This rating gives us a "comfort rating" that refers to the lowest temperature at which a normal sleeper—or "warm" sleeper as opposed to a "cold" sleeper*—will remain comfortable while sleeping in the bag.
The EN rating that you will require for your adventures in the outdoors will ultimately depend on a number of factors: the season in which you plan to do your camping; where you are in the world; whether you are a cold or warm sleeper; and, whether or not you are headed into mountainous environments to camp out at altitude, where temperatures can be significantly lower than in the valleys below.
As a general rule, we'd highly recommend choosing a bag that has a comfort rating at least ten degrees below the lowest temperatures you expect to encounter on your trips—heating up in a bag that doesn't offer enough insulation is very difficult, whereas cooling down in one that has a little too much insulation is very easily done (use the zippers!).
*Women naturally have a lower core temperature than most men and, as such, are termed "cold sleepers" in industry-speak.
Weight
Weight is never too much of a deal-breaker if you're car-camping or pitching your tent close to the roadside or trailhead, but for backcountry campers who plan on putting in some serious mileage before catching their zzz's, then saving a few ounces wherever possible is usually a top priority.
So, what weight of the sleeping bag is the right weight?
There's no definitive answer to this one, and in most cases, the weight of your future sleeping bag will be determined by finding the ideal weight-to-warmth ratio, basing your calculations on how heavy a bag you're willing to carry and how much warmth you will need to sleep soundly and safely where (and when) you intend to do your camping.
For the most part, synthetic bags will weigh slightly more than down bags with the same EN comfort rating, but also tend to cost a lot less, too, so your pre-purchase considerations will also have to factor in value for money and your budget.
As a ballpark figure, any sleeping bag that tips the scales at under three pounds is your best bet if you plan on carrying your camping kit long distances, though cold sleepers may be willing to go over the three-pound mark for that little bit of extra warmth.
TIP: Don't opt for a sleeping bag that offers less insulation than you might need just to save a few measly ounces/grams. As mentioned above, it's always wise to choose a bag that will have you covered in temps at least 10 degrees below those you expect to encounter, and if this means opting for a bag that's slightly heavier than you'd ideally like, then we'd recommend you bite the bullet and buy it regardless.
Insulation Type
The three main types of insulating fill in modern sleeping bags are down, water-resistant down, and synthetic insulation. Each of these fill types has its advantages and disadvantages, all of which we'll cover below
Down—Lightweight, excellent warmth-to-weight ratio, but useless when wet
Water-resistant down: offers all the benefits of down but, as the name suggests, with the added benefit of water resistance. The downside? It costs, in most cases, a small fortune.
Synthetic—Usually slightly heavier and less compressible than down fills but, in its favor, costs a lot less and can insulate even when damp or wet
Fill Power
Although a sleeping bag's warmth is usually quantified by the EN rating mentioned above, the fill power and loft are the two most important factors in determining what that rating will be.
In short, the ability of down to provide insulation is measured by its fill power, which is usually given as a number between 400 and 900. This refers to the number of cubic inches one ounce of down will fill when it has reached its maximum loft.
As you might have guessed, the higher the number, the better the insulation. But, perhaps more importantly, it also means that the higher the fill power, the less down is required to provide you with insulation, meaning bags with a higher fill power will generally offer similar or better insulation than bags with a lower fill power, but at a lighter weight.
The ability of any sleeping bag to provide insulation also depends on its "loft" (essentially its degree of fluffiness), because the "loftier" or fluffier a bag is, the better it will be at trapping your body heat and the greater the buffer it will provide between you and the ambient air.
Sleeping bags with inferior loft often feel flat when taken from the compression sack because the feathers have clumped together and consolidated. Because the insulation provided by down products relies heavily on the air pockets created between the feathers, this inability to re-loft can significantly diminish the sleeping bag's insulating capacity.
Shell Fabric
The material used in your sleeping bag's shell or outer layer is important for two reasons: protection and durability; and, resistance to dampness and condensation.
1) Protection and durability
To ensure you're getting your hands on a sleeping bag that's going to be able to withstand a little bit of rough treatment both inside your tent and when packed away in your backpack, look for ripstop fabric on both the liner and the shell and, ideally, a denier count in excess of 40d on the liner and 20d on the outer shell.
2) Resistance to dampness and condensation
As mentioned elsewhere in this article, down is a famously shoddy performer when allowed to get wet or damp. Whether it's from condensation, wet gear, wet boots, spilled drinks, or rain soaking into your backpack, there are plenty of ways to give your down sleeping bag a good drenching when out camping.
If you don't want to spend a fortune on a water-resistant down sleeping bag (or even if you do) a wise choice is to opt for a bag with a DWR (durable water repellent) shell fabric. While this won't keep the down fill dry if exposed to a downpour, its hydrophobic properties will fend off the worst of any liquid that comes into contact with the sleeping bag and help to keep the down fill far drier than bags with liners that don't have a DWR finish.
Shape and Size
Mummy-style: Preferred for its streamlined design, minimization of weight, and reduction of empty space to be heated up by your body, the vast majority of sleeping bags on the market now take this form. The hood and the tapered shape may prove a little claustrophobic for some, but in winter conditions this style of sleeping bag is by far the most thermally efficient.
Rectangular Sleeping Bags: A few old-school campers still opt for rectangular sleeping bags over mummy style, particularly those who tend to toss and turn in their sleep and like a little more room in which to do so, or those who like to stuff the bottom of their bag with items of clothing to keep them warm overnight. While relatively rare, rectangular sleeping bags are still available but generally weigh more than mummy-style bags and don't insulate as well owing to the added space at the corners and the potential for drafts around the neck and shoulder area.
Hoodless Sleeping Bags: Hoodless sleeping bags or quilts are more commonly an option for summer hikes, but those who feel overly restricted by a mummy-style bag with a tight hood might prefer to use a hoodless sleeping bag and sleep with a hat on to keep their dome and ears toasty throughout the night.
Extra Features
A few added features can make your sleeping bag all the more comfortable and convenient. The most notable of these include:
Double, two-way zippers: These allow you to ventilate your sleeping bag at both the top and bottom and make getting in and out far easier than on models with a single zipper
Footbox: This refers to the space added at the base of the sleeping bag to accommodate your feet. While not a big concern for the small-footed camper, for the bigfoots among you it's wise to read user reviews to find out just how roomy the footbox in any bag will be
Neck baffles: Also called a "draft collar," this small tube at the top of the shoulder area can make a big difference on those extra-chilly nights when frigid air can sneak down any minor gap in your insulation
Toggles: While these come as standard on all sleeping bags, it's worth reading a few reviews to discover if they're the type that fall off after a few outings or are built to last
Storage pocket: Handy for storing things you want to keep close to hand during the night, such as your phones, car keys, or a flashlight
Zipper orientation: Left side or right side? While this might seem like a small consideration, picking a bag with zippers on your weaker side might lead to a lot of frustration when it comes to escaping the sleeping bag when need be—not ideal if, a) nature calls, b) you're not the type likely to win any awards for patience, c) your tentmate is a light sleeper
Kelty Cosmic Down 20 Review
Got all that? Great! Then let's get down to business will our review of the Kelty Cosmic Down 20.
Warmth
Occasionally, sleeping bags don't quite live up to their temperature (or "comfort" or EN) ratings. Gladly, with the Cosmic Down 20, this is not the case. The EN comfort rating on this sleeping bag is actually 19F, and as such it straddles the ground between a very warm three-season bag and a cooler four-season bag.
This rating makes the Cosmic Down 20 a good choice for cold sleepers who plan to use it in shoulder seasons or at higher altitudes or warm sleepers who plan to use it in winter in warmer climes or just to save on the bulk and pack weight of heftier four-season models—where, of course, temps allow them to do so.
For anyone looking for a sleeping bag for extreme environments, we'd recommend opting for a bag with a higher fill power and with a superior EN comfort rating, but for regular backpackers who don't intend to do their camping in the dead of winter or camping at high altitude, this bag offers more than enough warmth to let you sleep soundly in three-season conditions in most portions of the globe.
Weight
Weighing in at 2.8 pounds, the Kelty Cosmic Down 20 falls categorically into the "lightweight" class of sleeping bags and, as such, is more than suitable for backpacking.
Compared to its 20-degree competitors, it measures up favorably, with models like the synthetic The North Face Wasatch 20° Sleeping Bag weighing in at 3 pounds and the down-filled Marmot Ironwood 20 at 2 lbs 6.7 ounces.
The Cosmic Down's lightweight and packability make it a good choice for just about everyone—whether you're a car camper pitching your tent by the roadside or a backpacker headed deep into the backcountry. There are, granted, far lighter models out there that offer similar or better insulation, but for the most part, these will cost almost twice as much.
Fill Power
The Kelty Cosmic Down 20 uses 600-fill power DriDown insulation. DriDown is a traditional form of down that is coated with a hydrophobic (water-repellent) coating, which allows it to outperform regular down fills in wet conditions, dries out faster, and will maintain warmth even in damp and humid conditions, when your tent's condensation is treating it to an unwanted shower during the night, or when it gets an inadvertent soaking whiled stowed away in your backpack.
Water-resistant down sleeping bags are becoming ever more common on the market. This one, however, does something that the vast majority of its water-resistant competitors don't—it's affordable. Compared to other 20-degree-rated sleeping bags with water-resistant down fills, this bag could easily be classified as a "budget" model and is one of the cheapest in its class out there.
Shell Fabric
The Cosmic Down 20 uses a 50D polyester taffeta liner and a 20D down-proof polyester ripstop shell*, both of which are fairly standard for sleeping bags in their price range and performance range.
Where this sleeping bag scores some points over the competition, however, is in the inclusion of the durable, anti-snag material behind the zipper.
While this may seem like nothing to write home about, it can make a big difference to a sleeping bag's overall convenience and durability because this area around the zippers is notoriously prone to ripping when impatient users use excessive force to undo a snag and end up tearing through the delicate liner fabric with the zipper.
*The Amazon product description incorrectly lists the shell fabric as 50d.
Shape and Size
The Cosmic Down 20 uses a traditional mummy-style shape with a substantial footbox and very practical hood that can be cinched down over your face on particularly cold nights. The tapered design maximizes thermal efficiency, leaves little room for drafts, and not a great deal of extra space for you to warm up with your body heat.
The Cosmic Down 20 comes in three sizes: short, regular, and long.
Short: 5 feet 6 inches
Regular: 6 feet
Long: 6 feet 6 inches
Extra Features
Zippers: The KCD 20 features a snag-free, double, two-way zipper with draft tubes behind the zipper to prevent any cool air sneaking in at this common point of weakness in any sleeping bag's insulation. While the zippers appear robust, a number of past users have noted their lack of durability
Stuff sack: Included with the bag, the Cosmic Down 20's stuff sack is made with the same 20D fabric as the sleeping bag's shell and does the job it needs to do perfectly well
Footbox: The foot box is a fraction less spacious than in other bags we've reviewed but is perfectly adequate for anyone not planning on storing lots of gear down there overnight
Storage pocket: We still haven't found it…
Neck baffles: Check!
Toggles: Robust, durable FatMan drawcords
Zipper orientation: Right-hand zippers only
Kelty Cosmic Down 20 FAQs
Question: I'm 6'2". Which size of sleeping bag will be best for me?
Answer: While this will depend on your sleeping style, we recommend that anyone over 5'11" opt for the "Long."
Question: Should I buy an 11 or 15-liter compression sack to use with this sleeping bag?
Answer: While the stuff sack provided with the sleeping bag is more than adequate, if you'd prefer to use a waterproof dry bag then an 11-liter model will do the trick.
Question: Where is the Cosmic Down 20 made?
Answer: In China.
Question: Is this a three-season or four-season sleeping bag?
Answer: The 20-degree rating on this bag means it straddles the ground between the two, representing a very warm three-season bag or a four-season bag in warmer climates.
Question: Is there a sleeve for a sleeping pad?
Answer: No.
Question: Is it machine washable?
Answer: Yes!
Question: How water-resistant is the DriDown fill?
Answer: Essentially, the DriDown treatment used in the KCD 20's fill won't stand up to submersion or exposure to a downpour. What it will do, however, is dry a lot quicker than regular down fills and maintain most of its loft and insulation even when damp or wet.
For a quick, handy overview of the Kelty Cosmic Down 20, check out this little video from Backcountry Edge.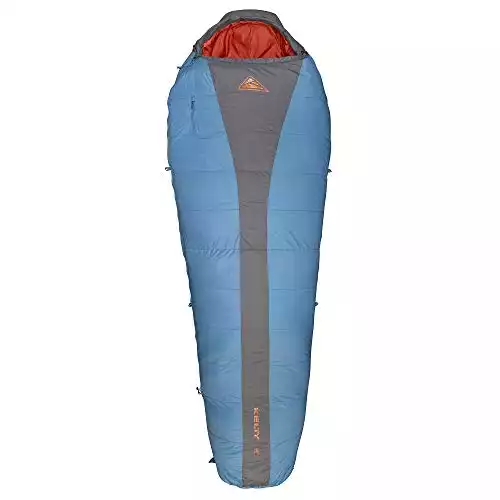 Kelty Cosmic Down 20: The Verdict
This is a lightweight, durable, well-made sleeping bag with a very respectable 600 fill power and water-resistant down. It costs less than most of its competitors in the water-resistant down category of sleeping bags and is ideal for car-campers or backpackers for all three-season adventures, and, at a pinch, the odd winter outing too. Not bad, right?
It may lack some of the frills and the 800+ fill power of down sleeping bags produced by some bigger-name brands, but for those on a budget or who simply prioritize value for money over marginal weight savings and a logo that will earn them bragging rights over their campmates, then this bag's well worth its place on your shortlist of potential purchases.
Where to Buy the Kelty Cosmic Down 20
There are a decent selection of online retailers carrying the Kelty Cosmic Down 20. Surprisingly, prices can swing conisderably from $110 to $170 for this unit. It's a good idea to at least check each of the following sites:
On Kelty.com: Kelty has started selling directly which has the benefit of allowing customers to work directly with their support staff, great for ensuring a warranty or defect fix is fulfilled. Check this listing here.

On Amazon

: Amazon is always a good place to check for Kelty products, as they are typically available for a competitive price and – of course – free Prime shipping.
On CampSaver.com: CampSaver is a great place to find rock-bottom steals. At the time of this writing, they have the Cosmic 20 available for a steeply discounted rate. Check this listing here.
On Backcountry.com: Backcountry is a top quality retailer that has been in business online for years. Customer service is top notch and they generally have the best selection of models types and colors. Check this listing here.
Kelty Cosmic Down 20 Alternatives
If the Cosmic Down 20 isn't quite what you need, here are some popular alternatives that our team has tested: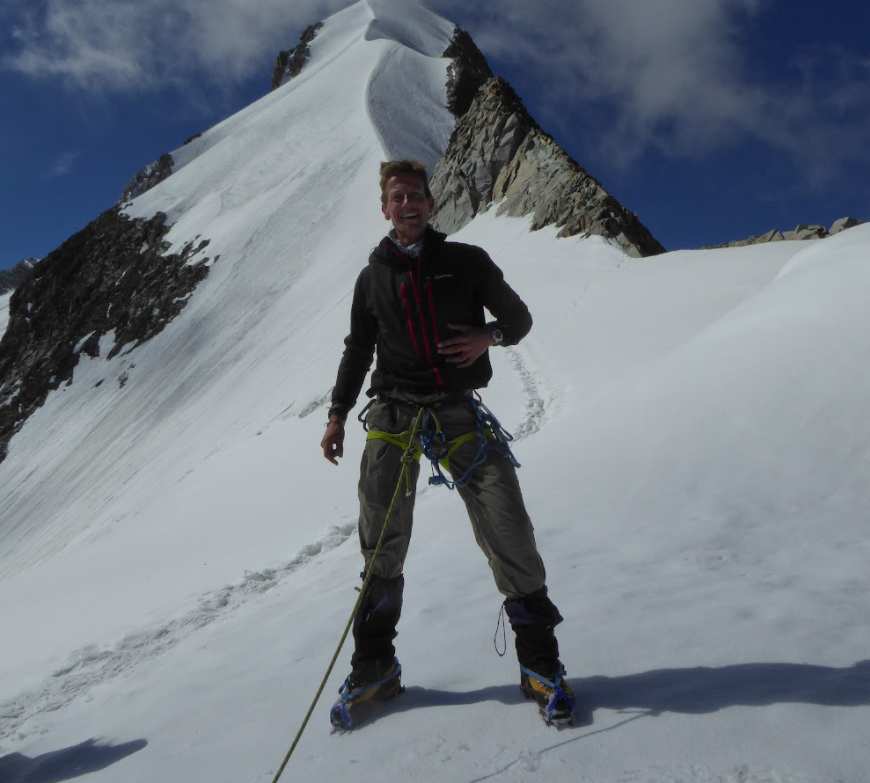 Kieran James Cunningham is a climber, mountaineer, and writer. He's climbed a handful of 6000ers in the Himalayas, 4000ers in the Alps and loves nothing more than a good long-distance wander in the wilderness.
Kieran has climbed many mountains in the
Himalaya
Karakorum
Rockies
European Alps
UK
To give some context on a 6000-foot climb—that would be a 555 story building. Keep in mind that there are no elevators to the top.
He now divides his time between the Italian Alps, the Scottish Highlands, and Brooklyn, New York.