Farm to Feet is one brand that deserves more recognition than it has gotten so far.
This brand is owned by Nester Hosiery, one of the most advanced performance sock manufacturers today. The goal of the Farm to Feet brand of this company is to support American business by making socks that are 100% American-made in every way with the highest quality.
If your sock drawer has been looking sparse or you're tired of wearing holey socks, it's time to consider buying a couples of pairs of Farm to Feet to wear and tear.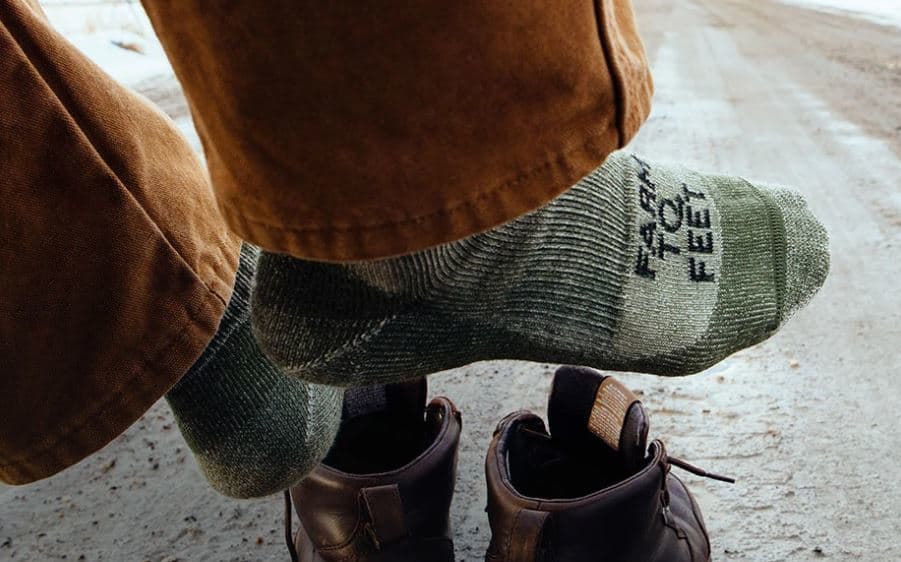 I love Farm to Feet
Amazingly comfortable and more durable than any other socks I've tried, Farm to Feet is my go-to for premium outdoor socks. 100% American Made, 0% substandard materials.
View Latest Deals
Buy at Amazon.com
We earn a commission if you click this link and make a purchase at no additional cost to you.
Specs and Features of Farm to Feet Socks
A lot of time and thought has gone into every design offered by Farm to Feet. It's impossible to go over every type of sock Farm to Feet has available, but your shopping experience is made easier by their categorization method.
Categories for activities include:
Hiking socks
Sport (That works like running socks)
Snow Sports
Everyday
Hunt/Fish
Tactical
Within each category there are a number of different socks to choose from:
Depending upon the activity you'll have choices between lightweight, midweight or heavyweight padding thickness, as well as sock height varying from ankle to knee. You might consider as well how sweaty they will get so the friction won't be a problem
Some other features of Farm to Feet socks include:
Offers compression benefits from the heel to the mid-arch for a close fit
Seamless toes prevent discomfort
Sock cushioning specific to each style base on activity needs
Reinforced structure prevents sock from twisting while worn
Made of US Merino wool (22.5 microns)
Other materials include US nylons and elastic
All in all, it's easy to see why fans of Farm to Feet praise this brand so heavily. So much attention has been paid to design, material selection, and usability specific to activities that it's difficult to be disappointed with these mountaineering socks.
Advantages of Farm to Feet Socks
The majority of Farm to Feet socks get 4 to 5-star reviews consistently. After all, socks have a fairly simple, but important, job for outdoor enthusiasts like runners or people who need to walk long distances while backpacking. Here are the four major advantages of buying Farm to Feet.
Manufactured with a 100% US Supply Chain
When you hear "American Made", many don't realize that this could mean that the product was simply put together in the United States, even if all the materials came from other countries. If there is any brand that is serious about 100% American Made, it's Farm to Feet so you can get the highest quality.
Their entire supply chain is located in the United States, even down to their displays and the ink used in packaging for delivery. All materials are sourced from American businesses and ranchers. Processing of the raw materials also takes place in American factories, as well as knitting the wool fibers and design in any type of sock.
Extensive Styles to Choose From
Regardless of what sport or activity you're into, you can bet your boots that Farm to Feet produces a sock ideal for it.
Whenever you need mountaineering socks, compression features, or running socks, you'll find a good performance sock and a comfortable fit with this brand. As mentioned, this brand has categories for men, women, and children. They are all equally well-made and are also attractively designed.
The socks made for everyday wear or so-called basic "workhorse" socks for hiking aren't too flashy, while the models designed for athletic wear have that type of look about them and are really breathable. There are a number of colors and designs, with most of each sock having a couple of color options.
There is a wider selection of styles for the women's sock, though this isn't too much of a surprise. As mentioned earlier, Farm to Feet makes it really easy to navigate their selection so you can go directly to what you need versus wading through multiple pages.
Made of Natural Materials
There are three materials used in Farm to Feet socks, which include 100% US Merino wool, nylon, and Spandex. The majority of these socks are 100% Merino wool, which is one of the best types of wool for socks. Merino is extremely resilient and tough, despite how deceptively soft it feels to the touch.
The wool fibers help to naturally regular temperature, providing heat when needed and helping to keep things cool through breathability so you won't be worried about sweaty feet. It's naturally resistant to moisture and easily wicks away sweat for a dry sensation, which might be very important for runners. Another huge advantage to Merino wool is that it doesn't have the itchy feeling or the friction so characteristic of other wool products. These feel wonderfully silky and breathable against the skin.
Reasonably Priced for Quality
When compared to other Merino wool socks, Farm to Feet is right on the money. These wool socks are priced very competitively, and to some are even better value than more expensive wool socks that don't deliver on all their promises.
Depending on the activity you are shopping for you can expect to spend anywhere from $15 to $38 (check this listing for the latest live prices), with most hovering around the $20 to $25 range (check this listing for the latest live prices).
You'll also notice that some socks have odd pricing, like the $16 Pilot Mountain hiking sock or the $23 Madison hiking sock, and both work great as hiking socks. This goes to show that Farm to Feet really prices their socks according to how much it costs to make. Rather than pricing everything at a flat rate or raising up prices to a typical even dollar amount, they only charge what is needed depending on the type of sock.
Disadvantages of Farm to Feet Socks
It's surprisingly difficult to find unhappy Farm to Feet customers, or poor reviews for their numerous types of socks. There are two things to consider when shopping within this brand, however.
More Expensive than Cotton or Some Synthetics
Even though the price of these high-performance socks is an advantage, for some it can also be a downside. Customers accustomed to wearing cotton or synthetic socks from normal clothing stores might believe that spending $20+ on one pair of Farm to Feet wool socks seems excessive.
In reality, this really isn't true since the design and materials used are better suited for specific activities like running, ensuring you stay free from sweaty sensation or any odor, warm, dry, and comfortable for a longer period of time. Not to mention that these socks will outlast cheap cotton socks easily with this high-quality wool.
Socks aren't often seen as an investment but based on the fact that it's the only barrier between your foot and shoe, it might not be such a bad idea to splurge a bit for quality if you are thinking of backpacking or starting running.
Thicker Models Might Cause a Tight Fit
While it would seem to be common knowledge, it's still worth mentioning that the warmer a sock is, the thicker the padding will be. Naturally the thicker the sock the less room you'll have in your boots.
Since Farm to Feet wool hiking socks is made of natural wool they are a tad thicker than synthetic or cotton socks. If you need a midweight or warmer sock for winter activities, consider that they will make your boots fit tighter.
Many people already size up their winter boots by half a size or so, but if you're looking to purchase new boots anyways you should take your Farm to Feet socks with you when trying new footwear on.
Overall the Farm to Feet socks is incredibly well-made and ideal for outdoor enthusiasts. Their price is perfect and the wide range of styles makes it easy to choose the exact type you need. They are one of the few brands that are 100% American made in every aspect of design, materials like wool, and manufacturing.
For some people, this alone is an attractive selling point to choose what to wear on your foot. Not to mention supporting smaller brand names is a great way to foster innovation.
The next time you need to purchase some comfortable fit, durable hiking socks, running, skiing or just for casual wear, be sure to look over Farm to Feet's selection first. No more weird liner sock work-arounds and doubling up.
Bottom Line: A good hiker knows the value of excellent socks. I finally think I've found them with the Farm to Feet socks here.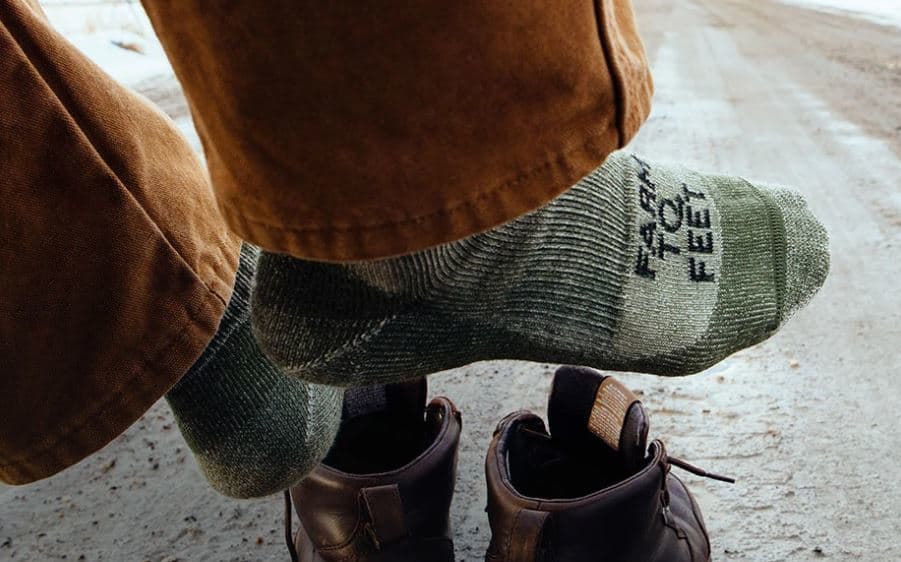 I love Farm to Feet
Amazingly comfortable and more durable than any other socks I've tried, Farm to Feet is my go-to for premium outdoor socks. 100% American Made, 0% substandard materials.
View Latest Deals
Buy at Amazon.com
We earn a commission if you click this link and make a purchase at no additional cost to you.
Farm to Feet Alternatives
While I love my Farm to Feet socks, there ARE some other options worth considering in the same category.
First, check out Darn Touch Socks, a similarly "made in the USA" story with high-quality bespoke materials
Second, check out Smartwool socks. They've been around for a bit longer and are slightly more affordable (although not as durable in my experience).
Further Reading on Hiking Socks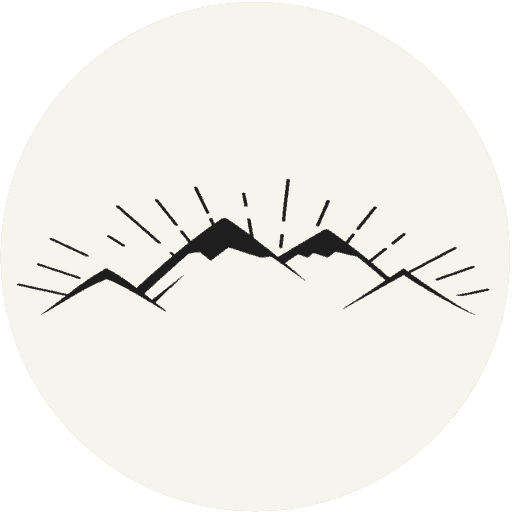 The All-Outdoors Guide team is comprised of enthusiastic experts that enjoy helping others that aspire to be better at outdoor fun. Part of that is making sure you have the right gear and information when it's time to go out and have fun. Some of our team have accomplished amazing feats like climbing 6000 feet to the top of mountains, others have explored every dirt trail they could find and we even have some people that have backpacked solo on various continents. No matter what our readers want to learn and do, our team is here to help them accomplish those goals.