Not all socks are created equal and every outdoor enthusiast who has experienced cold, sweaty feet, or blistered feet can attest to how important sock selection is.
There are a variety of different sock materials out there, including synthetics, natural materials, and blends of both for your feet. However, there is one particular material that stands above the rest – Merino wool.
Back in the day socks made of wool were pretty terrible when it came to comfort compared to cotton socks. They were heavy, overly thick, itchy and seems to sag off the foot. The lack of elasticity caused them to slip and bunch in shoes and boots, plus they weren't super insulating nor were they breathable.
Everything hikers and outdoorsmen hated about old wool socks have completely vanished. Merino wool hiking socks are not only free of all the flaws of those terrible old wool socks, but they offer a ton of advantages of alternative materials.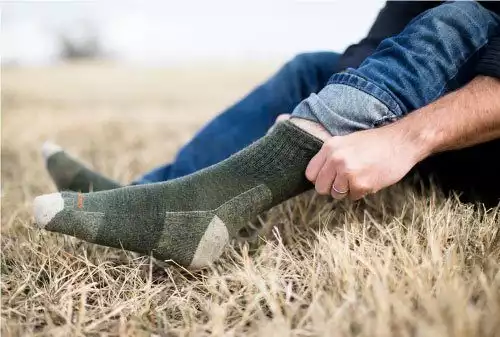 Why Darn Tough?
Amazing durability (darn tough - it's in the name) and easily the best padding I've ever had for a hiking sock. The Quarter Cushion is PERFECT as a low cut and breathable hiking shoe options for warmer conditions.
Check Price
Buy at Amazon.com
We earn a commission if you click this link and make a purchase at no additional cost to you.
Merino wool is more breathable than any other natural fiber. In fact, pure Merino sheep wool can absorb up to 30% of its weight in moisture while still feeling dry to the touch (moisture wicking). This wool is a true four season material as well and can be worn in any conditions. Its excellent insulative properties make it perfect for cooling as well as warming, making it a perfect choice for socks. Merino also has excellent sweat-wicking abilities and odor resistance.
If you've always disliked wool for its itchiness, fear not. Merino wool is incredibly soft and comfortable, and no more itchy than your typical smooth synthetics. To top it off, merino wool socks can also take a beating and offer all the natural benefits of wool hiking socks. This natural fiber has a surprisingly complex structure that offers incredible strength and resilience.
Both Darn Tough and Smartwool rely on Merino wool fabric in their material blends for their socks. However, despite having a few similarities there are key differences between these two brands you should know.
Bottom Line Up Front: Unless you want a thinner sock, I generally recommend Darn Tough here for serious hikers (more durability and better support). They are quite literally the best merino wool hiking socks I've tested.
But there are still cases where Smartwool is just fine, particularly if you can pick them up for a good deal on REI.com here… read on for my full analysis.
Main Differences Between Darn Tough and Smartwool Socks
The main difference between Darn Tough and Smartwool socks are:
Darn Tough is a much higher density knit compared to Smartwool
Darn Tough is more absorbent than Smartwool
Darn Tough offers a lifetime warranty, whereas Smartwool does not
Smartwool is generally less expensive than Darn Tough
Smartwool is lighter, thinner, and arch-hugging and generally better for everyday use, whereas Darn Tough is designed for durable outdoor wear
Design and Features of Smartwool Socks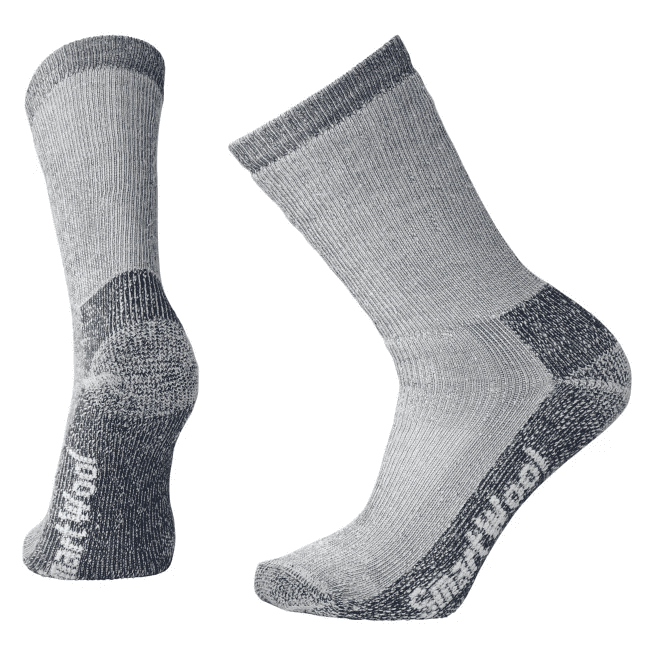 Smartwool is perhaps one of the best known Merino wool sock manufacturers. Smartwool is a US brand based in Colorado. They source their Merino from the Southern Hemisphere. Although they popularized for their socks, Smartwool also produces Merino wool apparel. They have a huge range of socks in varying sizes and purposes. Smartwool socks come with a 2-year guarantee.
A best-selling model of hiking sock for Smartwool is the Trekking Heavy Crew Socks, although the Smartwool Phd Outdoor is a close runner up as a light hiker option. These heavy, full-cushioned socks are designed to absorb shock, keep feet comfortable, and give support when carrying a heavy load. It was designed with an arch brace for added stability and to prevent the sock from slipping around.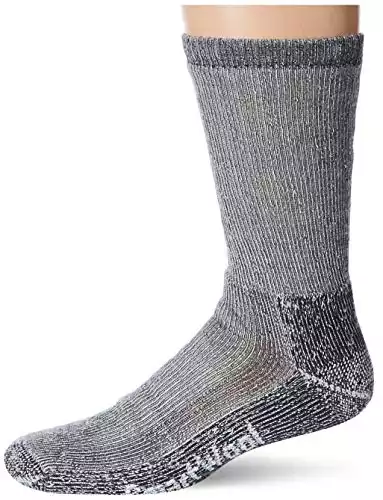 Smartwool Trekking Crew Socks - Men's | Amazon
This trekking sock is ready to go far and, of course, feel good. Heavy full-cushioning provides shock absorption, offers insulation against the elements, and supports under weighty loads.
Buy at Amazon.com
We earn a commission if you click this link and make a purchase at no additional cost to you.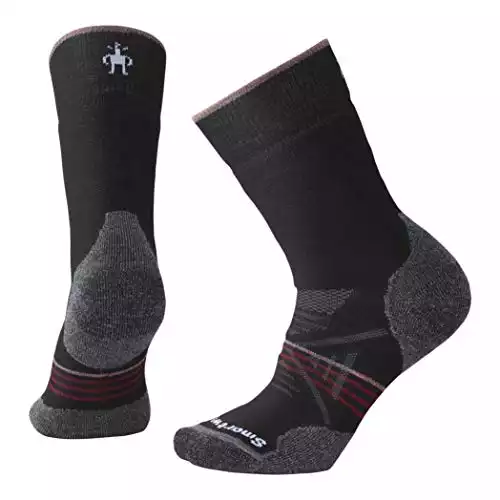 Smartwool mens Phd® Outdoor Medium Crew | amazon
Experience durability at its peak with the Smartwool Men's PhD Outdoor Light Mini Socks. These socks are built for performance in the highest degree, making them ready for any adventure on your list.
Buy at Amazon.com
We earn a commission if you click this link and make a purchase at no additional cost to you.
02/14/2023 08:04 am GMT
Other features include –
Classic crew sock height
Sizing visible on sock foot
Elasticized arch plus flat knit toe seam and toe box
Merino Wool Blend Made of 70% Merino, 29% Nylon & 1% Elastane
Sizes range from S to XL in men's (S = 3-5.5/M=6-8.5/L=9-11.5/XL=12-14.5)
Four color options – Loden, Taupe, Gray, and Navy
Retails for $20.95 (check the full collection of Smartwool socks on REI.com here)
The Trekking Heavy Crew Sock has 87 reviews on Smartwool's websites with a 4.9/5 star rating. The most common praises from customers include its excellent comfort, warmth, and cushioning throughout the entire sock. However, a few of the lower than 5 star ratings do state that the price is a bit high and that the sock's fit is a bit off.
Smartwool also has Merino socks for women's hiking socks and kids foot sizes, plus they also categorize by activity. For example, cycling, traveling, snowboarding, hunting & fishing, and running.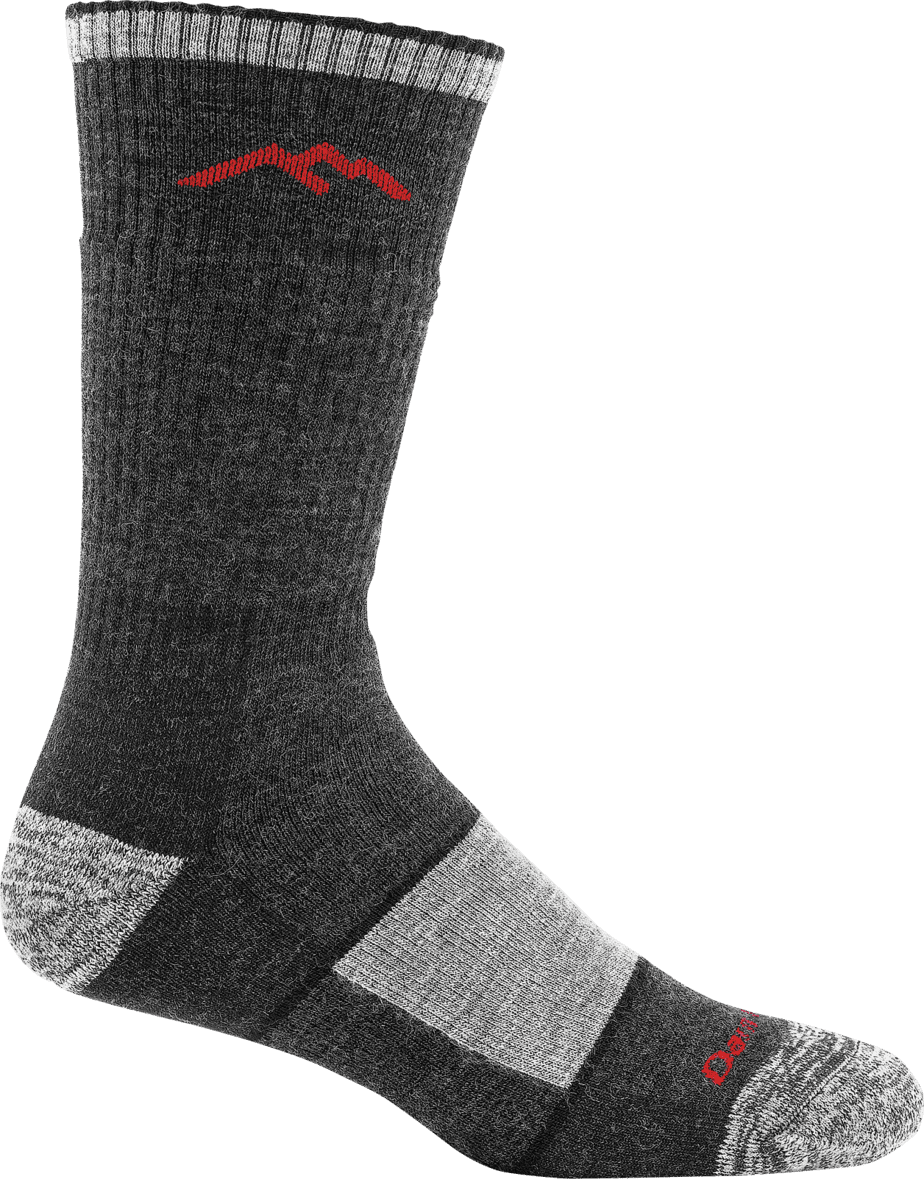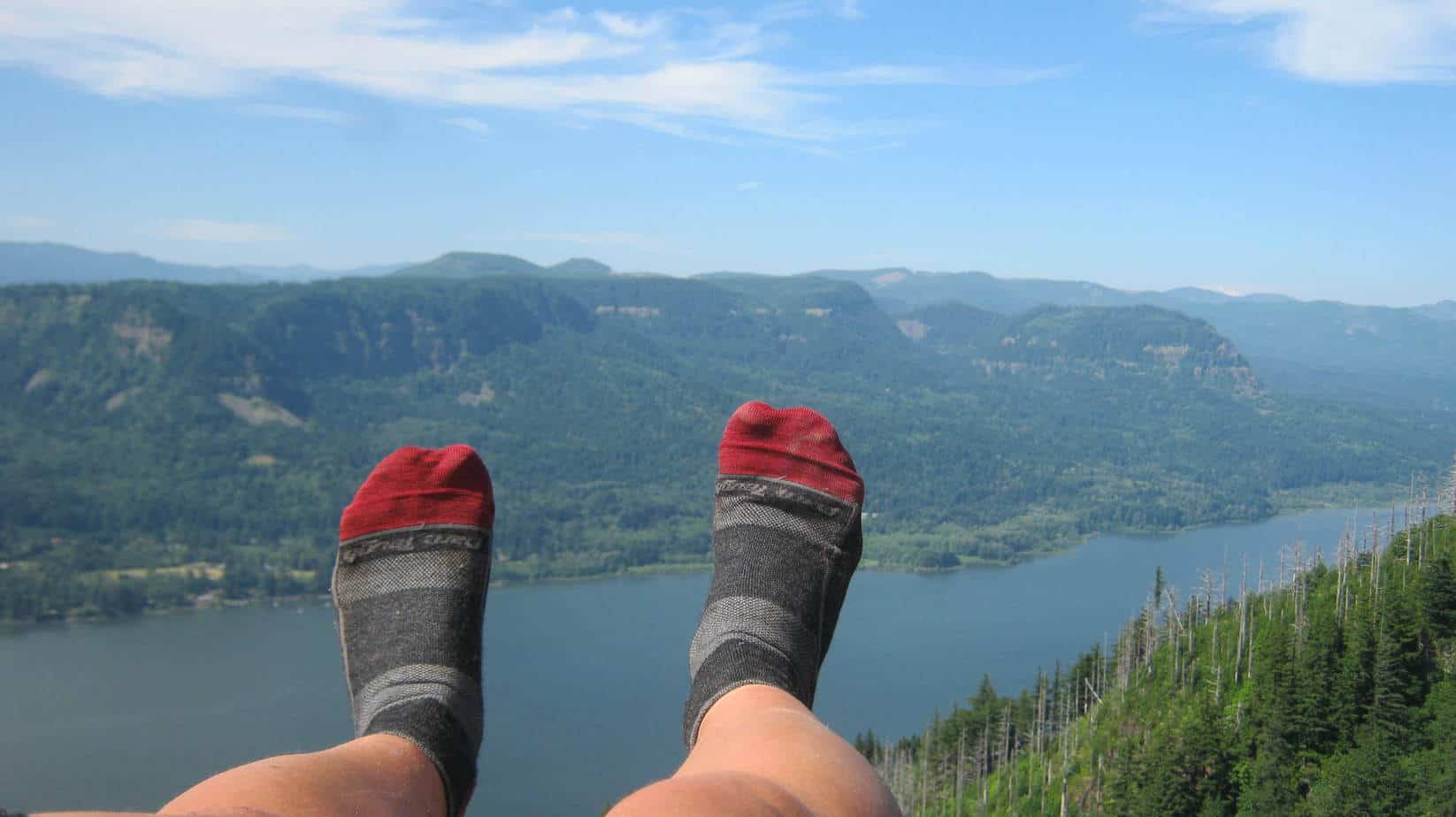 Darn Tough is another US-based brand, located in Vermont. Darn Tough might be a smaller family-owned company, but they've been around for almost 40 years. All Darn Tough socks are made right at their mill in Northfield, Vermont and their Merino is sourced from both US and overseas sources. Darn Tough offers an impressive lifetime warranty and if for any reason you're not impressed, you can easily return your socks to them for a different pair.
The best selling hiking sock on Darn Tough's website is their Hiker Boots Sock Full Cushion. This is a men's hiking sock that really boosted Darn Tough's reputation as thru-hikers tackling the harsh trails, worn on the likes of the Pacific Crest or the AT, claimed this to be their secret weapon. The Full Cushion sock is just as tough as it is comfortable for those grueling hikes.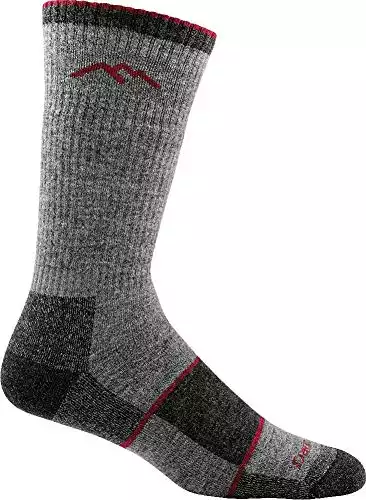 Our Video Review of the Darn Tough Socks
Yeah, we actually tested them by – you know – wearing them!
The main features of the Full Cushion include –
High-density cushioning throughout entire sock
Mid-calf boot-length height (ideal for boots, not completely over-the-calf socks and solidly over the ankle)
Fine gauge knit and seamless, ultra-smooth construction
Fast wicking properties and naturally antimicrobial
Pulls moisture from skin in summer and keeps feet warm in winter
Made of 66% Merino, 32% Nylon & 2% Lycra Spandex
Sizes range from Men's S to XXL (S = 5.5-7.5/M=8-9.5/L=10-12/XL=12.5-14.5/XXL=15-17)
Five color options – Black, Charcoal, Olive, Chocolate, and Oatmeal (varying designs, not solid)
Guaranteed for Life
Retails for $25 (check this listing for the latest promos)
The Full Cushion has a whopping 185 reviews on Darn Tough's site with only 2 reviews being a 4 out of 5 stars. Customers agree widely that the Full Cushion sock is the toughest sock they've come across, some of which who are so in love that they plan on switching all their winter socks over to Darn Tough.
These socks are exceptionally comfortable for casual or strenuous wearing and well-fitting. Other customers also cite that when they've sent in socks under the warranty claim they were given replacement without any questions and with remarkably quick shipping as well.
Depending on your use case, you may also want to invest in a basic sock liner to stretch longevity even further.
Just like Smartwool, Darn Tough has socks for women and kids as well. Darn Tough also has activity categorizations, including hike/trek, run, bike, endurance, lifestyle, work, and ski/ride. Also, Darn Tough has a special tactical category police officers, military, emergency officials (i.e. EMS or firefighters), and more.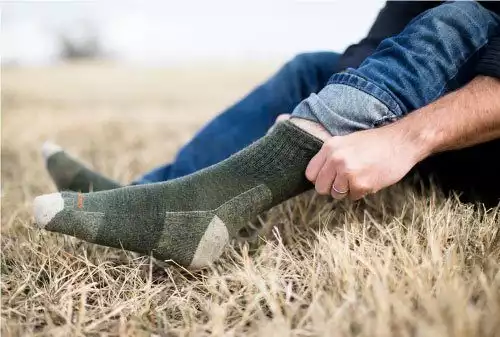 Why Darn Tough?
Amazing durability (darn tough - it's in the name) and easily the best padding I've ever had for a hiking sock. The Quarter Cushion is PERFECT as a low cut and breathable hiking shoe options for warmer conditions.
Check Price
Buy at Amazon.com
We earn a commission if you click this link and make a purchase at no additional cost to you.
A "Good" Story
If you are a fan of a good story, Darn Tough is a sustainable company:
Which Sock Should You Buy?
Smartwool makes beautiful quality Merino blend socks for your feet, but for the most part Darn Tough comes out a step ahead. There are a few reasons for this.
Firstly, Darn Tough socks have a more uniform construction, making them just a tad more durable to wear and less likely to thin. Overall customers seem to find that Darn Tough socks last longer than Smartwool and, as they age and wear, will wear down more evenly. You also can't forget than Darn Tough offers not just a lifetime guarantee, but also will replace any sock you buy that you aren't totally impressed by.
For More Cushion and Arch Support… Go with Darn Tough here: Darn Tough merino wool hiking socks are just a bit thicker than Smartwool (ideal for a hiking boot), although both companies do offer various thickness options for their models. Darn Tough socks have a little extra cushion in the toe and heel, but both brands have great elastic contouring and arch support for their hiking sock options. My Darn Tough socks also deal with general wear and durablity a bit better than Smartwool in my experience.

For A Thinner Sock Experience… Go with Smart Wool here: Smartwool socks are by no means a bad sock – in fact they are still a superior brand to go with compared to many other Merino sock companies. They are a great option for those that want maximum arch support and thin wool socks, especially if they have shoes with a snug fit and thick socks will be uncomfortable. With that being said, the average person may be happier with a pair of Darn tough socks than Smartwool.
Be sure to visit both company's websites and do a little research for yourself. While both socks are miles ahead of generic cold weather socks, you might find that one brand you thought you wouldn't want is actually a better fit for your than your #1 choice that you wear regularly.
Further Reading on Socks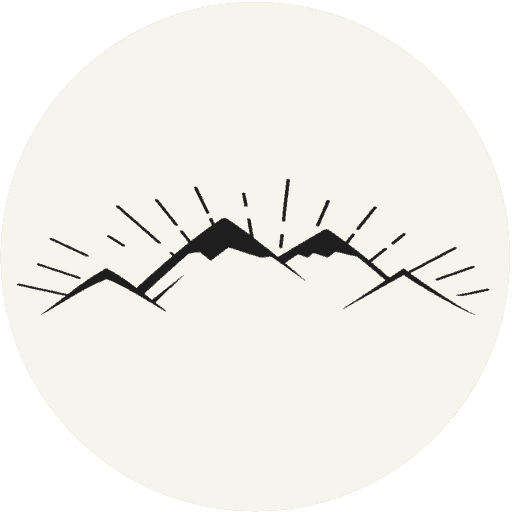 The All-Outdoors Guide team is comprised of enthusiastic experts that enjoy helping others that aspire to be better at outdoor fun. Part of that is making sure you have the right gear and information when it's time to go out and have fun. Some of our team have accomplished amazing feats like climbing 6000 feet to the top of mountains, others have explored every dirt trail they could find and we even have some people that have backpacked solo on various continents. No matter what our readers want to learn and do, our team is here to help them accomplish those goals.