Every year, outdoor footwear manufacturers taunt and tempt us with brand-spanking-new batches of hiking boots that promise us ever-greater things.
The press release drops, we read the tantalizing, gushing description of the goods on offer, salivate a little as we imagine ourselves stomping merrily around in reams of comfort on far-flung trails, and then promptly take to the store or our go-to online retailer to part with our cash.
Sometimes, these new offerings deliver on their promise; other times, they deliver very little to justify the huge whack of $ we pay to get our hands on them and we can't help but feel, well, a little bit cheated by the brand's marketing folks.
In the past decade or so, the Salomon Quest range has proven to be one of the most popular the world over, scooping awards galore and earning plaudits from pretty much every publication going. When the latest iteration of the Quest—the Quest Prime GTX—appeared on the market in 2018, therefore, we were a little bit skeptical.
Was this just another vaguely updated boot with just a few, mainly aesthetics tweaks were thrown in to help convince us to part with our cash? And, more importantly: if it ain't broke, why fix it? With the Quest 3D and 4D, after all, Salomon seemed to have the lightweight backpacking boot category well and truly covered.
Below, we're going to answer these questions with an in-depth review of the Salomon Quest Prime GTX. Before we get down to that, though, let's take a look at the features and facets that go into the making of a good hiking boot to help you decide if the latest of Salomon's many worthy offerings is the boot for you.
What to look for in a pair of hiking boots
Comfort
Hiking boots that don't perform well in terms of comfort are like cars without wheels—that is, almost entirely useless. In short, while you might get away with a slightly uncomfortable rain jacket or pair of gloves, an uncomfortable pair of boots is going to be downright prohibitive to making any progress and lead to a lot of unnecessary aches and pains. Comfort, therefore, is king.
Other than the sizing, four factors, in particular, will determine just how comfortable or uncomfortable a hiking boot will prove to be: the midsole, weight, stiffness, and breathability.
Midsole
Without a suitable midsole, our feet can succumb to a variety of ills, namely strain, stress and trauma caused by repeated impact with the terrain and/or any particularly sharp or protruding rocks underfoot. All of these potential injuries are more common among backpackers, who are likely to be carrying heavier packs and, as such, place more pressure on their feet.
A boot's midsole, in combination with the outsole, is our most significant line of defense, absorbing the blows and providing the cushioning, support, and stability, required for a more comfortable 'ride.'
Midsoles vary greatly as regards their shock-absorbing capacity. Most models of boot use either an EVA or polyurethane (PU) midsole. EVA midsoles are usually featured on more lightweight models and can range from very thin to almost cushion-like, whereas polyurethane midsoles are typically tougher, more substantial, but also more expensive and slightly heavier.
As a general rule, EVA midsoles are a good bet for day-hiking boots or hiking on well-maintained, smoother trails, while PU midsoles perform better on rockier, uneven, steeper terrain, and provide more support for backpackers carrying heavier loads.
Stiffness
A hiking boot's stiffness is one of the foremost determiners of the terrain type for which it is best suited. Stiffer boots are, typically, better suited to steeper terrain and snow because the sole remains level when your toe comes into contact with the slope, thereby giving you more purchase and a more powerful step.
While this can reduce calf fatigue on steep ascents, it's almost certain to be overkill on more moderate, maintained trails and less steep terrain. For the thru-trekker or backpacker, a very stiff sole is usually not advisable as the terrain covered is generally less technical and the gradients less acute.
Weight
The heavier the boot, the more work your legs will need to do. While a few ounces might not seem like a big deal in the store or while breaking them in around the house, recent research has shown that heavier boots can cause us to burn through our energy reserves far quicker than when using lightweight models. In short, those few added ounces of weight can make a big difference over long distances on long days on the trails.
But it ain't quite so simple…
Most heavier boots are heavier for a reason, and in most cases that added weight goes into a handful of attributes that might well be worth having in certain conditions, including added support, stability, ruggedness, and durability. On the 'con' side, heavier boots are also likely to be more cumbersome, bulky, and lead to leg fatigue far more quickly.
For those who like to move quickly and aren't carrying a heavy pack, some lightweight hiking boots will serve your purposes more than adequately. If you're a backpacker, however, and anticipate taking trips into rougher terrain, then the extra support, protection, and durability provided by a heavier boot will likely be greatly appreciated.
Breathability
A boot's level of breathability will usually result in a trade-off with waterproofing and ruggedness. Usually, the more waterproof a boot is, the less able it is to shed moisture vapor (sweat) from the inside, and if it uses a rugged, single-material construction then it's less likely to ventilate well compared to boots with integrated synthetic or mesh panels.
As a general rule, boots made with leather and nubuck or suede uppers and Gore-Tex (or similar) linings are poorer performers in the breathability stakes but offer more robust materials and superior water resistance to highly breathable boots that use mesh or synthetic inserts in the upper.
The latter of these two varieties may well be a better choice for occasional summer hiking on well-maintained trails, but for backpacking and travel in tougher terrain are unlikely to serve you well in the long term.
Water Resistance
Even if you tend to do most of your hiking in good weather, some degree of water resistance in your boots is always advisable in case the weather gods decide to spice things up on your day out in the mountains by throwing in a surprise downpour or two or your trails involve short stream crossings and/or are riddled with puddles.
Most hiking boots offer waterproofing in the form of a Gore-Tex or similar linings (Keen. Dry or Vasque UltraDry are two other examples) and/or a DWR (durable water-resistant) coating on the exterior, but many models of lightweight boot forego a waterproof liner in order to keep weight to a minimum and enhance breathability.
Where and the conditions in which you do your hiking or backpacking will determine the best choice for your needs. If you're a fair-weather hiker or happen to spend most of your time on sticky desert hikes, then a waterproof liner is only likely to result in your feet becoming as soaked in sweat as they might have been if assaulted all day long by airborne H20, so in this case, you might want to opt for a cheaper, liner-free alternative that offers more breathability.
If, however, you're a bit of an all-weather warrior prone to hitting the trail no matter what the meteorological outlook or plan on hitting the trails on multi-day thru-hikes when some degree of wet weather is almost inevitable, then we'd highly recommend opting for a pair of boots with a reliable waterproof lining.
Sole Traction and Grip
The outsole on a hiking boot is responsible for providing you with the traction and grip required to maximize energy efficiency and prevent you from spending more time than you'd like on your backside during your hike. Different brands and models of boot use different types of rubber and different treads, all of which offer varying levels of performance and are more or less well suited to different types of terrain.
A few general observations can be made as regards the tread and lug found in different hiking boots:
More 'aggressive', multi-directional sole tread patterns typically offer more stability, traction and grip on muddier and wetter terrain but also tend to increase the weight of the boot, whereas less aggressive treads, though often lighter, don't provide as much confidence on steep ground and when conditions are damp underfoot.
For those who envision using their boots to climb peaks or hike in wet-weather, we recommend an aggressive tread with multi-directional patterns and deep-cut lugs that will improve traction and provide greater grip when moving up and downhill.
If you foresee using your boots on more moderate trails and are a fair-weather hiker, a shallower tread will most likely be perfectly adequate.
The type of rubber used in a boot's outsole is also an important factor to consider, as this will determine how well it adheres to surfaces underfoot. There are dozens of varieties of outsole out there, but the two most impressive and reliable performers are Vibram and Salomon's ContaGrip, both of which provide a nice, reassuringly sticky feel even on the damp and slippery rock.
Durability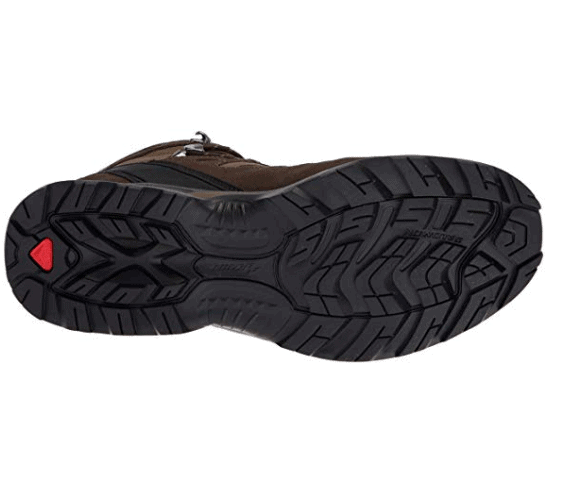 Our hiking boots are more subject to wear and tear than almost any other gear item in our backpacking kit. Unfortunately, the need to maintain a lightweight design, breathability, and dexterity often means that many boots compromise on long-term durability, meaning that those of us apt to rack up the miles in our boots have to replace them every year or so.
In most cases, boots that use heavier, more substantial materials such as leather, suede or nubuck will usually prove to be more durable than ultralight models made with synthetic fabrics or a combination of synthetics and some form of leather.
These, however, can also lead to leg fatigue more quickly and may well be overkill for those who envision using their boots only sporadically and in gentler terrain.
Now we know what to look for in a hiking and backpacking boot, let's get down to business with our review of the Salomon Quest Prime GTX.
Salomon Quest Prime GTX Review
Comfort
Our first impressions of the Quest Prime GTX as regards comfort were decidedly favorable. They required very little break-in period and boast more than ample cushioning in the areas around the forefoot and tongue and oodles of it around the ankle.
The fit is wide enough in the toe box and across the forefoot without ever allowing the foot to shift around excessively inside. While they feel a little less like a running shoe than the Quest 3D or Quest 4D, this is more than compensated for by their more supportive feel and a slightly stiffer construction that is better suited to steeper terrain and offers more in the way of stability.
Midsole
The molded EVA 'Energy Cell' midsole in the Prime GTX provides very impressive cushioning and shock absorption that represents a sort of happy medium between the pillow-like bounciness of an approach or running shoe and the typical robust, solid midsole of a traditional hiking boot.
This makes the Quest Prime a particularly versatile boot that excels in exactly what they're supposed to excel in: backpacking over long distances in moderate terrain whilst carrying a heavier load on your back.
The midsole is complemented by a lightweight 'Advanced Chassis' squeezed between the outsole and midsole that maximizes motion control, energy management and 'push-through protection' to offer more stability and responsiveness, and also a molded OrthoLite insole that enhances cushioning, comfort, and breathability.
Stiffness and Stability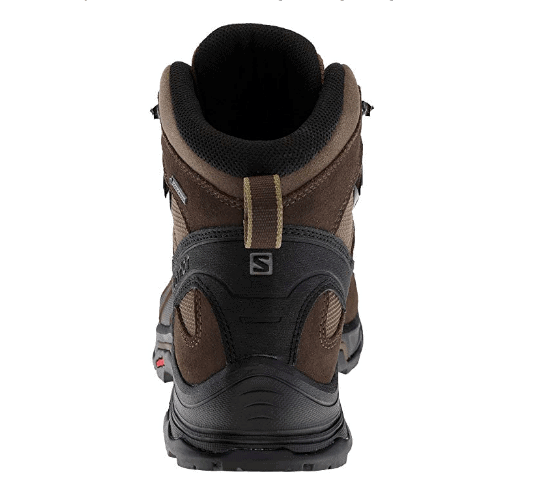 These boots place a greater emphasis on support, protection, and stability than many other lightweight hiking boots and, as such, are a little stiffer and offer slightly less dexterity. Despite being cut a little lower than the Quest 3D and 4D, they offer very similar stability and perform just as well, if not better, on rougher terrain thanks to the more rigid chassis.
Like their older and pricier siblings, these boots offer more than adequate ankle support for moderate terrain and have a solid feel to them that inspires confidence even on bumpier, uneven trails.
On the steeper ground the Quest Prime GTX come into their own, with the slightly more rigid construction providing a more powerful step and preventing your heel from dropping excessively—something sure to be appreciated by those hauling heavier packs, prone to leg fatigue, or looking to upgrade from a pair of highly flexible boots designed for use in flatter terrain.
Weight
At only 570g, the Quest Prime GTX is one of the lightest backpacking boots out there. Perhaps the most endearing thing about these boots is that, in order to achieve this lightweight, makers Salomon cut very few corners in terms of build quality, support, stability, and cushioning in the footbed and around the ankle.
Breathability
Hiking boots' breathability levels usually suffer relative to the level of waterproofing they provide, and the Prime GTX is no exception to this rule. While the combination of synthetic and leather in the upper allows them to breathe reasonably well, that Gore-Tex can lead to things feeling a little sticky after hard day's hiking in warmer temps.
Water resistance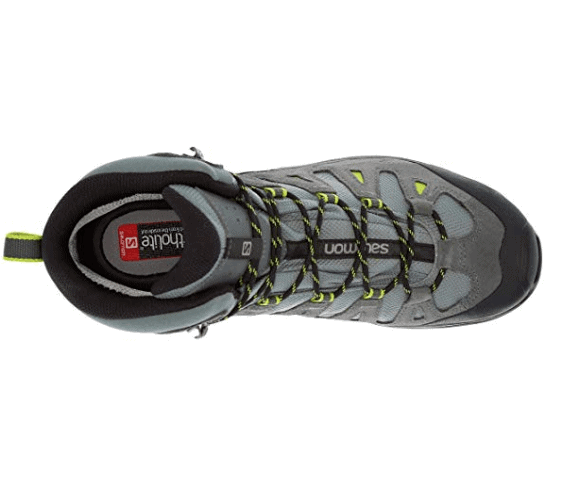 The upper in the Quest Prime GTX is fully lined with a waterproof and breathable Gore-Tex membrane to help keep H20 at bay. In practice, the boot is more than capable of dealing with puddle splashes and sustained precipitation but doesn't provide the same long-term protection as hiking boots that use a single-material construction in the upper—a trade-off resultant from the Prime's prioritization of weight savings over all-weather protection.
The Prime is also a little lower cut at the ankle than the other two members of the Quest family. While this makes them a little more comfortable in higher temps, it does mean they're more prone to saturation around the collar if hiking in tall, damp grass if the top of the boot is not covered by the base of your pants or gaiters.
Sole Traction and Grip
The Quest Prime GTX offers very confidence-inspiring traction and grip for such a lightweight pair of boots. They use a hard-wearing Contagrip sole that mimics those used in the Quest 3D and 4D, but with a slightly less aggressive and toothy tread and a substantial toe rand that offers great protection from bumps and bangs on rocky trails or those occasions when fatigue or clumsiness cause you to take lazy steps.
The Contagrip sole in the Prim GTX is made with a highly durable compound that is more hard-wearing than the soles of other boots in this price range and boasts a lug/tread pattern that provides good grip and comfortable walking on both paved or smooth trails and loose terrain.
Most impressively, the sole is very grippy in wet conditions, performing well on grassy slopes, in mud, and on rocky terrain—something that can't be said of all Vibram-soled boots in this price range.
Durability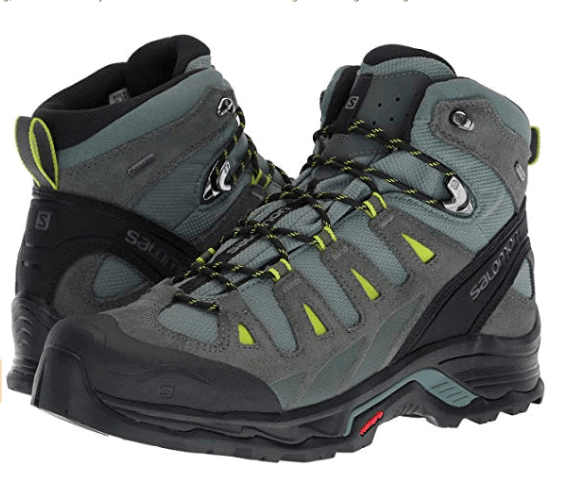 One of the most frequently voiced flaws of lightweight backpacking boots is their lack of durability. While the Quest Prime GTX isn't going to offer the same staying-power or resistance to wear and tear as burlier backpacking favorites like the La Sportiva Karakorum or Scarpa R-Evolution GTX, they weigh considerably less and offer enough in the way of abrasion resistance and are well enough made to see you through a good many seasons without falling apart.
In short, they aren't 'lifers' (for these see the two examples above), but nor are they one-season wonders (which may be the case with other popular lightweight boots like the Merrel Moab or even the Lowa Renegade).
Other Features
Toe guard
Burly enough to protect against lateral bumps and bangs but too small to offer much protection in the forefoot area
Gusseted tongue
The tongue is connected to the upper on both sides and so prevents debris from entering the boot and stays centered throughout your hike
Protective mudguard
Protects the lateral and medial sides of the foot in boggier terrain
Lace locker
A locking eyelet between the forefoot and ankle eyelets locks the laces in place and allows for more precise adjustment
SensiFit system
Cradles the foot from the midsole to the lacing system to provide a secure, snug, and customized fit around the foot
Comparison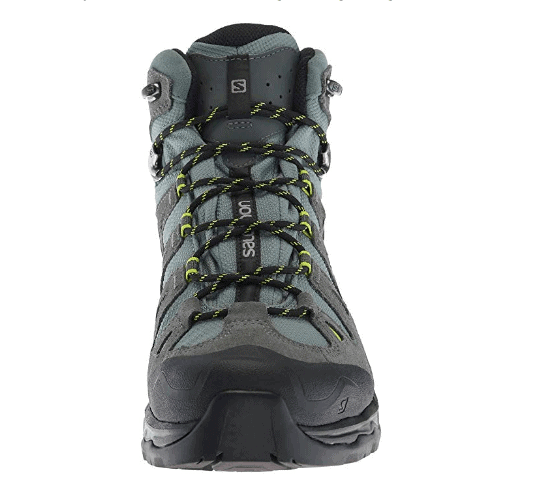 As the table below demonstrates, Quest Prime offers something of a happy medium between heavier-weight hiking boots and ultralight models. While they may lack the cushioning of the 4D GTX, they weigh significantly less and offer fractionally better water resistance and breathability at a lower price.
Compared with another backpacker's favorite, the Merrell Moab, they offer far greater support, durability, and water resistance, but cost somewhere in the region of $50 more and tip the scales at more than 200g heavier per boot.
Which of the three models below is best for your backpacking adventures will come down to the terrain you plan on tackling and a few personal preferences as regard design, style, and durability.
While the Moab is a great boot for those who like to travel fast and light and don't mind sacrificing a little in the way of waterproofing, both of the Salomon boots are harder-wearing, offer far more solid water resistance, superior support and cushioning, and are more likely to serve you well over a few years of use and abuse.
| | | | | | |
| --- | --- | --- | --- | --- | --- |
| Model | Weight | Best Use | Water resistance | Durability | Price |
| | 570 grams | Backpacking | Very good | Good | $$ |
| | 640 grams | Backpacking | Good | Good | $$$ |
| | 340 grams | Backpacking | Good | Decent/Good | $ |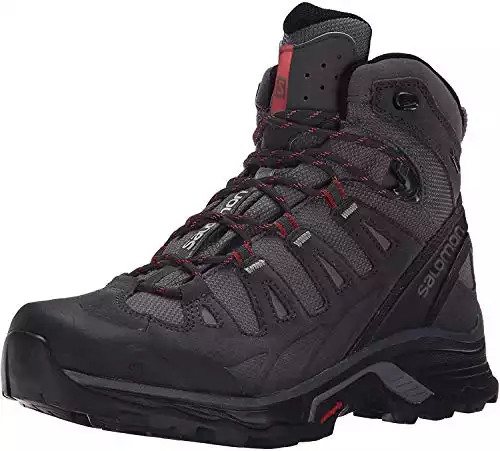 Salomon Quest Prime GTX: The Verdict
If you're in the market for a highly versatile, affordable hiking or backpacking boot that is lightweight, offers solid waterproofing and decent breathability, and scores very highly in the comfort stakes, the Salomon Quest Prime GTX is very hard to beat.
These boots offer pretty much everything the Quest 3D and 4D bring to the table but boast a design that's a fraction more similar to that of a traditional hiking boot in terms of stiffness and midsole support. They also weigh in at a few hundred grams lighter per pair, making them a great choice for long-distance wanderers looking for an all-rounder that ticks all the boxes that need ticking for travel in moderate, backpacking terrain.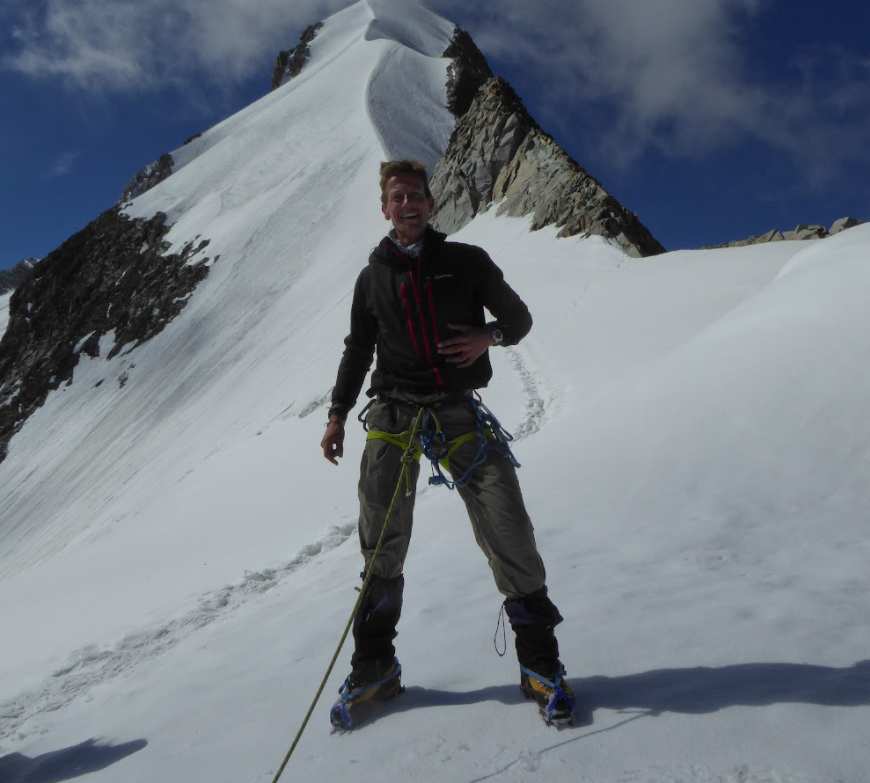 Kieran James Cunningham is a climber, mountaineer, and writer. He's climbed a handful of 6000ers in the Himalayas, 4000ers in the Alps and loves nothing more than a good long-distance wander in the wilderness.
Kieran has climbed many mountains in the
Himalaya
Karakorum
Rockies
European Alps
UK
To give some context on a 6000-foot climb—that would be a 555 story building. Keep in mind that there are no elevators to the top.
He now divides his time between the Italian Alps, the Scottish Highlands, and Brooklyn, New York.