In the last year or so, the once much-maligned and ridiculed "fanny pack" has undergone something of a surprise renaissance.
Restyled and renamed with the more appropriate sounding handle of "trail belt," this former exemplar of the fashion faux pas and dead cert to earmark you as fair game for the scorn of your buddies and general passersby is now making an emphatic comeback, and with good reason…
Far from being an unlikely encore of the ill-fated sort we've seen with the mullet and handlebar mustache, the revival of the trail belt has practicality at its core.
The rising popularity of sports such as trail or mountain running and ski-mountaineering has resulted in the emergence of a new wave of super-minimalist, ultralight, frill-free gear that does exactly what you need and very little more— a development from which we can all benefit, whatever our sport or backcountry MO.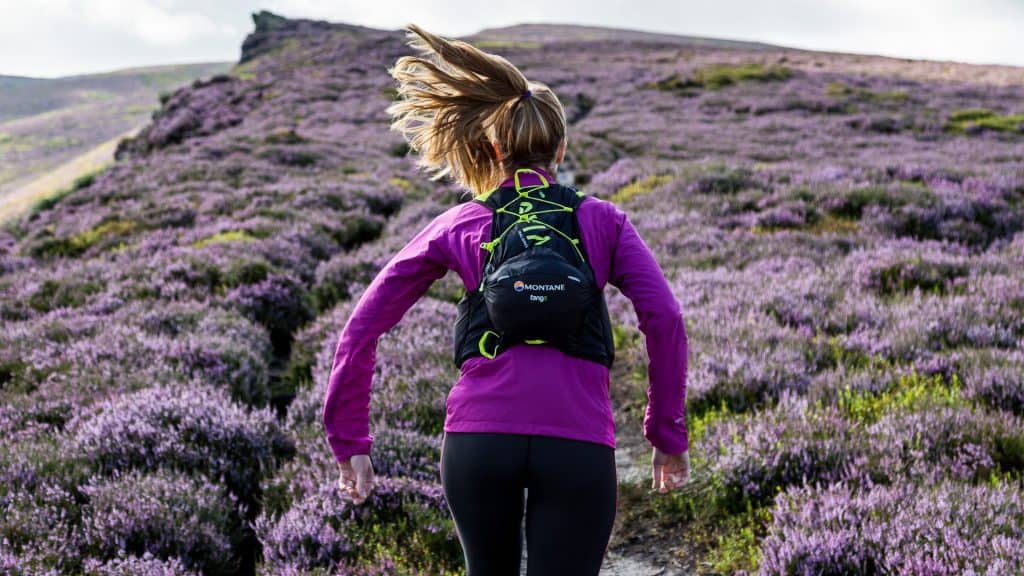 Among these more stylish and progressive newcomers to the "backcountry carry" catalog there have been many models that have caught our eye, but none quite so strikingly as the Montane Via Bite 1. Our first impressions were as you might expect — curiosity tempered by equal measures of skepticism. Could, we asked, such a diminutive product really be of any use?
In this article, we aim to explain just why an answer in the affirmative to the above question is not only warranted but worth emphasizing with a resounding "hell" to make it a wholehearted, gushing "hell yes!"
First, we'll take a quick look at this tidy little pack's significant specs before then getting down to the details of how all of its newfangled design features translate into performance and functionality for you, the would-be user and, we're sure, future fan and convert of the new generation of fanny packs trail belts that cutting-edge wonders of the world of outdoor portation device such as the Via Bite 1 epitomize.
Montane Via Bite 1: The Specs
Weight: 89g
Capacity: 1 liter
Main body: Raptor Ultralight
Belt: CONTACT Flyte Mesh Air
Hydration: Compatible with Montane SoftFlask 250ml (sold separately).
Pockets and Storage: One-liter storage capacity in main belt's zipped pocket and two stretch-mesh exterior pockets
Fastening: A Velcro closure teams up with a front stretch hook and loop adjustment to provide a secure fit and decreasing belt shift during dynamic movement.
Additional Features:
YKK reverse coil semi-auto locking zippers.
Internal key clip.
Lightweight hang loop for drying.
360° "Dusk Till Dawn" high-vis headlamp reflectivity.
What We Love About the Montane Via Bite 1
This very lovable little trail belt is made with the needs of serious mountain athletes in mind, but you really don't have to be a serious mountain athlete to use one nor enjoy the many benefits of its superbly functional simplicity.
Below, we take a look at the design aspects and notable components that make the Bite 1 a potential go-to gear item for those practicing a variety of outdoor sports at every level.
Versatility
The Bite 1 is the type of product that will divide potential buyers in the same way that half full/half empty glasses do. While there are sure to be many who will say you can't fit an awful lot into one tiny little liter of storage, there will be as many others who will see the huge benefits having that amount — and just that amount — of storage entails.
In essence, the Bite 1 functions like a free, oversized pocket — one that doesn't let its contents jab your thighs or restrict your movements (hikers who regularly stash phones, cameras, keys, or all three in their pant pockets will know just the sort of annoyance we're talking about!) and that provides just the right amount of storage for all the essentials we might need to have at hand while doing our sport either out in the backcountry or closer to home.
With so many modern outdoor garments — and particularly those made for running or warmer temps — lacking any form of storage option, it's easy to see how this tidy little belt could come in mightily handy not only for mountain runners but also dog walkers, regular hikers, skiers, cyclists, and even those carrying a regular backpack who simply want somewhere to store smaller items they're likely to need more frequently, such as phones, cameras, gloves, keys, or maps and navigation devices.
Convenience
So just exactly what can you carry in a 1-liter central compartment and two small mesh side pockets?
Here are a few of the combos we've used in varying activities:
Hiking: keys, camera, phone, energy gels.
Winter hiking: hand warmers, camera, trail snack.
Walking the dog: keys, poo bags, cell phone, treats.
Trail running: keys, jacket, MP3 player, energy gel.
Trail running 2: keys, 250ml hydration bladder, energy gel sachet.
Not bad, huh? While the above may already have won over a few skeptics, the most endearing thing about the Via Bite 1 in terms of convenience is not simply its surprisingly spacious capacity but the fact that it stores stuff right under your nose, where it can be easily located and retrieved without having to stop and take off your pack or rummage through a host of other gear before finding what you need.
If you happen to be — like the author of this article — a hiker of the perpetually disorganized persuasion, then this benefit alone is worth the price of purchase.
Materials
Finding a balance between durability, ruggedness, comfort, and weight has been somewhat problematic for many makers of minimalist trail-running packs in the past. Despite its negligible weight, the Via Bite 1 somehow manages to transcend and overcome these problems and passes every other test of its toughness and trail-readiness with flying colors.
The main body of the Bite 1 is made with ultralight Raptor fabric which uses Robic filaments for an improved strength-to-weight ratio, thereby providing toughness where the fabric is most likely to be under the most duress.
The belt is made with tough but wonderfully breathable and comfortable CONTACT Flyte Mesh Air, which ventilates better than almost any material we've come across in a trial pack and feels soft against the skin and barely noticeable on top of a running shirt or baselayer.
To top it all off, the Bite 1 features Montane's Polygiene permanent odor control on the Freelight Chassis, thereby ensuring that part of the pack most liable to stinking up stays fresher for longer.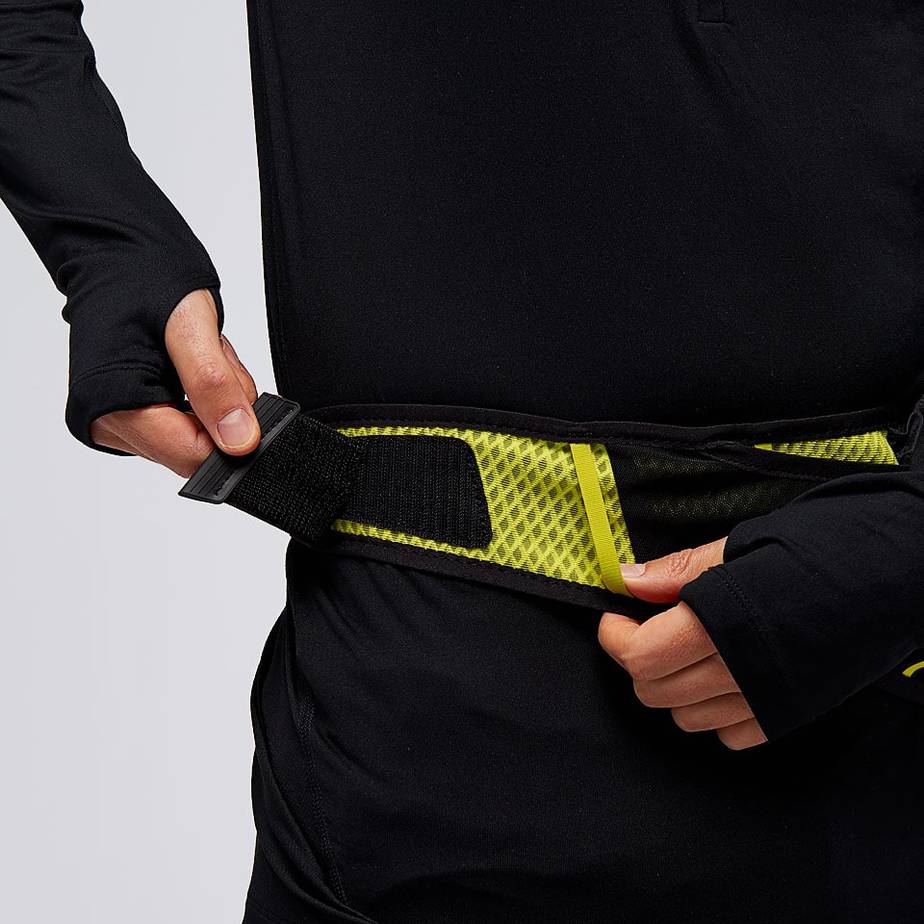 Fit
One of the more common failings among mini-packs and belts designed for trail running is their tendency to chafe of cause discomfort after a short time on the move.
On first appearances, the Bite 1 raised similar concerns, appearing as though it would require a very tight, restrictive, and potentially chafe-prone fit in order to stay put throughout a long run in rougher terrain where it (and its contents) would be jostled in every direction by the dynamic movements of our body.
Gladly, these concerns proved entirely unwarranted. The Bite 1 uses both a wide, elasticated waistband and a Velcro fastening to ensure both a comfortable and secure fit, and sits plumb on the hips without digging into the skin or shifting around.
Style and Appearance
Haters of the awkward, gauche inelegance of old-school fanny packs needn't worry about the aesthetics of this new, revamped descendant. The Bite 1 is sleekness defined and comes in a variety of fetching colors that steer its appearance away from the ungainliness of days gone by — in essence, it's a highly evolved and more advanced distant cousin that bears little resemblance to its less aesthetically endearing predecessors.
If anyone notices it at all, the Bite 1 is more likely to be a cause for plaudits and commendation than it is criticism. As an added bonus, both the pack and belt feature a high-vis lining that makes it easy to locate the pack in the dark and helps to keep you safe when traveling on or near roads.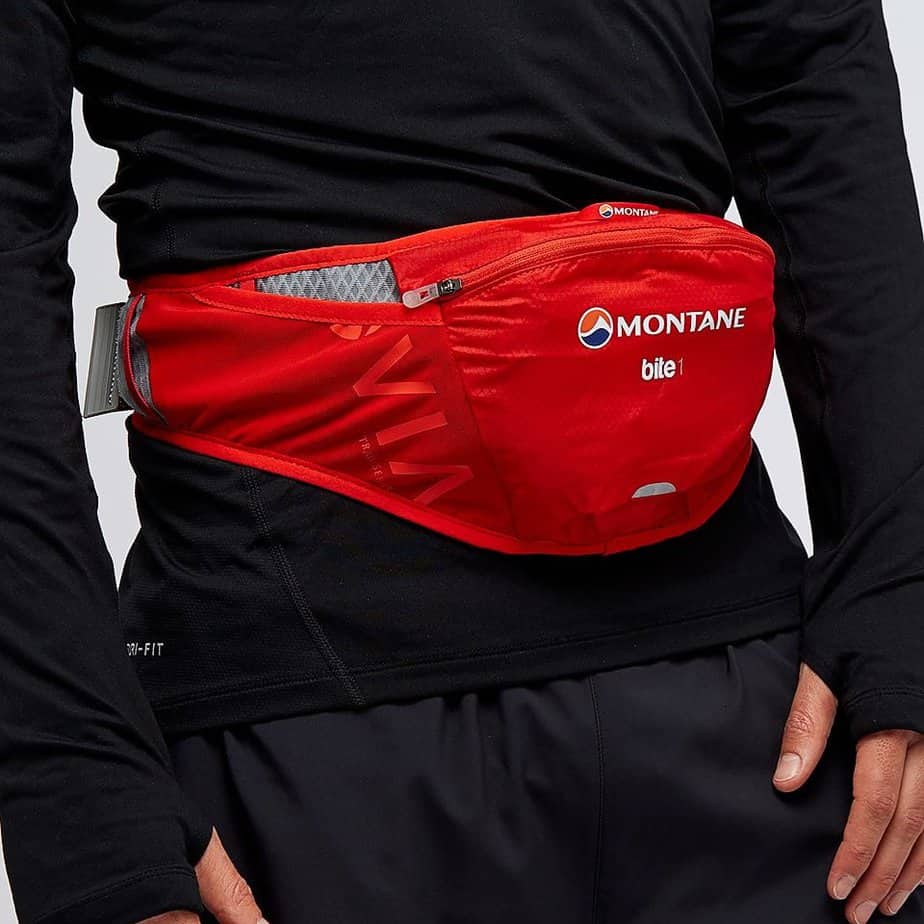 Water Resistance
Ok, so it isn't going to keep its contents bone dry in the event of a biblical-style downpour, but with a hydrostatic head rating of 1,000mm the Bite 1 holds its own against most other competitors in the field and will more than comfortably deal with the odd light rain shower and as much sweat as your body might be able to drip onto it.
As with all other aspects of this pack, it does exactly what you need it to do in terms of weather resistance without running into overkill.
Weight
At a mere 89 grams (3.14 oz), the Via Bite 1 is one of the lightest storage solutions for the outdoors-bound sportsperson out there.
What we love best about this negligible weight is not simply that it feels like it's not even there but the fact that makers Montane have used every single gram to good effect, from the high-visibility, 360° 'Dusk Till Dawn' head torch reflectivity lining to the breathable mesh belt, stretch waistband, and slim but sturdy central pouch.
What We Don't Love
This is going to be short…
The Via Bite 1 may not endear everyone with its diminutive size and an undoubted family resemblance to the much-derided fanny-packs of yore.
Then again, the best 1000D, 100-liter backpack out there isn't exactly going to sweep the average backcountry minimalist off of their feet, nor is a 900-fill down jacket likely to appeal to anyone bound for a summer hiking holiday in Hawaii.
In short, the only unlovable aspects of the Montane Via Bite 1 are those that would likely have prevented any potential trail pack buyers from even considering it as an option in the first place.
Seeing as you're here and have read this far, we can assume that you're probably in the market for a functional, lightweight, minimalist storage solution in which you can stash the bare essentials with the minimum of fuss and without overloading…and that's just what the Bite 1 offers.
Whether you're planning on using it for your days out running or hiking the trails, or just for walking the dog or throwing your keys and cell phone in on a morning stomp around the park, then the Bite 1 ticks all of the above boxes, being about as light and functional as they come and simplifying any portation needs with a small, sleek carry system that is as comfortable as it is convenient. What's not to love about that?
The Verdict
The Montane Via Bite 1 pack many noteworthy design features into a sleek, superbly functional little package. One of the more interesting benefits that will win the Via Bite 1 many an admirer, however, is just how forgettable it is: the pack's smooth ergonomics, featherweight construction, and all-round comfort are such that you barely notice it's there until you need whatever you have stashed inside.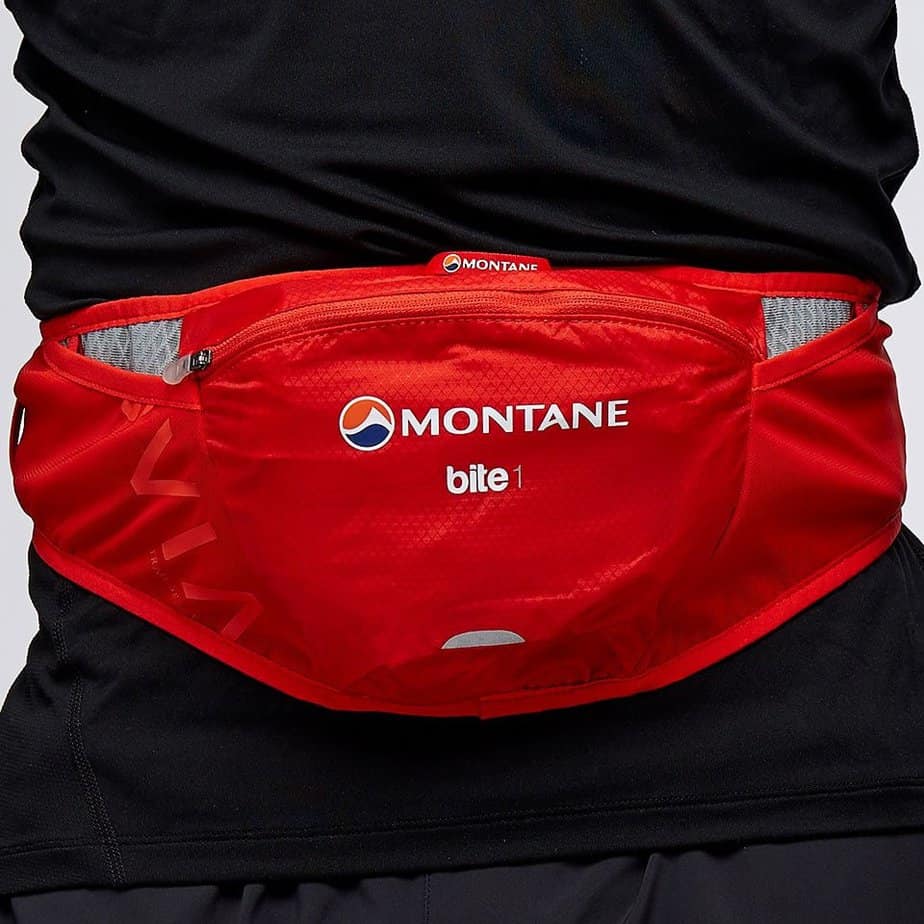 While many buyers may be put off by the prospect of paying for what, in terms of storage, amounts to little more than an additional pocket of the same size you might find on a pair of regular pants or trail shorts, the Via Bite 1 offers much more than a mere pocket and represents a true problem-solving storage solution for those involved in dynamic outdoor activities.
Next time you're out hiking or running and have to stop to locate your camera or map or find yourself cursing the water bottle rattling about in your trail-running backpack or house keys jingling in your pocket, that small expenditure might just start to seem one well worth making…!
Further read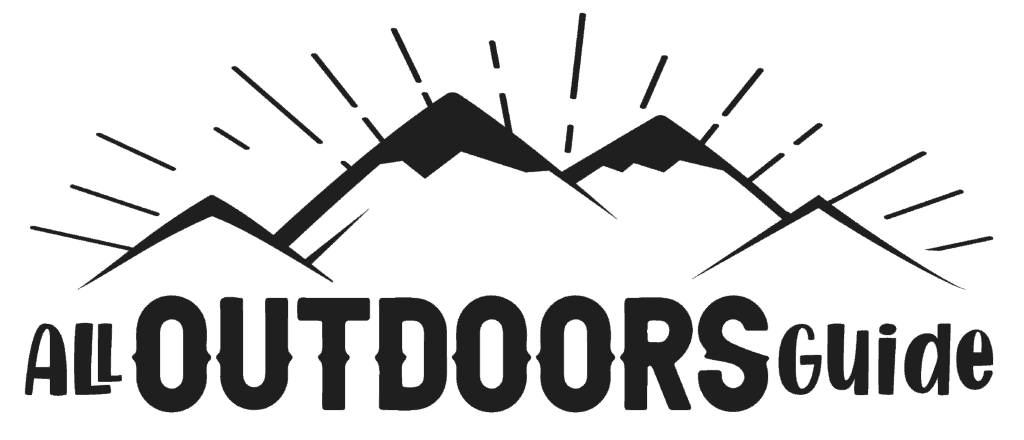 The All-Outdoors Guide team is comprised of enthusiastic experts that enjoy helping others that aspire to be better at outdoor fun. Part of that is making sure you have the right gear and information when it's time to go out and have fun. Some of our team have accomplished amazing feats like climbing 6000 feet to the top of mountains, others have explored every dirt trail they could find and we even have some people that have backpacked solo on various continents. No matter what our readers want to learn and do, our team is here to help them accomplish those goals.