Maybe you are the type of person who enjoys camping and hiking for longer than just a night. When you are trying to experience nature the way it's supposed to be experienced and spend multiple nights in the wilderness, you will want to keep you sleeping gear light while keeping your nights from being sleepless.
If you find yourself going on multiple multi-day excursions throughout the year, then you probably have a solid set up for when it is time to end the day. But if you are looking to optimize your Z's and get the most out of a multi-day trip, you will need to have the right gear for the job.
When it comes to sleeping outdoors, there are usually two options. Sleeping in a hammock and sleeping in a tent. Most people who have never tried hammock camping get cold feet from the idea of sleeping in a very unstable bed that hangs from ropes 2-3 feet above ground, creaking and swinging with the breeze. Not to mention that you probably will be a free-for-all buffet for some hungry insects lurking around. But people who are pro-hammock claim it to be a completely different experience and for good reasons.
Packing a tent is much heavier than a hammock. A tent is also more expensive than a hammock. Trying to find a good campsite which is free of any boulders, rocks or random depressions in the ground is like trying to find a needle in a haystack. Even then, just when you settle in your tent, you feel a rock stabbing your back and the entire situation is frustrating. With a hammock, all you need for a nice setup is two trees around 8-14 feet apart from each other and around 6 inches in diameter.
Ever slept in a dry tent at night and woke up in a puddle of water? Tents are susceptible to outdoor weather conditions when not set up correctly. Hammocks are also affected by rough weathers but there are lots of added accessories that will help you avoid a nasty situation while snoozing in your hammock. Rain-flys, bug-nets, and sleeping pads are essential to set up your perfect hammock camping experience.
Tents include a lot of accessories such as pegs, poles, rain-fly, sleeping bag etc. These things steal precious space in your pack and you will not need to make this sacrifice with a compact, lightweight hammock setup.
Also, hammocks provide a better sleeping position. According to scientific studies, it was discovered that the human body is able to sleep better and deeper due to the gentle rocking sensations that are similar to those of a crib. Not to mention the fact that these studies also found that sleeping in a hammock is good for the back and joints.
If you still aren't sold on the idea of hammock camping then take a minute to think about the view. An optimized hammock may be the only place where you can be warm and cozy while getting an unobstructed view of the stars while several feet from ground critters.
Today in this outdoor guide, we will be reviewing the Outdoor Vitals Aerie 20 ° F. This hammock camping accessory is an essential piece of your hammock camping setup if you are going to be in cold weather!
Features
Firstly, the Outdoor Vitals Aerie under quilt is essential for people into hammock camping. An under quilt is an additional accessory that will make your outdoor hammock adventure an amazing experience instead of a miserable one. An under quilt is usually made of insulating material that, when wrapped around the exterior of the hammock, can repel cold and wind and keep you warm and cozy.
We need something like an under quilt because biologically, we lose some body heat throughout the night. It is also essential to have some type of insulation to protect you from the cold conditions. When we do not have insulation, whatever body parts are pushed against the hammock will be freezing the next morning.
I have been hammock camping far too many times, thinking it was going to start relatively warm throughout the night. Next thing I know, I am freezing cold just because I forgot to bring some type of insulation. An underquilt is an excellent form of insulation for hammocking in cold weather, as is a sleeping pad and a wool blanket.
This Outdoor Vitals Aerie 20 underquilt is currently one of the best under quilts on the market. It is lightweight with a total weight of an impressive 2.3 pounds and a dimension of 76×31.5×4 inches. This outdoor gear is compact, easy to use and most of all, multifunctional.
It has five different functions and is great for insulating your hammock in cold weather. We love the multi-functionality of this under a quilt by Outdoor Vitals. In fact, they claim this to be one of their most versatile bags yet!
This underquilt can be used as a single bag, double bag, hammock underquilt, hammock sleeping pad or as a technical blanket.
The Vitals underquilt comes beautifully packaged. It comes in a small, compressed little sack weighing just an over 2 pounds. It is made of 550 gram down lofts and has a heavy-duty YKK Zipper on the right side. The outer pattern is in the form of baffled grids.
The outer shell material is made of 20 Denier Ripstop Polyester with a water-repellent outer coating. The inner lining is made of 20 Denier Ripstop Polyester. It comes with other items including short cords, cord locks and on the bag, there are drawstrings that help set up this under quilt as easy as pie. The shape of this underquilt is rectangular.
There is a thoroughly detailed but short instruction manual that comes along with the gear that tells you exactly how to use this underquilt.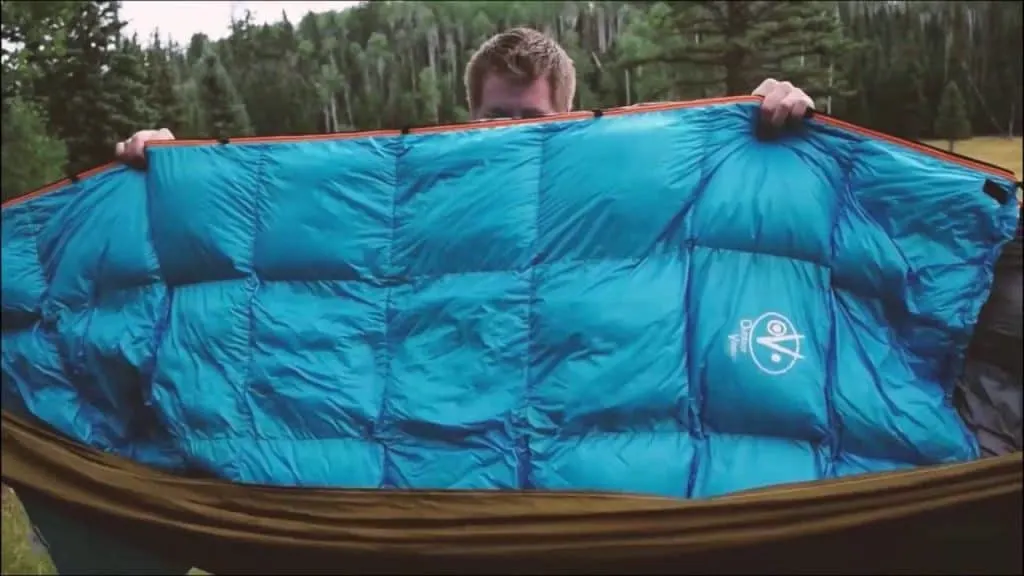 Multi-functionality
Let's get onto one of the best features of this product. The most attractive thing about this gear is its versatility. It has multiple uses and is efficient at all of them.
It can be used as a simple insulating under quilt. So you just wrap it around the outer parts of your hammock and done!
It can even be zipped from the middle to make it into a sleeping pod. Basically, you just lie down in the hammock after setting it up and then just zip yourself right in a warm cocoon.
This outdoor gear can also be used as a sleeping bag. If you prefer tent camping, then you can utilize this piece of gear as a traditional sleeping bag.
If you are still freezing in your hammock, you can buy two of these under quilts and use them together as a double sleeping bag. To do that simply lay one bag over the other or you can even zip them up together to convert it into a double sleeping bag.
You can also utilize it as a good old-fashioned blanket. Just wrap it around yourself and start feeling cozy and warm within seconds.
Water-repellent
Another great feature of this underquilt is that it is water-repellent. Outdoor Vitals make this underquilt using a special VitalDry DWR coating on its outer surface to make it water-repellent. This is great because rainwater and melted snow won't be able to get inside your hammock and you'll stay warm and dry despite the conditions.
Heavy-duty Zipper
Heavy duty YKK zippers line this underquilt. These zippers are apparently one of the highest standard zippers you can get. This zipper works better without getting jammed or stuck and lasts a very long time.
Heavy Duty Down Material
Down is one of the best high-end warming products you can buy. This product is made of duck down which means that this material has a layer of fine feathers found under the liner. Duck down is, as the name suggests, made from duck feathers. It is one of the best insulating materials out there.
This outdoor gear is filled with 550 grams of duck down providing 800+ fill power worth of insulation. This down material is stitched into the synthetic material in a baffle grid design. This baffle grid design ensures that there are minimal to no cold spots. This gear guarantees that you stay warm throughout the night. The 20 in the product name represents the fact that it has a temperature rating of 20° Fahrenheit.
How to Choose the Right Gear?
In this section of this guide, we are going to discuss a few of the factors that must be considered when buying an under quilt. If you utilize the pointers below you will know what to look for when buying your next underquilt. Use these factors to make an informed and educated decision.
Insulation: First and foremost, this is the one factor that you must keep in your mind when purchasing an under quilt. The main job of your under quilt is to combat cold and keep you warm and help your body retain that warmth. So, insulation is the first and most important factor. You do not want your new underquilt to be bad at the one thing it needs to do efficiently. Usually, there are two main choices for insulation, down and synthetic. We recommend using a down material as it gives better insulation, although it can get wet. But this problem is solved by Outdoor Vitals as their under quilt has a water-repellent outer coating.
Temperature: This is a highly specific factor and highly subjective as it is relative to the person using the underquilt and the conditions you are using it in. If you want to use an under a quilt in an extremely cold environment then you need to purchase accordingly but you won't need a very cold focused quilt if you won't be in a very cold climate.
Length: There are several varieties of under quilts available when it comes to size. Whether you want a full body under-quilt or just torso length is up to you. Again, this is a highly subjective feature. Some people do not like their feet getting cold and they prefer to use a full body under-quilt, while some people do not like their entire body being cocooned so they prefer to use a torso length underquilt.
Cost: Another important factor to consider, especially if you are buying your very first under quilt. Put some time into researching and invest some money into buying your first quilt to make your experience better.
Weight: This is something that you definitely have to consider. If you are a backpacker or just on a short hike and want to keep your pack nice and light, you need to focus on keeping your gear light. So make sure that you choose an underquilt that has a good weight to heat ratio.
The Outdoor Vitals underquilt is an awesome bang-for-your-buck product. It delivers a lot of value by providing an optimal sleeping set up for your hammock while not breaking the bank. This system will keep you warm and allow you to get a great night's sleep in the outdoors which is priceless.
How to Setup Your Under Quilt?
The easiest way to set up Outdoor Vitals Aerie under quilt is to first just lay it out underneath your hammock. We mentioned earlier in this outdoor guide that this gear comes with elastic cords and cord locks. Each corner of this under quilt has loops that are used for an efficient set up of your structure.
So you are going to take the elastic cords and just put it through one of the loops and then through the carabiner of your hammock. A carabiner is a metal loop that is present on the hammock. It is important in the suspension of the hammock strap. Once you put the cord through the carabiner you again pass it through and around the carabiner and then lock it with the cord locks. Follow the same steps with all the other corner loops and if you have done this correctly then you're under quilt should be below your hammock.
And remember to leave a few good inches (about 4-5 inches) of space between your hammock and under quilt. This space is important because as you sit or sleep on your hammock, your body weight will push the hammock down and it will now be resting directly on the under quilt. To use as a sleeping pod, simply zip the two sides of the Vitals outdoor gear and that it.
Few Reasons Why You Should Buy This Outdoor Gear Asap (and a Few Reasons Why You Should Not)
Here are a few pros and cons of the Outdoor Vitals Aerie under quilt.
Pros
It is a highly insulating material and uses duck downs. As we discussed in this review, down insulation is one of the absolute best forms of insulation there is.
It is water-repellent. This is a really good feature of this under quilt, as it prevents seepage from condensation or from rain or snow, in the hammock. Keeping you dry and cozy.
The lightweight material of this under quilt is another feature that gives it a few points. This means that you will not have to lug around extra weight in your pack and you can travel light and quick. A solid deal, if you ask us.
Its compact nature gives it another point. When you are backpacking or mountain climbing or going for a long adventure, you need your gear to be light and efficient.
The packaging of this product is another thing that impressed us. It comes in a high-quality polyester sack that is compact and can fit into your backpack easily.
Multi-functionality: This is an added bonus feature. This feature really impressed us as it is something new. This gear can be used as an underquilt, a sleeping pad, a single sleeping bag, a double sleeping bag or as a blanket! This is amazing and this is the kind of innovation we look for.
The underquilt is available in different colors.
Comfortable underquilt: The material is smooth and not in the least bit scratchy. That is most definitely a plus.
It is not too suffocating. This underquilt from Outdoor Vitals is light and breezy. It's not too heavy and doesn't suffocate you with its weight.
Cons
The zipper does not work properly sometimes. You have to go real slow to use it so that it does not get jammed or worse, break.
While the baffle grid idea is good, it would really be cool if we could actually move the down around the regions we want to.
The material tends to be a tad bit slippery sometimes.
To sum it up,
Specification at a Glance
| | |
| --- | --- |
| PROS | CONS |
| Good insulation and good insulating material used | |
| | Immovable baffle grid design |
| | |
| | |
| | |
| | |
| | |
| | |
| | |
Few Alternatives
There are some alternatives to under quilts that we do not mind recommending. Some of these are:
ENO Under Quilt:
This under quilt is big enough to cover 6 footers. It is polyester insulation. It has a reasonable price and basically does what it is supposed to do. The downsides being that it is not water-repellent and is not as compressible.
Go Outfitters The Adventure Underquilt
It is again polyester material as opposed to down insulation. You can use this under a quilt with a diagonal hammock as well. It repels moisture and dries very quickly. It is good for newbies as setting it up does not take long. The downside of this underquilt is that it may not fit some people and hammocks.
Outdoor Vitals Aerie 30°F Down Underquilt
This underquilt can function as an underquilt or as a sleeping bag. It is water resistant and good for camping in extreme weather. It is slightly expensive and a little complex to use.
OneTigris Hammock Underquilt
It is affordable and still high quality. The underquilt also features carabiners and straps to make its attachment to a hammock easier and stronger. It is great for spring and summer. It is not suitable for camping in cold weather.
So those were some of the alternatives that we like when it comes to a good underquilt.
FAQ's
What is the difference between Mummy pod and this model?
Mummy pod is for 15° f while this is for 20°F. The Mummy pod is similar to this model but more expensive. While this gear is available in limited colors, comparatively, the Mummy pod is available with more variation.
What is the length of this under quilt?
It has a length of 76 inches. It can fit a person of height 6"6' and below.
Is it Unisex?
Yes, it is unisex.
Can the inner down material be moved around?
No, the down material is stitched to the outer material in a baffle grid design. So you cannot move it around unless you open the stitches, which we do not recommend.
Can this act as an over quilt too?
Most definitely. It can act as an over quilt as well.
How deep are the baffles?
They are around 3 inches deep.
Honest Opinion
This is one of those products that we really enjoyed. Lots of pros and very few cons. It is a bit expensive but it is worth it. It performs the basic function quite well as well as bonus functions like the ability to be used for a variety of different uses.
We liked that this is a lightweight underquilt and it is extremely airy. Even when using this under quilt as a sleeping pod, there is no suffocation whatsoever. And that is great news for all claustrophobic outdoors enthusiast out there.
It is warm, comfortable and very smooth. Not least bit scratchy or smelly. It is highly compressible and therefore can fit into your backpack without feeling too bulky or heavy enough to weigh you down, a plus for sure.
Its water-repelling ability is definitely a hit with us. Some down underquilts are not water-repellent and therefore compress when they become wet. So it's nice that this problem is solved here without downgrading the quality.
Its multi-functionality is another hit with us. You get five functions for the price of one and that is great. It is just as warm either way you choose to use them and we are definitely not complaining about that. You can use it as an under quilt, as well as a sleeping pod, single bag, double bag and as a blanket. You can't beat that!
It is packaged nicely and you can use the same sac to store the under quilt as well. You can pop the sac into your backpack and you will be good to go. The instruction is pretty easy to follow and the entire set up of the underquilt does not take long. I
The things we are not entirely sold about are the zippers. They tend to get stuck quite a lot and we are constantly afraid that it will get jammed or break. Other than that, this is an excellent product and worth every penny.
Further read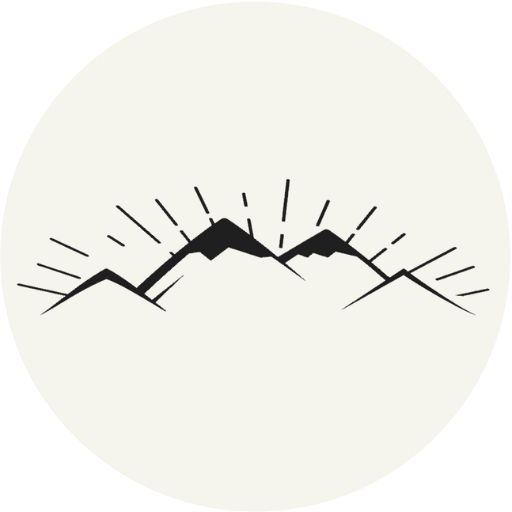 The All-Outdoors Guide team is comprised of enthusiastic experts that enjoy helping others that aspire to be better at outdoor fun. Part of that is making sure you have the right gear and information when it's time to go out and have fun. Some of our team have accomplished amazing feats like climbing 6000 feet to the top of mountains, others have explored every dirt trail they could find and we even have some people that have backpacked solo on various continents. No matter what our readers want to learn and do, our team is here to help them accomplish those goals.