Known for designing and manufacturing highly durable phone cases from recycled materials, Otterbox's toughest rugged cases include Otterbox Defender and Otterbox Defender Pro, so today in our Otterbox Defender Review, we'll see how this case performs and whether it's a good choice.
Touted as one of its best cases, Defender features 3 protection layers and 4x military drop-test standards. But then why would a company invest so much technology in cases, someone might be wondering?
The answer lies in the fragile and delicate nature of phones, plus our lifestyles. Our daily lifestyle is constantly bombarded by dust, dirt, and lint. Pair these with clumsy fingers and an ever-present gravity and you have a recipe for a scratch here, a crack there, or even a completely dysfunctional screen or phone after a fall.
The danger of these weather elements doubles when in the outdoors. Flimsy handling and the phone plunges, screen first, rapidly to the ever beckoning ground. A moment later, a thud as the phone kisses the ground, a painful gasp from you, and a ruined adventure.
It is why we have taken time to get you a comprehensive piece, in the name of the Otterbox Defender review, to rekindle that adventurous spirit that is free of worry, knowing that your phone is protectively holstered to your belt and completely protected by the Otterbox Defender.
Great Pick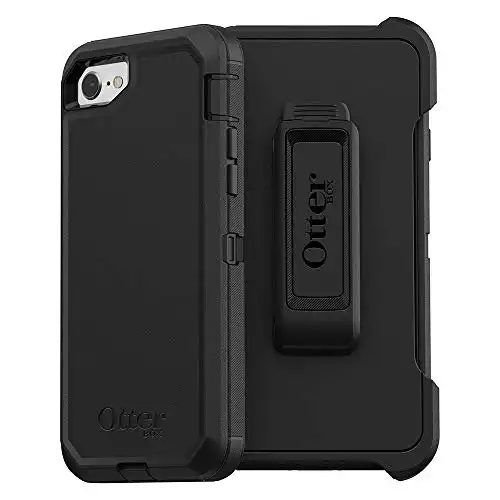 Defender Series Case | Otterbox
If you need a new cover for your phone when taking part in outdoor pursuits like hiking, climbing, hunting, and kayaking this is the perfect option for you! A great balance of durability and price.
Check Price
Buy at Amazon.com
We earn a commission if you click this link and make a purchase at no additional cost to you.
| | |
| --- | --- |
| Material | Polycarbonate shell, synthetic rubber slipcover and polycarbonate holster |
| Phones Supported | Main brands including Apple, Samsung, Microsoft, Google |
| Number of layers | Three |
| Included accessory | Holster |
| Colors available | More than 5; Black, Varsity Blue, Berry Portion Pink, Purple, RealTree edge graphic. |
| Weight | 3 ounces |
| Latest Price | Click here for the latest price |
If the name is anything to go by, Otterbox Defender is designed to defend your phone against drops, dust, lint, and clogging of jack ports.
It sports a number of features that fortify all your phone's delicate and fragile parts, to afford you that carefree adventurous spirit as you traverse forests, hike mountains, cycle through rugged terrains among many other outdoor adventures. Here are the main features:
Multi-Layer Defense
To ensure above-average protection, Defender features a three-layer case that works together to protect your precious cargo.
To the outside, the case rocks a synthetic rubber slipcover. This rugged and resilient outer layer absorbs impacts from drops and bumps. The absorption then drastically cuts the force of impact before dispersing it and transmitting it to the inner polycarbonate shell.
The internal two-piece polycarbonate shell receives the remaining impact which is further reduced by form pad cushioning. These are inner lining, in between the two-piece shell snaps of the polycarbonate. The end result is neutralized or zero impact on your phone.
And should it luckily fall on the back, the polycarbonate holster will be on hand to cancel out the impact long before it reaches the inner pad cushioning.
Raised edges protect the camera and screen
Aesthetically raised by almost invisible inches, are the bezel edges. The elevation on both the front and back work in synergy with the polycarbonate and rubber synthetics to protect direct impact to your screen and camera.
This implies that when dropped, both the delicate camera and fragile screen are way above force of impact. The end result is a scratch–crack free camera and screen.
This protection however will do little to nothing should the camera or screen be in direct contact with an abrasive sharp object.
Screenless Design for responsive flawless touch
Whereas the protection of your phone is important. More important is full unhindered access to all parts of your phone for flawless use. As such, it will serve little to no use to go for a case that comprehensively protects your phone, but curtails access to such useful parts.
And that is why Defender features a Screenless design. This is a technology that makes use of a curved screen that will allow a flawless responsive touch. That is, your phone's delicate screen, including the home button are fully covered but still allows you to freely and easily access your screen. Additionally, this technology is compatible with Otterbox Screen Protectors.
Port covers to keep dust and Debris at Bay
Basic electrostatic principles are enough explanation why ports, both charging and earphones, will frequently, if exposed, pile dust or even have debris stuck in.
And here is the sad reality. With outdoor adventures, the probability of encountering such weather elements and them clogging your ports is almost one. But not with Defender advantage.
On the entry of the phone's ports, but an extension of the exterior rubber shell, are port covers. The covers tightly firm against the port refusing entry to debris, dirt, water, and dust. This extreme protection is the Defender's advantage that places it above its competitors (see alternatives to Otterbox cases).
Military Standard Is Better, But Defender Is 4X Better (MIL-STD-810G 516.6)
Looking for that ultimate drop protection from elevated points, Otterbox Defender offers unmatched protection. The Defender has DROP+ and is 4x better than the military standard.
For consumer products like electronics, which is our focus, military standard denotes resistances to impact by various edges of the case. And unlike the military equipment that are extra bulky and designed for combat, phone cases are tested against different surfaces that may include concrete and wood.
It is these thorough and rigorous tests that Defender packs. Meaning that it has what it takes to guarantee minimal to no damage to your phone were it to fall from a height 4 times higher than that used by the military. Additionally, it is tested against 24 simulated scenarios that include high temperatures, thermal shocks, UV exposure and of course drops.
Limited Lifetime Guarantee
The confidence in a product's efficiency and durability can be gauged on the willingness, or lack thereof, of a producer to extend a warranty. By giving product users a warranty, it implies that the manufacturer has confidence in their end product and its functionality.
And this is exactly the confidence that Otterbox Defender inspires in all those who choose to use their case. This is extending to them a 1-year warranty on defective cases that will be smoothly and seamlessly handled by their responsive and friendly customer service.
Wireless charging compatible
Gradually, more and more manufacturers are joining flagship high-end phones producing wireless charging capabilities.
Wireless simply means, tossing the cable, placing the phone on a pad, and sitting back as your wireless phone pad pumps in charge of your phone.
And cases being made for such phones will therefore necessarily need to follow suit. That is, produce cases that are wireless compatible. Be it Qi or PMA, Otterbox Defender is up to the task of protecting your phone, as well as allowing you the freedom to enjoy the latest technology in the name of wireless charging.
Polycarbonate Holster
Hikes, climbs, cycling, surfing among many other outdoor adventures call for minimalistic packaging. Minimal doesn't however mean deliberately leaving out essentials, which if added to a heavy cased phone can turn out to be quite bulky.
To take the worry of increasing the bulky as you explore, Defender features a holster with a belt clip. This holster clip easily attaches to your backpack or even belt. Should you need to wind, the holster will be at hand to double up as a kickstand for you to stream some "how to videos".
Slimmer design, Better Rugged Protection
Military standard DROP+, three thick layers, and a polycarbonate holster may all make skeptics think that, isn't that one thick heavy case?
Not really, Just like the Otterbox Commuter (read Commuter pros and cons ) and Defender Pro, Otterbox has always made it their priority to produce magnificent cases that are both big on protection but sleek and slim in size.
That is why they ingeniously designed the case such that, despite the fortified protection, it still isn't thick or heavier than you would expect of such a case.
More Than 50% Recycled Plastic
World organizations and environmental conservation enthusiasts have continuously marshaled countries, manufacturing companies, and individuals to heed the reduced plastic usage.
This is because plastic has been shown to be non-biodegradable, pollutes the environment including being breeding grounds of disease vectors, and polluting the marine habitat.
It is why Defender intentionally chooses to delicately balance between defending you the user, your fragile phone and at the same guaranteeing a safer and better environment for future generations. That is why its design uses over 50% recycled plastic to help reduce the overall plastic accumulation.
Pairs with Otterbox Screen Protector
Otterbox understands that despite the extensive exterior hardy polycarbonate shell to the outside and impact absorbing rubber casing for your phone, the screen is still vulnerable to scratches and cracks.
Which is why the Defender is made to be seamlessly compatible with the Otterbox Screen Protector. Another end of the range protective accessory to better enhance your phone's protection.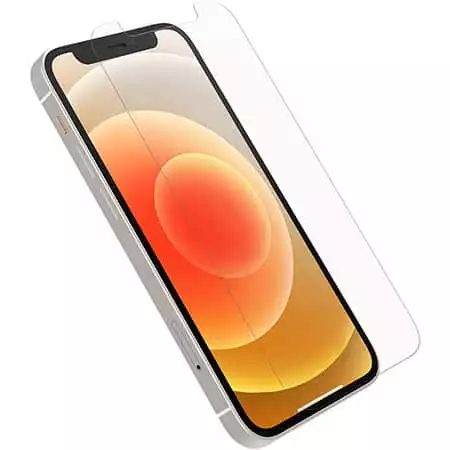 Screen Protectors | Otterbox
Shield your screen with OtterBox wide range of screen protectors. They are easy to install and retains touchscreen sensitivity.
Check Prices
We earn a commission if you click this link and make a purchase at no additional cost to you.
Pros of the Otterbox Defender
More than 50% of materials are environmentally friendly
The Defender uses over 50% recycled plastics. This converts the cumulative piling plastics into useful environmentally friendly products. The case durability and wide usage also reduce the overall volume of plastic polluting our environment.
Superb protection
The multi-layered case rocks three protection layers that offer robust protection to your phone in different ways. The foam buffer in between the outer and inner shells protects against drops, bumps and other shocks.
Belt/Backpack holster
It features a holster for easy attachment to your belt or travel backpack. This greatly reduces the chances of the phone slipping through sweaty hands or even from your pockets as you hike or climb through mountainous regions.
Protection against most weather elements
The case features firm flip flop covers that protect ports against dust, lint and dirt.
Full Access to All Ports, Mic, Camera
The Defender is designed to shield against weather elements but still allow for full access to ports, mics and camera.
Great Pick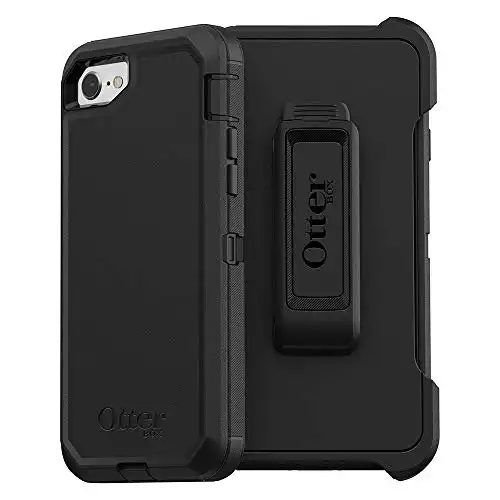 Defender Series Case | Otterbox
If you need a new cover for your phone when taking part in outdoor pursuits like hiking, climbing, hunting, and kayaking this is the perfect option for you! A great balance of durability and price.
Check Price
Buy at Amazon.com
We earn a commission if you click this link and make a purchase at no additional cost to you.
Cons of the Otterbox Defender
Too Bulky
With most Defender cases weighing an average of 3 ounces, they add substantial weight to the already bulk phones.
The weight difference is significant especially when weighed against the Commuter, which is one layer less, offers slightly less protection but packs a whopping 1.02 ounces less.
Takes a while to get rid off
The hassle of taking it off is most significant for those who might have to pull out a battery every now and then.
The progressive removal from the outer shell all the way to the third inner layer does take a while.
Not easy to get into and out of pocket
Unlike easy fit drop pull pocket-friendly phone cases, the Defender does not easily fit into pockets. This is especially so when the outer hard rubber shell casing is still on.
No screen Protector
It is quite ironic that the Defender, though made to protect, fails miserably in keeping the one single most important part safe, the screen.
Check out my Otterbox Defender vs Otterbox Defender Pro comparison here!
Reviews of Otterbox Defender
Most of the users registered satisfaction with the level of protection the Defender offers. They note that the outer casing sports a rugged and well-contoured appearance that gives it a firm grip. They also note that the diversity of solid colors is more than welcome as it is easier to match the case with one's fashion, mood and theme.
They further note that once the case is well fitted, it is sturdy, durable and offers excellent protection against periodic bumps and drops.
A few of the people who complained of getting the short end of the stick noted that Defender can accumulate some dust/debris in between the phone and the case.
If not regularly cleaned, these may turn out to be more problematic. Other complaints include its bulkiness, how hard it is to press the buttons, especially when held with one hand, inability to protect against water and the tendency of the rubber shell to stretch out with time.
Alternatives to Defender Otterbox
Donning a magnificent Crimson, mallard, or white color, and weighing at an average of 1.42 ounces is Urban Armor Gear UAG. The case, one of the many Monarch case series boasts of a 5 layer protective casing.
With these many layers, one would expect the Urban Armor to weigh well above 5 ounces. On the contrary, it relies on the feather-light honeycomb design to keep the weight to an acceptable minimum.
That is, the design is based on a delicate labyrinth of hollow cells that are intertwined to provide rigidity and robust protection. To further reinforce the hollow cells, they are compressed to minimize weight and size but still rock that extensive strength.
To seamlessly slip in and out of your pocket, Urban Armor Gear UAG sports a slim design that is thin enough to withstand friction is lint resistant but still strong enough to let you transition between adventure and normal life. Just like the Defender and Defender Pro (See Defender and Defender Pro compared), Urban Armor Gear UAG is Military standard certified. Its tests have proven it to have zero impact from heights of as high as 4 feet.
To match the industry standards of charging, Urban Armor Gear UAG (See more about Urban Armor Gear) is also wireless compatible and relies on near field communication for unobstructed functionality. Here is where we buy ours.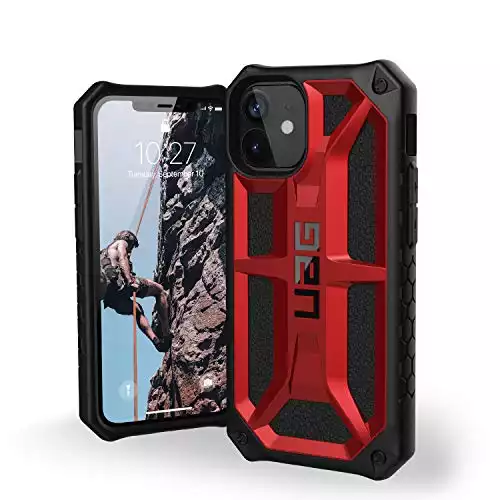 UAG for iPhone 12 Mini Case | Amazon
Urban Armor Gear's Monarch Series starts with UAG's signature armor frame and shock-resistant core, layered with top-grain leather, a polycarbonate shear plate, and alloy metal hardware—all wrapped in impact-resistant rubber.
Check Price
We earn a commission if you click this link and make a purchase at no additional cost to you.
02/14/2023 04:49 pm GMT
The Otterbox Symmetry (see our Symmetry vs Commuter comparison) is the predecessor to the Defender and successor to the Commuter. It is more of a bridge between the two sturdy cases produced by Otterbox.
Just like the Defender and Commuter, it comes with a limited one-year warranty, is wireless charging compatible, and is compatible with Otterbox Screen Protector.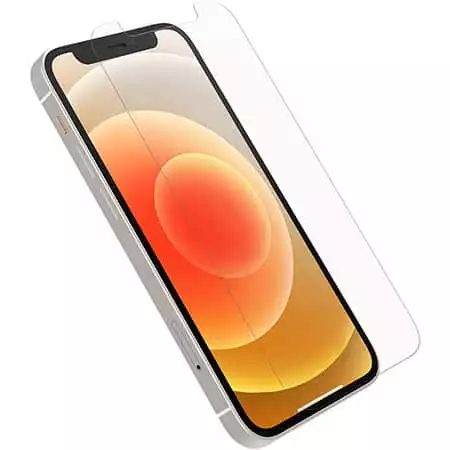 Screen Protectors | Otterbox
Shield your screen with OtterBox wide range of screen protectors. They are easy to install and retains touchscreen sensitivity.
Check Prices
We earn a commission if you click this link and make a purchase at no additional cost to you.
For shock absorption, it rocks a two-layer design that has an inner hardy polycarbonate shell and an outer synthetic rubber. Additionally, just like its counterparts, it has a recessed screen and camera due to raised bezel edges of the case.
For protection against microbial breakdown of the case that leaves cases degraded and with an odor, it infuses an antimicrobial exterior technology for lasting protection.
But unlike them, it uses 60% recycled plastic, has a 3x military standard drop test, is clear, and has a one-piece design that pops on and off in a split second. And as is expected of Otterbox cases, it is robust and resilient enough to protect your phone against fumbles, drops, and bumps. Read our Otterbox symmetry features here!
So does the Otterbox Defender live up to its name? Yes, it does live up to the reliability and familiarity that has been associated with Otterbox phone cases.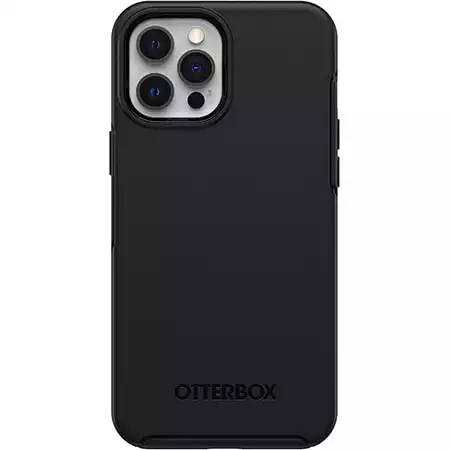 FAQs
Question: Is Otterbox Defender waterproof?
Answer: Unfortunately, it is not. The claims Defender lays all relate to drop-proof and never waterproof. For waterproof cases, take a peek at our waterproof case in the name of Lifeproof (See how Lifeproof compares to Otterbox).
Question: What Wireless charger works with Otterbox Defender?
Answer: That should be Oatspot Wireless Charger. It is compatible with both Apple and Android devices.
Final Thoughts: Does the Defender Live Up to its Name, Defending?
The Otterbox Defender is an upgrade of the Commuter case series. But unlike the Commuter, the Defender rocks a rugged protection casing, with a rigid polycarbonate shell that snaps around your smartphone.
This is followed by an intense impact absorbing rubber casing that smoothly stretches over the polycarbonate shell. The bezel edges magnificently recess the camera and screen to minimize scratching. For gripping, it sports an outer tactile grip for confident handling.
Attaching to either the back or front is the last shell coverage that neatly clings to the outer slipcover. To this outer shell is a belt clip that doubles up as a kickstand. For ports, it features an ingress with firm flip flop covers to protect against dust and debris. Plus it can withstand 4x the military drop-test standards.
However, it still lacks on a few fronts including the inability to comprehensively protect the delicate screen, is heavy and slightly expensive compared to cases with similar features. Overall, it has a well-thought-out design and has robust protection capabilities with superb handling add-ons.
Great Pick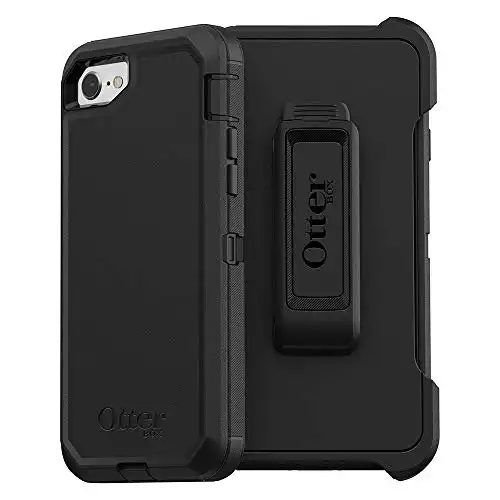 Defender Series Case | Otterbox
If you need a new cover for your phone when taking part in outdoor pursuits like hiking, climbing, hunting, and kayaking this is the perfect option for you! A great balance of durability and price.
Check Price
Buy at Amazon.com
We earn a commission if you click this link and make a purchase at no additional cost to you.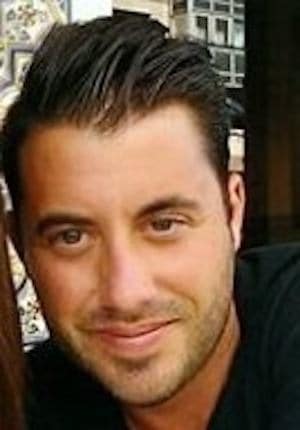 David is a strong advocate of outdoor-related activities and has many years of experience backpacking and hiking around the world, including the Italian and Austrian Alps in Europe as well as central and southern Asia.
Locally, he has also led many groups cycling through Vermont, Nova Scotia, and Wisconsin. David constantly uses and tests the latest gear for the outdoors, which in turn allows him to help others make more informed buying decisions. He's excited to share more of his knowledge and to see others enjoying the great outdoors more because of his advice and recommendations.