Smartphones are an important accessory, but they are getting expensive by the day. So it makes sense why you would want to invest in a phone case that protects your smartphone. If you're looking to protect your iPhone or Samsung Galaxy smartphone from accidental damage, Otterbox provides some great mobile covers. Today, we will compare the Otterbox Defender vs Pursuit, two of the best mobile phone covers available in the market today that can protect and extend the life of your phones.
Otterbox Defender is a heavy-duty and simple protective case that can protect your smartphone from fall damage. The Otterbox Pursuit is a more modern, lightweight case that provides better style while also giving your smartphone adequate protection.
To decide which one is the better fit for you, I will walk you through each product's unique features, the level of protection they offer, functionality, and compatibility with mobile phones.
Looking for a tracker for your hiking escapades? Check out our picks of the best 3 activity trackers in 2021.
Main Differences Between Otterbox Defender vs Pursuit
The main differences between Otterbox Defender vs Pursuit are:
Otterbox Defender is larger and sturdier, whereas Otterbox Pursuit has a more modern design that is thinner and lightweight.
Otterbox Defender is compatible with a broader range of new and old mobile phones, whereas Otterbox Pursuit is compatible with limited models and has already been discontinued by Otterbox.
Otterbox Defender has a rough and rugged feel, whereas Otterbox Pursuit has a smoother surface and feel.
Otterbox Defender has an even heavier, sturdier, larger, and anti-microbial version called the Defender Pro, whereas the Otterbox Pursuit comes with black or transparent backs of the protective case.
Exploring Otterbox Defender Vs Pursuit Features
Design
Otterbox is definitely a brand to consider if you are in the market for protective cases. All their cases come with a one-year manufacturing and material warranty.
The Otterbox Defender weighs 77 grams, which is a little heavy but it's meant to be that way. It is made of more than 55% recycled materials. The case is designed to provide heavy-duty protection to your smartphone. It has a noticeable bulky design and a rugged surface.
The Otterbox Pursuit has a modern and sleek design with great protective and accommodative features. The slim design case is Otterbox's thinnest creation yet, weighing just 44 grams. It conforms to the shape of the smartphone quite nicely without making it bulkier.
The Pursuit case features Pursuitech Audio enhancement which provides an optimal listening experience while protecting the speakers and mic from dust and debris with a thin membrane.
Texture
Otterbox Defender has a 3-layer protection design where the innermost layer is made of polycarbonate which adds to the durability and shock-absorption properties of the Defender. This is followed by a silicone outer layer covered with a sturdy belt clip holster that allows you to clip your smartphone to your bag, pants, or even use it as a stand when needed.
The Defender Pro is an upgraded version that features anti-microbial properties. It is also larger and heavier than the Defender by a few inches and grams. The Pro version is a great option for people looking for greater protection and hygiene.
Although the Otterbox Defender and Defender Pro are great protective cases that can easily last for years, they are not the most stylish options out there. So if you're looking for a balance between protection and style, the Otterbox Pursuit is a better option.
The Otterbox Pursuit comes in two options – polycarbonate black or transparent, both of which give it the sleek modern look. It also boasts a rubber bottom and sides to protect the phone from fall damage as well as dirt and dust.
Protection
Otterbox Defender and Defender Pro, in my opinion, are two of the best protective phone cases you can buy today. Sure, they're not the most stylish options out there, but if protection is what matters to you then not many can match the features the Defender offers.
Otterbox Defender has great shock-absorption properties thanks to its multi-layer construction and bulky form factor. The ports are covered to protect them from water and dust. That said, the surface itself is known to catch dust at the back and around the corners due to its anti-slippery material.
Although the Otterbox Defender and Defender Pro are pretty much similar, the latter has extra thickness which provides better shock absorption and durability. It's also a much more hygienic option due to its antimicrobial property, protecting you from bacteria and microorganisms that can build up on phones.
On the other hand, Otterbox Pursuit is a slimmer option, so naturally, it doesn't provide the same level of protection as the Defender or Defender Pro. That said, the Pursuit case is thicker than other average protective cases and therefore is much more durable.
Its well-crafted design provides great dust and water resistance. It has decent shock absorption and can protect your phone when it falls from moderate heights like a kitchen top or a table.
The Defender Pursuit is built with Pursitech Impact Liner where the inner layer's ribbing provides structural rigidity. The foam adds shock absorption and also makes the case resistant to dust, water, and snow.
The Audio Enhancement feature not only improves the clarity of the sound but also helps protect your phone from dust and water.
Smartphone Compatibility
Otterbox Defender series has been around for a while and offers great compatibility with many smartphones and tablets including (but not limited to):
Apple iPhone: iPhone 6 and higher models
Samsung Galaxy: Galaxy S7 and higher models
Google Pixel: 3a and higher models
Apple iPad: 3rd Generation and higher models
Samsung Galaxy Tab: Galaxy S5 and higher models
Otterbox Pursuit, on the other hand, is not as widely compatible as it's relatively new. Smartphones the Pursuit is compatible with include:
Apple iPhone: iPhone 7, iPhone 7 Plus, iPhone 8, iPhone 8 Plus, iPhone X
Samsung Galaxy: Galaxy S9, Galaxy S9+
Functionality
The Otterbox Defender is one of the best protective cases you can buy today in terms of functionality. The series offers better durability and drop performance than other models by the brand, as much as 4 times the military standard.
The Otterbox Pursuit on the other hand has decent drop protection that holds well against standard and even some protective smartphone cases out there.
It's worth noting that the screen protectors that come with the case in Apple models before the iPhone X were subpar. Since Apple switched to an OLED screen with the iPhone X, this hasn't been an issue.
In both Otterbox Defender and Pursuit series, the buttons and ports can easily be accessed on your smartphones. The ease of access has only improved over time.
There were some access issues with the original Otterbox Pursuit, mainly due to the design, but this has been fixed in the newer models. The mute switch was also an issue in the original model which has been resolved since then.
The Otterbox Defender has raised edges to protect the screen and camera from dust and debris build-up. It's also compatible with wireless charging, which saves you from the hassle of removing and putting back on the case.
Newer models of both cases offer direct access to the screen which improves the response and haptic feedback. The design of the Otterbox Pursuit allows it to provide more audio clarity which is a great feature especially when it comes to outdoor use. The dust mesh also helps protect your phone from dust and debris.
Ready to invest in the Otterbox Defender? Check out our Otterbox Defender Vs Defender Pro comparison that will help you decide which version is the best for you.
How to Fit the Otterbox Defender and Pursuit Onto Your Phone
Otterbox Defender and Defender Pro are heavy-duty protective cases, so it goes without saying that these cases are not that easy to put on or take off. Here is a step by step guide on how you can put the Defender case on your smartphone:
Remove the TPU sleeve
Take the polycarbonate frame out
Place your smartphone in the frame
Make sure all the buttons and ports are positioned correctly
To remove the Otterbox Defender case, simply follow this process in reverse.
On the other hand, the Otterbox Pursuit is not much easier to install and remove either as compared to other cases in the market. The steps to put on the case are:
Peel off the TPU edge and remove the front panel
Put your smartphone in the back panel
Reinstall the front panel
Press the TPU into the front panel
Comparing Otterbox Defender and Pursuit Pricing
There's not a lot of difference between Otterbox Defender and Pursuit when it comes to pricing. If your main priority is protection and durability, then the Defender series is the right choice for you. If budget is a concern and you need something that fits both your protection and style requirements, then Pursuit is a great option to consider.
Obviously, the price of the case will depend on the brand, model, and year of the smartphone. One thing to keep in mind is that you can save on the Otterbox smartphone cases by shopping around during the holiday season or key dates of the year when the prices go down. A good way to keep tabs on offers is to subscribe to their newsletter.
Generally speaking, both cases are reasonably priced and offer great value for money. By spending anywhere between $30-$70, you can easily get a protective smartphone case from Otterbox that saves your phone from all types of fall damage as well as dust and debris.
Otterbox Defender vs Pursuit – Pros and Cons
Great Pick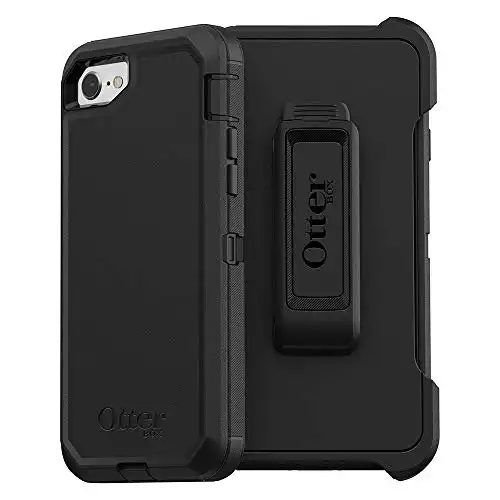 Defender Series Case | Otterbox
If you need a new cover for your phone when taking part in outdoor pursuits like hiking, climbing, hunting, and kayaking this is the perfect option for you! A great balance of durability and price.
Check Price
Buy at Amazon.com
We earn a commission if you click this link and make a purchase at no additional cost to you.
Otterbox Defender
Pros
Heavy-duty, 4x military-grade drop protection
3-layer design for added protection
Holster to easily clip to pants, bags, and use as a stand
non-slippery grip
Wireless charging compatible
Compatible with a wide range of smartphones and tablets
Cons
Bulky design with poor aesthetics
Few design options to choose from
Not easy to put on and take off
Cheaper alternatives available from other brands
Otterbox Pursuit
Pros
Slim and rugged case ideal for regular use
Dust, snow, and dirt protection
PursuiTech feature for audio clarity
Separate and easy to access mute switch
Not overly bulky
Cons
Not compatible with many common smartphone models
Slippery grip
Not easy to put on and take off
Looking to buy a protective case from a different brand? Check out the top Otterbox alternatives in 2021!
Are There Any Alternatives?
There are a few alternatives to the Otterbox Defender and Pursuit series that you should consider before making the decision.
Sonix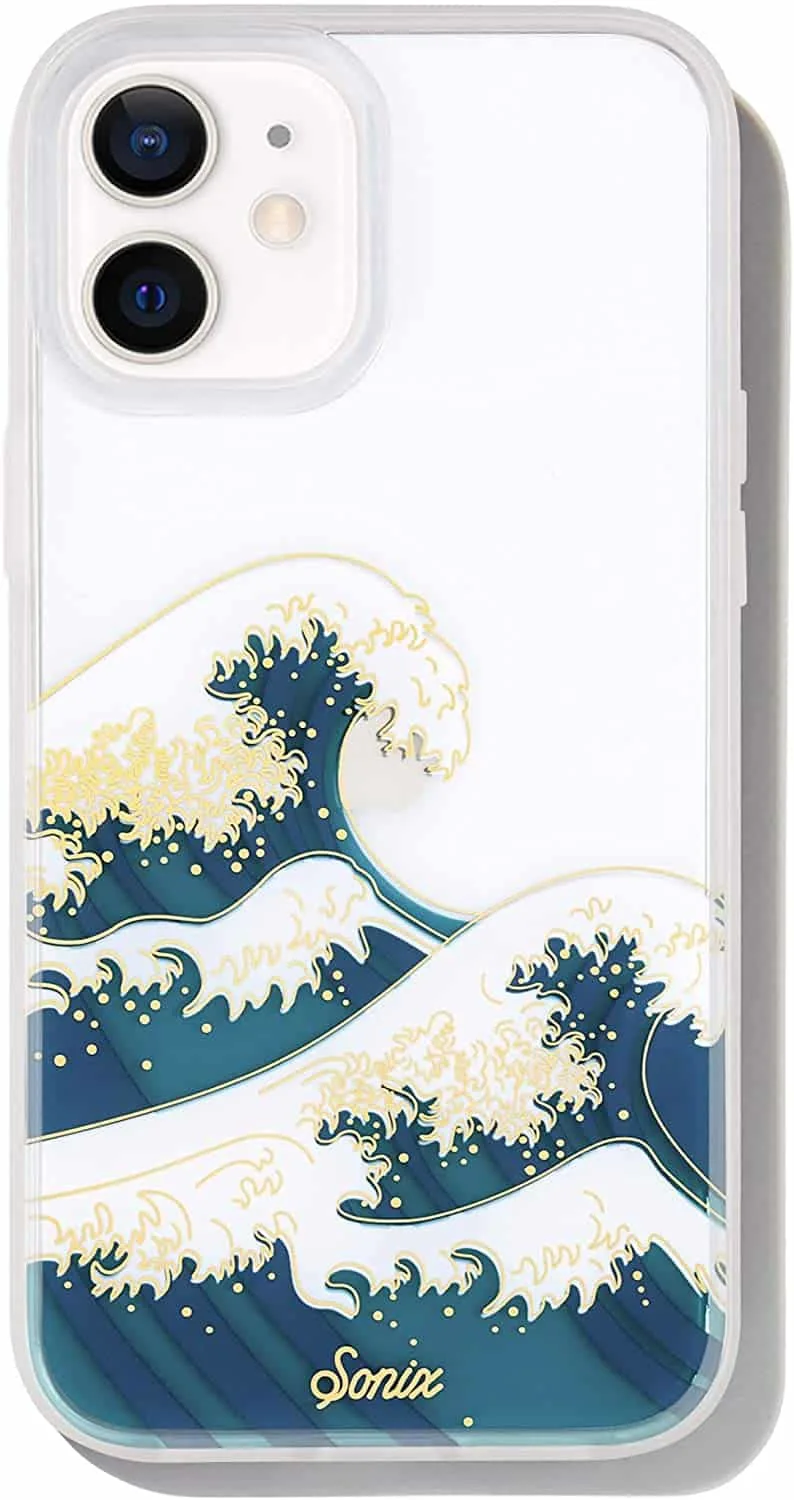 Sonix makes some of the most stylish yet protective cases you can buy today. In terms of style and ease of fitting and removing, its competitors, including Otterbox, don't even come close. Sonix has protective cases that are compatible with most Apple iPhone, Samsung Galaxy, and Google Pixel models.
That said, Sonix is not a good choice if you need a heavy-duty protective case for outdoor use. Compared to Otterbox Defender or even Pursuit, the level of protection it provides, especially considering the price tag, is not adequate enough.
Spigen
Spigen makes some great protective cases for smartphones from Apple, Samsung, Google, and other manufacturers. In fact, it covers more range of makes and models than Otterbox. Their cases are stylish and affordable while offering decent protection from fall damage.
In terms of outdoor use, Spigen phone cases are not that suitable and may wear down quickly, especially when it comes to iPhone models. So if you're looking for a phone case that's stylish and practical for everyday use, this is a great option for you.
UAG Monarch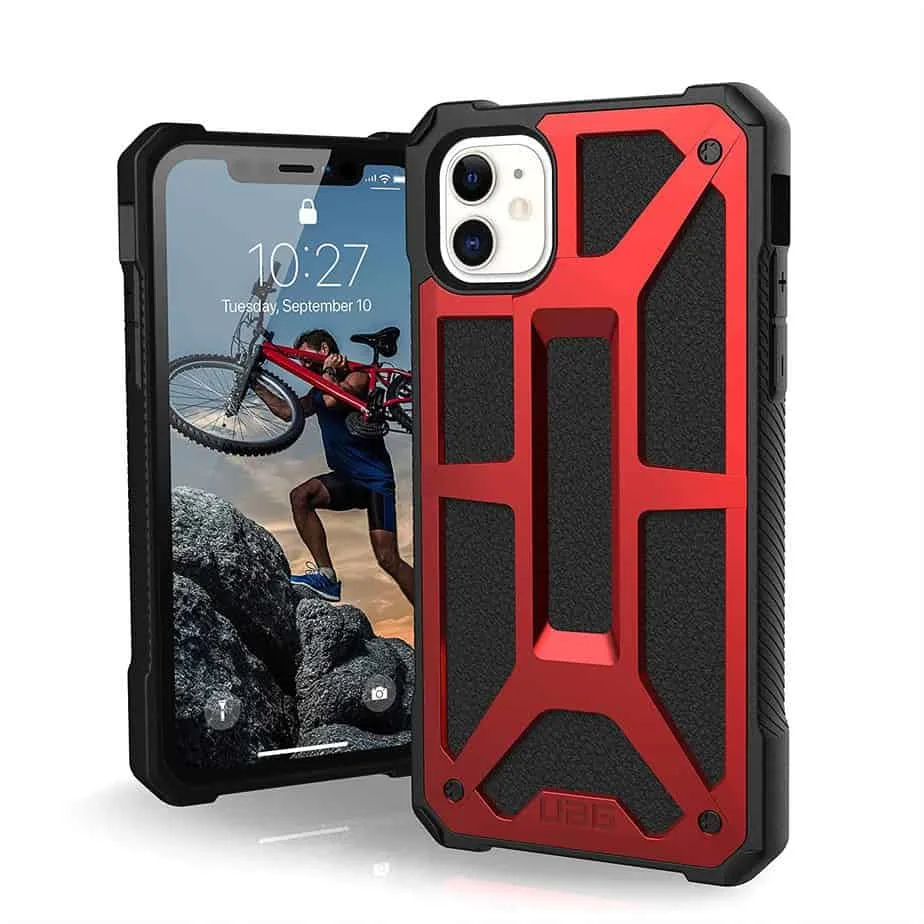 The Urban Armor Gear (UAG) Monarch is my personal favorite for a variety of reasons. It has a 4-layer design but despite that, the Monarch is lightweight and quite sleek. It has a rugged look and feels to it that make it the perfect outdoor companion for your adventures.
My only two concerns with the Monarch are the price and the style options. It is one of the more expensive phone cases out there and you can likely find a cheaper alternative. In addition, there are not many style choices for you to choose from but if that's not a concern, then this is a highly recommended option.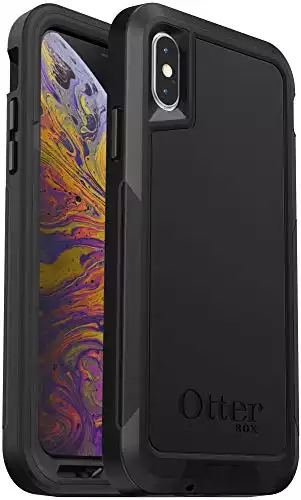 FAQs
Question: Which Otterbox Offers the Most Protection?
Answer: The entire range of Otterbox protective cases offers great protection from fall damage as well as dust and debris buildup. However, if I had to choose one, without a doubt it's the Otterbox Defender Pro. It's essentially the Defender version but with upgraded texture and protection.
Question: Does Otterbox Pursuit Support Wireless Charging?
Answer: Yes, both the Otterbox Defender and Pursuit support wireless charging. This is a good feature because both cases are relatively difficult to put on and take off. It would be a hassle to do that every time you want to charge your smartphone wirelessly.
Question: How Good is the Drop Performance of Otterbox Defender?
Answer: The Otterbox Defender and Defender Pro offer the best drop protection in their price range. As stated on their website and tested by myself, the drop performance is 4 times that of military standards, which makes the Defender series one of the most rugged cases out there.
Question: Is the Otterbox Pursuit Waterproof?
Answer: No, it's not. It does offer decent water, dirt, dust, and snow protection, but it's not completely waterproof. So if you're planning to take your phone with you for water activities, make sure to consider this.
Conclusion – Which Protective Case Is the Best?
If you ask me personally, I prefer the Otterbox Defender for my outdoor activities and the Pursuit case for general use. Both are great protective cases and at the end of the day, it comes down to your personal preference and budget.
If you don't fancy a bulky case, then go with the Otterbox Pursuit. Its audio clarity feature is something that you will appreciate especially when using your smartphone outdoors. However, for ultimate, heavy-duty protection for your phone when it comes to outdoor activities, not many match what the Otterbox Defender has to offer.
You can also check out our website for reviews, comparisons, and guides on the best protective smartphone cases you can buy today.
Can't quite pick? Take the quiz!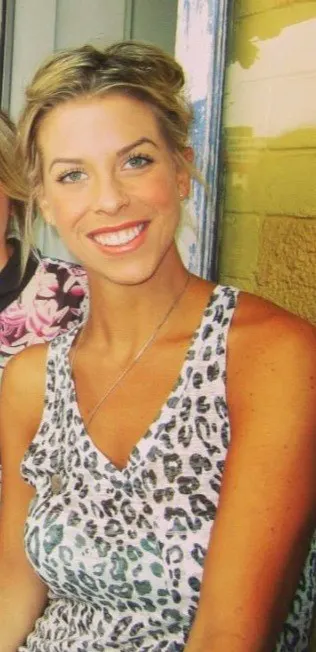 Jodie Chiffey loves the outdoors. If you aren't sure where to find her, check the nearest dirt trail. She loves being outdoors and spends a good deal of time reviewing products like clothing, footwear, and other outdoor gear.
Jodie is a full-time blogger who reviews a lot of the products for us. She writes many of our backpacking gear reviews, outdoor skills advice, and information, and helps visitors find the best destinations for backpacking, camping, hiking, and a lot more.
If Jodie's friends have a travel or outdoors question, they know who to ask and that's why we featured on our website. Now you can get the same great advice her friends enjoy, so you know where to go and what gear to take with you.