Rhinoshield vs Otterbox are well-known brands for producing phone cases, but how do they compare against each other? In my Rhinoshield vs Otterbox comparison, I will go through the different features of both brands to find out which one offers the best protection and performance for your smartphone.
I'll look at the pros and cons of each phone case brand, review some alternatives on the market, and I will also answer some common questions about Rhinoshield vs Otterbox phone cases.
Bottom Line Up Front
I recommend choosing the Otterbox Defender as the best phone case, as it outperforms the Rhinoshield models. This case has three layers of defense to protect your device against the harshest of impacts, while it is compatible with wireless charging and is available in several designs. Even though it doesn't come with a screen protector, you can add on an Otterbox protector to further safeguard your smartphone.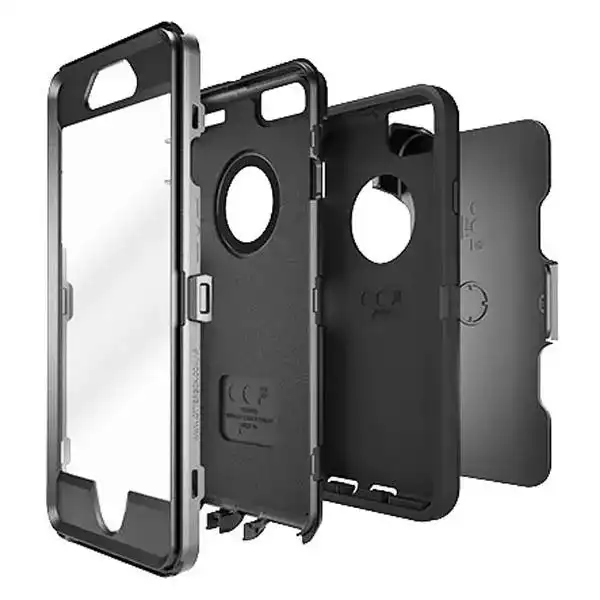 Main Differences Between Rhinoshield vs Otterbox
The Main Differences between Rhinoshield vs Otterbox are:
Otterbox provides a seven-year warranty for their phone cases, whereas Rhinoshield only offers a two-year warranty.
Rhinsoshield's customer service has quick response times, whereas Otterbox is a bit slower
Otterbox offers more vibrant phone case designs, whereas Rhinoshield cases are plainer
Rhinoshield phone cases are slim, whereas Otterbox phone cases are pretty bulky
Otterbox cases have several layers of protection, whereas Rhinoshield cases are usually one-piece
Exploring Rhinoshield and Otterbox – Features
Whether you are embarking on an ambitious hike or simply want the best protection for your smartphone. Rhinoshield and Otterbox offer protective phone cases to use in the great outdoors. Let's find out how they compare against one another.
Protection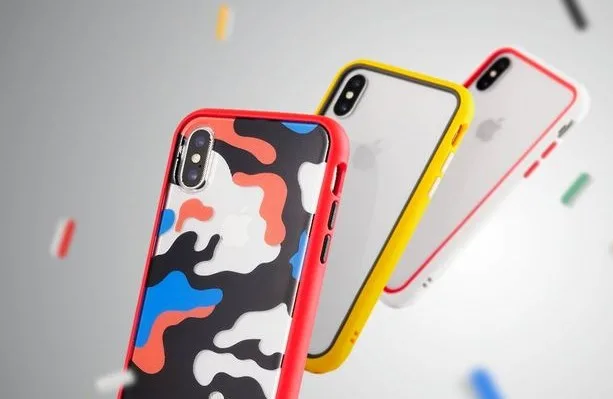 The primary aim of Rhinoshield and Otterbox is to provide maximum protection for your smartphone, but does one brand do this better than the other?
I have found the protection that Rhinoshield and Otterbox provide is of a high standard, and they both do a great job at protecting your smartphone. However, I think that Rhinoshield is better for lighter protection against more minor accidents.
That isn't to say that their phone cases won't protect your phone against impacts on the trail, but the higher-end Otterbox models offer a bit better overall protection for your device.
Smartphone Compatibility
Rhinoshield and Otterbox offer a varied range of phone cases to suit many smartphones. The two brands provide phone cases for all major phone and tablet manufacturers, such as:
Apple
Samsung
Huawei
Google
Xiaomi
Rhinoshield doesn't offer any phone cases for Microsoft phones, although they provide cases for the Nintendo Switch. There isn't a tremendous difference between the two brands when it comes to the various smartphones and tablets their cases fit.
Warranty
Whether you are buying a phone case, backpack, or GPS watch, having a solid warranty is essential. This helps protect your purchase should there be a manufacturing defect or something goes wrong, so how do Rhinoshield and Otterbox compare?
Rhinoshield offers a limited warranty with their phone cases. This warranty covers material or workmanship defects and the warranty period lasts for two years from the date of purchase. Some things that aren't covered by the Rhinoshield warranty include:
Drops
Theft
Normal wear and tear
Otterbox provides a better warranty than Rhinoshield as their phone cases are covered by a lifetime warranty that lasts for seven years. The warranty from Otterbox is also a limited warranty to cover manufacturing, material, or workmanship defects.
Design
While the primary purpose of a Rhinoshield or Otterbox phone case is to protect your device, having a nifty and stylish design is often a requirement for many people.
I like both the case designs from Rhinoshield and Otterbox, as they come in different colors, so you can boost the aesthetic of your phone while keeping it protected.
Otterbox offers more vibrant phone case designs than Rhinoshield, which is a bit limited, although they have some trendy cases available in five colors. One thing that is cool with Rhinoshield is that you can customize the case button colors, which helps you create a custom look for your case.
If you want a phone case design that will stand out, go with Otterbox, but if you are looking for something a bit plain but colorful, Rhinoshield is worth a look.
Customer Service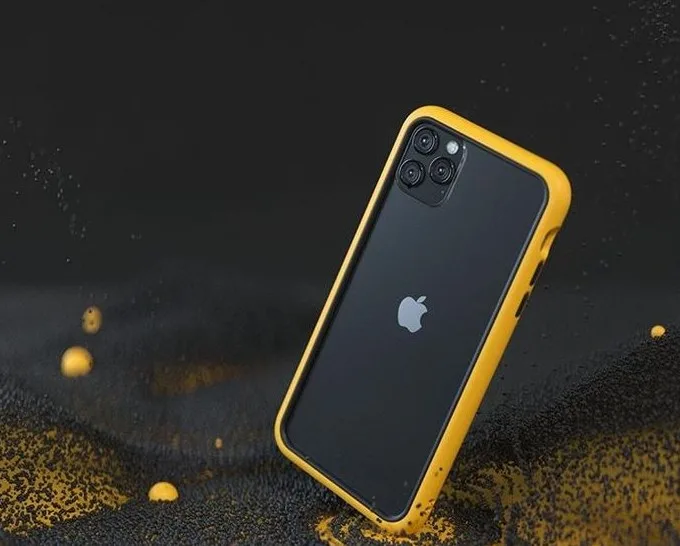 Should something go wrong with your purchase, or you have questions about shipping or other aspects of the phone case, choosing a brand with good customer service is vital.
Otterbox provides a handy FAQ section on their website that should answer basic questions on their products, shipping, returns, and warranty. However, you can contact Otterbox via the web form if you do run into any problems, although their response times are pretty slow.
Otterbox does offer a live chat facility, which can be a quicker way of getting in contact or through their social media accounts. You can find product installation information and videos on their support section, although I did find this a little harder to locate on their website than the Rhinoshield tutorials.
Rhinoshield also has a handy FAQ section on their website if you need some basic information on their productions or policies. You can also contact Rhinoshield via the form on their site, and they also have several social media channels.
Rhinoshield also has its own tutorials section. Here, you can find video tutorials for all their products that show you how to install their phone cases or tempered glass.
Comparing Rhinoshield and Otterbox – Pricing
Rhinoshield is a cheaper brand for phone cases than Otterbox. While Otterbox cases provide a high level of protection, they are generally a bit more expensive than Rhinoshield. If you are looking for a budget phone case option that still offers a good level of protection for your device, Rhinoshield is a good choice as their phone cases a cheaper than Otterbox.
Rhinoshield and Otterbox – Performance
I think Otterbox and Rhinoshield phone cases provide a decent overall protection level. Their cases are easy to install, and they will both protect your phone against impacts and drops. However, I would say that Otterbox provides a higher level of protection performance, and if you regularly go climbing or find yourself in situations where your phone could drop from a significant height, Otterbox is the better brand.
Pros and Cons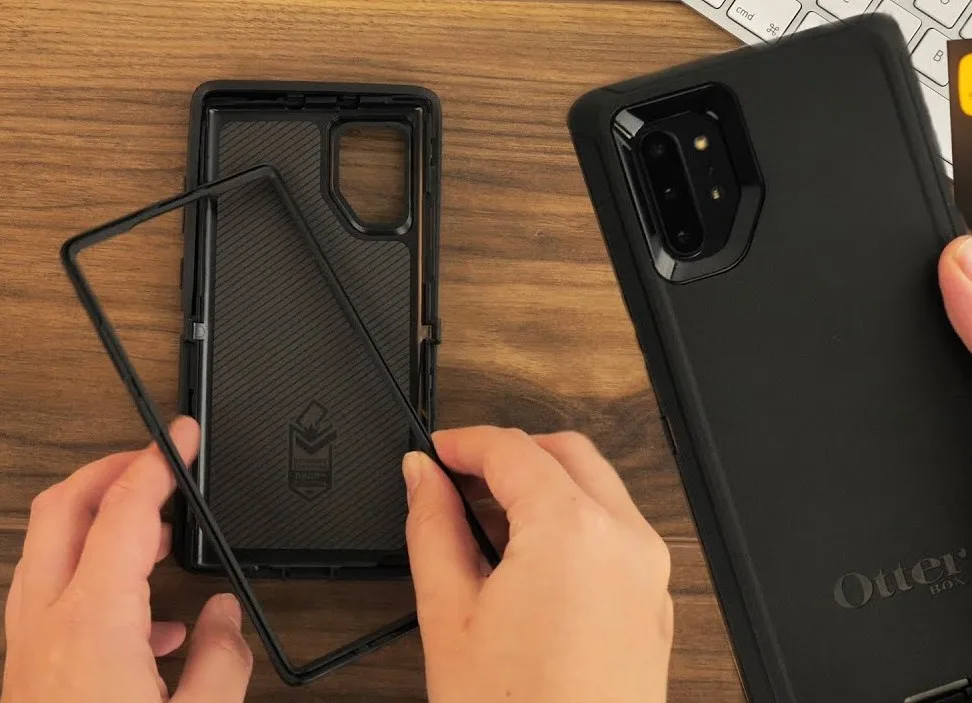 Pros
Offers fantastic protection for your smartphone
Range of modern and stylish phone cases
Compatible with most major smartphone and tablet brands
Offers a seven year warranty period
Live chat facility on their website
Cons
Their phone cases can be quite expensive
Customer service response times are slow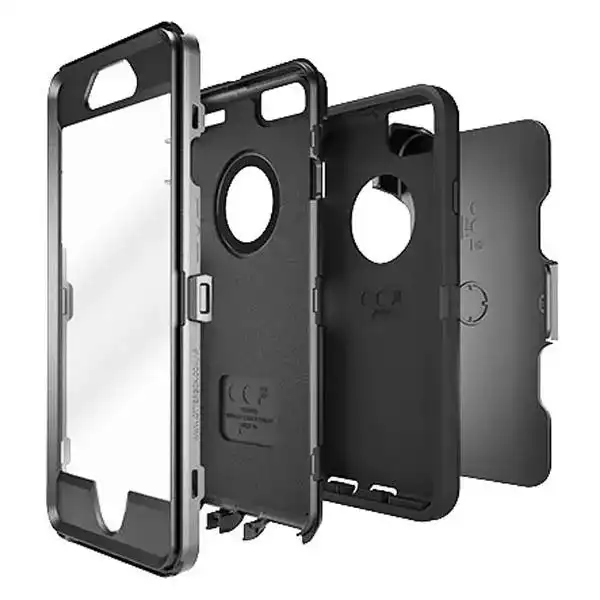 Rhinoshield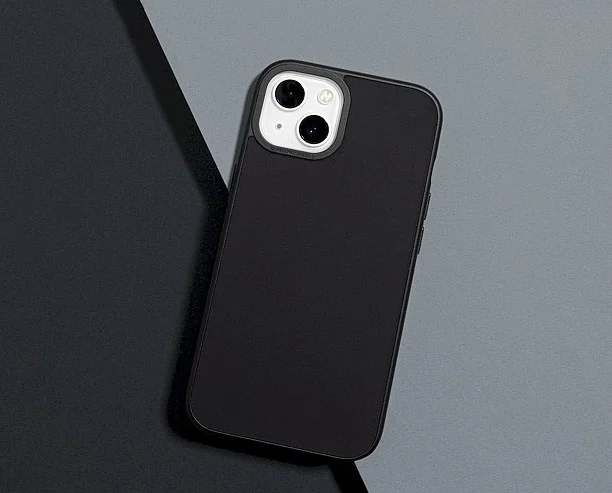 Pros
Good range of phone cases for all major brands
Easy to find tutorial videos on their websites
Quick customer response times
Phone cases are available at a budget price
Cons
Don't offer the same protection as Otterbox
Not as many phone case designs available
Only offer a two-year warranty
Best Rhinoshield and Otterbox phone cases
Rhinoshield and Otterbox provide several phone case models, and here are the best cases from these two brands.
Rhinoshield SolidSuit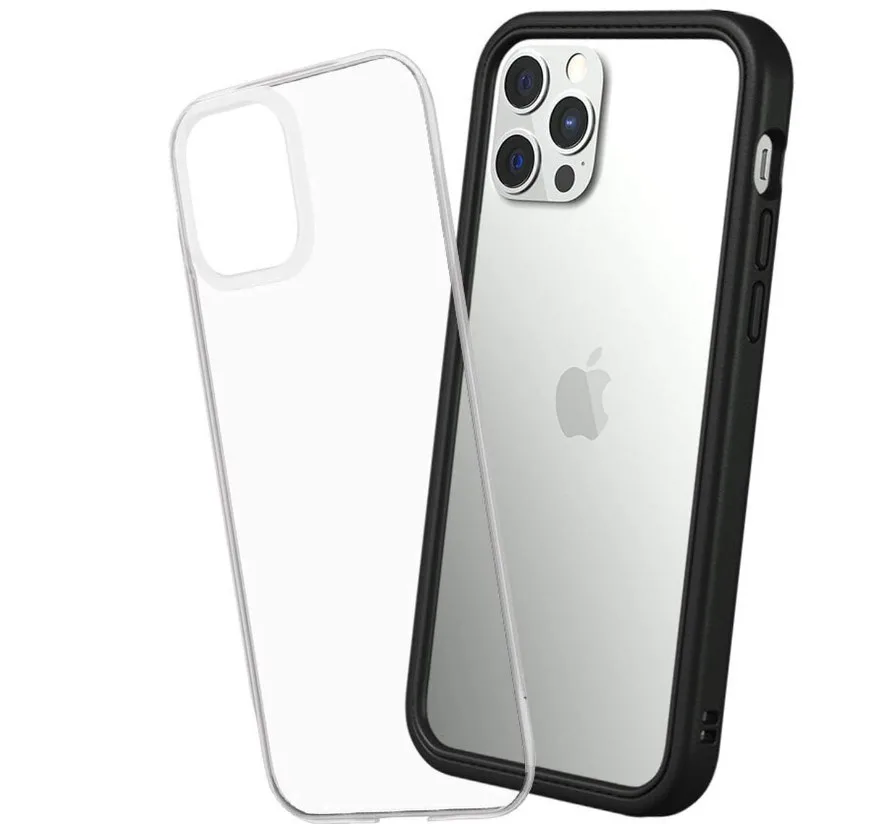 The Rhinoshield SolidSuit is a slimline protective case that offers protection beyond the US military drop-test standard (MIL-STD 810G). You can drop your phone from around 11 feet, and the SolidSuit will provide a high level of impact absorption.
The honeycomb structure of the SolidSuit phone case further adds a layer of security as this design can help boost impact absorption by 11%.
This phone case is constructed with a one-piece shell, so it differs from the Defender below, which has three layers of protection. This can benefit many people, especially if you don't want a bulky phone case, as the SolidSuit model doesn't add a lot of weight or bulkiness to your smartphone. The SolidSuit weighs about a third of the Otterbox Defender.
You can easily customize this phone case before you buy it. The SolidSuit is available in several colors; although it doesn't offer many elaborate designs, you can also customize the buttons with different colors depending on your phone model.
A significant advantage of the Rhinoshield phone case is the cost. Compared to the Defender, it is a much cheaper model; although it isn't as heavy-duty, the overall protection is slightly less.
If you are looking for a slimline phone case that will protect against most impacts while adding a stylish look to your smartphone, the Rhinoshield SolidSuit ticks all the boxes.
Otterbox Defender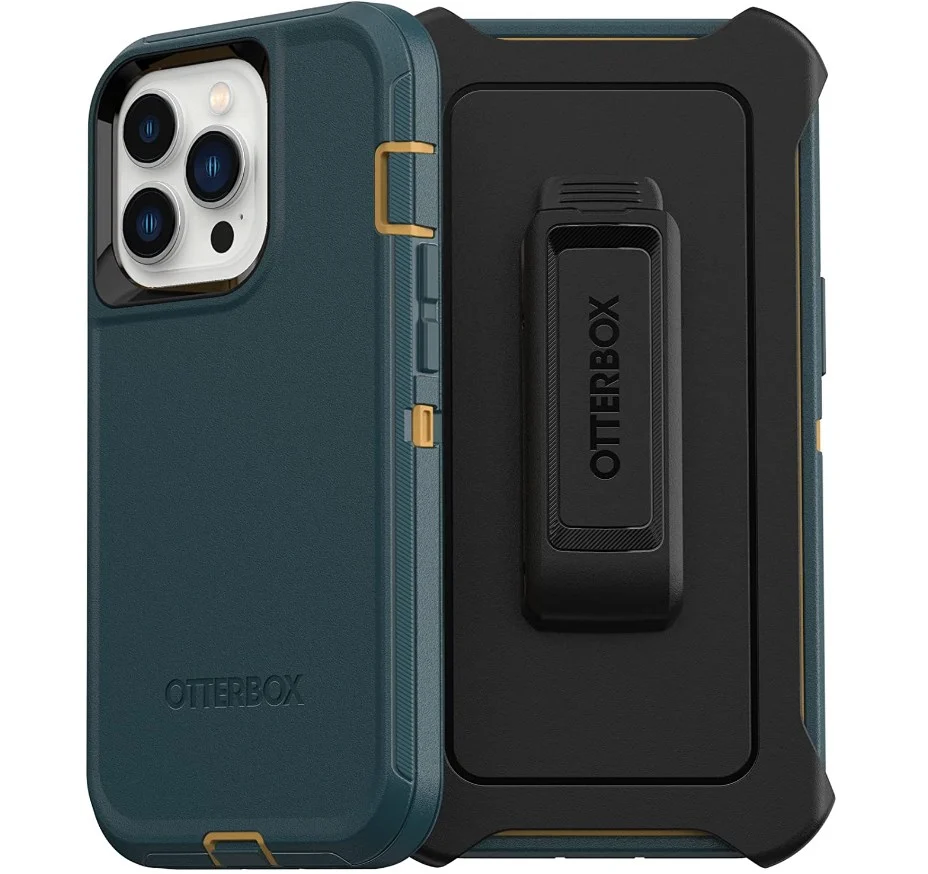 The Otterbox Defender is one of the best phone cases you can buy, and it provides a great level of protection for your device.
The multi-layer construction of this phone case ensures that you have several defensive guards to shield your phone against drops and impacts. The Defender has a polycarbonate shell, synthetic rubber slipcover, and polycarbonate holster.
The first line of defense is the synthetic rubber slipcover which absorbs the immediate impact if you drop your phone. At the same time, the internal two-piece polycarbonate shell soaks up the remaining shock. Combined with the polycarbonate holster on the back, these three layers will protect your phone against even high drops.
Another feature I like about the Otterbox Defender is the port covers, which stop dirt, dust, and lint from clogging up your device's charging or earphone ports. There are also raised edges around the phone and camera to add further protection.
The screenless design of the Otterbox Defender ensures that using your smartphone is easy, and you can also add in some Otterbox screen protectors if you wish. The Otterbox Defender is compatible with wireless charging.
The Defender is quite a bulky case, which is to be expected due to the high protection on offer. The case will add around 3 ounces to the weight of your phone, and it doesn't come with a screen protector (although you can buy one separately)
Overall, the Otterbox Defender is a fantastic case that offers unrivaled protection for your smartphone.
If you want to read my full in-depth review of the Otterbox Defender, you can find it here.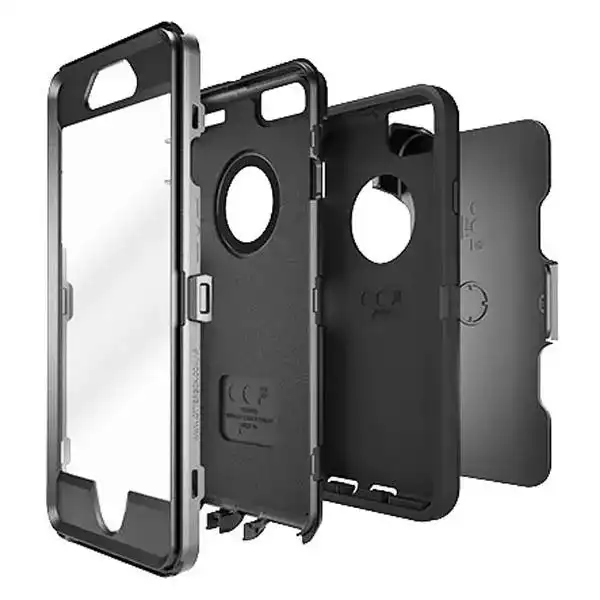 Are There Any Alternatives?
If you don't fancy either the Rhinoshield SolidSuit or the Otterbox Defender, here are two alternatives you can consider.
Casetify Ultra Impact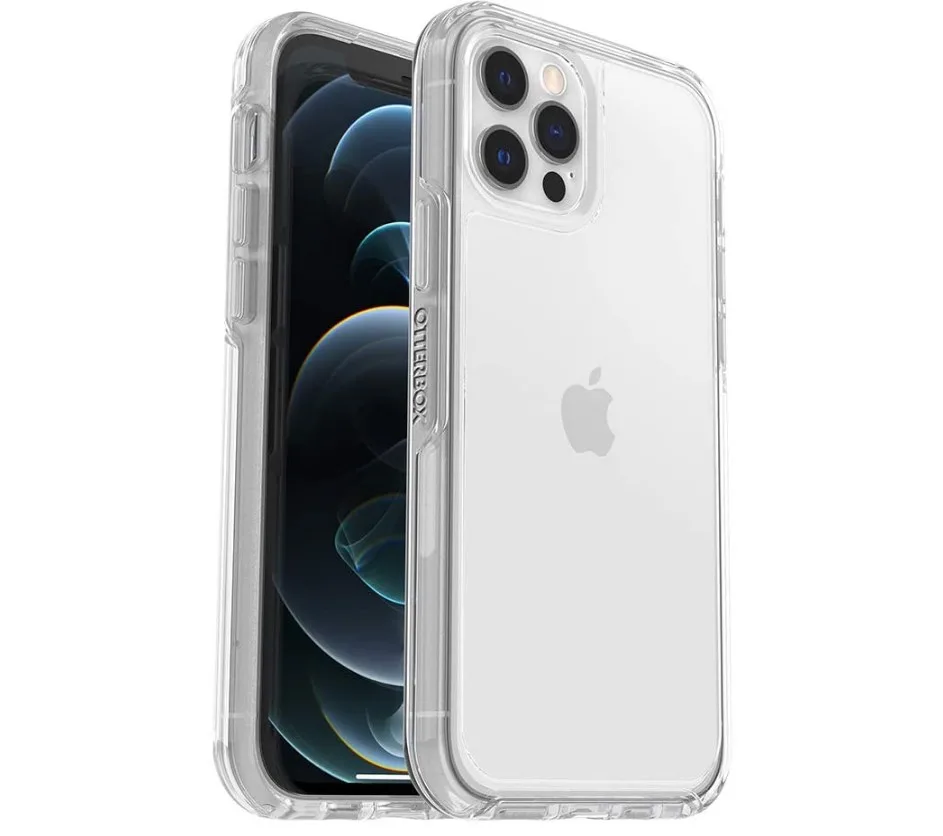 Another option to protect your smartphone or device is the Casetify Ultra Impact. What stands out the most about these phone cases is their beautiful design. If you want to make a statement with your phone case, this is definitely a brand to consider, and they provide some of the most stylish protective cases on the market.
The Ultra Impact phone cases are made from a material called qitech, which offers protection from falls of around 9.8 feet. The reinforced corners and wireless charging compatibility are two other fantastic features of these phone cases.
One of the big downsides to using the Casetify Ultra Impact is the price. These cases are more expensive than the Rhinoshield SolidSuit and Otterbox Defender, and the Defender provides better protection overall. I still think the Casetify Ultra Impact is worth considering, particularly if you want a vast choice of vibrant and stunning designs.
Casetify was my top alternative to Otterbox, which you can read more about here.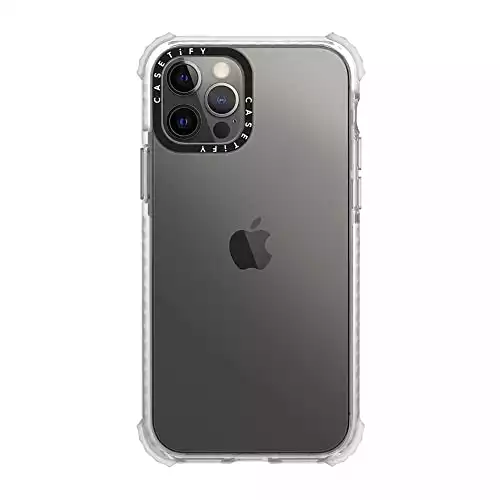 CASETiFY Ultra Impact Case for iPhone | Amazon
Made from CASETiFY's innovative, shock-resistant qìtech 2.0 material, this iPhone case comes equipped with an impact-absorbing inner layer, protecting phones from up to 9.8 ft drops.
Check it on Amazon
We earn a commission if you click this link and make a purchase at no additional cost to you.
02/14/2023 10:34 am GMT
Supcase Unicorn Beetle Pro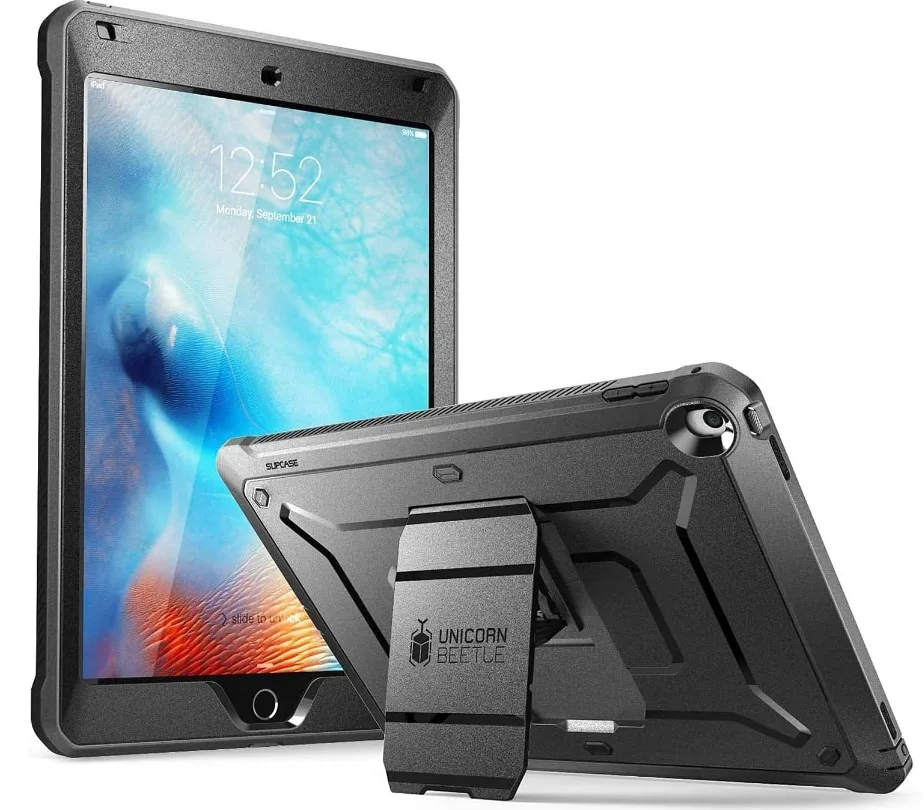 The Supcase Unicorn Beetle Pro is a good budget alternative to the phone case brands I have already listed, and they are closer to Rhinoshield in their pricing.
The multilayered TPU and polycarbonate construction provides excellent durability and protection to these cases. They have been tested to absorb impacts of up to 20 feet, which is much better than most phone case brands.
A feature I really like with the SUpcase Unicorn Beetle Pro is the in-built kickstand, which allows you to put your phone in a portrait or landscape model with ease and use your phone hands-free. There is also a built-in pen holder on the Unicorn Beetle Pro.
As a budget alternative, Supcase is a solid brand, and their phone cases do offer a decent level of protection, although there can be some issues around certain parts breaking easily.
You can read how Supcase and Otterbox compare against each other in a previous article I wrote.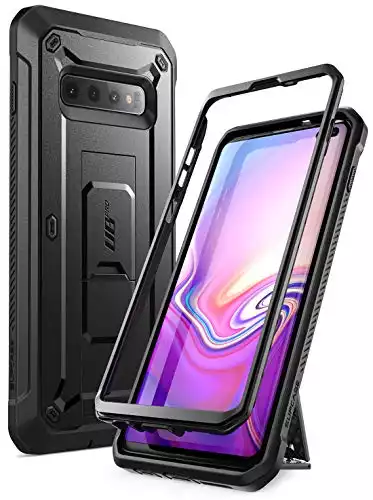 Supcase Unicorn Beetle Phone Case | Amazon
Multilayered TPU and polycarbonate materials for maximum drop protection of at least 20 feet. Built-In Kickstand: Convenient hands-free viewing from either landscape or two different angles of portrait mode, doubles as ring holder.
Buy at Amazon.com
We earn a commission if you click this link and make a purchase at no additional cost to you.
02/14/2023 05:14 pm GMT
FAQs
Question: Is Otterbox an expensive brand?
Answer: Otterbox produces several high-quality phone cases that will protect your phone against drops and impacts. Their cases can be pretty expensive compared to other brands, but they provide a high level of protection
Question: Is the Rhinoshield SolidSuit case thick?
Answer: No. The Rhinoshield SolidSuit phone case is a slimline model that doesn't add additional bulk to your phone. This case is also very lightweight.
Question: Do I need to protect my smartphone when outdoors?
Answer: Yes. If you regularly or occasionally head onto rough terrain trails or take part in any adventure sports, you need to protect your smartphone. It is very easy to drop your smartphone, which can cause significant and irreparable damage. It is best to get a tough-wearing smartphone case to reduce the damage caused by drops and impacts.
Question: Can I use a wireless charger with an Otterbox or Rhinoshield case?
Answer: Yes. Cases from either Rhinoshield or Otterbox should be compatible with wireless charging, so you won't need to take the case off to charge up your device.
Question: Do I get a warranty with Otterbox and Rhinoshield?
Answer: Yes, both Otterbox and Rhinoshield provide warranties for their phone cases. Otterbox provides a seven-year warranty for their phone cases, whereas Rhinoshield only offers a two-year warranty.
Verdict – Go for the Otterbox Defender
My recommended choice between Otterbox and Rhinoshield is the Otterbox Defender. There is a lot to like about this phone case. It provides a superior level of protection for your smartphone, especially if you regularly hit the trail, go climbing, or engage in activities where your phone is at risk.
The Defender provides three firm layers of protection, including a polycarbonate shell, synthetic rubber slipcover, and polycarbonate holster. Even one layer has enough security to absorb impacts, but if your phone suffers a nasty drop, the other layers are there for backup.
The Defender is wireless charging compatible and is available for most major smartphone brands and models. It has a couple of downsides, such as the price. It also doesn't come with a screen protector as standard; however, the Otterbox Defender is a fantastic phone case that will protect your phone against significant impacts, drops, and adverse weather.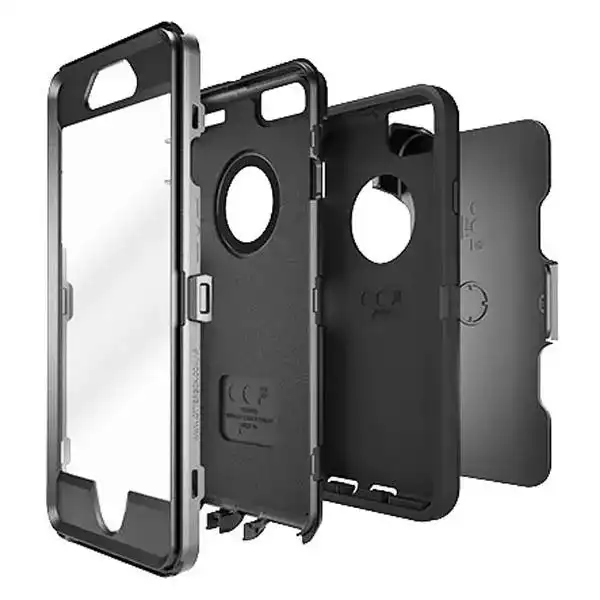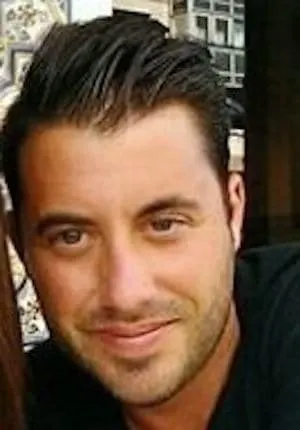 David is a strong advocate of outdoor-related activities and has many years of experience backpacking and hiking around the world, including the Italian and Austrian Alps in Europe as well as central and southern Asia.
Locally, he has also led many groups cycling through Vermont, Nova Scotia, and Wisconsin. David constantly uses and tests the latest gear for the outdoors, which in turn allows him to help others make more informed buying decisions. He's excited to share more of his knowledge and to see others enjoying the great outdoors more because of his advice and recommendations.