Accidents happen, regardless of how cautious you're with your equipment, and the best you can do is make sure that your equipment has sufficient protection. Comparing the properties of the OtterBox vs Pelican cases will make it easier to determine which case can prove better protection for your device.
As useful as they may be on a hike or a camping trip, smartphones are extremely fragile, and dropping them onto a rocky terrain can cut off your communication with the world and leave you without GPS navigation.
OtterBox vs Pelican phone case reduces the chances of such a scenario unraveling, as each brand manufactures models that absorb the impact or protect devices from water.
So, in this OtterBox vs Pelican cases compression, we're going to take a closer look at the models produced by these two brands and help you decide which one is better suited for outdoor activities.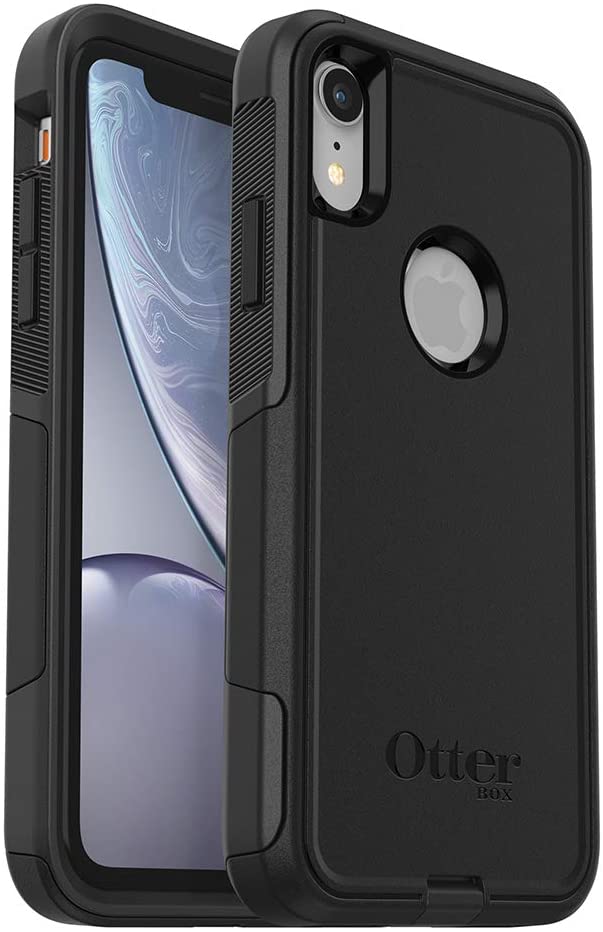 OtterBox Cases, Accessories & Outdoor Gear
Ultra-thin. Ultra-rugged. Check out their most protective case to date. Find your smartphone's significant other, from their selection of stylish protective cases.
Check Price
We earn a commission if you click this link and make a purchase at no additional cost to you.
Main Differences Between OtterBox vs Pelican Cases
The Main Differences Between OtterBox vs Pelicans are:
The Otterbox offers up to three layers of protection for your smartphone, but Pelican cases often come with a screen protector.
OtterBox company produces cases, gaming accessories, and outdoor coolers, whereas the Pelican brand produces portable light systems, temperature-controlled packaging, and cases.
OtterBox smartphone cases are compatible with a broad range of devices, whereas the Pelican cases are only compatible with iPhones, Samsung LG, and Google devices.
OtterBox produces smartphone cases, Pelican manufactures cases for guns, ammunition, photo equipment, and smartphones.
OtterBox cases can cost more than $80, whereas Pelican smartphone cases usually cost around $50.
Key Specifications
| | | |
| --- | --- | --- |
| | OtterBox | Pelican |
| Product range | Smartphone cases, drinkware coolers, and gaming accessories | Cases, portable lighting systems, drinkware, backpacks, coolers |
| Smartphone compatibility | Wide | iPhone, LG, Samsung, Google |
| Impact resistance | Excellent | Moderate |
| Water resistance | Not waterproof | Good |
| Materials | Polycarbonates and similar durable materials | Kevlar and other high strength fibers |
| Warranty | Lifetime warranty | Limited lifetime warranty |
| Latest prices | Check latest price | Check latest price |
Examining the features of the OtterBox vs Pelican cases
Just three years after it was established, the OtterBox Company started producing iPod cases and by 2004, it released its first model. Six years later, the brand shifted its focus toward smart devices and it currently produces cases that are compatible with smartphones produced by most industry-leading smartphone manufacturers.
Besides offering some of the most popular hiking gadgets on the market, the OtterBox brand also produces mugs, tumblers, and other types of drinkware. Moreover, you can choose from a wide range of mobile gaming cases, X-Box cases, or screen protectors.
Moreover, you can customize the iPhone, Samsung, LG, and Google protective cases by adding a personalized message or a photo you like to the case's original design.
It is also worth noting that OtterBox manufactures power banks, fast chargers, and similar accessories that can be useful on hiking trails that take weeks to complete. Go through our guide to finding the best phone cases for outdoors for more information about the features a phone case should have.
Great Pick
Defender Series Case | Otterbox
If you need a new cover for your phone when taking part in outdoor pursuits like hiking, climbing, hunting, and kayaking this is the perfect option for you! A great balance of durability and price.
Check Price
Buy at Amazon.com
We earn a commission if you click this link and make a purchase at no additional cost to you.
Key features
Made from durable materials
Compatible with all major smartphone brands
Cases have multiple layers
Screen protectors are scratch-resistant
Some models have belt clips
Most OtterBox cases aren't affected by hard falls
All smartphone case models come with a lifetime warranty
Prices of OtterBox cases depend on the model
Device compatibility
Chances are that you won't have too much trouble finding an OtterBox case that is compatible with your Smartphone. You will be able to use an OtterBox case if you own a Smart device produced by the following brands:
Apple
Samsung
Motorola
LG
Google
ZTE
Microsoft
Amazon
Asus
T-Mobile
Huawei
OnePlus
The brand also offers several collections of cases, but models from either series are only compatible with selected devices. OtterBox Defender and OtterBox Symmetry that is compatible with most Apple and Samsung devices feature some of the brand's most popular case models.
However, the features of a different OtterBox Defender or Symmetry protective case model aren't the same, even though the shells or the slipcovers are usually made from the same materials.
The impact resistance and the cover's ability to protect a device from impact depend on the series and the model. Check out our OtterBox Defender vs Pursuit comparison to learn more about the differences between these OtterBox's case series.
Design and functionality
The visual appearance of an OtterBox case largely depends on the model and the smartphone it was designed for.
So, you will have a broad range of options at your disposal if you're searching for a case that fits on iPhone 11, but you can choose from a handful of options if you need a case for the LG K40, Motorola Moto E6, or similar Android phone models.
Also, the features of OtterBox cases vary from model to model. Nearly all cases within the same series are made from similar materials. The OtterBox's Defender series is probably best suited for outdoor activities as it provides a three-layer defense to the device.
However, none of the models from this series are water-resistant, and they won't protect your smartphone if you drop it into water. Even so, the polycarbonate shell and synthetic rubber slipcover keep your device safe from accidental spillages.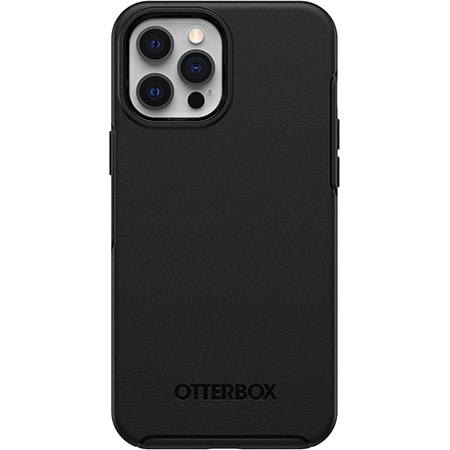 Other noteworthy features
Some OtterBox cases don't feature a screen protector, and this accessory has to be purchased separately. The brand offers Standard, Advanced, and Superior screen protection options that are made of different materials.
So, a standard OtterBox screen protector is made of polyurethane, while the Advanced and Superior models are made of tempered glass, polyester, and aluminosilicate glass. Opting for a more durable model is advisable if you're planning on using your phone in outdoor conditions.
It is worth pointing out that OtterBox produces cases that are designed for gaming purposes. These models have antimicrobial properties, excellent cooling features, and anti-slip grip edges. Moreover, some models allow for three times more drops than standard military protective gear.
Consequently, any of the gaming OtterBox cases can be a great choice for hikers that use their phones as cameras.
Reliability
All OtterBox cases will protect your device from damages that can be caused by hard falls although not to the same degree. Models from the Defender series are known for their bulky and robust design that can withstand high-velocity impacts.
They also come with scratch-resistant glass screen protectors, which makes them a perfect choice for outdoor activities. The manufacturer states that the life expectancy of an OtterBox case is 7 years, and provides the warranty throughout this period.
The only downside of OtterBox cases is their price because some models can cost more than $80, but the level of protection they offer justifies their price. Read our guide to the best OtterBox alternatives to learn more about other options you have at your disposal.
You should consider getting a Pelican case if you're an iPhone, Samsung, or LG user since the brand doesn't produce cases that are compatible with smartphones offered by other manufacturers. There are only three models that can fit on devices manufactured by LG.
Also, you can choose between two cases for Google Pixel 3 which doesn't leave you with plenty of choices. The Marine Pelican cases are waterproof as they can be left at depth of 6.5 feet for half an hour and the device won't be damaged.
Most Pelican cases can survive multiple drops from 10 to 15 feet, which makes them suitable for use in camping or hiking contexts. The brand also produces protective equipment for AirPod and Apple Watches that provide military-grade protection against bumps or water exposure.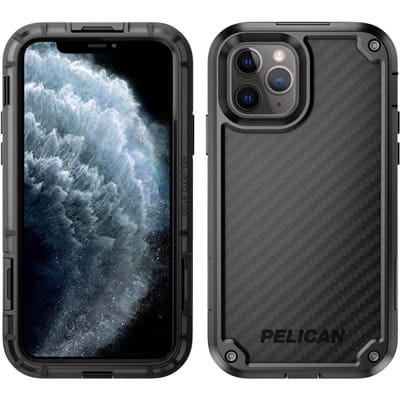 Phone & Accessory Cases | Pelican
The Pelican Protector case is created with technology once reserved for first responders and extreme-enthusiasts around the globe. A rigid, impact-resistant outer shell combined with a shock-absorbing rubber lining provides military-spec protection.
Check Prices
We earn a commission if you click this link and make a purchase at no additional cost to you.
Key features
All Pelican cases have excellent shock absorption properties
Designed to survive multiple drops
Some models are water-resistant
Compatible with most iPhone and Samsung models
Supreme protection against dust or the elements
Visually attractive design
Lifetime warranty
Moderately priced
Device compatibility
Phone cases manufactured by the Pelican brand are compatible with iPhone 6 and all later versions of iPhones. A model like the Pelican Ambassador is compatible with different iPhone 6/6s/7/8/SE, while some models are designed to fit particular models.
The brand's Voyager series contains iPad cases, but you must check if your device is compatible with any of the available models, since the company only produces cases for iPad Air2/Pro 10.5/Air 10.5/Pro 12.9/Pro 11/Mini 4/ and Mini 7.9.
You can also choose from a variety of cases for Samsung Galaxy devices, but you should keep in mind that older versions of these Android phones might not be compatible with Pelican cases. Also, cases from the Voyager, Adventurer, and Ranger series are compatible with the Samsung Galaxy S21 5G.
However, Pelican cases are not compatible with Samsung Galaxy models older than the Galaxy S8 Active.
Design and functionality
The visual appearance of Pelican cases is usually neutral since most models are either black or transparent. Customizing a Pelican phone case isn't possible, although the company does offer this service for other types of cases it produces.
Some phone cases the brand produces are made of materials that can withstand a 15-foot drop more than once. It is important to note that the exact amount of impact a case can withstand depends on the model, and you need to check the model's durability before purchasing it.
The cases from the Pelican's Marine series are waterproof but only if the device is submerged at a depth lesser than 6.5-feet. On the other hand, products like the i1015 Macro iPhone Case seal the device and enable you to use it in underwater conditions without any risk of damaging it.
You should check if the Pelican case model you want to get is waterproof if you're planning on using your Android or iPhone device at locations where they might accidentally drop into the water.
Other noteworthy features
Even though the Pelican brand manufactures screen protectors, the selection is limited to a handful of devices. The glass screen protectors fit only iPhone and Samsung Galaxy smartphones but finding a model that fits the latest versions of these phones can be challenging.
The company produces a broad range of accessories for smartphones, smart devices, as well as waterproof pouches that can hold phones and other electronic devices that shouldn't get in touch with water.
Getting a holster belt clip is a simple and effective storage solution that enables you to have quick access to your phone.
Reliability
At first glance, Pelican phone cases seem indestructible since they are designed to withstand more impact than military protective equipment.
However, these phone cases are only aimed at iPhone or Samsung users, so if you have a smartphone made by some other brand you'll have to look for alternative options. These phone cases are reasonably priced given their stunning performance capabilities.
In addition, the manufacturer offers a lifetime guaranty for all defects of materials, which means that you'll be able to use your Pelican phone for years without having to replace it.
OtterBox vs Pelican cases – Pros and cons
OtterBox cases
Pros
Compatible with a broad range of smart devices
Capable of withstanding multiple drops
Some models can be customized
The manufacturer offers an excellent selection of screen protectors
Cons
OtterBox cases are not waterproof
More expensive than its competitors
Pelican cases
Pros
Designed to withstand 10 to 15-foot drops
Some models are waterproof
Excellent protection against dust and scratches
Great shock absorption capacity
Cons
Only a good option for iPhone and Samsung Galaxy users
A limited selection of screen protectors
The best alternatives to the OtterBox vs Pelican case
Having a smartphone with you, while hiking or camping has countless advantages, but without a robust and durable phone case, you'll have to be extra careful not to damage the device.
OtterBox vs Pelican case are undoubtedly among the best phone cases you can get, but their shortcomings might be the reason why you want to explore other options. We've shortlisted some of the best alternatives to OtterBox vs Pelican cases, so let's take a closer look at their features.
Like the Pelican brand, Ballistic Company manufactures cases for iPhone and Samsung Galaxy smart devices. Most cases have a multilayered structure that enables them to absorb shocks effectively and protect a smartphone from damage.
Also, the majority of Ballistic cases ships with customizable corners that further extend their shock absorption capabilities. Screen protectors must be purchased separately from the case, which enables you to choose if you want to use your device with or without a case screen protector.
The manufacturer offers a limited lifetime warranty for all of its phone case models and the average life expectancy of a Ballistic case is between 5 and 7 years.
Ballistic Tough Jacket Case for Samsung Galaxy Note 4 | Amazon
Not afraid to get your hands dirty? Neither is this Black Samsung Galaxy Note 4 Tough Jacket Case. It's ready to handle whatever life throws your way. With reinforced corner protection and raised lips.
Buy at Amazon.com
We earn a commission if you click this link and make a purchase at no additional cost to you.
01/31/2023 12:13 am GMT
The ability to provide almost complete protection against impact or water is what distinguishes the Catalyst cases from the models produced by the brand's competitors. You can choose between impact cases that are designed for iPhones, iPads, AirPods, and Apple Watches.
Besides, the brand manufactures cases for Samsung and Google devices, but it might be difficult to find a case that matches the Samsung Galaxy model you have. The brand's waterproof case models can be submerged at the maximum depth of 328-feet without any risk for the device they're protecting.
Besides cases designed to protect iPhones and Samsung Galaxy smartphones from hard falls, Urban Armor Gear manufactures models that are compatible with Motorola, LG, OnePlus, Huawei, and Google smartphones.
Most UAG cases are available in different colors, while some models are made from biodegradable materials. Each model is capable of withstanding drops from more than 10 feet, but you must get a screen protector separately to eliminate the chances of damaging the screen.
The UAG cases are not expensive, as most models can be purchased for less than $50. Check out our UAG Pylo vs OtterBox comparison to find out which brand makes better phone cases.
UAG Samsung Galaxy S20 Case | Amazon
An excellent showcase of our dedication to superior quality and craftsmanship is the Plasma phone case. Finally, ultra-protection doesn't have to mean ultra-bulky. Our Plasma Series has a feather-light ultra thin composite case that features a hard-outer shell and a soft impact resistant core.
Buy at Amazon.com
We earn a commission if you click this link and make a purchase at no additional cost to you.
01/31/2023 12:26 am GMT
FAQs
Question: Are OtterBox cases difficult to install?
Answer: Installing an OttterBox case is a straightforward process that shouldn't take more than a few moments. Also, removing an OtterBox case is an equally simple process.
Question: What is the maximum drop height of an OtterBox case?
Answer: An OtterBox can survive multiple drops from the height of 6.5-feet without any risk for the device. Drops from greater heights might damage both the case and the device.
Question: Are all Pelican cases waterproof?
Answer: The majority of Pelican phone cases are not waterproof, but cases from the Marine collection and several other models are waterproof.
Question: How long can I use a Pelican phone case?
Answer: You can use a Pelican phone case for more than five years, without noticing any visible sign of damage or deterioration, but chances are that you'll replace it when you upgrade to a new version of the iPhone or Samsung Galaxy phone.
Our Verdict: Are OtterBox cases better at protecting smartphones than Pelican cases
Although hiking or camping is usually the time to go offline, leaving your smartphone behind isn't necessarily a good idea as you may have to make an emergency phone call or use an app to see how much ground you covered in a day.
Smartphones break easily and even a drop from the height of a few inches can damage their screen. OtterBox and Pelican cases enable you to enjoy outdoor activities without having to worry about accidentally damaging your phone.
We recommend cases produced by OtterBox to iPhone and Android users who want to get a stylish and durable case that can withstand multiple hard drops.
A Pelican case is a better option for iPhone and iPad users who want to make sure that their device is safe from water, dust, or anything else that might damage it. Which brand are you going to choose? Let us know in the comments or continue reading our OtterBox Commuter review if you want to find out more about this phone case series.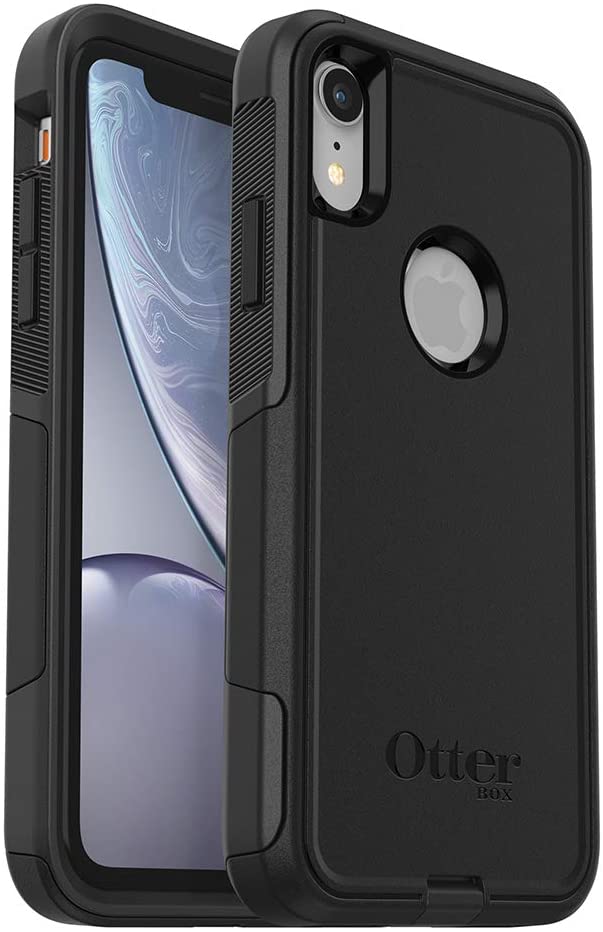 OtterBox Cases, Accessories & Outdoor Gear
Ultra-thin. Ultra-rugged. Check out their most protective case to date. Find your smartphone's significant other, from their selection of stylish protective cases.
Check Price
We earn a commission if you click this link and make a purchase at no additional cost to you.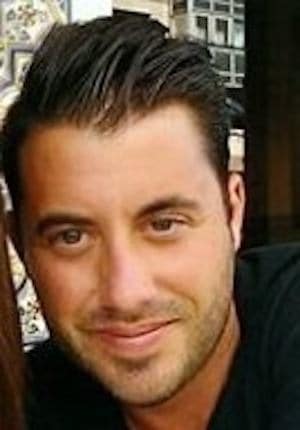 David is a strong advocate of outdoor-related activities and has many years of experience backpacking and hiking around the world, including the Italian and Austrian Alps in Europe as well as central and southern Asia.
Locally, he has also led many groups cycling through Vermont, Nova Scotia, and Wisconsin. David constantly uses and tests the latest gear for the outdoors, which in turn allows him to help others make more informed buying decisions. He's excited to share more of his knowledge and to see others enjoying the great outdoors more because of his advice and recommendations.