Finding a perfect cooler is very important if you want to guarantee that you can keep your food, cans, and drinks cool, even in the harshest weather elements during your road trips.
Bottom Line Up Front Summary: Our team was much more impressed with the higher quality, customizable and leak-resistant RTIC line of coolers here. We much prefer it over the Ozark line of coolers.
Nothing is more frustrating than getting back to camp or to your trunk only to realize that all of your ice has melted and your water is no longer cold. Don't worry, you will never have to go through that disappointment again when you purchase one of the high-quality coolers that are now available on the market to keep your cans cold during your camping trip.
RTIC is a leader in the roto-molded cooler category. Their coolers are quickly gaining popularity in part because they are a more affordable option than some of the other brands that are on the market. Additionally, RTIC has a great warranty and testers are impressed with the overall quality.
A new brand that is gaining popularity is the Ozark brand. This is because the Ozark brand is even more affordable and more easily accessible as it is sold at Walmart stores throughout the U.S. Of course, there are those who are hesitant to trust a cheaper brand.
We decided that we would look into both coolers and test them out to see exactly what the differences were and what you should come to expect from Ozark and RTIC coolers.
Editor's Choice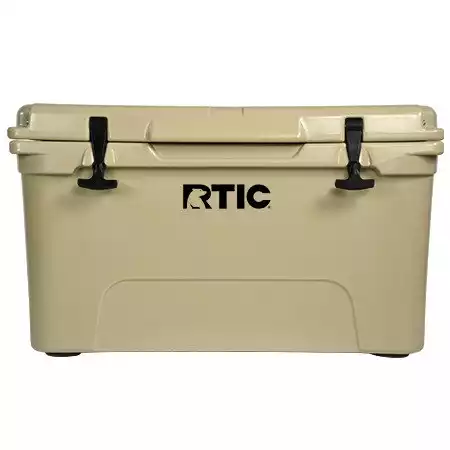 Let's take a look at this Ozark vs RTIC Cooler review!
About Ozark
Ozark Trail is a brand of camping gear and equipment that is marketed and produced solely to be sold at Walmart stores and Walmart.com.
The brand features a wide expansion of products and has been around for many years. Some of their products include backpacks, base layers, camping accessories, camp kitchens, camp furnishings, coolers, soft-sided coolers, sleeping bags, canopies, and tents. The brand is a full brand of everything that you could need to tackle camping and being on outdoor adventures.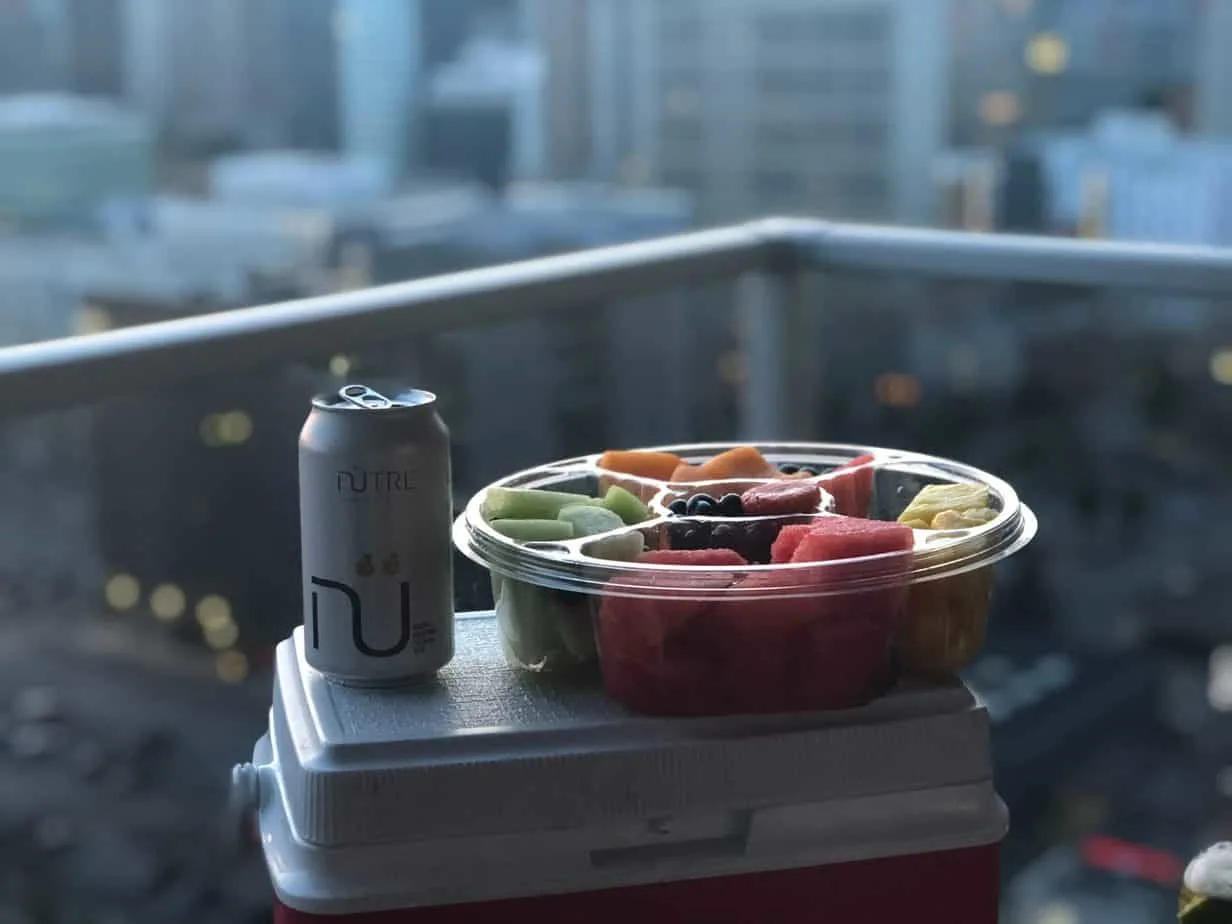 RTIC is a newer company. They were founded in 2014. RTIC prides itself on being overbuilt and not overpriced. Their products are available for a reasonable price and feature a lot of different categories which you might not have immediately thought about.
They sell a variety of different types of coolers (including soft coolers), drinkware, travel bags, and accessories to be used with these items. They are a niche brand that is known mainly for their high-quality hard-sided coolers and drinkware.
Being an owner of both, I can assure you that the products are high in quality and really serve the purpose of keeping things cold.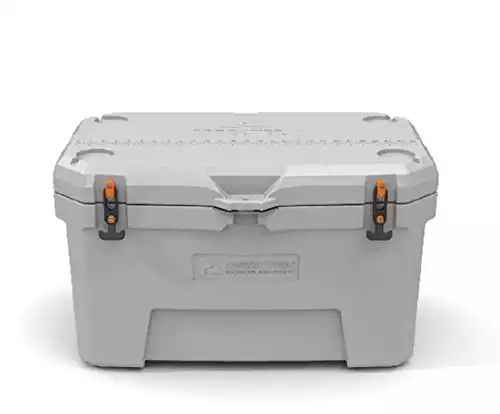 Ozark Trail 52-Quart High-Performance Cooler | Amazon
Melting ice is the last thing you want to worry about when you're out in the woods, on the boat or kicking back at the beach. The Ozark Trail 52 Quart High-Performance Roto-Molded Cooler keeps ice for more than 7 days and features heavy-duty, seamless, one-piece construction that is virtually unbreakable and built to last.
Check Price at WalMart.com
We earn a commission if you click this link and make a purchase at no additional cost to you.
There are many different Ozark coolers that are available. We chose the 52 Quart High-Performance Cooler. This cooler is made with a roto-molded design. The cooler retails for $137 which is a considerable amount cheaper than other roto molded coolers on the market. The claim is that the cooler will hold ice and keep your cans, food, and drinks cold for seven days.
The construction of the cooler features a seamless design and it is made from one piece, so you do not have to worry about leaks from the cooler not being insulated and sealed properly at the seams.
Additionally, the cooler features drink holders and allow you to use the top of the cooler like a table when you are camping or outdoors and do not have a table nearby.
It even features anti-skid feet on the bottom of the cooler. This means that your cooler will stay in place when put in the bed of a truck, trunk, boat, or camper. You do not have to worry about the cooler moving around when you are using it, even if it is in a moving vehicle.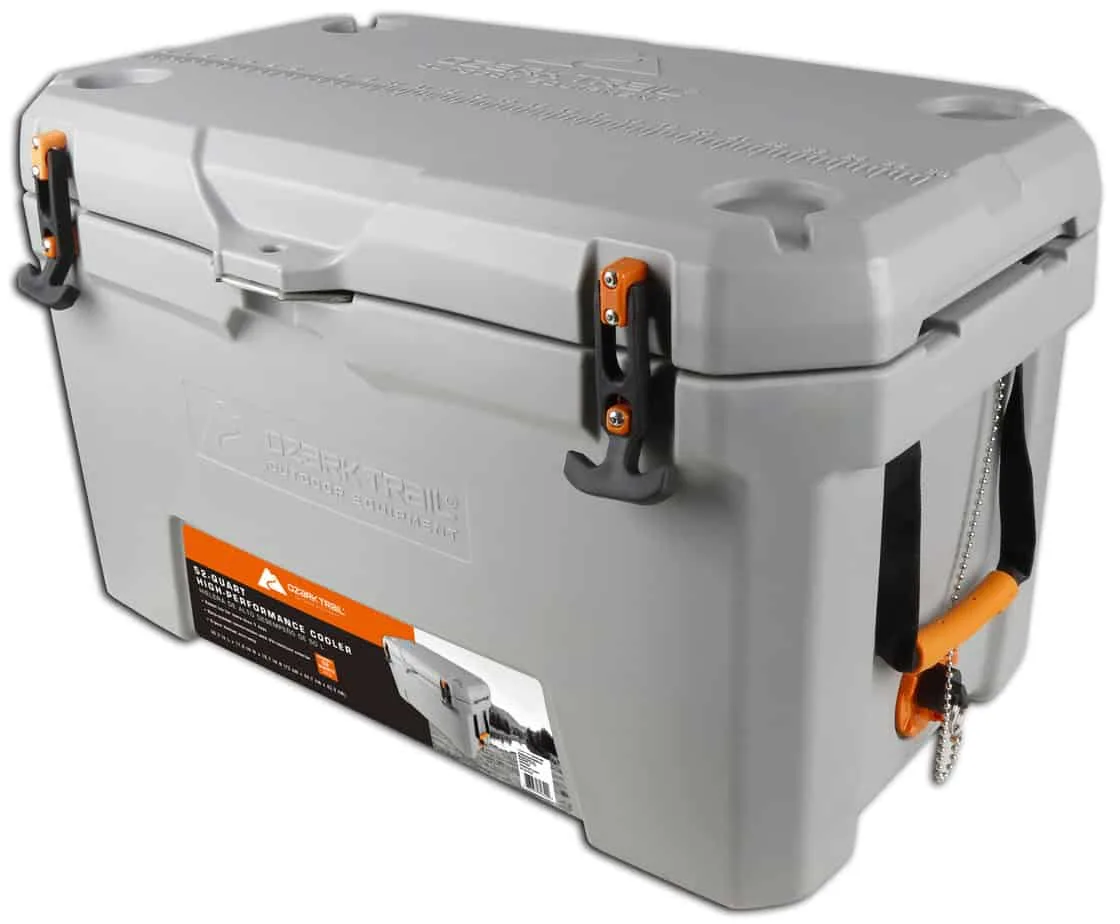 The Ozark cooler has a full list of features that make it a great choice for anyone who is shopping within a budget. This cooler is built to last and is intended to offer you a high-quality design that is structurally sound and makes for a cooler that is going to take some abuse. The cooler is manufactured with premium insulation and a rugged design. It offers you a stainless steel locking plate and even has a bottle opener attached.
In addition, there are t-handle latches that are supposed to make carrying the cooler easier. There is a drain that allows you to attach a garden hose.
This means that you can drain away from your cooler or even keep a hose attached so that your cooler continually drains (but this would obviously affect the length of time for which the ice is going to last since the cooler would not be fully sealed).
It includes a wire basket that makes separating out drinks and food easy. Plus, it helps to keep these items separated even when in transit.
The cooler also features four drink holders which are built into the top. This means that you can use the cooler like a table when you are out and about. Fishermen will love that the cooler has a built-in fish ruler. They will no longer have to guess how big their fish are and will be able to easily tell everyone exactly where their catch measured in.
Ozark boasts that their coolers have comfortable grip handles that make carrying the cooler easy and more comfortable. It comes in two colors, gray and white. Plus the cooler is tested with the USDA Interagency Grizzly Bear Committee, which ensures that this cooler is certified grizzly bear-resistant.
Dimensions of the Ozark 52 Quart High-Performance Cooler
Height — 17 inches
Length — 28.75 inches
Width — 17.5 inches
Weight — 31.05 pounds
What We Loved About the Ozark 52 Quart High-Performance Cooler
The Ozark 52 Quart High-Performance Cooler was close to the cooler of our dreams. It worked pretty well and was at a price that we could easily afford. However, when compared to other rotomolded coolers, it underperforms. That being said, compared to other coolers that are comparable in price and more traditional coolers, it seems to outperform them all.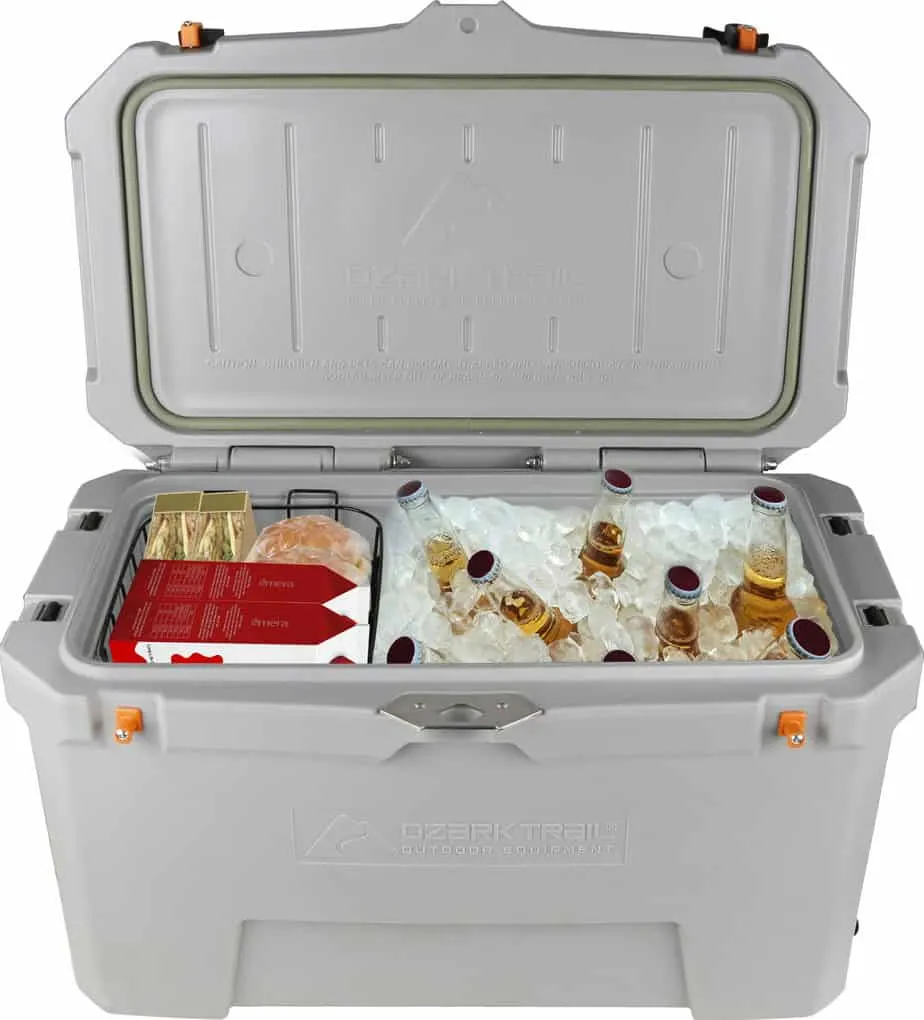 Now, we did appreciate a lot of the features that the Ozark cooler had. The built-in bottle opener was very handy and meant that we never had to search for a bottle opener to open our beers. The cooler also had a nice set of holes built in that are meant to work as cup holders.
This is especially nice if you are camping or somewhere that does not have a place to set your drinks. Being able to use the cooler to securely hold your drinks is handy and helps you to not spill your drink.
Performance Issues of the Ozark 52 Quart High-Performance Cooler
While there were certain things that we loved about the Ozark 52 Quart High-Performance Cooler, there were definitely things that we did not like. We noticed several design flaws that drastically reduced the performance value of the cooler.
The biggest one is that the cooler did not hold ice for long periods of time. The performance was rated about the same as the more traditional coolers and made using the cooler awkward. It also did not have the capacity that I expected as the walls seemed awkwardly thick.
The cooler was large and bulky to carry and it is very heavy for its size. Overall, the biggest problem that we noticed was that after just a short period of time the cooler starts to leak. This is not a huge deal when you are outside as a lot of coolers leak over time.
However, it is a HUGE deal when you have your cooler in the trunk of the car while you are traveling and have blankets and clothes around it. Can you imagine getting to your destination with no clothes or blankets that are dry?
That is a very real possibility for you if you are using the Ozark cooler. In addition, the lid never fully feels sealed after you close this cooler. The lid is always easy to remove and never sticks like it would if the cooler were sealed tighter.
Pros of Ozark Coolers
Ozark coolers are the lowest-priced rotomolded coolers that are available on today's market.
The cooler comes with an included wire basket to make sorting things in your cooler easy.
The cooler features a solid design.
The cooler has drink holders built into the lid.
The cooler has a bottle opener built into the design.
The lid has a built-in fish measure so you never have to guess where your catches measure in.
It is certified to be grizzly bear-proof.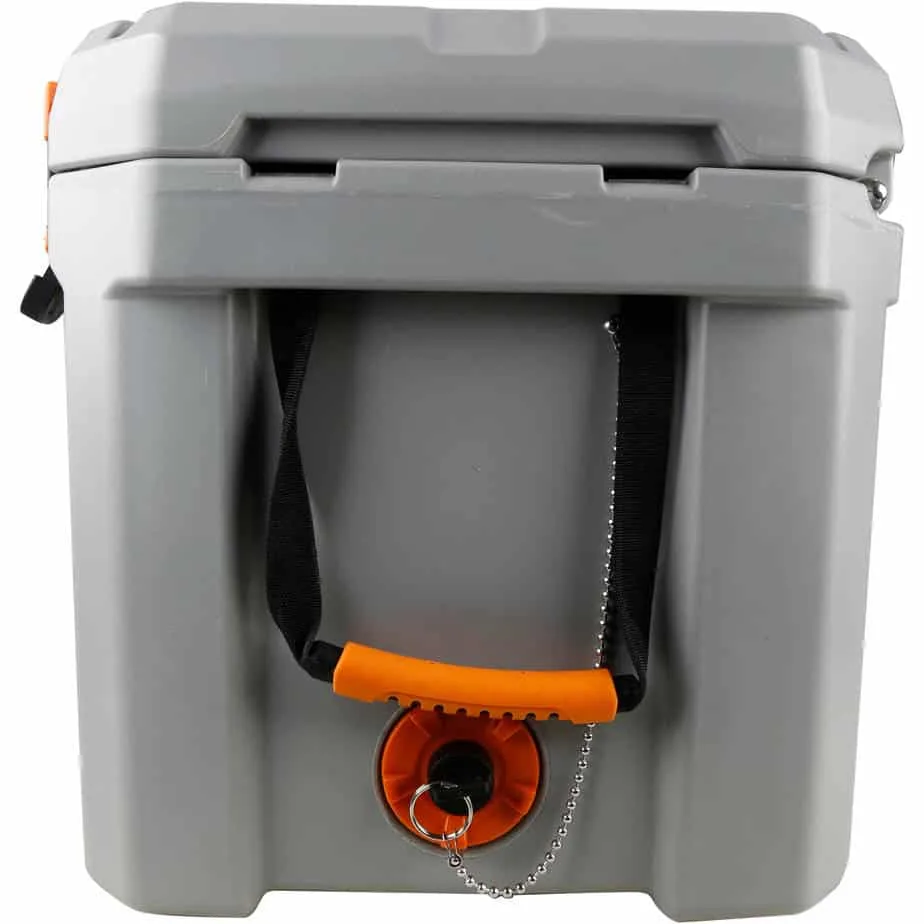 Cons of Ozark Coolers
Ozark coolers offer low-level performance and while the company claims that ice lasts for seven days, we only saw ice last until day four at which it was completely melted.
The cooler does not have additional accessories that are available.
The design is bulky and not attractive.
The cooler only comes in two available colors: white and gray.
The cooler is not as durable and hinges and the lid do not seem as solid as was expected.
The seal is not good on the lid.
The seals on the bottom of the cooler by the drain start to leak after minimal use.
The cooler does not seem as sturdy as other brands when comparing them.
The cooler is an awkward shape to carry and old which makes it difficult to move the cooler around.
The cooler is very heavy.
The handles do not seem as sturdy as those that are featured on other coolers.
There is no locking feature.
Editor's Choice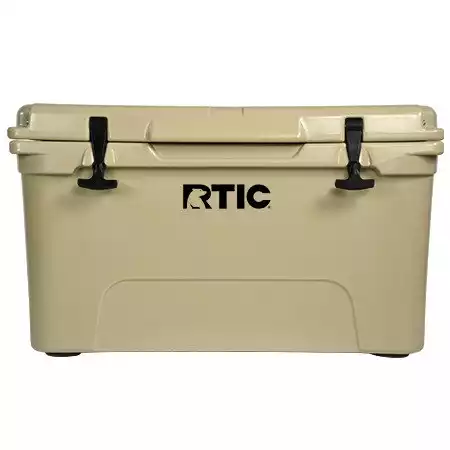 RTIC Coolers makes an impressive line of coolers in many different sizes. The RTIC 45 is the cooler that we tested for this purpose. The RTIC 65 would have been another option, but I chose the 45 because it was closer in size to the 52 gallon Ozark option.
The cooler sells for around $245, so while not as cheap as the Ozark, it is still reasonably priced when comparing it to the other rotomolded brands. This means that you are purchasing a cooler that is offering top quality, in some recent testing many testers have discovered that the RTIC actually outperforms those higher-priced brands.
RTIC boasts that the RTIC 45 is about the "extremes." You should be able to use the RTIC in extreme conditions, through extreme terrain, and it is going to continue to offer extreme ice-keeping capabilities. Since is it a mid-sized cooler, it can be easily carried by an individual which is nice if you are not always with someone else when you are using it.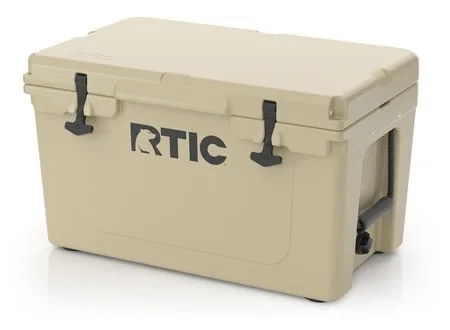 The cooler is built with durability in mind as well. In fact, it is so durable that you can use it as a bench, as a table, as a step stool, and even as a cutting board. You are not going to damage this cooler!
Features of the RTIC Cooler
The RTIC cooler features a number of features that you are going to fall in love with. This cooler is perfect for a vast number of different activities. You can use it for tailgating, in the back of a pick-up truck or trunk, fishing, small game hunting, or even boating. It does not matter what you want a cooler for, the RTIC is marketed as being the cooler for you.
The rotomolded design of the RTIC cooler means that you are purchasing a cooler that is truly indestructible. It can keep ice up to ten days (in our testing it was completely melted at day seven but in cooler conditions, it would likely keep ice longer than ten days). Like the Ozark, it is bear-resistant and designed to keep the bears out.
The cooler also has non-slip feet which keep the cooler in place, even when the cooler is on a moving surface. An integrated locking system helps you keep your food and drinks safe. If you have ever camped at a festival only to come back to your campsite to find your beer missing, you will know just how important this feature truly is.
There is an easy lift handle that helps you to open the lid easily. The heavy-duty rubber t latches help to ensure that the cooler is going to stay shut, plus with these being so heavy-duty, you know that they are going to last for a long time.
The coolers have three-inch-thick walls and feature a top-of-the-line commercial-grade insulation foam. This is not the type of insulation that is used in other coolers and that is part of the reason that these coolers outperform so many. The grips on the RTIC cooler are textured which helps you to have a better grip on it.
The handles are made from marine-grade rope, so again you are not going to have to worry about this cooler lasting a long time. There are also molded cooler handles so you if prefer that type of handle it is a possibility for you to use. The lid gasket is designed to work like a freezer which helps to keep things cold.
The cooler features a rapid-release draining system that is supposed to help you to drain the cooler more easily. In addition, there are easy flow drain sprouts which help things to drain at a pace that allows for water not to puddle around the cooler. The hinges are full length and interlocking.
There are even molded tie-down slots should you need to tie your cooler onto the back of a four-wheeler or even one of those small car attachments meant for extra room when traveling. The outside always stays dry thanks to the sweat-proof exterior and the cool lift design helps to lift the cooler above hot surfaces. Plus, you can stand on the lid and use it as a casting platform as it features a no-slip design.
Dimensions of the RTIC 45
Height — 15.5 inches
Length — 25.25 inches
Width — 15.875 inches
Weight — 25.0 pounds
What We Loved About the RTIC 45
The RTIC 45 cooler was literally the cooler of my dreams and more. There are so many things that we loved about this cooler that we really had a hard time listing them all. The first thing that we really appreciated is just how long you are able to keep ice in the cooler.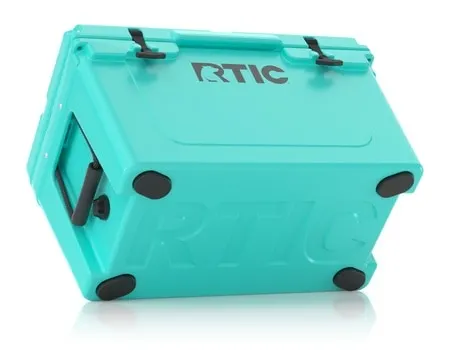 It performs like no other cooler that we have ever used, even those that are more expensive and considered to be top-of-the-line brands. The performance pushes ahead and instantly you find that the cooler is probably the best performing cooler on the market. Another thing that we love about the RTIC 45 is the price tag. While the cooler is not the cheapest choice, it is an affordable option when compared to other higher-end brands.
The RTIC 45 is truly built to last. One of the things that were easy to notice as we used this cooler was that it would be very hard to tear up any part of the cooler and we believed that the cooler would last for years to come.
I was even able to easily use the cooler like a stool to reach things when I was too short to reach them. I've used it multiple times as a step when trying to reach in the back of my SUV when the seats were down. It helped me to be able to more easily maneuver and haul camping gear as well.
Performance Issues of the RTIC 45
There are no real performance issues that we have found with the RTIC 45. In fact, we have a few design things that we wish were different, but even those are purely cosmetic. One of the things that I noticed with this cooler is that sometimes there is a lot of pressure which makes the lid hard to remove.
While not one of the coolers that were tested for this, there are some coolers on the market that have a pressure valve that helps you to open the lid from time to time when the seal is really tight. The cooler also did not have a bottle opener or cup holders. Both of these are minor details, but they were the only things that I would personally want to change in the design of the RTIC 45.
Pros of RTIC 45
The RTIC 45 keeps ice for an unsurpassed amount of days. In the conditions that we tested in, the ice was not fully melted until day seven, but the company claims that ice can last up to ten days.
The cooler is very well made and it would be hard to break anything or destroy it.
The RTIC 45 is moderately priced and considerably cheaper than other coolers with similar performance and features.
The top of the cooler can double as a bench, stand, stool, step, or even a table. You are able to stand on it without fear of falling thanks to the no-slip texture that is included in the design.
The cooler is bear-resistant.
The cooler has non-slip feet on the bottom of it making it the perfect choice if you will be on the go and want your cooler to stay in one spot.
There is a locking system that helps to protect what you have inside.
It features an easy lift handle that helps you to open the lid with ease, even when there is pressure from the tight seal that the lid creates.
The rubber t-latches and rope handles are made with a top-quality design and attention to detail to ensure that both are heavy-duty.
The falls feature commercial-grade foam insulation that is not seen in other products.
The rapid drain system and a special drain plug allow for the drain to be at a pace that helps avoid puddling and flooding around your cooler when you are draining it.
The hinges are a top-quality design that runs the entire length of the lid.
There is never any leaking or sweating.
It features two different handles so that you can carry the cooler how you prefer.
There is a wide range of available accessories for the cooler including bottle openers, wire baskets, dividers, and ice packs.
Cons of RTIC 45
The RTIC 45 does not include any accessories.
There is no bottle opener on the RTIC 45.
You do not get a basket or divider when you purchase the cooler and all must be purchased separately.
There are no cup holders in the lid of the RTIC 45.
A Side by Side Comparison of the Ozark 52 Quart High-Performance Cooler and the RTIC 45
When it comes to talking about the features of a cooler, the best way to really get people to understand the pros and cons and differences are to compare the two coolers side by side. The RTIC 45 is more than $100 more expensive than the Ozark. The Ozark retails for $137 and the RTIC costs $249. In some cases, you get what you pay for and this one of them.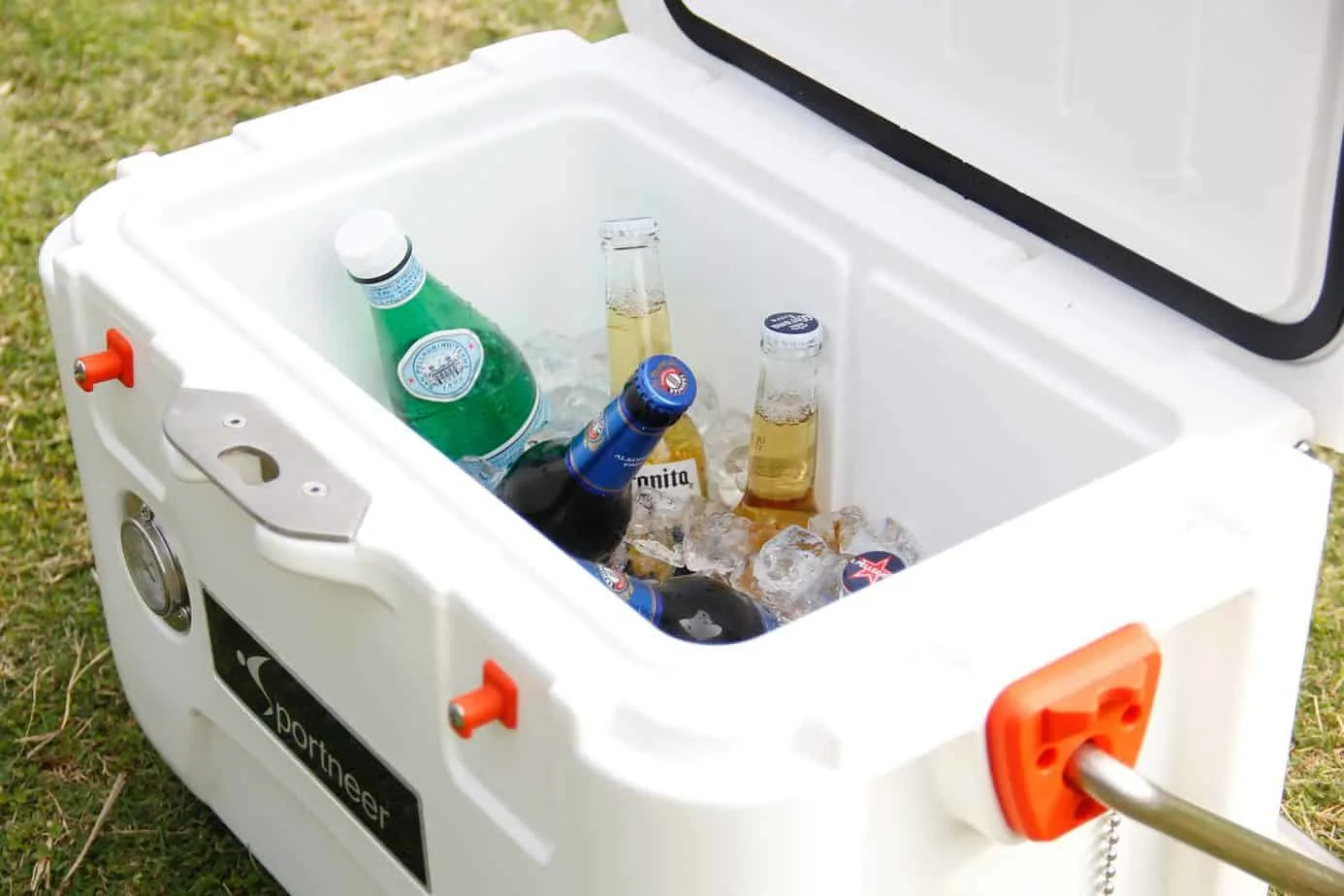 Performance with Ice
The RTIC holds ice for days longer than the Ozark. In fact, we found that the Ozark had completely melted ice on day four and that the RTIC did not have completely melted ice until day seven. This is even more impressive when you factor in that we opened the cooler to check ice levels each day so it was opened many more times than the Ozark was.
The appearance of the Coolers
When you consider the appearance of the two coolers, there are a few different distinctive things that you will want to note. One of these is that the RTIC is much more durable, yet it appears lighter and more compact. It does not seem as clunky and oversized as the Ozark. You might also want to note that the RTIC does have a flat top surface and that the Ozark wins out with the innovative cup holder design in the lid.
Cooler Weight
The Ozark is also heavier and adds more weight to the cooler when carrying it. This means that you are going to have to watch how you pack this cooler as it is very heavy to fill when you factor in the fact that it weighs more than thirty pounds. The RTIC is lighter in weight, in fact, it weighs more than six pounds less than the Ozark which might not sound like a lot, but when you are considering a packed cooler, every pound counts.
Available Options
The Ozark comes in just two colors, but it does come with an included wire basket to help keep items organized and easily accessible within the cooler. The RTIC comes in a wide range of colors that are updated and change on a frequent basis.
Currently, there are seven different colors that you can choose from…so you can really find a cooler that you love how it looks. One disappointing thing is that the cooler does not include the wire basket. However, you can purchase the basket as part of the additional accessories that are available to go with your cooler.
Accessories
The Ozark cooler does not have additional accessories that are made to be available for purchase with the cooler, but it does include one wire basket when you purchase the cooler. That being said, RTIC offers a wide range of accessories to choose from.
Those accessories include ice packs, baskets that are sized for the cooler you purchase, dividers that are sized for the cooler you purchase, stainless steel bottle openers, and even a cooler tie-down. While these make the cooler better, the fact that some of these are already included with the Ozark makes it disappointing. One accessory that was a favorite of ours, that is not available with the Ozark, is the divider.
These actually allow for you to divide your cooler in half so that you have had a side that is for drinks and one that is for food, or a side that is for adult beverages and a side that is for beverages for your children. The divider allows for a nice level of customization.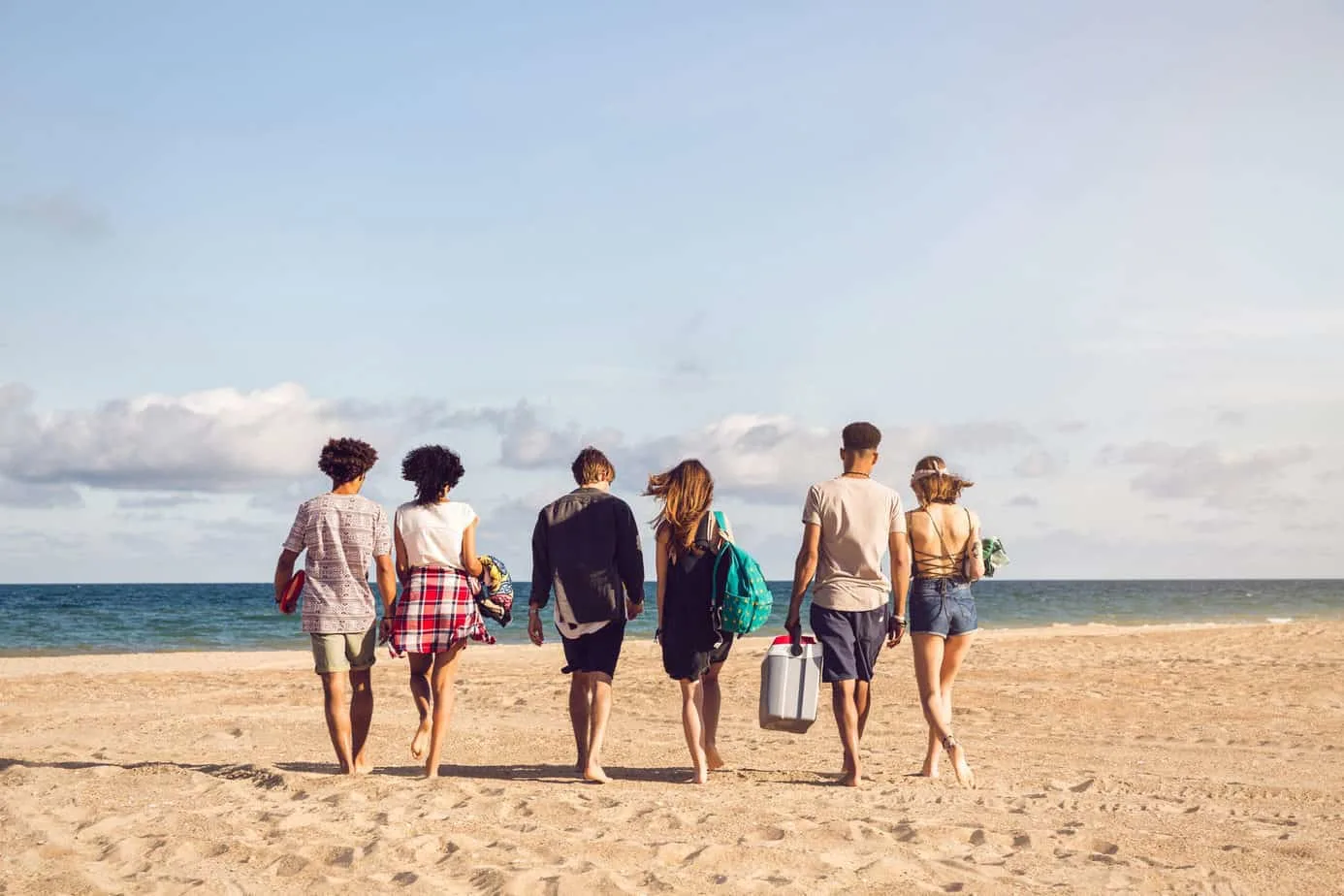 FAQs
Question: Which Cooler holds ice for the longest?
Answer: While testing these coolers, we found that the RTIC cooler held ice for many days longer than the Ozark. While the claim was that the Ozark was going to hold ice for seven days, we noticed that the ice had completely melted by day four.
So, this was not the performance that we were hoping for or expecting. In some circumstances, it does appear that spending a little more money will give you better performance. The RTIC still had ice after five days and was not completely melted until day eight in the conditions during the time that we tested. (We chose to test the coolers on a normal spring day when temperatures were hot but not extremely hot. It was in the high 70s, low 80s during testing.)
Question: Are there differences in appearance?
Answer: Of course, you probably want a cooler to look nice if you are going to be spending a lot of money on it. There are some notable differences in the appearance of the Ozark and RTIC coolers. One of the first things that we noticed when we were testing them side by side is how much nicer the RTIC cooler looked.
Not only did the RTIC come in a variety of colors, side by side, but the RTIC was also not nearly as clunky or awkward looking as the Ozark. In fact, the cooler's appearance was much nicer with the RTIC than the Ozark.
Question: Is one cooler more rugged or sturdy than the other?
Answer: We did not want to tear up our coolers when we were testing them. From opening the cooler and trying out different parts of the cooler, my guess would be that the RTIC is more rugged. The RTIC felt sturdier when lifting the lid and even when picking it up. It also felt easier to carry and made walking with a full cooler easier than what we experienced with the Ozark. The Ozark was kind of clunky which made carrying it harder.
The Verdict: Ozark vs RTIC Coolers
We have an obvious winner in our minds when it comes to the RTIC and Ozark cooler. We prefer the RTIC cooler because of the performance standards and we know that it is going to last. However, we do see where the Ozark's price point would make it a viable option for someone who could not afford to spend more and it was not a bad cooler, just nowhere near the cooler that the RTIC was.
We noticed that even after prolonged use, our RTIC is not leaking and never has moisture on the outside of the cooler. This makes it an optimal choice for traveling and using when you are going to have it in the truck around things that you want to keep dry.
With that in mind, it needs to be mentioned again that the Ozark did leak and had moisture on the outside within just a few uses, so the fact that the RTIC has yet to leak really speaks for the overall standards that were put into the cooler.
While Ozark has been around longer, the fact that they are only manufactured and marketed in one store makes them a lower contender for us as well.
RTIC coolers are available through a wide range of retailers both with brick and mortar stores and online. You can also purchase directly from RTIC who often offers sales and specials that might be of interest.
If you want to keep up to date with these offers, you can sign up to get email alerts from the company. You can also follow them on social media as they often advertise their current specials and offers through their social media outlets.
Editor's Choice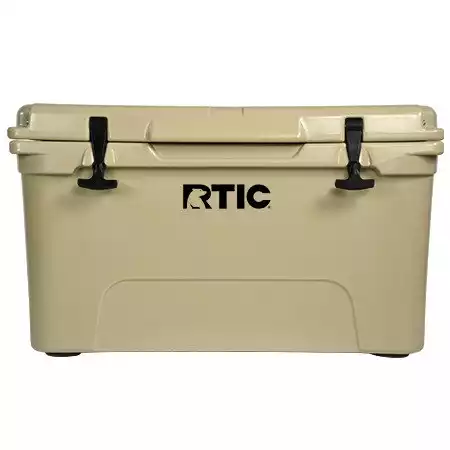 We were impressed with the vast amount of accessories that were available to use with the RTIC, but we wished that at least the bottle opener would be included.
The bottle opener, included basket, and tie-down options that were included on the Ozark, but had to be purchased separately with the RTIC were a bit disappointing when looking at the overall options of the two coolers. However, the fact that you could purchase accessories to go with the RTIC was nice because the only things that were available for the Ozark were replacement parts.
If we were going to make a suggestion, it would be to save your money for the RTIC. You will find that over time, you are going to have a cooler that lasts much longer and is going to save you money with the higher performance standards.
Bottom Line: Our team was much more impressed with the higher quality, customizable and leak-resistant RTIC line of coolers here. We much prefer it over the Ozark line of coolers.
Other Coolers We Recommend
Editor's Pick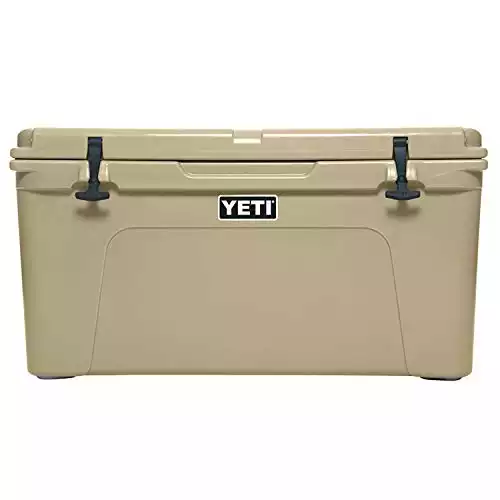 Why Go with the Tundra 75?
The Tundra 75 Cooler isn't even the biggest cooler that Yeti makes, but you'll be hard-pressed to find a situation in which 75L of soda-chilling, meat-cooling, ice-saving capacity isn't enough.
Check YETI.com Price
Check Amazon Price
We earn a commission if you click this link and make a purchase at no additional cost to you.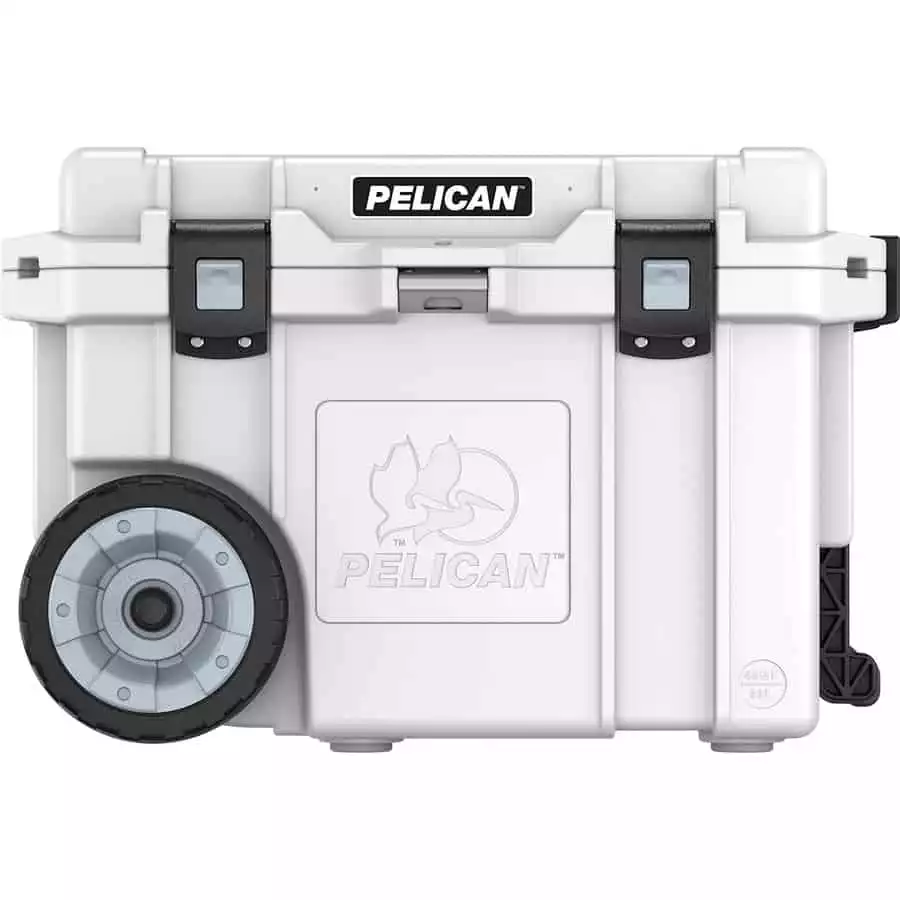 Pelican RC 45QT Wheeled Elite Cooler | Backcountry
Give your arms a break by rolling the Pelican 45QT Wheeled Elite Cooler instead of carrying it. Save yourself from the struggle of carrying a full cooler with the wheeled pull system to easily haul it to the grill, car, or anywhere else you will be needing refreshments.
Check Price
We earn a commission if you click this link and make a purchase at no additional cost to you.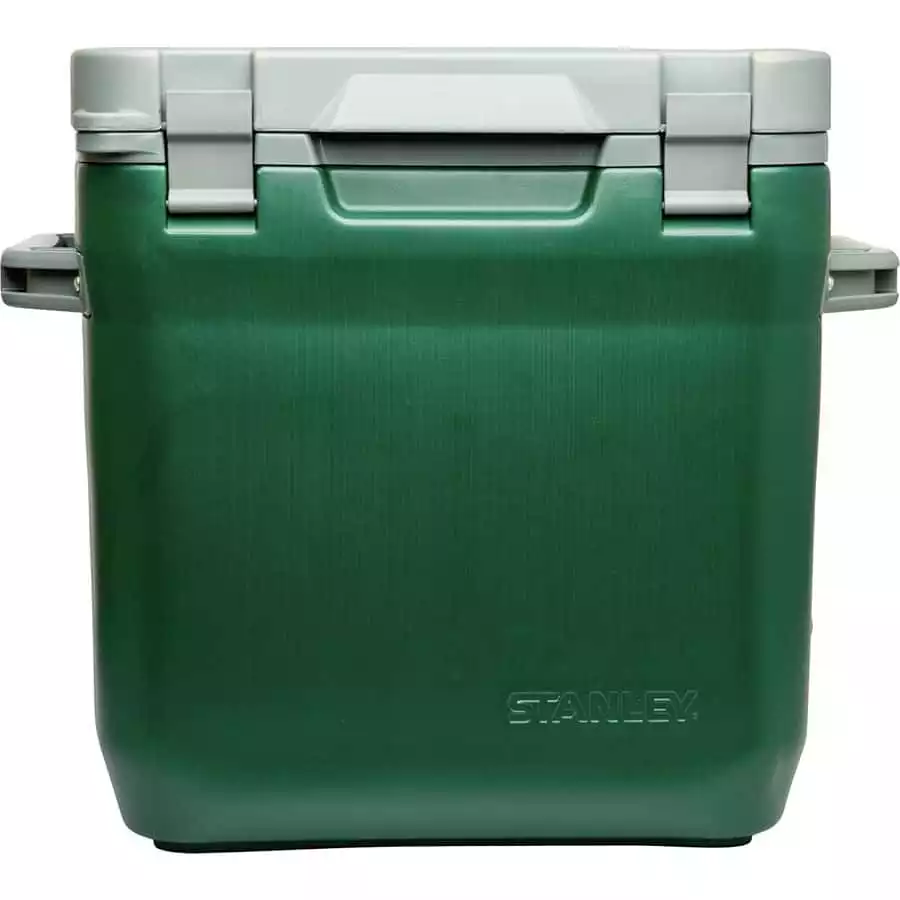 Stanley Adventure Cooler - 30-Quart | Backcountry
It seems like every cooler these days boasts impressive insulation and durability. The Adventure Cooler offers those things, as well as a drink friendly height. This added height not only has room for upright two liter bottles, but also makes it far more comfortable to sit on.
Check Price
We earn a commission if you click this link and make a purchase at no additional cost to you.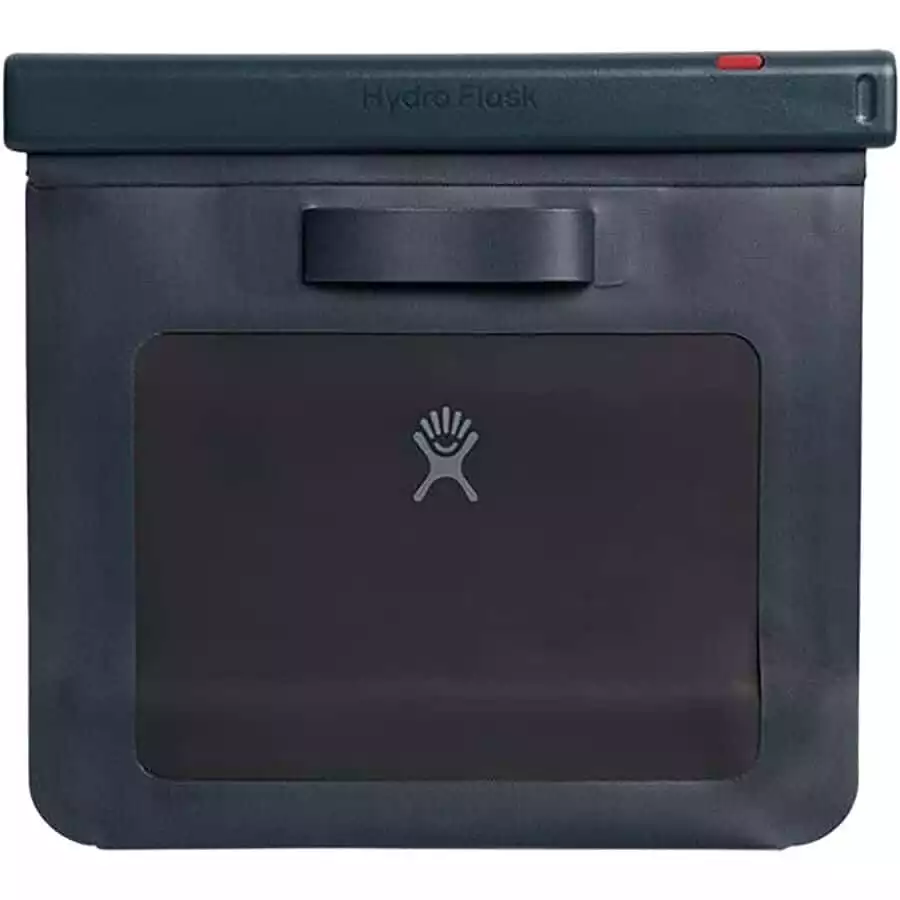 Hydro Flask Medium Dry Storage | Backcountry
The durable Dry Storage accessory with slide lock seal ensures waterproof protection, and the touchscreen window lets you use your devices while they're safe and dry inside. Use it on its own or loop it to your compatible Hydro Flask gear.
Check Price
We earn a commission if you click this link and make a purchase at no additional cost to you.
Further Reading on Outdoor Coolers: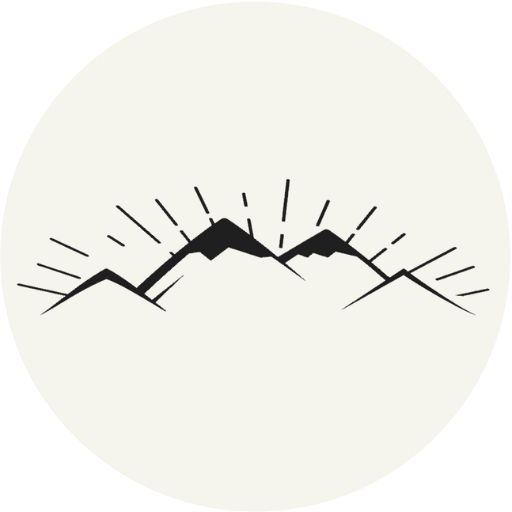 The All-Outdoors Guide team is comprised of enthusiastic experts that enjoy helping others that aspire to be better at outdoor fun. Part of that is making sure you have the right gear and information when it's time to go out and have fun. Some of our team have accomplished amazing feats like climbing 6000 feet to the top of mountains, others have explored every dirt trail they could find and we even have some people that have backpacked solo on various continents. No matter what our readers want to learn and do, our team is here to help them accomplish those goals.