Buying a cooler can be an important investment since a cooler or ice chest can last you for many years to come and especially, keep your things cold as an igloo for even a few days. It is very less likely that you will opt to replace a cooler if you already have a great one.
Therefore, it can be beneficial to research your needs and preferences properly to make an informed choice between so many cooler brands, like our rtic vs yeti cooler comparison. You certainly don't want to end up with a cooler without the features you need or end up compromising on quality because of a price tag. You will need to consider a lot of variables if you wish to buy the perfect one for yourself.
Whether you want to buy a simple cooler for your workplace lunch needs, or you need a bigger plastic premium cooler, you will need to look online and make your choice amongst a wide variety of options available to you. Some types of coolers keep your items cold for merely a few hours, whereas some others can keep them cool for a week or even more.
There are also additional features you will need to explore if you wish to buy a cooler. These include whether or not you need additional storage that comes with the cooler, if you wanted to be soft sided, shoulder straps for your adventures, whether you need an easy-to-access lid if you are going to carry the cooler with a handle, wheels or any other method.
Another feature to look into is whether or not the cooler is waterproof in case you get caught in the rain while out on a vacation.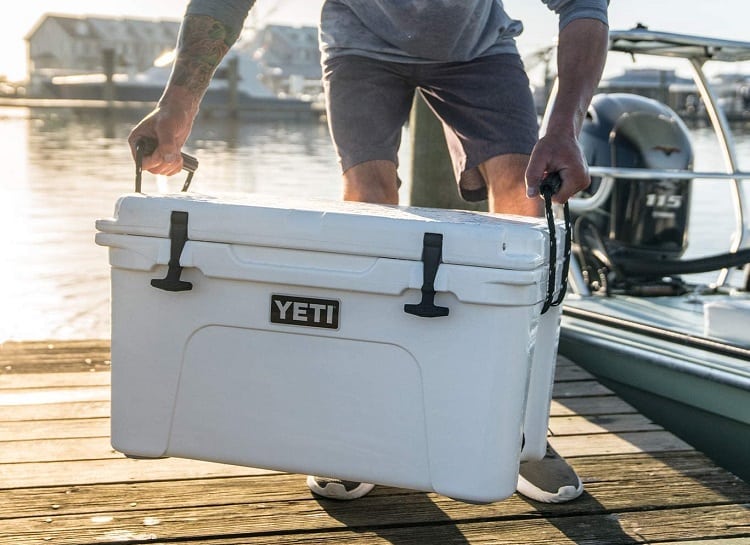 If you like to spend your time in the great outdoors as often as possible, a good cooler can easily become a crucial part of your equipment. Not sure which one to choose? Today we're going to discuss two well-known cooler brands – RTIC Coolers vs Yeti. We will compare their features and qualities, evaluate their pros and cons, and help you decide which one will suit you better.
Whether you prefer camping with a simple tent or in a comfortably equipped RV, there are numerous sophisticated gadgets that can make your outdoor experience even better and more enjoyable. Besides things like portable generators, camping cookware, or various handy tools, coolers represent another essential part of the equipment you should definitely carry around.
But a top-quality, perfectly reliable cooler can be really expensive. If you want to make sure that you invest your money in the right product, you should know what exactly you are looking for and pay attention to numerous important details.
This comparison discusses two of the best-renowned cooler brands on the market: RTIC Coolers vs Yeti. To make things clearer, since both brands produce numerous types of products, we will focus mostly on two comparable heavy-duty coolers with similar features, capacity, and dimensions: RTIC 45 and Yeti Tundra 45.
We hope that this article will help you make an informed decision and choose the cooler that you're going to love for many years to come.
See all you need to know about keeping your food cold as an igloo in this RTIC vs Yeti cooler buyer's guide.
First, let's take a look at what makes these coolers different:
Main Differences Between RTIC Coolers vs Yeti
The main differences between RTIC Coolers vs Yeti are:
RTIC Coolers is a relatively new brand, whereas Yeti is an older and more reputable manufacturer.

RTIC Coolers are usually cheaper, whereas Yeti products are, in general, more expensive.

RTIC offers a 1-year warranty, whereas Yeti hard-sided coolers come with a 5-year warranty.

RTIC Coolers 45 is a bit larger and has greater capacity, whereas Yeti Tundra 45 is smaller and can hold less ice or cans inside.

RTIC Coolers offer fewer variations, whereas Yeti has a wider range of sizes, designs, and modifications on offer.
This is obviously not all. The list is naturally very long and you will want certain preferences for features. This is something you will have to look into, but to be sure that you are making an informed choice, we have compiled a list of features here and we are here to help you make the right choice.
Let's first go over a general summary of all the features you will have to consider before you make your choice.
Exploring RTIC Coolers and Yeti Features
Design
It is quite obvious that fancy design is not the most important quality of a good portable camping cooler. Nevertheless, large numbers of customers eventually do consider the design when picking their new camping products, whether they do so consciously or subconsciously. So, which of these two coolers actually looks better?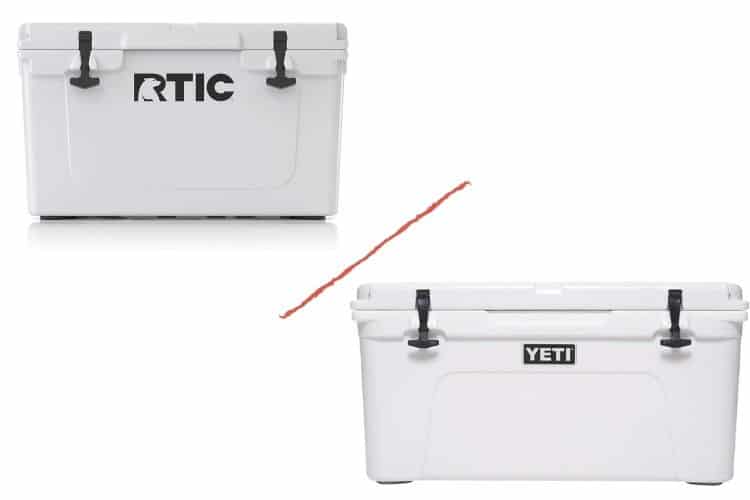 Objectively, it is very hard to say. Since RTIC Coolers are evidently inspired by many significant features of the Yeti's characteristic design, the two look very similar.
Both will immediately attract you with their massively sturdy design, identically shaped latches, smooth curves, and tasteful brand logo on the front panel.
Nevertheless, the winner in this category is clearly Yeti thanks to its super-wide range of colors, patterns, and designs. While RTIC hard-case coolers are currently available in just three simple colors (Arctic White, Ocean Blue, and Mojave Tan), Yeti Tundra cooler offers a colorful range of variations including Coral Pink, Chartreuse Yellow, High Country Green, and some other enjoyable colors and shades.
Material
Most of the modern rotomolded camping cooler options are made of very similar materials: sturdy outer plastic layer and inner insulation of various thickness made of high-grade polyurethane foam.
Both Yeti and RTIC coolers are constructed of these typical materials, so this is probably not the factor you should really worry about when making your decision. Nevertheless, if you take a closer look at the coolers we discuss today, you might find some important differences.
Both products we compare in this article have a foam insulation layer up to 3 inches thick – in practice, this means that the insulation around the walls is thick around 2 inches while the top is usually one inch thicker, since this is the most critical part of the whole cooler.
While Yeti and RTIC look and feel very similar, only the Yeti cooler uses the patented PermaFrost insulation technology and certified bear-resistant fat walls.
These patented and certified features characteristic of Yeti coolers are attracting many customers who like to invest in verified and exclusive gadgets, but do they make any significant difference in practice? That might be a bit questionable, as we'll discuss further below.
Dimensions and capacity
If you want to choose from the widest possible variety of dimensions, shapes, and capacities, the RTIC Coolers brand is definitely far behind the older, well-established, and more experienced Yeti, who clearly has a larger portfolio of products.
Nevertheless, this article is looking for a fair comparison, so we will focus only on two of the most similar models – RTIC 45 and Yeti Tundra 45.
Premium Choice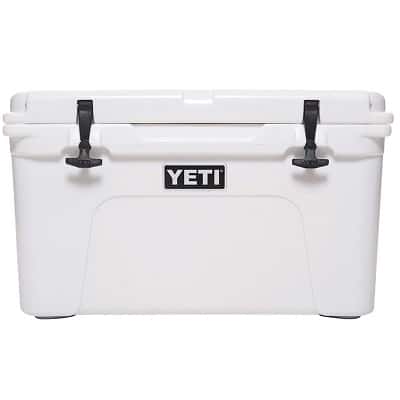 Budget-Friendly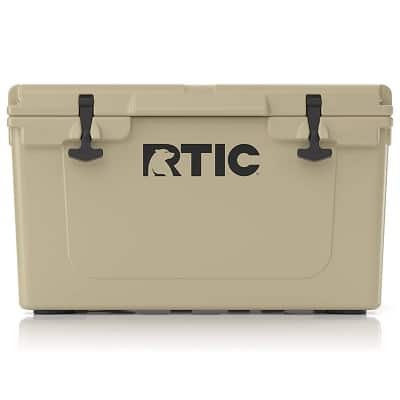 As the number in their model names suggests, both of these coolers should have around 45 quarts of capacity (approximately 42.6 liters).
In practice, however, they are not completely identical, because RTIC 45 is slightly bigger than its Yeti counterpart. As a result, the RTIC cooler also has a tiny bit larger capacity, so you can fit more ice or more food and drinks inside.
While the difference is really not great (Yeti measures 25.75 x 16.13 x 15.38 inches while RTIC measures 26.5 x 16.5 x 16 inches), it can have some rather surprising consequences, as you'll see below.
Functionality
Now let's discuss the most important questions you should be asking before you decide on a new cooler: How well it actually works? How long can it keep ice frozen and drinks cold?
How well does it cope with extreme weather and some other factors that can possibly affect its cooling abilities? The truth is that this is the part where things become a bit unclear.
When it comes to various tests, comparisons, and user reviews, Yeti usually ranks first regardless of the competition thanks to its premium design and patented features that can reliably retain ice for at least five full days in any weather and environment (yes, these coolers are tested and proven even by yachters on sunny Florida, so they can surely cope with your regular camping trips).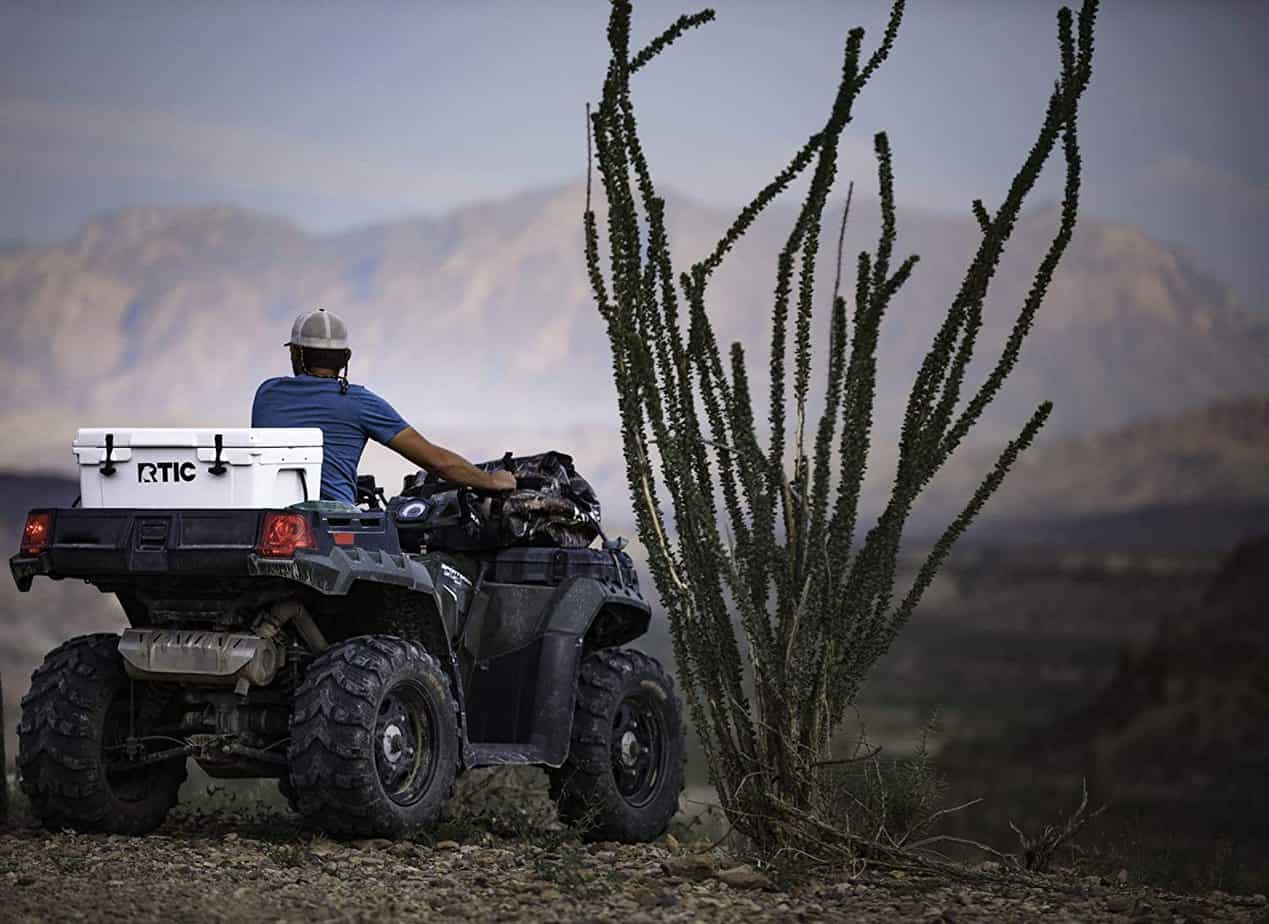 However, since RTIC 45 cooler can hold more ice in comparison with Yeti Tundra 45, you can actually make it perform very similarly to the Yeti cooler by sacrificing some of its capacity to the extra amount of ice.
More ice simply keeps ice frozen and your stuff cold for longer periods of time, and some users even claim this allowed their RTIC coolers to outperform the Yeti coolers of their friends.
Still, while this useful trick might help you achieve better results with the more affordable RTIC cooler, Yeti Tundra remains the product with more genuinely effective insulation and better cooling functionality.
Convenience of use
As the old saying goes, the devil is in the details. This can apply to various less obvious features of camping coolers too. If you're looking for a reliable piece of equipment, make sure you pay attention to things like slip-proof legs, extra-durable handles, or user-friendly latches, and other mechanisms. These details can contribute to a higher convenience of use and better durability of the cooler.
While RTIC and Yeti are very similar in all aforementioned features, Yeti's rope handles fit somehow better into your hand, and the latches also feel slightly more reliable and durable, so you feel like you can afford to be a bit less cautious about how you manipulate and handle them.
This intuitive feeling is further supported by Yeti's impressive 5-year warranty on all of its products, whereas RTIC guarantees only a 1-year warranty for its hard-sided coolers.
Ice Life
While Yeti made a great showing with ice life, RTIC's increased storage size has allowed for more ice to be fitted in with the container, leading to increased ice life. This added to the similar build quality and insulation in both of them means that we found that RTIC edged out YETI by a very thin margin.
Durability
When we talk about durability, we are talking about the cooler's ability to perform its job when it is exposed to challenging or uncertain environments, as well as how well it lasts with the occasional drop or trauma to the material while outside in rough terrains.
This one was found to be a total tie in the durability department. Both the companies have very similar results from reviews online, as they have similar components and materials in their build. RTIC does have a few additional features in the build quality, but this does not translate well enough to be able to overtake the YETI with respect to durability.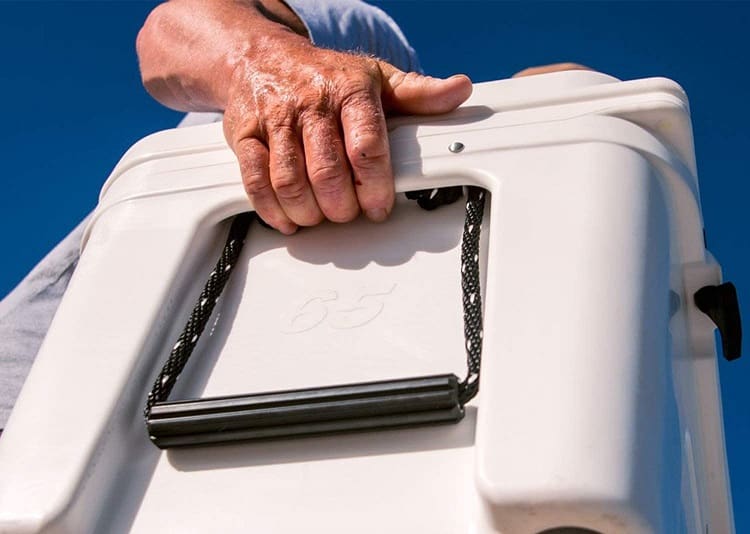 Company Reputation and Customer Service
One important feature that we have not yet talked about is the company reputation. This may be a wide metric but is extremely important irrespective. With this, YETI is just about the best you can get with customer service and company reputation.
They have simply been around for far too long and established themselves as a consumer-oriented company in the while. RTIC, on the other hand, relies heavily on word-of-mouth and does not spend much money on its marketing and advertising department, and this clearly shows.
They may have made great strides in the short amount of time they have been in the cooler industry, but this difference clearly shows making YETI the clear winner in this category.
Customer service can be a complicated and subjective thing with no clear answers. However, it appears that again, YETI with its much longer base has an established customer service center with far more help available to anyone who needs it.
This makes a difference as people have mentioned online that RTIC seems to have gotten smug with its recent and quick success and customer service is failing as a result.
It appears too, that RTIC is not able to keep up with its sudden industry demand and provide products in stock for its customers. Whether this is a temporary issue or not is up for the time to show, but in the meanwhile, we would like to give YETI the clear winner's position for this category as well.
Comparing RTIC vs Yeti Coolers Pricing
We usually tend to emphasize that price is not the most important factor you should consider when choosing your vital outdoor equipment. Nevertheless, cooler is usually perceived more as an extra luxury, so we understand that most of the customers will probably think twice before spending hundreds of dollars on it.
The truth is very simple here: When it comes to affordability, RTIC Coolers are definitely a better choice. Although price quotes can vary over time, if we're talking about full prices without any discounts and promotions, a Yeti cooler of comparable size and features can cost you even twice as much as a similar alternative by RTIC Coolers.
Yes, Yeti coolers are a bit overpriced, but their reputation, patented technologies, numerous exclusive certifications, and longer warranty still make them well worth the price for many customers who can afford to buy them.
Pros and Cons
RTIC Coolers Pros
Great value for money

Impressive capacity

Very good cooling abilities

Sturdy and reliable materials
RTIC Coolers Cons
Only 1-year warranty

Less sophisticated details

Less effective

Fewer designs to choose from
Yeti Pros
Sturdy and highly durable

Numerous certified features

Wide range of designs

Exceptional cooling abilities

5-year warranty
Yeti Cons
High price

Smaller dimensions and capacity
Are there any alternatives?
Coleman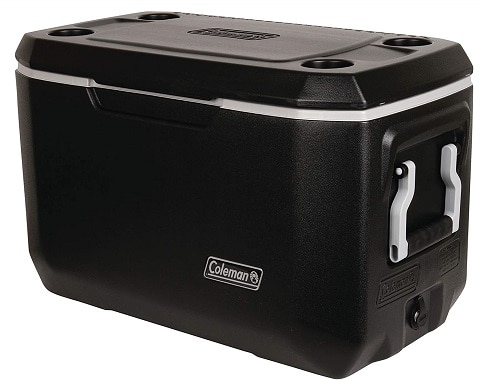 Coleman Xtreme is a perfect budget-friendly replacement for both RTIC and Yeti coolers. Although this thrifty portable fridge is probably less durable and definitely looks less fancy than the premium coolers we've discussed in this comparison, it really does what it promises – keeps your ice frozen and your drinks cool for about five days in a row.
It will also cost you only a fraction of the Yeti or RTIC cooler's price.
Coleman Cooler
Check Price
We earn a commission if you click this link and make a purchase at no additional cost to you.
02/01/2023 05:44 pm GMT
Grizzly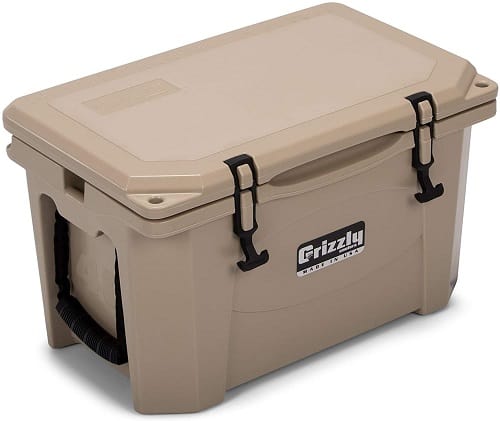 The Grizzly cooler is one of the most popular camping coolers manufactured in the U.S. They are definitely not your cheapest option, but their quality is probably well worth the price.
In fact, customers who had the chance to try both coolers in the same environment claim that Grizzly is just as good and reliable as Yeti while being reasonably cheaper. Nevertheless, what we really like the most about the Grizzly coolers is their lifetime warranty.
Our in-depth Grizzly Cooler vs Yeti coolers comparison can provide you with more details.
Grizzly G40 Cooler
Check Price
We earn a commission if you click this link and make a purchase at no additional cost to you.
02/01/2023 05:59 pm GMT
Igloo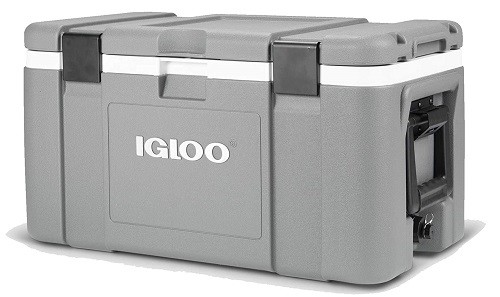 The Igloo Mission 50 Cooler is another budget-friendly option you should definitely check if you're looking for a quality cooler for your outdoor adventures. It promises ice retention for at least five days, but many customers claim that it works even better in practice.
It also has a conveniently wide drain, super-reliable heavy-duty handles, and many other nice features that make this cooler well worth its decent price.
Check out our Igloo vs Yeti coolers comparison for more interesting details and information.
Frequently Asked Questions about RTIC Coolers vs Yeti
Question: Are Yeti and RTIC Coolers the same?
Answer: Because of their similar design and features, many customers believe that RTIC and Yeti coolers are actually produced by the same manufacturer. Nevertheless, this is not correct – RTIC and Yeti are two completely independent brands with no official business ties. In fact, Yeti even sued RTIC Coolers some years ago for the alleged trademark and patent infringement because of these obvious similarities.
Are RTIC Coolers worth the money?
Answer: RTIC Coolers are favored by many outdoor enthusiasts thanks to their affordable prices. Although they might not be as reliable and effective as some of the other, more expensive coolers, they still offer very impressive value for money.
Question: Do Yeti Coolers ever go on sale?
Answer: Yes! If you're lucky enough to catch some of the regular sales and discounts, Yeti coolers can actually cost you less than some of the less reliable and not-so-reputable camping coolers on the market. If you have a chance to buy a Yeti cooler at discount prices, do not hesitate.
Question: Do RTIC and Yeti Coolers float in water?
Answer: Yes. Most of the hand case camping coolers are made of plastic and insulation foam, so they are very light-weight. That means that they are usually able to float on the surface of the water. Nevertheless, this ability also depends on the weight of things you put inside the cooler. A cooler full of beverages, for example, can be too heavy to float.
Our Verdict: RTIC vs Yeti Coolers – Which one should you get?
If you're planning to invest in a heavy-duty cooler, you surely expect it to work reliably, consistently, and flawlessly in every situation. If you waste your money on a lame cooler, you can really regret it in the least convenient situation – when you're out in nature, far from civilization, and totally dependent on the ice trunk that just doesn't do what it should be doing.
While both RTIC Coolers and Yeti coolers belong to the recommendable products, if your budget allows it, we suggest you invest in Yeti instead. Although it can be significantly more expensive, it's also more reliable and sophisticated. After all, you will receive a generous 5-year warranty with every new Yeti product, so you know where to turn if anything goes wrong.
Nevertheless, if you have to keep your expenses under control, RTIC Cooler is still one of your best budget-friendly Yeti alternatives. In some regards, such as the capacity, it can even outperform its more expensive competition.
We hope that this comparison helps you choose the cooler that will satisfy you and make your outdoor adventures even more enjoyable than they are today.
Premium Choice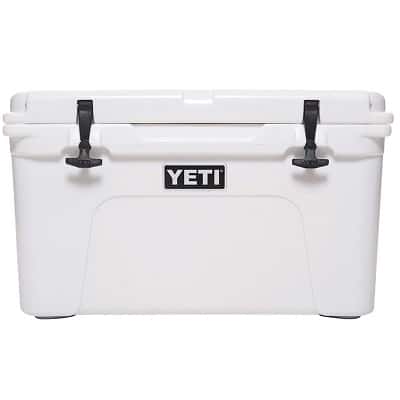 Budget-Friendly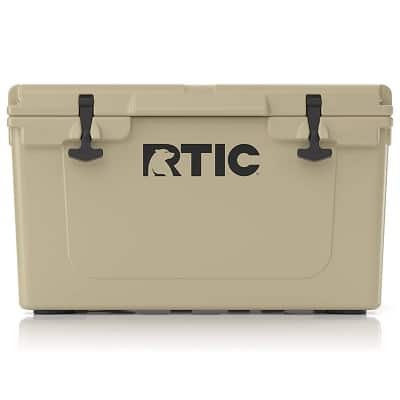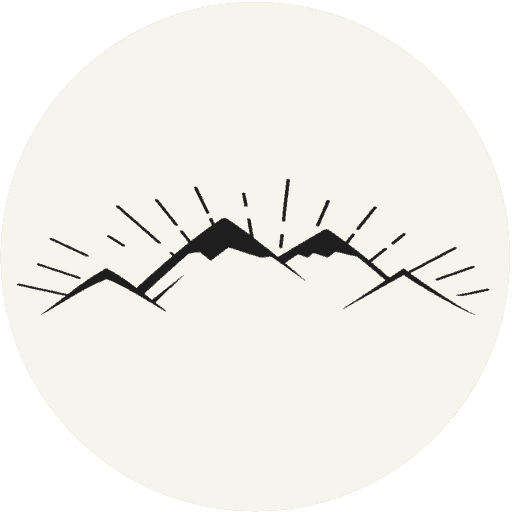 The All-Outdoors Guide team is comprised of enthusiastic experts that enjoy helping others that aspire to be better at outdoor fun. Part of that is making sure you have the right gear and information when it's time to go out and have fun. Some of our team have accomplished amazing feats like climbing 6000 feet to the top of mountains, others have explored every dirt trail they could find and we even have some people that have backpacked solo on various continents. No matter what our readers want to learn and do, our team is here to help them accomplish those goals.