If you're looking for your next adventure cooler, look no further than today's guide. There's just something about that icy coldness that warms my heart, and I've gone through many coolers in search of the perfect container. Some might say I am a cooler addict, but really it's just a profound love for those soft rounded edges.
Specifically, we're going to be outlining the best Cabela's coolers on the market, which are surprisingly strong competitors to Yeti, Otterbox, and Coleman. By the end of this article, you'll know a little bit about the history of the brand Cabela's, key features to look for in a cooler, my top recommendations, and a few alternative competitors to consider. Let's dive in!
Bottom Line Up Front
Today we're going to be looking at three main coolers from Cabelas, all in different sizes. Out of these three, I'd recommend the Polar Cap Equalizer Cooler, in the 60-quart size. This cooler is a king in its category.
The cooler latches shut with heavy-duty rubber latches (with built-in bottle openers), to ensure its contents stay cold and leakproof for 5-12 days. The Polar Cap Equalizer also looks slick and has a spigot and beveled corners to prevent it from resting right on the ground. It's also the perfect size for medium-level camping trips, without going too overboard in terms of bulkiness and weight.
If you're looking for an all-around camping cooler that will last you for years, look no further than the Polar Cap Equalizer.
What is Cabela's?
Let's start by giving a little background on the company Cabela's. The business was founded in 1961 when Richard Cabela first put up an ad for some fishing flies for sale in a local newspaper. From there it only grew, and today it has an average of $3 billion in sales per year. Cabela's now sells to all 50 states and over 100 countries around the world.
Needless to say, Cabela's has established itself as a reputable outdoors dealer. They focus heavily on camping, hunting, and fishing gear. Not only are their products reliable, but their stores are a marvel to walk through. Find one in your local city, and you'll be amazed at the level of design inside. Some even include aquariums, restaurants, and museum-quality stuffed animals!
What to Look for in a Cooler
I will be using the following selection criteria to determine what I believe is most important in a cooler. Temperature Control, Durability, Design, and Portability are all factors I look for when shopping for my next cooler.
Temperature Control
For me, the most important factor in a good cooler is temperature control. How long will it maintain its coolness? Once I know this, I can determine what types of food I can bring, how long it will last, and if I will need to pick up more ice for the trip.
A good initial test is to put in a bag of ice, keep it locked, and check how long until it's melted. This allows me to determine what I can expect out of the cooler.
Durability
The next factor I look for in a cooler is its durability. I'm generally one of those people that's rougher with their gear, so I always look for something that can withstand a few drops and dents.
This is particularly important with a cooler because if a hole or crack arises, it's effectively useless. To me, there's nothing worse than a leaking cooler, especially when it's in the backseat of your car, and spilling all over your other camping gear.
To counter this, I like to scourge the review sections of coolers before buying one, to see how durable it is.
Design
Being a bit of a photographer myself, I always appreciate when a cooler looks aesthetically pleasing. Especially when the cooler can end up being the backdrop in a lot of my outdoors photos.
Therefore I prefer designs and color schemes that look simple and bold and don't blend into nature too much. I also enjoy clean lines on the edges of cooler, slick surfaces, and neat-looking handles.
Portability
The final factor I consider when shopping for a cooler is its portability. Is the cooler massive, bulky, and heavy? It's always nice to have a cooler that isn't a back-breaker when you're carrying it out to your camp or hangout spot.
For me, this isn't the dealer breaker, by any means. I understand that in order for a cooler to do its job, it needs to be made out of strong materials to maintain its temperature. But at the end of the day, the lighter and less bulky is, the better.
Best Cabela's Coolers
Now that we have an idea of what to look for in coolers, let's break down Cabela's top coolers. We'll start with the most simple coolers, and work our way up to the heavy hitters.

The first cooler I want to feature is the Cabela's Can Soft-Sided Cooler. This cooler is specifically designed to hold cans but is also a great choice for packing portable meals.
The cooler is designed with a polyester coating that's actually fairly tough, then coated in PVC to keep your drinks cold. The cooler also comes with a mesh pocket on the inside and the outside, which is ideal for holding smaller items in place.
My favorite part about this cooler is how lightweight and portable it is. It comes with a built-in shoulder strap so it can be carried down to harder-to-reach spots, and it only weighs 1.1lbs. The cooler comes in three different colors, blue, grey, and camo. In addition, this particular cooler comes in three different sizes. The small size can hold 12 cans, while the medium and larges sizes can hold either 18 or 30 cans.
Pros
Lightweight and portable

Variety of colors to choose from
Cons
Designed for short-term temperature control

Not leak-proof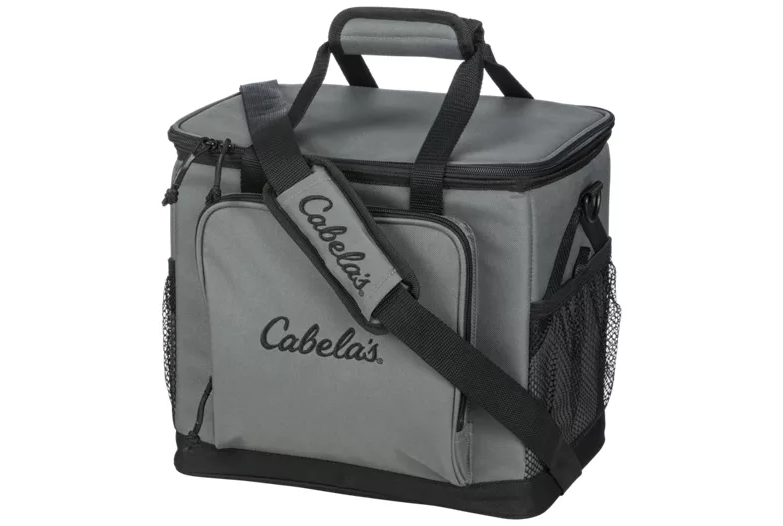 Cabela's 30-Can Soft-Sided Cooler | Cabela's
This Cabela's can cooler bag is made with a tough polyester outer that's coated in PVC to seal in the cold. External mesh and zippered pockets hold extra items, and an internal mesh pocket is ideal for an ice pack or quick-access snacks.
Check Price
We earn a commission if you click this link and make a purchase at no additional cost to you.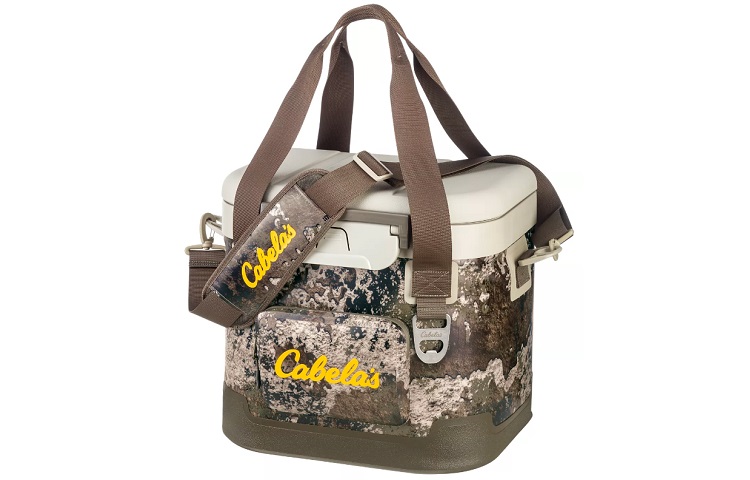 The next cooler I want to feature on this list is the Cabela's Coldsnap Latch Cooler. This cooler is essentially a (heavily) upgraded version of the Can Soft Sided Cooler.
Its main feature is that it has a snap latch that can be used to securely shut the cooler. These waterproof seals allow the cooler to stay cold for extended periods of time- much longer than the Can Soft-Sider Cooler. The cooler itself is also made out of a thick thermal design that's leakproof and contains an additional front pocket that's waterproof.
However this cooler comes in one size (9.72″H x 13.7″W x 11.8″D interior), and can hold roughly 24 cans alongside 10lbs of ice. For hassle-free carrying, the cooler has a built-in shoulder strap that's actually pretty comfortable.
Overall, the cooler weighs 8.8lbs when empty, and comes in two colors- light brown and camo. One feature I forgot to mention that I absolutely adore is the built-in bottle opener on the side! If you're like me and always forget to bring the bottle opener, this is a lifesaver.
Pros
Portable and lightweight

Keep items cold for a long time

Leakproof

Variety of colors to choose from
Cons
Designed for medium-length temperature control

Isn't super durable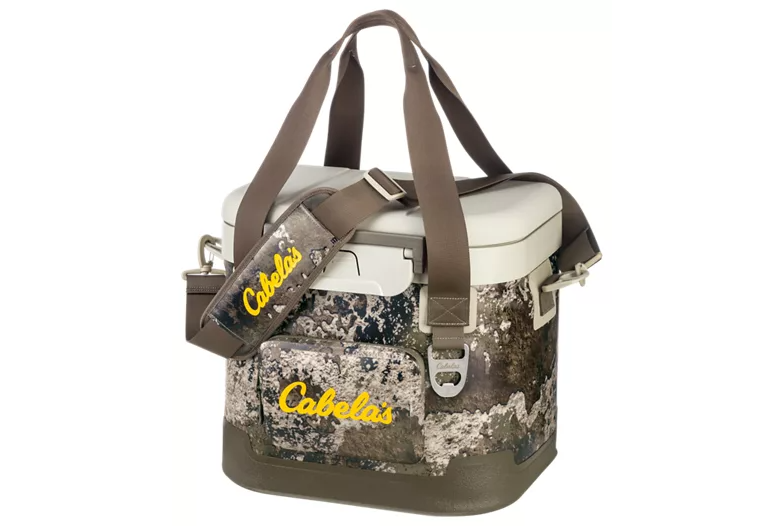 Cabela's Coldsnap Latch Cooler | Cabelass
This features the exclusive Coldsnap Latch, which allows you to securely close it with a push and a snap of the latch. This leakproof, one-handed push-and-latch mechanism is easy to shut, easy to open, and never gets between you and your ice-cold food and drinks.
Check Price
We earn a commission if you click this link and make a purchase at no additional cost to you.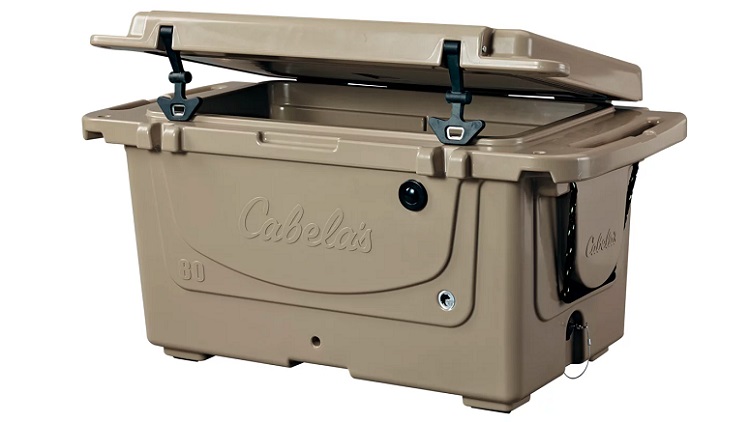 The final coolers I want to highlight are the creme de la creme of the Cabela's brand- the Polar Cap Equalizer. If the first two coolers on this list were entry-level models, this is the real deal. The cooler comes in 5 different sizes- 25, 40, 60, 80, and 100 quarts.
The best part about this cooler is that ice inside can last from 5-12 days, depending on the size of the cooler and how many times it is opened/closed. This is truly a revolutionary product, and perfect for multi-day camping trips where you are trying to keep meat and vegetables cold.
Let's dive into the specs a bit. The Polar Cap Equalizer is built with a freezer-grade gasket that keeps the inside ice cold. The entire lid straps down with stretchy rubber latches that have a built-in can opener. The cooler is also extremely durable. It's certified Bear Resistant by IBC, which means that it's safe to keep outside overnight and not worry about a bear getting inside.
The thing is a complete beast, as it's built out of aluminum connecting rods. The most impressive thing is how lightweight it still is, even after all this protection. The smallest cooler (25 quarts) weighs about 18lbs, and the largest cooler (100 quarts) weighs 46 lbs.
One more feature I didn't mention is that the cooler also has a spigot for draining, and has beveled corners that allow the cooler to rest slightly above the ground. This helps prevent hot surfaces from touching and warming up the cooler.
Needless to say, the cooler is extremely feature-rich and has a lot of thought put into its design. It looks slick and comes in white, brown, or grey.
Pros
Keep items cold for extremely long

Leakproof

Thoughtful design, with slick surface and padlock

Carry straps are molded in for easy storage
Cons
Heavier and bulkier cooler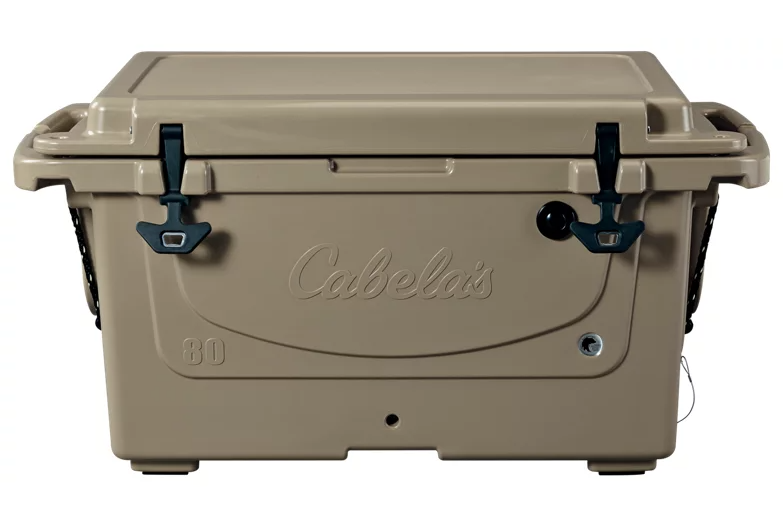 Cabela's Polar Cap Equalizer 80-Quart Cooler | Cabela's
Featuring a maximum insulation-to-weight ratio, this 80-quart cooler's efficient, all-around foam insulation delivers great temperature control and ice retention without excessive weight. This cooler gives outdoorsmen serious performance over the long haul.
Check Price
We earn a commission if you click this link and make a purchase at no additional cost to you.
Alternate Coolers to Consider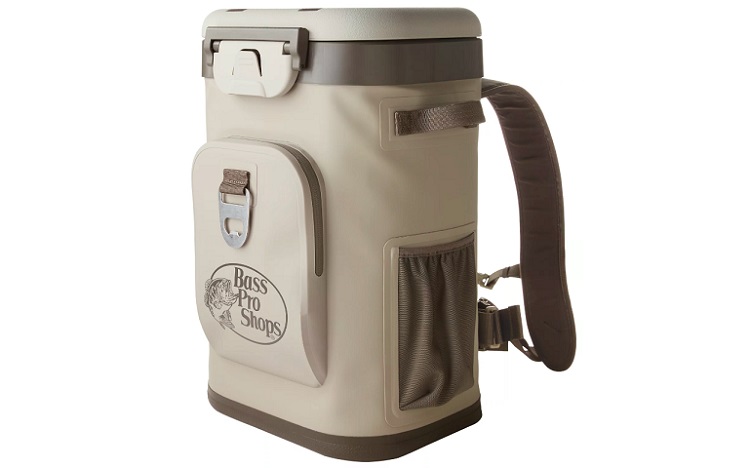 If you're looking to take your cooler game to the next level, the 20-Can Coldsnap Latch Backpack Cooler could be your answer. This brand-new design is essentially a backpack with a built-in cooler, that makes it perfect for long-distance meal hikes.
It's extremely comfortable to wear on the back and includes a removable waist strap, ventilated back panel, side strap, and built-in bottle opener. Trust me when I say there's nothing better than hiking two miles and drinking a cold beer with meats and cheeses at a beautiful overlook.
Pros
Waterproof front pocket

Very portable

Leak-proof
Cons
Can be heavy on the back if completely loaded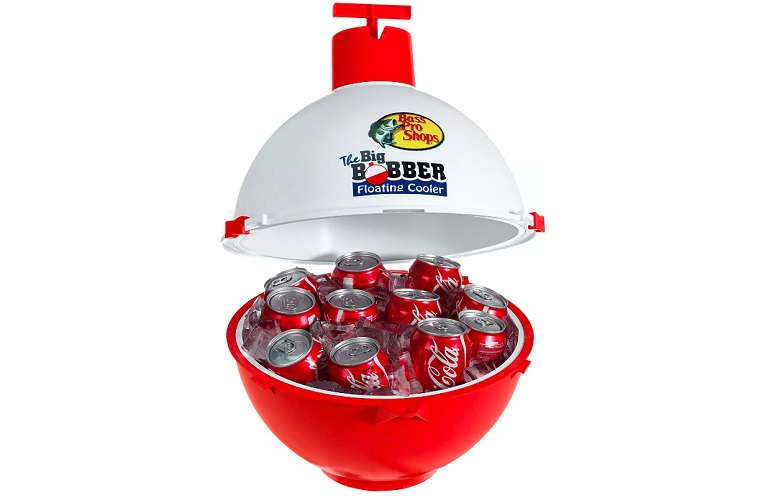 If you're the kind that likes to swim and have easy access to drinks, the Big Bobber might be a solid option for you. This floating cooler allows you to keep your drinks out in the water and snaps shut when you want to keep them cool. It's got a built-in handle that makes it easy to carry and retrieve from the water and is designed with UV-resistant material.
Pros
Holds up to 12 cans

Entertaining design
Cons
Isn't good for wavy water
FAQs
Question: How long does a Cabela's Cooler Hold Ice?
Answer: Cabela's top-of-the-line cooler, the Polar Cap Equalizer, can hold ice cold for 5-12 days, depending on the size of the cooler and frequency of opening/closing. This is a remarkable amount of time and is competitive (if not better) than competitors such as Yeti, Otterbox, and Igloo.
Question: Where are Cabela's Coolers Made?
Answer: Cabela's brand is made entirely in the United States. This means you can be ensured the quality is strong and that you are supporting the national economy by shopping with Cabela's. You can order a cooler online at the manufacturer's website, or at one of 170 retail stores in the United States.
Question: What is the Warranty on a Cabela's Cooler?
Answer: The private label products by Cabela's all offer a one-year warranty against manufacturer defects and issues. This means that if something breaks on the cooler that isn't your fault (for example, if the handles fall off or it simply falls apart,) you are subject to a replacement product free of charge. Cabela's also offers returns on the product for up to one year after the initial purchase.
Question: Are Cabela's Coolers Bear-Proof?
Answer: The Cabela's Polar Cap cooler is certified Bear Proof by the IGBC, which is the Interagency Grizzly Bear Committee. This means if you leave the cooler outside your car overnight, you won't have to worry about a bear being able to break in and steal your food. However, you might get a few gnarly scratches on it. However, the Can Soft-Sided Cooler and the Snap Latch Cooler are not bearproof.
Question: Do Cabela's Coolers Have a Wheel-Kit Feature?
Answer: No, none of the Cabela's coolers have wheels at this time. Nor do they have official Cabela's products that allow you to add wheels onto the coolers. However, the coolers are fairly lightweight and have comfortable straps for carrying the coolers long distances.
Conclusion
Overall, Cabela's has a wide variety of coolers perfect for whatever your adventure might call for. Whether you are simply looking for a portable bag to keep your beers cold or looking for a full-fledged cooler to keep your meats cold for a week-long camping trip, you can be assured the quality will be there.
If I were to recommend one product, I'd go with the Cabelas's Polar Cap Equalizer, in the 60-quart size. For me, this is enough room for a couple of days of camping, without going too overkill. It also appears to me that Polar Cap Equalizers have all of Cabela's attention in terms of design detail and reliability, so I couldn't recommend them more.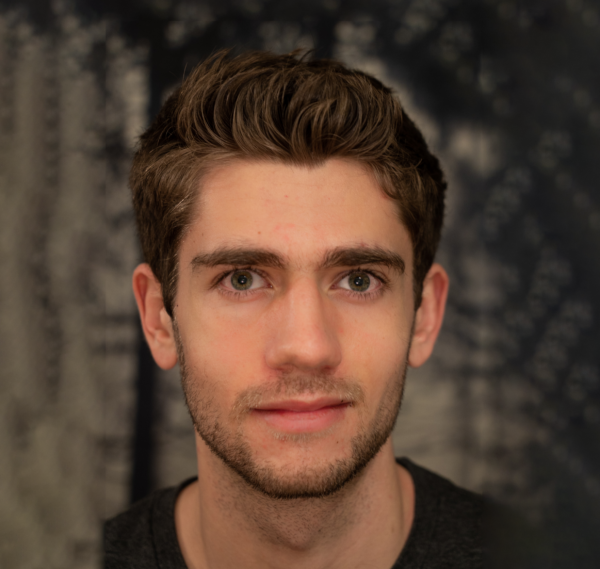 Nicholas is an adventure photographer who's been traveling North America for the past four years shooting landscapes from Washington all the way down to El Salvador. His passion for photography and the outdoors started in Colorado, where he grew up exploring its vast mountain ranges. Today, he hopes to share his lifelong experience with the outdoors with others and hopes to inspire people to explore more.