There are a lot of coolers out there waiting to offer you some cool power. Somehow, Yeti has found its way to complete and total cooler dominance. While many people's minds go directly to Yeti when they simply think about the word cooler, there are a ton of great alternative options out there.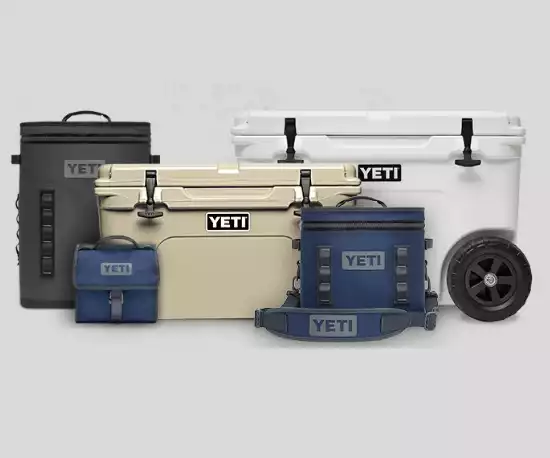 Extreme insulation power and durability, YETI Coolers!
Whether you have a type of YETI Cooler in mind or are just browsing for an upcoming camping trip, you'll find a cooler worth the investment and one that'll last you season after season in the wild.
Buy Now
We earn a commission if you click this link and make a purchase at no additional cost to you.
In this article, we will give you our top 10 list of Yeti alternatives. There are lots of Yeti-like coolers out there! We will go into detail about the features and specs that make these coolers great in hope that you find the perfect cooler to fit your individual needs in these yeti coolers.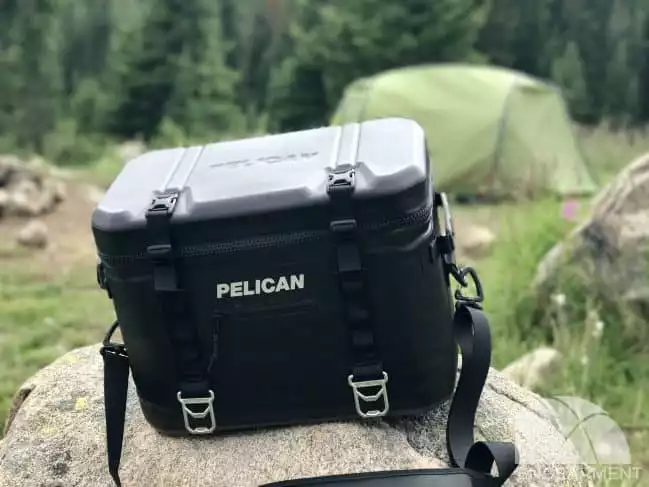 I Personally Lean Pelican
I love my YETI's, don't get me wrong. BUT, I prefer Pelican coolers. Here's why. They are more durable, are bear-proof and hold a Lifetime Guarantee. That's hard to beat. YETI looks nicer, but Pelican is what I trust in the backwoods.
Check Price
We earn a commission if you click this link and make a purchase at no additional cost to you.
Yeti spearheaded the top-of-the-line cooler market when they presented their roto-molded coolers in 2006. They utilized this design to set up an overwhelmingly popular brand and developed their presence by collaborating with a large number of neighborhood stores while keeping away from retailers like Costco and Walmart.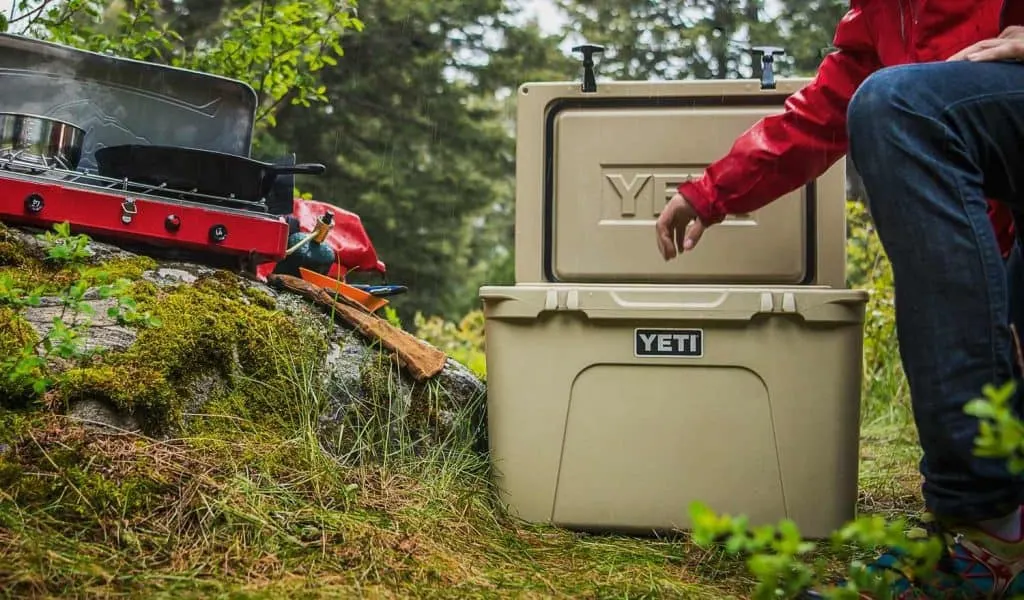 In any case, it's been quite a while since 2006 and now there is an assortment of less expensive, yeti like cooler competitors brands available that are very similar.
While Yeti coolers have stayed generally the same, these new coolers have advanced the power to improve their concepts. There is no shame in considering a less expensive cooler today seeing as there are many brands that are just as good, if not better, than Yeti.
Note: For a deep dive on "why" Yeti Coolers are so expensive, check out the research we did here.
Without further delay, here are the Best Yeti Competitors Worth Considering…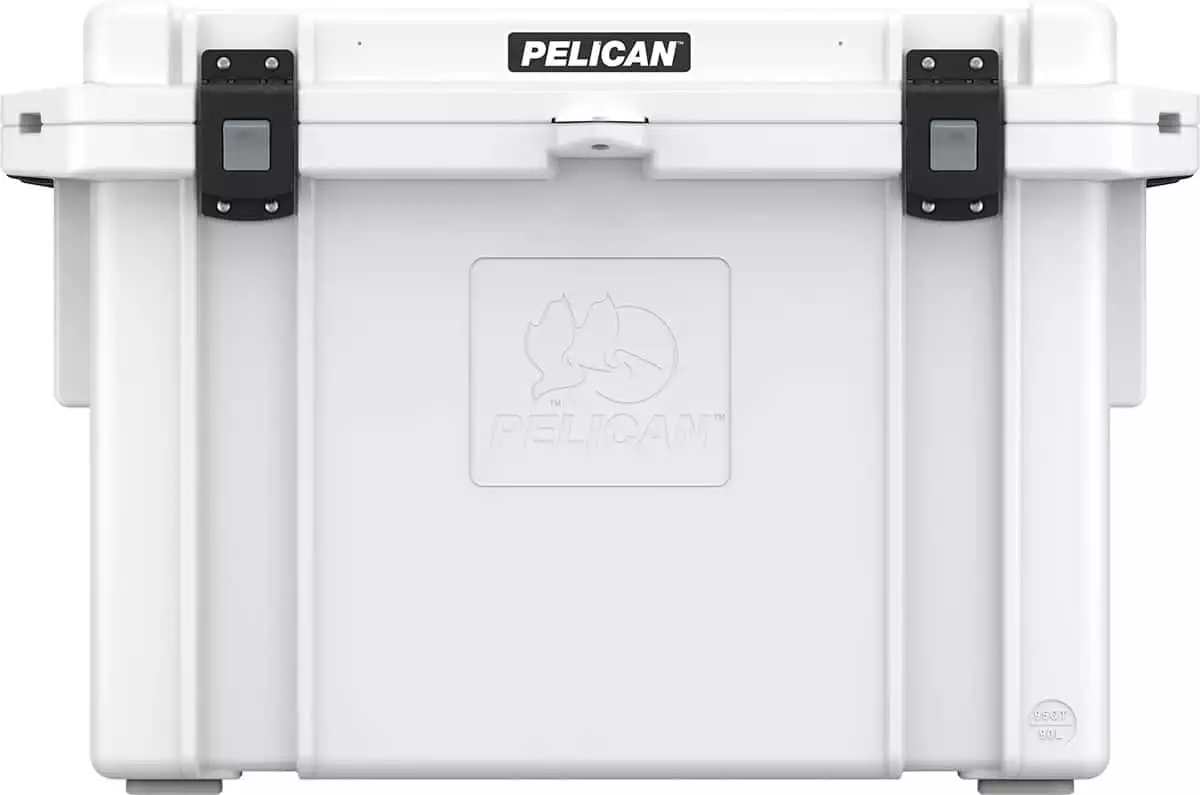 95QT Elite Cooler | Pelican
Pelican Products, Inc. is proud to announce our bear resistant certification from the Interagency Grizzly Bear Committee. Up to 10 days ice retention, freezer grade gasket, 2" polyurethane insulation. Dual Handle System (Molded-in & Hinged Handles).
Check Price at Pelican
Check Price at Backcountry
We earn a commission if you click this link and make a purchase at no additional cost to you.
The Pelican Cooler is a hardcore heavy-duty wheeled cooler that can keep products and all kinds of beverages and any bottle chilly and cool for quite a long time. The Pelican Elite wheeled coolers come in an assortment of different sizes. They have a few extra inherent highlights and are bear-resistant.
Individuals who need to keep things chilled will be awed with this cooler's capacity to hold a lot of ice for up to ten days. Haggles extendable hand make it simple to transport.
In any case, this isn't for individuals covering long distances by walking. For short-distance outdoor excursions and larger gatherings, the Pelican Cooler has you secured.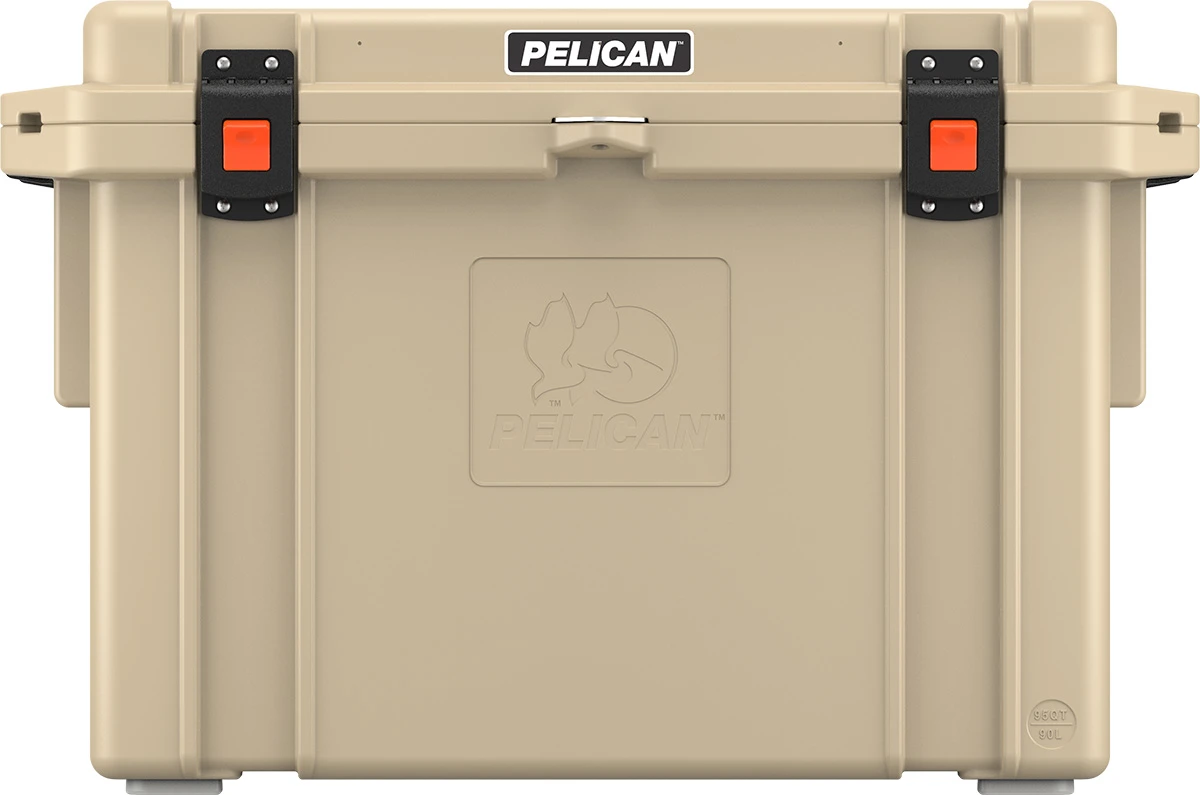 Pros of the Pelican Elite
Extremely tough and bear-resistant.
Retains ice for up to 10 days.
Wheels make transport simple, even with a substantial load (note: not ALL versions have wheels / some are optional)
Cons of the Pelican Elite
Might be too big for little outings.
Heavyweight could make it hard to stack and transfer.
Lacks a second handle for stacking.
Further Research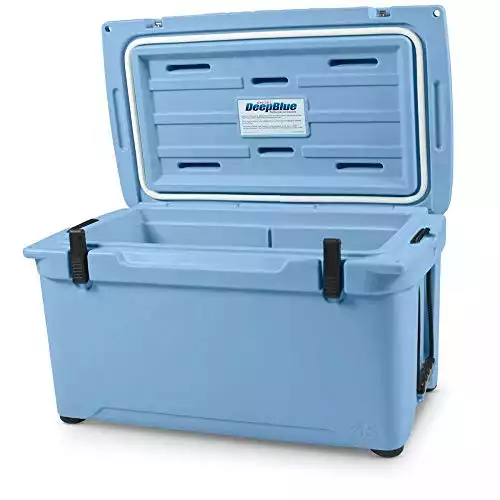 Engel 65 High Performance Hard Cooler | Amazon
Engel Coolers are the gold standard in high-performance, durable and affordable coolers, and so much more. Since 1962, people who've needed to keep things cold have turned to Engel, the pioneer in portable refrigeration and cooling.
Buy at Amazon.com
We earn a commission if you click this link and make a purchase at no additional cost to you.
02/14/2023 01:14 pm GMT
Different cooler makers offer a variety of go-ahead methodologies, some offer exceptionally charming costs while others stick to quality. Engel Coolers cover both, offering very high caliber coolers at a good cost. In contrast to Yeti, Engel offers the same quality at a better price.
What makes Engel coolers among the best is their extraordinarily sought-after properties. Engel Coolers are not the commonplace shoddy cooler brand that will, in the long run, abandon you with broken pivots and covers. Truth be told, Engel was the first to offer a roto-shaped cooler. From that point forward different makers have endeavored to create a similar style.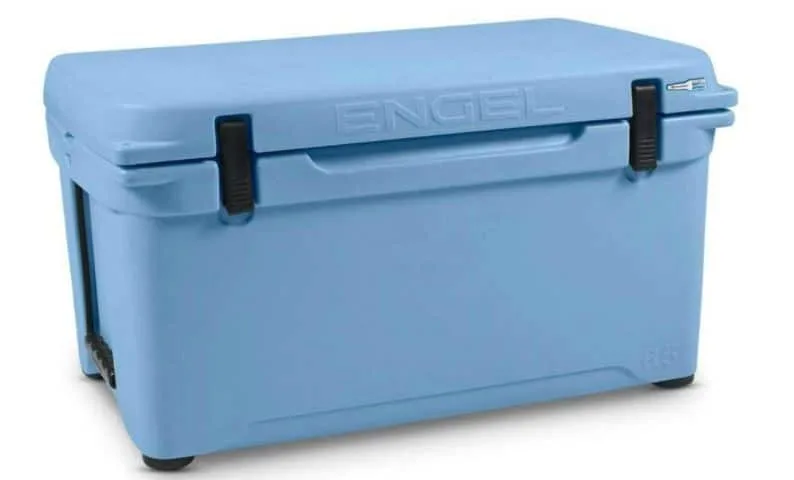 Engel Deep Blue Performance
In an Ice Challenge conducted, the Engel Deep Blue 50 Q was one of the best-performing coolers competitors against Yeti. The Engel took care of 5 long days of ice maintenance effortlessly. We opened the coolers three times each day and moved our 6 refreshments from start to finish and the other way around to mimic real use.
Investigations showed exactly how much ice was left following 5 days, and how it contrasted with the Yeti Tundra 45.
The Engel Deep Blue cooler is definitely not a soft-sided cooler family member, it offers the best market protection with its 2-inch polyurethane protection walls and plastic inside. This cooler uses perfect water/airproof cooler quality gasket seal features.
It works like a versatile ice chest, so you won't need to stress over refreshment and temperature delicate items from ruining. Engel's Deep Blue is intended to withstand weights, knocks, and tears as you travel.
Pros of the Engel Coolers
Use Variety: Whether you need a smaller individual cooler, or a large party cooler, Engel has something to offer you. These coolers vary in size and ability based on your individual needs.
Amazing Ice Retention Capacity: With an average of 7-10 days of ice retention. Engel offers superb ice retention capabilities that easily compete with Yeti models.
Cons of the Engle Coolers
Some complaints have been found on the locks and cooler cover which doesn't appear to always close as firmly as desired. We have seen some size models appear to lock more tightly than others.
Further Reading: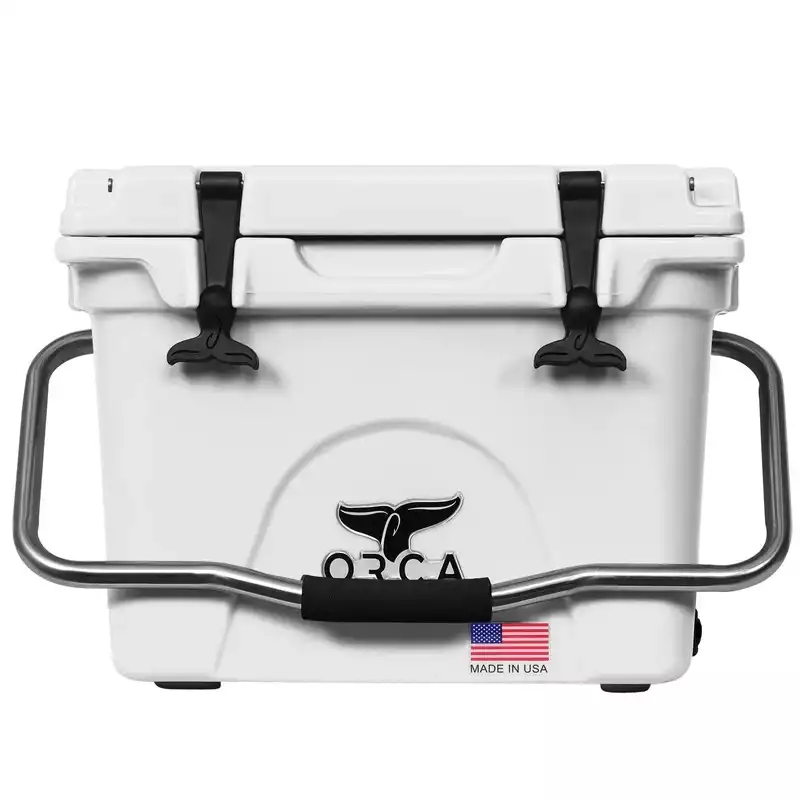 White 20 Quart Cooler | Orca
20-quart storage capacity, Durable, roto-molded construction, Integrated insulation for maximum ice/cold retention and freshness of your stowed items for up to 10 days, Lid gasket to ensure a perfect seal, Single flex-grip stainless steel handle for simple solo portage, Cargo net attachment for added storage, Easy-flow drainage spout.
Check Price
Buy at Amazon
We earn a commission if you click this link and make a purchase at no additional cost to you.
Having an Orca cooler can be extremely convenient. From heading off to the shoreline with the family for the day to running outdoors with your companions for an end-of-the-week adventure; there is seemingly a lot of employment of these coolers.
In any case, the thing about coolers is that there are truly many distinctive features to browse. Luckily, Orca works to make every feature interesting in its own way, and settling on this choice is less is cheaper when compared to Yeti.
A standout amongst the great features Orca offers is the "Orca Coolers Masterlock Set", a set that is ideal for any individual who enjoys the outdoors. With this bolt set, you can ensure anything inside the cooler is safe from rodents and bears. This undeniable feature is one that gave Orca the right to making this list competing with other yeti alternatives.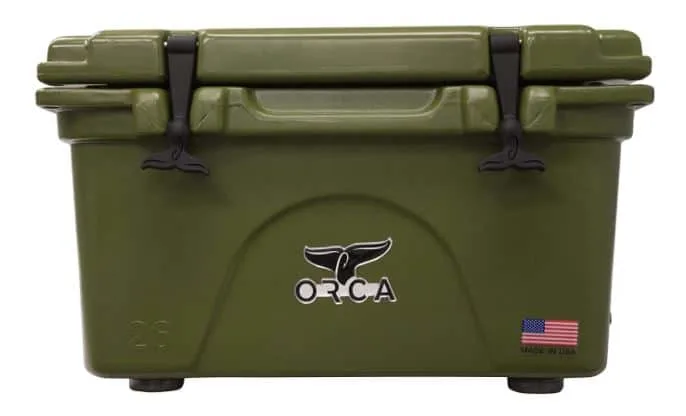 This yeti like cooler is my personal favorite and a solid individual cooler for camping and beach days.
Remarkable Features
Key properties of the Orca ORCG020 include:
With the tempered steel handle, you can securely move this cooler around without worrying about breaking the handle.
Given the size of this cooler, it is unquestionably intended for individuals enjoying the outdoors with only a few days of provisions.
Pros of Orca Coolers
If 20 quart isn't sufficiently big enough for you, there are larger Orca coolers available (From 26 quarts up to 140 quarts).
Within the Orca, there are 2″ of thick walls protecting your precious cargo.
This cooler accompanies a treated stainless steel handle, making the Orca super durable when moving her from one spot to another.
The Orca comes in an extensive variety of cool colors. So if you are an artsy cat, this may be the perfect cooler for keeping your tumbler and bottle cold.
Cons of Orca Coolers
Due to the rugged build, metal stainless steel handle, and thick wall of protection, the Orca is relatively heavier than most alternate coolers.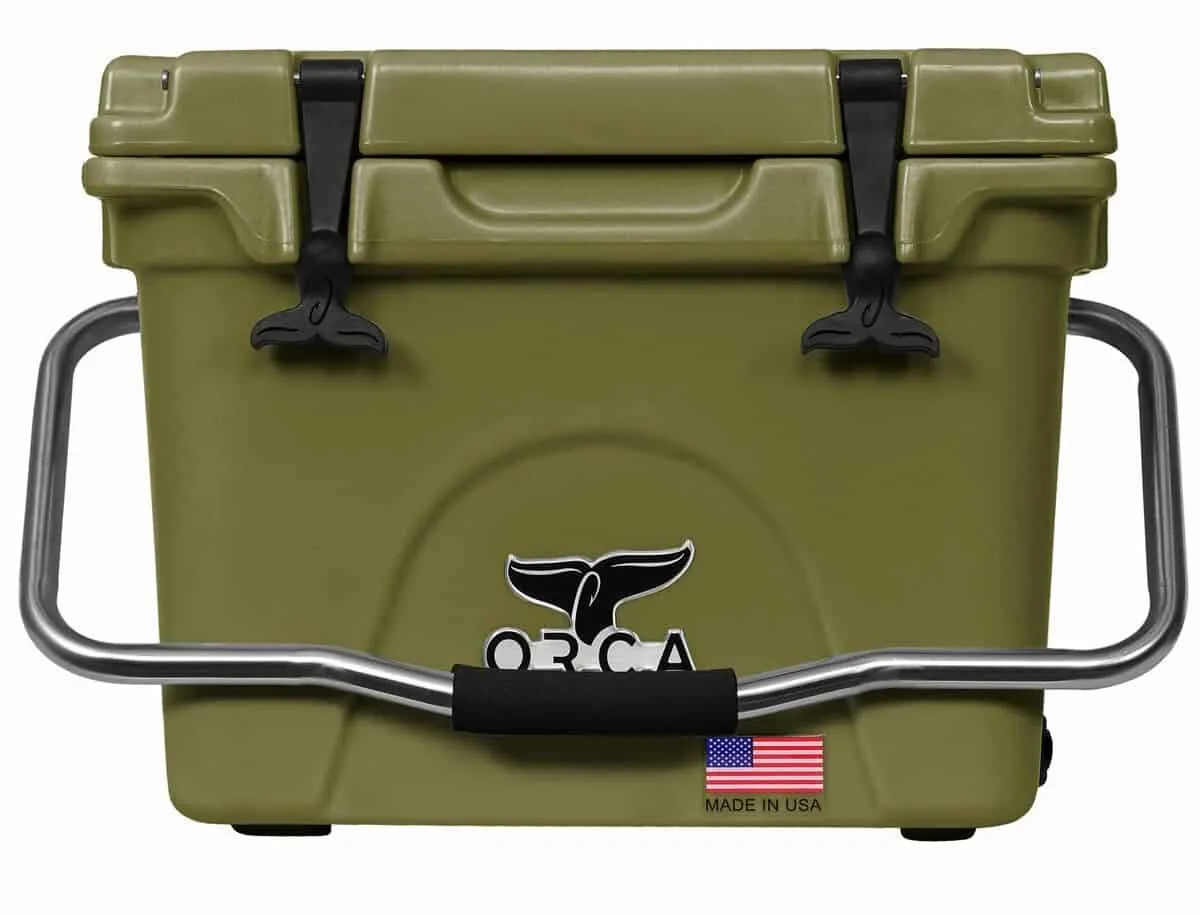 Further Research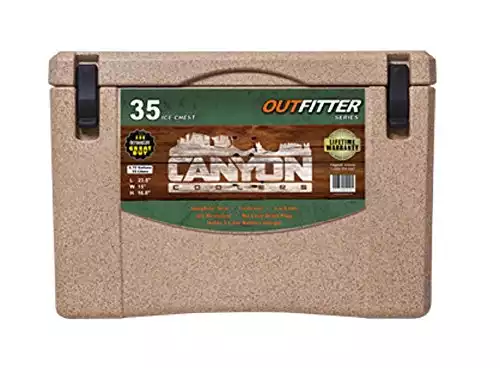 Canyon Cooler | Amazon
Makers of rotomolded coolers for everyone from the hardcore professional guide to soccer moms and backyard barbacues.
Buy at Amazon.com
We earn a commission if you click this link and make a purchase at no additional cost to you.
You may be surprised to discover that Canyon coolers held ice longer than a Yeti Tundra in our Five Day Ice Challenge. Canyon Coolers are generally found at $100.
This is obviously a fraction compared to Yeti models and several other roto-formed coolers. Couple this with the way that Canyon coolers are built from USA Made materials, throw in a Lifetime Warranty and Canyon merits a solid choice when considering your next cooler.
To see just how well Canyon held ice we directed our own ice retention test. We tested all the biggest names in the cooler world under direct use for 5 days.
By direct use, we mean opening the coolers three times each day to put in and take out items. We also left the coolers outside in the warm Tennessee sun. All coolers were pre-chilled for 24 hours to prep out a cooler army. In conclusion, all coolers were filled with ice and the bottle and tumbler were nice and cold.
Surprisingly the Canyon Outfitter Series 35 Q cooler was a standout amongst other high-performing coolers in the test. The Canyon 35 (One of the smallest coolers in the test) Actually held ice among the best. The Canyon effortlessly held solid ice for 5 days and we estimate that the Canyon 35 would have endured other 2-3 days for an aggregate of 7-8 days of direct use while remaining filled with ice.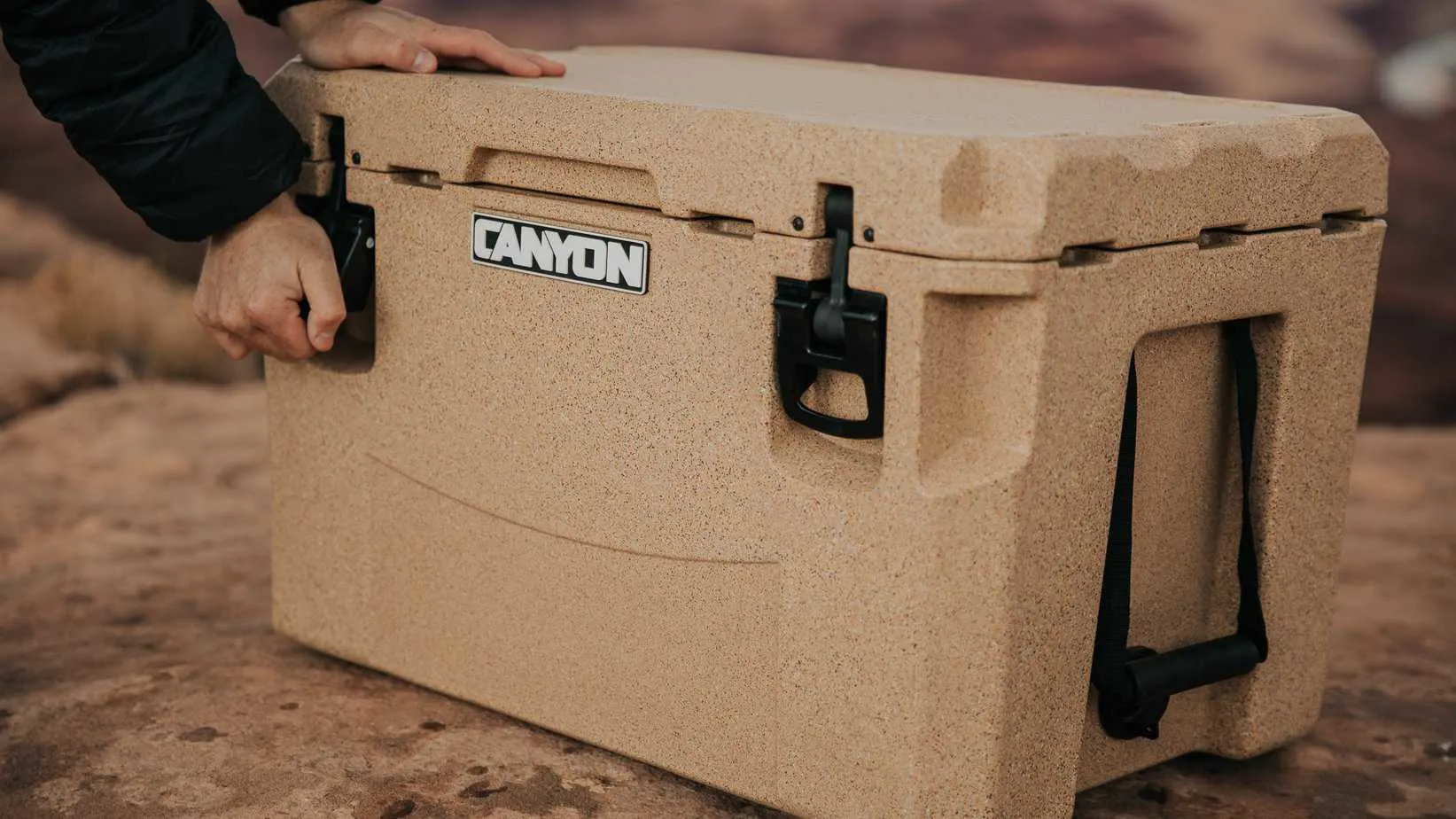 As we have expressed, Canyon is an awesome purchase for the price. This is a cooler that we consider "The most bang for your buck". Many might be hesitant to purchase a less expensive cooler in the expectation that it is a second-rate item. Be that as it may, after our five-day ice challenge, the Canyon speaks volumes when compared to the Yeti overlord.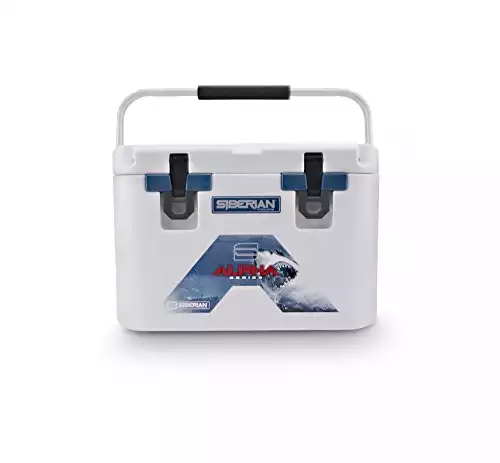 Siberian Coolers | Amazon
The Siberian Cam Latch is made with high quality nylon fiber infused thermoplastic and military grade hard-anodized aluminum, creating a latch system able to withstand use in extreme temperatures and corrosive saltwater environments.
Buy at Amazon.com
We earn a commission if you click this link and make a purchase at no additional cost to you.
Experiencing childhood in the deep swamps of Louisiana, I have seen my fair share of cooler brands. From fishing to camping to more beer than any one man should drink, coolers were being used around every corner. While many coolers were old, flimsy, and outright cheap, there were the select few that easily blew away the competition.
While most people used cheap coolers, they always seemed to be searching for a solid, protected cooler that would keep a string of fish on ice or successfully transport Christmas dinner remains from a relative's place.
Back then, coolers just weren't what they are today. While the top of the line cooler of the '90s may be held ice for a day or so, a considerable number of companies now offer coolers that keep ice solid for up to 10 days!
One of these cooler is The Siberian Cooler. This beast is produced with an LLDPE (direct low-thickness polyethylene) shell that has polyethylene froth infused into it to offer incredible protection. An elastic seal is joined to the underside of the cover and two rock-solid elastic locks also keep everything airtight.
When you lift this cooler, you can easily feel its solid build: With that being said, the cooler measures in at a nice and light 24 pounds. There are two rope handles – one for each end – that assist you in carrying it. Each handle has a polymer sleeve shrouded in the froth. This gives you a strong snatching point that doesn't cut or chomp into the hand while carrying a full cooler.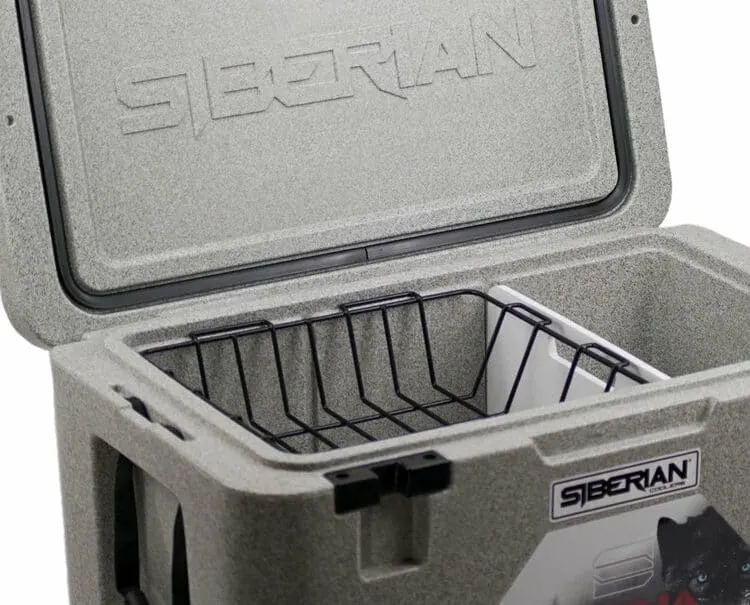 Most people will be able to carry a Siberian by themselves. The rope handles also make it very simple for two individuals to easily transport it. There is a tight compose deplete plug on one side. Nothing extravagant here: take it out to deplete water, plug it in to shield anything from depleting out. This cooler is locked with elastic latches.
Cooling Performance
Siberian coolers have been tested and proven great performance in many areas. Most notably for me was a test that consisted of keeping meat and different perishables cold during a 7 day-long road trip. After 7 days, the ice was melting but still held up against the test of time. The products inside the Siberian were cold and enjoyable!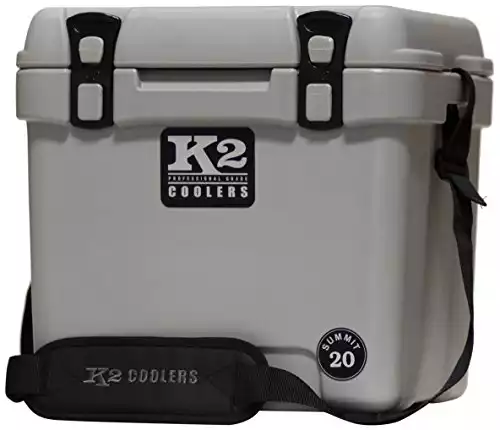 K2 Coolers Summit 20 Cooler | Amazon
One piece roto-molded polyethylene construction for extreme durability. Extra thick insulation for maximum ice retention. Premium features such as padded shoulder strap, Ice vault lid gasket, Positrac lid latches, Endura integrated hinge system, and sure Grip rubber feet.
Check Price
We earn a commission if you click this link and make a purchase at no additional cost to you.
02/14/2023 12:19 pm GMT
Depending on your lifestyle, having a cooler probably isn't vital.
With that being said, there are plenty of times in one's life where you'll need a great cooler. Simply make this inquiry, how often do I long for a cold lager while catching rays on the beach? We don't recommend trying to tote your fridge around on your next adventure and you probably don't want to throw your back out, so….
This is where coolers come in. Be it for fishing, outdoors, a cold beverage business, or even a ball game, there are a ton of scenarios where coolers can make your day that much better. All things considered, before owning a cooler you should investigate its properties to make sure it's what YOU need.
K2 coolers are solidly constructed cooler built to last. Best of all, these coolers won't break the bank.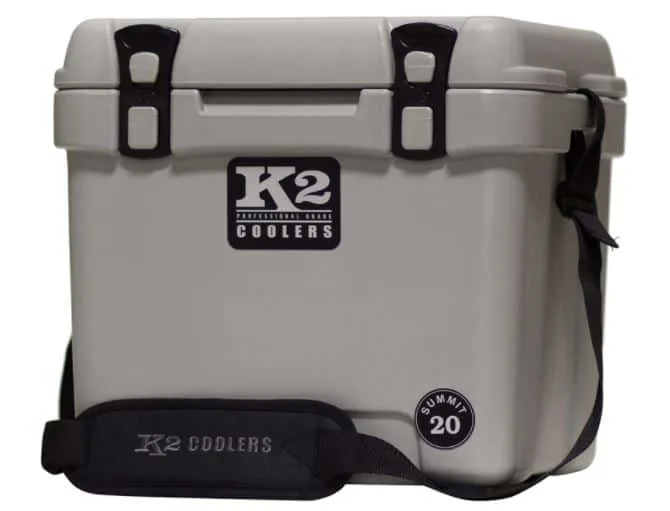 Durability Of K2 Coolers
While most coolers are made out of shoddy plastic and cheap fabric straps, a few amazing folks in the world have blessed us with a laundry list of well-made, durable alternatives.
K2 coolers accomplish this by using the good ole roto-molded process. K2 coolers have no weak points and the load can be evenly distributed across all areas of the cooler, making for a longer-lasting and tougher product. In addition, it gives more flexibility in construction designs and features since they are more easily incorporated into the body of the cooler itself.
This feature puts K2 at the top of the food chain when it comes to durability.
Cooling Execution
Clearly, a cooler's basic role is to cool. Yet, there are plenty of cheap coolers out there that simply can't get this done for over 24 hours. Luckily, with K2 coolers you don't have to worry about your cooler losing this feature with its low price point.
K2 proudly stands behind its ice retention abilities. While they don't like to specify exact ice times, it is believed that their product is capable of keeping up with the very best on the market. From personal experiences and research, we have seen well over a week of ice life possible in several environments, which is some of the longest on the market.
With this being said, For typical use, we estimate 6 to 8 days of ice retention. A step above even some of the top brands when it comes to ice retention.
Pros of the K2 Coolers
One-piece roto-molded design.
Uses polyethylene and polyurethane for best ice retention.
Cons of the K2 Coolers
Some models might be bulkier than the competition.
No warranty.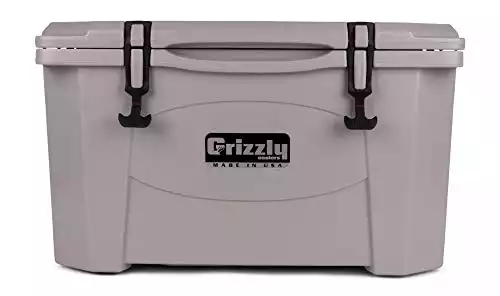 Grizzly 40 Cooler | Amazon
Get you and the crew into bigger adventures with the G40. 40 quart capacity for a longer journey, food, drinks, and ice. Whether you're off to the lake, the plains, mountains, or anywhere the road takes you, bring along G40 to make your team complete.
Buy at Amazon.com
We earn a commission if you click this link and make a purchase at no additional cost to you.
02/14/2023 03:04 pm GMT
Grizzly has been doing business for more than 30 years and has a considerable measure of experience constructing top-of-the-line roto-molded coolers. While not as famous of a name as Yeti, Grizzly has been devoted to creating their items in the USA and delivering high-value products for decades.
Warranty Of Grizzly Coolers
Grizzly offers a restricted lifetime guarantee. This "lifetime" guarantee covers most production errors and the best part is it covers issues with the cooler's seal and gasket segments that can regularly have issues. It's critical to take note that the Grizzly guarantee won't cover harm if the cooler was:
Used for commercial purposes.
Damaged through manhandling, abuse or disregard.
Damaged out of a mishap.
Unreasonably used or utilized for any reason which it was not expected.
Repaired or changed in any capacity from its unique design.
Damaged because of any demonstration of nature.
Additionally, any ordinary wear and tear, including marks, slight twisting, scratches, discoloration, blurring, or wear to slide cushions aren't secured under this warranty.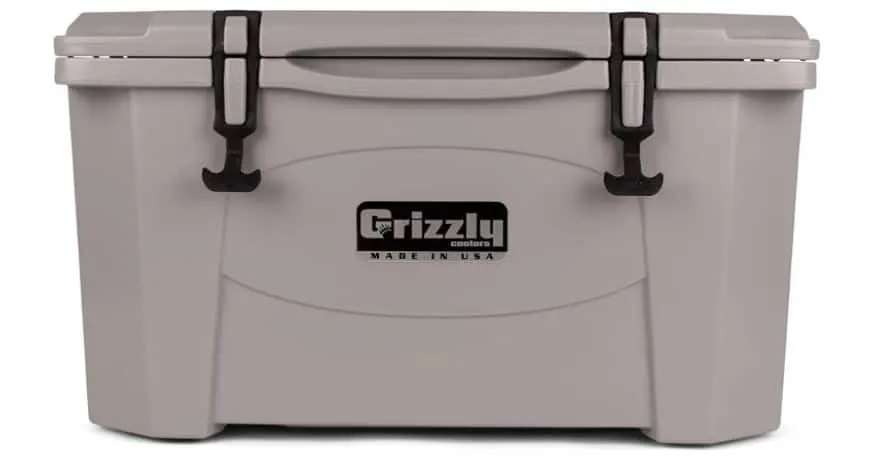 Design Of Grizzly Coolers
Every Grizzly cooler highlights a rotor-shaped shell, making it unbending and impervious to impact. This development makes it very sturdy and substantially tougher than most options. Grizzly coolers also utilize pivots that use tempered steel pins and well-sized, in-form handles that are well-designed and incredibly strong.
Grizzly coolers use screws that are certainly not as high quality as Yeti. All Yeti hook equipment is anchored with bolted pins that carry the whole casing of the cooler and are anchored on the opposite side. This is a major contrast between the two brands and is where Yeti outperforms Grizzly in toughness.
Grizzly offers better protection than most cooler brands out there. They utilize froth protection in their roto-molded cooler shells enabling their coolers to hold ice for a good while.
Grizzly uses eco-mate froth notwithstanding a thick elastic gasket and heavily protected inflexible top to give it very durable protection. Yeti also uses its own particular exclusive froth to accomplish the same level of protection. Numerous tests have been done to see which cooler performs best, and at last, Both give stellar protection.
Durability Of Grizzly Cooler
Every single Grizzly Cooler is built with the hardest and most noteworthy materials accessible and available today. They are put through unlimited tests to help guarantee they are a step above the rest in durability.
The brand has Bear Proof Certification, which implies they can face a bear assault for more than an hour. Based on this testing, it was discovered that even after the bear assault, the cooler could hold its look, shape, and capacity.
Further Research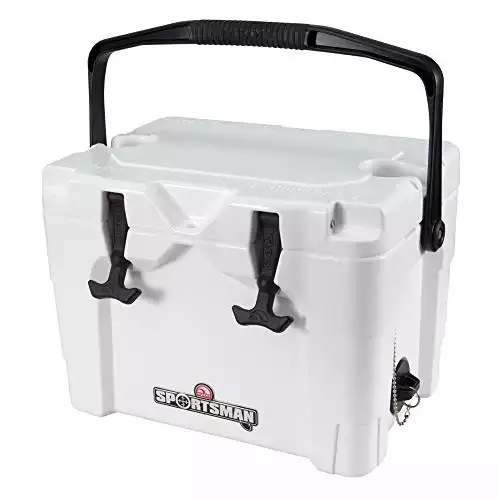 The Igloo Sportsman cooler has similar ice retention execution to the Yeti 65 (52-Quart) yet is altogether less expensive.
One discernible contrast between the Sportsman and the Yeti is that the Igloo Sportsman has very large locks making it less demanding to close. It also has stronger crease-up handles and a connected 2-inch deplete plug.
I have heard anecdotes about poor client treatment from Igloo and clients experiencing issues getting parts. With that being said, Igloo needs to back up its $300 price tag and do everything it can to support its customers. When you have a similar price tag to Yeti, you better do everything you can to outperform the competition.
Generally speaking, it's a solid cooler and all-around a pretty good value for what you get, making it one of our top yeti like coolers.
Pros of Igloo Coolers
Igloo Comes in sizes from 28 quarts to 150 quarts.
The liner prevents stains and smells.
The outside has UV inhibitors to shield the substance from sun harm.
The cooler accompanies a ruler to enable measurements to fish.
Cons of Igloo Coolers
Small models did not really have a protected top as promoted.
Customer care could be better.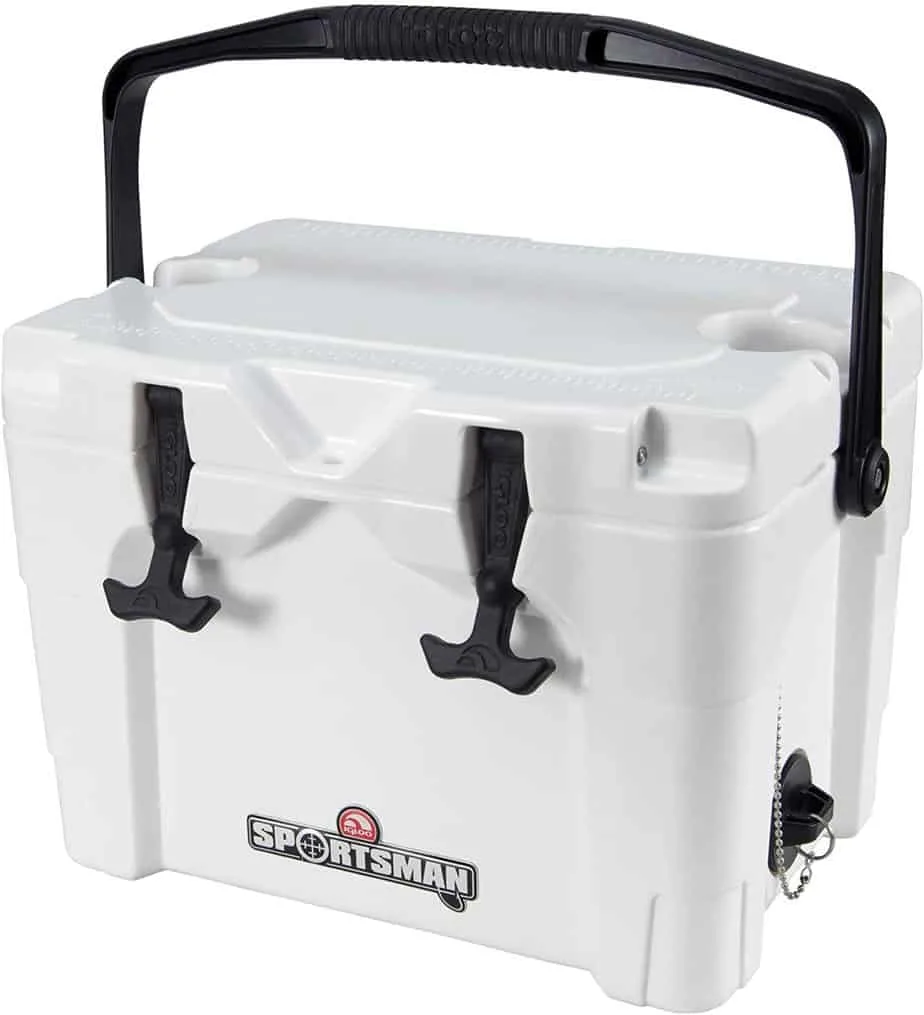 Further Research: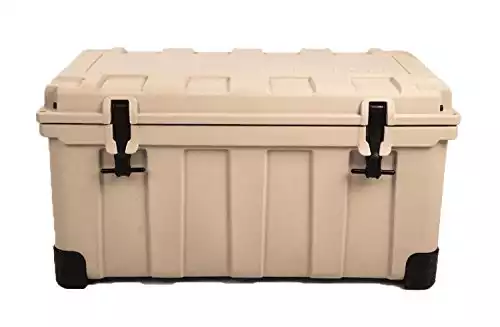 Icehole Epic High Performance Cooler | Amazon
The M60 main battle tank, aka the "Patton", has been the go-to combat vehicle since the beginning of the Cold War. This beast is fortified with heavy-duty armor steel and outfitted with a twin-turbo diesel engine, greatly extending its operational range.
Buy at Amazon.com
We earn a commission if you click this link and make a purchase at no additional cost to you.
Icehole Cooler Ice Retention
There's no messing around with ice retention. In the event that it's no good, it's a no-go.
Icehole producers infuse their walls with 2″ of polyurethane froth for extremely good ice maintenance. Icehouse backs this up with a claim that their coolers will retain ice for 10 days, guaranteed.
Icehole Cooler Construction
Numerous outdoor aficionados pick Icehole coolers due to their incredible ability to retain ice for 10 days.
Locks
Icehole Coolers have plastic, T-formed Bradley APC locks.
Drain Plug
The separable deplete plug is 1″ thick. It includes a rubber-treated seal.
Feet
Icehole says these feet are "over-built." These interlocking feet are slip safe, won't leave scrape stamps, and are UV-balanced out.
Gasket
The ice hole cooler has a powerful gasket configuration vulcanized into a consistent, cement-free circle.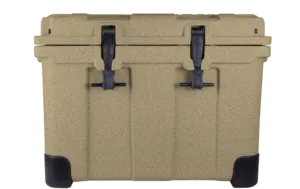 Handles
One set is formed in rail handles. Furthermore, there are military nylon rope handles for two men conveying.
Icehole Cooler Ease of Use
Locks on Icehole Coolers are not quite up to par compared to other top-level coolers. A few complaints have been sent in wishing the handles were better. At last, this relative to the individual.
The rail handles aren't perfect in light of the fact that there aren't openings for hands, however, the rope handles make it simple to carry with a companion.
It's anything but difficult to pack Icehole Coolers because of their recessed build. When you have your minivan stuffed with enough stuff for 3 kids and a mate, it's a breath of fresh air to know these coolers are anything but difficult to pack.
Icehole Cooler Durability
Many pro hunters put Icehole Coolers on the same level as Yeti when it comes to durability in the woods. With its very durable build an awesome ice retention capabilities, it's no surprise that this cooler is a favorite amongst hunters.
Icehole Cooler Limitations
This brand keeps things quick and painless by offering only three sizes.
The Icehole Epic 35 holds thirty-five quarts, exactly what the name suggests.
In case you're searching for a medium-sized cooler, the Epic 60 quart is a great option.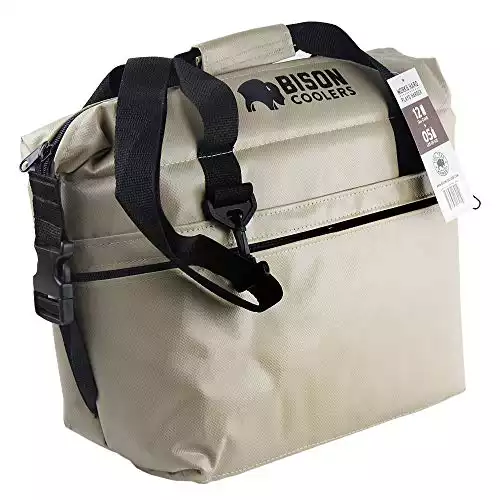 Bison Coolers | Amazon
If you're searching for the best heavy duty marine coolers and camping coolers at the lowest prices, then these professional grade coolers are a perfect.
Buy at Amazon.com
We earn a commission if you click this link and make a purchase at no additional cost to you.
Bison coolers are meant to last. They have a square shape with squared-off edges and an expansive X right in the middle.
Along with the fact that this is a beautifully constructed build, the level shape makes it simple to pack. When you are transporting it, you'll see that it doesn't ricochet around as much as many other brands. The four expansive elastic feet unquestionably help it stay in place and the simple yet durable build makes this cooler an excellent Yeti alternative.
Sizes
There are five unique sizes accessible, ranging from 25 quarts up to 150 quarts. They are one of only a handful of companies that give the correct interior limit.
The "25-quart" display doesn't hold 23.9 quarts, 22.4 quarts, or 26 quarts. It's consistent with its name carrying precisely 25 quarts. This may appear glaringly evident, yet size bluffing is staggeringly common in this industry, so this gives additional quality to the brand.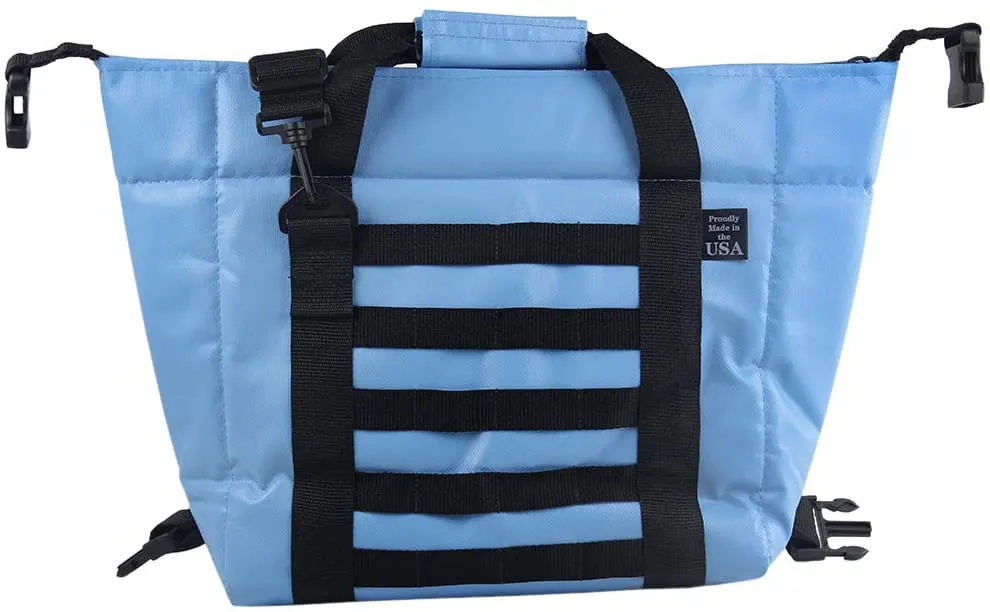 Insulation of Bison Coolers
Strikingly enough, they utilized somewhat less insulation than a portion of their rivals. 2 inches is the standard, and they utilize that on the top. Yet, the sides are just 1 inch and 5/8 thick. We've seen recognizable enhancements on insulated coolers, so we were interested to check whether this would influence performance.
Ice Retention of Bison Coolers
We figured out that the bison cooler retains ice for six days. This is quite reliable in the grand scheme of things. There are a couple of anomalies, for example, the Engel or the Pelican models, which go upwards of seven to ten days. In any case, 6 days should be all that you need for a solid adventure. If you need longer ice retention, there are always alternatives.
Easy to Carry
In spite of the fact that these coolers are very big, every one of them can be carried by one individual. There are two different ways you can do this. The first is by taking hold of the vast, oversized rails. These are exceptionally strong, and simple to grasp.
Another alternative is the rope handles. The rope handles are substantially less demanding to grasp making this cooler relatively easy to get around.
Comparing the Most Popular Cooler Models by Brand
Conclusion: Best Alternatives to Yeti Coolers
There are a lot of cooler options out there. Although the best of the best are very similar, it is really up to you to decide which is best for you. The different features and strengths each cooler boasts make every brand unique for the specific use intended.
With this being said, we can't give you the best all-around Yeti alternative because it is completely dependent on the individual use of the cooler.
Above is the price list for the top 10 Yeti alternative coolers. Use this along with the information in the article to decide which yeti like coolers are best for you!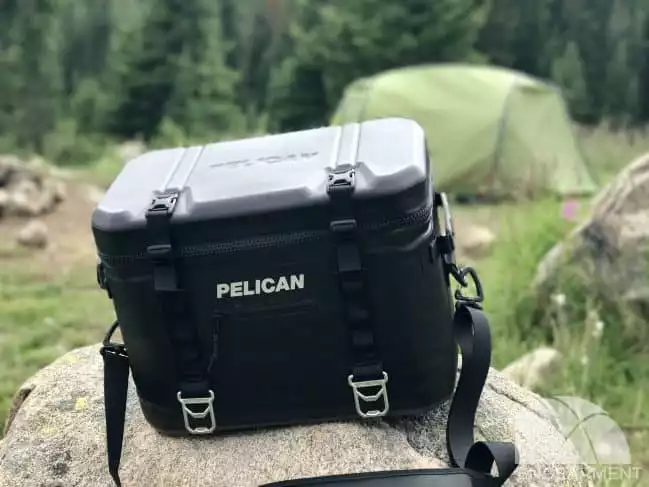 I Personally Lean Pelican
I love my YETI's, don't get me wrong. BUT, I prefer Pelican coolers. Here's why. They are more durable, are bear-proof and hold a Lifetime Guarantee. That's hard to beat. YETI looks nicer, but Pelican is what I trust in the backwoods.
Check Price
We earn a commission if you click this link and make a purchase at no additional cost to you.
Further Reading: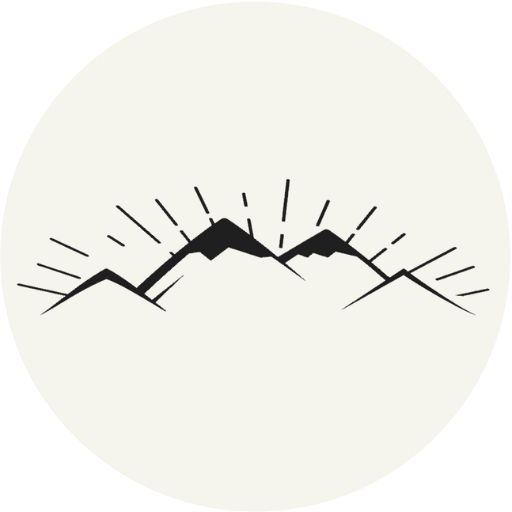 The All-Outdoors Guide team is comprised of enthusiastic experts that enjoy helping others that aspire to be better at outdoor fun. Part of that is making sure you have the right gear and information when it's time to go out and have fun. Some of our team have accomplished amazing feats like climbing 6000 feet to the top of mountains, others have explored every dirt trail they could find and we even have some people that have backpacked solo on various continents. No matter what our readers want to learn and do, our team is here to help them accomplish those goals.