Going into any old photo album, I can pull out a dozen photos of me in the mountains without even trying. Holding those pictures (yes, kids, back in my day, we had to get the film developed and hope that the photos looked good) takes me back to a moment on a mountain.
Somewhere in the woods, or along a river somewhere where the cell service is nonexistent, and the night sky is brighter than whatever I'd seen before. I'm reminded of those times from my first memories of camping at 4 to now, where time outside integrated into every single day. I have amazing snapshots of time that I won't get back, but the time that I can recreate.
There is one minor problem with those photos. The fashion decisions I made were interesting, to put it lightly. Bold, one might say.
Finding reliable clothing is hard in general, but when you add in the mountain necessities and trail running requirements, you end up having to check off many boxes that the everyday shorts and t-shirts can't provide. A litany of the photos I see are me in the same pair of shorts, bought in a couple of sizes and colors to give me room to grow, because who knew when finding a good pair of shorts would appear again?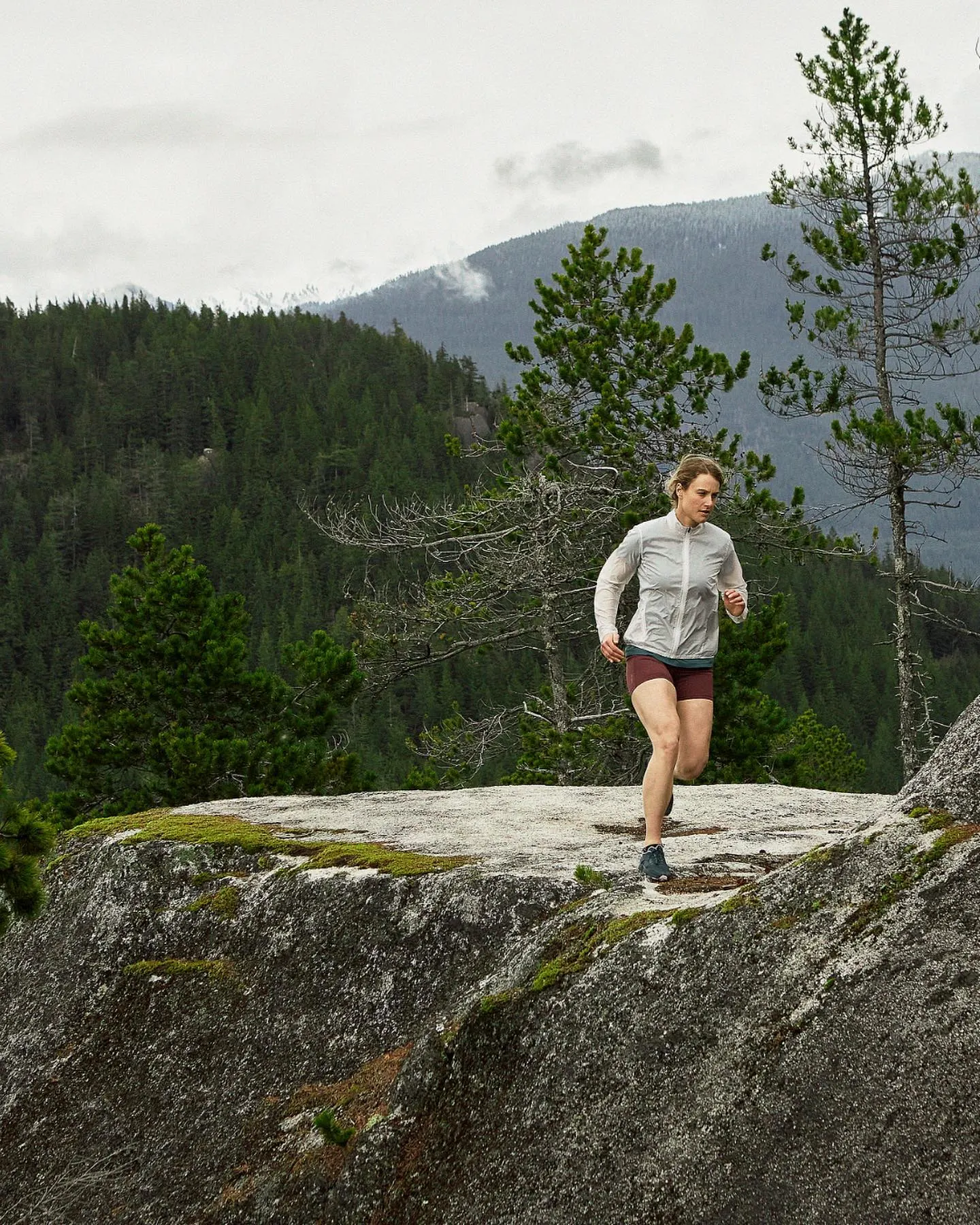 The mistake made? At the time, my parents and I weren't privy to Arc'teryx. Now that I do, I think an incredible bummer that I hadn't gotten into them sooner. At first, I wanted to blame them for being a newer company or something of the sort, but the company formerly known as Rock Solid rebranded to Arc'teryx the year I was born. I have no excuse!
Headquartered in North Vancouver, British Columbia, Canada, Arc'Teryx is a high-end company for apparel and equipment inspired by the Coast Mountains in Canada.
Thanks for another place on my travel list, Arc'Teryx. The company has a myriad of products and specialty items needed for the high country, and while I could spend eons on the website creating a dream list, I'm focusing on where I've always needed to spend the most time. Shorts.
I'm on the taller side for women if you're in the business of averaging the height of those around you. My height has been a tribulation my entire life. I grew taller faster than expected and have come to accept my long legs being something that, for an asset, is more of a struggle when shopping. Pants are a nightmare.
The pants will fit the waist but are too short on the leg or fit on the legs but run low on the waistline. You'd think shorts wouldn't be as hard, and you're right, sort of. The needs when it comes to trail running shorts are many. I've discovered the subtle differences between hiking shorts and trail runnings shorts, so you won't have to. I went ahead and compiled the best Arc'Teryx shorts for trail running.
Bottom Line Up Front
First and foremost, trail running is hard. Know that going into it, especially if you're new to the sport. Trail running is harder on the body than road running. It's similar to hiking in the types of places you'll find hikers and trail runners, and the intensity brought to each sport varies on the athleticism of the person participating.
Speaking as someone who hikes when she can, and trail runs almost every day, the nuances between the two sports are noticeable. So is the apparel needed for each respective outdoor activity. At the end of the day though, as long as you're outside enjoying yourself, you're ahead of the game. If you're wearing the right shorts, you're going to have an even better time.
Shorts for Men
Shorts for Women
Selection Criteria
We all have different styles and needs when it comes to shorts, and that's great. Variety is the spice of life, and that's what makes the world go round. That said, there is one thing we can all agree on. Comfort is key. If you're going into an activity feeling comfortable physically, that's super. There's a benefit in feeling good about what you're wearing and comfortable in your clothing.
I went through Arc'Teryx's options for trail running shorts looking for variables like what I would find comfortable, what I would want to wear, and what I think would look good. I also considered price, but with Arc'Teryx, you're getting what you pay for, and since Arc'Teryx is a high-end brand, you're paying for the best and getting it in return.
I looked at materials, sizing, and length; I even checked which products are Fair Trade Certified. After all of this came together, below are the best shorts I found.
In the spirit of fairness, I paid close attention to male and female shorts designs because while T-Shirts are regularly unisex, shorts are not. However, the beautiful thing about activewear is that in some situations where what fits a man will work for a woman and vice versa.
Top Picks
My top picks are the Norvan Short 7″ for men and the Essent High Rise Short 8″ for women. The Norvan is Fair Trade Certified, and the Essent is working its way to complete certification, meaning these items, among others, align with Fair Trade principles and practices.
Fair Trade Certified is a requirement for manufacturers and production spaces to create and promote safe working conditions for workers, as well as sustainable living conditions. Think of it as ethically going green.
Shorts for Men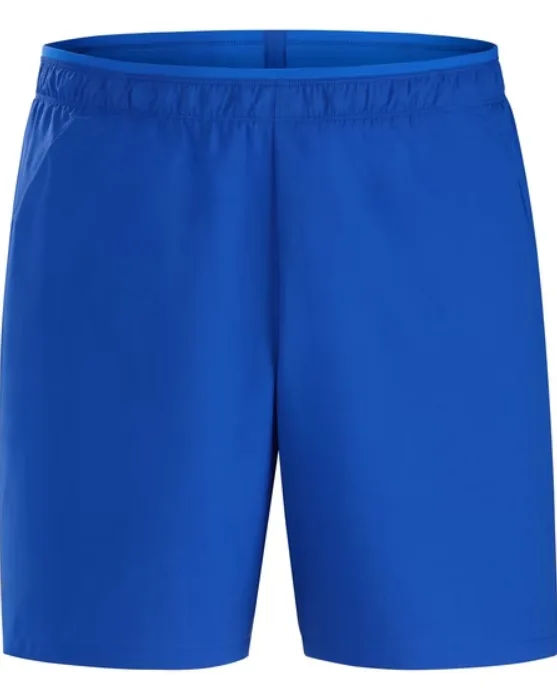 The Norvan Short 7" is at the top of the list for men's shorts in my opinion. A lightweight pair of shorts made from recycled stretch polyester, they are made to withstand fast travel and high endurance effort. In layman's terms, the Norvan is great for sweating because the material dries quickly to return you to optimum comfort.
Back pockets are large enough to hold a smartphone, small food packages, and other light items. One pocket is zippered, with an elastic waistband and drawcord to keep your pants where you want them. Water repellent and the perfect length; not too long, not too short. The perfect pair for Goldilocks.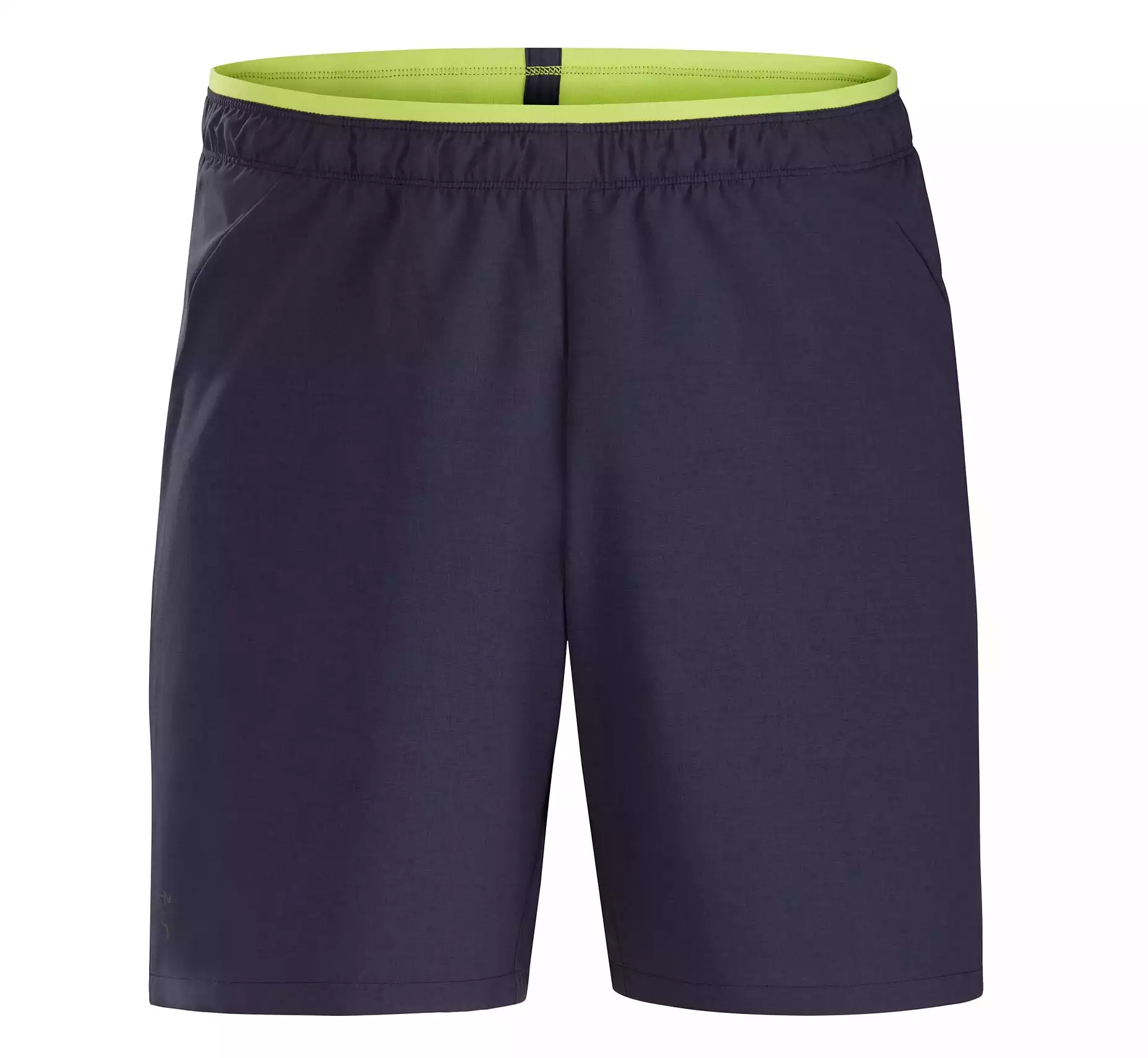 Norvan Short 7" Men's | Arc'teryx
With a minimalist design that frees you to travel fast and light, the versatile Norvan Short is a go-to for trail runs, hikes, and high-output adventure.
Check Price
We earn a commission if you click this link and make a purchase at no additional cost to you.
Also available with the exact same qualities is the Norvan Short 9″, the only change being an extra two inches on the inseam.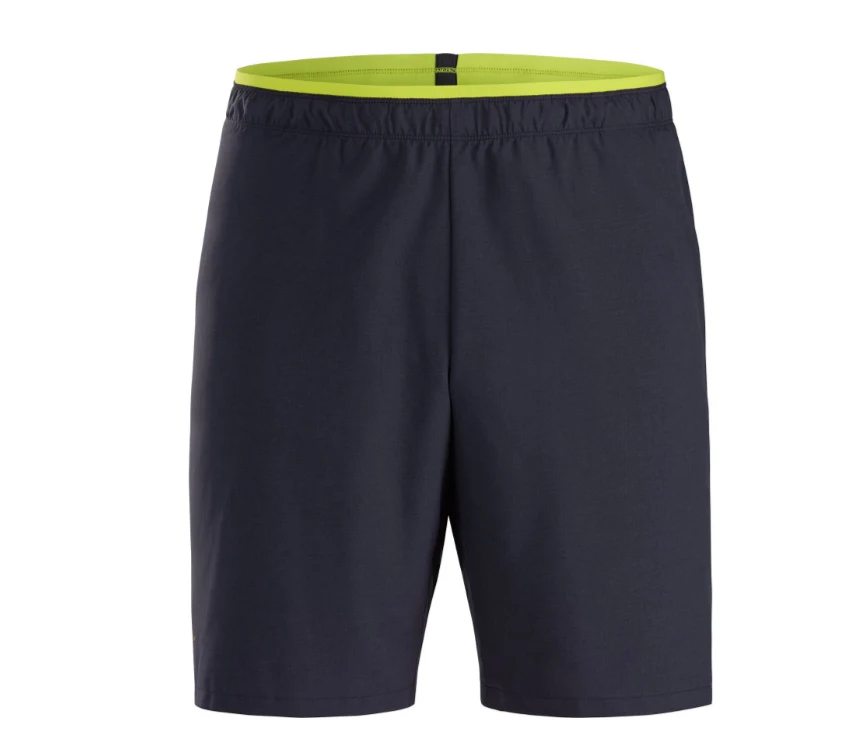 Pros
Diem™ polyester is quick-drying, lightweight, breathable, and soft for skin contact.

Treated in an FC0 durable water repellent

Three dynamic colors
Cons
USD $80.00 (pre-tax)

No front pockets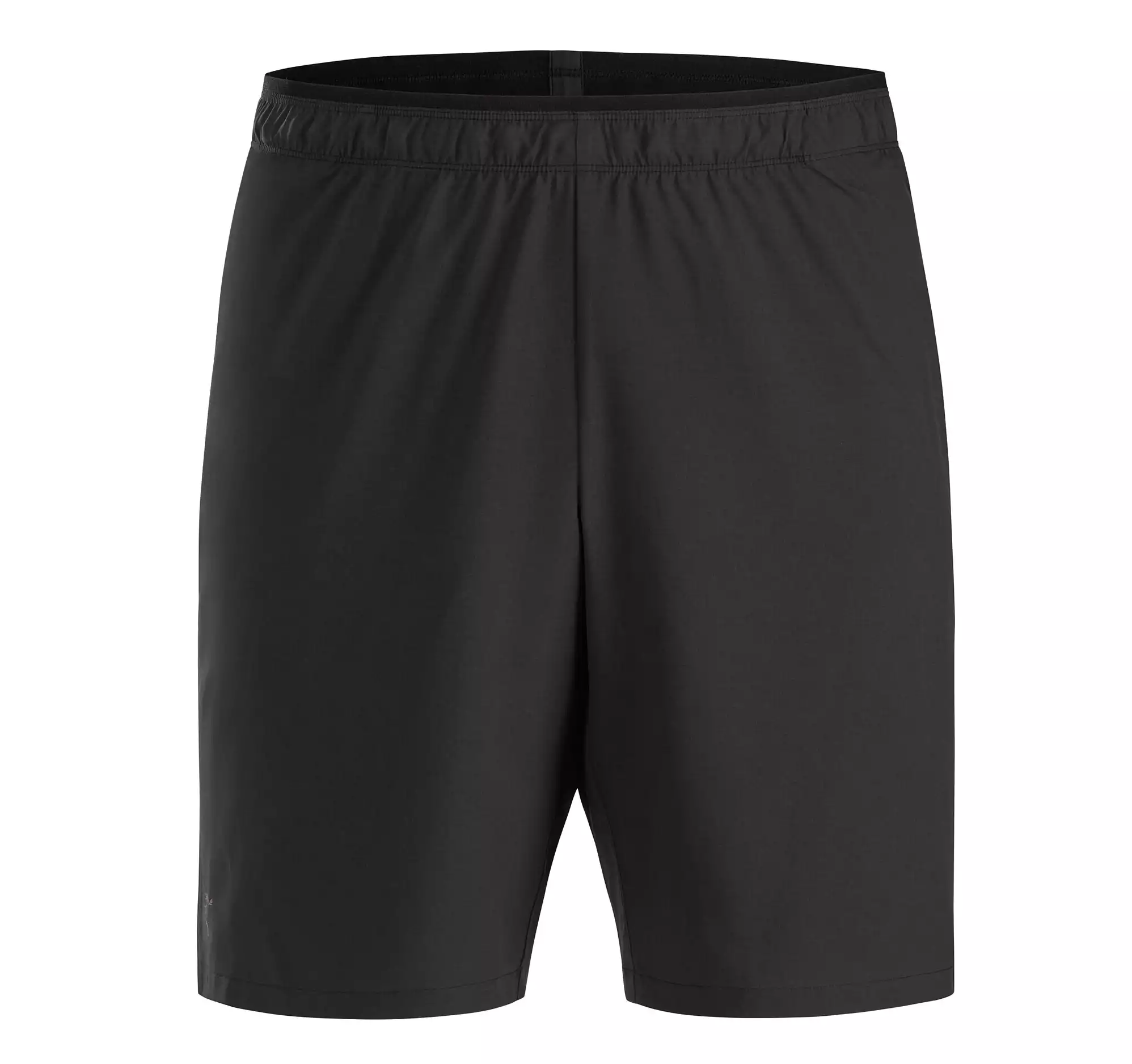 Norvan Short 9" Men's | Arc'teryx
The Diem™ fabric, a light, breathable, 100%-recycled stretch polyester, dries fast and feels comfortable.
Check Price
We earn a commission if you click this link and make a purchase at no additional cost to you.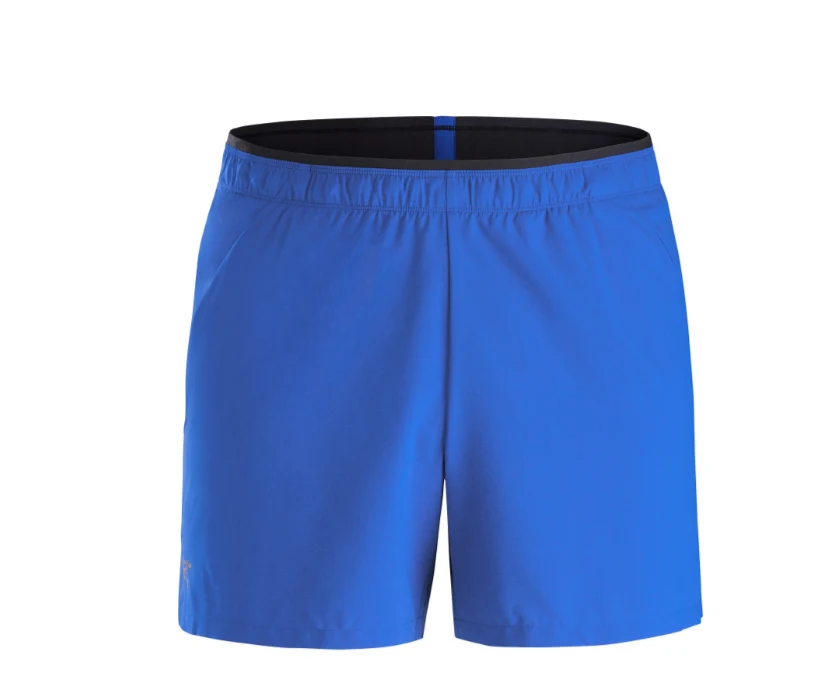 These shorts are minimalism personified. The shorts themselves are 100% recycled stretch polyester. The fabric goes through a PFC-free Durable Water Repellent treatment; PFCs are a chemical class of water repellents that tend to linger in the environment. Structurally, a built-in boxer liner gives extra comfort in a sensitive skin area.
A plain weave melange is visually pleasing and stretches with ease. The waistband is lined with mesh to provide maximum comfort. There are two low-profile pockets for small items.
Pros
Unique colors

Designed for maximum anatomical comfort

Lined for extra durability while remaining light

Available in a bright lime color
Cons
USD $85.00 (pre-tax)

Made for men, eliminating a unisex factor

Super short inseams have a tendency to ride up the leg when moving, therefore running the risk of chafing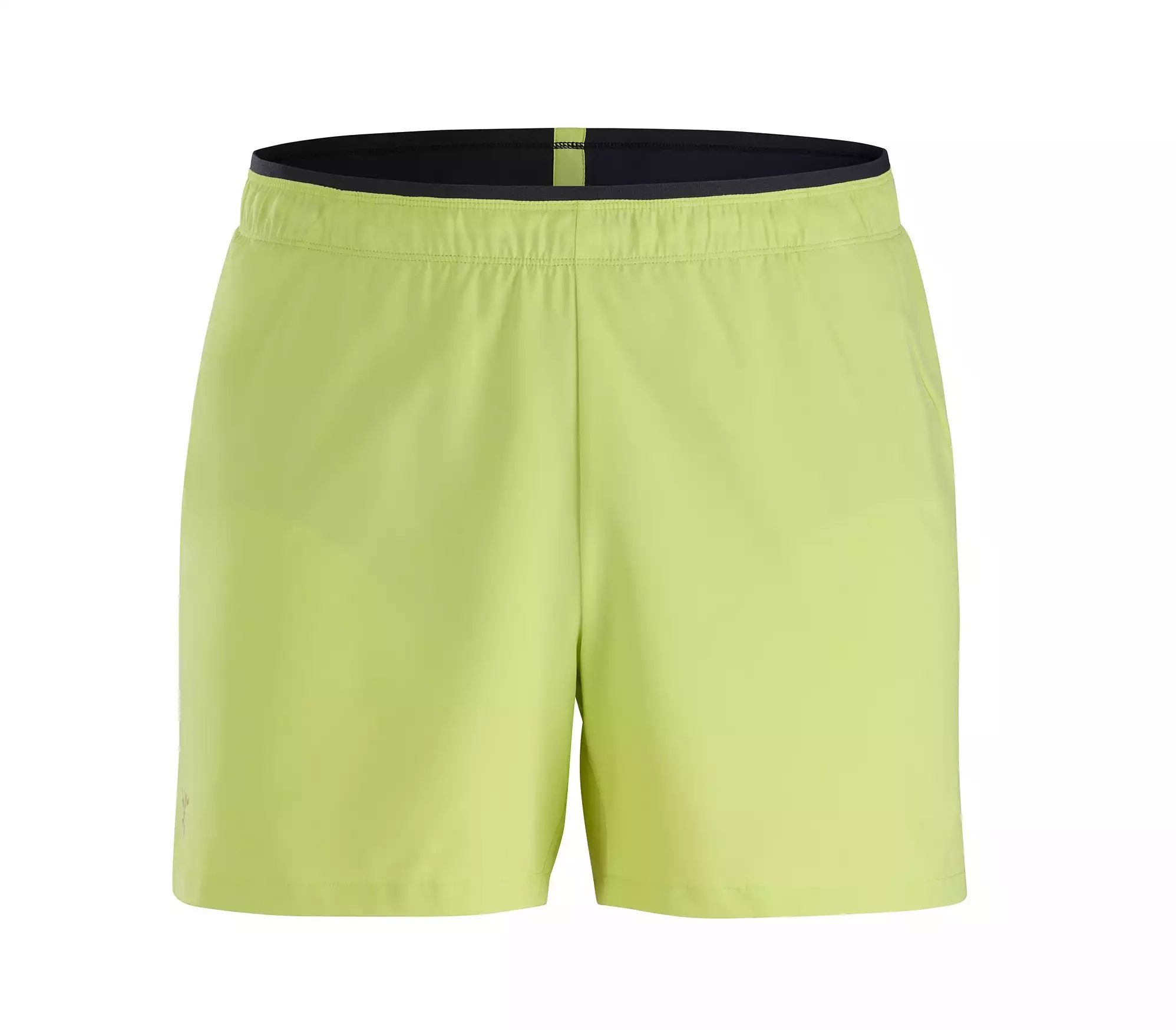 Norvan Lined Short 5" Men's | Arc'teryx
Minimalist design that frees you to travel fast and light. Technical performance to keep you moving. These are your shorts for trail runs and high-output hikes.
Check Price
We earn a commission if you click this link and make a purchase at no additional cost to you.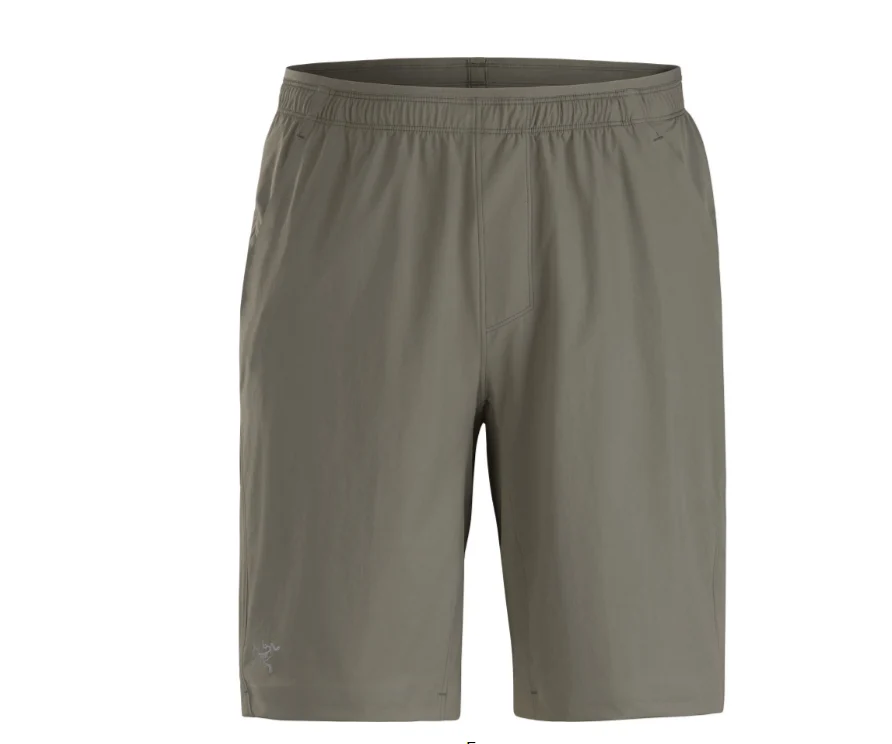 Durability is essential for trail running. Depending on the terrain you'll be venturing through, the probability of getting caught on something is a factor worth accounting. The Aptin Short is made to move with a weave fabric that allows for comfortability in a four-way stretch.
A gusseted crotch allows for more mobility with each stride. The inseam runs 10.5" with laminated hems to compensate for any chafing that could result from the lower cut. One great feature of the longer shorts is the pockets.
Two hand pockets and an invisible zipper pocket make for easy storage without items getting in the way of movement. An internal media pocket is on the right-hand side, complete with a media port, so whether you run to podcasts or keep your pace to the rhythm of your favorite songs, you're covered.
In the woods, it's critically important to be seen, and a reflective Arc'Teryx logo allows for visibility during dusk and dawn runs, as well as those random patches of shade we all have come across.
Pros
Plentiful pockets

Drawcord on an elastic waistband allows for a wider range of flexible movement

Quick-dry covering

Longer inseam for extra coverage and protection
Cons
USD $85.00 (pre-tax)

Despite the material choice, a longer inseam allows for quicker irritation and chafing

As of the publication of this article, the product is running low to non-existent, depending on the color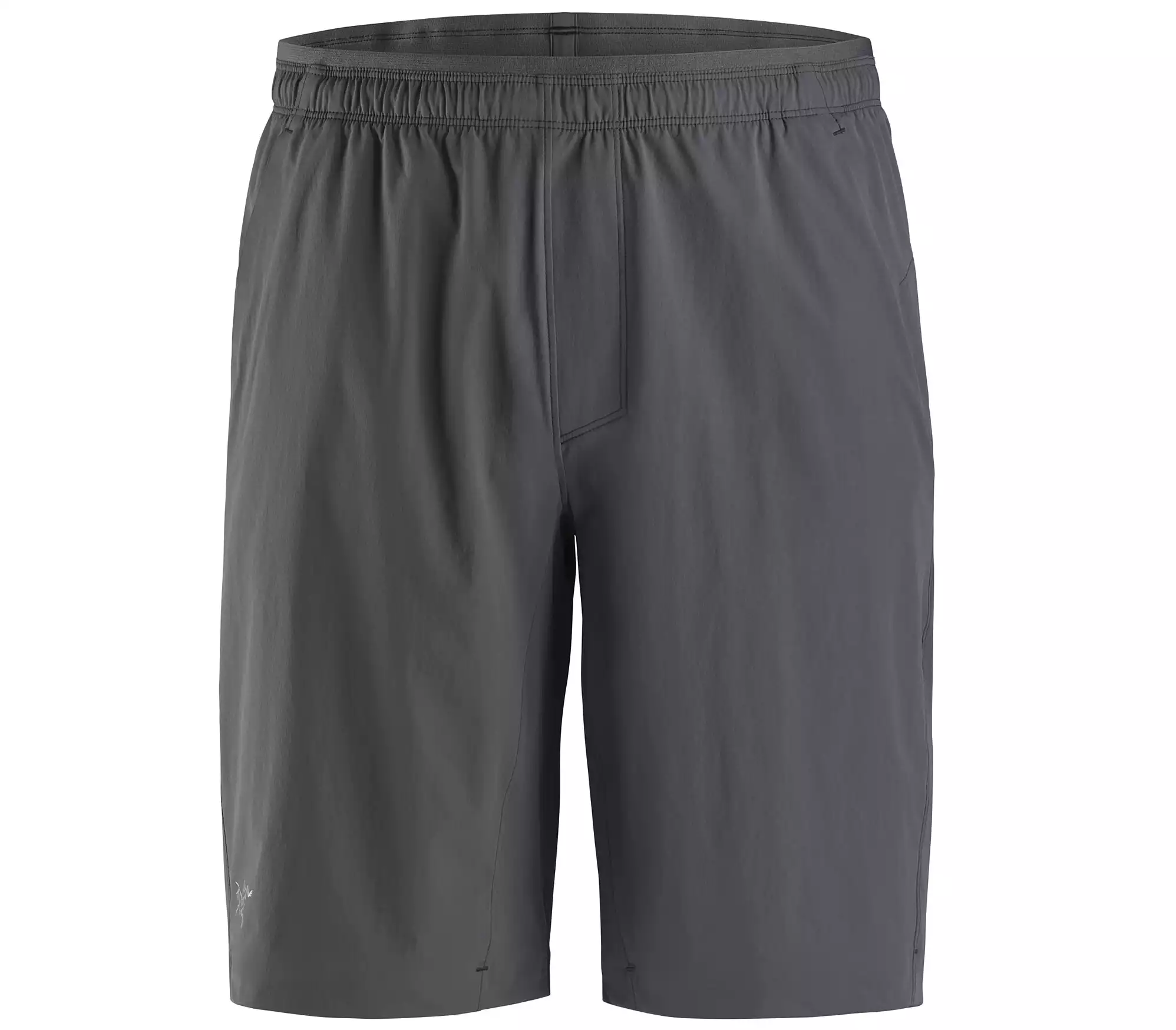 Aptin Short Men's | Arc'teryx
A trail running short with cross-functional versatility, the Aptin is lightweight, durable and comfortable on the move.
Check Price
We earn a commission if you click this link and make a purchase at no additional cost to you.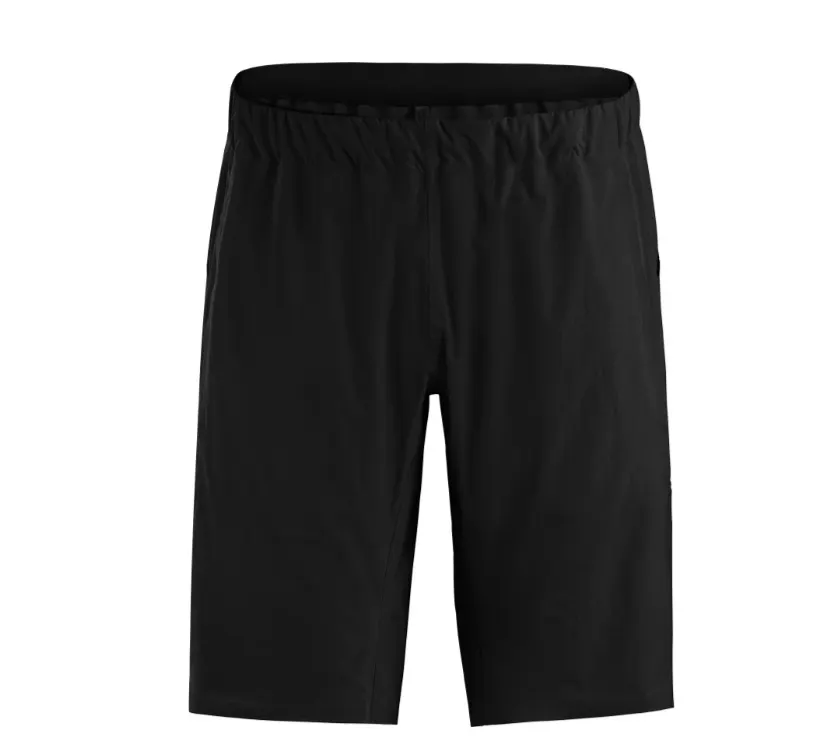 The Secant Comp Short is wind and water resistant with a relaxed interior and adjustable waistband. Taped seam construction and a "unique" patterning on the inseam are designed to reduce chafing. Details of the shorts are minimal, other than the two open hand pockets with an interior organizer and two thigh pockets, giving you plenty of space to store your belongings as you take off down the trail.
The materials used are a concoction of comfort: stretch woven plain weave that's 78% nylon, 22% elastane, and double-weaved durable water repellent is 87% nylon and 13% elastane. Touted for its minimal chafing, the Secant Comp can be worn trail running or as your everyday short. The choice is up to you!
Pros
Spacious carrying capacity in the pockets

Secure fit with adjustable waistband
Cons
USD $225.00 (pre-tax)

The low-end trail running comfort

The sizing chart is off kilter even though the system allows for American, UK, and International measurements for buying options

Short construction stretches and fits large after a few trips through the washing machine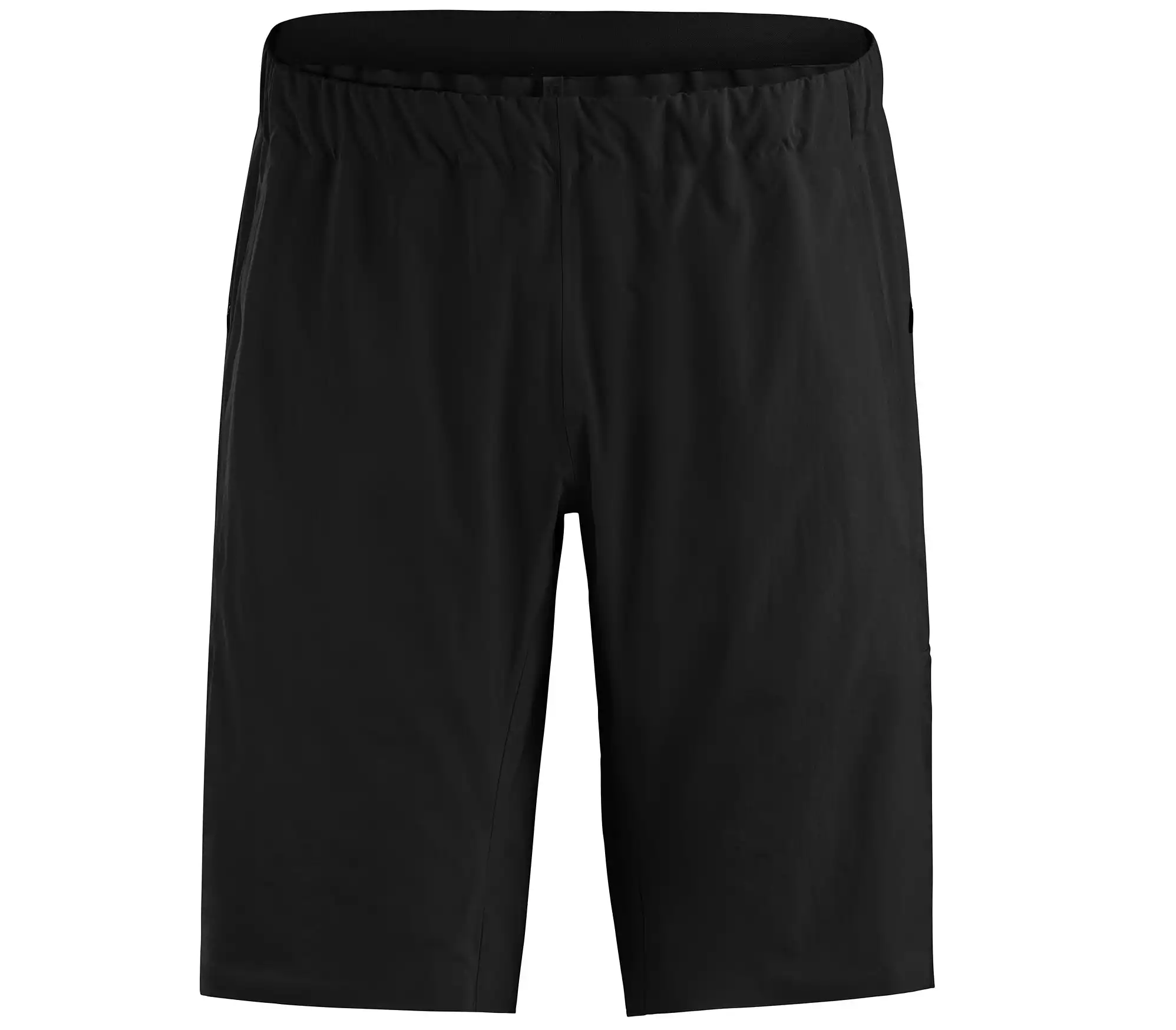 Secant Comp Short Men's | Arc'teryx
A lightweight stretch woven short features an adjustable waistband and is patterned to eliminate the inseam, reducing chafing.
Check Price
We earn a commission if you click this link and make a purchase at no additional cost to you.
Shorts for Women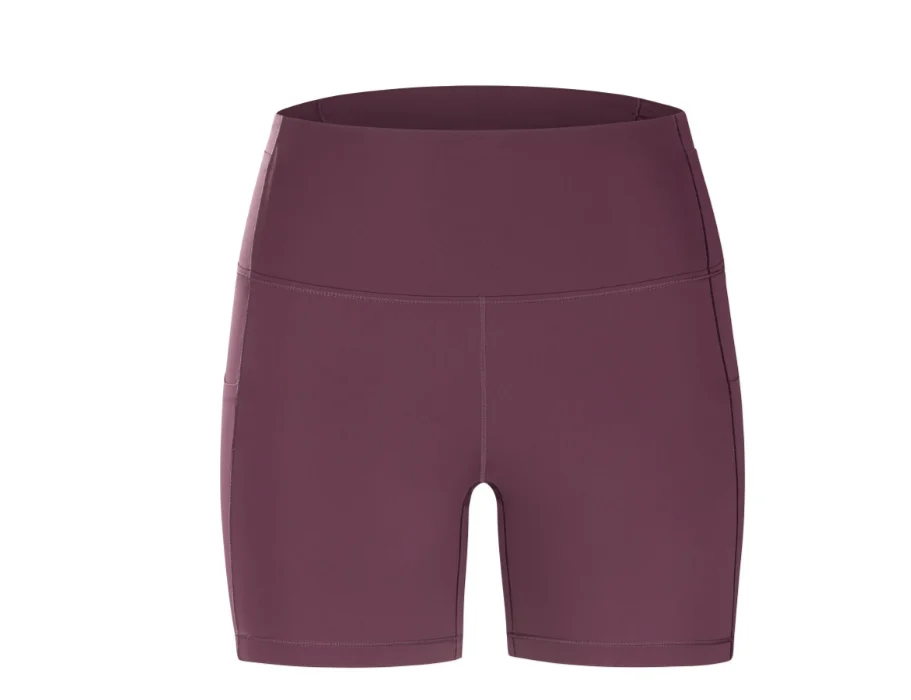 I'm usually not a big fan of a fit-to-skin style, but these are an exception I'll be willing to make. The durability of the high elastane and lycra allows for incredible flexibility and movement, along with a minimized level of any see-through. A hidden pocket in the waistband and a sizable pocket on the thigh have maximum storage with little visibility.
As shorts go, these are the best of both worlds when it comes to storage and comfort, combined with being form-fitting but leaving something up to the imagination. The mesh waistband is crucial for moisture wicking, and quick drying materials are a game-changer.
Pros
Durable for long stints outside

Minimal exposure though fit-to-skin

Accessible pockets large enough to carry the essentials
Cons
USD $70.00 (pre-tax)

Potential chafing due to skin contact

Available only in two colors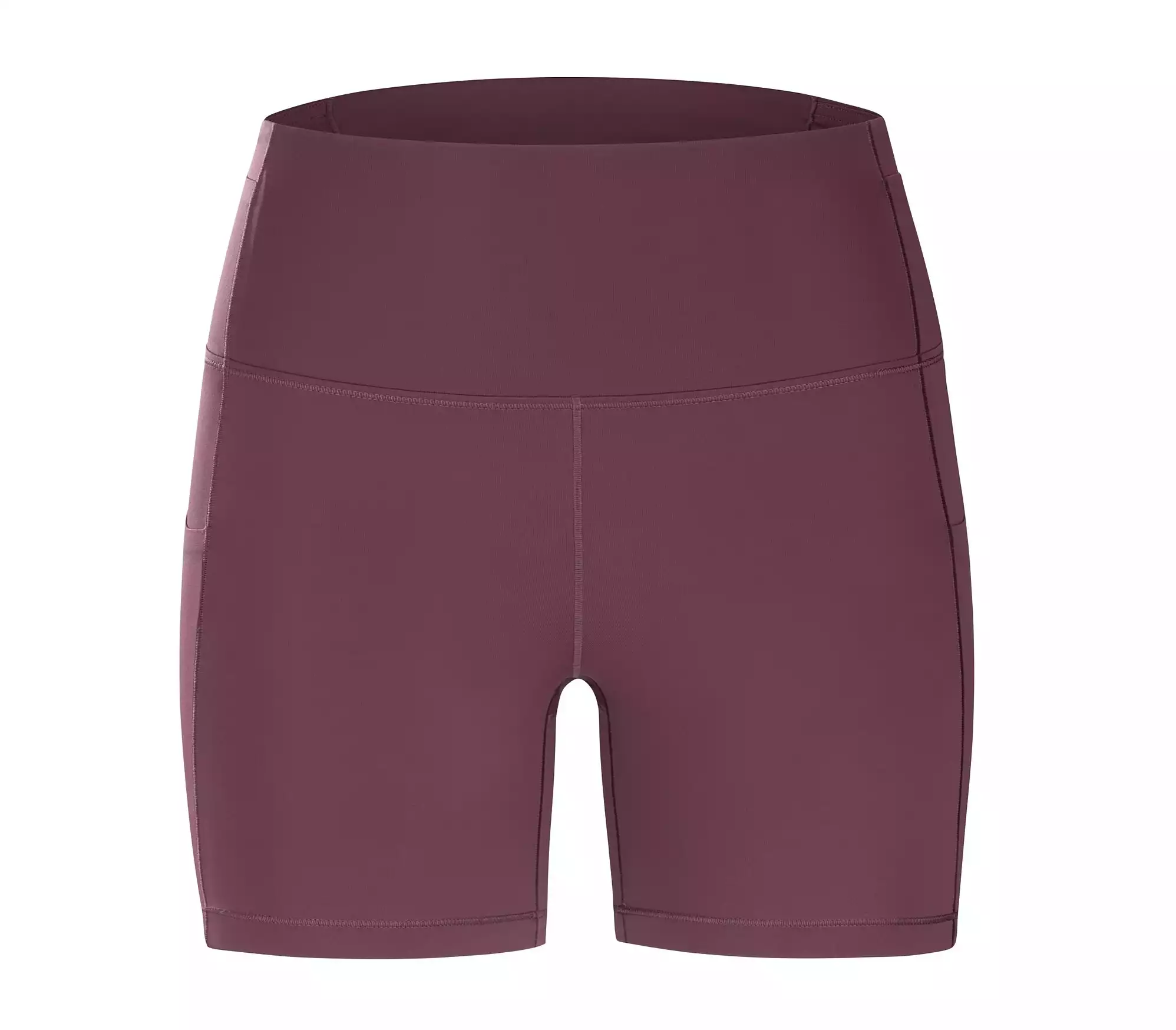 Essent High-Rise Short 5" Women's | Arc'teryx
Go new places, try new things. Run, roll, hike. The streamlined 5" Essent is made for everything you want to experience in the landscapes that invite you to explore.
Check Price
We earn a commission if you click this link and make a purchase at no additional cost to you.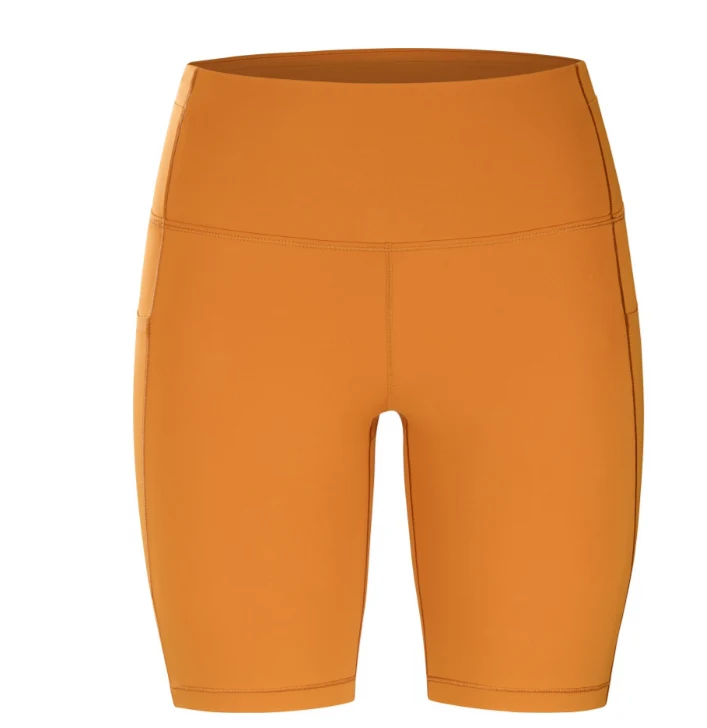 Trailrunning can get technical quickly. The Essent High Rise 8" prepares for that, giving you fit-to-skin style create a much smaller chance of catching onto errant branches and rocks. The stretch factor and chafing resistance are brought to you by a nylon and elastane interlock.
Two low-profile pockets are on the thigh, below the stretch mesh waistband that is comfortable all day and throughout your entire run. Mesh is also moisture-wicking, and the hidden pocket can be forgotten as they're so form-fittingly comfortable.
The Essent High Rise are great for a seasoned trail runner or someone out on their first sojourn to be comfortable both in movement and style.
Pros
Two thigh pockets

Less chafing with better leg coverage than a shorter inseam

Made for more than one stereotypical body type

Soft but durable
Cons
USD $70.00 (pre-tax)

A sizing chart can come across as inaccurate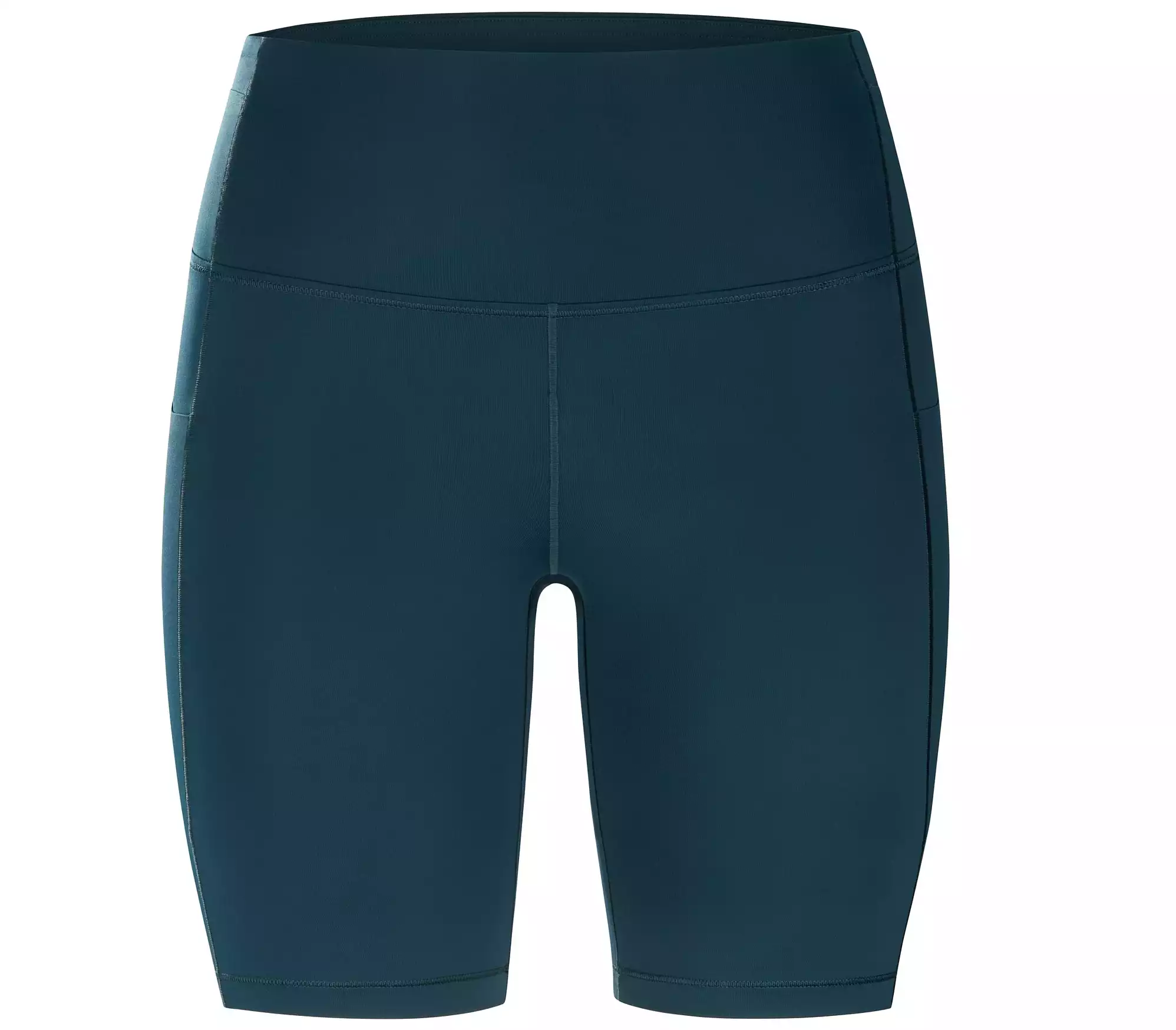 Essent High-Rise Short 8" Women's | Arc'teryx
The Essent is comfort in motion. Outdoor durable, stretchy enough for traveling at speed on technical trails, they keep up with you - no matter where impulse takes you.
Check Price
We earn a commission if you click this link and make a purchase at no additional cost to you.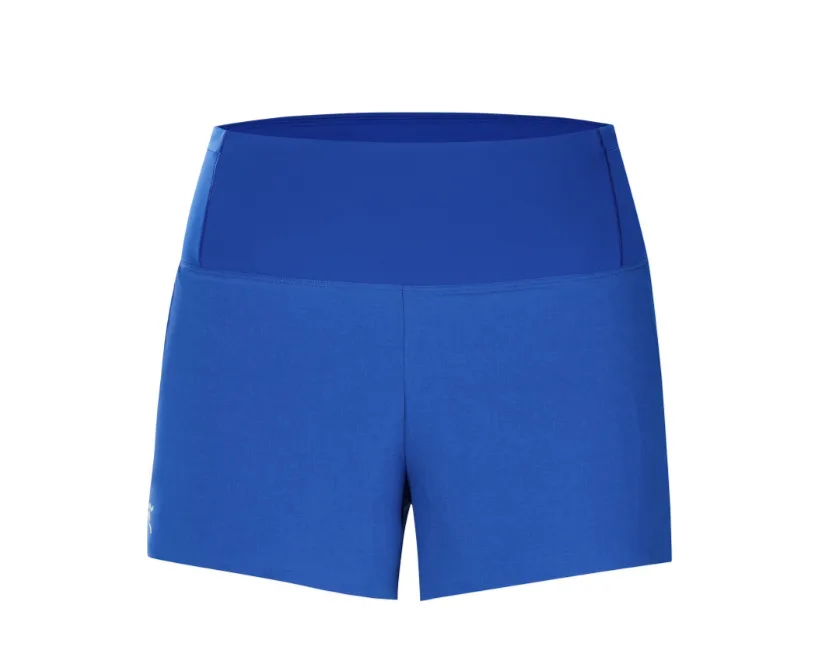 An exclusive short, the 3.5" variation of the Essent High Rise is a must-have for the serious trail runner. Designed for mountain trails, with hardware fabric that boasts abrasion resistance to the finest degree. A mesh waistband is, of course, a moisture-wicking dream and has a pocket in the rear of the waistband.
The patterning is articulating, making mobility much easier than in other shorts. The waistband is wide for coverage, and the comfortable fit comes for many body types. Four colors come with an exclusive nature. Durable and movement-friendly are the hallmarks of a good trail running short, and here they are!
Pros
Exclusivity of vibrant colors

Rear mesh pocket that goes almost unnoticed once there are items in it thanks to woven mesh technology

Short and durable for extra hot days
Cons
USD $80.00 (pre-tax)

Short length may induce some chafing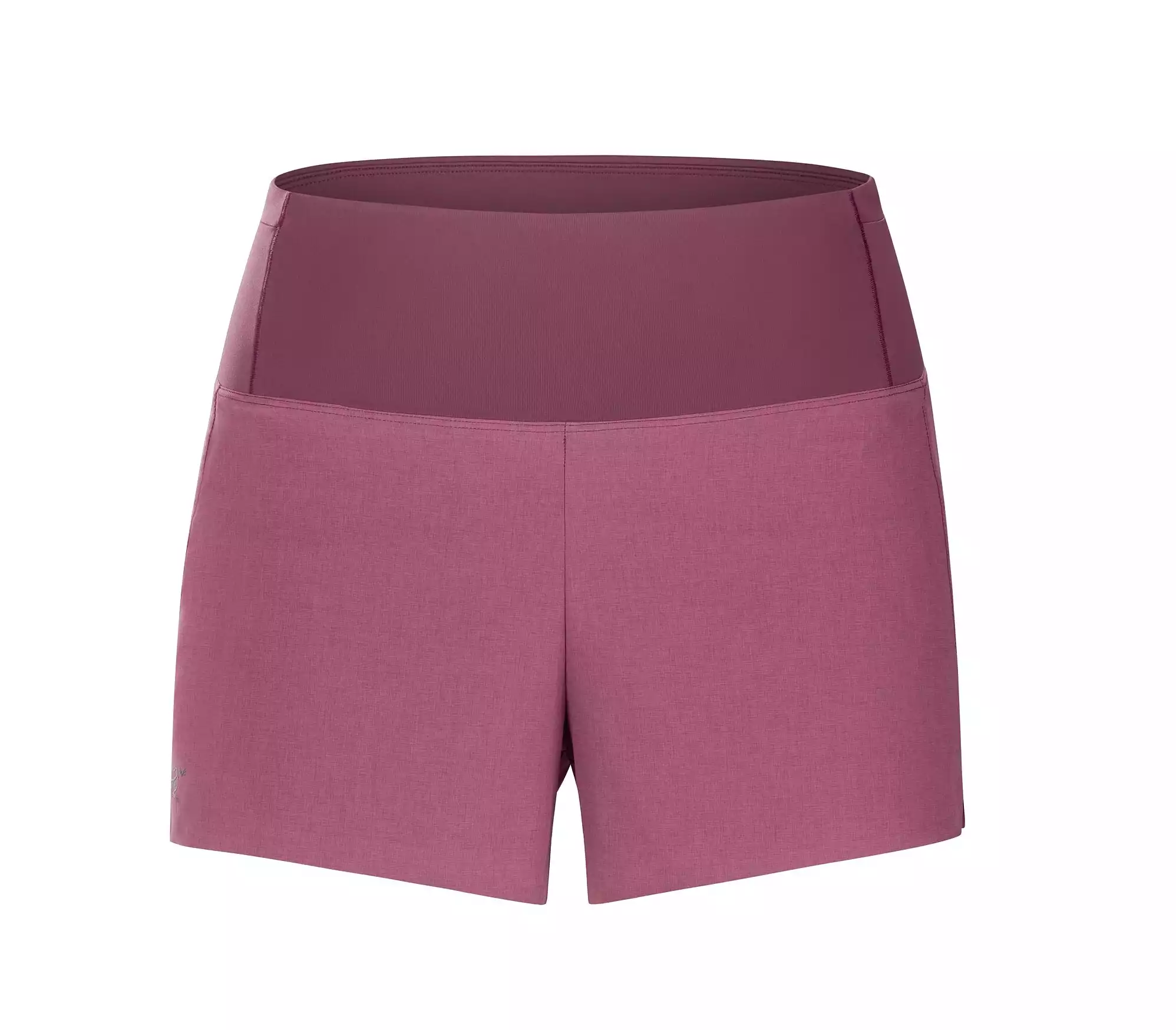 Essent Run High-Rise Short 3.5" Women's | Arc'teryx
Speed, freedom, and performance – our 3.5" Essent is made to keep you moving on mountain trails. Chira™, the nylon and elastane fabric, is hardwearing and abrasion resistant, and has excellent stretch for comfort and freedom on the move.
Check Price
We earn a commission if you click this link and make a purchase at no additional cost to you.
FAQs
Questions: Where can I buy Arc'Teryx clothing?
Answer: Your best bet is through Arc'Teryx or trusted retailers like REI in conjunction with Mammut, Marmot, and Patagonia. I've seen that there are many sellers on Amazon and eBay, and I would recommend you steer away from those options. The parent companies, ANTA and Amer Sports are a brand that can be found throughout trusted outdoor retailers.
Questions: Arc'Teryx is known for 'gorpcore'. What is that?
Answer: Gorp, to me, is an acronym for Good Old Raisins and Peanuts, the trail mix of any outdoors enthusiast. However, upon some searching, it is the act of wearing outdoor apparel in urban settings. I don't want to brag, but I'm pretty sure I was already doing this, as I have zero qualms about walking down the streets of a busy city in hiking shorts. Comfort is comfort.
Questions: Where are the products made?
Answer: Anywhere from Canada to South America, Europe, and Asia. The line has plants in China, Vietnam, Bangladesh, the Philippines, El Salvador, Laos, and Greece. Globally there are 80 branded locations, so wherever you may be, you could be buying locally.
Best Arc'teryx Trail Running Shorts: Final Thoughts
Though there is a limited number of shorts designed for trail running with Arc'Teryx, the company is always coming up with new and innovative designs to give all outdoor enthusiasts the ability to find comfort in their sport. While the men's shorts are designed for more of a unisex look and leave more possibilities for wear outside of the woods, that doesn't mean the women's selection pales in comparison.
I admit I was disheartened to see that there are fewer options for women, and some of the links to shorts, in general, are algorithmically glitching and sending the shopper back to the homepage. Aren't we all glad I compiled this list?
The prices are higher than I would like, but that is a facet of high-end clothing, and by all accounts, you're getting what you're paying for and then some. I would suggest looking at these clothes as an investment, not only in the clothing but in your sport. Trailrunning is a widely regarded spectrum sport.
You can run full-out, jog, walk: whatever your heart desires as long as you're being safe. An investment in your sport has long-term health benefits, and if you're getting those while being the most stylish runner on the trail, then you're already ahead of the game.
Read More: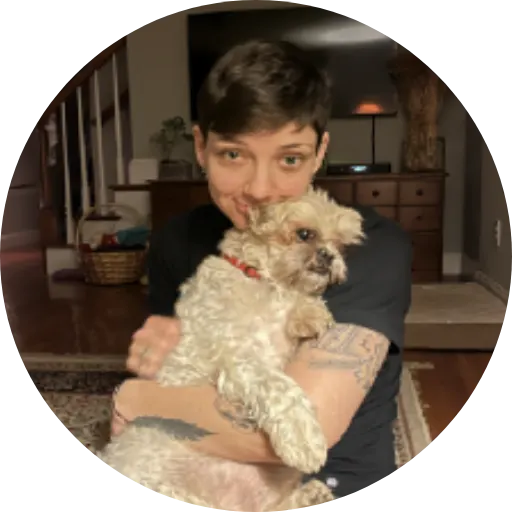 Sarah is a passionate writer who is also an experienced outdoor enthusiast. Her first memory of the outdoors was when she went camping at the age of 4. Since then, it became her ideal vacation. She enjoys an immersive nature experience. She knows what every hiker and camper needs to know. She loves the great outdoors and wants everyone to experience the same thing.