When it comes to hiking it's worth it to have the right clothing, especially when you'll be on the trail for more than a couple hours.
My Problem Finding Good Hiking Shorts
Most outdoor supply stores have a huge selection of apparel but it can be tricky to find shorts appropriate for hiking. Shorts simply aren't as popular as pants since most prefer the brush and bug protection full length bottoms offer. However, hiking in warm temperatures can make anyone reconsider choosing pants over shorts.
The Best Hiking Shorts Online
Here are 5 different shorts for women that will keep you comfortable during your adventures into the great outdoors.
#1 Patagonia Happy Hike Shorts
Patagonia made their Happy Hike shorts perfect for women that are caught between traditional hiking shorts and a stretchy athletic feel. These are overall amazing shorts that you can rely on to keep you dry and comfortable on almost any hike.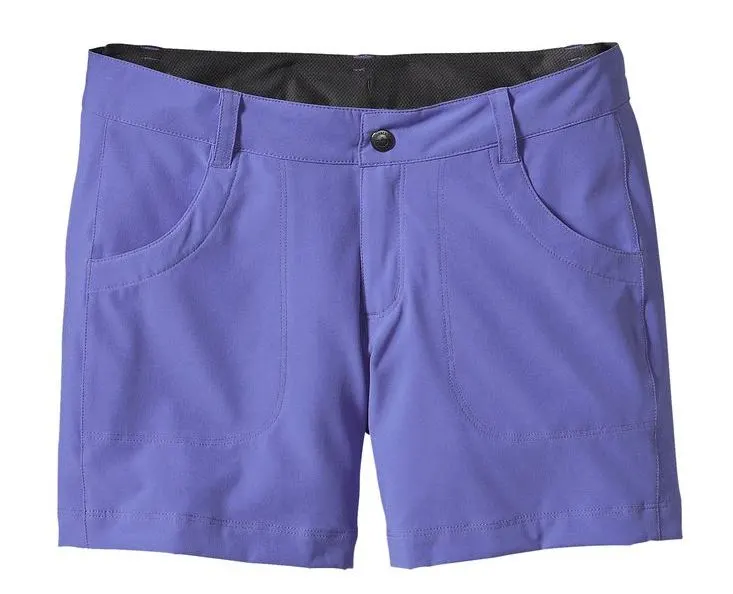 Specs and Features:
Two color options – Light Bog and Violet Blue
Available in sizes 2 to 14
Made of a polyester and spandex blend for multi-way stretch
Women-specific back yoke for no gaping
Traditional 5″ inseam offers enough coverage
Has front hand pockets and back pockets with closure
The polyester and spandex blend gives these shorts plenty of abrasion resistance while still allow for a total 4 way stretch. Many brands drop the ball when it comes to durability vs. stretch but Patagonia hit the nail on the head with both factors.
The 5″ inseam is great for petite and tall women alike. A really nice design feature is the back yoke. This yoke keeps the back of the shorts fitted properly to prevent embarrassing gaping. This also means a better fit for women with a smaller waist and bigger hips.
Little details like the pockets and a drawcord in the waistband are appreciated by wearers. These are very reasonably priced for quality and an excellent choice for any woman.
Read our full Patagonia Shorts Review here.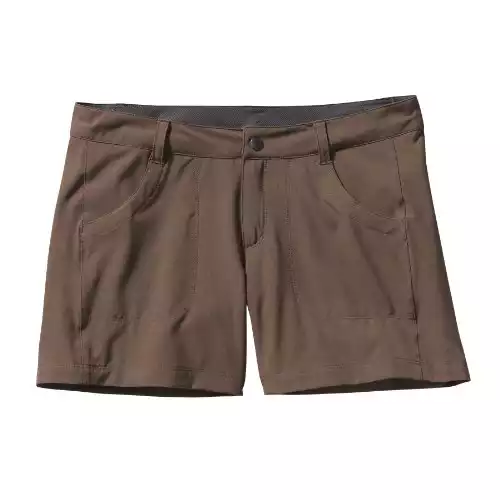 #2 REI Sahara Shorts
REI sells a plethora of different apparel for outdoor brands but their own label is quite impressive as well. The Sahara Shorts are a traditional long inseam adventuring/exploring model that offers more leg coverage than most other shorts. They are still lightweight and offer plenty of mobility.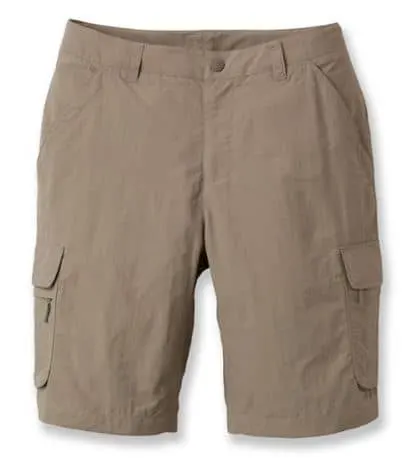 Specs and Features:
Two-color options – Asphalt and Steel Grey
Available in sizes 2 to 16 with a relaxed fit
Made of 100% nylon
Gusseted crotch for max. mobility
Dual hand, thigh and back pockets
UV protection and excellent breathability
Has belt loops and elastic waistband plus button closure
The inseam of 10″
The Sahara shorts are perfect for longer trails thanks to the pocket space and overall comfort. The length doesn't make them the most flattering but that is hardly a concern when it comes to hiking. They allow you to move easily and protect your legs from sun and brush, which is what is most important.
These shorts are useful for hiking in sunny, hot weather since they offer UVB 50+ protection. You can keep your legs cooler than pants but still protect your skin from harmful sun exposure. If you really need a solid, tough pair of shorts for serious hikes you really can't go wrong with these.
#3 Marmot Pulse Shorts
While not specifically designed with hiking in mind, these overall performance shorts can be perfect for shorter or less strenuous hikes. If you need a snug fitting pair of versatile bottoms that you can wear for almost any activity, the Pulse are worth a look.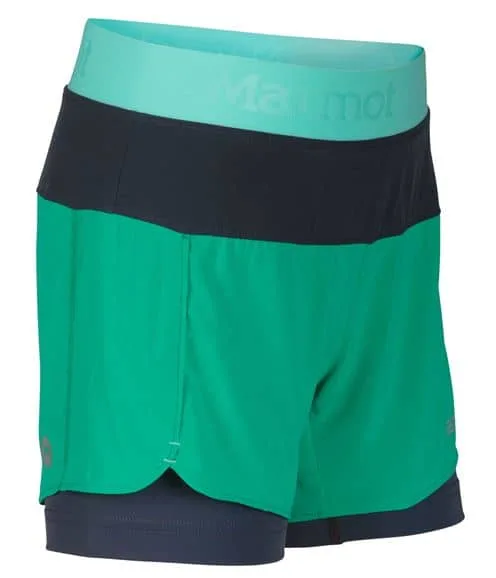 Specs and Features:
Huge range of 9 color options, including a black/navy and plenty of bright three-tone combinations
Available in sizes XS to XL, athletic fit
Offers a 5″ inseam
Dual-layered design with compression shorts inside and normal shorts outside for coverage
Made of a polyester and elastane blend
Breathable with UV protection
Split leg with performance stretch
At first glance, you can see that the Pulse shorts are different. It looks like two pairs but it actually is simply two layers that mimic the feel of compression shorts. This close-fitting inner layer keeps the shorts in place while the outer layer allows for comfort and breathability.
This design was made for runners and other athletes but works very well for hiking. It prevents chafing and ensures the legs stay in place while traversing tricky terrain. Mobility is one thing this model offers plenty of.
Due to the material of these shorts, these aren't the best if you're going to be hiking through tall brush. Save these for trail running or hikes on groomed trails. Overall these athletic shorts are extremely comfortable flattering.
#4 The North Face Paramount 2.0 Convertible Pant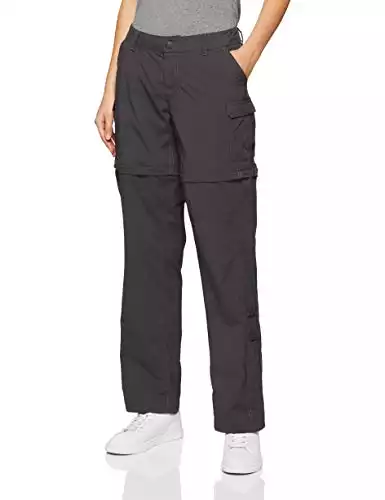 Last but not least is TNF's Paramount 2.0 Convertible Pants, which offer you the best of both worlds when it comes to the pants versus shorts debate. Some hikers prefer shorts while others prefer pants but it really can't be argued that convertible pants have some major benefits.
Specs and Features:
Two-color options – Dune Beige and Sedona Sage Grey
Available in sizes 00 to 16 with a slim fit
Three inseam options – short (30″, regular (32″) and long (34″)
Pants convert to shorts with a 5″ inseam
Made of lightweight stretch nylon with a DWR finish
Internal drawcord for a custom fit
Cargo pockets for carrying small items
Rear patch-style pockets
Even if you don't plan on needing full-length pants, it's nice to have the option of zipping the legs back on if you decide to go off-trail or end up in a surprise shower. These pants/shorts have a water-repellent finish so you will have protection in the event of rain.
The extra material hardly weighs anything, not to mention you can always leave them at home if you're positive you want only shorts.
Convertible pants are also great for new or casual hikers that would rather invest in a single pair of bottoms. The Paramount 2.0 are an excellent option since they have more of a slim, flattering fit than most other brands. Not to mention the shorter 5″ inseam is a nice change of pace from traditional long seam hiking shorts.
#5 Kuhl Kontra Roll-Up Shorts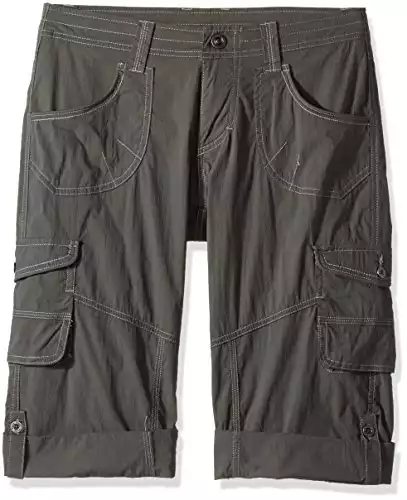 Sometimes you don't quite need the protection of full-length pants but you also need more protection than most shorts offer. Typically hiking shorts offer a 5″-6″ inseam which leaves much of the leg exposed. If you're not into typical convertible pants you'll really like Kuhl's Kontra shorts.
Specs and Features:
Three color options – Carbon, Khaki, and Sage
Available in sizes 2 to 14
Convertible Capri goes from an 18″ full inseam to 11″ shorts
Made of a cotton, nylon, and spandex blend
Drawcord in each leg allows for custom length
Has dual hand and rear pockets as well as dual cargo side pockets
These capris have an 18″ inseam but are rolled up to 11″ inseam shorts. The internal drawcord in each leg allows you to keep these bottoms at any length, based on your personal preference. This feature is useful since some women may prefer their shorter more than 11″ if they are particularly tall.
Typically cotton is avoided in hiking clothes but works perfectly in these since it is blended with nylon and spandex. This makes these shorts very stretchy and soft to the touch but can still handle heavy wear. These are durable enough for hiking through brush. An added benefit is that these will dry quickly, which is useful since they don't have a DWR coating.
Final Short Take
If you're hiking in pleasant weather and on a fairly groomed trail, shorts can be the perfect choice for bottoms. The airflow will keep you cool and if you come across frequent water crossings you'll be happy that you won't have to deal with wet pants for the remainder of your hike.
Just like it is with any apparel, trying on different shorts before purchasing is a good idea to ensure a comfortable fit.
Further read: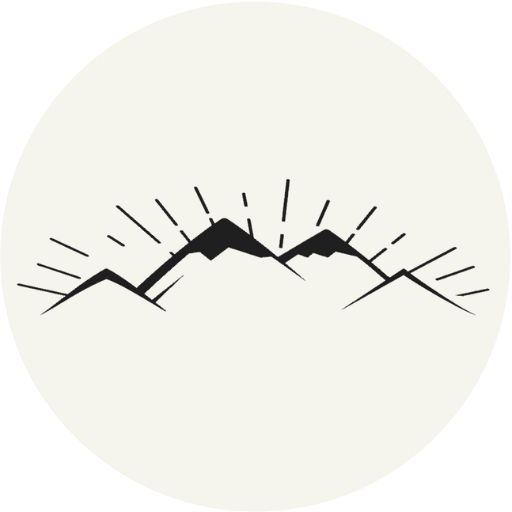 The All-Outdoors Guide team is comprised of enthusiastic experts that enjoy helping others that aspire to be better at outdoor fun. Part of that is making sure you have the right gear and information when it's time to go out and have fun. Some of our team have accomplished amazing feats like climbing 6000 feet to the top of mountains, others have explored every dirt trail they could find and we even have some people that have backpacked solo on various continents. No matter what our readers want to learn and do, our team is here to help them accomplish those goals.