Imagine yourself climbing a snow-laden mountain with your uncomfortable pants spoiling the entire vibe. I am pretty sure you wouldn't ever want any distraction during this adrenaline-pumping activity. To spare yourself from this horror, you should always select comfortable outdoor gear.
Having said that, I recently purchased one of the most comfortable outdoor pants on the market, the Kuhl Revolvr Pants. For those who like to wear slightly fitted pants, this can be a great buy. Well, this is just a small piece of information. In this article, I'll be doing a detailed Kuhl Revolvr Pants review to share my experience with all of you.
Right from the fabric to the style; everything about these pants will make you go "WOW." Let's now look at a heavily detailed, genuine, and unbiased review of the Kuhl Revolvr Pants. Read further to know about the key features, applications, fabric details, and a lot more about these super-useful outdoor pants.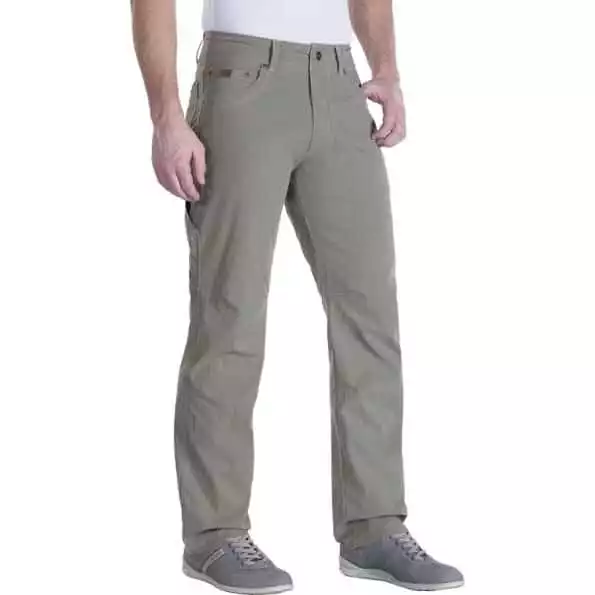 Why I Love My Kuhl Revovlr Pants
I spend a lot of time outdoors, but I also wear a lot of my outdoor clothing in more casual settings. The Kuhl Revovlr pants have a vintage style combined with modern utility. Quick dry, durable, and flexible. I own 2 pairs!
Get Yours
We earn a commission if you click this link and make a purchase at no additional cost to you.
Before beginning with the Kuhl Revolvr Pants review, I would like to talk a bit about the different kinds of outdoor pants available on the market.
Types of Outdoor Pants on the Market
With the growing fondness for outdoor adventure activities such as hiking and climbing, adventure enthusiasts are on a constant lookout for outdoor gear. Today, for different adventure activities, you can buy different types of outdoor pants to suit your requirement. Here, I am introducing you to some basic kinds of pants that you can buy for your outdoor adventure:
Standard Pants
Standard in size, these pants are perfect for activities such as hiking, climbing, and camping. These pants keep you warm in winter season and also protect your lower limbs from bugs, abrasion from rocks, moisture, and sun exposure. To dissipate the heat, these pants feature mesh-lined pockets, as well as vents behind your knees or in the crotch area. The ventilation keeps you dry and cool in hot weather.
The markets also have standard pants that are specifically designed for the chilly winters months. These pants don't come with vents.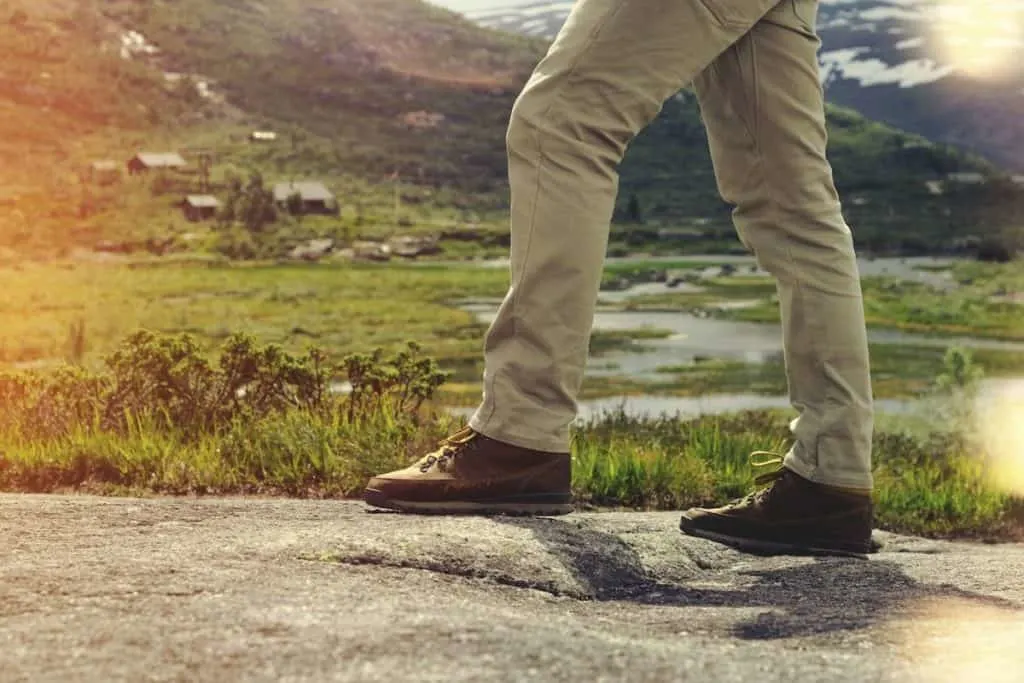 Convertible Pants
The name says it all. These pants come with a zipper on the legs using which you can remove the lower portion of the pant. The zips are usually provided above the knees.
The lower removable part comes out by opening the zip, and the pants turn into shorts.
There are many benefits to buying convertible pants. These multipurpose pants occupy less space in the backpack and can be washed easily.
Roll-Up Pants
Roll-up pants are like a modern twist to traditional pants. These pants feature buttons on lower legs or elastic in their cuff. With the zip or cuff, you can roll the pants up into the Capri-style.
So, if you are feeling super hot while climbing, you can simply roll-up your pants. And, whenever mosquitoes begin to distract you, you can roll them down.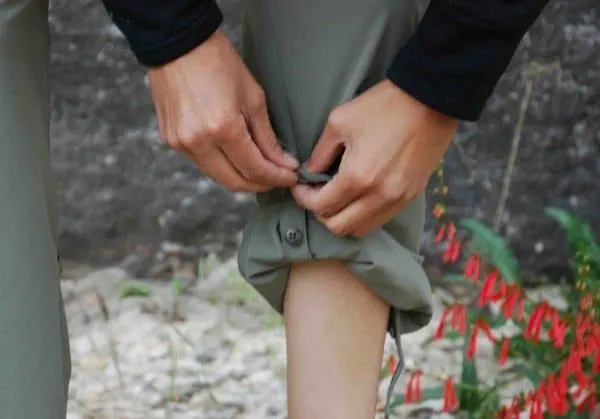 Things You Need to Consider While Buying Pants for Hiking, Climbing, and Other Outdoor Activities
If you are into hiking and climbing, you must be aware of the importance and benefits of wearing appropriate outdoor gear. If you don't wear appropriate clothes, you may end up feeling uncomfortable and restless which is never any fun. Based on my personal experience, I have outlined a few parameters that will help you make a good choice.
Here are a few things to consider while buying pants for hiking, climbing, and other related outdoor activities:
Comfort
For me, comfort comes first, and I strongly recommend you to pay primary attention to comfort. Unless you are comfortable in your outfit, you won't be able to enjoy the activity.
Mobility
No points for guessing; you should go for the pants that allow you to move and bend freely. Activities such as climbing and hiking demand a high range of movements and hence, this is an important factor to consider.
You should look for pants that have elastane or spandex in their composition. These fabrics are stretchable and provide flexibility to the pants making it easy for you to move without restrictions.
Versatility
There are many pants on the market that can be worn during different activities such as climbing, and hiking. In fact, the latest pants are so upscale that they can be worn at any casual occasion.
Look for these versatile pants that can serve more than one purpose.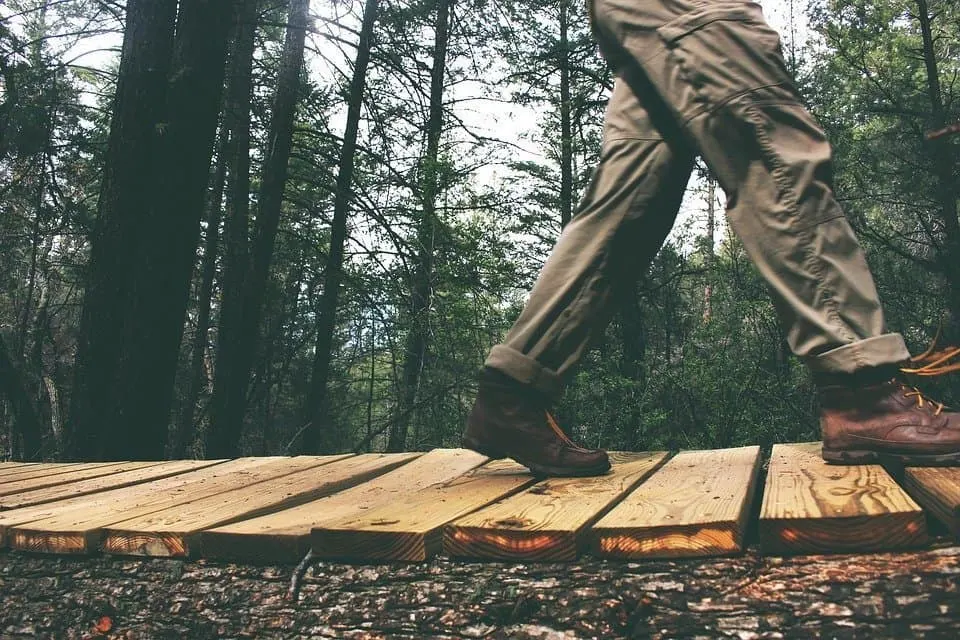 Efficiency
Your pants should be efficient enough to work in various conditions such as extreme climatic conditions, different temperature zones, and different trails and hikes.
You will have to deal with different conditions with every adventure sport that you will try. Your pants should allow you to perform efficiently. They should efficiently protect you from the heat, sun, rain, cold, and wind.
Breathability
Indulging in climbing or hiking in scorching heat can be a daunting task. But, if you have a breathable companion, your experience can become blissful.
A breathable material will keep you dry and cool in extreme warm temperature.
Durability
Have you ever spent a huge sum of money on a garment only to see it last a few months? Well, nothing can be worse than spending your hard earned money on something that wears out in no time. This makes durability a very important factor to consider while buying hiking or climbing pants.
Heavy-duty adventure sports require robust pants that could take the harsh treatment. Go for thick pants as they are more durable as compared to the lightweight pants.
Weather Resistance
If you often find yourself planning multiple-day climbs or hikes, you should prepare yourself to face different climatic conditions. Where some days will be dry, you are very likely to find yourself drenched in rains on the other days.
To protect yourself from this condition, you should look for weather resistant pants that could keep you comfortable even during the worst weather conditions.
There are many pants on the market that feature a durable water-resistant coating that can help you stay dry even in the presence of water. The coating does not allow water to get absorbed in the pant's fabric keeping you dry.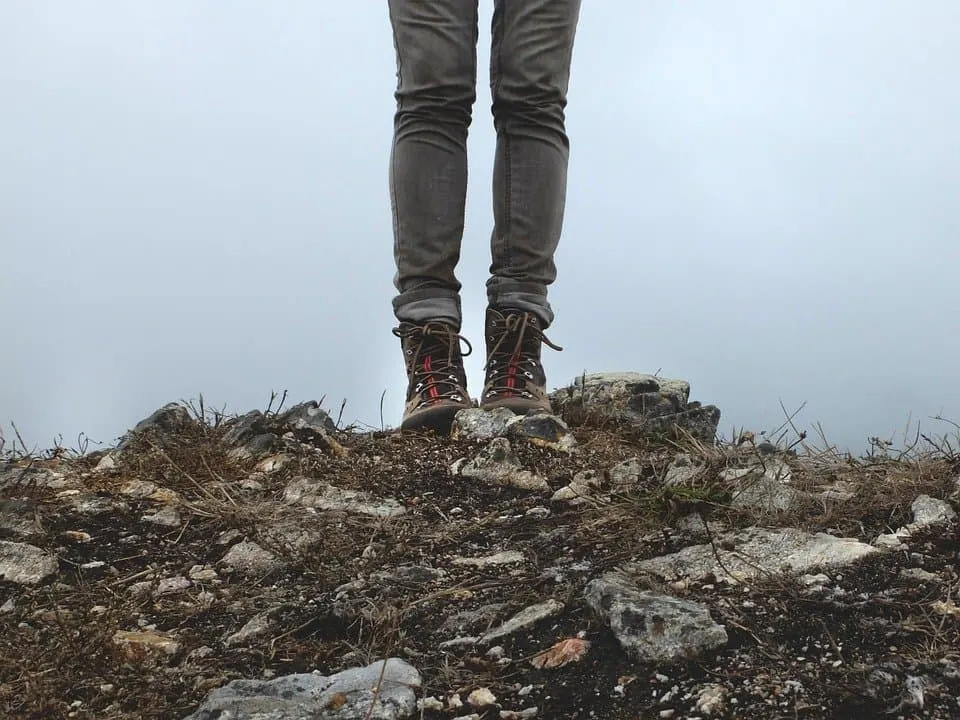 Pockets
Many hikers and climbers do not pay a lot of attention to the number of pockets in their pants. But for me, this factor is as critical as many other features.
I generally have multiple-day plans, so I carry many things with me. This makes it very important for me to wear outdoor pants in which can hold all my belongings safely. I am sure you can relate to me. So, another pro tip – make sure you buy outdoor pants with more number of pockets to keep your belonging safe and organized.
UPF Rating
If you like the idea of hiking at very high altitudes in summer season or in a desert, you should not ignore the UPF rating of the pants you are eyeing. UPF stands for Ultraviolet Protection Factor. You should buy a pant with a UPF rating of 50.
Other Features
There are several other features to consider like zipper system, waist tightening system, ventilation holes, etc. while buying pants for climbing, hiking or other activities.
KUHL Revolvr Pants: The Best Pant for Outdoor Activities

KUHL Revolvr Pants qualify as one of the best outdoor pants on the market for outdoor activities. These pants are laden with all the fancy features and they are also very stylish. You can also wear them on any casual occasion. All these features and many others make these pants a perfect choice for climbs and hikes. Let us now look at the features of these pants in detail.
Here's a quick table with the product specifications after which I'll begin with the Kuhl Revolvr Pants review:
| | |
| --- | --- |
| Product | Kuhl Revolvr Pants |
| Price | Under $100 (check here for latest) |
| Gender | For Men |
| Age Group | Adult |
| Primary Fabric | Uberkuchl Stretch |
| Material Detail | 68% Cotton, 29% Nylon, 3% Spandex |
| Rise | Mid |
| Fit Type | Relaxed Fit |
| Pants Inseam | 32 inches (81.2 cm) |
| Number of Pockets | 1 Phone Pocket, 2 Hand Pockets, 1 Coin Pocket, and 2 Back Pockets |
| Features | Media Pocket, Quick Drying, Packable |
| Seasonal or Temperature Use | Three Seasons |
| Sizes | Small, Medium, Large, X Large, XX Large |
| Mosquito Repellent | No |
| Applications | Causal and Adventure Activities like Climbing, Hiking, etc |
Key Features
Midweight, UberKuhlstretch fabric offering benefits of cotton, nylon, and spandex
Quick dry, extremely light, and comfortable fabric
Peached waistband to provide excellent wicking properties
Incorporates vintage patina dye
Articulated knees, as well as gusseted crotch, to ensure free movements and optimum comfort
Full seat and thigh offering a very relaxed fit
3D cell phone pocket, hand, back, as well as coin pockets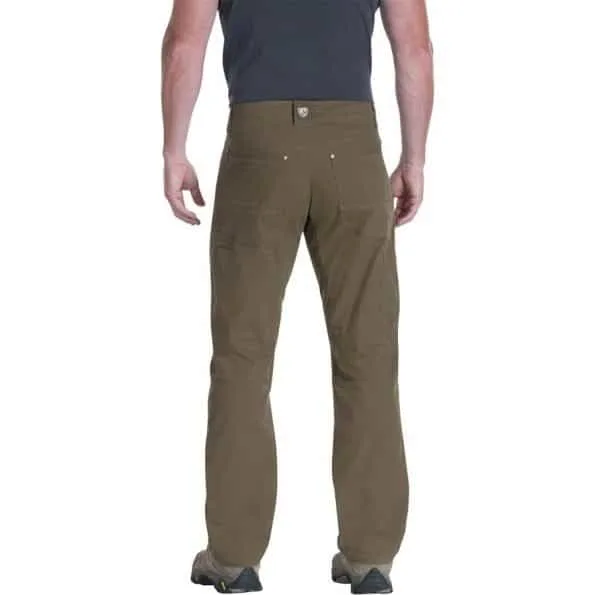 Kuhl Revolvr Fabric
Kuhl Revolvr pants are made of the most comfortable and breathable fabric in the world – cotton. With these cotton pants, you shouldn't have to worry about comfort and sweating as the fabric takes care of all these things.
The soft fabric feels very easy against and the skin. With excellent ventilation, it keeps you cool. The fabric also draws all the moisture out. If you are worried about durability, let me tell you that the fabric composition also incorporates the use of nylon. Nylon is woven with oxford cotton and this makes a perfect combination of comfort and durability.
The use of spandex lends flexibility to these pants. This allows you to freely move your body.
The most amazing things about Kuhl is that the brand develops its own fabrics. The high-quality fabrics don't shrink and are very easy to wash and care for.
The UberKuhl technical fabric (a blend of cotton and nylon) used in these pants makes them a great pick to wear for any adventure activity.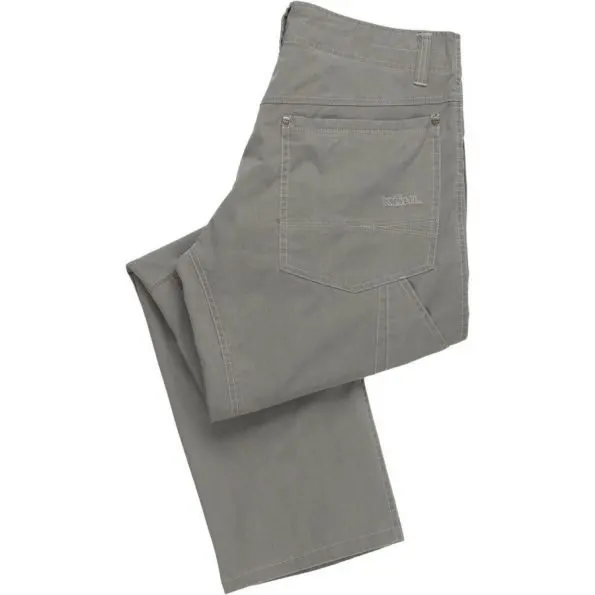 Design Features
The pants are dyed using the fine quality, double-dye vintage patina technique. This gives the pants a very vintage look. The look is enhanced as the dye fades with time, exposes, and wash.
The Free Ryde Waist conforms to the natural contour of your body. The long length from the waist belt top to the crotch offers extra room to make you feel comfortable and facilitate the range of movements. The peached waistband facilitates moisture wicking. The fast drying time along with wicking properties keep you dry and cool and ultimately, enhance comfort.
Climbing on mountains demands free movements, which get restricted if you don't wear a proper outfit. But, this is not at all the problem with Kuhl Revolvr Pants. This can be credited to the use of flexible fabric such as spandex and the articulated knees, as well as a gusseted crotch. These design features let you move freely with the utmost comfort.
The cuffs feature double-layer scuff-guard. This makes the pants more durable.
To enhance the closure strength, the manufacturers have used custom-engineered Italian Fiocchi Snaps.
Pockets
If you have a plan to spend multiple days in the mountains, it is important for you to consider this factor as you would need to carry many essential things along with you.
With Kuhl Revolvr Pants, carrying your essentials is not at all a problem. The pants come with multiple pockets to carry your belongings. The 3D cell phone pocket is roomy enough to accommodate your cell phone. Apart from the phone pocket, there are two hand pockets, one coin pocket, and two back pockets.
Kuhl Revolvr Sizes
Whatever be your size is, you will definitely find well-fitted pants for yourself. The brand offers a wide sizing range.
The available size options include small, medium, large, X- large, and XX-large.
Pros and Cons of the Kuhl Revolvr Pants
| | |
| --- | --- |
| Pros | Cons |
| The UberKuhl technical fabric offers the comfort of cotton and durability of nylon | Stains easily |
| The use of patina dye gives it a vintage look (very stylish) | Not an ideal option for cold weather |
| Articulated knees along with gusseted crotch allow free movement and enhance the range of motion | |
| Many pockets to carry your belongings | |
| Quick drying | |
| Versatile; can be used for climbing, camping, hiking, travel, as well as casual wear | |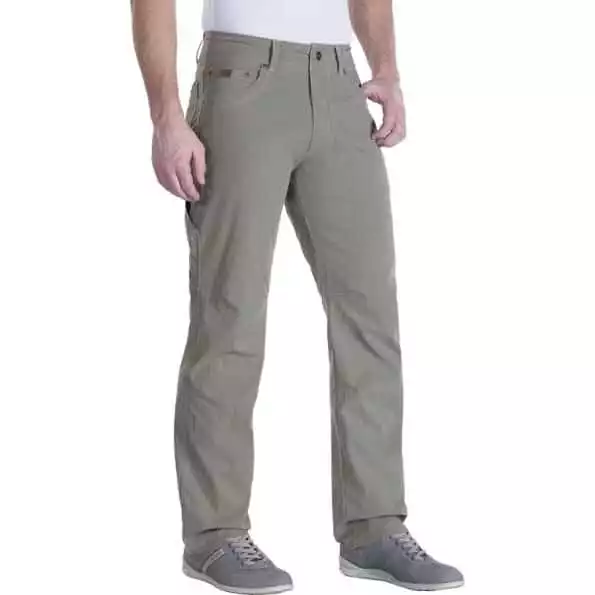 Why I Love My Kuhl Revovlr Pants
I spend a lot of time outdoors, but I also wear a lot of my outdoor clothing in more casual settings. The Kuhl Revovlr pants have a vintage style combined with modern utility. Quick dry, durable, and flexible. I own 2 pairs!
Get Yours
We earn a commission if you click this link and make a purchase at no additional cost to you.
So, What Do You Think?
After going through the detailed Kuhl Revolvr Pants review, would you like to buy these super cool pants for your next hiking plan? I am sure you would love to own these upscale, comfortable, and efficient pants for your favorite adventure activities. Right?
In case you have more questions about the product or any other product that you want us to review, you can write to us and we'll be happy to help you.
Bottom Line: I LOVE these pants! They are versatile, vintage, and a great value for the money. They last forever. #HappyOwner. You can pick up yours over at Kuhl directly here (great if you need to return, warranty, etc…).
Further read: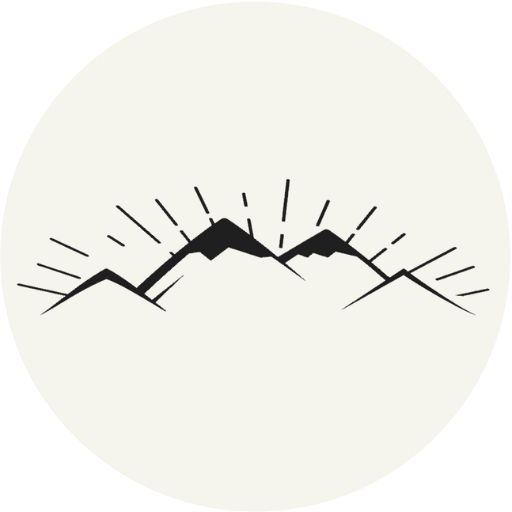 The All-Outdoors Guide team is comprised of enthusiastic experts that enjoy helping others that aspire to be better at outdoor fun. Part of that is making sure you have the right gear and information when it's time to go out and have fun. Some of our team have accomplished amazing feats like climbing 6000 feet to the top of mountains, others have explored every dirt trail they could find and we even have some people that have backpacked solo on various continents. No matter what our readers want to learn and do, our team is here to help them accomplish those goals.