Looking for the best Cargo pants for your next hiking adventure? You've come to the right place.
Our experienced team of outdoor enthusiasts has put together this comprehensive guide of the top 10 best cargo pants to wear hiking.
Here's the TL;DR….
Best Cargo Pants for Hiking – Short Answer
Are Cargo Pants Good for Hiking?
Clothing is one of the most important things to have dialed in when embarking on an outdoor adventure. When embarking on a hike or trek, a good pair of outdoor pants becomes extremely important.
Pants offer protection from the sun, wind, and cold, as well as abrasions on the skin from rocks and plants. The right pants have pockets that can be useful for carrying small things on an outdoor adventure without you even noticing.
A cargo pant is a style that is usually used for hiking and trekking and has one or more large pockets in the form of patches along the legs. Hiking cargo pants are generally a very relaxed fit, as the main purpose of cargo pants is to offer both protection and comfort to the wearer while being utilitarian.
In this article, we will see the types and features of pants for outdoor activities, and then review some of the cargo pants available to come up with our top-five cargo pants for outdoor activities.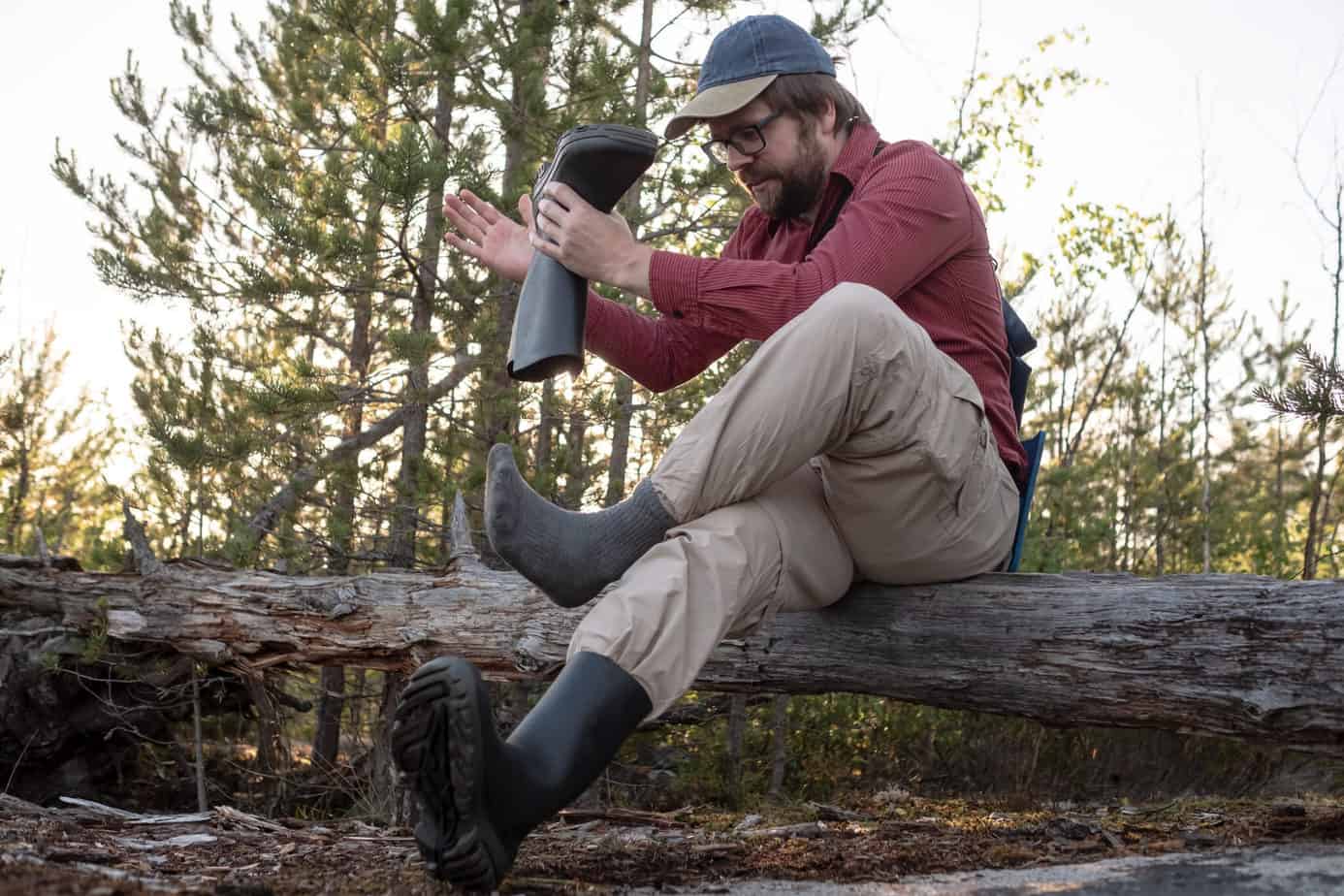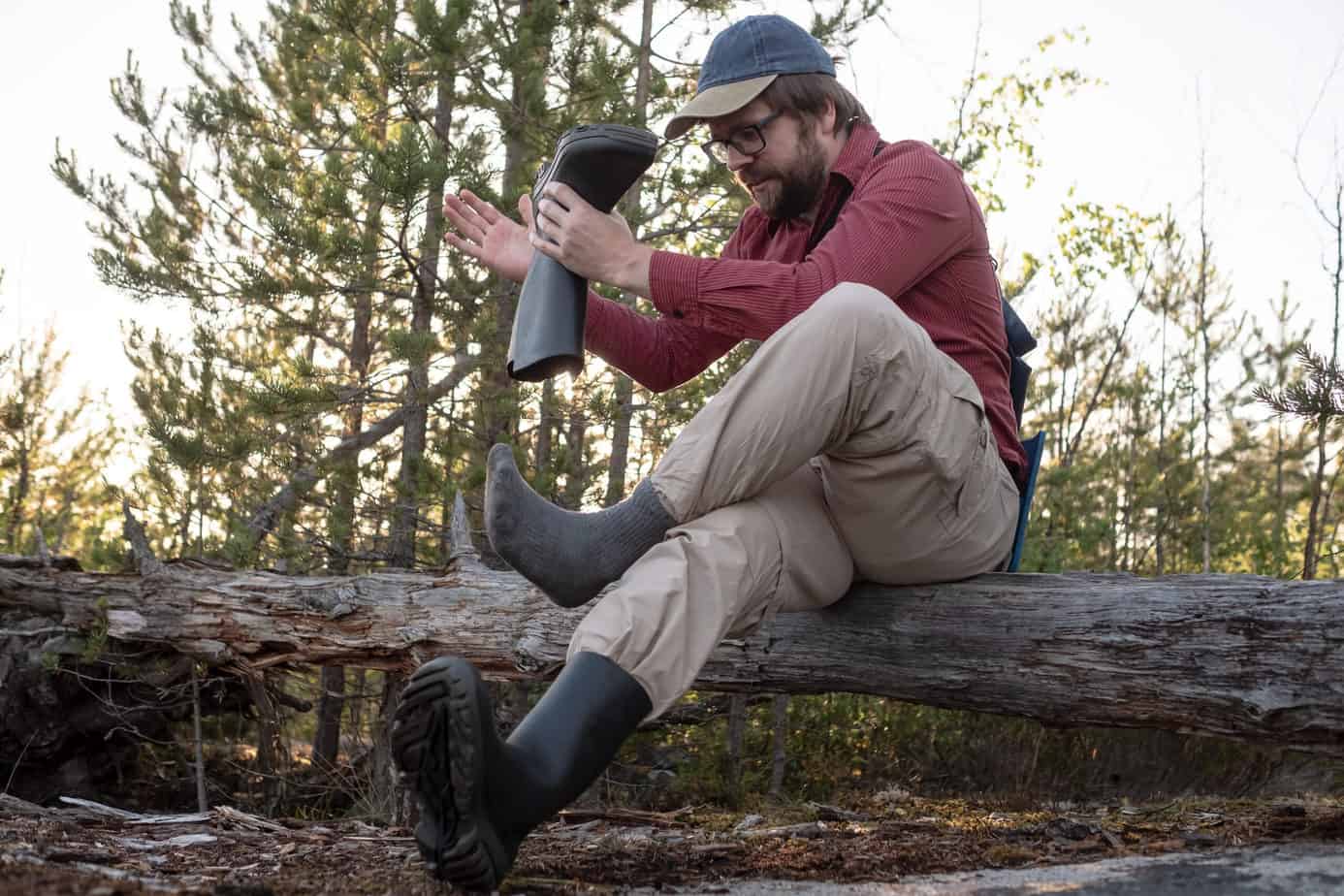 Benefits of Hiking Cargo Pants
Quick Dry Cargo Pants
These pants are designed to be quick-drying. They have a nylon construction which means that they dry in the nick of time. The pants are bound to get wet outdoors, but they will dry within a few minutes.
This is why it is so important to ensure that you have the correct cargo pants when you are doing any outdoor activity. Quick-drying pants are also essential when you need to cross streams or endure wet and stormy weather. You also need to keep your pants dry when you hit mountain areas that feature colder temperatures.
Cargo Pant Pockets
Some cargo pants have more pockets than others. Pocket sizes also vary, and this is important to pay attention to depending on what you need the pockets for.
Some outdoor enthusiasts like to use pockets to store digital cameras, maps, sunglasses, or even lip balm. Basically, you want to be able to store 'small and handy' things in your cargo pants pockets as opposed to in your backpack.
No Noise
This may seem like a bit of an odd reason to buy cargo pants, but when you are on a hike or trek, you may want a material that is soft, quick-drying, and quiet.
What does this mean? Well, you want a pair of cargo pants that don't make a rubbing sound that you often get with nylon. Remember that no noise means a higher chance of viewing wildlife too! And good luck sneaking up on any animal while wearing a pair of noisy pants.
Convert to a pair of shorts (Zip Offs)
This is probably one of the more popular reasons to buy cargo pants. They can convert to a pair of shorts in the warm weather!
You'll see them labeled as 'convertible hiking pants' in the stores. They generally have a zipper on each leg that detaches the bottom section of the pants. It's simple to store the detached part of the pants in your backpack or pocket after converting your pants to shorts.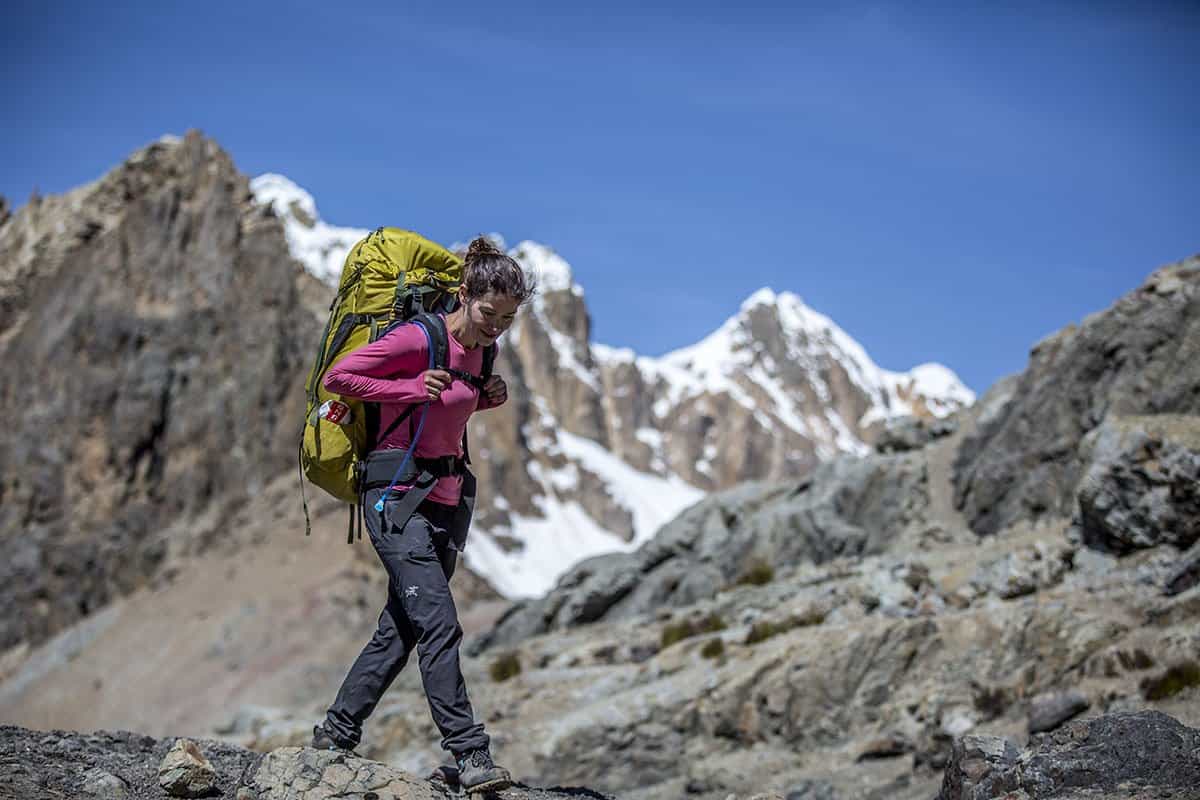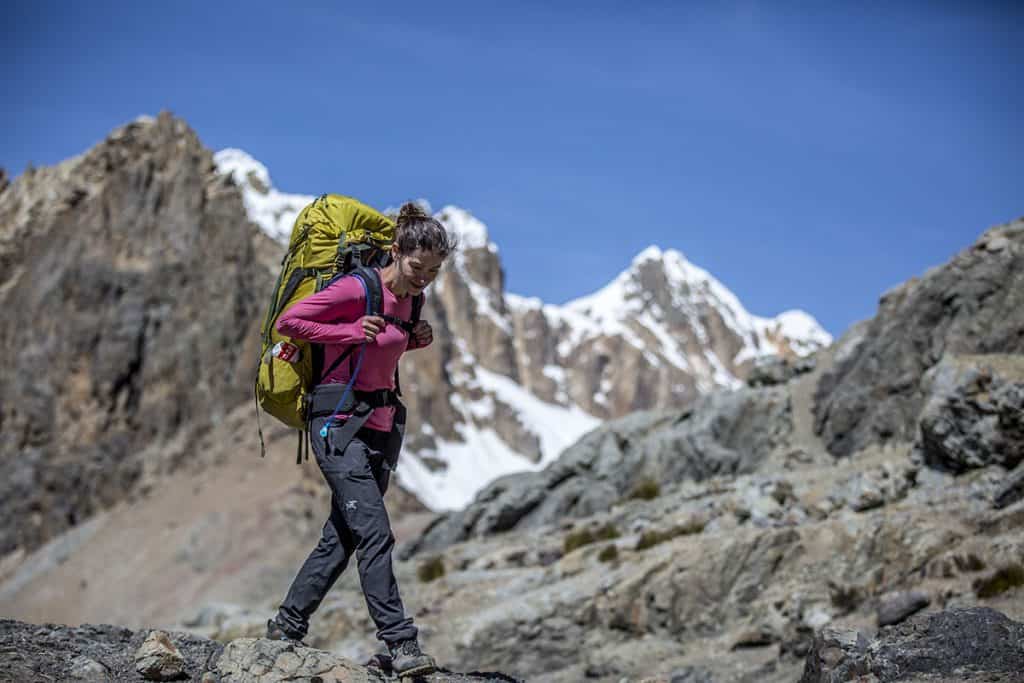 Lightweight Cargo Pants
Cargo pants are often made from nylon that is strengthened. This means that even though the material is strong, the pants are extremely lightweight. They weigh less than cotton shorts! Hard to believe but very true. The featherweight helps with the comfort and quick-dry properties that you want during a hike.
Comfort
Cargo pants are designed for very niche outdoor conditions, and this is why they are probably the most comfortable pants around. They are light and sized to the tea! They also give you plenty of room to move around in. Cargo pants are known for avoiding friction, unlike denim pants. They also allow for flexibility with elastic waistbands. These are not the most fashionable but they do make the world of difference when you are outdoors.
Protection
Cargo pants are made of nylon and they are generally made to allow your skin to breathe through them. When you are walking or jogging outdoors, you will start to sweat and your body needs to get rid of the moisture as quickly as possible.
These pants help to let you breathe and still protect your legs from debris, thorns, twigs, and long grass. If you're a lover of off-trail hiking, cargo pants are a must-have!
Types of Hiking Cargo Pants
There are many ways to classify cargo pants, based on style and ability. Here is a brief run-down on the top cargo pants that are available for outdoor activities.
Based on Style
Basic cargo (Classic Cargo)
These pants are standard pants that reach up to the ankle length of the wearer. There is nothing exceptional about these pants, regarding style. They come with standard zippers and button closures, have pockets, and look similar to regular pants.
These pants are primarily designed for comfort. Some of these pants have vents at strategic locations, such as meshed pockets or hidden in the crotch area to aid circulation and keep the wearer cool. Pants with such vent systems are great to have when hiking or trekking in hot weather.
On the other hand, some cargo pants are constructed in a close manner as possible, often having drawstring closures around the ankles to stop the cold and the wind from creeping in.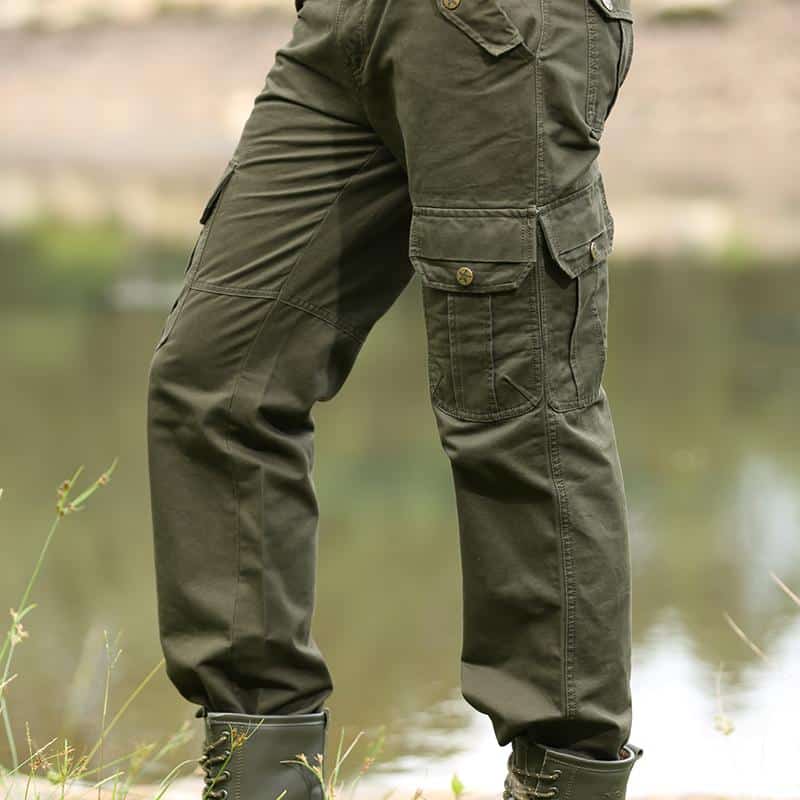 Convertible Pants (Zip Offs or Detachable)
Convertible pants are those which can be converted to a full pant or shorts easily. There is often a piece of tubing that serves to protect the shins and quads that are detachable. Most often, it is attached to the main pant with a zipper. Depending on the need, one can either remove the piece and stow it in the backpack or wear it.
The advantage of having convertible pants is that if the bottom portion gets too dirty, it can be easily detached and washed. When the weather is too warm, removing the leg piece can help with cooling-off, and when it is too cold or windy, or when you need protection from sun or abrasion, the piece can be re-attached.
However, the additional zipper that is present to hold up the detachable piece can add to the bulk of the pant, and in some cases, also rub against the leg and cause abrasion. A lot of people have a preference for hiking in either pants or shorts and tend not to mix things up. For such people, a convertible pant might be perfect.
Some people find that attaching and detaching the pieces is a hassle, especially if the whole pant must be removed to do so. Instead, they prefer keeping pants and shorts as separate outfits and use as required.
A lot of manufacturers do a shoddy job in concealing the zippers that attach the two pieces. Failure on the part of the designers and manufacturers to make sure that the trimmings are comfortable and don't disturb the skin is also a cause for a lot of people to forego the convenience of convertible pants and opt for stand-alone options.
Roll-up Pants (A Good Compromise)
Roll-up pants function in the same way as convertible pants, except that there is no separate detachable piece. Instead, the pants are loose enough to allow for folding up the legs, and there are fasteners provided to help to keep the rolls in place.
These pants allow the wearer to keep cool in warm weather by lifting the pant away from the ankles, while not having to adjust them all the time since the fasteners will hold the fold in place.
The advantage of roll-up pants over convertible pants is that there is no additional weight of zippers, nor is it cumbersome in the way of attaching, detaching, and lugging it around in the backpack when not in use.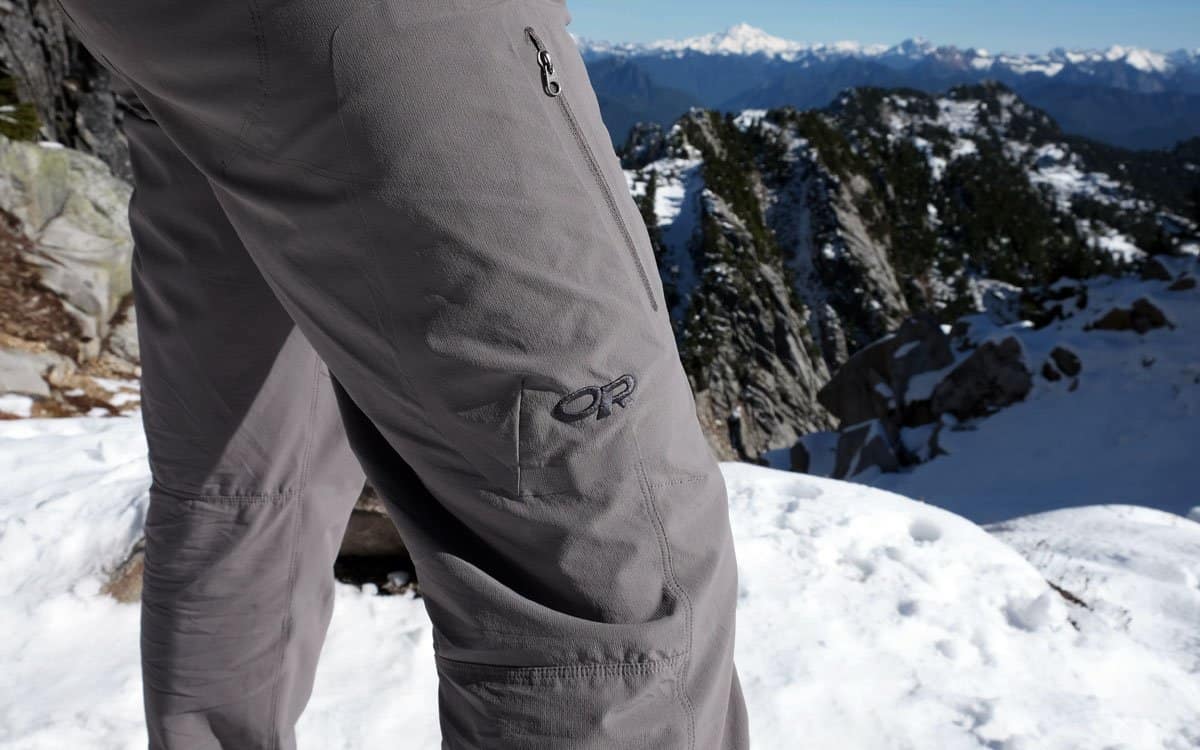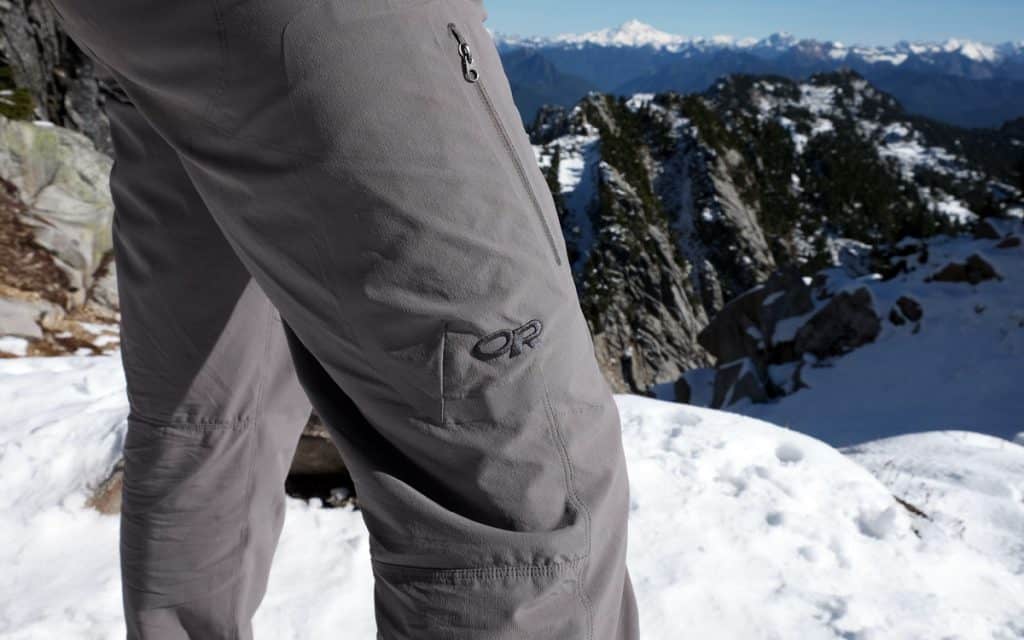 Based on Weather
Paying attention to the weather is crucial when embarking on an adventure. Cargo pants can be classified that is suitable for heat, cold and wet conditions.
Cargo Pants for Hot Weather
When the weather is hot, you must wear pants made of breathable material. This makes sure that the sweat from the legs is wicked away effectively, thereby, preventing chafing and abrasion, especially in the thigh and crotch areas.
Pants that are suitable for hot weather come with a gusseted crotch area, which helps in additional moisture management and keeping cool.
Pants that are meant for use in the heat especially come with vents that allow for the circulation of air, as shown in the image above. This circulation aids in further wicking and increases the breathability of the material. The vents are strategically placed, based on the design considerations made by the manufacturer.
In addition to being breathable, pants used for hot weather are usually given roll-up or convertible features. An important aspect of hot-weather pants is the sun protection that it offers. For clothing, there is something called the "UPF" (UV Protection Factor) that becomes an important parameter when buying your next pair of pants.
UPF is a measure of how much UV rays can penetrate your clothing. It is denoted by a number, and the higher number, the more effective the piece of clothing is at stopping UV rays from penetrating it. The minimum UPF allowed being denoted UPF 15, which means that about 7% of the sun's UV rays can reach the skin through the clothing rated as UPF 15. Anything below this is not allowed to be rated.
The UPF rating is very crucial, especially when you are planning to hike or trek in peak summer, or in a desert area, where there is a high risk of UV exposure.
Nylon and Polyester clothing mixed with spandex is a good choice for hot weather cargo pants. Care must be taken to choose to clothe lighter colors like white, beige, ivory, and tan because these colors absorb a lesser amount of heat as compared to dark colors, keeping you cool.
Cargo Pants for Cold Weather
For colder weather, protection from the cold temperature, wind, and moisture are the important factors to consider while looking for pants for outdoor hiking and trekking.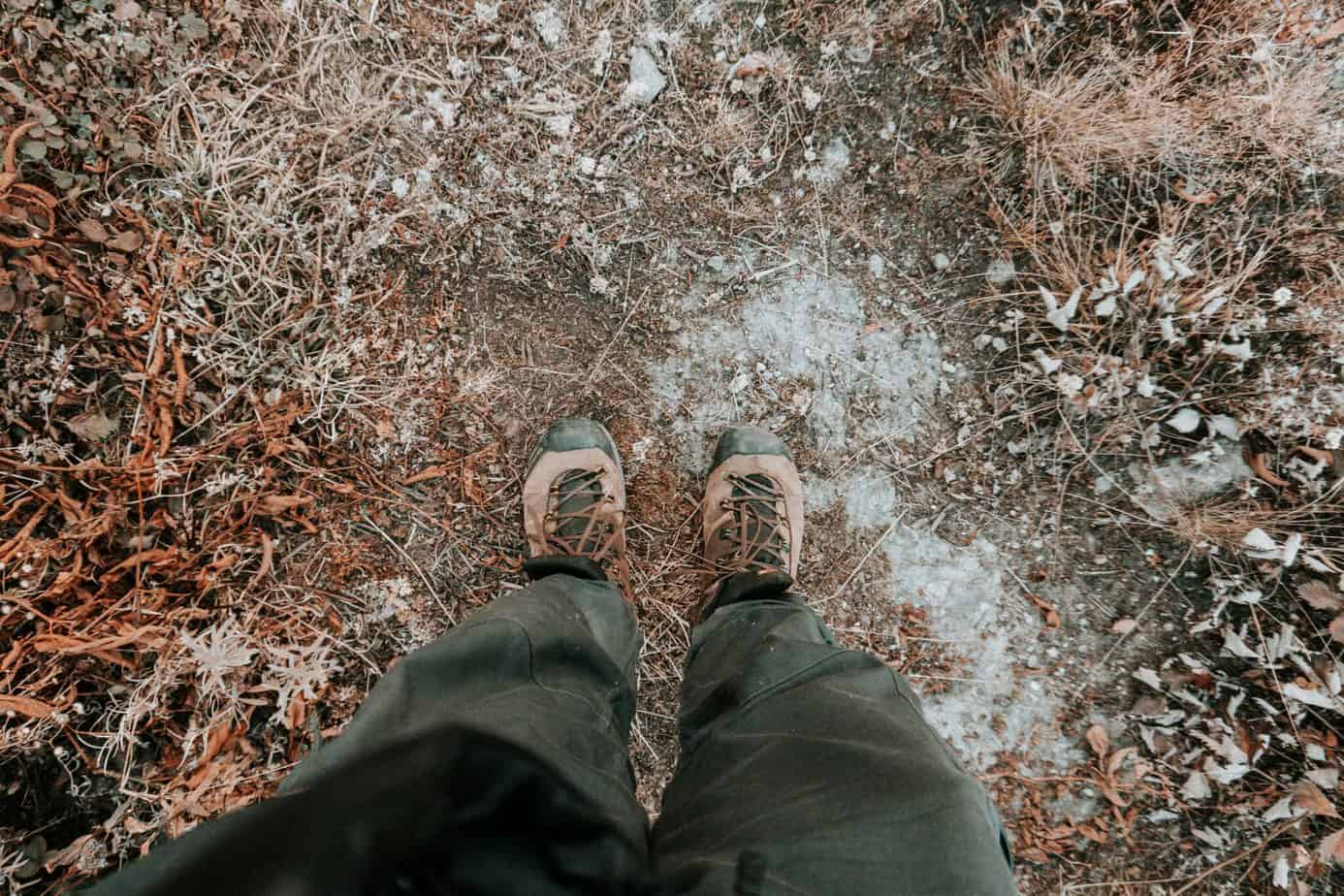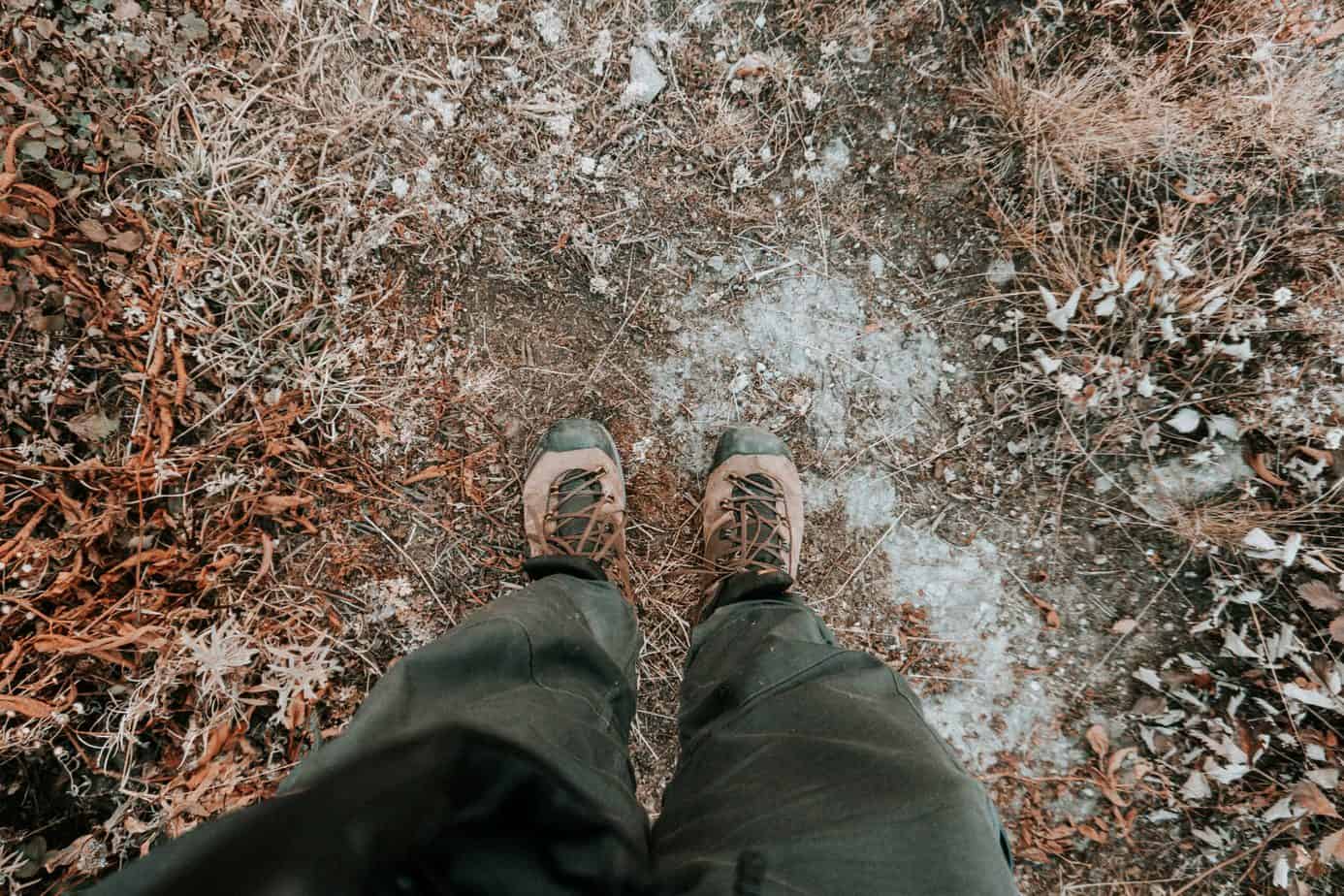 Most cold-weather pants do not feature vents (though there are manufacturers who make all-season pants and provided zippered vents that can be opened and closed as needed).
The breathability of the fabric is important, even in cold weather, because one can still sweat in cold weather and it is important to remove moisture from the skin to prevent skin discomfort, as well as keep hypothermia at bay.
For winter pants, synthetic fabrics like nylon and polyester are preferred, since these materials allow breathability and wicking while keeping the cold out.
Winter pants feature additional protection, like drawstring closures at the ankles to try and seal gaps that can make the body lose precious heat. A lot of people also prefer layering in cold weather, wearing synthetic or woolen base layer pants that fit snugly against the body, then adding hiking pants over it.
In case the weather is wet with snow or rain in addition to being cold, it is always a good idea to wear a shell rain pant on top of the hiking pant to keep yourself from getting wet.
Cargo Pants for Wet Weather
Cargo pants by themselves are typically not suitable for very wet weather. Most of the cargo pants are treated with a DWR (Durable Water Repellent) coating. This is a wax-like material that coats the top layer of the fabric and creates a barrier between the elements and the fabric, which causes the fabric to repel moisture instead of absorbing it.
However, the DWR coating only makes the pants water-resistant, and not waterproof. The coating wears off with abrasion and with repeated washing. There are commercially available products that can be used to restore the DWR coating.
Most manufacturers add the DWR coating to their cargo pants. However, to be used in very wet weather, it is best to use a shell rain cover pant on top of the cargo pants.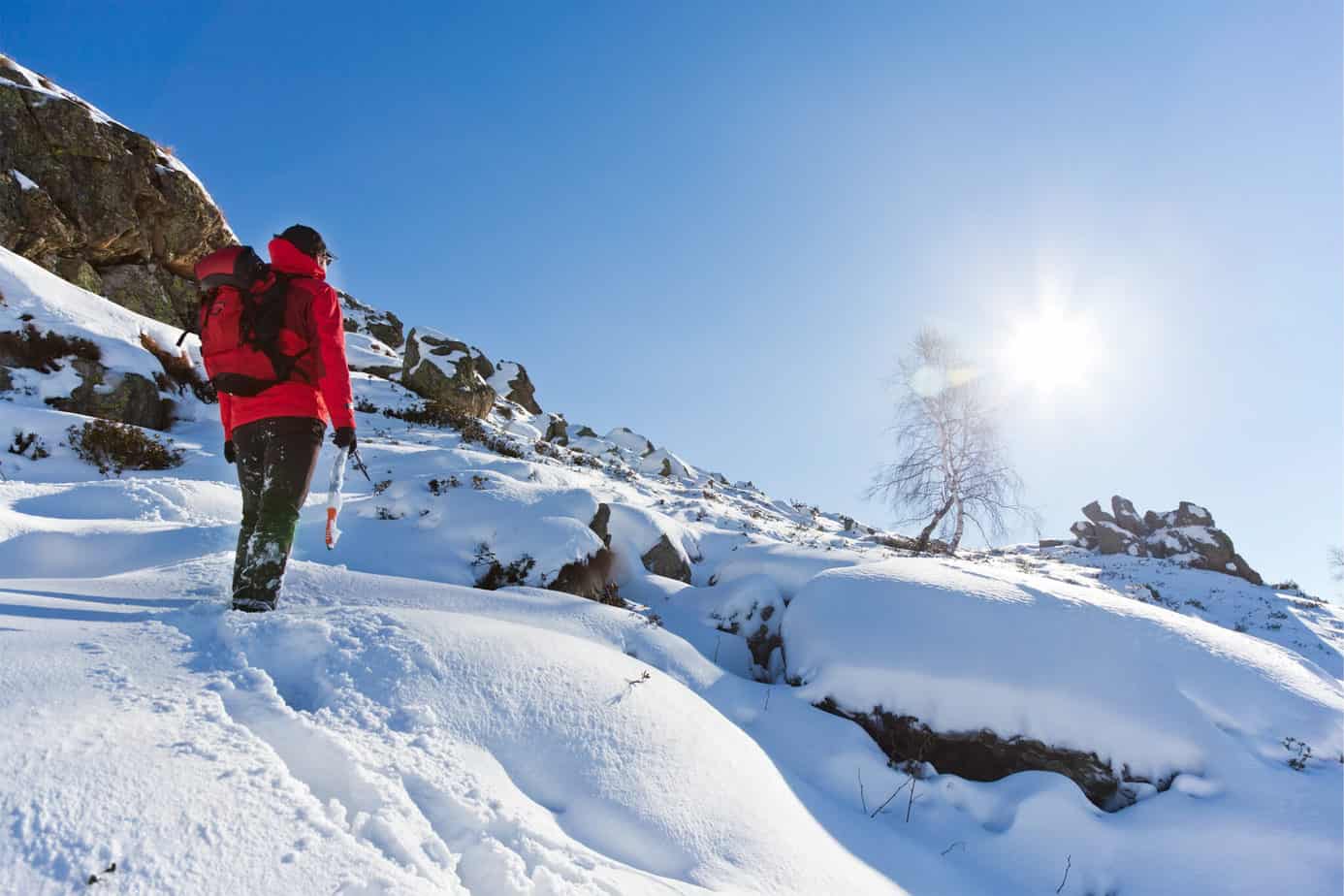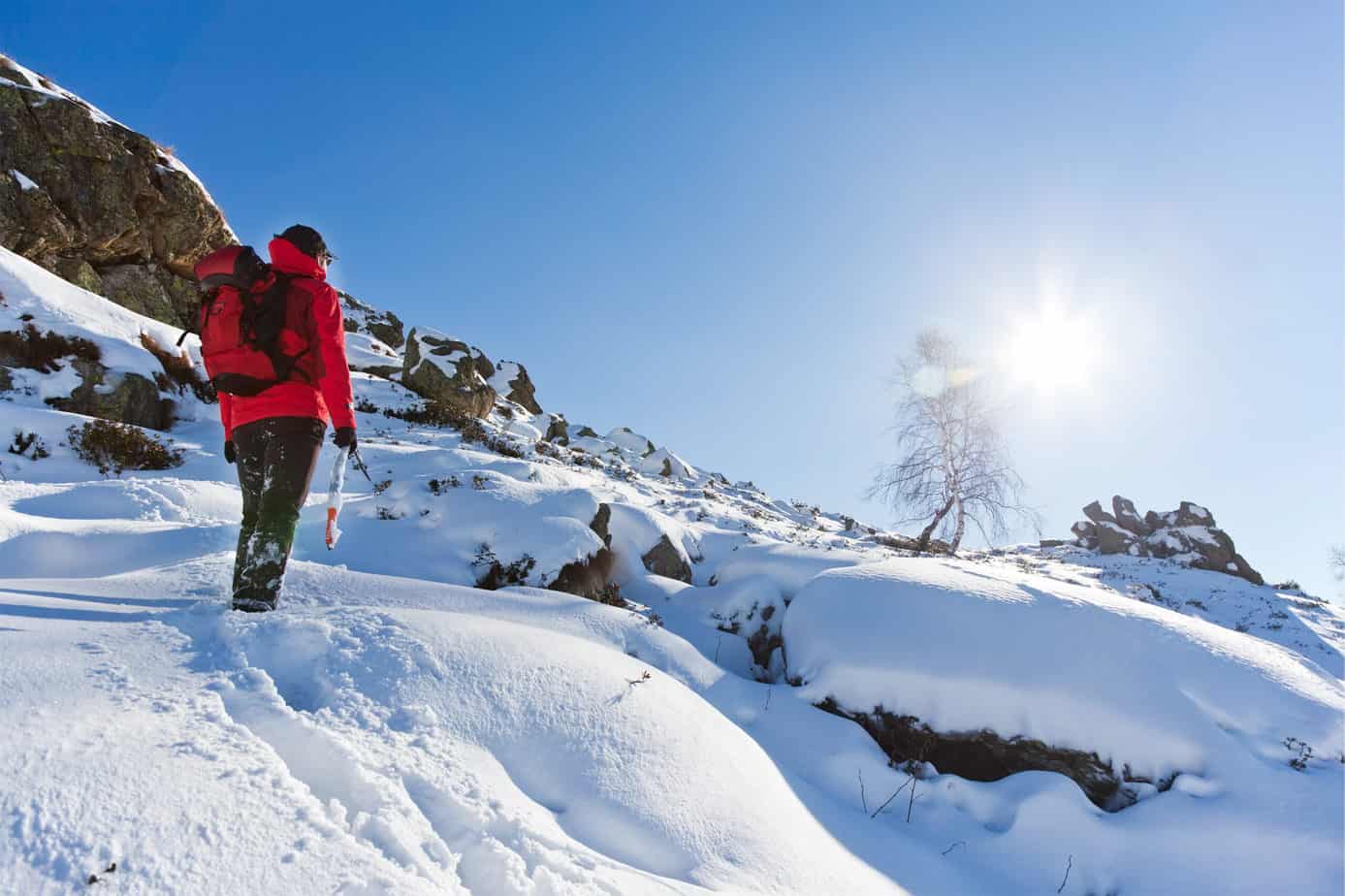 What to look for when buying hiking cargo pants
Understanding the different types of pants, let's take a look at the features that one should look for before buying cargo pants –
Decide on the kind of weather that you will be using the cargo pants in and base your decision on that. A lot of manufacturers are making all-season pants, and it is better to go for these, as all-season pants can be used in all kinds of weather.
If you are planning to buy convertible pants, check the insides and make sure that the zippers and fasteners do not irritate the skin.
Check the fit and size of the pants before purchasing them. Cargo pants come in both form-fitting and baggy fits. It is always preferable to purchase form-fitting ones because they are more comfortable. Loose baggy fits can get irritating over time, especially under windy conditions because of all the fabric flapping around.
Choose pants with stretchy materials. Usually, cargo pants made of fabrics that contain spandex mix fall in this category and are extremely comfortable, breathable, and easy to move in.
When you wear the same pant for days in a multi-day hike, the pants tend to become a little loose because of fluctuations in the weight of the wearer, and because the pant fabric expands a little with use. So, the fit does not remain the same as it was when you bought the pants initially. To accommodate these changes, make sure that the pants come with features like drawstrings which can help in adjusting the size of the pants.
Make sure the zippers and fasteners work well, and they are of high quality.
Check the vents in the pants and make sure that they are present in the correct locations, as well as they can be opened and closed as desired. The zippers should be concealed properly to avoid heat loss in cold weather conditions (biggest offender is usually the zippered pockets, right allow the sensitive mid-section).
Check the UPF rating and make sure you buy pants with a high rating. UV rays can be strong even in cold places and buying clothing with a proper UPF rating can help you get proper sun protection.
Choose the correct colors based on the weather you will be using the pants in. For hot weather, select lighter colors, and choose darker colors like brown or black for colder weather. This will help with optimum heat absorption and retention.
Check the packability of the pants. When you fold down and roll the pants, it should become a small package and easy enough to carry in your backpack.
Many of us will have cost constraints. Consider this when you purchase cargo pants.
Durability is an important factor, considering that you will be wearing it for many days at a time on a trip, and by subjecting it to abrasion.
Choose materials that do not hold stains easily or have stain-resistant coatings on them to help you clean them easily.
Choose pants made of materials like nylon and spandex, which are tightly woven and do not have space for insects to get through the fabric. Also, lightweight material like nylon makes it easier to tuck into socks or boots, making sure there is no space for critters to crawl up.
The number of pockets – Cargos were originally made for military use, and they featured several pockets beyond (beyond rear pocket and top hand pockets) so that it is easier to carry items while traveling on foot. It is normal for cargo pants to feature at least 2 large pockets. This is a personal choice. However, it is always better to choose cargo pants that have covered pockets.
The best hiking Cargo Pants to choose from?
Here is a list of our top 5 cargo pants. The factors that influence these choices include the following –
Material
Breathability
Ease of movement
Fit
Cost
Pros and Cons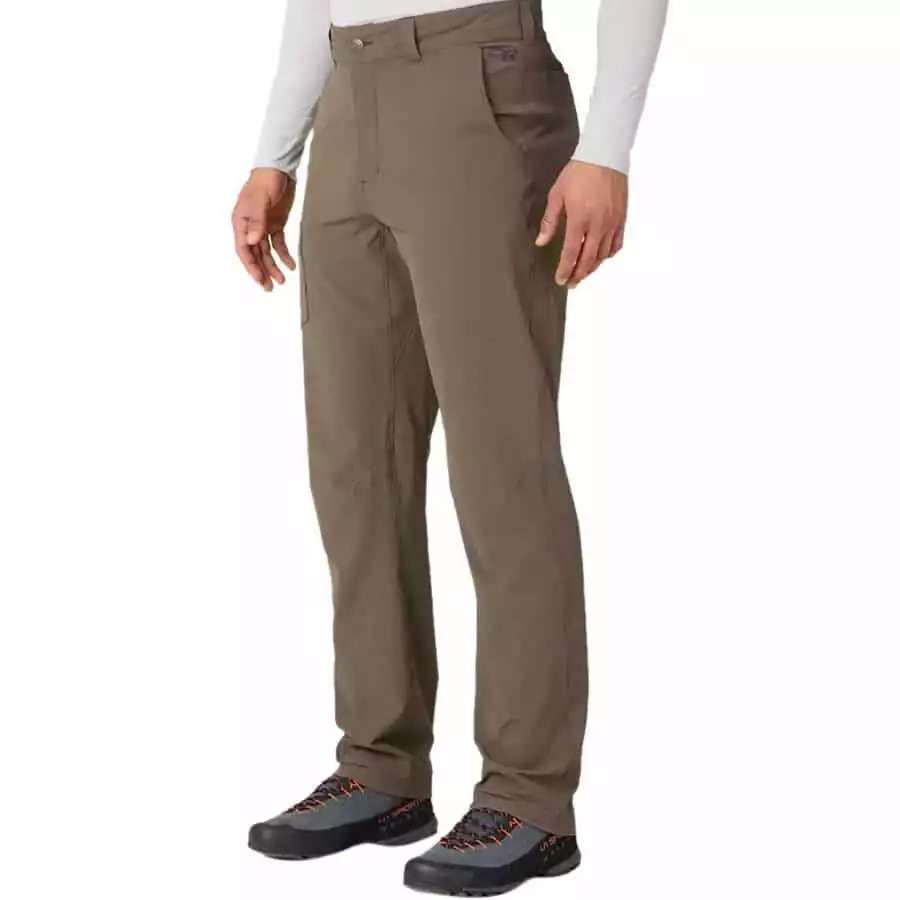 Outdoor Research Ferrosi Pants
Ideal for hiking and climbing, these softshells sport a quick-drying wind-and water-resistant ripstop construction that protects you from variable weather, with a design that features a comfortable stretch and articulated knees for free movement on the wall.
Check Backcountry Prices
Check Amazon Prices
We earn a commission if you click this link and make a purchase at no additional cost to you.
Outdoor Research is a Seattle-based company specializing in outdoor clothing. The Outdoor Research Ferrosi is reasonably priced (check out the latest rates here), and it is the best cargo pant available for year-round use. Here is a list of specifications of the pant –
Made of 86% Nylon and 14% Spandex, this pant provides excellent breathability and moisture-wicking capability. The high Spandex percentage allows this pant to offer free movement, amazing comfort, and a great fit.
Available in six colors, this pant offers a zippered pocket on the thigh, two front slash pockets, and two rear zippered back pockets. This pant is amazing for hiking, climbing, and scrambling.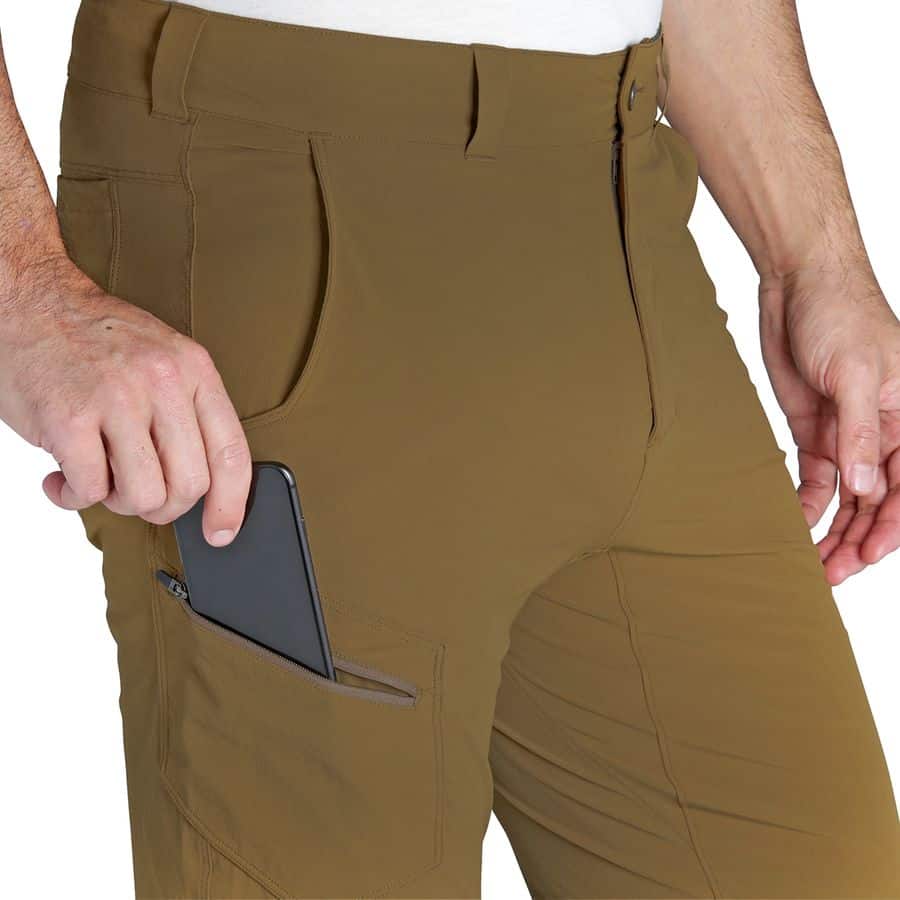 What we like about this pant is –
Water-Resistant
Quick Drying
Wind Resistant
Breathable
Lightweight
Durable
Movement
Low-Profile Waist Fits Under Harness
Draw-cord Ankle Adjustments
Ripstop Nylon fabric makes it highly abrasion-resistant.
What we don't like –
No built-in waist cords
The size of the pockets is small, could have been a bit larger.
Where to Buy: You can pick these up directly via Outdoor Research here.
Further Read: Our Full Outdoor Research Ferrosi Pants Review.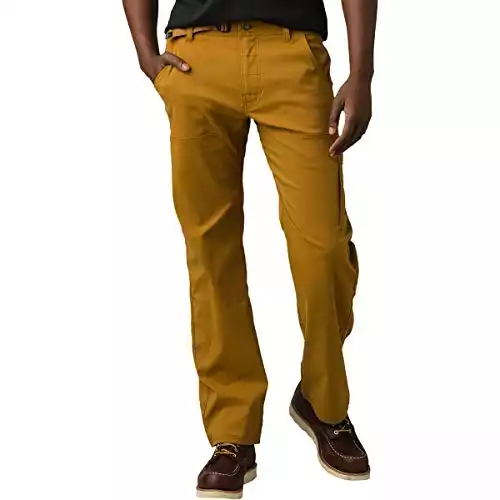 prAna is a sustainable clothing brand that creates amazing clothing for yoga, sports, and outdoor adventures.
Priced in the low to mid-range, the prAna Stretch Zion is one of the best hiking pants available in the market today. It is suitable for hiking, bouldering, and rock climbing.
The material is 97% nylon and 3% Spandex, which means that the pants are amazingly breathable, lightweight and the ease of movement is terrific, not to mention they are very lightweight. It is one of the most performant hiking pants with the highest level of comfort. These pants are all-season and can be used year-round.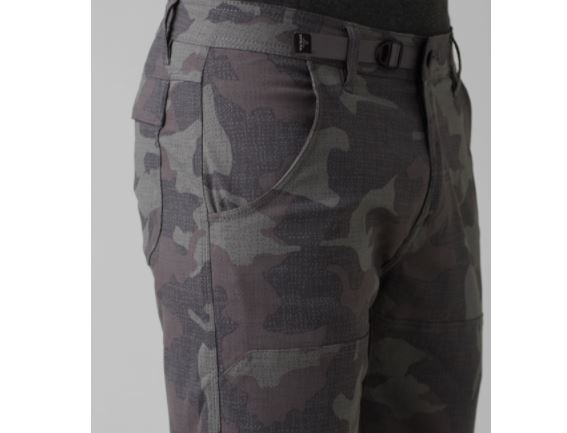 What we like –
Roll-up leg fasteners
Cinch belt system at the waist
Ventilated Inseam Gusset
Quick-drying
Durable water repellent (DWR)
UPF 50+ sun protection
Adjustable waistband
Ventilated Mesh Pockets
Angled dual-entry cargo pocket
What we don't like
In general, the breathability is good, however, this pant can get a little hot during summers.
Needs better ventilation on the thighs.
Also Read: PrAna Zion vs Brion Pants (which to go with & why).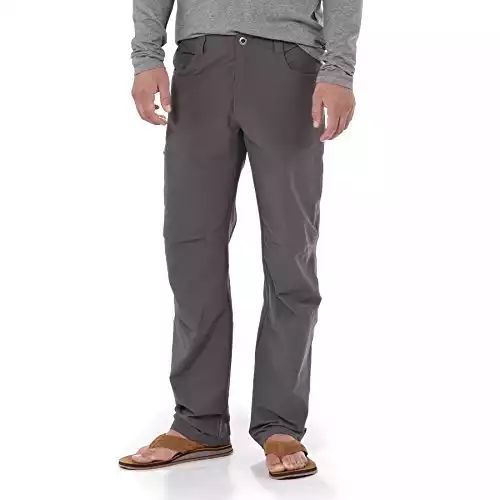 Men's Quandary Pant | Patagonia
Be prepared, because you're on your own once you drop below the rim. Trekking down to the canyon bottoms, the new, movement-oriented Quandary Pants offer comfort and performance for exploring the wildest places in the Lower 48.
Check Patagonia.com Prices
Check Backcountry.com
We earn a commission if you click this link and make a purchase at no additional cost to you.
Patagonia is a well-known outdoor gear brand, and they make some great outdoor clothing.
Patagonia Quandary Pant is one of the most affordable cargo pants for hiking, trekking, and climbing. Priced in the low to mid-range (check out the latest rates here), It is a steal, given that the material is 94% nylon and 6% spandex, offering a medium stretchy feel to it.
These pants are one of the most comfortable cargos out there, given the fit and feel of the fabric. On top of being one of the most comfortable pants around, Patagonia Quandary Pant is made of recycled nylon, which means that it is one of the most sustainable options in outdoor clothing.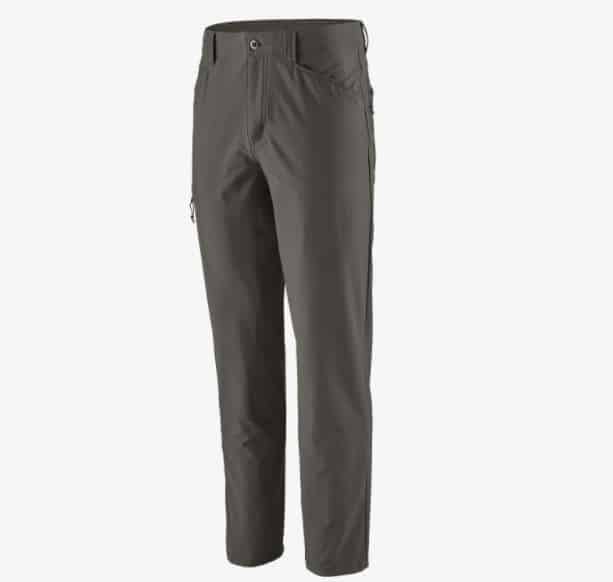 What do we like?
Strong
Lightweight
Quick-drying
Good stretchy feeling.
Durable water repellent (DWR) finish
UPF 40 sun protection
Gusseted crotch
Front/back knee articulation allow a full range of motion
Amazing fit that is not too baggy nor too tight
Plenty of pockets – 2 handwarmer pockets, one coin pocket, 2 rear pockets, and a side leg pocket with a security zipper.
Lightweight
What don't we like?
UPF rating is lower than other pants in the more or less similar price range
Waistband adjustment with draw-cords is not that great
Doesn't offer good wind-resistance.
Where to Buy: You can pick these up directly via Patagonia online here.
Further Read: Our Full Patagonia Quandary Pants Review.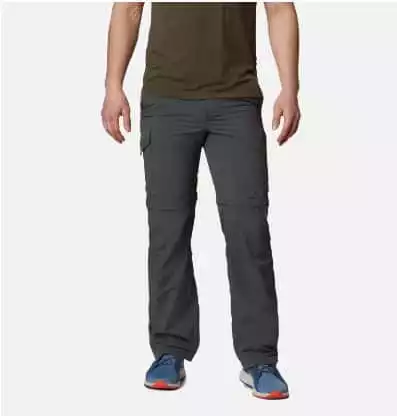 Men's Silver Ridge Convertible Pants | Columbia
Specially crafted for the active man, the Columbia Silver Ridge Convertible Pant is the ultimate outdoor staple. High quality materials and expert craftsmanship are the backbone of Columbia's men's apparel. Columbia - Comfy Logo Wear at Great Discounts!
Check Price
Buy at Amazon.com
We earn a commission if you click this link and make a purchase at no additional cost to you.
Columbia Sportswear is a leading brand in outdoor clothing and makes some of the most affordable outdoor clothing.
Columbia Silver Ridge Convertible pants are definitely a more affordable pair of pants (Check out the latest rates here) and are one of the most affordable hiking pants around. These pants are extremely breathable and dry very quickly.
Available in an extensive range of 20 colors, these pants are extremely versatile and are of great use for hiking and trekking. The material used is 100% nylon, with no spandex mixed.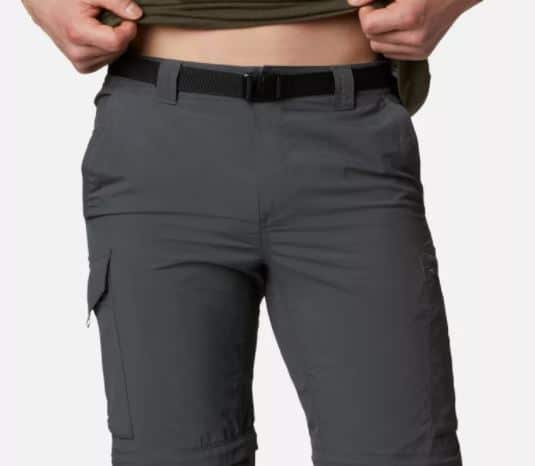 What do we like?
Very quick to dry
Highly affordable
UPF 50 provides a terrific sun protection
Very high wicking capacity
Plenty of pockets, including one zippered security pocket, side pockets, and mesh pockets.
Convertible pants that turn into shorts with zip-off legs
Extremely good fit.
Very high breathability
Excellent choice for hiking in warm weather because of the amazing breathability and ventilation.
What don't we like?
Durability is not that great.
The material feels extremely thin.
Zippers are not very smooth.
Doesn't offer too much wind resistance, nor is it suitable for cold weather.
While Columbia Silver Ridge Convertible is a great choice in terms of cost, breathability, and wicking capability, it does not perform too well on the durability factor, and it is not recommended for cold weather. It would serve well on a desert trail but would fare very badly on an icy Alpine trek.
Where to Buy: Pick up these convertible pants directly at Columbia.com here.
Further Read: Our Full Columbia Silver Ridge Pants Review.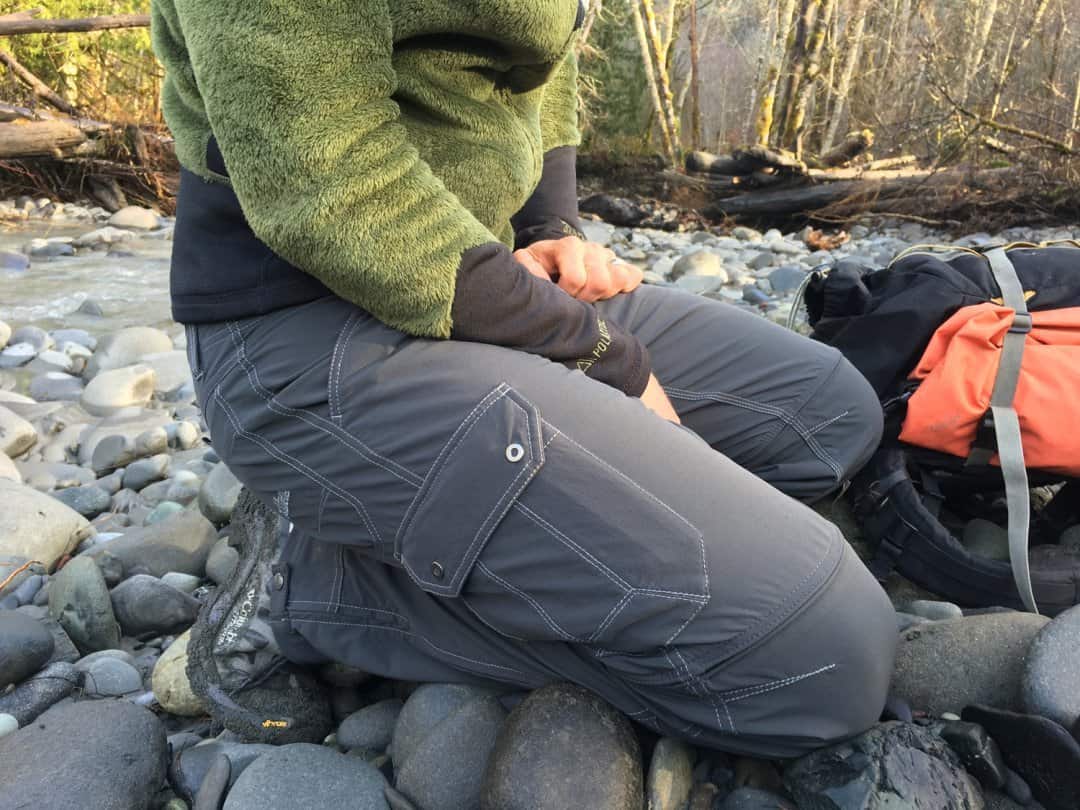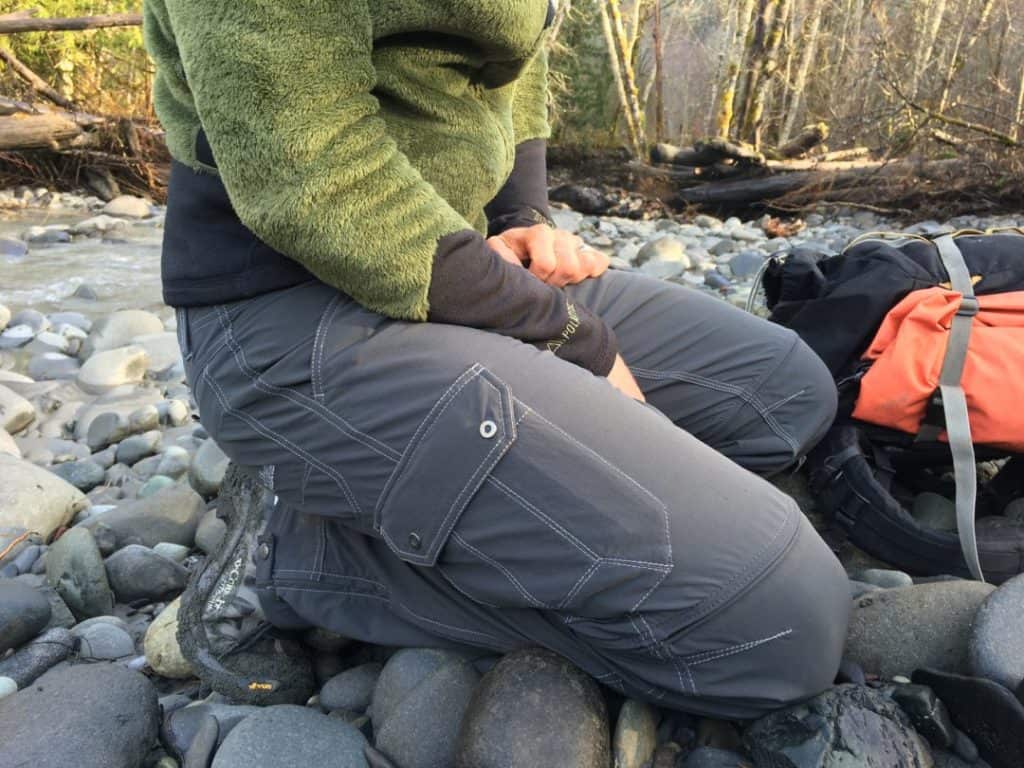 Priced in the mid-range, the Kuhl Renegade Convertible has a very durable construction and is made of high-quality material. The material composition is 95% nylon and 5% spandex, which offers good breathability, quick-drying, and nice stretching capacity.
These pants are most useful for traveling and hiking. Being a convertible pant, this one features zippered leg pieces that the wearer can easily remove and put back on.
The fit of these pants is a little baggy and not form-fitting.
Our Full Take: Kuhl Renegade Pants Review.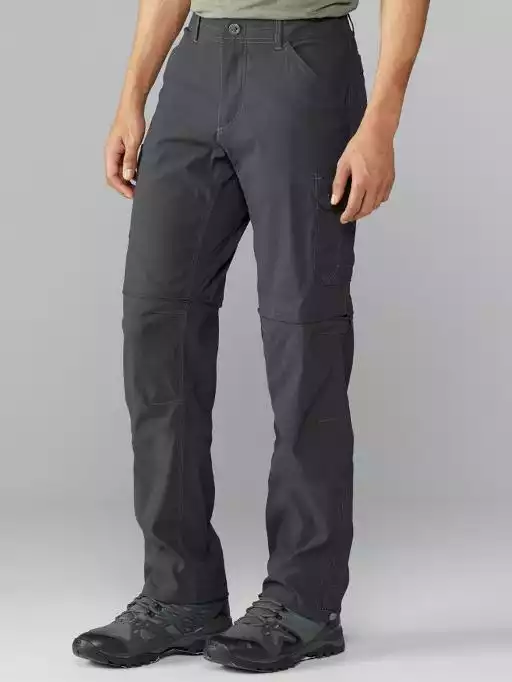 KUHL Renegade Convertible Pants
Kuhl Renegade convertible pants employ Duralux fabric, a durable soft-shell fabric that feels like cotton, to deliver superior performance, comfort and style. Zip off the legs when things warm up.
Check Price
We earn a commission if you click this link and make a purchase at no additional cost to you.
What do we like?
Patented, stealth zip-off system eliminates the usual fabric flap
Zippers are very smooth
Pants convert to 10-inch shorts
Durable material
Breathable
High Abrasion resistance
Quick-dry time
Durable water repellent (DWR) coating
UPF 50 sun protection
Gusseted crotch
Freedom of movement
Mesh pocket bags provide ventilation
High wicking performance
Highly Comfortable
Compartment pockets inside large cargo pockets
What don't we like?
Little pricey compared to other cargo pants of the same quality and build.
The pants feel a little heavy.
Baggy fit
Where to Buy: Pick these up over at REI directly here.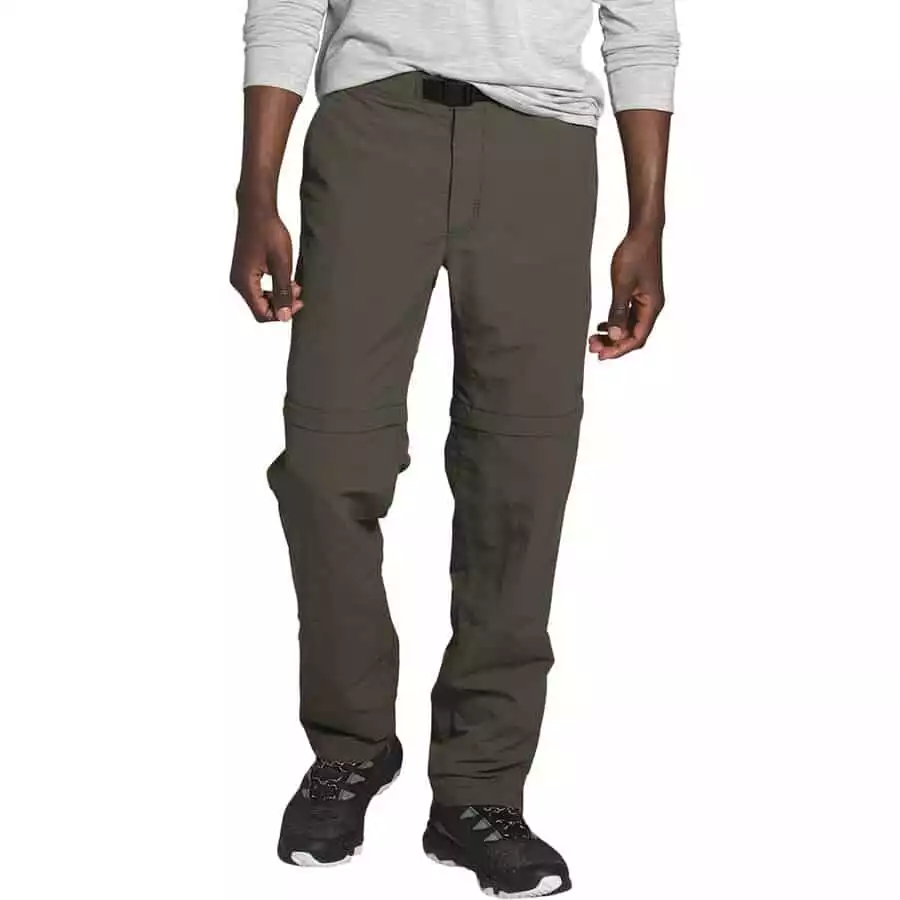 The North Face Men's Paramount Convertible Pant | Backcountry
Sometimes long hikes require you to start in the chill of the morning and finish in the heat of the afternoon. These pants keep you prepared by zipping into shorts when the conditions require, making them a great choice for treks in unpredictable weather and camping trips when space is limited.
Check Price
Buy at Amazon.com
We earn a commission if you click this link and make a purchase at no additional cost to you.
These cargo pants are ideal for short summer hikes. These are also ideal if you are an outdoor enthusiast on a budget. Some cargo pants purchases can get really expensive really quickly and if you're still new to trailing, climbing, or hiking, you may not want to buy the most expensive pair on the shelf.
This pair is ideal if you're looking for something affordable that has most of the features any cargo pant should have. It has six pockets; two hand and two back pockets as well as two thigh pockets. It also converts to shorts if you need it with a zip-off leg feature. The elastic waistband allows for comfort and the fabric is 90% environment-friendly! Material: 100% Nylon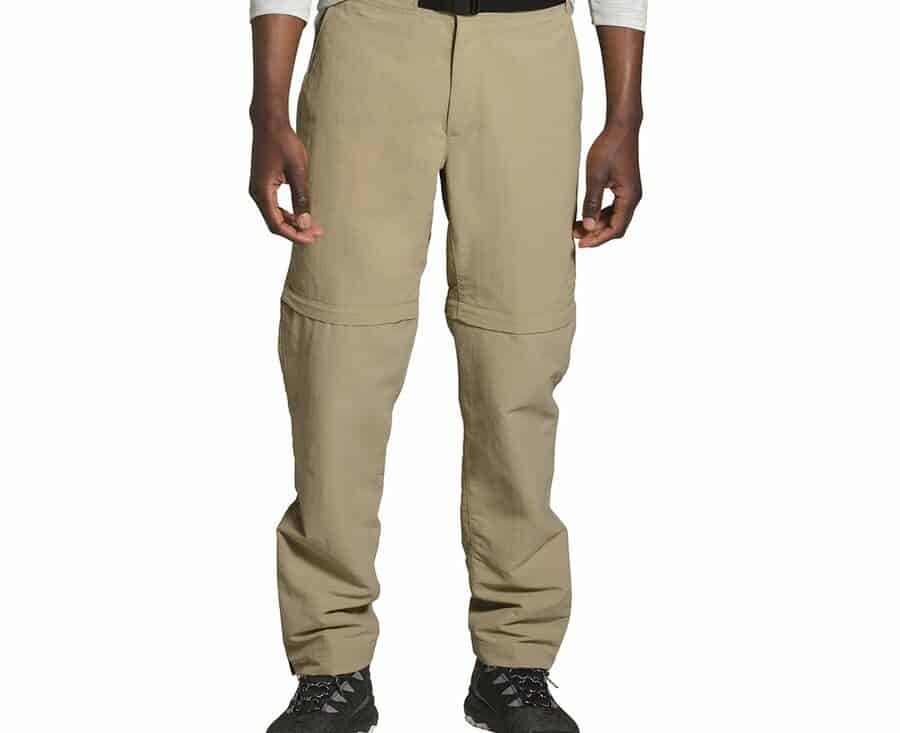 Pros
Affordable
Convertible to shorts via zips
Water-resistant
Comes with a belt
Has six pockets
Cons
Lower-quality fabric
Much more baggy than other cargo pants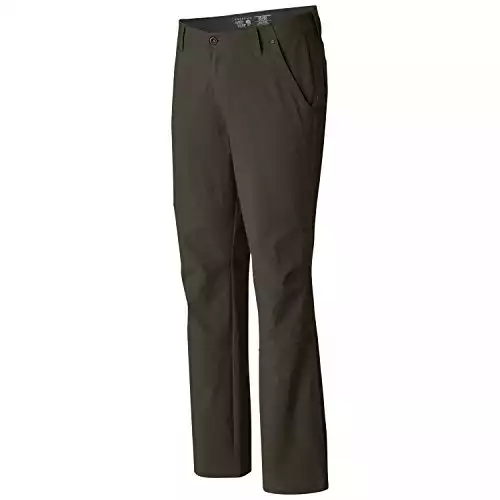 This pair of cargo pants have five pockets with a DWR finish. It also has a fantastic feature which is that it boasts a UPF of 50 sun protection. These cargo pants are stylish and work very well for a weekend outdoor walk or climb. You can even wear these on a longer outdoor hiking trip if you need to.
The pants are made from 100% nylon and look great. They are comfortable and have a flat waistband which allows for greater comfort when kneeling and bending. They accommodate belts of all sizes and are highly water-resistant. These pants do fit slim and long, so be aware of the size when ordering.
Material: 100% Nylon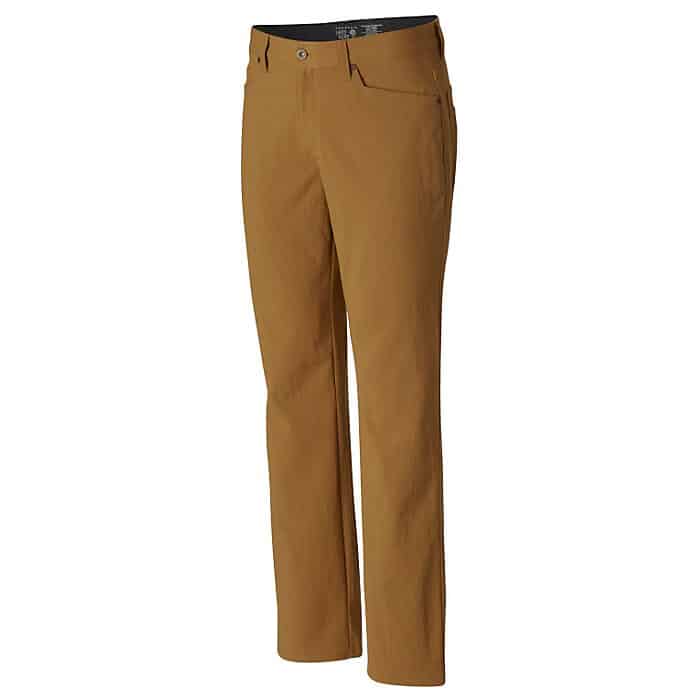 Pros
Five pockets
Stylish
Water-resistant
Sun protection
Easy waistband
Cons
Where to Buy: You can pick up these pants via Amazon here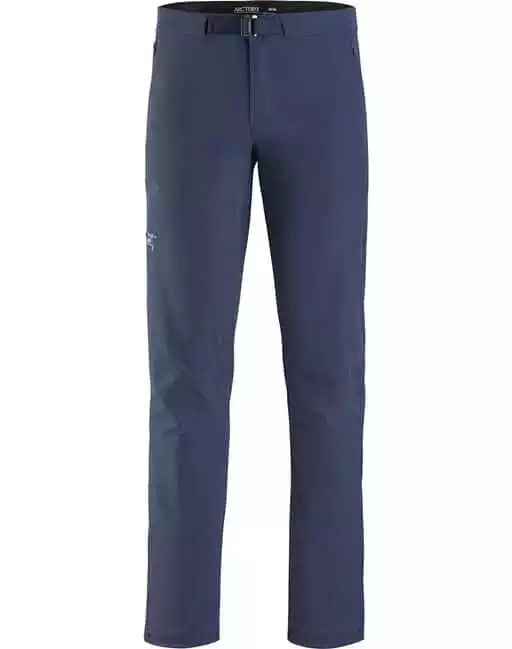 Gamma LT Pant Men's | Arc'teryx
ightweight, hardwearing and highly versatile, the Gamma LT Pant delivers light weather protection, air permeable comfort, and outstanding mobility. The abrasion resistant Fortius™ DW 2.0 fabric combines quick-drying nylon with elastane fibres for performance stretch. A brushed polyester waistband provides additional next-to-skin comfort.
Check Price
We earn a commission if you click this link and make a purchase at no additional cost to you.
Priced at the extremely high-end range (check out the latest rates here), this one is one of the most expensive cargo pants available. However, the material is 88% nylon and 12% elastane, which perfectly balances breathability, wicking, wind resistance, durability, and stretchiness to be one of the most comfortable hiking pants ever.
Also Read: Top Recommend Arc'teryx Pants Guide.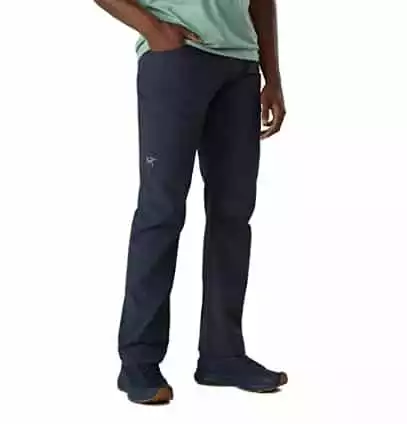 Lefroy Pant | Arc'teryx
A technical pant designed for hiking and trekking in warm weather, the Lefroy is clear reflection of the Arc'teryx commitment to purpose-driven design.
Check Price
We earn a commission if you click this link and make a purchase at no additional cost to you.
Priced at a slightly higher range(check out the latest rates here), the material is 86% nylon and 14% elastane which makes it super stretchy and comfortable.
Also Read: Top Recommend Arc'teryx Pants Guide.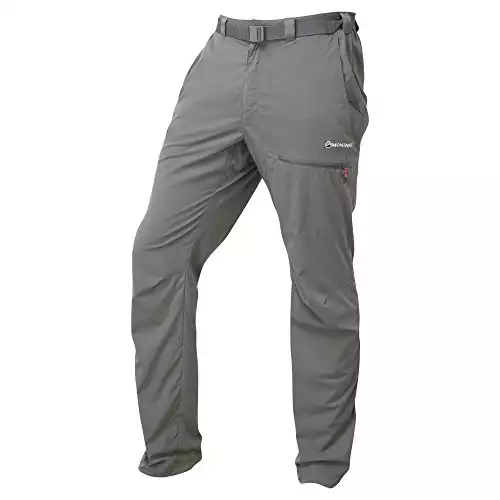 Montane Terra Pack Pants | CampSaver
Super packable, ultra-lightweight mountain trek pants. Wind and water resistant, fast drying Cotton-feel TACTEL fabric. Twin needle sewn seams for extra durability. Articulated knees for step high movement, perfect for mountain use.
Check Price
Buy at Amazon.com
We earn a commission if you click this link and make a purchase at no additional cost to you.
With a price tag at the higher end, the material is 96% nylon and 4% spandex, which seems expensive as compared to Kuhls and Patagonia which have similar material composition. However, the fabric is more durable compared to these brands, which will justify the price.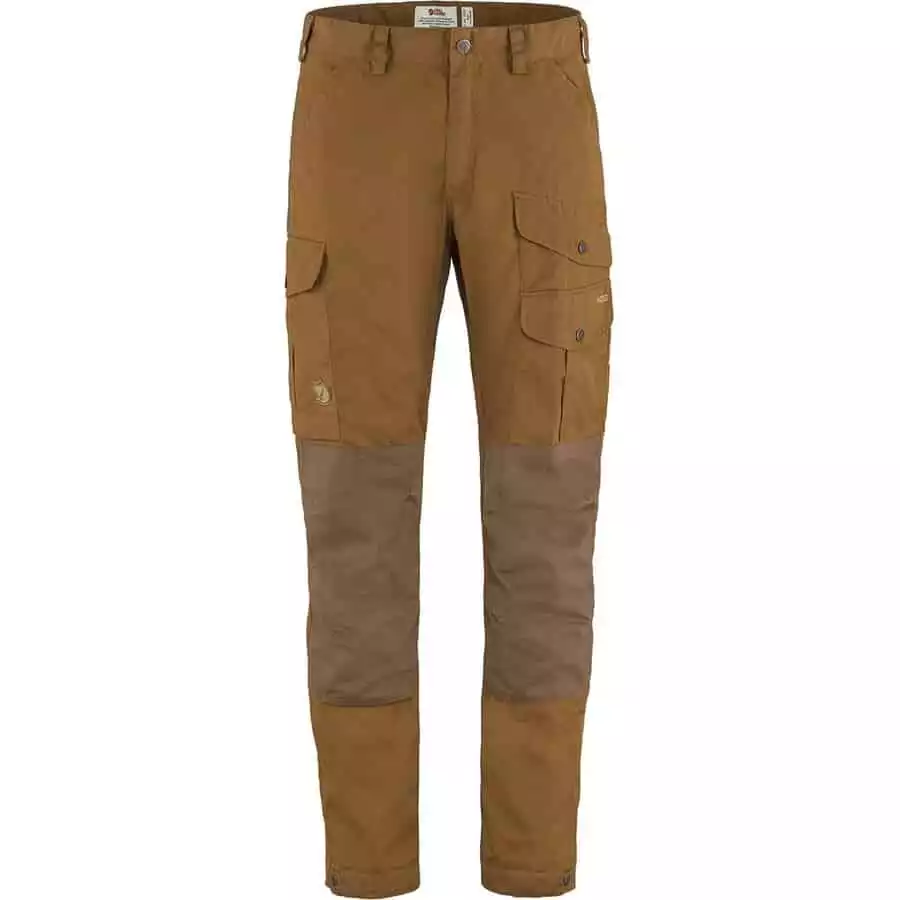 Fjallraven Vidda Pro Trouser - Men's | Backcountry
Those downed trees will soon be chopped into next year's heating supply while these high-waist, relaxed-fit pants both look and act the part of a true workhorse pant.
Check Price
We earn a commission if you click this link and make a purchase at no additional cost to you.
The Vidda Pro Pants work best in slightly cold temperature settings, they can even perform well at somewhat higher temperatures. The durable, sturdy, weather-proof, and mosquito-proof G-1000 fabric makes Vidda Pro Pants a great option. Built to last and sustainably manufactured, the Vidda Pro Pants are worth the investment if you love hiking or trekking.
Further Read: Our Full Fjallraven Vidda Pro Review.
What are the Best Trekking Cargo Pants?
I sometimes get asked if there's any good cargo pant recommendations specifically for longer, multi-day, treks.
The short answer is that most of these options will do, but a few are better suited to multiple days of wear than others.
Specifically, I'd recommend sticking to one of the following higher end options for trekking:
Final Stretch on the Best Cargo Pants for the Outdoors
With all the comparisons that we have made, we find that Outdoor Research Ferrosi and prAna Stretch Zion are the top choices. Between these two, you will get a very solid pair of cargo pants, and choosing the best pants is completely dependent on the wearer.
Outdoor Research Ferrosi scores higher because of the cost factor (not by much) and the fact that Outdoor Research Ferrosi works extremely well as all-weather cargo pants and has better wind-resistance as compared to prAna Stretch Zion, and the fact that prAna Stretch Zion needs better ventilation capability.
Apart from these, both score well on all the other desirable features of good cargo pants, and the decision on which one to buy should be purely based on what exactly you will be using the cargo pants for.
Among Columbia Silver Ridge Convertible and Kuhl Renegade Convertible, the competition is fierce. While Columbia Silver Ridge scores high because it is priced lower and is great with breathability, owing to its 100% nylon construction, Kuhl's scores high because of its durability.
Both Columbia Silver Ridge Convertible and Kuhls Renegade Convertible feature low on our list because they are convertible pants, which are not preferred by too many hikers. We placed the Kuhls lower because of the price factor. However, for a convertible pant, we would rate it higher than any other, including Columbia Silver Ridge.
Patagonia Quandary Pants are great pants, except for the UPF factor. It is the lowest among all the pants featured on this list. However, the price range is the same as the others here. Apart from this one factor, Patagonia Quandary is very comparable to prAna Stretch Zion, since it offers the same kind of stretchy and comfortable feeling.
A lot of people think that Patagonia Quandary Pant can be a replacement for the pricier prAna Stretch Zion, especially since it is lighter than prAna Stretch Zion.
Apart from these pants on our list, there are a few more expensive options for cargo pants.
These pants score well on all the factors that we have been comparing, except for the cost factor. Here are a few other brands that you can evaluate if you are fine with spending more on hiking pants that will definitely last longer and have a higher brand value –
Further, read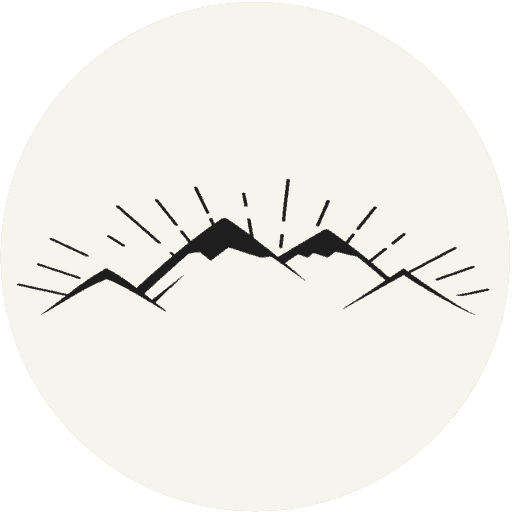 The All-Outdoors Guide team is comprised of enthusiastic experts that enjoy helping others that aspire to be better at outdoor fun. Part of that is making sure you have the right gear and information when it's time to go out and have fun. Some of our team have accomplished amazing feats like climbing 6000 feet to the top of mountains, others have explored every dirt trail they could find and we even have some people that have backpacked solo on various continents. No matter what our readers want to learn and do, our team is here to help them accomplish those goals.