Water bottles are a staple in most people's lives. Outdoor people especially. So it is no surprise that these handy vessels are seen everywhere. The HydroFlask is currently one of the most seen water bottles being sold right now. These cute customizable water bottles can be seen in most outdoors specialty stores; as well as big-box stores such as Target; and online. And they are selling.
Originally marked as just a water bottle the company has also branched into several other liquid-carrying vessels. These vessels include Tumbler, Travel Coffee mugs, Food containers, travel beer bottles (featuring a Fresh Carry System™ that allows the beer to stay carbonated), wine bottles, and coolers.
It can come as a frustration to learn that they aren't super easy to clean. We created this resource to walk you through a variety of options for deep cleaning your HydroFlask…
All about Cleaning a Hydro Flask
Why Do I Have To Clean Hydro Flask?
The next question that comes to mind, and a question that a lot of people who use water bottles ask, is "Do I even need to wash it? If I am only putting water in it, does it need washing? – Yes, you do.
Every time you take a sip of your drink, it will lead to germs spreading on your bottle. If that isn't enough, bacteria can also accumulate in your bottle. Your bottle may also experience discoloration from dirt and bacteria if left unwashed long enough. Also, it will be harder to clean if not cleaned regularly.
A stainless steel reusable water bottle such as a Hydro Flask water bottle is much easier to clean than a plastic reusable water bottle. Plastic reusable water bottles can get scratched or cracked and bacteria can end up in-between those cracks and scratches. Stainless steel is much stronger and more durable and naturally repels bacteria.
So what not to do: Common Mistakes When Using A Hydro Flask
Do not put your flask through the dishwasher or soak the exterior in hot water. The dishwasher can get hot enough to affect the insulation property of the flask. The high temperatures with the dishwashing liquid can also discolor the powder coat. Similarly, soaking your entire flask in hot water can discolor the powder coat.
Do not put your Hydro Flask in the freezer. Freezing the bottle will not get the liquids inside the cooler, the double-wall vacuum insulation will protect the water inside the bottle from the temperature inside the freezer and won't freeze. Temperature extremes can also damage the bottle internally, making it unable to be cleaned thoroughly. If you want ice-cold water, put some ice cubes inside your flask and notice how long it takes them to melt!
Do not put your flask on the stove. Due to the double-wall vacuum insulating property of the flask, the outside temperature of the flask will not affect the inside beverage temperature. If you put your flask on any sort of stove or heat source, the heat will damage the outside of the flask. Damage to the outside of the vessel will not only make it unattractive but also make cleaning it difficult.
Do not soak or put the Flex Cap, Wide Flat Cap, Stainless Steel Flat Cap, or Loop Caps through the dishwasher. These caps can take on water when they are run through the dishwasher or submerged in water for an extended time.
This water may be retained inside the cap and allow for mold growth and a taste change in your beverage. Instead of putting them in the dishwasher, hand washes them with hot soapy water, rinsing and allowing them to dry. Do not use bleach or chlorine to clean our products. Those chemicals will ruin and rust stainless steel, thus they should not be used on Hydro Flask products.
What to do instead: The Right Way
It is recommended to use a bottle brush while cleaning it. A bottle brush can be bought from any big box store in the baby section. However, a straw cleaner is also recommended if you have a lid with a straw. These can be found at some big box stores, online, or at kitchen specialty stores.
You should make sure that you use that brush as often as possible. Also, make sure that you clean the bottle brush itself at regular intervals, it does not good cleaning with an unclean product. The basic soap-and-water technique is also good for everyday cleaning. Use it with your bottle brushes to clean the dirt left from your drink or food.
You can use white distilled vinegar for a deeper cleaning it. It will help you remove any stains or discolorations on the inside of your Hydro Flask. I recommend putting in one-half of a cup of vinegar in the flask. Then gently swirl it around the flask so that it can wash any affected areas. Once the vinegar is swirled, let it sit undisturbed inside the Hydro Flask for around 5 minutes. After 5 minutes, just rinse it out with warm water. This process can be repeated if needed.
You can use lemon juice if you don't want to use vinegar. Lemon juice not only acts as a cleanser but also works in removing stains and odors from your Hydro Flask. Its acidic nature makes it a good anti-microbial agent, but safe to come in contact with any food containers.
I recommend that you take half a lemon, and squeeze the juice into your Hydro Flask. Pour warm water into the flask, and allow it to sit inside for about half an hour. After the half-hour just rinse it out with warm water and let it dry. This process can be repeated if needed.
If there is a spot on your flask that won't go away, you can use baking soda to remove that stubborn spot. I recommend that you just mix 2-3 tablespoons of baking soda with a bit of warm water to form a paste. Dip your bottle brush into the paste and rub it into the spot inside of your flask.
Repeat with baking soda as many times as you have to until the stubborn spot is finally gone. Repeat as necessary until the stain disappears, and then rinse it out with warm water.
You can wash your Hydro Flip Lid and Wide Straw Lid in the dishwasher. The dishwasher doesn't clean these any better than hand washing, and handwashing is suggested by the vendor. However, if they need to be deep cleaned, it is acceptable. The Hydro Flip Lid and Wide Straw Lid are top-rack dishwashers safe.
IF you don't have access to a dishwasher (e.g. extended camping), you can use a pipe cleaner to access the crevices on the caps (typical trouble spots).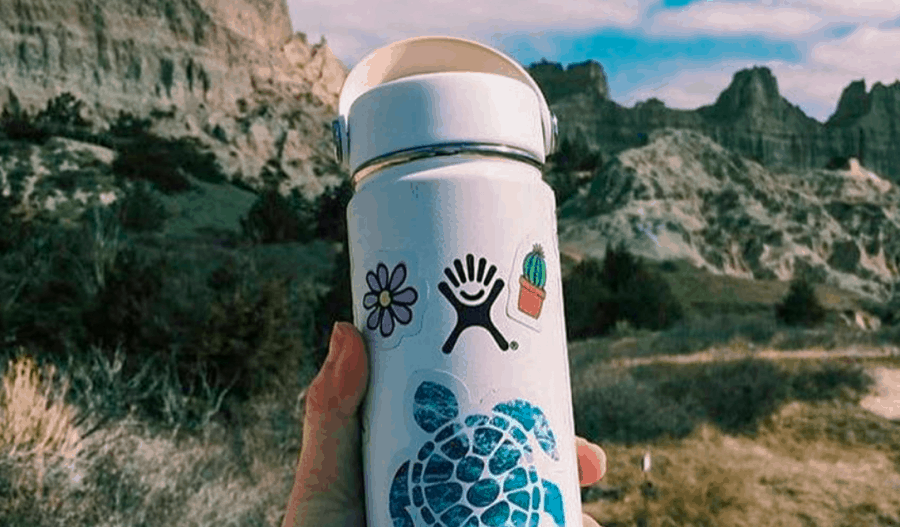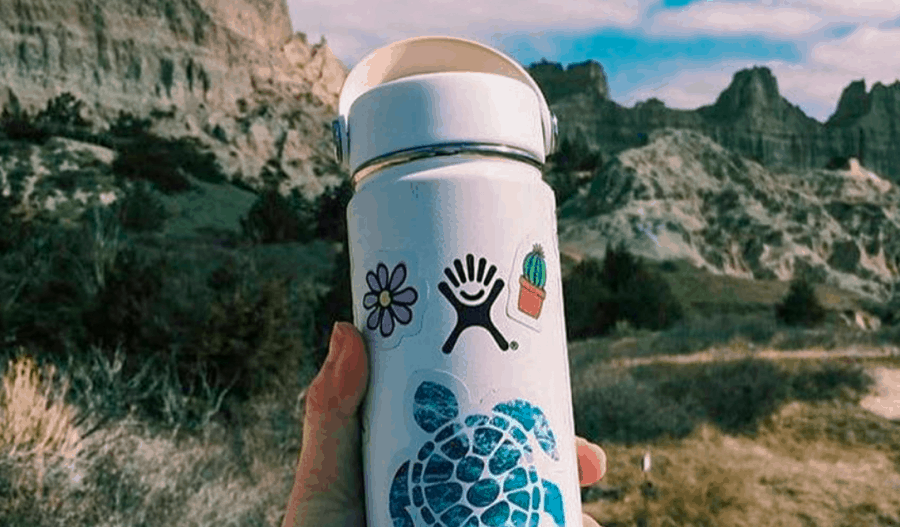 After washing your Hydro Flask with any of the solutions above, you should let it dry upside down. Air drying your flask is the best way to dry it because it will prevent it from collecting bacteria.
And that's it.
It is that simple to wash this amazing product. It is actually easier to clean this stainless steel bottle than it is to clean a plastic one. And even though it is a little more expensive, I feel that the benefits from the product itself, as well as the ease of cleaning, make it a worthwhile investment.
If you take care of your Hydro Flask, and clean it often, this product can look brand-new, and make your investment last a long time.
So let's look at the basic Hydro Flask bottle, as all their vessels have these features. What exactly is a Hydro Flask and how do you take care of it? Let's find out.
What Is A Hydro Flask and why is it so popular?
The Hydro Flask is a water bottle made of food-grade stainless steel. It is advertised that this bottle can keep cold liquids cool for more than 24 hours, and hot liquids warm for more than 12 hours.
It is made with double-wall vacuum insulation that helps to maintain temperatures and keep drinks cold or warm for a long time. The company website states that " If you put some ice in your hydro flask, it is guaranteed that it will stay there for hours".
It is a very lightweight bottle, and contains a metal disk inside that absorbs moisture. This keeps the outside of the bottle free from condensation, making it more comfortable to hide. The company states that their Flask has a signature powder coat, which is easy to grip, sweat-free, and durable – so you can take your Hydro Flask anywhere.
Furthermore, the Hydro Flask is constructed with durable pro-grade stainless steel. This stainless steel will keep the product highly resistant to absorbing bacteria, odor, and taste, and it is also one-hundred-percent recyclable. This stainless steel is also BFA free making it safer to drink out of.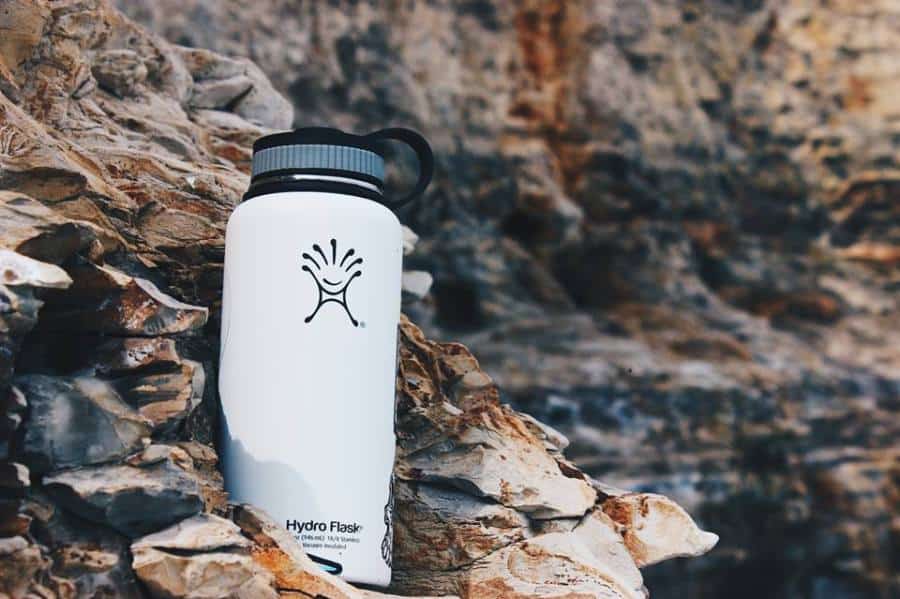 Hydro Flask insulated water bottles have several design options which make this product sightly customizable. These include:
10 different lid designs Wide Mouth Straw Lid, Wide Mouth Flex Cap, Hydro Flip™, Standard Mouth Insulated Sport Cap, Standard Mouth Flex Cap, 22 oz Tumbler Straw Lid, 32 oz Tumbler Straw Lid, 10 oz Wine Tumbler Lid[/easyazon_link], 22 oz Tumbler Lid, and a 32 oz Tumbler Lid
Wide mouth (32 oz) and standard mouth size (22 oz),
Silicone boots for the bottom of the bottles
A multitude of bottle sizes (including 12-ounce kid sizes):
Water Bottles sizes: 18 ounces, 21 ounces, 24 ounces, 32 ounces, 40 ounces, 64 ounces, and 128 ounces.
Tumbler: 22 ounces and 32 ounces.
Coffee Flasks: 12 ounces, 16 ounces, and 20 ounces.
A 16-ounce beer pint and a 32 and 64 ounces beer bottle.
A 10-ounce wine tumbler, and a 25-ounce wine bottle.
A 10-ounce spirits tumbler.
A multitude of colors: Black, White, Graphite, Cobalt, Pacific, Mint, Lava, Lemon, Flamingo, Blueberry, Olive Stone; and kids colors: Butterfly (yellow and pink), Chameleon (yellow and blue), Frog (green and blue), and Tucan (blue and yellow).
Finally, a limited lifetime warranty is available to guarantee against manufacturer defects.
Recommended Reads: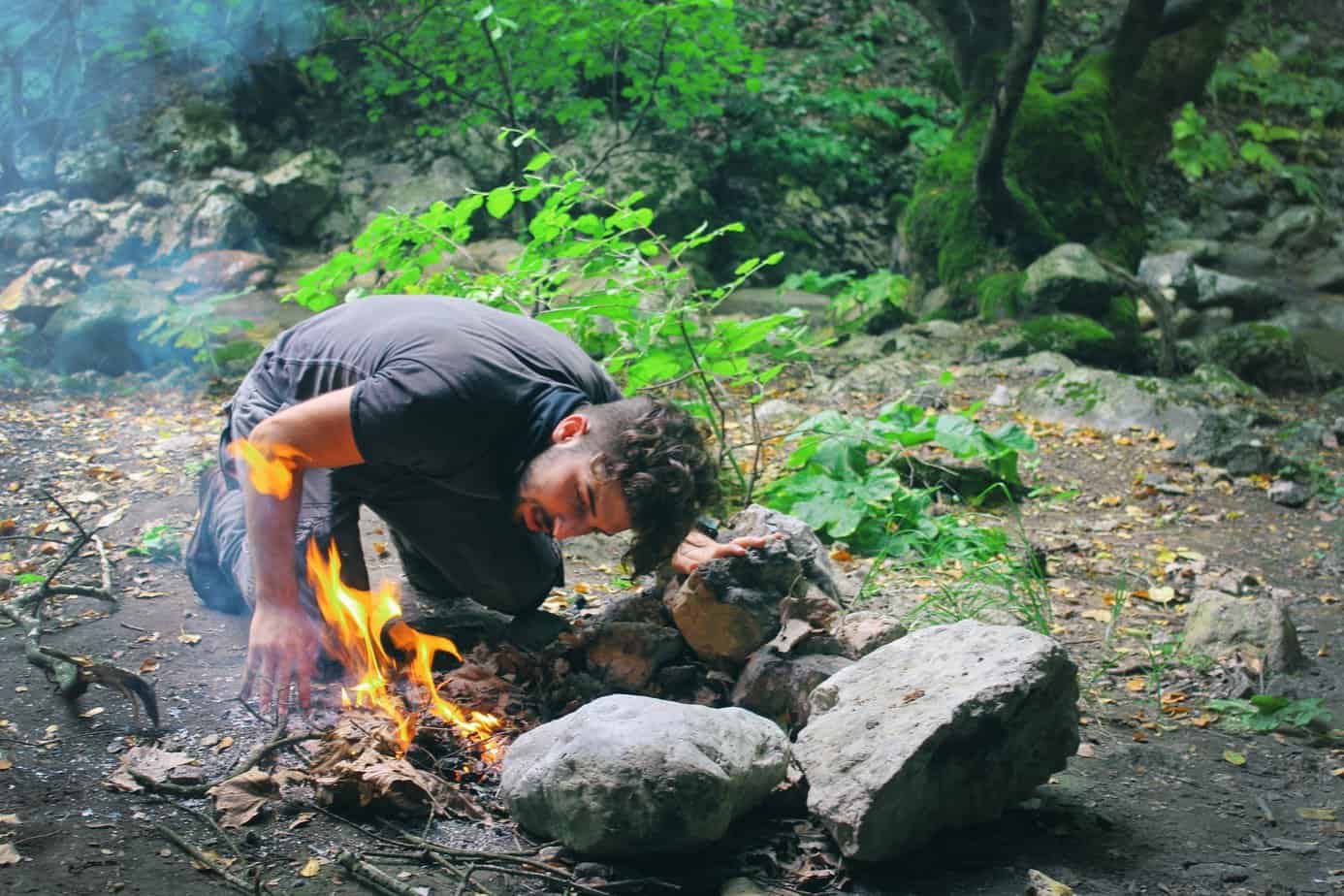 Sam Hardy is an outdoor enthusiast with a penchant for survival skills. He writes about the great outdoors and his favorite equipment here.