Patagonia has a wide range of outdoor products available and it seems to bring several rather contradictory features together in the Patagonia Quandary Pants.
One of the main things I appreciate about Patagonia is the fact that they actively aim to be one of the more sustainable brands out there by using recycled materials including plastic bottles. With a history dating back to 1953, Patagonia has its roots in the design of rock climbing and surfing gear, an interesting combination where the marriage of durability and comfort are essential.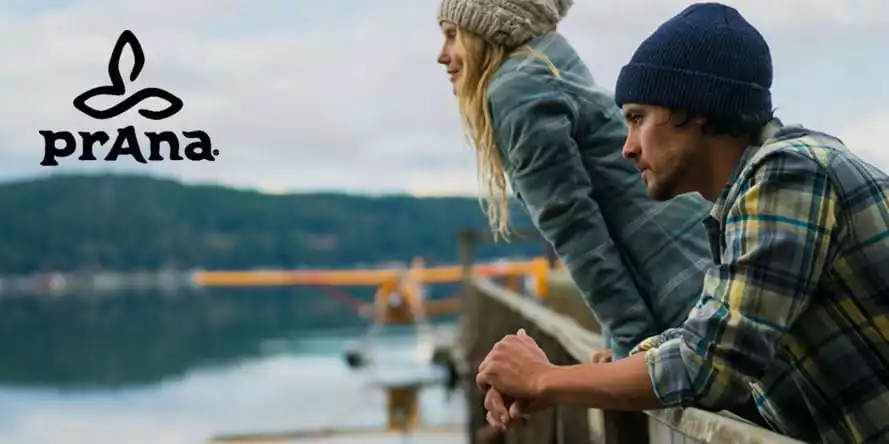 Clothing for Positive Change - prAna
Premium lifestyle clothing from prAna. Sustainable clothes for yoga, travel, & outdoor adventure enthusiasts. Save money and protect the environment - it's a double win! Explore prAna's collections.
Shop Outlet Sale Now
We earn a commission if you click this link and make a purchase at no additional cost to you.
That being said, the Patagonia Quandary Pants seem to have some kind of an identity crisis going on. Given the rather unique name of a quandary, this is most likely intentional. While the typical Patagonia quality is integrated, the focus on multi-functionality robs it of clear use. Such a feature can be seen as limiting to some, but it can offer the perfect solution for others.
Curious which side you are on? Read on to see if these are the pants for you!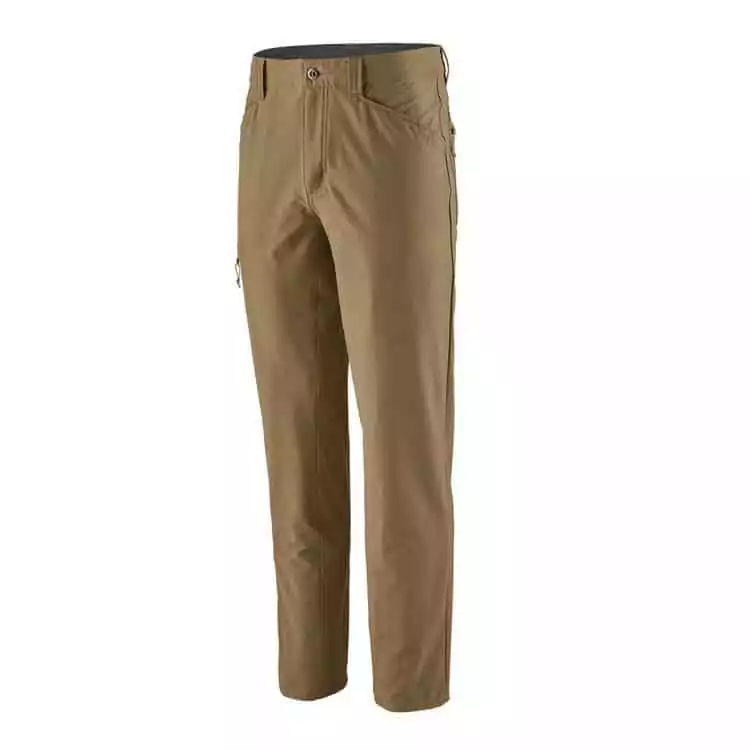 One of the BEST Outdoor Pants
In our testing we found the Quandary pants to be among the most flexible (and comfortable) outdoor pants, ideal for hiking or climbing. PLUS, they can serve as a semi-formal pant for casual wear. A great VALUE for the money.
View Deals
We earn a commission if you click this link and make a purchase at no additional cost to you.
How to choose the perfect hiking pants
First things first. What is it exactly that makes good hiking pants so essential? If you are a keen hiker, the right gear is key. I would say the perfect pants are just as important as the best shoes and the most functional backpack.
These are the ultimate adventure traveler's must-haves and their reliability can make or break your trip. If you are not sure how to select your next pair of hiking trousers, here are some of the key points to keep in mind.
Pant Mobility
Two key characteristics most quality hiking pants possess are a gusseted crotch and articulated knees. Pants have a gusseted crotch when the extra fabric is provided in the crotch area.
This prevents the pants from tearing when you are facing a challenging hike that requires more extreme movements. Articulated knees extend this freedom of movement to the area of the knees through an added cut in the design.
Lightweight and DWR
If you are planning on traveling to a hot destination, lightweight and DWR (Durable Water Resistant) will be essential. Lightweight pants ensure that the heat can escape your body while DWR makes for a sustainable set of pants that also dry incredibly fast. The most durable and light materials used in hiking pants are synthetics like polyester and nylon.
UPF
UPF (Ultraviolet Protection Factor) adds sun protection to the fabric of your pants. This can be of key importance when heading out in the summer.
Winter wear
If you are planning on reaching higher altitudes and need pants that fight off the cold, you want to think layers. Combine highly resistant, water repellent, and wind repelling pants with lightweight long underwear or a light, stretchy pants. I mention some great options for extreme hikes below.
Always fit before buying
Buying online is just fine but make sure you fit the pants before actually using them. To properly test a set of pants, apply the following (I have tried all of these in the store before and while I looked absolutely ridiculous, it helped me make the right choice):
Start by sitting down and paying attention to any discomforts.
Check the mobility of the area around the knees by bringing up the knees to your chest.
Squat in order to check the quality of the (gusseted) crotch.
Walk, run and do whatever else feels natural.
Make sure to also check the seams for any loose stitching or other defects. Even with the best brands, mistakes can sneak in.
Key features – How do the Patagonia Quandary Pants measure up?
Going from these ultimate criteria for buying the ideal hiking pants, let's have a look at how Patagonia Quandary Pants measure up.
I will start by giving you a quick overview of the pros and cons after which I will expand on all of them.
Pant Pros

Pant Cons

Very light and comfortable
Multi-functional
DWR
Gusseted crotch
UPF
Good summer hiking pants
Legs roll up to Capri-length
Plenty of room for a large belt
Large durable belt loops (great for carabiners, etc…)

Inferior stitching compared to previous designs
Inner drawstring and pockets (coin pocket) not very functional
Relatively short inner seam
No articulated knees
Less capable as hiking pants in cold weather (no handwarmer pockets)
Not convertible pants
Pant Material and durability
With its 95% nylon (of which 65% is recycled) and 5% spandex, Patagonia Quandary Pants are light and breathable set of pants with a 50+ factor UPF added for ultimate sun protection. It fits snugly around the body and has a lot of giving. The high levels of comfort combined with the very light material and UPF, make these pants good for summer hiking.
While the material itself is top-notch, something is left to be desired in the stitching compared to previous models. It has happened that the seams needed to be repaired after a couple of months of wear. This indicates that while comfort is a key focus, these nylon and spandex pants are not exactly built to withstand repeated, intense activity.
Fitting and design
For the men, the available colors for the short and long lengths are Ash Tan and Forge Grey. For regular, Industrial Green and El Cap Khaki are added to the list. For women, only regular and short are available and both come in Forge Grey, Shale, and Fatigue Green.
The gusseted crotch guarantees extra movements even though the knees have not been articulated. Past designs do have the added stitching to the knee and it is a great feature to have in terms of mobility during more intense hikes.
With an inner seam that levels out at 32 inches for women and 33 for men even as sizes still go up pretty drastically, the leg can be a little short depending on your build and natural shape.
A definite negative point with the Patagonia Quandary Pants, are the pockets and the waistband drawstring. Neither really seem to have a particular function they are made for and almost seem more decoration than anything. The pocket on the level of the thigh is rather tight and small and nothing much can fit into it.
The two main pockets have a quirky design that means they have more depth than width. This makes carrying anything in the pockets look a bit odd but can also restrict your movements to some degree. Since these aren't cargo pocket pants, you may find them to be sub-optimal for carrying gear.
Multi-functionality. Is it good or bad?
One of the main features Patagonia Quandary Pants are known for, is the fact that they are a multi-functional backpacking pant. Whether this is good or bad depends entirely on what you are looking for.
Without the articulated knees, the trousers have a kind of "every day look" going on that can even pass for casual chic. In fact, you might just end up living in these pants because they look good enough for semi-formal occasions and are also a good choice if you are being more active.
These pants suit the kind of person who is looking for the best of all worlds. As a result, the Patagonia Quandary Pants will appeal more to the casual hiker or adventurer who wants a set of pants for all occasions rather than the hardcore trekking enthusiast.
All-season pants?
The Patagonia Quandary Pants are said to be are fit for all seasons. This is true but it is also not. Its multi-functionality prevents these trousers from being fit for extremes. While you can wear them in hot weather thanks to the breathability and UPF, it can't be worn in deepest winter and they are not the kind of pants you want to wear on your way to Everest Base camp.
With all-season pants, Patagonia means you can wear it when it is hot and when it is a little chilly, but you can't push it much further.
Patagonia Quandary Pricing and Availability
You will find that Patagonia has created pants in the mid-range pricing scale and they will not be the cheapest pair out there, but they won't break the bank either. You can find the Patagonia Quandary Pants on Amazon, but you will be better off visiting Patagonia's own site.
Amazon only offers the men's trousers in one color and at a much higher rate.
Patagonia itself offers the Women's trousers as well as the Patagonia Men's trousers with the variety in length and color that you will need. This is in part because Patagonia is well represented on Amazon when it comes to jackets and sweaters, but in terms of pants, they are not quite there yet.
FAQs
Let's hit some of your most burning questions!
Are these pants known to stretch out or shrink over time?
While they are stretchy to a comfortable degree in everyday situations and for low-intensity hikes, for women it has been known to stretch a bit too much and leave them with rather baggy pants. They do not shrink.
My measurements are between sizes. Should I size up or down for these?
For the men, the pants are only available in a slim fit so it might be best to try going up a size first. The women's pants have a regular fit and since they stretch a bit too much in some cases, try going down.
Do these pants make a lot of noise while walking?
With the combination of stretchy nylon and spandex, the pants will fit well around your body and not create any excess noise.
How long do I need to break in these pants?
No time at all! They are ready for an adventure on the day of purchase with a flexible contoured fit.
Can these pants be worn for longer periods of time?
Most definitely. They can even be your best friend when you travel a lot because the high level of comfort will be perfect for long flights or otherwise strenuous journeys that require some movement and activity from you.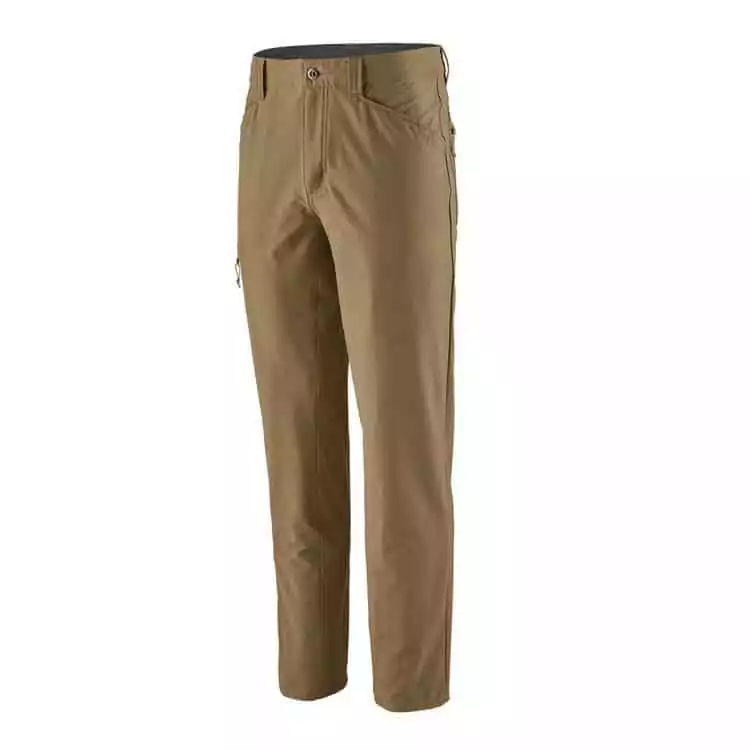 One of the BEST Outdoor Pants
In our testing we found the Quandary pants to be among the most flexible (and comfortable) outdoor pants, ideal for hiking or climbing. PLUS, they can serve as a semi-formal pant for casual wear. A great VALUE for the money.
View Deals
We earn a commission if you click this link and make a purchase at no additional cost to you.
Patagonia Quandary Alternatives
Best Multi-functional Alternatives
If you are looking for well-reviewed and somewhat cheaper alternatives, check out prAna Women's Halle Pants and prAna Men's Brion Pants.
The Men's Brion pants are 97% nylon and 3% spandex and exceed the Patagonia Quandary Pants in terms of durability while it still maintains the casual look and versatility.
Similarly, the Women's Halle Pants that are also made up of 97% nylon and 3% spandex, combine a beautiful design with endurance as well as the Stretch Zion Technology prAna is so known for.
Higher Intensity Hiking Pants
If you are looking for pants that are all about the outdoors and not so much the multi-functionality, definitely check out the Fjallraven Vidda Pro Trousers for both men and women.
The Fjallraven Regular Vidda Pro Trousers for women consist of 60% polyester and 40% cotton. The durable trekking pants are designed to ward off wind and water with its G-1000 original fabric. These pants will live up to their full potential in forests and mountainous terrains.
For the men, Fjallraven has a similar design and features with its Vidda Pro Trousers Long that comes in 65% polyester and 35 % cotton.
These options are an ideal balance between light wear and durability, but if you want to pants that are more hard-wearing and suitable to face extreme conditions above the treeline, check out Fjallraven's Bergtagen series for both men and women. With these designs, Fjallraven developed the reinforcement fabric Corylon, known for its high resistance. Corylon is made from 94% of recycled polyamide and 6% aramid.
Conclusion: Are the Patagonia Quandary Pants Worth it?
The Patagonia Quandary Pants are for you if you enjoy a light to intermediate hikers or lower intensity outdoor activities and still want to maintain a stylish look (also a great pair of versatile trousers for travel pants).
These pants can also be used for semi-formal occasions during which the comfort levels will be a great relief for you compared to restrictive jeans or otherwise flattering but uncomfortable clothing. While perfectly decent, I would say prAna offers a superior design in the same category.
Are they the right pair for you if you enjoy pushing the limits of your body as well as your gear? I would say, no. In this situation, you will need a pair of pants that can take a beating like Fjallraven's Vidda Pro series or even the Bergtagen series if you are up for a more extreme adventure.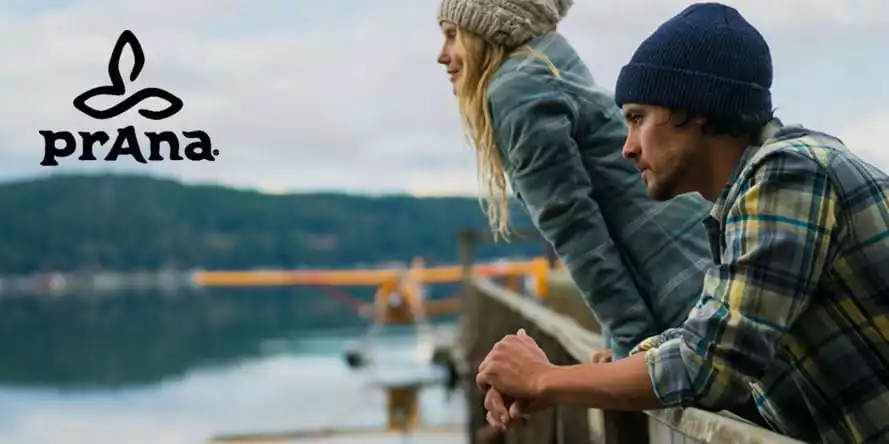 Clothing for Positive Change - prAna

Premium lifestyle clothing from prAna. Sustainable clothes for yoga, travel, & outdoor adventure enthusiasts. Save money and protect the environment - it's a double win! Explore prAna's collections.

Shop Outlet Sale Now

We earn a commission if you click this link and make a purchase at no additional cost to you.



Further Reading on Pants for Hiking & Outdoor Gear
Check out these pages for more information on outdoor pants.
Also, check out our reviews for the Columbia Silver Ridge Pants and Outdoor Research Ferrosi Pants for men, and the Fjallraven Vidda Pro Pants.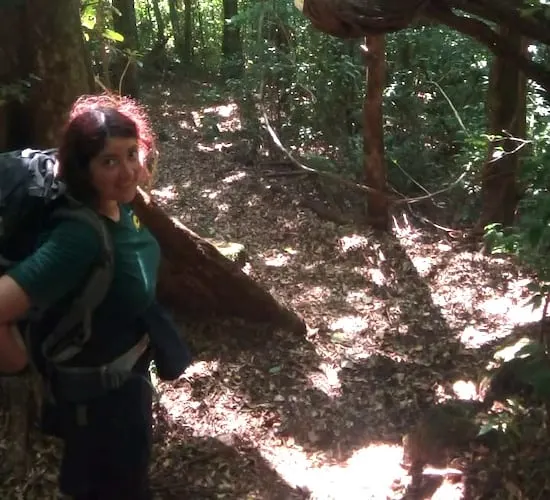 Mieke Leenders feels at home in nature, especially when she is pushing her limits in the process. She'd like to encourage her readers to explore the outdoors and provide them with the insights and gear they need to plan a thrilling adventure. So far, she has explored: – The Himalayas and national parks in Nepal – Volcanoes and rainforests in Central America – Mountains and the Amazon in Bolivia & Peru – The Rocky Mountains in Montana, United States – More natural wonders in Europe than she can count Her next outdoor adventure will likely take her to Africa. Her Deuter Aircontact backpack has been her sturdy companion for many years, and she won't leave the outdoor shop without some sustainable gear by Cotopaxi or Patagonia. She loves Deuter for making near-indestructible backpacks that are so, so comfy, and Cotopaxi and Patagonia for their quality gear that is kind to our planet.