If you're looking for tough hiking pants, then hopefully reading our Fjallraven Vidda Pro Pants review will help. Fjallraven is a well-known Swedish company that manufactures clothing gear for technical expeditions. Almost all clothing gear are made of Fjallraven's G-1000 fabric that is a mix of
35% cotton and 65% polyester. Even though cotton is not considered a great fabric for outdoor adventures, the G-1000 fabric makes the Vidda Pro Pants lightweight and comfortable.
You can even make the pants waterproof by coating them with Greenland Wax. When you don't need the water-shield, you can easily remove the wax by ironing the pants or washing them.
In this Fjallraven Vidda Pro Pants review, we'll discuss the pants in detail. We'll talk about their best features, general specifications, pros and cons, and a lot more. Keep reading to know everything about the highly durable trekking pants.
| | |
| --- | --- |
| Product Model No. | F81760 |
| Material | 35% Cotton, 65% Polyester |
| Available Colors | Dark Olive, Black, Tarmac, Dark Grey, Sand |
| Fit | Regular |
| Washing Instructions | Machine Washable |
| Waist | Regular (Mid-Waist) |
| Average Customer Rating | 4.3 stars out of 5 |
| Water Resistance Score | 8/10 |
| Comfort and Mobility | 7/10 |
| Versatility | 7/10 |
| Weight | 20.8 oz |
| Number of Pockets | 6 (No Rear) |
Top features of Fjallraven Vidda Pro Pants
Made of G-1000 fabric (35% cotton and 65% polyester)
Suitable for hiking and trekking
Durable and tough
Comfortable and lightweight
Come with multiple pockets for storing a variety of hiking and trekking accessories and gear
Water and wind-resistant when treated with Greenland Wax
Built-in brass hooks for securing the front of the pants to the shoelaces or boots
Designed to suit almost all seasons
Value for money
Fjallraven Vidda Pro Pants – An In-Depth Review
The Fjallraven Vidda Pro Pants are highly durable and reinforced trekking pants that come with multiple pockets for convenience. We tested one of the solid shades of Fjallraven Vidda Pro Pants. They are somewhat burly, thick pants that seem perfect for exhausting trekking sessions or rough weather. All in all, the Fjallraven Vidda Pro Pants are made to last.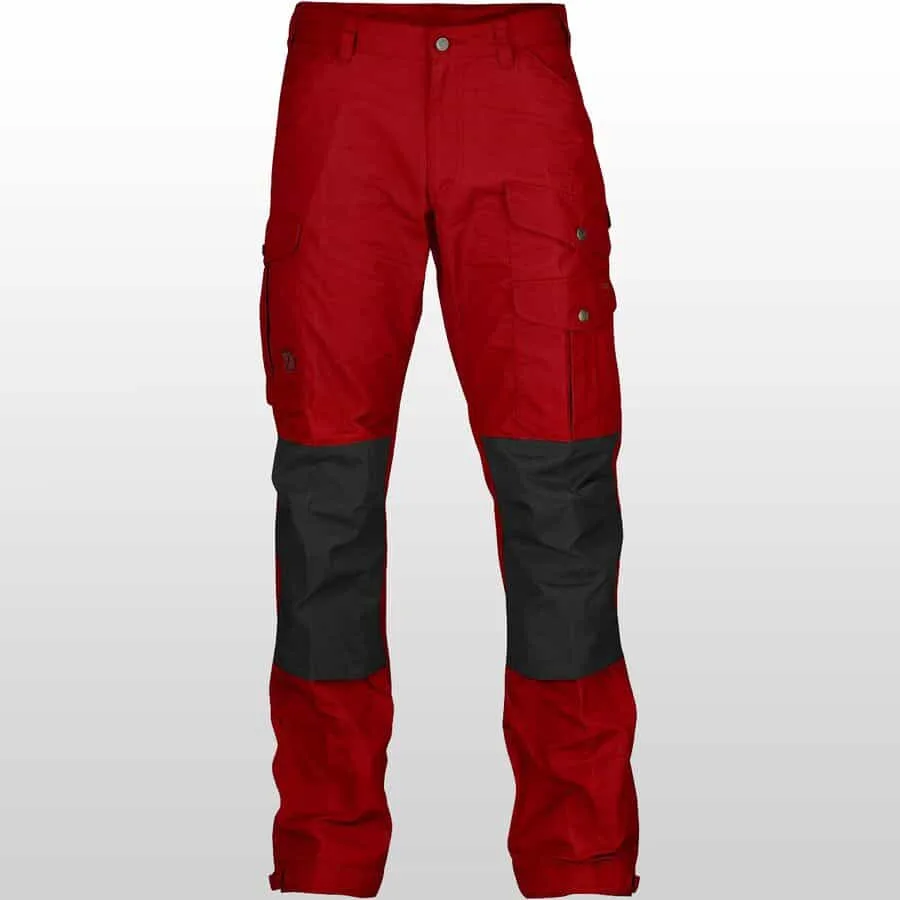 Comfort and mobility
The Vidda Pro Pants come with a baggy fit, roomy fit. Our experts did not feel any constrictions while wearing them.
The knees are heavily articulated and enhance the overall quality of Vidda Pro Pants. The unique G-1000 fabric is made of a mix of cotton and polyester and doesn't feel very smooth or soft. However, it doesn't feel like the typical synthetic pants that are uncomfortable. All in all, the fabric is great for all-around use. It is hard-wearing, versatile, and quick drying.
One of the biggest issues with outdoor trousers is that the seams between the legs get torn off easily. But, in the case of the Vidda Pro Pants, all seams are double sewn. Even though the pants look bulky, they are surprisingly comfortable and lightweight.
Yes, they're somewhat thicker than many other outdoor pants, but not heavy or uncomfortable. The pants will never feel clunky. The Vidda Pro Pants have enough room to accommodate layered thermal bottoms under them for extremely cold temperatures and wet weather.
In simpler words, the Fjallraven Vidda Pro Pants are designed for the forests and mountains. They are ideal for river crossing activities, conducting forest survival courses, or climbing mountains.
The breathability of the fabric
Even though the fabric seems somewhat thick, it is breathable with some amount of windproofing. The breathability is enhanced by the open knee-enforcing layer at the bottom for more ventilation. The fabric allows airflow between both layers of G-1000.
Water resistance
The most intriguing aspect of Fjallraven Vidda Pro Pants is the waterproofing method – the application of Greenland Wax.
Greenland Wax is typically used for enhancing the water and wind resistance properties of G-1000 garments. It can also help in improving the durability and lifespan of the garment.
The best thing about the wax is that it allows you to adjust the water-repelling properties of the garment. The wax is a high-quality, potent mixture of beeswax and paraffin, which makes it more environmentally-friendly than other chemical-based waterproofing methods. A 100-gram wax block is good to go for waterproofing approximately 8-10 garments.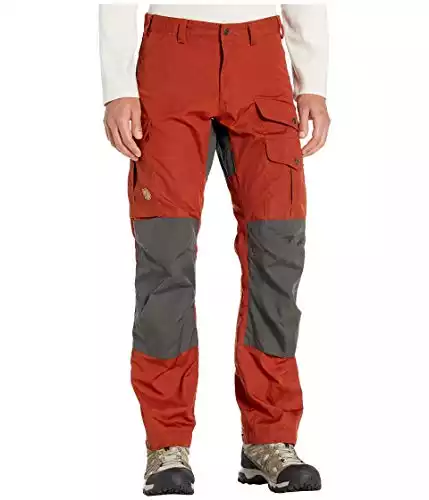 For best results, you can wax your trekking pants from the knees down to avoid getting wet while crossing a stream or a patch of wet knee-length grass.
The wax application process is simple. All you need to do is apply Greenland Wax to Fjallraven Vidda Pro Pants using long strokes, spreading it evenly to form a thin layer. Once applied, use moderate to low heat to melt the wax onto the G-1000 fabric using an iron (no-steam setting). Alternately, you can also melt the wax using a hairdryer.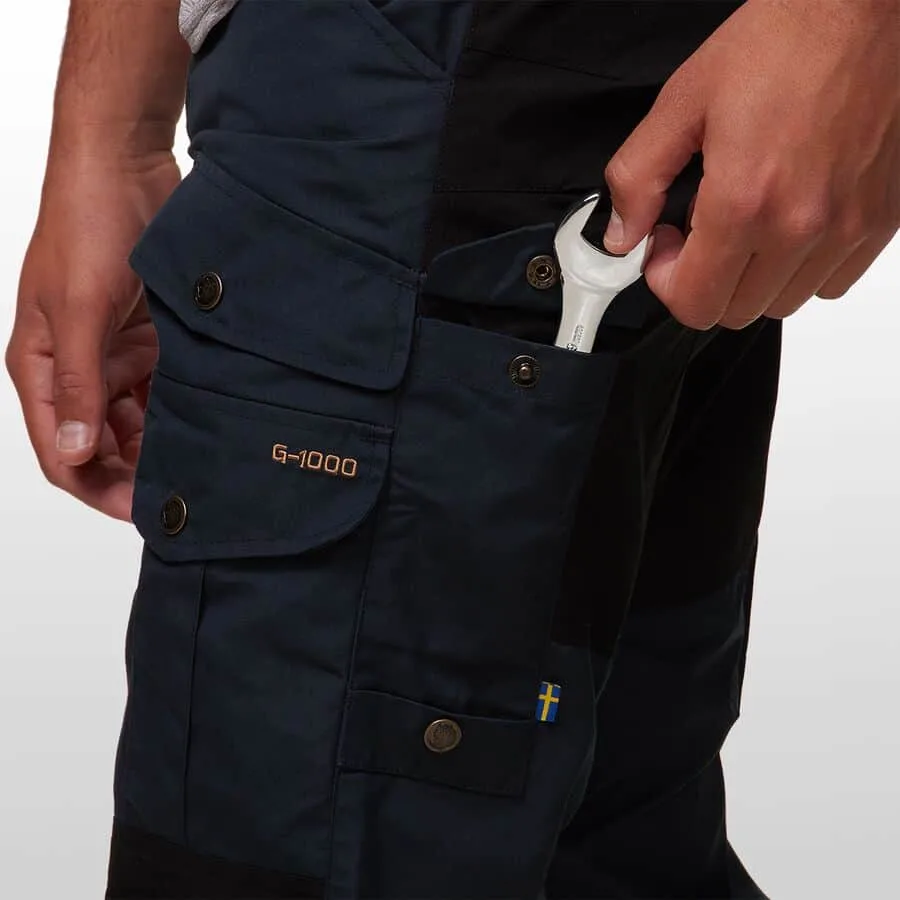 If you need higher impregnation of the wax, repeat the complete application process multiple times. However, keep in mind that increasing the water-resistant capacity of the pants can reduce their breathability.
How to remove Greenland Wax from your garment?
To remove Greenland Wax from your pants, all you need to do is wash the garment in hot water. For instance, if you want to create a cool garment in the warm summer months, a mild wash would be a good idea.
We washed our Fjallraven Vidda Pro Pants using a hand shower and then tested the pants for their water-resistant capabilities in light rain. The Vidda Pro Pants did a great job in light rain. All in all, the Greenland Wax application process is a little cumbersome but fun. Once you put your efforts and time into making the pants water-resistant, you won't feel like washing them to get rid of the wax.
Design and style
As already mentioned above, all seams are double sewn in the Fjallraven Vidda Pro Pants to make them more durable. The knees are articulated in a way that allows bending and stretching without stressing the fabric. If you want, you can purchase knee guards separately.
The Vidda Pro Pants have six pockets in all. And, one of them can double up as an ax holder as and when you want. The leg pockets are strategically placed and can be used to store small items that you may need during your hiking adventures. You can store these pockets to store a compass as well as a map.
The left pocket is spacious enough to carry a cell phone or an MP3 player, your sunglasses, some snacks, and other miscellaneous hiking gear. You'll find a hatchet or a knife pocket on the side of your right leg. You can snap the pocket on both sides and use it to store a small hatchet or a knife with a long blade.
The Fjallraven Vidda Pro Pants will keep you organized throughout your hiking adventure. You can carry your medicines, lighter, min-torch, bandana, and whatever you want. Even after storing so many items, the pockets won't make the pants heavy or irritate you while you're walking, climbing, or running.
The leg-cuffs are well designed and come with an adjustable, built-in gaiter feature on the front side of the legs. Each ankle hem has a brass hook on the front that can be hooked into your shoelaces or hiking boots. Using the "cinch" feature, you can get tight-fitting around the head of your boot. As a result, the lower part of the pants becomes a gaiter and helps in keeping debris, ticks, and water from entering your boots.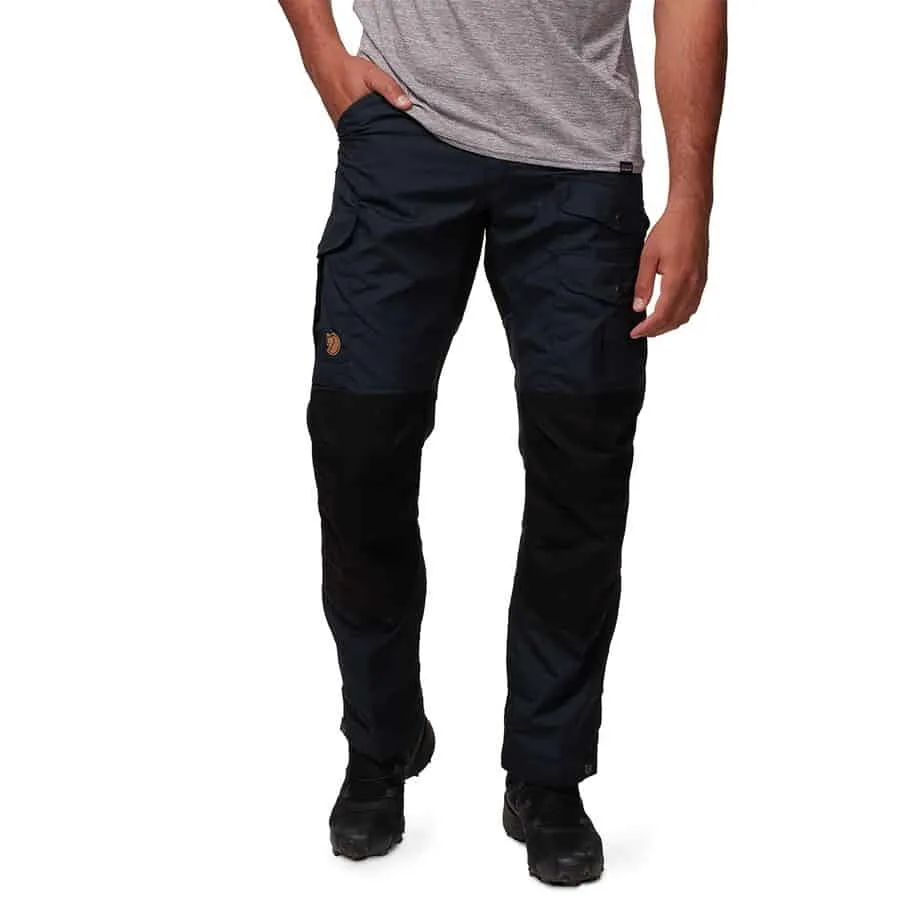 Therefore, the Fjallraven Vidda Pro Pants are suitable for hikers and trekkers who love to venture into areas where there's an abundance of snow.
Fit
The Fjallraven Vidda Pro Pants come with a unique fit. The pants are mid-waist, and depending on your size, you may have to wear a belt. When it comes to the length, the Vidda Pro Pants are longer than many other hiking trousers on the market.
The gaiter feature and the length of the pants come together to provide a comfortable fit and prevent the pants from getting too tight around the legs.
If you're on the taller side of the height scale, make sure you get yourself longer pants. You'll find three versions of the Vidda Pro Pants on the market – short, medium, and long.
Versatility
Talk about versatility, and the Fjallraven Vidda Pro Pants lie somewhere in the middle of the hiking and trekking pant range on the market.
On the one hand, the high-quality construction and multiple pockets make it a suitable choice for hiking, trekking, and other outdoor adventures (including outdoor construction). And, on the other hand, you cannot imagine wearing the Vidda Pro Pants on a summer afternoon. Also, since the pants are not very aesthetically appealing, they are not suitable for parties or other events.
The best use of Fjallraven Vidda Pro Pants
After testing the pants over different seasons, we've concluded that the Vidda Pro Pants are three-season pants. We used them extensively during fall, spring, and the chilly winter months.
We forged through difficult forest trails, we scrambled over logs, we crossed fast-flowing streams, and whatnot. But, we never experienced a single scratch of the Vidda Pro Pants.
After applying the Greenland Wax, we even went kayaking with the pants. We folded the pant legs above our knee caps, fastened the adjustable straps, and rushed into the water to get the kayak going. Even the minutest incidental splashes did not wet the pants.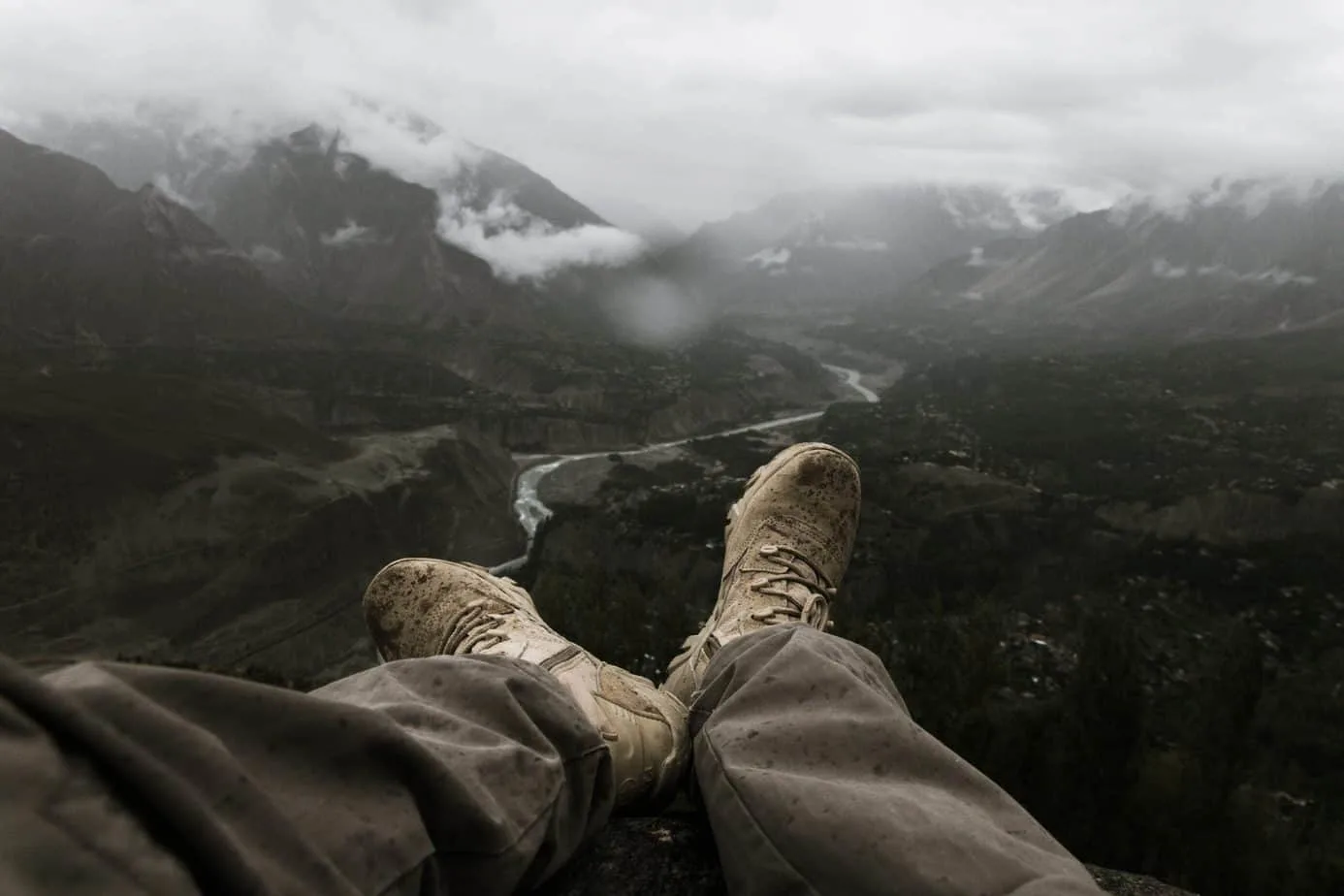 The Vidda Pro Pants can also be a great pick for construction work. We typically test hiking gear, especially hiking trousers on different hiking trails. But this time around, we decided to test the pants at outdoor construction sites too. And, to our surprise, we did not feel any discomfort; no excessive sweating, no stretch issues, nothing at all.
Ask about the summer days, and the Vidda Pro Pants would be our last choice. So, if you're planning long hikes or backpacking trips during those sultry summer days, avoid wearing Vidda Pro Pants. These aren't mountain climbing pants. They're not your regular jogging or track running pants. They're durable, tough hiking pants.
Fjallraven's G-1000 fabric
Fjallraven's unique G-1000 fabric is a perfectly woven mix of 35% cotton and 65% polyester. When used in garments such as the Fjallrvaen Vidda Pro Pants, the fabric is typically pre-waxed to make it water-resistant. Not only this but the fabric is also durable, water-resistant, wind-resistant, and comes with UV protection.
Pros and cons of Fjallraven Vidda Pro Pants
Pros
Surprisingly breathable and lightweight for their appearance
Come with six pockets that are strategically placed to prevent bulkiness
Comfortable
Durable enough to tolerate wear and tear, harsh climate, and difficult terrains
Water and wind-resistant with Greenland Wax
Great fit
Legs are baggy enough and do not feel tight when you engage the gaiter hook and the cuff elastic with your boot
The cuff and hook adjustments are functional and well-thought-out
High-quality construction and fabric
Multiple snaps fit at the ankles for different types of footwear
The G-1000 fabric is lightweight yet sturdy
The knee-caps are pre-curved to allow more mobility
Suitable for hikers and trekkers of all ages and sizes
Value for money
All seams are double sewn to enhance the lifespan of the pants
Generous pocket sizes
Cons
The 32-inch inseam length can be very long for shorter individuals
It can be somewhat difficult to find perfectly fitting pants based on the size chart
Not suitable for warm weather
Not suitable for daily use
No back pockets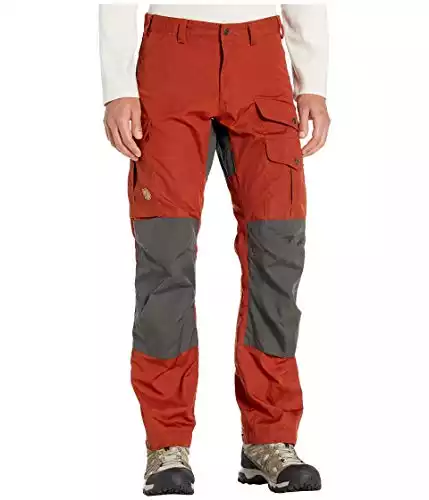 Frequently Asked Questions About Fjallraven Vidda Pro Pants
Do the Vidda Pro Pants shrink after washing?
The pants will not shrink if you wash them in cold or lukewarm water. However, you may notice minor shrinking if you wash them in extremely hot water. Also, avoid placing them in the dryer.
Are the Vidda Pro Pants stretchable?
Vidda Pro Pants are somewhat stretchable. The G-1000 fabric is not designed to be stretchable. However, the pants come with a good athletic cut that allows comfortable movement.
What is the inseam length of the Vidda Pro Pants?
The inseam length of the Vidda Pro Pants is approximately 32 inches.
Our Verdict
Fjallraven products are known for their superior quality, and the Vidda Pro Trousers are continuing the legacy. With six perfectly placed pockets, an adjustable hem that attaches easily to your boots, and reinforced knees, the pants can be a great pick for different terrains and temperatures (except for in very hot climates).
While the Vidda Pro Pants work best in slightly cold temperature settings, they can even perform well at somewhat higher temperatures. The durable, sturdy, weather-proof, and mosquito-proof G-1000 fabric makes Vidda Pro Pants a great option. Built to last and sustainably manufactured, the Vidda Pro Pants are worth the investment if you love hiking or trekking.
If you are not convinced by the Vidda Pro Pants, then MIER hiking pants are affordable and quick dry cargo pants, perfect for all types of outdoor activities. The pants are lighter than the Fjallraven Vidda Pro and come with moisture-wicking capabilities. You'll find 5 utility pockets and solid quality metal buttons.
The Silver Ridge Convertible Pants by Columbia can also be another good alternative. However, the price is a little toward the higher end. These pants come with zip-off legs that transform them into 10-inch inseam shorts. All in all, Columbia Silver Ridge Convertible pants are great for day-long hikes where it's necessary to protect the lower leg. These durable pants are suitable for a variety of outdoor adventures.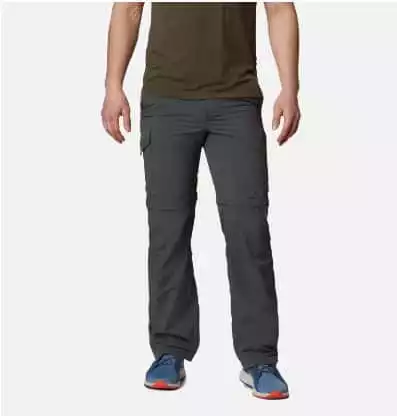 We hope you found this Fjallraven Vidda Pro Pants review informative and useful. If you have any questions, please feel free to post them in the comment section below.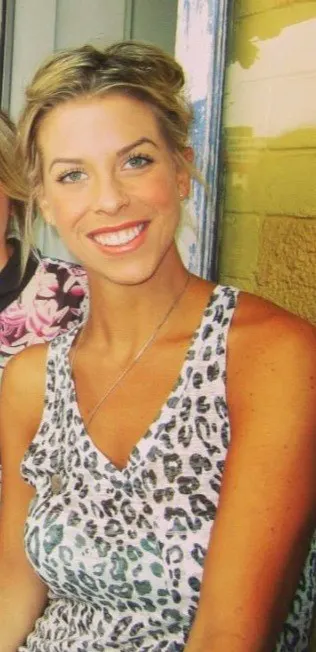 Jodie Chiffey loves the outdoors. If you aren't sure where to find her, check the nearest dirt trail. She loves being outdoors and spends a good deal of time reviewing products like clothing, footwear, and other outdoor gear.
Jodie is a full-time blogger who reviews a lot of the products for us. She writes many of our backpacking gear reviews, outdoor skills advice, and information, and helps visitors find the best destinations for backpacking, camping, hiking, and a lot more.
If Jodie's friends have a travel or outdoors question, they know who to ask and that's why we featured on our website. Now you can get the same great advice her friends enjoy, so you know where to go and what gear to take with you.