Adventure awaits; however, before heading out, you need to ensure that you have all the correct gear and clothing for your trip. Skipping on this step will leave you uncomfortable and at the unpredictable hands of nature.
Having the right pair of pants is vitally important. Good research and appropriate clothing are a must when preparing for both long and short hikes. You don't want to be stuck in a cold climate with pants that provide little to no warmth. And the same is true for hot climates. There's nothing worse than sweating profusely because you packed the warmest pants for your trip.
Most pants won't work in every setting, so it's essential to get the pants appropriate to your passion, whether that's hiking and trekking, skiing and snowboarding, hunting and fishing, or climbing.
Regardless of your outdoor activity or the climate, the best pants always allow for movement, comfort, durability, versatility and are typically lightweight and breathable. The best Arc'teryx pants offer all of these features and will suit the needs and requirements of your adventure-loving lifestyle.
This best Arc'teryx pants guide will help you choose which pair of pants is right for you so that you can have your best trip to date.
My Top 3 Picks
In case you don't want to read all the way to the end, here are the top three picks you should consider.
Arc'teryx Gamma LT
Arc'teryx Lefroy Pant
Arc'teryx Sabre AR Pant
What To Look Out For When Buying Pants
A proper fit
Durability
Breathability
Water resistance
A Proper Fit
Most activities include a lot of walking or movement. Regardless of the type of activity you do, you'll need durable, fast-drying, and comfortable pants that allow movement and airflow; otherwise, you'll overheat and have an unpleasant experience.
The best activity pants need to fit correctly. If your pants are too tight, the friction and moisture on your legs will cause you to chafe, which is uncomfortable, sore and will take your mind off of nature and onto your raw thighs.
Pants that are too big may cause you to trip and when you're halfway up a mountain, spraining or even breaking your ankle is the last thing you want to encounter.
Find the right fit by trying on your pants before you buy them. Sit down, squat, kick and touch your toes to determine whether the pants allow mobility or are restricting you. The pants you choose shouldn't limit your movement, but they mustn't be too loose either.
To prevent chafing, look out for pants that have a gusseted crotch.
When buying Arc'teryx pants online, be sure to take your measurements and compare them to the sizing chart on their website to determine what your correct pant size is.
Durability
Although Arc'teryx's pants are on the high end when it comes to price, their products are made to last a long time. Arc'teryx uses high-quality materials that are high performing and durable. The company is obsessed with design and detail, resulting in excellent pants.
Although it's cheaper to buy pants at ordinary retail stores, you'll be spending more money in the long run because you'll have to keep replacing your pants.
Before buying pants, make sure to go onto the Arc'teryx website and read the reviews from other customers. They'll discuss the pros and cons of the pants you want, and you'll be able to determine whether they're worth the buy or not.
Breathability
As an outdoor enthusiast, you're prone to working up a sweat. It's vital that your Arc'teryx pants are breathable to prevent you from overheating.
A breathable pant allows your moisture (sweat) to escape from its tiny pores without allowing water, which contains bigger molecules, to enter the fabric. This will prevent you from feeling sweaty while doing what you love.
Water Resistance
Although you may not always anticipate the rain, it has a way of sneaking up on you when you least expect it. Having water-resistant pants will keep you dry and comfortable.
If your pants aren't water-resistant, you'll get soaked, your pants will become heavy, and you'll likely end up chafing. Wet pants in cold conditions can also be quite dangerous.
Water-resistant pants will also keep you dry and warm if you fall in the snow.
The Best Arc'teryx Pants for Hiking
1. Arc'teryx Gamma LT
For an ultra-comfy, lightweight, and weather-resistant pair of hiking pants, check out the Arc'teryx Gamma LT for men and Gamma LT for women. Although these pants are ideal for hiking, they're so stylish and versatile that you can also wear them for cycling, rock climbing, dog-walking, and any other day-to-day activity.
They're made from nylon and elastane fibers which provide mobility, are quick-drying, abrasion-resistant, water-resistant, breathable, lightweight, and durable. These pants are so tough that you can move along rocks and encounter your dog's claws without any tears.
The hem adjuster is a nice feature that prevents the cool and wind from blowing up your legs. I don't enjoy the belt, though, because it often randomly comes loose, which gets frustrating. These pants have well-placed zippered pockets, perfect for storing valuables or even gear. However, I have found them to be too shallow, and if the pockets are left unzipped, your belongings can easily fall out.
Pros
All-rounder outdoor pants
Quick-drying
Water-resistant
Breathable and lightweight
Moveable and stretchy material
Abrasion-resistant
Hem-adjuster
Cons
Shallow pockets
Belt comes loose
2. Arc'teryx Lefroy Pant
The best summer hiking pant is the Arc'teryx Lefroy Pant. This pant is kinder on your wallet than the Gamma LT but provides just as much comfort and mobility.
These pants are made from nylon and elastane fibers, and although breathable and lightweight, they're still durable, yet slightly less durable than the Gamma LT. These pants are well made, and even after many adventures and washes, they'll still come out of the dryer looking new.
These pants perform so well in summer that you can wear them instead of shorts. They also hold up well in cooler temperatures as they adjust to different temperatures. One thing I find pretty strange (for summer pants) is that they come in fairly dark colors, which attract the sun. I'd love to see a larger color range for these pants, with lighter options included.
The Lefroy pants are excellent for hiking but are also versatile. They're great for cycling and golfing, while at the same time, stylish enough to wear to a barbeque after a long day of activities. I love that these pants come with a belt. It gives some adjustability and "give" when sitting down. The deep pockets are also really convenient.
Pros
Breathable and lightweight
Durable
Adjust well to different temperatures
Versatile
Adjustable belt
Deep pockets
Cons
The Best Arc'teryx Pants For Skiing and Snowboarding
1. Arc'teryx Sabre AR Pant
If you're eager to go out and hit the snowy slopes, the Arc'teryx Sabre AR Pants are what you need. They're well-made and designed for the outdoors with their three-layered GORE-TEX construction. Whether you're in rain, snow, or sleet all day long, you'll keep dry thanks to the sealed seams and waterproof zippers.
These pants are a stylish slim fit, although you won't struggle with movement, and you'll be able to add base layers under them for extra chilly days. However, a fairly common problem with these pants is that they have sizing issues, and you may need to size down for a comfortable fit.
These pants are comfortable, oh-so-durable, and have well-placed vents. They breathe well and perform well. They look and feel high-end.
Pros
High-end look and feel
Comfortable
Durable
Sealed seams and waterproof zippers
Freedom of movement
Cons
2. Arc'teryx Beta SV Bib Pant
For extreme outdoor activities such as ski mountaineering and touring that are bound to face severe weather conditions, your pants need to be a little more hardcore, and those pants are the Arc'teryx Beta SV Bib Pants. These very impressive, high-performance ski pants are made from GORE-TEX, which means they're completely weather resistant. They're surprisingly breathable and, although durable pants, lightweight.
This bib is comfortable and doesn't restrict movement. It has full two-way zippers to help with airflow, as well as a drop seat option so that you can relieve yourself quickly without having to remove other pieces of clothing. This feature saves you time and keeps you warm.
The zippered pocket on the front of the bib is convenient for storing your lift ticket, but it's not deep and won't hold much more than that. I'd like to see a few more pockets introduced. This bib also has sizing issues. The pants tend to be too long for shorter people, and the straps are too short for taller people.
Pros
Great for severe weather
Made from durable and weather-resistant material
Breathable and lightweight
Comfortable
Freedom of movement
Full two-way zippers
Cons
Shallow and limited pockets
Sizing issues
The Best Arc'teryx Pants For Rock Climbing
1. Arc'teryx Gamma AR Pant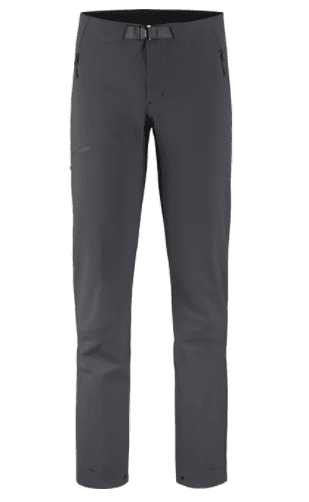 Rock climbers need tough, durable pants that will last against the sharp rocks – the Arc'teryx Gamma AR Pants give you all of that. These pants perform well with many outdoor activities; however, thanks to their articulated knees, chalk bag loop, stretchy material, and shoelace clip, they're ideal for all climbers.
Water beads and slides off these pants well, they're wind-resistant, and they're quick-drying. You can get these pants dirty without concern as they're easy to clean with a damp cloth. These pants will keep you warm in cold conditions, and you can layer under them for extra warmth. Just be aware that they are a bit too warm to wear if the temperatures aren't low, and you'll most likely overheat.
These pants tend to make a noise when the fabric rubs against each other. It's pretty distracting, especially if you enjoy snapping pics of the birds throughout your climb.
Pros
Durable
Articulated knees
Chalk bag loop
Stretchy
Shoelace clip
Fairly weather-resistant
Warm
Cons
2. Arc'teryx Sigma FL Pant
Another excellent climbing pant is the Arc'teryx Sigma FL. They're made of nylon and elastane, making them stretchy and durable – a necessity for climbing pants.
The Sigma FL performs well in many conditions. They'll keep you cool when it's warm and warm on cool days. They're water-resistant and repel snow, keeping you dry and comfortable. Even dog hair doesn't stick onto these pants, so they're ideal dog-walking pants too.
These pants are lightweight, stretchy, sturdy, and they move with you, thanks to their four-way stretch. You can pull them up to your knees when crossing through water. They're protective, tough, and hold up well against rocks. The areas of your body that press against the rock when climbing are reinforced. The pockets are easy to access, even with a harness on.
The only thing I'd love to see more of is a larger color range for these pants.
Pros
Stretchy and durable
Performs well in many conditions
Water-resistant
Lightweight
Reinforced areas
Strategically placed pockets
Cons
The Best Arc'teryx Pants For Fitness and Running
1. Arc'teryx Incendo Pant
The Arc'teryx Incendo Pant is a fitted pant that is close to your skin but doesn't cling to it as tights do. Thanks to its nylon and elastane fabrics, it's lightweight and breathable enough to wear for an indoor workout but roomy enough to wear outside for a run with a base layer for extra warmth.
These pants are stretchy, so comfortable, moisture-wicking, and thermal regulating. They protect you from the sun's UV rays, the rain, and from overheating. They don't ride up when running, and they don't cause chaffing. The Incendo pants are versatile and can be used for a variety of activities, as well as casual use and lounging around, because they allow for all the movement you need.
The labyrinth color doesn't hide sweat well, and a few more pockets would be an added bonus to these pants.
Pros
Freedom of movement
Lightweight and breathable
Thermal regulating
Versatile
Can be layered
Protective
Comfortable
Cons
Labyrinth color doesn't hide sweat well
More pockets would be great
2. Arc'teryx Cormac Pants
Whether you're constantly on the move or relaxing after a busy week, the Arc'teryx Cormac pants are comfortable and versatile enough to wear in either situation.
These slim-fit, high-performance pants have a minimalistic design and are super stylish. They're made from polyester and elastane, which gives you freedom of movement. The stretchy fabric doesn't weaken when placed under stress but retains its shape.
They boast two zippered hand pockets and an adjustable drawcord in the waist. They're soft, warm, comfortable, and yet highly breathable. They're moisture-wicking, weather-resistant, and perform well in the gym or on a run outside. Although they're a slim fit, they're not constricting. However, they are a better fit for slim people that aren't too tall.
Pros
Versatile
Comfortable
Warm
Weather-resistant
Moisture-wicking
High-performance pants
Freedom of movement
Cons
Mistakes to Avoid With Performance Pants
Trying to fit into your pants
Wearing loose or heavy pants
Wearing denim or cotton
Wearing stiff or weak material
Frequent washing
Not reading your pant's care instructions
Trying to Fit Into Your Pants
I know many of us don't want to accept that we've gone up a size or two and would rather try to squeeze into our pants in the belief that we'll be losing the weight soon. Rather size up. Pants that are too tight can cause issues with your digestive system. The right size pants will have enough space or "give" for you to place two fingers between your hip and the fabric once fully buttoned.
Wearing Loose or Heavy Pants
Although I said wearing tight pants is a bad idea, the same is true for heavy or loose pants. If your pants are heavy or loose, you're going to be uncomfortable, your pants are going to slide down, and the extra material will rub against your skin, causing friction that'll result in chaffing. Make sure to get a size that fits you properly.
Wearing Denim or Cotton
Both these materials love water and will soak it right up. Depending on the conditions that you're in, this can be very dangerous.
Feeling wet and soggy is uncomfortable, and it can lead to chafing on your inner thighs. Because these materials don't dry well or wick moisture, you'll feel sweaty in the heat and get cold quickly as the temperature begins to drop.
Wearing Stiff or Weak Material
Although you may naturally gravitate towards your yoga pants when going on a hike because they're soft and flexible, they're typically a weak material that'll rip when faced with a branch or rock.
On the other hand, durable but stiff material isn't the answer either because you'll be limited with your movement and feel uncomfortable. It's important to look out for lightweight, durable pants that have an element of stretch. Thankfully, almost all of the Arc'teryx pants have these qualities and can be worn for a range of outdoor activities.
Frequent Washing
We all love to feel clean and fresh, but like your jackets, your pants don't need to be washed unless it's really necessary. Rather use a damp cloth to remove any dirt from your pants. Too much washing will make the pants lose their shape and stretch, and it'll shorten their lifespan.
Not Reading Your Pant's Care Instructions
Not all pants are washed the same way because not all pants are made up of the same materials. Some pants can be washed in a washing machine, while others need to be hand-washed.
Some pants can be put in the dryer, while others need to be air-dried. Make sure to read the care instructions that come with your pants to be able to prolong their lifespan so that you can get the most out of them.
FAQs
Question: Does Arc'teryx Make Denim Pants?
Answer: No. Because Arc'teryx makes outdoor clothing, denim is a poor fabric to use for their pants. Denim absorbs water and doesn't dry quickly. It's also firm and restrictive. These qualities would limit any outdoor enthusiast and could even place them in danger, depending on the conditions they face. Sweating in denim would also lead to chafing.
Question: Do Arcteryx Pants Run Small?
Answer: I have found that some Arc'teryx pants run smaller than I expected. It'd be safer to size up if you have an athletic build and thick thighs. The slight extra room comes in handy when you start layering for winter. On the other hand, it's not uncommon to receive Arc'teryx pants that are too big for you either.

To get the most accurate size for you, read through the customer reviews and take tips from others. Also, measure yourself and compare it to the sizing chart on Arc'teryx's website to get the size that fits you best.
Question: Which Arc'teryx Pants Size Am I?
Answer: Don't go into buying Arc'teryx pants blindly. You need to know your measurements before selecting which pant size you need. Here's how to measure yourself.

Take your measuring tape and place it around the narrowest part of your waist. Write your measurement down.
Place your feet a hip-width apart from each other. Take your measuring tape and place it around the widest part of your hips. Write your measurement down.
Take your measuring tape and place it at your crotch. Measure down to the floor while following the inside of your leg. Write your measurement down.
Match your measurements with the sizing chart that is available on the Arc'teryx website. The measurements that match yours will tell you which size pants you are.
Question: How Often Can I Wash My GORE-TEX Arc'teryx Pants?
Answer: You can wash your Arc'teryx GORE-TEX pants every 10-12 days if you've had heavy activity; otherwise, it's safe to wash them every month. It's important to keep your pants clean from dirt; however, overwashing your pants can reduce their lifespan.
Question: Which is the Best Arc'teryx Pant?
Answer: The best Arc'teryx pant will differ from person to person because each person has their own purpose and intended use for the pants. However, my favorite pant is the Arc'teryx Gamma LT because they're so versatile and can be worn for a range of different activities. These pants are durable, breathable, quick-drying, and weather-resistant while exceptionally comfortable too.
Best Arc'teryx Pants Guide: Conclusion
Hopefully, this guide has helped you learn how to choose the right pair of Arc'teryx pants for your outdoor activity. Remember that Arc'teryx makes versatile pants that can be worn for a range of different activities. You could save money by buying a versatile pair, but don't compromise with functionality when it comes to specific niche requirements.
Further Reading
Take a look at a few of our other guides: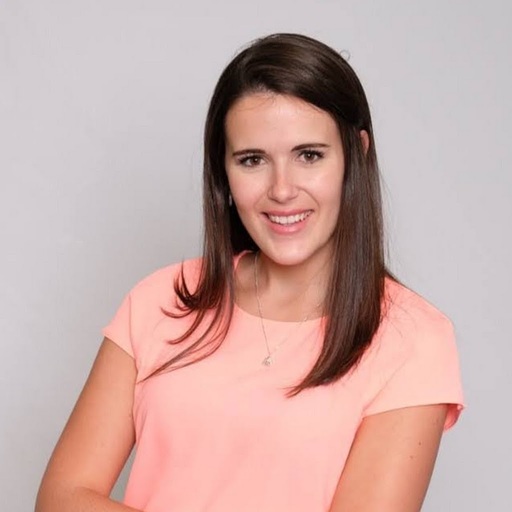 Keri-Beth is an outdoorsy South African freelance writer. She loves camping, hiking, and wandering in nature. She knows how to navigate in the wild and she'll show us how to get there. In her spare time, she enjoys photography and going on other adventures with her husband, who is a professional drummer.