An old Swedish proverb advises us that there is no bad weather, only bad clothing. Given that those in the land of Abba and Absolut are no strangers to some of the unfriendliest weather conditions our planet is capable of concocting, there's a pretty good chance that their words of wisdom are well worth listening to.
With regard to hiking, the Swedes' weather-savvy smarts can serve us in two ways: both as a call to get out there whatever the conditions and, more importantly, as a reminder to pay particular attention when it comes to our clothing choices.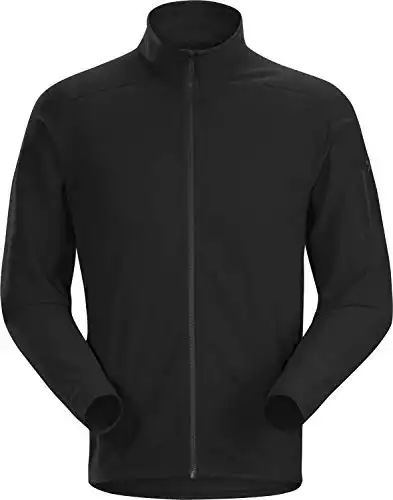 Delta LT Jacket Men's | Arc'teryx
One of the most versatile fleece jackets Arc'teryx has ever designed, the Delta LT provides effective warmth for little weight. Quick drying, air permeable Polartec® Classic 100 micro velour small grid and articulated construction focused on ergonomic freedom and performance comfort make the Delta LT extremely versatile.
Check Price
We earn a commission if you click this link and make a purchase at no additional cost to you.
In this article, we'll turn our attention to the particulars of the mid-layer, that all-important bringer-of-warmth in the backcountry getup. We'll start off with a look at how the mid layer fits into the layering system as a whole and then jump into what mid-layer types are most effective and a review of the best ones out there this year.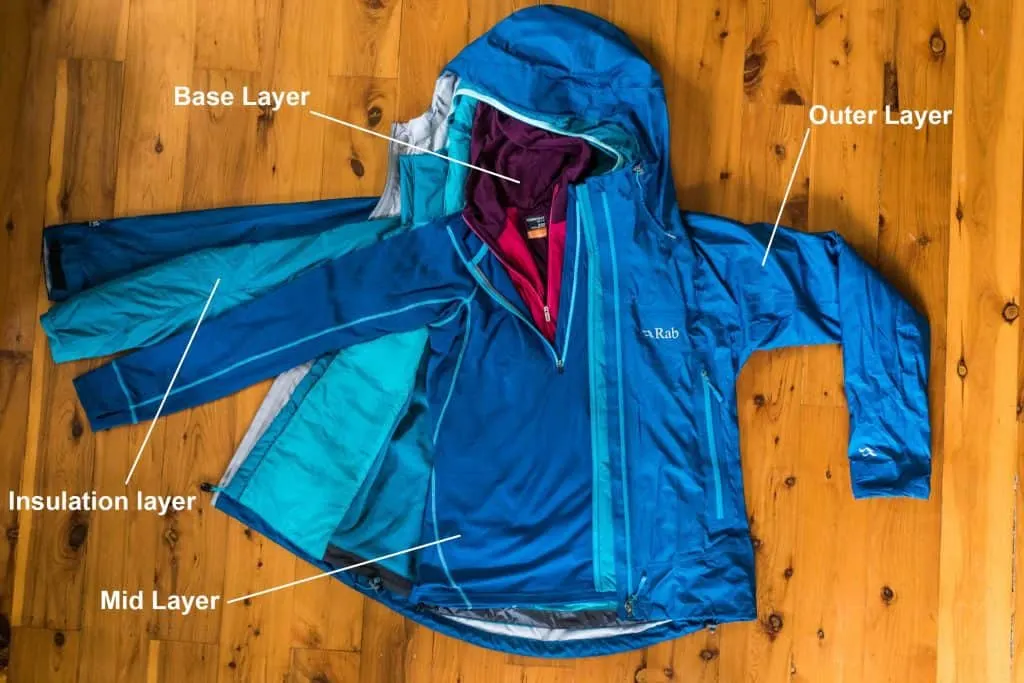 What is the Layering System?
In the world of outdoor sports, the layering system is now all but universally recognized as the optimal solution for active attire. It works, in essence, by using multiple strata of clothing each designed to work in unison with and complement the others:
A base layer for moisture management
A mid-layer for insulation
A shell layer for protection from the elements
This three-part system is held together by one indispensable feature: breathability.
'Breathability', in short, refers to a fabric's capacity to transfer moisture (i.e. sweat) from inside to out, allowing it to pass from the interior layer right through to the exterior of the final layer, where it can evaporate more quickly.
Breathability is vital to layering because any non-breathable layer will block the movement of moisture from one layer to another, thereby causing a buildup that can lead to saturated fabrics and, in extreme cases, hypothermia. As such, if any garment in the layering system lacks breathability, the whole system will collapse.
To offer an analogy, a non-breathable layer in effect acts like the gases which create our planet's "greenhouse effect" by trapping in what really needs to be out — in the case of hikers, our sweat. Thinner, breathable layers, conversely, offer less of a barrier to the transfer of excess moisture, allowing it to pass through each layer in turn and evaporate in the ambient air.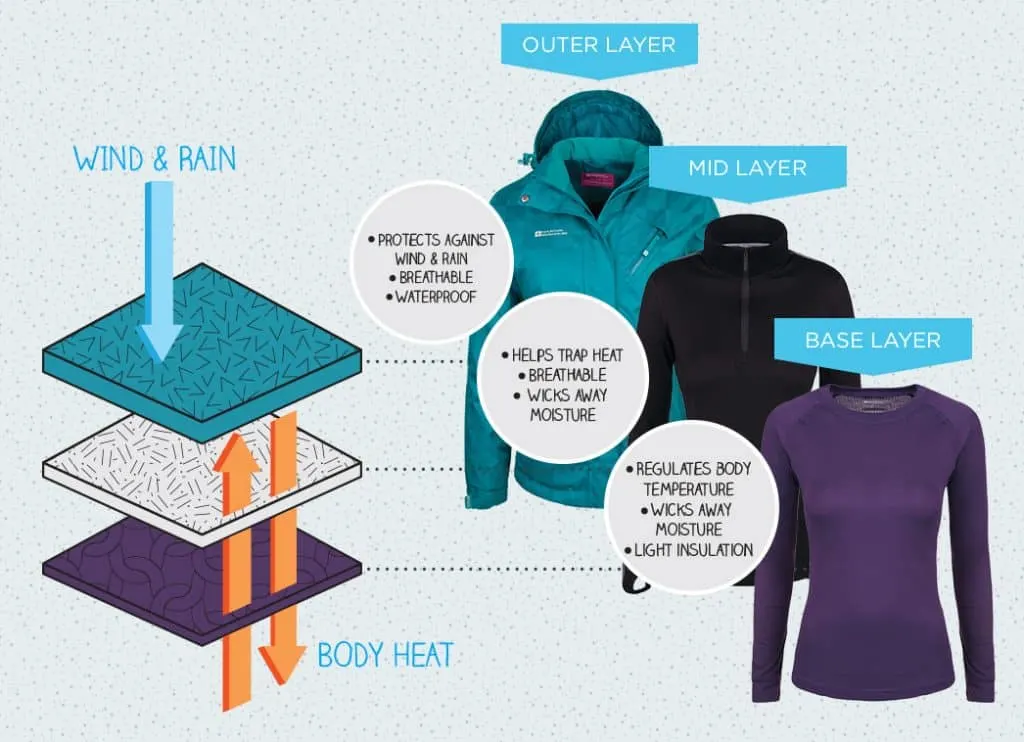 Why Layers?
The instinctive move in colder conditions is to throw on heavier, bulkier garments, but bulk and weight alone aren't necessarily enough to keep us warm for two main reasons:
1. Bulkier layers are often too thick to breathe well, meaning moisture becomes trapped inside the layer. Because water can conduct heat away from the body 25 times faster than air, if this moisture is then allowed to cool excessively — if, for example, there is a drop in temperature or we stop moving — then our core temperature can drop rapidly, leaving us vulnerable to hypothermia.
2. Even when not working up a sweat, a thicker layer might not insulate as well as two much thinner layers. When we use thinner layers, small air pockets are created between each item of clothing. These pockets are where our body heat is trapped, thus creating an additional, weightless, invisible, and — maybe most importantly! — free layer that acts as an added buffer and insulator.
So, just how does the mid layer function in the layering system as a whole?
The Midlayer: All About Warmth
While the base layer and outer or "shell" layer take care of moisture management and protection from the elements respectively, the mid layer is all about heat retention and insulation — so much so, in fact, that it is often referred to simply as the "insulating layer".
The mid-layer works by trapping body heat close to your body. One common misconception is that insulating clothing items provide heat in and of themselves, whereas the truth is that, while they may forestall heat loss by keeping the elements at bay, the heat we feel when wearing these items derives from their ability to limit the loss of the heat generated by our bodies.
One way to see this for yourself is to simply pluck a meaty midlayer from your shelves and feel how warm it is. Not very, right? And this is exactly the point — a mid layer works by retention, not the active production of heat.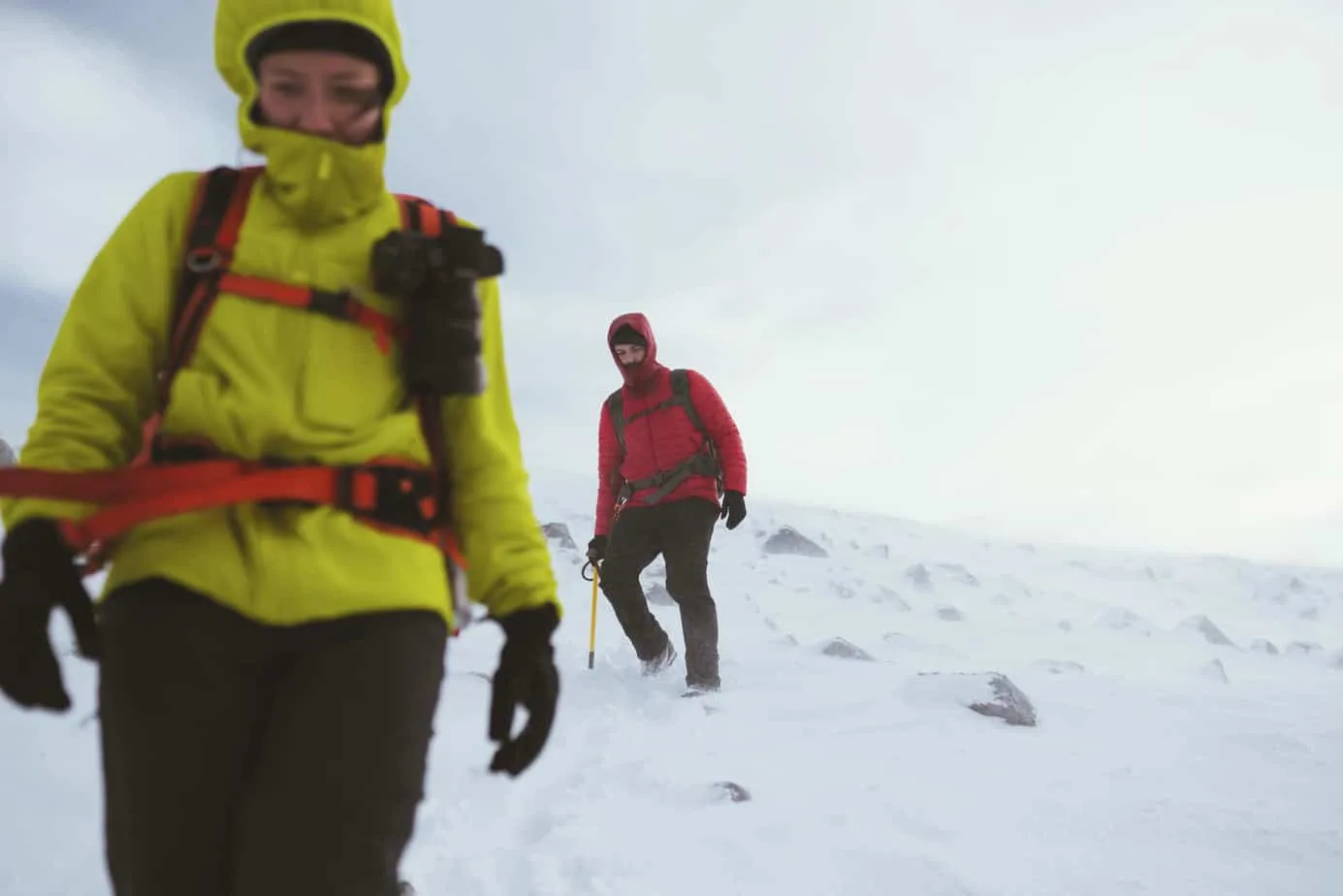 When do I Need a Midlayer?
The short answer to the above question reads as follows: any time that temps are not so high that you are able to wear just a t-shirt or vest. At other times, a mid-layer will either be worn as an outer layer in itself or between the base layer and the shell layer.
When an outer shell is not required to fend off precipitation or wind but it's too chilly to wear a t-shirt alone, then your mid-layer becomes the barrier between you and the elements and ambient air.
In these circumstances, a mid-layer with some degree of wind and water resistance is preferable. As such, standard fleece and wool mid-layers are not your best bet as these usually offer little wind resistance and — although both can insulate when wet — are prone to soaking up liquid very quickly.
In colder temps, your mid layer is crucial in maintaining body heat — your base layer and shell layer alone will only do so much and in temps south of 55F are unlikely to prove adequate for most. In this scenario, wind and water resistance is not such a big deal as the outer shell will provide both. Instead, breathability comes to the fore — without it, your mid-layer will trap sweat inside and leave you exposed to the dangers mentioned above (a bad dose of the chills and possibly hypothermia).
What to Consider When Buying a Midlayer
When buying a mid-layer the key components to consider are insulation, breathability, and comfort, all of which rely to a large extent on the mid-layer's fabric type.
Insulation
A midlayer that doesn't insulate is not entirely useless — some varieties, for instance, offer almost zero insulation but have other important attributes such as wind or water resistance. When hiking in cooler conditions, however, insulation is critical to staying warm as baselayers and shell layers alone offer very little in terms of heat retention.
Whether you're buying down, wool, or fleece, each product will denote the degree of insulation it provides with one of the following:
Fill Power — Used in down products, this is given as a number from 300 to 950. The higher the fill power, the more air an ounce of down can trap
GSM (Grams per Square Meter) — Used in fleece, wool, and other synthetics, this refers to the number of grams of fabric per square meter. The higher the number, the heavier, more wind-resistant, and warmer the garment will be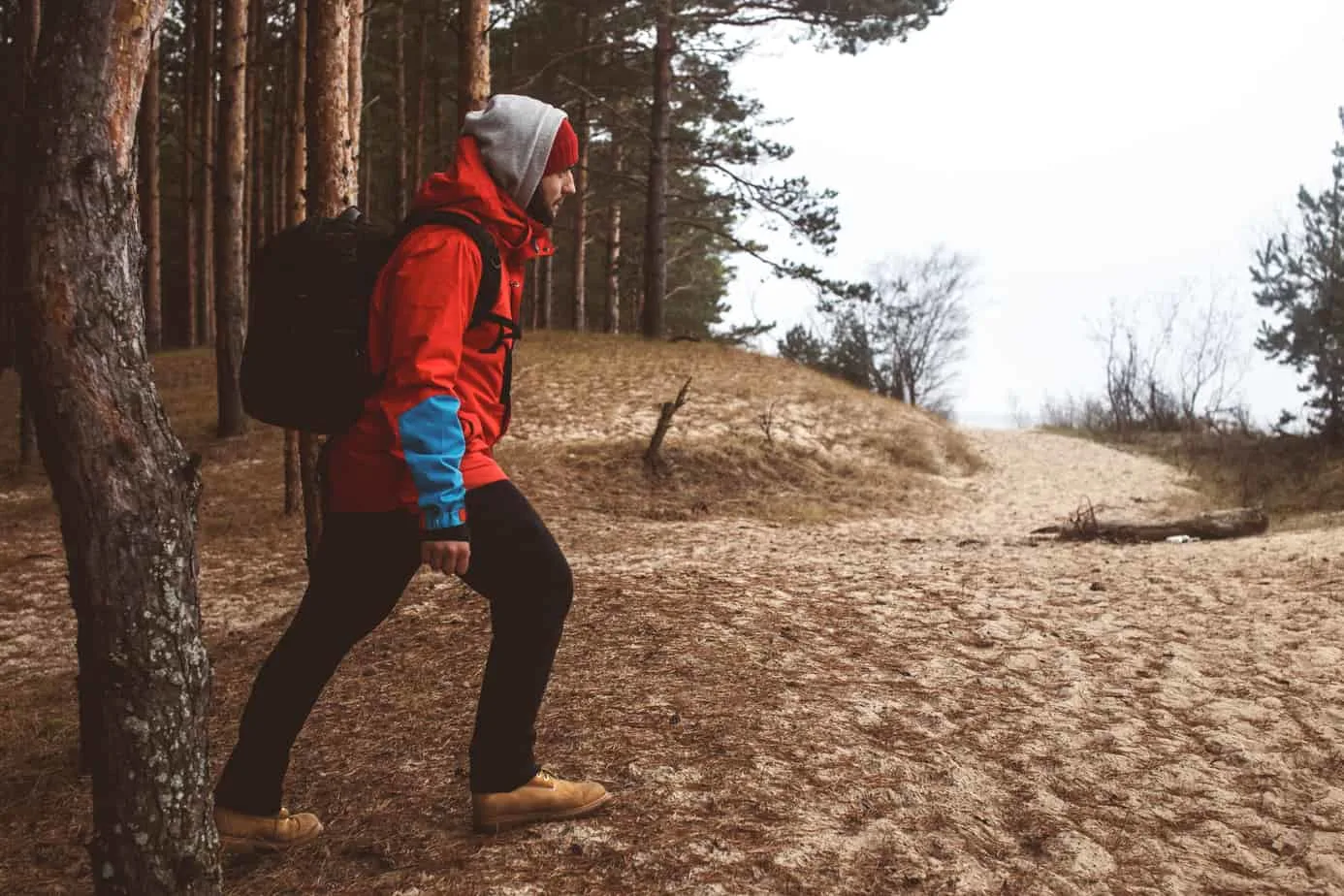 How much insulation you require will depend, ultimately, on the conditions in which you do most of your hiking.
For warm-weather hikers, a lighter, thinner mid-layer (in the 300-500 fill power range for down and 80-150 gsm range for wool or fleece) will be adequate to deal with the odd breeze or cooler morning and evening temps. For winter wanderers or those hiking at altitude, however, investing in a more substantial mid-layer (circa 800 fill power for down, 200+ gsm for fleece or wool) is a wiser choice.
Breathability
As mentioned above, breathability is a key and must-have facet in any mid layer. Whether worn between your base layer and shell or on its own, a mid-layer that lacks breathability will prevent sweat from escaping and leave you a prime candidate for rapid heat loss and even hypothermia.
Generally speaking, down, fleece, and merino wool products all breathe very well, with some variation between thicker models and lightweight options which results in a trade-off between breathability and warmth.
One fabric that is a particularly poor performer in terms of breathability is cotton, which should be avoided at all costs.
Comfort
In midlayers, a number of factors and features contribute to comfort, with the most important being fabric type. Below, we'll take a look at the most common types of mid layer fabric and provide the lowdown on their benefits and drawbacks.
Midlayer Fabric Types
Down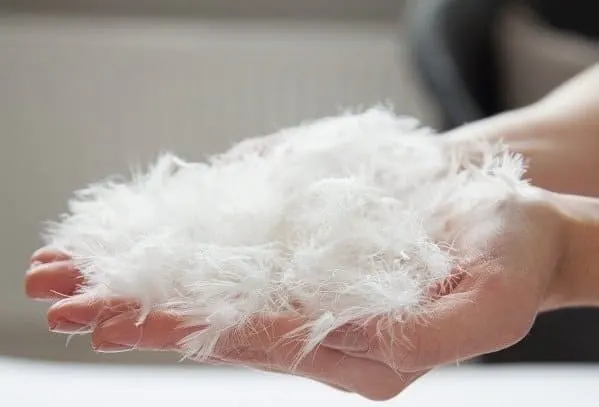 Down performs best in dry and cold conditions and also offers a great warmth-to-weight ratio. On the downside, most down mid layers range from slightly to exorbitantly pricey and offer little to no insulation when wet.
Pros
Excellent in cold, dry conditions
Great warmth-to-weight ratio
Very packable
Lightweight
Cons
Expensive
Provides little to no insulation when wet
Water-Resistant Down
This relative newcomer to the hiking world has rectified down's greatest failing by making it a solid insulator even in wet conditions. At the same time, however, it has taken down's other great drawback — the price — to a whole new level of horrible.
A nice option for those prepared to part with a sizable chunk of their savings in return for top performance.
Pros
All the benefits of regular down but with the added bonus of waterproofing
Cons
Wool
In recent years brands such as Icebreaker and Smartwool have reinvented the heavy, itchy, unsightly affairs once knitted by our grandmothers and made them into something of a staple for the performance-minded outdoors person.
Wool mid layers — and merino varieties in particular — offer similar wicking capabilities to fleece and other synthetic fabrics, but insulate slightly better when wet and usually smell fresher after a long day on the trail. On the downside, unless used in a blend with other synthetic materials, wool offers very little wind resistance when worn as an outer layer and, particularly in more substantial models, can cost a small fortune.
Pros
Very comfortable (in merino products)
Insulates even when wet
Good warmth-to-weight ratio
Cons
Can be expensive
Little wind resistance
Zero water resistance
Fleece
This lightweight, quick-drying fabric is a long-term favorite of outdoors enthusiasts everywhere. And with good reason…
It isn't quite as compressible as other mid-layer fabrics and offers very little in the way of wind resistance, but otherwise is a high-performing option that is soft, cozy, can insulate even when wet, and usually costs a lot less than merino or down. Some examples of big-name fleece products you might find are Polartec (Rab, Patagonia, Black Diamond), Pontetorto Tecnopile (Mountain Equipment), and Gore Windstopper. Read here about the best fleece jackets for the outdoors!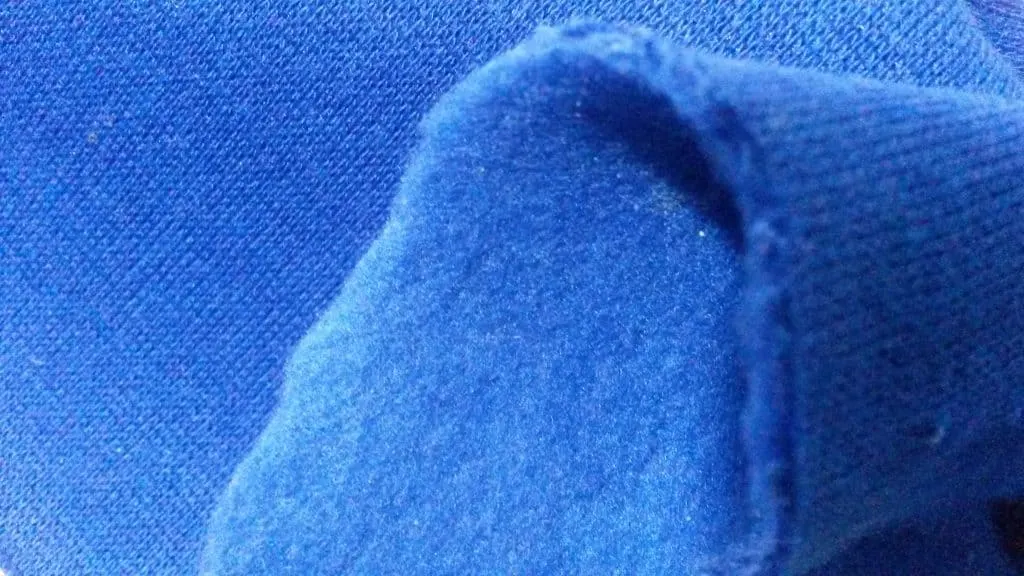 Pros
Usually a cheaper option than other fabrics
Very comfortable
Excellent warmth-to-weight ratio
Insulates when wet
Cons
No wind resistance
No water resistance
Slight bulkier pack size
Other Synthetics
Many other synthetic mid layers now provide additional, high-performing alternatives to the hiking staples mentioned above, most notably polyester-based products and fleece variants such as Polartec (various brands) and Omni-Shield (Columbia), which offer both excellent insulation and breathability. Where these mid layers really excel, in most cases, is that their tight-knit fabrics boast superior wind and water resistance to most standard fleece and wool products.
Pros
Wind resistance
Water-resistance (in some models)
Highly breathable
Usually offer a better fit than baggier fleece or wool midlayers
Cons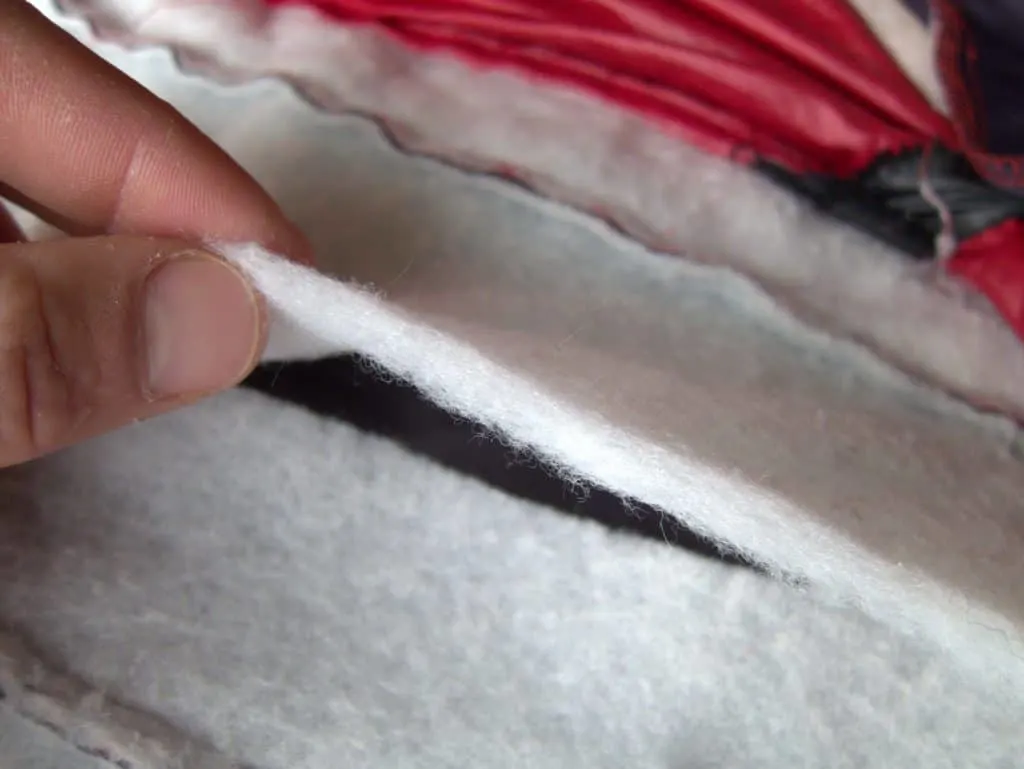 Features
The features in a mid-layer most worth having are those which offer the most versatility with regard to temperature regulation. To put it simply, each of the following allows you to increase or decrease the level of insulation in your layering system without shedding or adding a layer, simply by making fine adjustments to the insulating layer itself.
Thumb Loops
This seemingly negligible feature is an excellent addition to any mid layer, allowing you to prevent cool air entering and warm air escaping at the wrist in cooler conditions or vice-versa when things start heating up.
Zipper
A full-length or quarter-length zipper might not seem like a major selling point in any item of clothing, but a zipper is undoubtedly the quickest and most effective way of cooling down when need is — short of, that is, shedding the layer entirely. When approaching an uphill section on your hike or the sun pokes its head out from behind a bank of clouds, simply pull down the zippers to let in a little air and then zip up again when needed.
Hood
Whether wearing your mid-layer under a shell layer or on the outside, a hood is a handy addition for three reasons:
Shell hoods often provide adequate weather protection but little in the way of insulation
As with zippers, a hood can be used on and off with minimal fuss in variable conditions
Though the oft-cited claim that most of our body heat is lost through our heads is well wide of the mark, there's no doubt that a set of frozen ears, wind-whipped dome, and polar breeze blowing down the back of our necks are things most of us would like to avoid
Pockets
While not an obvious dealbreaker or maker, pockets are a handy feature in any hiking garment. Should you have to shed your shell layer when out on the trails, having a pocket or two in which you can carry a map, GPS device, or camera will save you the hassle of having to doff your pack every five minutes to take readings or snap your shots.
In terms of temperature regulation, pockets can be opened to allow airflow into the base layer when temps perk up, and when things cool down you can, of course, stick your hands in them.
Drop Back Hem
A "drop back hem" refers to the extra material added in some mid-layer models to cover the top of your posterior or, at a minimum, prevent cold air sneaking in between your pants and the base of your top.
While not as adjustable as zippers or a hood, if the hem of your mid-layer has an elasticized drawstring then it can be opened and closed to adjust airflow as and when required.
Now that we've covered all the things to look for in a good mid-layer, let's move onto the business end of things with our selection of the best mid-layers in 2018.
The 7 Best Midlayers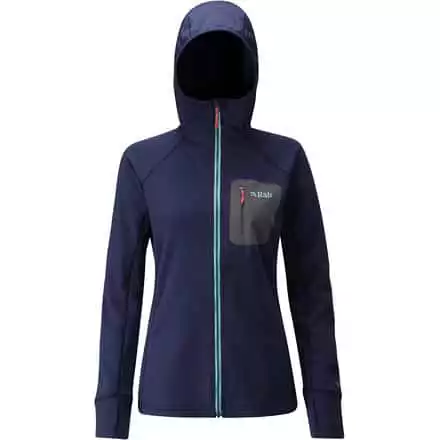 Rab Superflux Hoody | Campsaver
Made from soft and flexible, Thermic fleece the Superflux Hoody balances warmth and breathability to keep you comfortable throughout the year. Well suited to higher intensity activities, the athletic fit makes it easy and unobtrusive to wear under multiple layers whilst the flatlock seams sit comfortably against your skin.
Check Price
We earn a commission if you click this link and make a purchase at no additional cost to you.
With the Rab Superflux Hoody, we get our review underway with a wonderfully versatile mid-layer that ticks every box in our list of desirable features and sets the bar scarily high for its competitors.
Made with high-performing thermic fleece, this hoody offers more in the way of weather resistance than standard fleece products owing to a closer-knit and brushed-back finish. At the same time, it retains a high level of breathability and works well either as a stand-alone router or the insulating filler in the full, three-part layering sandwich.
The Superflux has boasted a full complement of handy features, too, including thumb loops, a large chest pocket, and a close-fitting hood that won't rattle in the wind.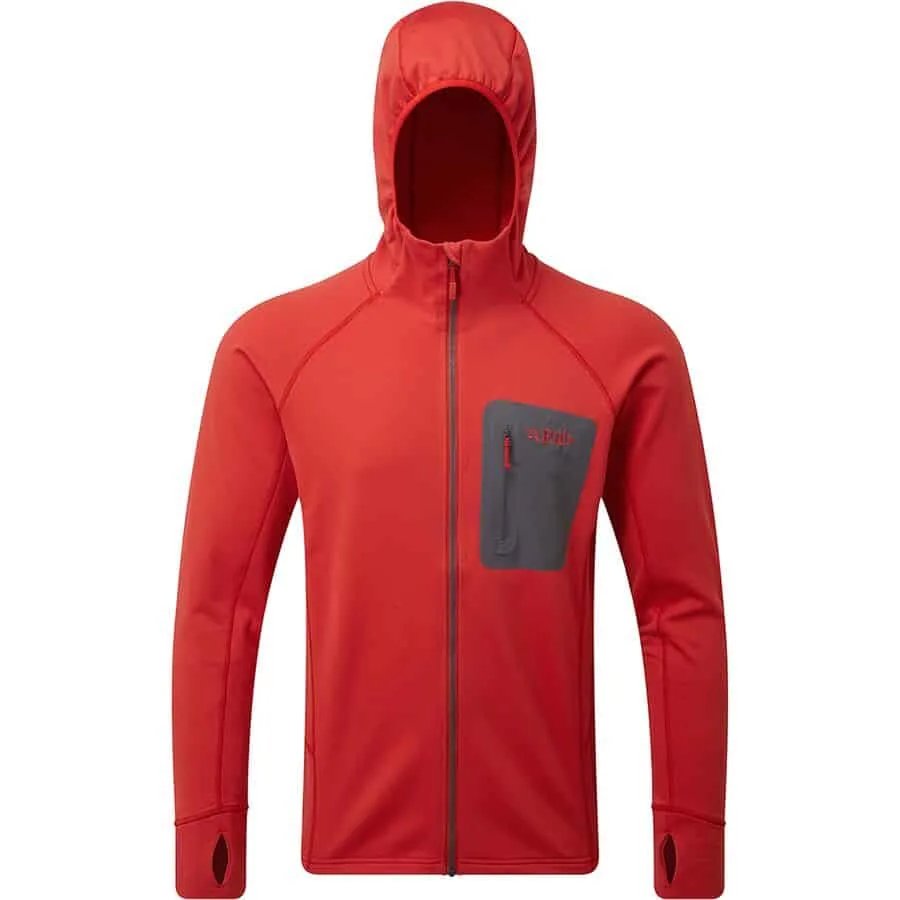 In short, a high-performing all-rounder will endear everyone not overly put off by the lack of hand pockets.
Pros
Good wind resistance
Great warmth-to-weight ratio
Nicely stretchy, soft material
Large chest pocket
Full zipper
Thumb loops
Hood
Very light (11.8 oz) and packable
Cons
No hand pockets
Quite pricey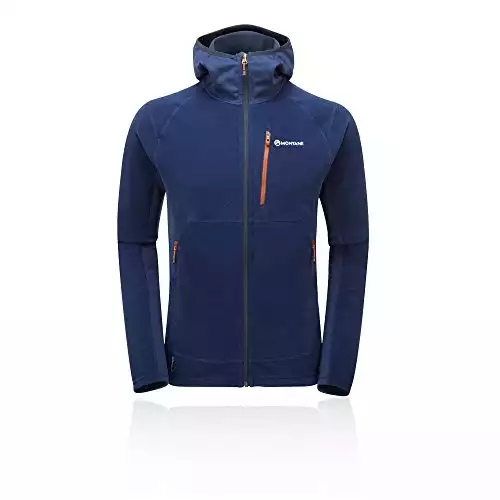 Montane Fury Hoodie | Amazon
Incredibly lightweight hooded technical Micro fleece. The fury jacket is designed for fast mountain assaults and for layering either under a hard shell or a windproof jacket. Additional features: low profile flat locked sewn seams throughout for extra comfort and durability.
Buy at Amazon.com
We earn a commission if you click this link and make a purchase at no additional cost to you.
Using Pintetorto Tecnopile fleece, the Montane Fury is possibly the softest, coziest hoodie you're ever likely to come across. And it's none too shabby in other respects, too.
Boasting stretch panels on the sides and underarms for unrestricted movement, three exterior pockets, an adjustable hem and hood, this is a top that marries the performance demanded by the athlete with the warmth and comfort demanded by those looking for a soft, snug safeguard for cool nights in the campsite.
The downsides to the Fury are ones of degree rather than out-and-out failings or absences. It's a little less wind resistant than other items in our review and won't deal very well with a rain shower, but otherwise, it's an affordable, functional option.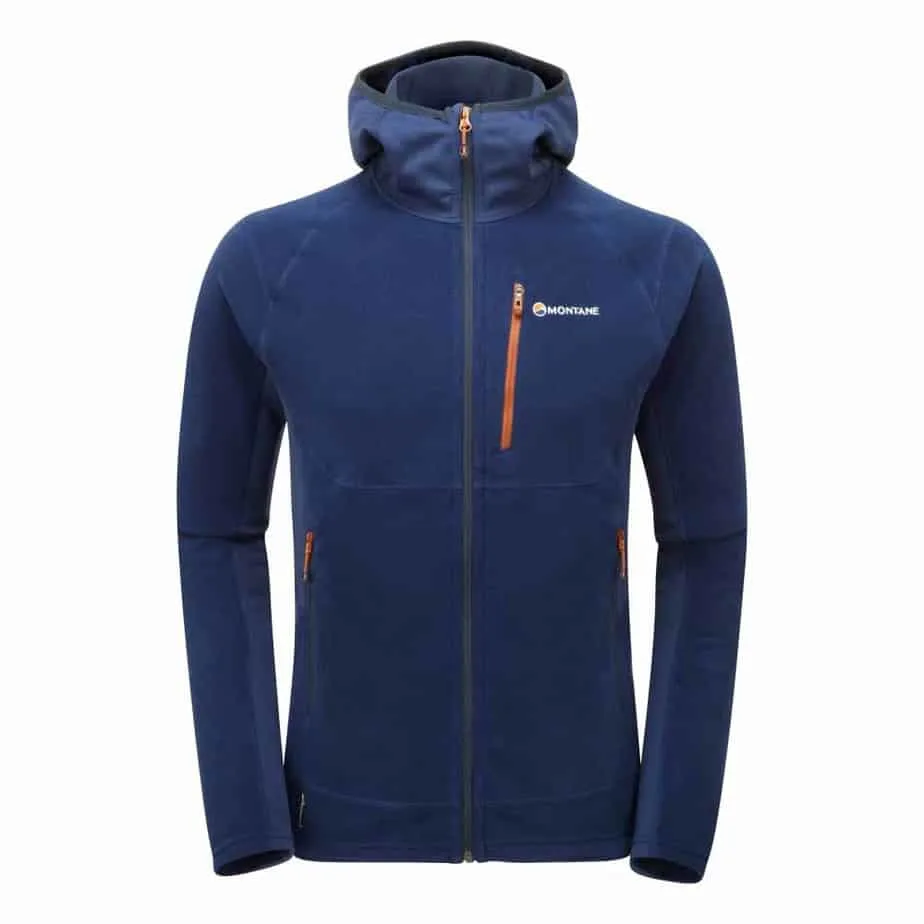 Pros
Incredibly soft feel
Very warm
Stretch panels on the sides and underarms allow for a good range of movement
Hand pockets and large chest pocket
Lightweight (14 oz)
Hem toggles/drawstrings
Hood
Cons
Not as wind-resistant as the Rab Superflux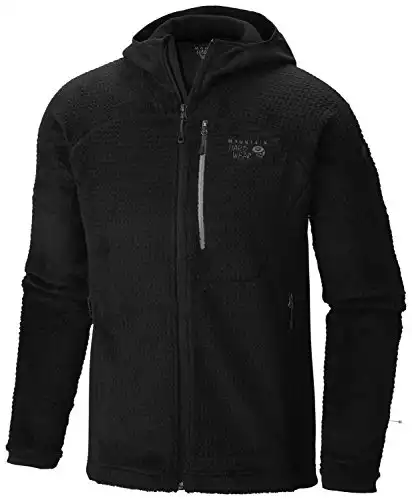 From its super-soft Polartec High Loft Fleece fabric to its full feature set, there's a lot to love about Mountain Hardwear's incredibly popular Monkey Man II.
This is the kind of fleece that's so warm and comfortable that you won't want to take it off, and if you pay a visit to any mountainous hiking hub around the world — Chamonix, Yosemite, Cortina D'Ampezzo — you'll be sure to see plenty of snug-looking Monkey Man users to prove it!
One of the warmest items in our review, the Monkey Man II doesn't let its ability to trap body heat hold it back performance-wise. It's high-wicking, breathable, quick-drying, and has a tight enough knit to deal with buffeting winds. It isn't water-resistant and not the lightest item in our review, but for a few extra ounces, you get a lot of extra warmth.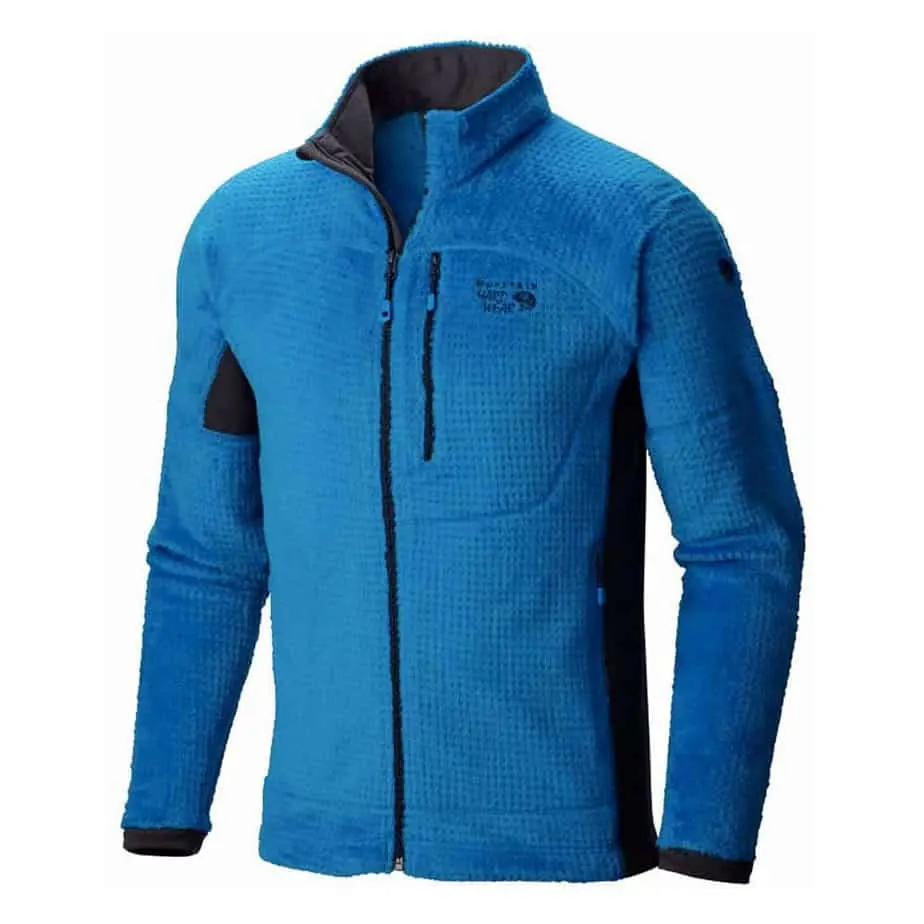 Pros
Very comfortable
Reasonably light (15.5 oz)
Breathable
Quick-drying
Hooded option available
Full zipper
Thumb loops
Two zippered hand pockets
Adjustable hem
Cons
Not water resistant
Quite pricey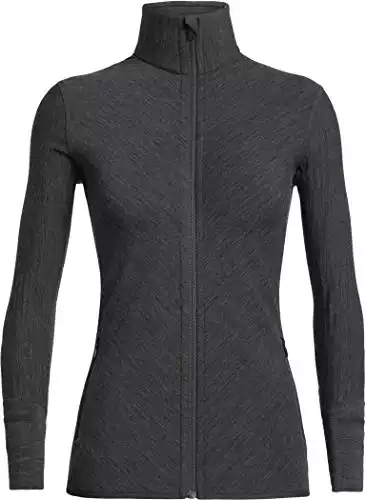 Icebreaker Descender Long Sleeve Zip | Backcountry
Everyone needs a go-to fleece. You know, the one you reach for almost every day during the winter because it pairs perfectly with your baselayer and shell. If your current midlayer isn't cutting it, reach for the Icebreaker Men's Descender Fleece Jacket. This slim, efficient layer blends mid-weight merino wool fibers with synthetic ones to create highly adaptable fabric.
Check Price
Buy at Amazon.com
We earn a commission if you click this link and make a purchase at no additional cost to you.
If you can manage (and have the bank balance) to see past the eye-watering price, the Icebreaker Descender will soon give you plenty of reasons to believe you've actually got yourself something of a bargain.
This superbly comfortable top uses 240 weight merino for optimal 3/4-season warmth in combination with stretchy synthetics that allow for unrestricted movement and a very athletic fit. It's cut long in the rear and sleeves to avoid drafts squeezing in when you're on the move, and features-wise packs everything you could ask for with the exception of a hood.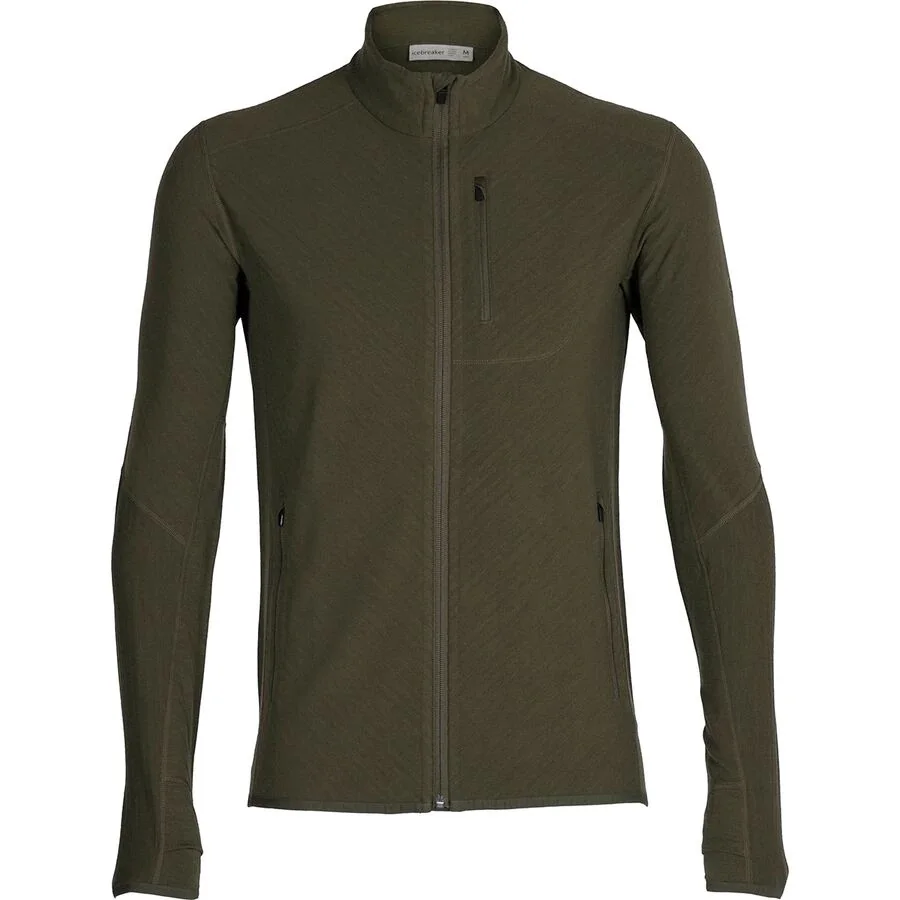 Pros
Very soft and comfortable
240-weight merino
Stretchy material offers a full range of movement
Three pockets (two hand pockets and one chest pocket)
Thumb loops
Extended rear hem
Light (13.7 oz) and tiny pack size
Cons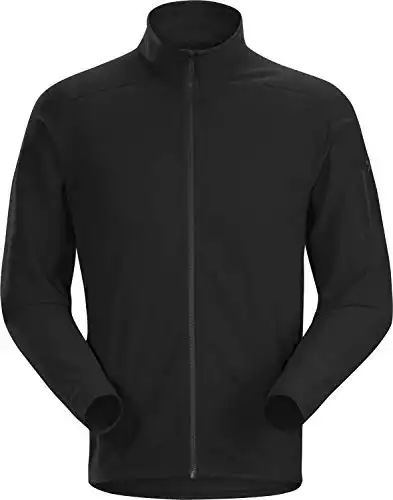 Delta LT Jacket Men's | Arc'teryx
One of the most versatile fleece jackets Arc'teryx has ever designed, the Delta LT provides effective warmth for little weight. Quick drying, air permeable Polartec® Classic 100 micro velour small grid and articulated construction focused on ergonomic freedom and performance comfort make the Delta LT extremely versatile.
Check Price
We earn a commission if you click this link and make a purchase at no additional cost to you.
A superbly practical mid-layer that weighs in at just 9.8 oz and packs over 150 gsm of very comfortable Polartec Classic fleece, the Delta LT is made for those who like to move fast and light.
It also boasts a full set of features and throws in a few bonus ones to boot — a laminated zipper so it can be easily located in the dark and a comfy chin guard that prevents drafts from entering around the neck.
Frills aside, where the Delta really excels is its wind and water resistance, offering enough of both that it performs just as well as a stand-alone outer as it does when worn in conjunction with a shell. All in all, a wonderfully functional fleece that will serve you well anytime, anywhere.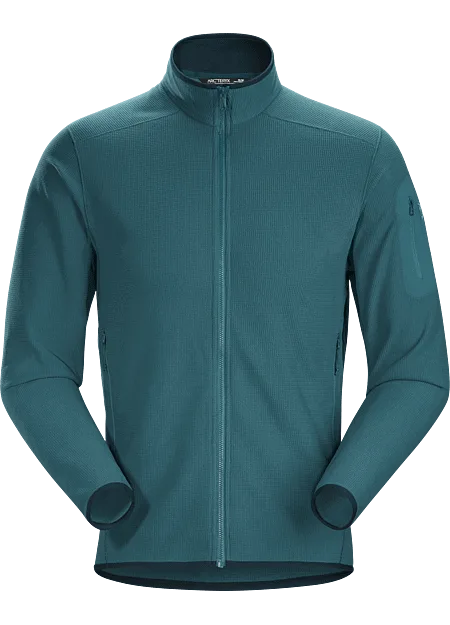 Pros
Incredibly light (9.8 oz)
Highly breathable fabric
Pill-resistant fabric
Dries quickly
Drop back hem
Full-length front zipper
Chin guard
Three pockets (two hand pockets and one sleeve pocket)
Laminated zipper
Wind resistant
Water-resistant
Cons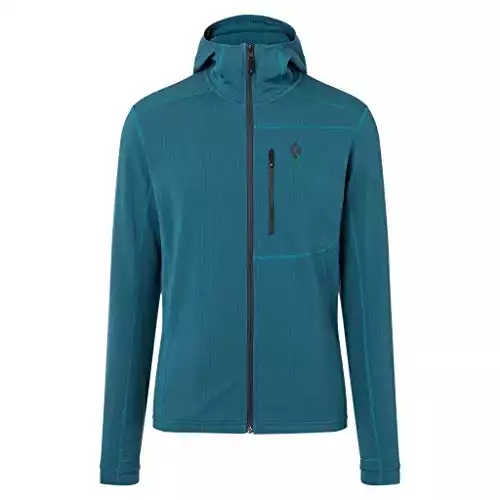 Black Diamond Men's Coefficient Fleece Hoody | Backcountry
Simple and versatile, the CoEfficient Fleece Hooded Jacket works as a midlayer or on its own whether you're earning turns in the backcountry, cranking on some ice walls, or headed down south for some cold-weather rock climbing. The CoEfficient's Polartec Power Dry High Efficiency fabric is incredibly breathable to keep you comfortable while you pull in the vertical world or break trail up steep slopes.
Check Price
Buy at Amazon.com
We earn a commission if you click this link and make a purchase at no additional cost to you.
Using a higher density fabric (180 gsm2) than the Arcteryx Delta LT, the Black Diamond Coefficient is a warmer mid-layer ideal for those who do their hiking at altitude or in winter months. Made with Polartec's excellently breathable Power Dry fabric, the Coefficient's warmth doesn't detract from its performance and it's as much at home on high mountain trails as it is at the campsite.
It may be pricey compared to some items in our review, but those who choose the Coefficient are effectively getting two garments in one — a toasty insulator in a three-part layering system and a solid, reliable outer when worn alone. In short, a great choice for the cold-weather hiker.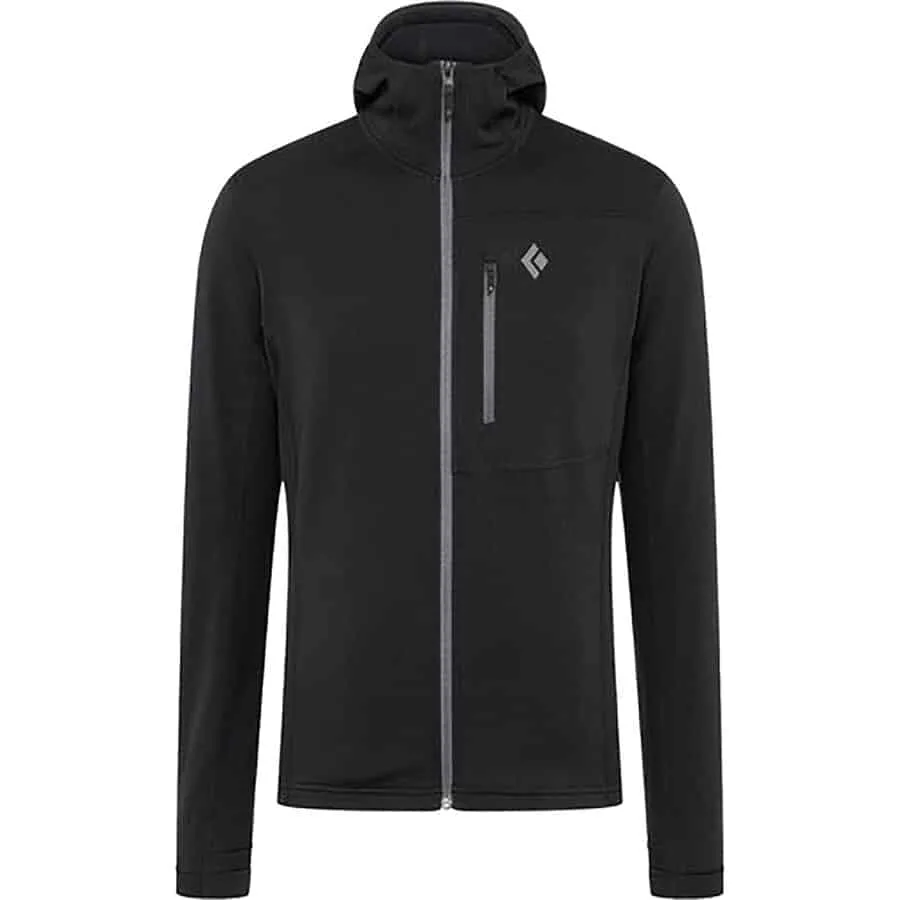 Pros
High density (180 g/m2)
Lightweight (12.9 oz)
Very warm
Stretch cuffs
Drop back hem
Thumb loops
Hood
Large chest pocket
Hand pockets
Cons
Not cheap (but good value for money nonetheless)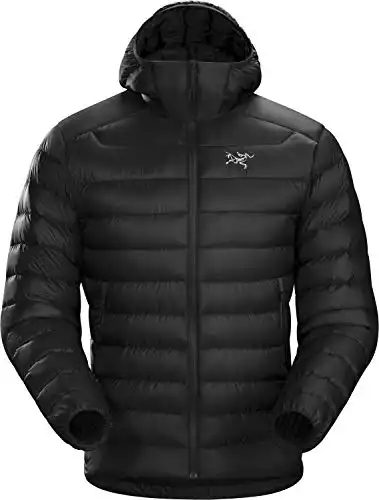 Cerium LT Hoody Men's | Arc'teryx
Streamlined in its design, and with an exceptional warmth-to-weight ratio, the Cerium LT hoody works as a mid layer or a standalone piece in cool, dry conditions. Premium 850 fill-power down is lofty and resilient, the Arato 10 nylon shell provides lightweight durability, and Down Composite Mapping strategically places Coreloft synthetic insulation in moisture-prone areas.
Check Price
Buy at Amazon.com
We earn a commission if you click this link and make a purchase at no additional cost to you.
The most expensive item on our list, the Cerium LT's price tag will likely scare off many a would-be buyer before they even get down to reading about the many benefits this high-performing, luxurious midlayer has to offer. As a stand-alone mid-layer, the Cerium LT is, granted, frighteningly priced. However, it justifies that price by offering a very versatile option that really ups the ante in terms of insulation and performance.
The Cerium uses 850 fill goose down that is body mapped to boost the heat in targeted areas. In addition to this, it uses a backup, synthetic CoreLoft fill that ensures it will keep you warm even when wet and also an effective DWR (Durable Water Repellent) finish that puts the proverbial cherry on top of the cake by helping to avoid getting it wet in the first place.
The bottom line? It's water-resistant, light, comfortable, cozy as can be, and a great cold-weather companion for those who don't mind paying a high premium for the privilege.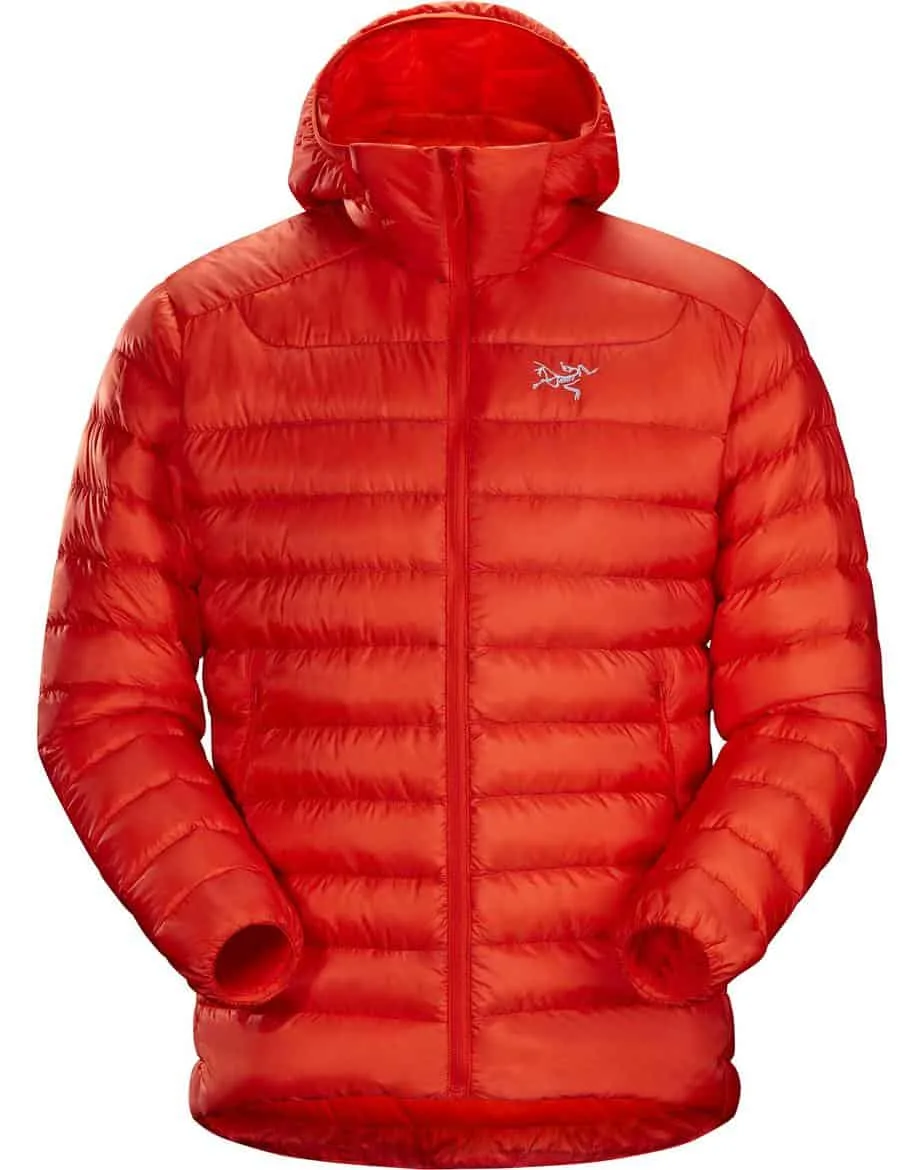 Pros
850 fill-power goose down
Coreloft 80 (80 g/m²) insulation
Durable Water Repellent (DWR) finish
Adjustable hood
Zippered hand pockets
Athletic fit
Very light (10.1 oz)
Cons
Very (very!) pricey
Overkill for the occasional warm-weather hiker
| | | | | |
| --- | --- | --- | --- | --- |
| Model | Fabric | Level of Insulation | Features | Value for Money |
| Rab Superflux Hoody | 94% polyester, 6% spandex | Medium | Large chest pocket; thumb loops; hood; full-length zipper | Very good: a top performer as either a wear-alone outer or an in-between insulator |
| Montane Fury Hoodie | 94% polyester, 6% spandex | Medium | Large chest pocket; zippered hand pockets; thumb loops; hood; full-length zipper | Very good: the cheapest option in our review and a solid performer despite its lack of weather resistance |
| Mountain Hardwear Monkey Man Grid II | Synthetic Polartec High Loft Grid | Medium/High | Hand pockets; thumb loops; hood (optional); full-length zipper | Good: Not ideal as stand-alone outer due to lack of water resistance but offers excellent warmth and comfort |
| Icebreaker Descender Long Sleeve Zip | Merino-polyester blend (84% merino) | Medium | Large chest pocket; zippered hand pockets; thumb loops; hood; full-length zipper | Very good: it's pricey, but it packs a lot of warmth and performance |
| Arcteryx Delta LT Jacket | Polartec Classic | Medium | Sleeve pocket; zippered hand pockets; thumb loops; full-length zipper; chin guard; laminated zipper | Good: excellent performance but loses points for lack of hood |
| Black Diamond Coefficient Fleece Hoody | Polartec Power Dry | Medium/High | Large chest pocket; zippered hand pockets; thumb loops; hood; full-length zipper | Very good: not cheap but a wear-anywhere, anytime kind of mid-layer |
| Arc'teryx Cerium LT Hoody | 850 fill European Goose down; Coreloft 80 (80 g/m²) insulation; 10 denier nylon shell | High | Interior pocket; zippered hand pockets; hood; full-length zipper | Good: Very expensive but well enough made and durable enough to be a once-in-a-lifetime purchase |
Conclusion
The modern hiker is somewhat spoiled for choice with regard to high-performing mid-layer options. In our review, we've seen a little bit of everything, and narrowing down the best of our cream-of-the-crop selection to an out-and-out winner hasn't been easy.
When push came to shove, however, we based our evaluation of each midlayer's merits on three must-have attributes — a solid warmth-to-weight ratio, overall performance, and value for money — and in each of these categories found the Arcteryx Delta LT Jacket to come up trumps over the competition.
This feature-rich, fantastically practical top offers the kind of versatility that makes it suitable for use in any environment, whether as a stand-alone router or an interior insulator. It's also incredibly light, packable, breathable, and does more than enough in terms of heat retention and warmth to justify its slightly hefty price tag.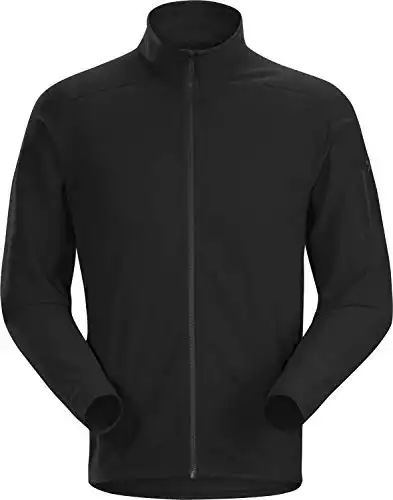 Delta LT Jacket Men's | Arc'teryx
One of the most versatile fleece jackets Arc'teryx has ever designed, the Delta LT provides effective warmth for little weight. Quick drying, air permeable Polartec® Classic 100 micro velour small grid and articulated construction focused on ergonomic freedom and performance comfort make the Delta LT extremely versatile.
Check Price
We earn a commission if you click this link and make a purchase at no additional cost to you.
Read more here about what to wear when hiking!
And Find here The Best Jackets For Outdoor Adventures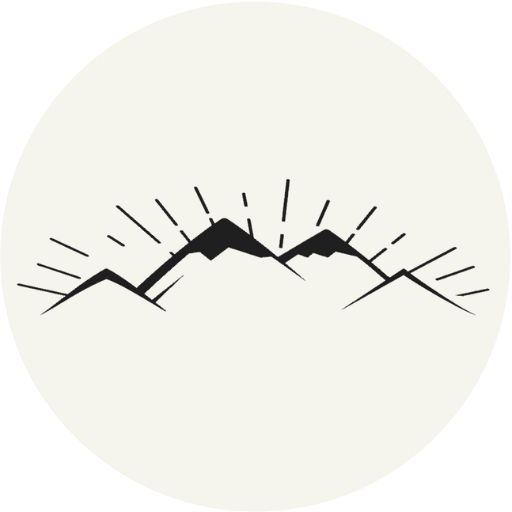 The All-Outdoors Guide team is comprised of enthusiastic experts that enjoy helping others that aspire to be better at outdoor fun. Part of that is making sure you have the right gear and information when it's time to go out and have fun. Some of our team have accomplished amazing feats like climbing 6000 feet to the top of mountains, others have explored every dirt trail they could find and we even have some people that have backpacked solo on various continents. No matter what our readers want to learn and do, our team is here to help them accomplish those goals.