Finding shorts built for the outdoors that also look stylish can be hard to come by. Kuhl shorts have perfected this. They are built well enough to keep you comfortable and last through any adventure, all while looking flattering.
Below you'll find the best Kuhl shorts for men, women, and children. These are the shorts that are best for overall use, between rugged hikes, wet adventures to casual wear. Some shorts are best for specific uses, such as breathability on hot days, comfort, and athletic activities.
Kuhl's Background
Kuhl clothing is known for its durable outdoor clothing with a casual, laid-back look. They produce every basic clothing item you'll need, including shirts, jackets, shorts, and pants. You can expect to find pieces perfect for anything life throws at you, from wet adventures to a tough day's work to rugged hiking.
Starting in the Wasatch Mountains of Northern Utah, Kuhl has been around since 1983, beginning as Alfwear. About 10 years later, they changed to "Kuhl" in 1994. Inspiration to change the name came from the German pattern maker, Holger Kuhr, who created Kuhl's 3D pattern engineering. Also, "Kuhl" means cool in German!
Best Kuhl Shorts Men's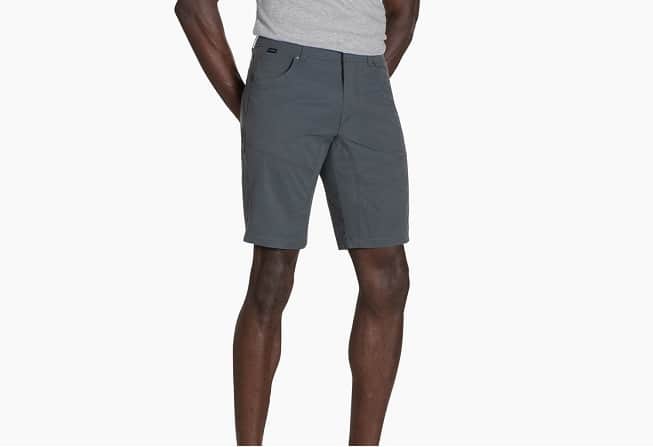 Best Overall – Silencr
| | |
| --- | --- |
| Pros | Cons |
| Super water-resistant | Stiffer material |
| Extremely durable | |
| Lighter weight | |
| Versatility when it comes to fit | |
When it comes to hiking or basically any outdoor activity for that matter, the Kuhl Silencr short is sure to impress. With a DWR (durable water repellent) coating to keep you dry and Kuhl's exclusive reflex fabric, you will withstand whatever nature has to throw at you.
Kuhl's reflex fabric is made of 100% mechanical stretch ripstop polyester. This is the strongest, most lightweight way to build a fabric, so you know you will not be ripping any holes in these shorts. The only downside to this fabric is it is not as flexible as fabrics that include spandex.
You will also be kept comfortable throughout your activity with Kuhl's signature Free Ryde waistband with micro chamois. They also include a gusseted crotch, UPF 50+ sun protection, and 7 pockets, including 2 side zipper pockets and a cell phone pocket.
The Kuhl Silencr shorts are the most versatile shorts you'll find when it comes to fit. They come in 11 different waist sizes and 3 inseam lengths to choose from. Making sure that you get whatever fits you think is best for you.
Most Comfortable K
uhl Shorts Mens

– Radikl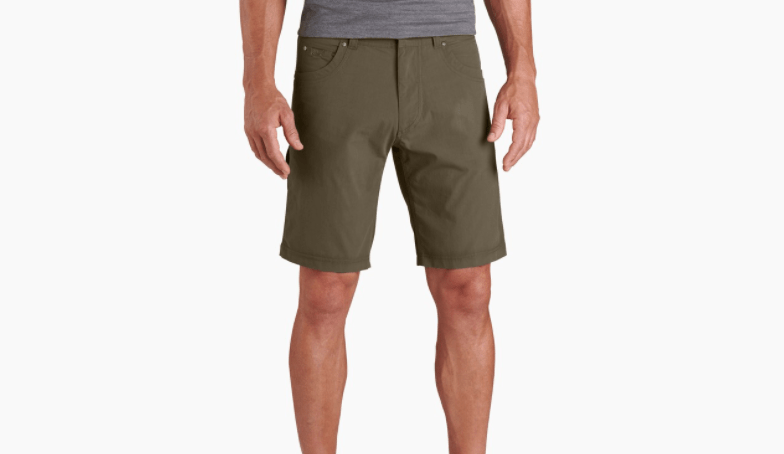 | | |
| --- | --- |
| Pros | Cons |
| Super comfortable | Not water resistant |
| It comes in 7 colors | All open pockets |
| High breathability | |
| Adjustable waist with french fly | |
The Kuhl Radikl shorts are some of the most comfortable shorts you'll find. These shorts include knit panels at the hip, waist, and back yoke that are extremely stretchy so that they fit your body perfectly. These panels are also extremely breathable, giving you airflow right where you need it.
If that's not enough, the waistband includes a french fly lined with micro chamois for extra adjustment. You will have no problem with these shorts slowly sliding down on you during your daily activities.
Kuhl made these shorts with tier Enduro fabric. It is a mix of cotton, nylon, and spandex. They give you the feel and look of an everyday short while keeping its durability and drying quickly. However, this fabric is not water-resistant.
These shorts are also loaded with features. They come in 7 different colors giving you a wide array of choices. 7 pockets are located on these shorts, including 2 front jean style pockets, 2 back pockets, 1 coin pocket, 1 stealth cell phone pocket, and 1 3D gusset. There is also a UPF 50 sun protection with these shorts.
Best at Keeping You Cool – Konfidantair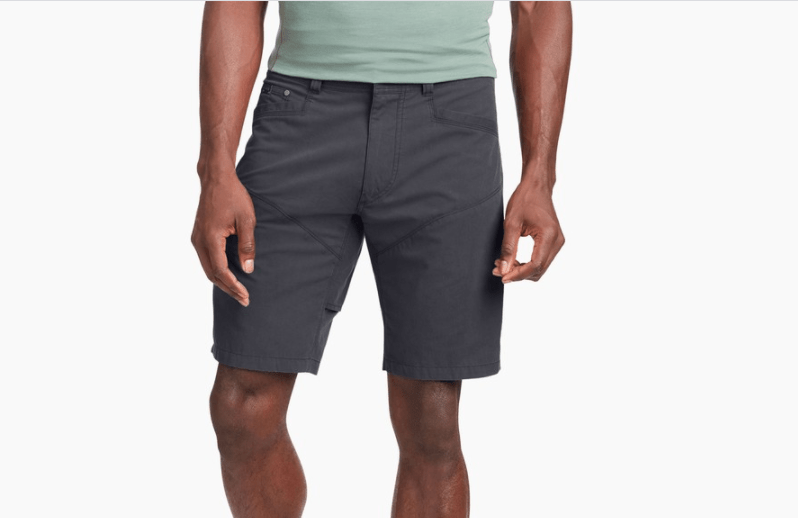 | | |
| --- | --- |
| Pros | Cons |
| Extremely breathable | No water resistance |
| Very durable | |
| A lot of pockets | |
If you plan on wearing your shorts in the hottest of weather, the Kuhl Konfidantair shorts are for you. These shorts are extremely breathable with the Kuhlair venting system. This system includes 2 vertical mesh-lined pockets, vented front, side, and back pockets, and gusseted crotch vents. Anywhere they could put a vent, they did.
Even though there is a ton of mesh in these shorts, durability is not an issue. Each seam is lined with reinforced grosgrain ribbon ensuring that those mesh seams do not get ripped out. They also have a UPF 50 sun protection and Kuhl's Free Ryde waistband to keep you comfortable.
These shorts are also made with the same Enduro fabric that the Radikl shorts are made of. Again, they are not water-resistant but dry very quickly compared to normal cotton. They are also pretty lightweight and have the look and feel of normal, casual shorts.
You can also find 9 pockets in these shorts. That is a ton of pockets for a pair of shorts. There are 2 front hand pockets, 2 back pockets, 2 zippered side pockets, 1 drop-in pocket, 1 3D cell phone pocket, and 1 coin pocket.
Best Kuhl Shorts-Women's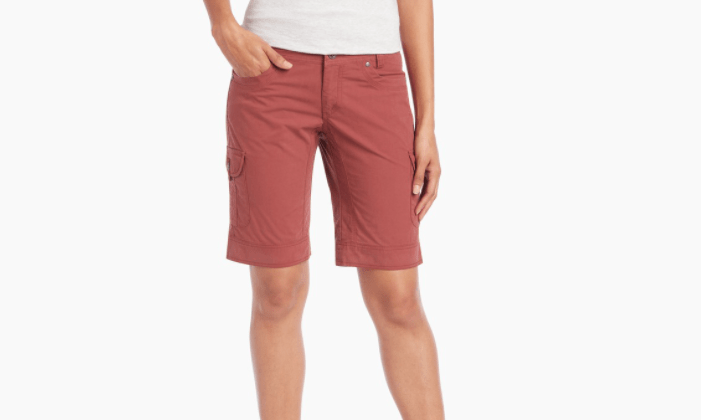 Best Overall- Splash
| | |
| --- | --- |
| Pros | Cons |
| A lot of pockets | Not water resistant |
| Super breathable | |
| It fits women's bodies well | |
| Stretchy casual fabric | |
Kuhl's Splash shorts are the shorts you can wear for almost any occasion. They pull off casual but have all the features and comfort of good hiking shorts. These shorts are also specifically designed to fit a woman's body.
These shorts are built with Uberkuhl stretch fabric that looks casual but has the durability and stretch of hiking shorts. This fabric is not water-resistant but dries very quickly. They are also very breathable with the Kuhlair vent system involving mesh pockets and zippered openings.
Also featured on the Splash shorts is Kuhl's Free Ryde waist that contours the shape of a woman's body. This waist is made to fit higher in the back and lower in the front to sit comfortably on your waist. You'll also enjoy UPF 50 sun protection with these shorts.
Unlike other women's shorts, the Kuhl Splash shorts are equipped with a lot of pockets. There are a total of 5-6 pockets depending on which length you get. The 5.5-inch inseam comes with your normal front and back pockets and an added thigh zipped pockets. The 11-inch length has 2 thigh snap pockets.
Best Hiking Short- Treker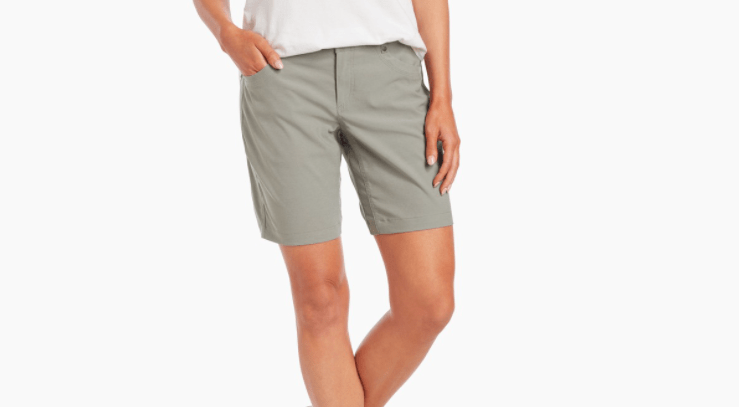 | | |
| --- | --- |
| Pros | Cons |
| Durable | Not very breathable |
| Secure pockets | |
| Versatile, flattering fit | |
| Quick-drying | |
The Kuhl Treker shorts are made to last while enjoying the outdoors. They are extremely durable, made with Kuhl's Rekoil fabric. This is a polyester-nylon mix making them quick-drying, slightly stretchy, and long-lasting.
Along with the fabric being durable enough for outdoor activity, you can rest assured that things won't fall out of your pockets. There are 2 snap closure back pockets, and the 11-inch length comes with 2 zippered thigh pockets.
The fit of these shorts is very flattering with their Kuhlkurve fit. This is a tighter fit that accentuates everything you will want to accentuate. They also come in 3 lengths and feature an internal drawcord so you can make them whatever fit you like.
The only downside to these shorts is they are not very breathable. There are no mesh pockets, and the fabric doesn't allow for much airflow. However, you know you'll be safe from the sun with a UPF 50.
Best Active Short- Freeflex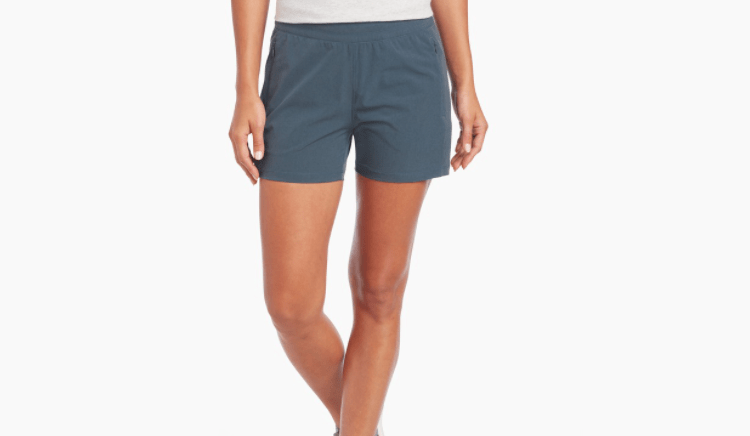 | | |
| --- | --- |
| Pros | Cons |
| Extremely lightweight | Looks like a gym short |
| Best sun protection | Not a lot of pockets |
| Very comfortable | |
| Moisture-wicking | |
For the active women out there, Kuhl's Freeflex shorts are for you. They are great for trail running, working out, or simply relaxing. These shorts are essentially super nice gym shorts with more features than gym shorts. Freeflex fabric is made up of polyester, which is buttery soft, slightly stretchy, and extremely lightweight. This fabric is also moisture-wicking, so you don't need to worry about being drenched in sweat after a long hike or workout.
The waistband is made up of 89% polyester and 11% spandex. This gives you the ultimate stretch to create a pull-on style waistband without surrendering durability. There is an internal drawcord in the waist for added assurance that these shorts won't slide down.
These shorts have features that other gym shorts do not have are 2 front zip pockets, 2 back chino style pockets, and UPF 50 plus sun protection. Kuhl's Freeflex shorts also come with shorter inseam length choices at 4 inches and 8 inches.
Best Kuhl Shorts-Kids
Boys- Renegade Cargo Short
| | |
| --- | --- |
| Pros | Cons |
| Water-resistant | Heavier shorts |
| Durable | |
| Safety reflector | |
| A lot of pockets | |
The boy's Renegade cargo shorts are made to withstand all the adventures a young boy is bound to encounter. They are made of Kuhl's Duralux fabric consisting of 95% nylon and 5% spandex. This fabric gives them the flexibility to roam wherever they want and stays strong.
These shorts also have a DWR coating (durable water resistance). They're not 100% waterproof but will keep kids dry from splashes and light showers. Along with this protection is a UPF 50 to keep your little ones from getting sunburnt.
Another great feature these shorts have is a lot of pockets for kids' shorts. There are 2 front hand pockets, 2 back pockets, and 2 cargo style pockets with closures. The side cargo pockets ensure that your boy will be able to keep thighs in their pockets without losing them.
All kids shorts are also equipped with a Recco reflector, making them easily findable in an emergency situation. The way Recco reflectors work is the rescuer has a Recco detector that signals for the Recco reflector. When the detector finds the reflector, a signal becomes stronger the closer they come.
Girls- Horizon Convert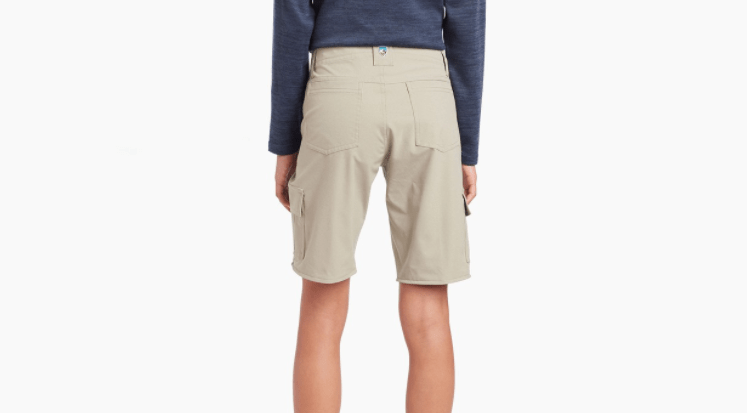 | | |
| --- | --- |
| Pros | Cons |
| Extremely durable | Not water resistant |
| Safety Reflector | |
| Shorts and pants in one | |
| A lot of pockets | |
The horizon conversion shorts are actually pants that zip off into shorts. Giving your kid the freedom to choose which way they would like to wear them. The zipper easily hides away with flat seams.
These convert shorts are extremely durable with Kuhl's Reflex Softshell fabric. This fabric is made from the same nylon used in climbing harnesses and built in a ripstop construction. This fabric is also moisture-wicking, keeping your girl dry throughout any activity.
There are also many extra features on the Horizon shorts to keep you comfortable, such as UPF 50 sun protection, an internal drawcord for adjustment, and 6 pockets, including 2 cargo pockets to keep her hands free.
On top of all of that, these shorts are also equipped with the Recco reflector mentioned in the boy's Renegade shorts above. You never have to worry about finding your child in an emergency situation with radar technology that will detect your kid's location.
FAQs about K
uhl shorts mens, womens, and kids
Questions: Can you machine wash Kuhl shorts?
Answer: Yes! Recommended for most Kuhl fabrics is to machine wash on cold and tumble dry on low.
Question: Do Kuhl clothes run small?
Answer: Kuhl clothes can run small but generally run true to size. Make sure to read reviews for pieces you are interested in to see what others say about the fit of the piece.
Question: Is Kuhl an American brand?
Answer: Kuhl is based out of Utah in the U.S.A. They also produce all of their clothing in the U.S.A. However, they do source some fabrics from other parts of the world, such as wool from New Zealand and Fleece from Italy.
Question: How do you pronounce "Kuhl"?
Answer: The word Kuhl is pronounced exactly the same as the word it translates to. "Cool."
What is Kuhl's return policy?
Answer: You have 45 days to return an item unworn, unwashed, and with the tags still attached. If there was a defect with the product you ordered, you may contact customer service to return your item beyond this policy.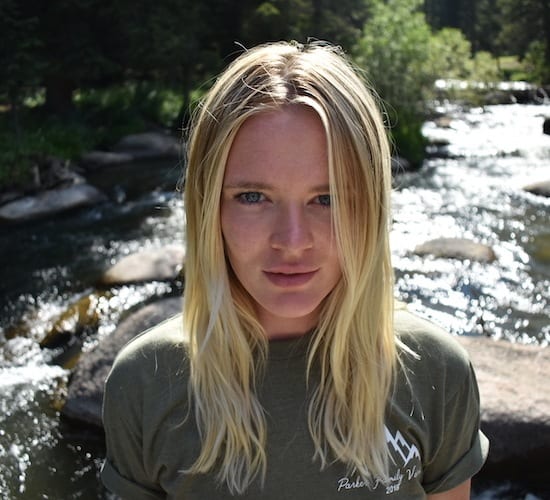 Haley loves hiking and camping. That state of calmness is like no other. A top 14er rock scrambler, Haley wants everyone to experience the highs and joys of outdoor living and here is to help prep the rest of us to do so safely. Here to share her top gear, tips and climb to the top hiking strategies, Haley is a bonafide outdoors guide to love!
30% OFF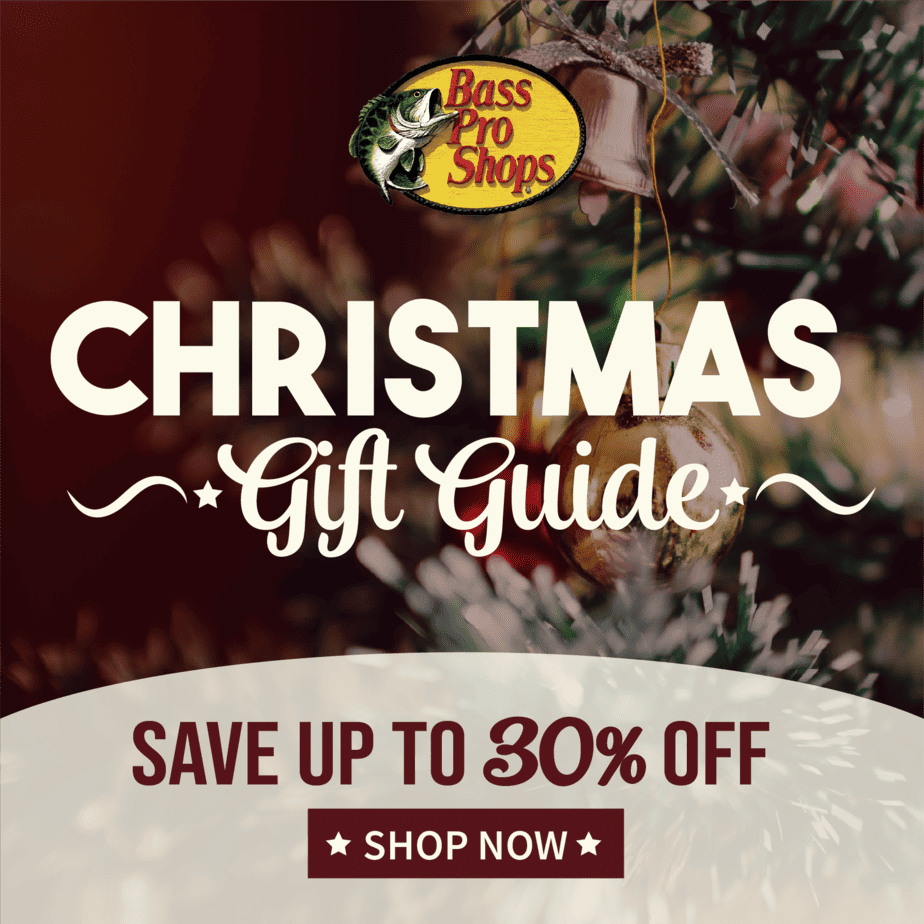 Christmas Gift Guide | Bass Pro Shops
Bass Pro Shops is your trusted source for quality fishing, hunting, boating, and outdoor sporting goods. Get Amazing Deals on all Christmas gifts from clothing to camping and home gifts!
SHOP NOW
We earn a commission if you click this link and make a purchase at no additional cost to you.