A common struggle for active parents is figuring out how to continue with their individual passions while having children in tow.
Outdoor activities like hiking and camping make the use of traditional strollers, even off-road types, virtually impossible to use. Rather than leaving your baby or toddler at home, you can safely take them along with the use of a child carrier style backpack.
Bottom Line Up Front? Check out the top 3 at a glance, if you are in a hurry.
Otherwise, continue reading for the full guide…
Advantages of Baby Backpacks
Baby hiking backpacks are quickly gaining popularity and many popular outdoor gear brands are creating their own models. These backpacks primarily function as a carrier for children under the age of 3, but many have quite a bit of storage available too.
There are many advantages of using a backpack.
First off, many are extremely comfortable for the baby and the parent. Many parents find that a moderate hiking pace combined with the soft fleece and hug of a good backpack sends the baby to sleep pretty quickly.
Some packs allow you to attach toys via loops so the baby can entertain itself while you walk without you needing to stop constantly to pick up dropped objects.
Some hikes may completely eliminate the ability to use a stroller but as a parent you will find that even flat, groomed trails make pushing a stroller harder.
A backpack puts the weight of your baby on your back in such a way that allows you to most efficiently carry weight. An additional benefit of having your baby close to you in this way is that it gives you the opportunity to bond and keeps your child warmer in cool weather.
Even the casual hiking parent will find that a baby backpack can be a real lifesaver. If you are an active individual with a new baby or a child under the age of 3, consider these 3 amazing backpacks that will let you take your little one along for the next adventure.
How to Select the Best Infant Carrier for Hiking
This is where you need to know the key criteria.
Step 1: Infant vs Child Carrier
Not all carriers are interchangeable. In fact, most aren't.
Weight Maximums: Once your little one is above 25 lbs. you will need to upgrade to a child carrier (30 lbs. is the max). Remember, that's TOTAL weight (including all the other gear you put in in addition to the baby.
Weight Minimums: Typically, infant carriers are suitable for babies from about 6 months onwards. Or, 16 lbs. minimum.
Step 2: Determine the Important Features
Depending on the type of hiking or outdoor activities, certain features might take on enhanced importance.
Frames: External frames are the norm for baby carriers, although you will find some internal frames as well. Carriers without frames are really only suitable for up to 30 lbs. of combined weight.
Suspension: A good internal suspension system can be the difference between back pain and an enjoyable experience. Most good packs feature adjustable straps based.
Stand Stabilizer: This might not be the first feature you think of, but when loading/unloading precious cargo, this is important. Quality packs will have either a fixed or spring-loaded kickstand.
Cargo Space and "Extras": Ideally, your baby carrier will also have some convenient compartments and accessories. Things like sun hoods, changing pads, bug netting, and storage poaches can really help maximize space. Just keep the "weight limits" in mind, before you start piling on too much gear.
Three Amazing Backpack Options for Parents
There are many, many backpacks on the market but these 3 really stand out from the competition. We selected these based on our criteria above.
Osprey Poco Plus Child Carrier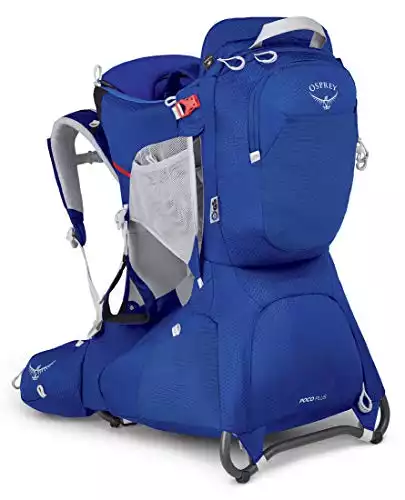 Osprey has long been a respected brand for all things pertaining to outdoor gear, but are especially popular for their backpacks. It's no surprise that their child carriers are some of the best available.
Osprey's Poco series has been tested time and time again with excellent results. Though there are 3 packs within the series, one of the best is the Poco Plus. The Poco Plus is available in 3 different colors and quite attractive in appearance. At a total of 6lbs 15oz, this carrier is lightweight and very compact (approx. 27"x13"x12").
This pack does have a frame that is super lightweight, powder-coated aluminum that is extremely strong and durable. Additionally, all hinges are injected molded and the kickstand has an audible click so you know for sure that is it extended properly.
This pack has one of the best carrying capacities of its kind- 48.5lbs. As with most any other backpack, the minimum weight of the child must be 16lbs. For additional safety only use these carriers for babies 6 months and older to ensure they can support their own head unassisted.
The Poco Plus is made of a 210D ripstop nylon that is waterproof. The child's seat is framed with comfortable fleece and also has a washable drool pad to keep mom or dad dry. There are so many features to the Poco Plus but some of the most impressive include:
Removable sunshade so you can easily take it down without unloading the pack and baby
Universal hydration sleeved situated comfortably between the back of the parent and the baby
Pack contains numerous mesh back panels to allow for excellent ventilation- very useful for hiking in the heat
The Baby's seat is very adjustable and includes shoulder straps that have buckles out of the baby's reach
The backpack is totally adjustable to allow most any parent to carry it with comfort
Built-in clear windows so baby can see out during sunny or rainy weather
The pack have various pockets for storage, including a large zippered pack and a special sleeve for a cellphone
You really can't go wrong with the Poco Plus. One downside is that this pack is fairly narrow and can cause a problem for larger babies and toddlers, even if they are under the weight maximum.
Due to the mesh ventilation throughout this pack, the Poco Plus does require a period of breaking in to make it as supple and comfortable as possible.
Phil & Teds Escape Baby Backpack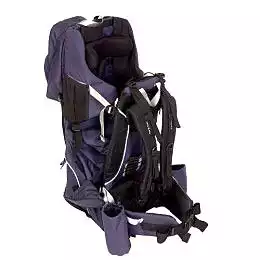 Phil & Teds is a fun brand that has constantly been innovating for 18 years now. Their motto of "adapt & survive" describes the company's goal of providing gear to mothers and fathers that allow them to continue on with the lives as new parents.
One top-rated baby backpack is the Escape. The Escape is available in two colors and is very compact- folding down to roughly 30"x13"x6". The backpack weighs 6.6lbs and has a maximum load weight of just about 40lbs.
Phil & Teds recommends for safety reasons that the minimum age for child safety is 6 months of age. You can however use this pack upwards of 3 years as long as the kid is under the maximum weight.
The Escape offers some different features such as:
Easy to clean polyurethane and polyester outer shell
Soft fleece should straps for baby's comfort
Entire backpack is free of chemicals
Adjustability within the seat and foot rests to accommodate all kids
Pack includes a headrest for the child and a change mat
Sun/rain canopy included
Includes a removable day pack and sleeve for a hydration bladder
ASTM F2549-06 and EN 13209-1:2004 safety certifications
Completely adjustable straps for the parent
The Phil & Teds Escape is an incredible backpack that is perfect for any family. Despite the number of accessories and storage options, this pack remains lightweight and super easy to use. If you want something you can throw right on and get out on the trail, this would be an excellent choice.
As an added bonus, as your child gets too old for the carrier they can then use the small detachable pack as their own backpack for hikes.
Kelty Pathfinder 3.0 Frame Child Carrier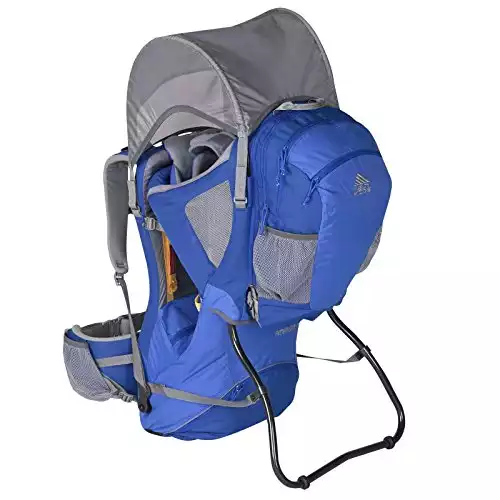 Kelty is a well-respected brand that primarily caters to backpackers and campers but was one of the first to sell baby backpacks for hikers. They have a few models of child carriers available with one particular model really standing out from the competition.
The Kelty Pathfinder 3.0 is a vibrant royal blue color that is JPMA certified. It is suitable for children from 16lbs to 40lbs and the pack has an overall total weight capacity of 50lbs including gear.
For safety reasons, this pack is only suitable for children who are old enough to support their heads. The material is 420D Polyester which provides plenty of comfort and stability.
Safety is a primary concern of Kelty so this carrier has 3 safety features: an auto-deploy kickstand, non-pinching hinges, and a 5-point adjustable harness for the child. For future comfort, the Pathfinder 3.0 comes complete with a sun hood to ensure your baby is shaded while on the trail.
In addition to being able to carry a decent weight range, the padded seat of this pack is adjustable so most many baby or toddlers will be able to sit in it safely.
Other features of Kelty's Pathfinder 3.0 include:
Removable daypack
Storage under the seat and in the front belt
Easily accessible water bottle pocket
Option to use a hydration pack
Comes with changing pad
Loops for attaching toys or pacifier for babies
The Pathfinder is ideal for parents of all sizes as it is easy and quick to adjust. This backpack is incredibly comfortable with roughly 1,300 cubic inches for storage.
Kelty's Pathfinder 3.0 is an ideal choice for parents who have smaller children and hike often as its durability is tough to beat. It is a wonderful introductory backpack for any family.
The Final Lift
Any one of these 3 packs is a wonderful choice for the new parent hiker. Just because you have a child or children doesn't mean you have to give up outdoor sports such as hiking, camping, and other outdoor activities.
By choosing a safe, reputable backpack you will be able to rest assured that your baby will be snug and comfy while you walk. It is always a good idea to try on different backpacks if possible. Even better if you can try it on with your child to ensure both of you are comfortable with it.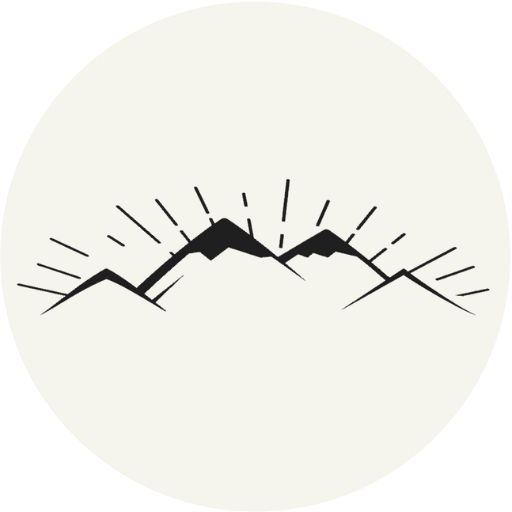 The All-Outdoors Guide team is comprised of enthusiastic experts that enjoy helping others that aspire to be better at outdoor fun. Part of that is making sure you have the right gear and information when it's time to go out and have fun. Some of our team have accomplished amazing feats like climbing 6000 feet to the top of mountains, others have explored every dirt trail they could find and we even have some people that have backpacked solo on various continents. No matter what our readers want to learn and do, our team is here to help them accomplish those goals.