While some brands choose to make a little bit of everything, Yeti decided to focus on one very important piece of outdoor gear- coolers.
Coolers are often taken for granted and purchased as needed at the local big box or outdoor supply store. Traditional rigid, chest-style coolers may be cheap and popular but the founders of Yeti personally knew how these coolers often failed season after season.
Not only was it annoying to have handles snap or the lid cave in from too much weight, but it really is just a waste of money.
Yeti produces both rigid and soft-sided coolers, all of which have their pros and cons. However one particular line of theirs has developed quite a fan base. The Yeti Hopper Coolers are a new and improved take on typical soft-sided style coolers. They perform better and last longer, making your adventures that much more fun.
If you are tired of cheap Walmart soft coolers that leak, break or leave your drinks warm, you are probably going to love the Hopper.
Specs and Features of the Yeti Hopper Cooler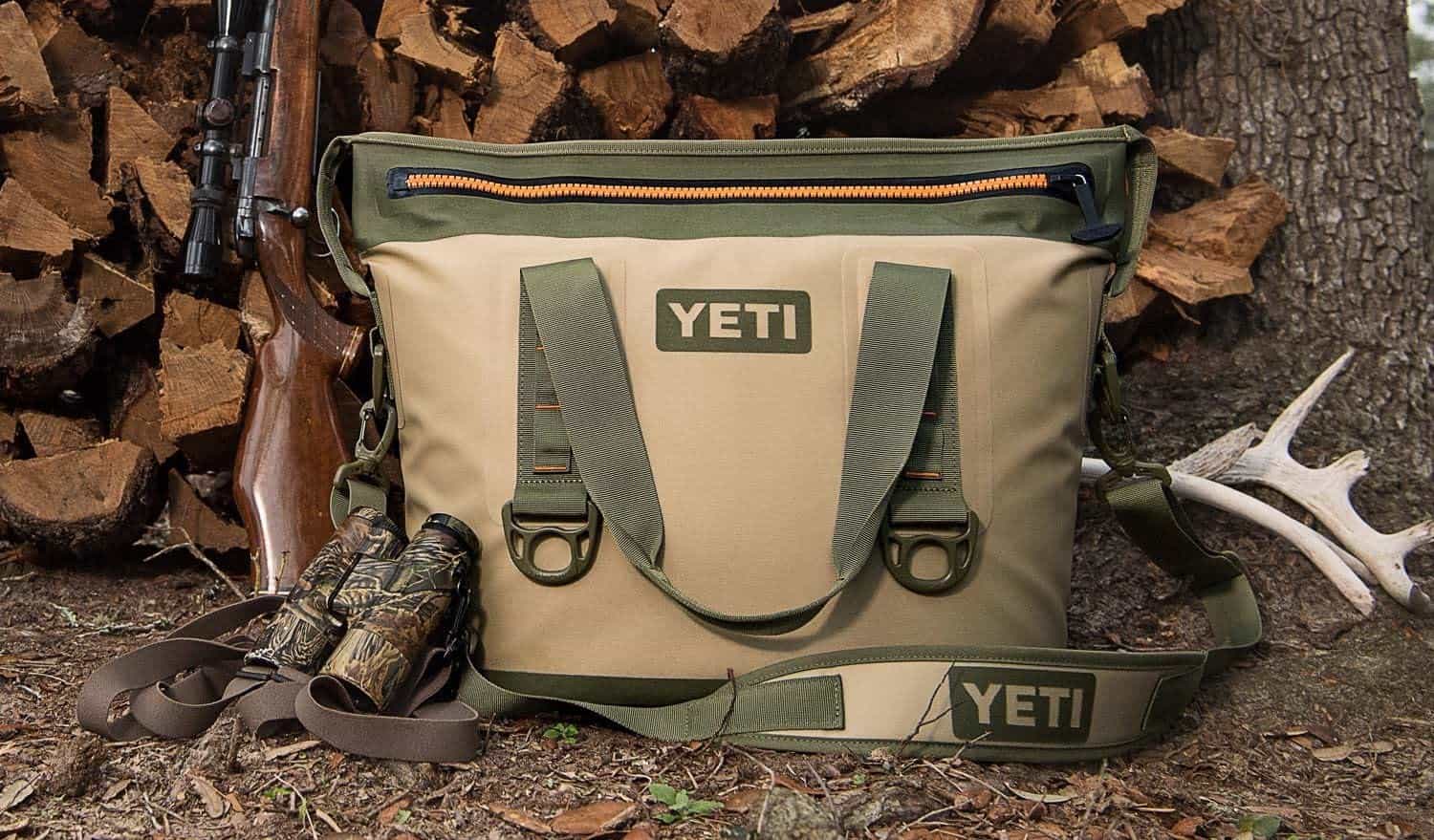 These coolers are highly praised but, as you'll see, they aren't riddled with accessories and numerous features. A cooler is a pretty basic piece of gear in general but Yeti really impressed its followers with the selection of tech it used in the Hopper's design.
First off, there are two size options for the Hopper Cooler series, the 20 and the 30. Individual specs for each include:
Yeti Hopper 20
It Retails for around $300

see here for the latest

17-liter capacity
Measures 21.5" x 13.8" x 10.5"
Weighs 4 lbs
Will hold roughly 18 canned drinks (2:1 can to ice ratio) or 20 pounds of ice
Yeti Hopper 30
It Retails for around $350

see here for latest

5-liter capacity
Measures 24.5" x 12.5" x 16.5"
Weighs 6 lbs
Will hold roughly 24 canned drinks (2:1 can to ice ratio) or 26 pounds of ice
Additional Key Specs
Here is the rundown on the specs for both models:
Comes in one color option – Fog Gray/Tahoe Blue
Shell is made from Dryhide – 840D thermoplastic urethane
Insulation is ColdCell – 1" closed cell foam on sides, 1.5" on bottom
Zipper is HydroLok – waterproof and airtight
Radio frequency welded seams
Bags fully collapsible for storage
Durable nylon webbed straps
No-slip neoprene should strap
Anti-mildew liner
Puncture, cut and tear resistant
3-year manufacturer warranty
Ability to add accessories for customization
Keep reading for more detail into how these features work together to make packing icy beverages out in the backcountry a breeze.
Advantages of the Yeti Hopper Coolers
The four major strengths that make these coolers so great are:
Design
Materials
Portability
Durability
Design
At first glance, the Hopper doesn't look that out of the ordinary but it actually is designed much better than competing coolers. The shape of the bag makes it easy to carry and the soft sides easily conform comfortably to the carrier's waist.
The option to carry the cooler by the handles is useful for short trips while the long shoulder strap is great if you have to pack it a distance or need your hands free. The bottom of this bag is flat and sturdy, thanks to the 1.5" of closed-cell foam, which makes filling the bag or grabbing a drink easy.
The nylon webbing straps along the sides of the bag have MOLLE-style loops which allow you to attach accessories like a bottle opener or Yeti's Sidekick bag, made with materials as tough the cooler but used to keep phones and important small items safe.
Materials
Yeti's material selection for the Hopper was spot on. Even just by touch, you can tell that this cooler is seriously tough. The totally waterproof DryHide shell (with RF-welded seams) can take on any abuse you can throw its way and still look great. In fact, this particular material is very similar to the thermoplastic used to make whitewater rafts.
The nylon webbing straps are tough and the shoulder strap is comfortable, even with the cooler fully loaded with drinks and ice. The HydroLok zipper is the ultimate technology for an easy-to-slide closure that is not only waterproof but also airtight.
It is also the same style zipper used on hazmat suits to prevent contamination. Maybe it is a bit overkill but that is pretty awesome nonetheless.
Finally, the ColdCell insulation, 1" on all sides, is going to keep ice cold for far longer than other soft-sided coolers on the market. While Yeti can't specify exactly how long your contents will remain cold, since it depends on the climate, their website does say it "keeps your beverages cold for days.
Portability
When you are done with the cooler you can fold it down to a very compact size, so no worries about having to pack an empty bag back from your camp. Simply fold it up and pop it into your backpack. The collapsible ability is also great for car travel as it can easily tuck away unlike a traditional hard cooler that takes up precious space.
Durability
Overall this bag is waterproof, airtight, resistant to punctures and tears, and even has an antimicrobial liner to keep mildew away. It's pretty impossible for normal use to damage these coolers. Even if damage does occur Yeti has an awesome 3-year warranty.
There is plenty of room even in the smaller 20 models for drinks and snacks for a family or group of friends. These coolers really are versatile and equally useful for taking beers to the campsite to hang with your pals as they are for storing lunch for a long day of hunting or fishing.
Although most people choose to use ice for cooling, you can take the power of the Hopper a step further by using Yeti Ice. While it may resemble a typical plastic icepack it is far colder and impact resistant.
Disadvantages of the Yeti Hopper Coolers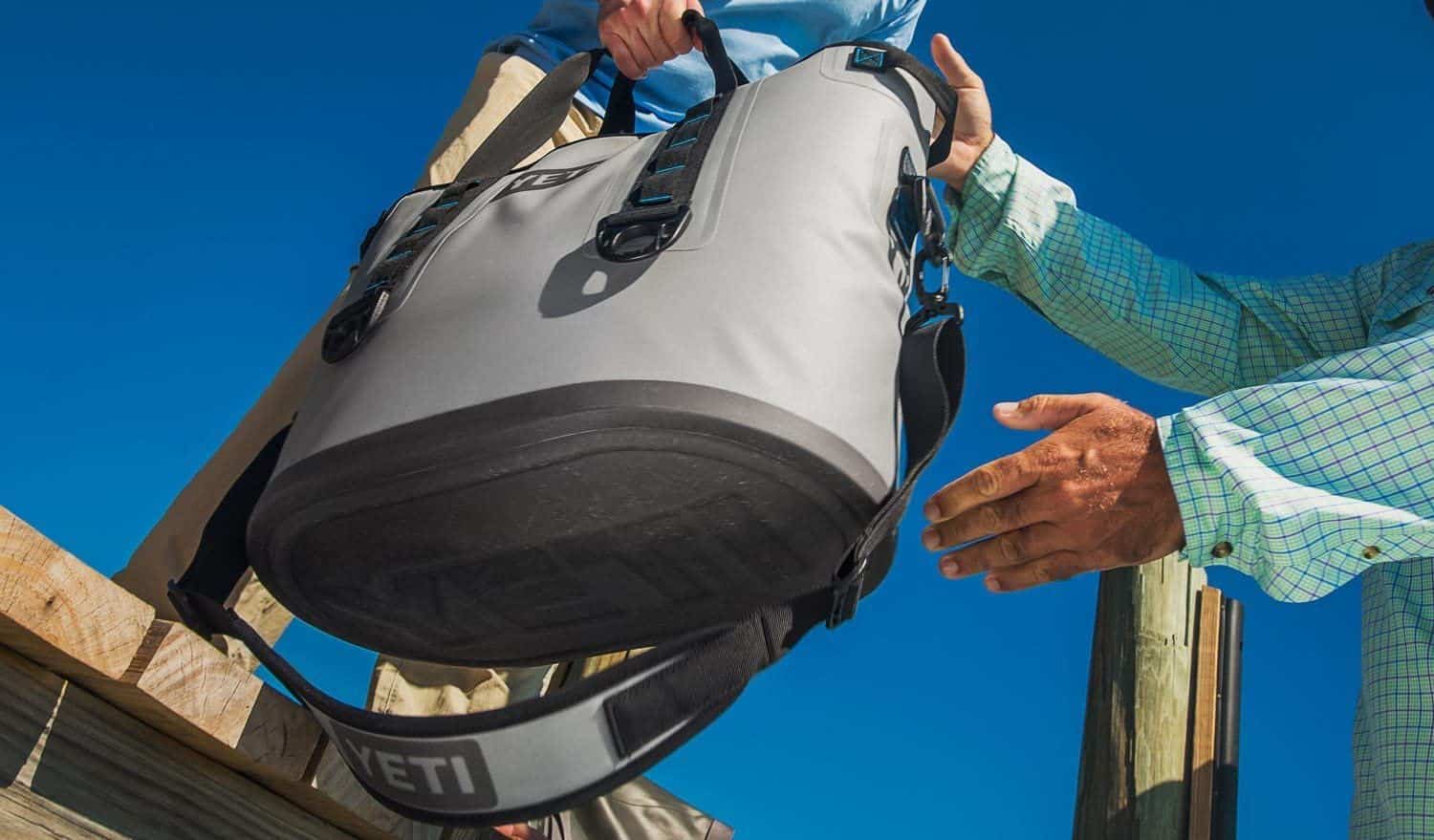 There is only one downside to the Yeti Hopper Cooler- the price. No matter how you look at it these coolers are incredibly expensive. Close to 10x as much as other soft-sided coolers on the market. Sure, the Hopper is many times as durable as its competition but that doesn't always mean people feel like they really get their money's worth.
It is really difficult to find bad reviews on this product but you will find low ratings on occasion. Majority of the time these low ratings are from customers who just feel like these coolers are overpriced. When it comes down to it you need to think about how often you are going to use the Hopper.
Ask yourself- are you only going to use this thing a few times a year? If so, go with a different model as the expense of this one isn't going to leave you satisfied. On the other hand, are you an avid outdoorsman or otherwise active person who relies on their cooler heavily?
Maybe you've already gone through cheap models that couldn't stand up to the abuse? If so, splurge on the Hopper Cooler. You will be very pleased with it.
With its combination of design, materials, and thermoregulatory capabilities, both the Hopper 20 and Hopper 30 are outstanding coolers. Maybe it is overpriced to some but you can't argue that these coolers will far outlast and outperform cheaper soft-sided coolers on the market.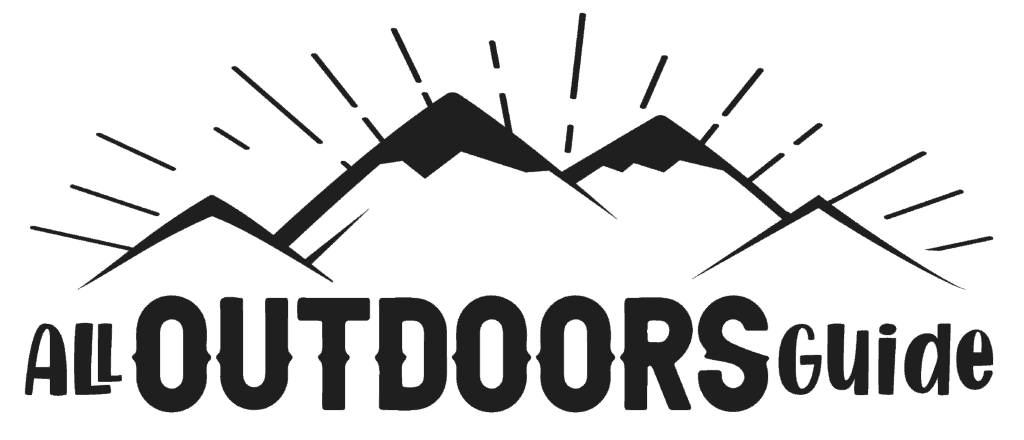 The All-Outdoors Guide team is comprised of enthusiastic experts that enjoy helping others that aspire to be better at outdoor fun. Part of that is making sure you have the right gear and information when it's time to go out and have fun. Some of our team have accomplished amazing feats like climbing 6000 feet to the top of mountains, others have explored every dirt trail they could find and we even have some people that have backpacked solo on various continents. No matter what our readers want to learn and do, our team is here to help them accomplish those goals.