When it comes to hydration on the trail many people either use water bottles or hydration reservoirs. Although water bottles are the most common means of carrying water, reservoirs have a lot of advantages that make them superior.
What is a Hydration Pack – My Definition
Water or hydration reservoirs are flexible plastic bladders that are used to carry water and drink from via a tube with a bite valve. This allows for hands-free hydration and prevents having to take numerous breaks during your hike to drink from a bottle.
Another advantage of the hydration reservoir is it allows you to carry the weight of your water close to your back which alleviates strain and balances your gear. For daylong trips where you won't need a ton of water or if you are hiking to a spot where you plan to camp overnight, a reservoir is an excellent way of staying hydrated.
However, there are some potential downsides to this setup– it doesn't allow you to see how much water you've drunk, water may get warmer faster since it's so close to your body, and it can get difficult to get the reservoir back into your bag without emptying some of your gear.
For the average hiker, a hydration reservoir is an ideal way of carrying and drinking your water. Being able to go hands-free and not having to deal with caps is very freeing.
Staying hydrated is easier and many people find that they actually drink more water since the bite valve is right there.
You can buy water reservoirs from pretty much every major outdoor gear company and use them in your backpack but if you don't have a compatible backpack with a hydration sleeve, consider buying a hydration pack. Hydration packs are essentially a backpack whose primary use is to hold a reservoir but also has room for other gear.
Hydration packs are perfect for hikers since they hold enough water for the day without refilling (for the average person) and also have space to keep snacks, a change of clothes, a rain jacket, electronics like a camera or phone, etc.
The Top Hydration Packs for the Outdoors
If you find that you often go on daily hikes, check out these 3 hydration packs especially suited for the hobby.
Osprey Raptor 10 Hydration Pack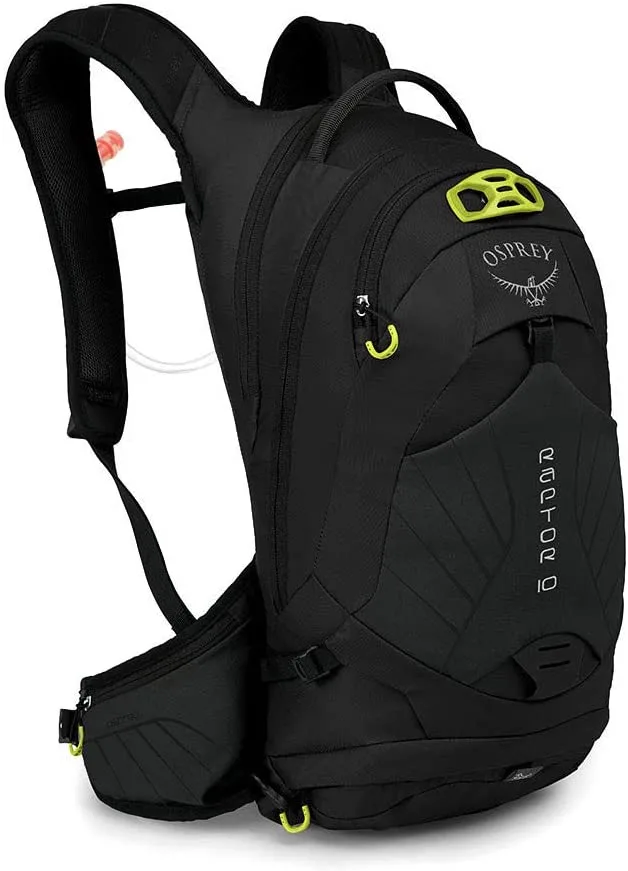 Osprey is quite a household name when it comes to outdoor gear. Their brand focuses on backpacks for various outdoor sports and hobbies as well as casual use. They also have an impressive selection of hydration packs.
Their Raptor 10 is a men's hydration pack originally designed for mountain bikers but actually works very well for long hiking trips. It is available in one size and 3 different color options. As the name suggests the bag's total capacity is 10 liters and it holds 3 liters of water.
Here Is a Rundown of the Specs and Features:
The dimensions are 19" x 9" x 8" and it weighs only 1.6 lbs empty
The pack has a "spine" which helps balance and stabilize the reservoir. This also gives the pack a handle and makes it easy to take off/put on.
Large zippered access makes the reservoir easy to remove and replace without having to empty your gear.
A special mesh back panel gives additional support and allows air circulation to stay cool.
Shoulder straps are made of a breathable combination of mesh and foam which form to your shoulders without causing any clamminess. The hip belt is made of this same material which also helps you comfortably carry the bulk of your pack's weight.
Shoulder straps are kept in place with an additional sternum strap. This strap also has a magnet attached to keep the tube in reach for drinking.
A stretchy mesh front pocket allows you to carry an additional water bottle if you wish to use one. Pockets also inside the hydration pack and on the hip belt.
If you do participate in a variety of outdoor activities you'll enjoy that this backpack has Osprey's LidLock helmet clip so you can strap a helmet to it. For normal hiking, you can ignore this feature.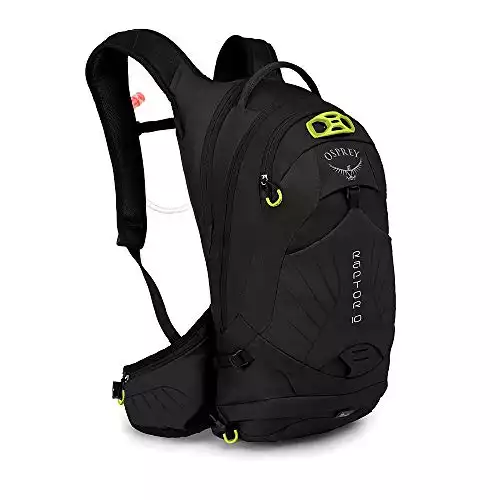 Camelbak Rouge Hydration Pack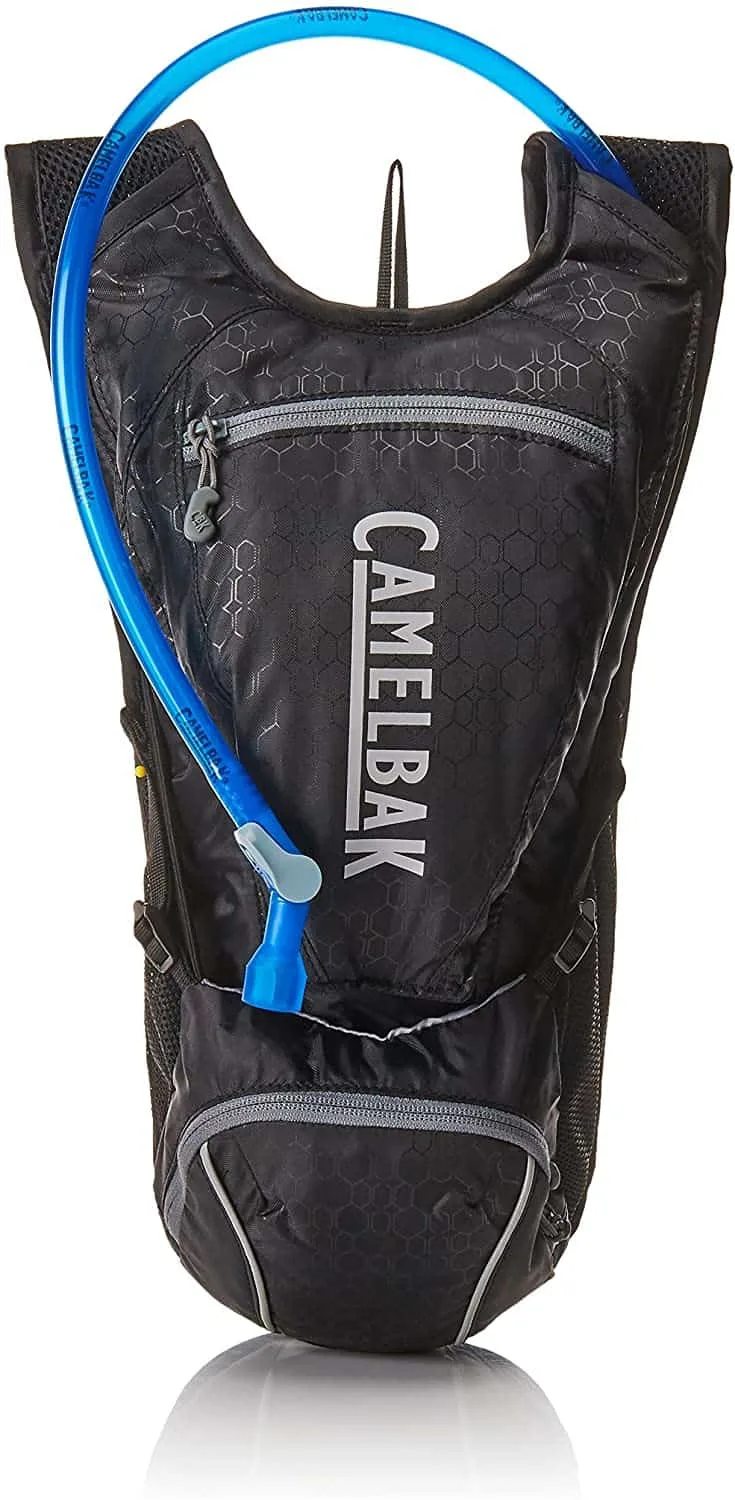 Naturally, Camelbak would be among the top hydration packs for hiking. Camelbak has long been considered one of the best brands for hydration packs and water reservoirs. Although they have a lot of different models available, when it comes to hiking their Rouge model is perfect.
The Rouge is another pack that was originally designed for bicyclists but is just as suitable for hikers. This is true for many different brands as bicyclists need a compact, lightweight gear which is equally important for hikers. This bag is unisex in design with dimensions of roughly 15.5" x 10" x 6". The total capacity is 5 liters which are 3 liters for gear and a 2-liter reservoir.
Some advantages of this pack include:
The major benefit of the Rouge is being able to refill the reservoir externally. This totally eliminates the problem of having to remove the bladder to refill and then have to wrestle back into the sleeve.
The easy-open cap only requires a quarter turn to close and open which makes expedites refills.
Camelbak used their Antidote reservoir in this bag which means you also get their Big Bite Valve, PureFlow tube, and the HydroGuard technology. The wide mouth of the reservoir also makes clean a breeze.
The body of the pack has compression straps and overflow storage. Sewn-on reflective materials allow for safe visibility in low light.
The Rouge focuses on hydration first and gear storage second. There is enough room for some small tools, phone and GPS, keys, and your wallet. For this reason, the Rouge would be best for someone who doesn't take much with them on their hikes.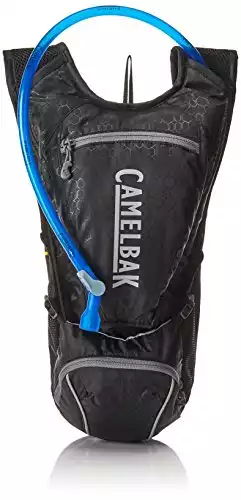 High Sierra Wave 50 Hydration Pack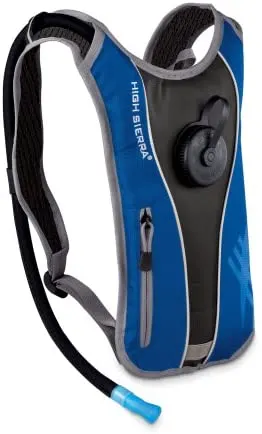 Another hydration pack that is minimalistic and ideal for hikes is the High Sierra Wave 50. High Sierra has this versatile model listed as being perfect for trail running, hiking, and road biking. It is similar in its sleek design to the Rouge.
High Sierra just updated this model last year and it is now lighter weight. This pack portion weighs less than a pound, 0.7lbs to be precise, and it 14.5" x 10.5" x .25" in dimensions. The reservoir holds 1.5 liters which makes it ideal for roughly 2-4hrs of hiking, possibly more. The Wave 50 comes in 3 colors, 1 size and is unisex.
Its features include:
An externally accessed opening to fill the reservoir. The wide mouth also means it accepts most reservoir water filters. Also, it is BPA free and the material is antimicrobial.
The pack has an insulated tube cover which helps prevent freezing in cold weather as well as keeps the heat off in hot weather. The tube also has a hands-free pressure valve to control the flow of water you get from your bite valve.
High Sierra used their HEX-VENT mesh technology on the back and the shoulder straps. This mesh is super comfortable and also wicks away sweat.
The front of the pack has a small pocket for keys, a snack bar or a phone.
The Wave 50 has very little storage space but is a perfect introductory hydration pack for someone that will only be hiking or going on walks for a few hours at a time. If you are unsure of whether you really want a hydration pack, this would be a budget-friendly place to start.
A lot of people who try out hydration packs become instant converts since going without water bottles is so easy. However, those who go on very long trips may find that an ideal compromise is to use a water bottle and a tubeless hydration reservoir for storage. This enables you to have water on hand but also carry extra water comfortably without relying on a bunch of bottles.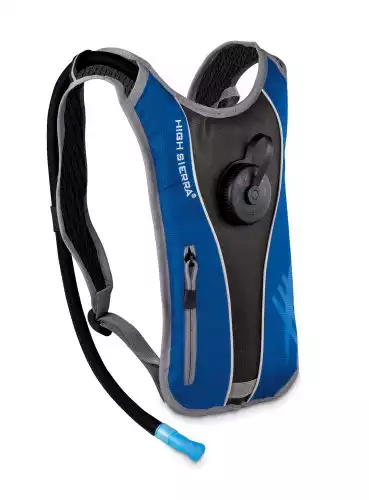 Camelbak Octane XCT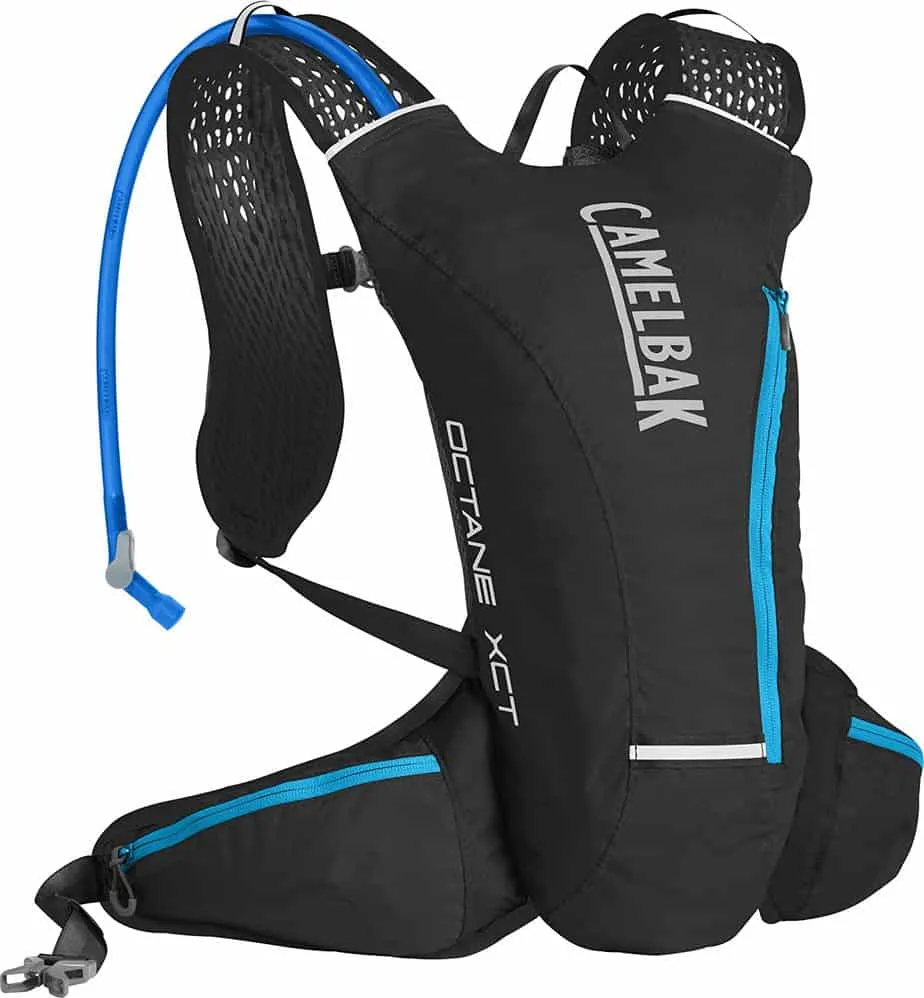 If you are a lover of long hikes or adventures in the backcountry, you know the importance of packing your water in a comfortable, easy-to-haul hydration pack that keeps the water fresh and within reach while on the go. And nobody does it better than Camelbak.
Camelbak is synonymous with the hydration pack industry to the extent that some people call every other brand on the market Camelbaks. The CamelBak Octane XCT is one of the best hydration packs you can choose if you need a durable, top-quality water reservoir that's versatile and functional without sacrificing style.
The CamelBak Octane XCT has ample room and features a plethora of pockets to keep your gear. The Camelbak Octane XCT is loaded with enhanced features which make it an excellent piece of equipment for the outdoors. Not only is it comfortable and stylish, but it comes with a lifetime guarantee and you can add-on accessories whenever the need arises.
UltralightRipstop Nylon Construction
Removable HydroLock Nozzle with HydroGuard material
Adjustable elastic straps that can be adjusted to fit your body
Main compartment with 2L antibacterial bladder
Unisex fit
Four exterior pockets
Waist belt with zippered pockets
Quick Link System to add-on accessories
Lifetime Guarantee
The CamelBak Octane XCT is an excellent hydration pack for hiking, trail running, cycling, races, and long runs. If you don't like the hassle of stopping and rummaging through your things to retrieve a water bottle, then the CamelBak Octane XCT is a great hydration solution when you are far away from a water source or don't have the luxury of stopping to have a drink but need to take care of a patchy throat.
The Camelbak Octane XCT comes with a bladder that is extremely easy to use and refill. The bladder, which is BPA-free, comes with the bag, so you are not buying it separately. One unique feature of the bladder is its HydroGuard technology which helps protect bacterial contamination, although you still have to wash and rinse the bladder before use to prevent any harmful microorganism from getting into your water supply.
The nozzle features a HydroLock valve which keeps the water from seeping out or spilling over you accidentally when you are not drinking, although some users say that it's a bit long for their liking.
You are also going to love the extra pockets in the exterior of the Camelbak Octane XCT which provides a perfect and easy-to-access space to store your smartphone device, compass, and other small but important stuff which you may need to retrieve while on the move.
The CamelBak Octane XCT vest comes with a 2-liter bladder, which may not hold enough water for very long hikes, except you can refill it along the way. The bag has a total space of 3.5L including four exterior pockets. It also features two zippered waist pockets which offer a considerable amount of space to store your mobile device or snacks.
You also have a back pocket where you can keep anything you won't be needing in a hurry since you might have to get the pack off your back to reach it. The bag is designed to fit the anatomy of both sexes and comes with adjustable straps which can fit a 48-inch circumference, and weighs 11 ounces.
In terms of comfort, the Camelbak Octane XCT is a winner. It's built with UltralightRipstop Nylon Construction, making it extremely lightweight and easy on the shoulders, even when the bladder is filled to the brim. The bag doesn't exert any pressure on the shoulders as its designed to sit on the body with a low-waist strap which passes some of the load to the lower body.
A system of elastic straps helps balance the bladder, making sure it doesn't bounce around when you are on the move, although you may have to adjust the straps when the water level decreases. The waist straps are also padded for increased comfort.
It features a long nozzle that is easy to sip from and locks the water inside when you are not drinking. On men and women, the CamelBak Octane XCT sits comfortably on your body and provides easily accessible hydration when you need it.
For enhanced breathability, the Camelbak Octane XCT's back features a mesh construction while a ventilated design is used for the waist strap, helping it circulate air effectively. The Camelbak Octane XCT is offered in a wide range of colors and a trendy design that stands out. You can choose from orange, red, neon green, black, and blue among others. It features a slim profile, and the minimalist construction means it sits close to your body.
The vest also features a Quick Link System which enables users to add on accessories. You can add different drinking tubes to the pack as well as a water filter system to enhance its effectiveness. This feature makes the Camelbak Octane XCT a worthy investment if you participate in a variety of outdoor and fitness activities as it allows you to customize the pack to fit different situations.
The exciting part is that the Camelbak Octane XCT is surprisingly affordable and Camelbak's Lifetime Guarantee covers the pack as well as the bladder.
With a highly durable but lightweight ripstop nylon construction, Camelbak is sure of the pack's ability to hold its own in the face of rigorous usage and abuse. The Camelbak Octane XCT is a fantastic buy for its price and will continue to serve you for many years to come.
Whether you love hiking, backpacking, cycling, or other outdoor or fitness activities, the Camelbak Octane XCT is one of the best hydration packs to solve your water problems on the go. With a lightweight construction, a functional bladder with an antibacterial guard, a Quick Link system that makes customization and updating a breeze, and strong and durable fabric, this unisex hydration pack have everything you need to stay hydrated during your outdoor travels and more.
It fits snugly on the body and won't bounce annoyingly when you are on the move. The affordable price and an amazing Lifetime Guarantee make it an offer worth considering.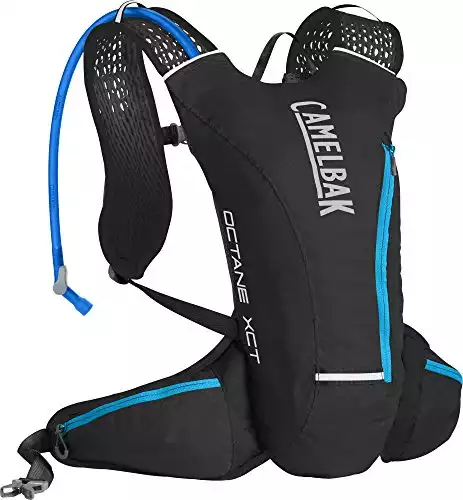 Osprey Escapist 32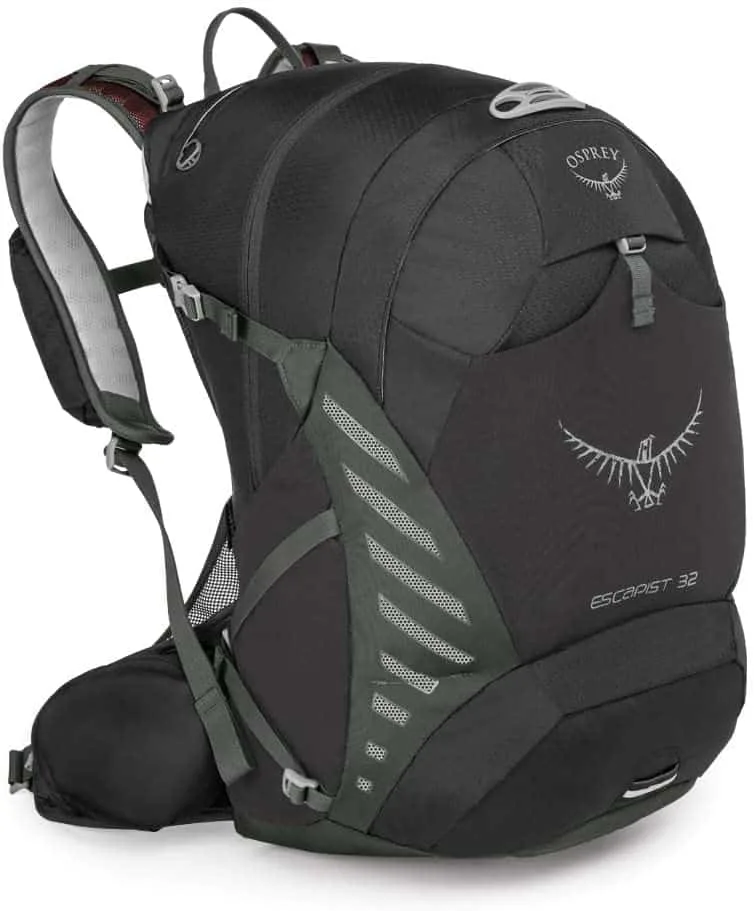 The Osprey Escapist 32 Daypacks is a great hydration pack for hiking, cycling, and mountaineering. Osprey has come a long way in the outdoor gear industry, and their products, especially their line of hydration packs, are favorites of die-hard outdoor adventurers.
Features at a Glance:
Sizes: S/M: 30L and M/L: 32L
Weight: S/M:1.01 kg and M/L: 1.07 kg
Adjustable Torso
Adjustable sternum strap featuring an emergency whistle
Maximum Carry Weight: 13.6 kg
Materials: Main fabric: 21 D nylon hex coupling/ Bottom and Accent: 420 HD nylon packcloth.
11 pockets
Features Rain Cover
External hydration sleeve compatible with Hydraulics bladder for easy refills.
Unisex design
Dual Stretch Mesh Side Pockets with InsideOut compressions
Front organizer pockets
BioStretch hip belt and harness
Side compression straps
AirScape back panel with ventilating foam ridges
Reflective graphics
LidLock helmet and blinker light attachment
Bottom compartment
Internal zipped divider
External non-scratch pocket for sunglasses
Three colors including bright blue, black, and red
If you are a hiker, cyclist, mountaineer, or town person who needs a hydration daypack that offers immense versatility, lightweight, and a dizzying number of exciting features, one of the best options you can get is the Osprey Escapist 32. With 11 pockets, an adjustable harness integrated rain covers, and an external hydration sleeve that makes drinking and refilling easy and efficient, only a few hydration packs offer what the Osprey Escapist 32 provides.
The Osprey Escapist 32 Daypack is an amazing hydration daypack that offers an unbelievable array of features. Its versatile, lightweight, and comes in an impressive anatomically correct design that makes carrying it hassle-free.
The Osprey Escapist 32 Daypack is available in two sizes including the small/medium with 30L storage space and the medium/large with 32L storage space. The pack is a panel loading pack with a long U-shaped zipper on the top. It features adjustable harnesses and comes with an integrated rain cover which is stored in a zippered pocket situated at the bottom of the pack.
The Osprey Escapist 32 Daypacks offers 11 pockets, with one non-scratch pocket where you can keep your sunglasses and electronic gadgets. The front also a large stretchy pocket with a buckle to secure it tightly. And then you have another large zippered organization front pocket beneath the first pocket. The interior of the bag has two mesh pockets and loops where you can attach your gear as well as a key clip.
On the outside, there are mesh pockets on both sides of the bag where you can keep things like a flask or water bottle among others. These pockets feature InsideOut compression straps which allow the user to pass the straps over the pockets to fasten the stored gear or pass them through the side pockets to tighten the pack's profile.
Furthermore, there are two zippered pockets on the hip belt, one made of nylon fabric while the other is made of mesh. Then lastly, there is a zippered pocket on the left shoulder strap where you can store small stuff you may need to retrieve while on the move. For a relatively small bag, the number of pockets is impressive.
An integrated LidLock clip is installed on the front to attach your helmet as well as a blinker light attachment point on the lower section on the front. If you are going to be hiking or cycling with this bag, these features are extremely useful in bad weather. Then you have dual compression straps on both sides of the pack, with the upper straps having buckles to either cinch the pack or attach your gear.
Another great feature of the Osprey Escapist 32 is the exterior hydrations sleeve which is situated behind the back panel. The arrangement makes access to the water bladder easier so you can quickly refill the reservoir while helping you save space in the main compartment so you can load more stuff into the pack.
The Osprey Escapist 32 also features a bottom compartment with a zippered divider. You can use it as is or increase the space by unzipping the divide. It doesn't have a metal frame, but it's constructed with a flexible panel using molded foam. The pack features Osprey's AirScape ventilation system which offers decent breathability. The hip belt and harness are padded with die-cut foam housed in mesh and feature the BioStretch system.
The harness and sternum strap are both adjustable, and an emergency whistle is attached to the sternum strap. The pack is unisex, and the adjustable harness means people with different torso sizes can use it comfortably.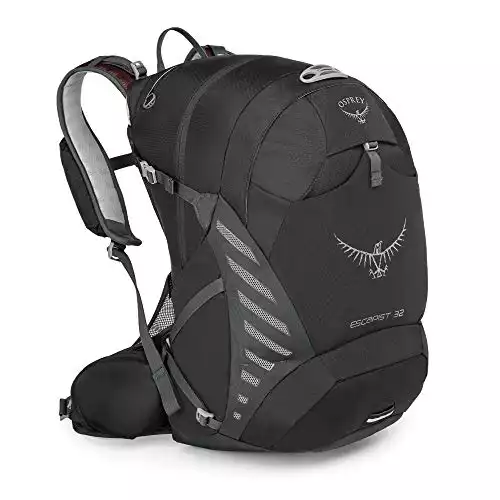 The Osprey Escapist 32 is available in three colors including black, blue, and red. The bag is extremely light thanks to the nylon fabric construction. Despite its lightness, it's tough, strong, and extremely durable and will serve you for many years to come. The bag is extremely versatile, and its many pockets offer excellent organization options. Plus, it's available in two sizes and can be worn by both sexes without any issue.
The only downside to the Osprey Escapist 32 is the lack of a metal frame which isn't the most ideal for a bag of its size. The ventilation can also use some improvements, but it's not beyond what you can manage on a hiking trail. Osprey's Almighty warranty covers the pack.
The Osprey Escapist 32 is an excellent pack by any standards. It offers an exterior hydration sleeve that helps to save space, 11 pockets, a rain cover, and many attachment points. It is a versatile pack as it can be used on hikes, cycling, and other outdoor adventures and can also be a great bag for commuting and everyday use in town.
If you want your hydration pack to solve more than your water problems, provide plenty of space, and many other unique features to help you make the best of your outdoor activities, then the Osprey Escapist 32 is a great choice.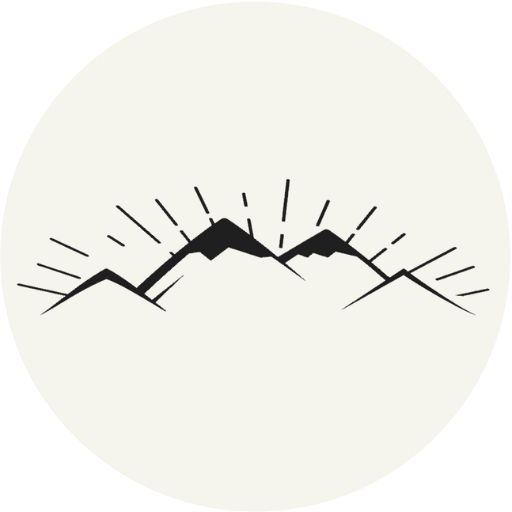 The All-Outdoors Guide team is comprised of enthusiastic experts that enjoy helping others that aspire to be better at outdoor fun. Part of that is making sure you have the right gear and information when it's time to go out and have fun. Some of our team have accomplished amazing feats like climbing 6000 feet to the top of mountains, others have explored every dirt trail they could find and we even have some people that have backpacked solo on various continents. No matter what our readers want to learn and do, our team is here to help them accomplish those goals.