Over the last few years, external frame backpacks have seen a sort of comeback, if you can call it that. After a long absence on the market, they have begun to resurface with new and innovative designs.
While there are not nearly as many options as internal frame backpacks, there are still high-quality options on the market today. This shift is trying to prove that external frames are just as comfortable and durable (if not more so) than their internal frame counterparts.
How to Find the Right External Frame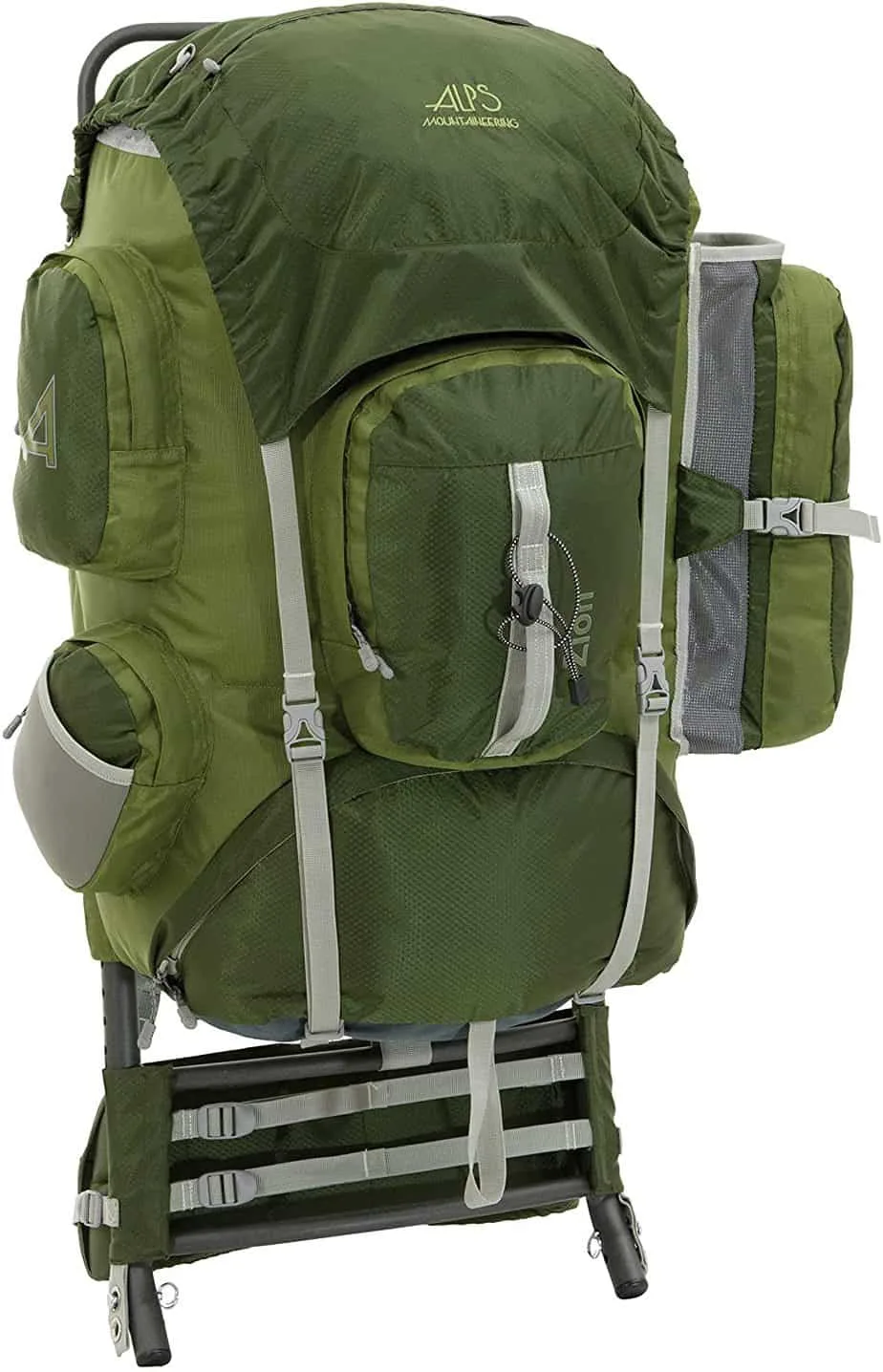 There are a few key considerations to evaluate when determining which external frame is right for you.
Load Capacity
This is largely contingent on the duration of your trek, but could also involve other unique considerations. The bottom line here is what to look for:
Day Trippers: Likely won't need more than a 50L capacity
Weekend Warriors: 60-70L is probably all you will need MAX.
Week+ Trekkers: 75-80L is more likely your comfort range.
Back Support
This is a key concern, even for day-trippers. It doesn't take much hiking with a poorly positioned pack to cause serious problems. Generally, you want something that is snug to your back but still enables circulation. Padding is also a nice luxury. It could add some weight, but this is a good trade-off. Look for padding around the key points of contact (hips, shoulders, etc..).
Extra Storage + Accessibility
This is key, particularly if you want easy access to certain things. There is nothing worse than having to unpack/repack your main compartment mid-hike. This might be dependent on your own preferences, but I like to look for side compartments (accessible without removing pack) for water, snacks, and other quick-grab items.
Think of pockets in priority of 1) side access while moving, 2) front pockets for quick stops, 3) the main compartment for final stops. Calibrate your pack to your load-out and vice-versa.
Quality Material + Waterproofing
This is a bit of a no-brainer, but you want a relatively durable high-grade construction. Nylon is a good lightweight material but also takes into consideration waterproofing. While a waterproof bag is not a requirement, water resistance is helpful (you can always have a wet-weather interior bag). Again, think about your typical adventures and seasonal rainfall when deciding how much to invest here.
Today, we have three great options to look at. Each product is high quality in design, comfort, and durability. However, they do vary from pack to pack.
The Kelty Trekker 65 boasts excellent comfort and a large carrying capacity, while the Vargo Ti-Arc claims to be the lightest external pack on the market. The ALPS Zion 3900 will keep you hydrated on the trail. It goes without question that each of these packs will serve your backpacking needs. It's just about finding the right fit for you.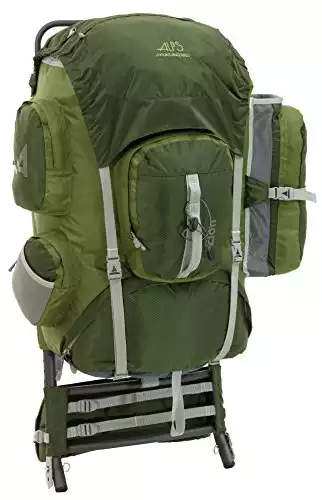 At a Glance Comparison of the Best External Frame Backpacks
Kelty Trekker 65

Vargo Ti-Arc Pack

ALPS Zion 3900

PRICE RANGE
$125 – 238
$278 – 300
$90 – 160
PROS

Durable
Storage Space
Lightweight

Lightweight
Comfortable
Great airflow

Hydration compatible
Highly adjustable

CONS
No Rain Cover
Expensive

No Rain Cover

Small compartments

WEIGHT
4lb
2lb
5.2lb
CAPACITY
65L
36L
63L
Design Considerations
When it comes to design, a balanced load is arguably the most important factor. The Kelty Trekker 65 has mastered this feature. It is sturdy with a hip belt that balances weight and can adjust to the user's individual shape.
This spreads the load evenly. Users have gone on to say that the Kelty Trekker 65 is a pack that will make you feel like you can carry more than you can. With a 65-liter capacity, the Kelty Trekker 65 also offers excellent storage space, similar to the ALPS Zion 3900. Considering this capacity, the Kelty Trekker 65 is fairly lightweight.
The ALPS Zion 3900 is similar in design to the Kelty in many ways. However, it does boast a few differences. The first, and most notable, is that the ALPS Zion 3900 is hydration compatible (up to 1 liter). Another difference is that the ALPS Zion 3900 is a narrower backpack.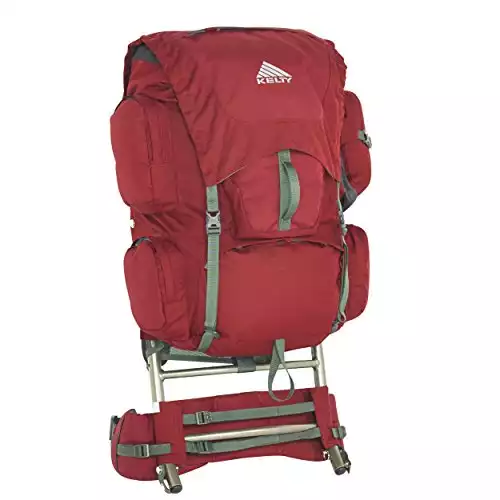 For the average person, this isn't a problem. But for those with broader shoulders, they might want to consider something wider. The last notable difference is that the bottom of the external frame is rounded. This can make the ALPS Zion 3900 difficult to sit upright on flat surfaces.
Otherwise, the shoulder pads are very comfortable, the materials and stitching are strong, and the pack itself is very durable.
The Vargo Ti-Arc backpack is the most unique in design, for a few reasons. The first is that it claims to be one of the lightest external frame backpacks on the market. While this is highly commendable, it sacrifices size to meet this claim. It's up to the user to determine if that is an issue for them or not.
A titanium frame supports the entire pack, offering ultimate comfort. Perhaps strangest of all is that the prongs at the top of the external frame extend far above the pack itself. This makes it near impossible to put on a rain cover without tearing a hole in it.
Another interesting design choice is the recessed top on the bag. It's a waste of storage space and the elastic cord is not long enough to strap in that much gear. Yet, despite this, the Vargo Ti-Arc is heralded as one of the most desirable external frame packs on the market.
Comfort Comparisons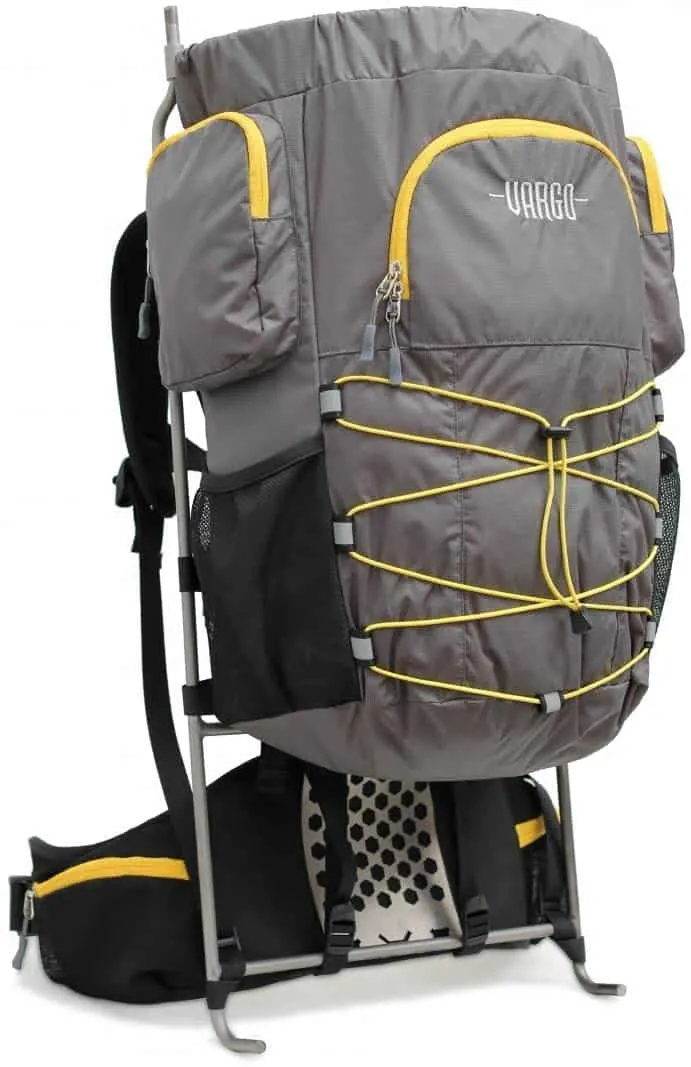 When it comes to comfort, the Vargo Ti-Arc takes the cake. The pack is light and provides excellent airflow to keep the user's back cool and sweat-free. Adjustable lumbar support allows users to customize the Vargo Ti-Arc to their size. However, the true comfort of this pack comes with the immense stability it provides.
The titanium frame will support the entire pack, preventing the pack from sagging on its shoulders. This causes the pack to move with the user, instead of pulling or dragging them up and downhills. Most users have claimed that these qualities keep them feeling fresh at the end of a long day carrying the pack, with no stiffness or soreness.
That is not to say that our counterparts, the Kelty Trekker 65 and the ALPS Zion 3900, are not comfortable. Like the Vargo Ti-Arc, the Kelty Trekker 65 offers excellent back ventilation and spreads the load evenly. This pack is so comfortable, that users have been tricked into thinking they can carry more than usual because of it.
Don't let this fool you! Pack normally. Otherwise, while the comfort may be excellent, your knees and ankles will be hurting from it later. The Kelty Trekker 65 does require some time and effort to get the adjustments correct, but once they are good you will feel great.
The ALPS Zion 3900 is comfortable if you have the correct build. As mentioned earlier, this is a pack that is designed for an average build.
Those with border shoulders will likely find this pack uncomfortable as the curvature of the frame will likely push into their shoulders. Otherwise, it is very comfortable. The padded shoulder pads will keep you pain-free with no chaffing. Like its counterparts, The ALPS Zion 3900 balances very well.
Space Specs
Both the ALPS Zion 3900 and the Kelty Trekker 65 offer a great amount of space that works well for longer excursions. At a 65-liter capacity, the Kelty Trekker 65 has excellent interior storage space and a series of outside pockets. Additional items can be strapped onto the external frame if needed.
The ALPS Zion 3900 boasts a similar capacity. At 63 liters, it can carry 30lbs of gear comfortably. The sleeping bag compartment is very large. Users have found that it's better to use it for easy access items, such as towels and a first aid kit, rather than a sleeping bag.
The divider pocket in the interior of the pack is good, but only in theory. The taunt material doesn't do much. Luckily, this will not impede how much can be packed.
The Vargo Ti-Arc is different because it is smaller. In order to make a lightweight external frame, the size was sacrificed. This pack has a much smaller capacity, of 36 liters, half of what the other two offer. Many have jumped to the assumption that this smaller size means that the Vargo Ti-Arc cannot be used for longer excursions.
This is not necessarily true. If the user packs light and efficiently, the Vargo Ti-Arc has enough capacity for longer trips. It fits more than you think!
Access Concerns
Access is a big issue when it comes to large tripping backpacks. The ability to access gear easily is a very valuable feature. All three products rank similarly here.
Seeing as all three packs are top-loading, access to gear is limited. Pockets on all three backpacks allow easy access to smaller items, and the sleeping bag compartment on the ALPS Zion 3900 is excellent for larger essentials. However, beyond that, the only way to ensure easy access to gear, with these packs, is to ensure that gear is packed in an efficient manner.
Conclusion – Final Thoughts on External Frames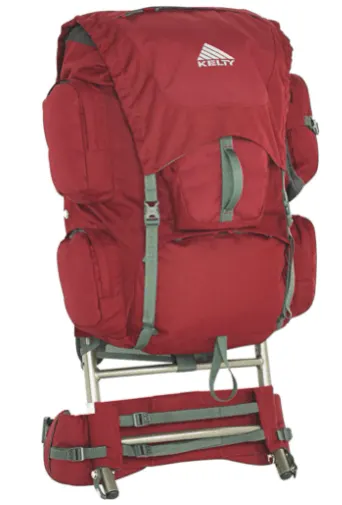 This rebirth of external frame backpacks is still in its infancy. Clearly, there are a lot of issues that need to be ironed out in order for these packs to truly compete with their interior frame counterparts. To check out our recommendations for the top internal frame backpacks, check out this resource.
However, the external frame does offer a sense of stability, durability, and comfort that is parallel, if not better, than interior frame packs. All three of these products will provide you with excellent quality and comfort.
These packs are designed for hiking and backpacking excursions where users will be walking and carrying all day. If that is your intent, I would recommend checking out one of these packs.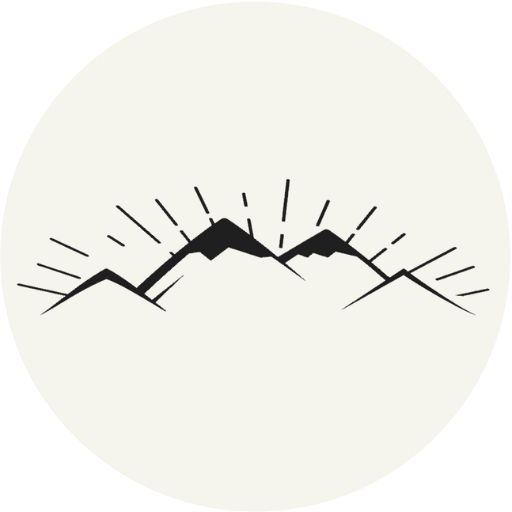 The All-Outdoors Guide team is comprised of enthusiastic experts that enjoy helping others that aspire to be better at outdoor fun. Part of that is making sure you have the right gear and information when it's time to go out and have fun. Some of our team have accomplished amazing feats like climbing 6000 feet to the top of mountains, others have explored every dirt trail they could find and we even have some people that have backpacked solo on various continents. No matter what our readers want to learn and do, our team is here to help them accomplish those goals.