If you want the best Bass Pro coolers, chances are you're looking for a cooler that's well insulated, built to last, and designed for various outdoor purposes. Maybe you need a camping cooler? Perhaps you're looking for something to take out on the boat?
You could go and spend a ton of money on a Yeti cooler, skimp and get yourself an Igloo, or find an excellent middle ground and look at a Bass Pro cooler. I've used quite a few of these coolers over the years on the water and the trails; choosing the right one is simple when you know what you're looking for.
In this guide, I'll break it down for you to quickly and easily decide on the best Bass Pro cooler for your needs.
Bottom Line Up Front
The Cabela's Polar Cap Equalizer is the perfect choice for serious camping trips and outdoor activities. It's a 60-quart cooler that offers the most versatility for large groups and a high-quality cooler to keep drinks cold. Plus, you don't have to pay the outrageous YETI prices.
My Top Picks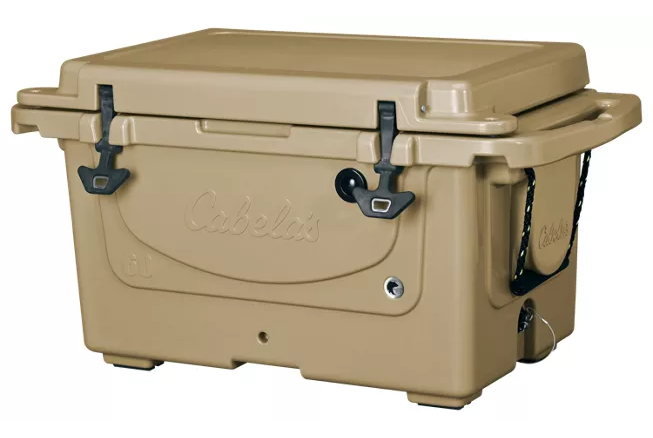 Cabela's Polar Cap Equalizer 60-Quart Cooler | BassPro
Tougher than an angry bear and proven to keep ice frozen for days, Cabela's Polar Cap Equalizer 60-Quart Cooler gives outdoorsmen serious performance over the long haul.
Check Price
We earn a commission if you click this link and make a purchase at no additional cost to you.
How I Chose the Best Bass Pro Coolers
While you might not think of a cooler as a "big" purchase for your camping and outdoor needs, they're expensive. It's somewhat sad to say that you could spend $400 on something to hold your drinks, but it's true. So, you want to make sure the cooler you buy will give you the best bang for your buck.
You'll want to pay attention to the type of cooler and how it cooperates with your camping style, the insulation, and the size or capacity of it as well.
Types of Coolers
Let's start by looking at the various types of coolers.
Soft-Bodied – The soft-sided coolers are best for shorter trips and lighter loads. If you're only bringing lunch and drinks for you and a few people, these are lightweight and much easier to bring to the campsite.
Hard-Bodied – These are the more traditional style cooler you would find at a backyard bbq. They're heavy, well-insulated, and designed to keep ice for a lot longer than soft-bodied coolers. These coolers come in an extensive range of sizes and can get pretty pricey as you get up there in size.
Powered Coolers – You'll need an outlet, generator, or portable power station for these, but they're fantastic. It's almost like having a mini-fridge at the campsite. They're expensive and only necessary on long-term or semi-permanent trips.
Portable Coolers – "Portable" can mean a lot of things, but in my case, it means that the cooler is either a backpack or has wheels. Both of these are easy to find, but I would consider a backpack cooler a lot more portable than a wheeled one if you need to pull it through mud or water.
Insulation
To provide you with a benchmark to understand what type of insulation is necessary, YETI coolers have 3-inches of specialized polyurethane foam insulation in the walls of their coolers.
This level of insulation is considered the industry standard, and most coolers will have at least 2-inches of insulation. The more, the better, but it will also make the cooler heavier and more difficult to carry around.
Durability
Durability should be the number one most important factor because if you plan to drop this kind of money on an insulated box, it should at least last you a long time. Most of the coolers from brands like Cabela's, Bass Pro, and YETI should pretty much last the rest of your life if you take care of them.
Things that become durability issues are usually latches, locks, and gaskets that create an airtight seal. The fewer parts involved in the overall construction usually make a cooler more durable as well. By the way, the top-recommended Cabela's cooler has a one-piece construction that helps improve overall durability.
Size and Weight
The size of the cooler refers to its actual dimensions and the capacity of how much it can hold. For example, a 60-quart cooler is enough to hold 94 cans. You can use that measurement as a benchmark and work your way up or down from there.
Keep in mind that the 60-quart cooler weighs about 30-pounds, and that's when it's empty. Imagine how much heavier nearly 100 cans will make it. If you're looking for something portable, you'll want to get a soft-bodied cooler, and those can usually hold between 20-30 cans which should be enough for a short trip.
Ease of Use
Most coolers are intuitive and simple to use. If you choose a traditional ice chest, perhaps look for one that has retractable handles on the side so you can put them down when you're not using them. Coolers that have a plug-in at the bottom are also a great way to drain water out once the trip is over. Generally, though, many of these coolers don't even come with plugs because they promise that the ice won't ever melt!
Style of Camping
What type of camping do you do? Do you sit around in camping chairs all day around a fire, or are you seeking adventure in the wilderness? Perhaps you like camping in large groups, or you're planning a family outing at a local park where there will be many people?
All of these factors will determine what type of cooler you need. If you only plan to use the cooler for you and another person, you don't need a 45-quart cooler; instead, you'd benefit from something much more portable. If you're entertaining the whole family at a cookout, you'll need a bunch of small coolers to be as valuable as one 60-quart cooler, so I'd go with that.
Trip Duration
Factor in the total amount of time you'll need to use the cooler. Some high-quality coolers will keep ice frozen for seven days, while others won't promise to make it through the day. How will you prepare for that?
Remember that you don't need to take out a loan to get a cooler either; plan accordingly. If you intend on purchasing a cheaper cooler, that's fine; consider having a backup plan with another cooler and a bag of ice.
Best Bass Pro Coolers: Top 6 Choices
Now that you understand some of the criteria used to determine my top picks, I want to look at my six favorite options. These have been chosen based on my experience in the woods and my love for entertaining friends and family. Whatever your desire, you'll find something that works here.
This Cabela's cooler won the award of best overall because it's designed perfectly for rugged camping and the biggest of backyard barbecues. It can fit approximately 90 cans and will keep ice frozen for up to seven days. It uses molded padlock tabs to secure the lid tightly, and the T-handle latches are durable, long-lasting, and unbreakable.
This one also comes with one-piece construction and a leakproof spigot for draining water out when all is said and done. I think it's the perfect middle-ground for those looking for a versatile cooler that can do a lot of things.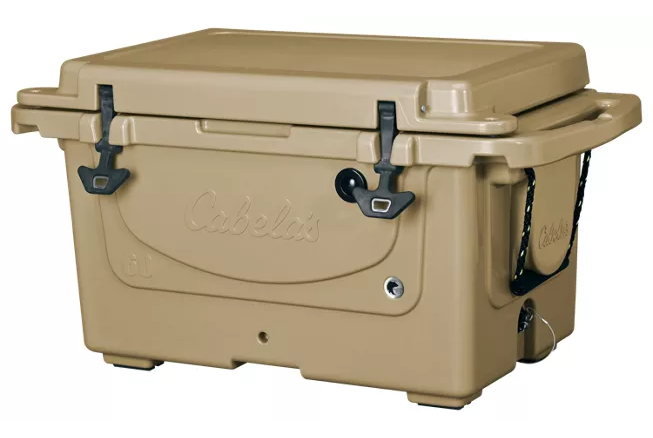 Cabela's Polar Cap Equalizer 60-Quart Cooler | BassPro
Tougher than an angry bear and proven to keep ice frozen for days, Cabela's Polar Cap Equalizer 60-Quart Cooler gives outdoorsmen serious performance over the long haul.
Check Price
We earn a commission if you click this link and make a purchase at no additional cost to you.
Pros:
One-piece construction promotes ultimate durability.

Holds ice for up to seven days

Long-lasting (many customers still have it after five years)
Cons:
Insulation actually reduces internal space

No wheels
For around $20, you can grab this cooler and take it anywhere you want to go. The cooler can go to work with you, to the campsite, on a hike, on the boat, to the shore, and wherever else you plan ongoing. This Bass Pro cooler uses a double-coated TPU shell and thick insulation to ensure that your food and drinks stay cold. It's capable of holding up to six cans, so it's also an excellent choice for a short few-hour fishing trip.
The cooler also has an integrated bottle opener and a removable shoulder strap that makes lugging it around easier. I find it to be a much better choice than a traditional lunchbox, and it's priced the same if not cheaper.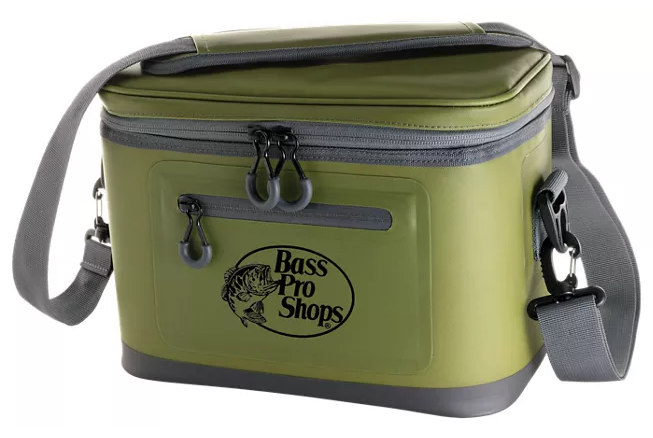 Soft-Sided Cooler | BassPro
Our Bass Pro Shops Soft-Sided Cooler is perfect for keeping lunch or a pack of refreshing beverages cold on your adventures. The thick insulation keeps the cold in, while the welded double-coated thermoplastic polyurethane (TPU) shell ensures adventure-worthy durability.
Check Price
We earn a commission if you click this link and make a purchase at no additional cost to you.
Pros:
Sturdy and durable

Well insulated

Water-resistant

Integrated bottle opener
Cons:
No gasket on the zipper, so it gets warm inside

The strap could be longer
It's time to bring out the big guns with the YETI Tundra 45. This cooler can handle just about everything, and it'll keep your ice cold with three full inches of PermaFrost polyurethane foam insulation in both the walls and lid. It uses a one-piece roto-molded construction which is a fancy way of saying that it's machined with as few cuts as possible to limit any weak points.
The cooler has dry ice compatibility, heavy-duty latches, non-slip grips, and a leakproof drain plug. The YETI is designed to last forever but keep in mind that it does come at a price. It doesn't hold even half of what the Cabela's cooler does, and it costs $50 more.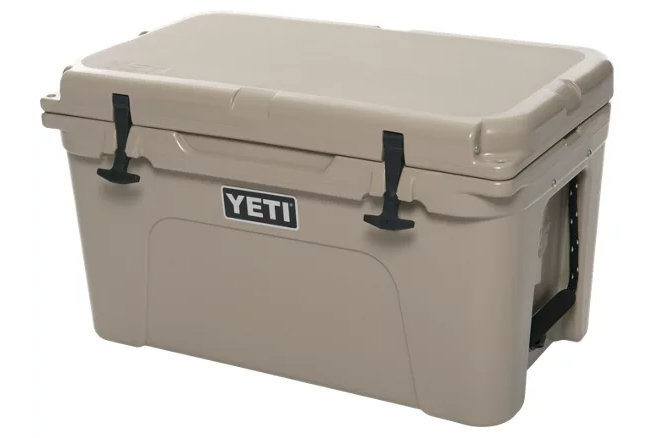 YETI Tundra 45 Cooler | BassPro
The YETI Tundra 45 Cooler keeps your food and drinks cold longer while handling the bumps and bruises of your outdoor activities.
Check Price
We earn a commission if you click this link and make a purchase at no additional cost to you.
Pros:
The best money can buy

Will keep ice frozen forever

Designed to last a lifetime
Cons:
If you prefer a soft-sided cooler, but you need something that can hold a decent amount of drinks, this one from Cabela's is a solid option. It's a 24-can latch cooler with a pouch and carrying strap.
The main feature of this one is the "click" lid that creates an airtight seal to ensure that whatever you put in here stays cold for as long as possible. It has a leakproof design, built-in bottle opener, and waterproof front pocket for you to store whatever it is you want.
If you don't need the 24-can cooler, they also sell a 9-can option as well. I also like the camo design; it looks good in the boat.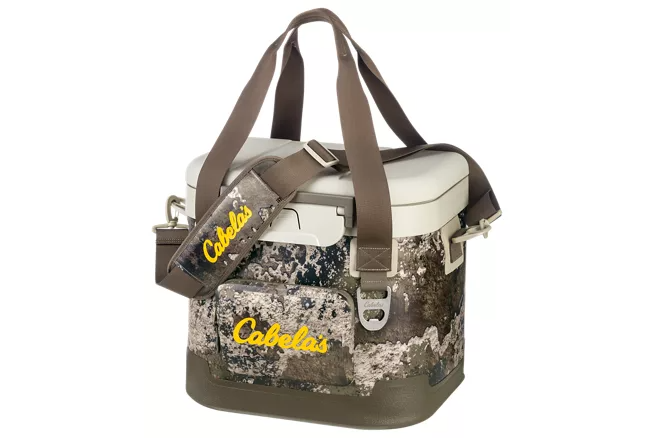 Cabela's Coldsnap Latch Cooler | BassPro
It's time to step up to a better cooler. Cabela's Coldsnap Latch Cooler features the exclusive Coldsnap Latch, which allows you to securely close it with a push and a snap of the latch.
Check Price
We earn a commission if you click this link and make a purchase at no additional cost to you.
Pros:
Latch design works a lot better than zippers

Holds 24 cans

Cool design
Cons:
Locking pins are a bit fragile
While this option might not be the most popular one on the internet, it's still a pretty cool idea. If you're out on a hiking trip with your friends and want to bring some cold beverages, lugging a cooler is not a logical plan.
Instead, throw everything into this backpack cooler. It holds up to 20-cans, has comfortable straps, and uses the same push and latch system as the previous Cabela's cooler.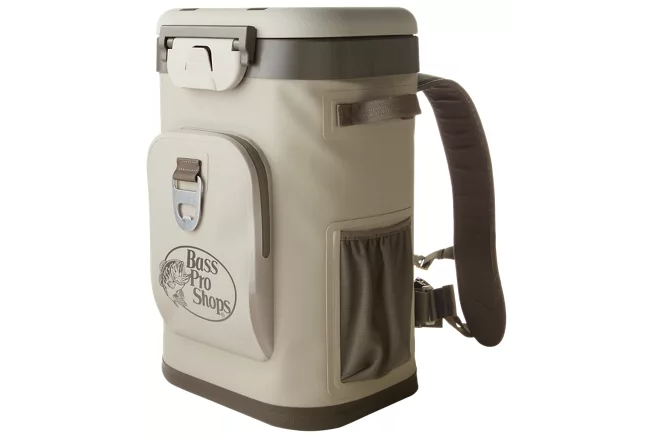 Pros:
Great for hiking

Padded shoulder straps

Comes with a waist belt for added support

Waterproof pocket and leakproof design
Cons:
Remember that the best Bass Pro coolers are whatever works for you; maybe you need wheels? If that's the case, this is the one you want. This YETI cooler holds up to 45 cans depending on how much ice you use; it has 2-inches of insulation and a comfortable grip that makes pulling it out to the campsite or neighborhood barbecue that much easier.
You still get the great roto-molded construction and durable hinge system that YETI is known for, and you're getting a cooler that will last a lifetime.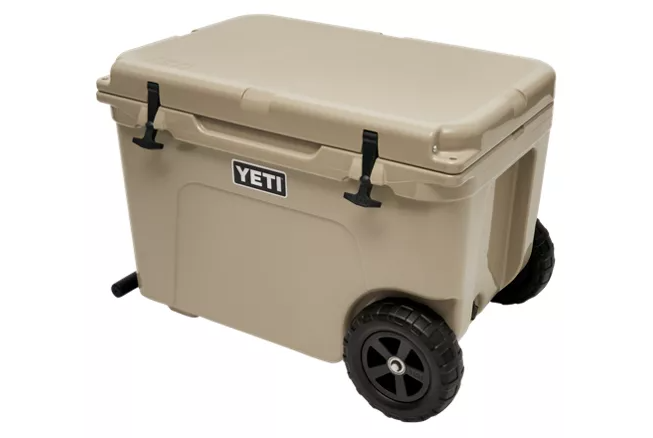 YETI Tundra Haul Wheeled Cooler | BassPro
The YETI Tundra Haul Wheeled Cooler brings the first-ever YETI cooler with wheels, taking the Tundra cooler's legendary toughness and unmatched insulation power the extra mile.
Check Price
We earn a commission if you click this link and make a purchase at no additional cost to you.
Pros:
Wheels are a nice touch

Durable locking system

Handle makes it easy to pull
Cons:
Weight

Insulation removes internal space
FAQs
Question: What cooler keeps drinks cold the longest?
Answer: I would bet on the YETI Tundra 45 to keep drinks the longest. While the Cabela's coolers promise to keep ice-cold for up to seven days, I would believe that YETI could do even better.
Question: What cooler is as good as a Yeti?
Answer: Cabela's and Bass Pro make coolers that are just as "good" as the YETI. It depends on what constitutes "good" to you. Budget is also an essential factor for me, and if I think I can get close to YETI quality for a lot cheaper, I'm going with the more affordable option.
Question: Is Igloo or Coleman better?
Answer: I prefer the Coleman brand; I believe their products are more premium and longer-lasting than Igloo.
Question: What size cooler do I need for a week?
Answer: 40-65 quarts will do the trick for a weeklong camping trip with family and friends. If you're going out on your own, you could go with much less. It also depends on what you're putting in it. If it's a weeklong trip with a lot of alcohol consumption, you might need something larger.
Final Thoughts
I promised it would be easy to choose the best Bass Pro coolers for your trip, but I'm starting to second guess myself!
Long story short, the Cabela's Polar Cap Equalizer 60-Quart is still my favorite because you get a lot more space than you'd get in a YETI for a much lower price. In most cases, I doubt many of you need to keep ice frozen for longer than seven days anyway.
| Product Image | Product Name / Primary Rating / Price | Primary Button |
| --- | --- | --- |
| | | |
| | | |
| | | |
| | | |
| | | |
Get out there and enjoy yourself, don't worry about the cooler! Good luck!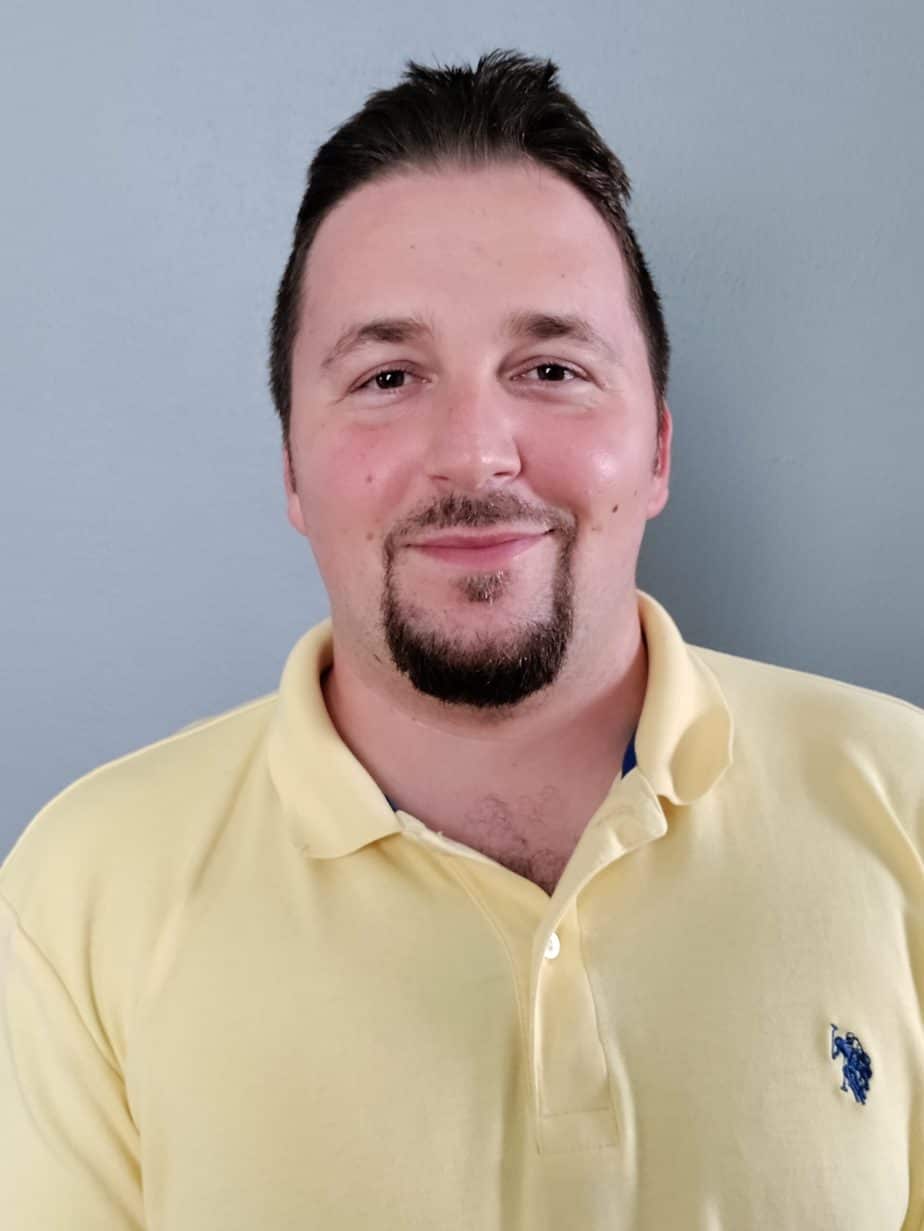 Coty Perry is an environmental advocate and an outdoor enthusiast with a love of fishing. He's a 3rd generation angler and the Chief Marketing Officer at Your Bass Guy.
Being out in the elements can be difficult but if you have the right gear and take care of it properly, it can help. Coty helps readers by giving them the knowledge they need to have the best experiences outdoors.