Two of the most popular outdoor apparel brands are Patagonia and The North Face (TNF).
These companies both produce high-quality clothing, like super warm insulated jackets, and each has their own loyal fan base that believes their choice of brand is the best Patagonia and TNF apparel is often pitted against each other since both companies have their own cult favorites among their customer base.
Two of the most popular jackets of these two brands are Patagonia's Nano Puff and TNF's ThermoBall insulated jackets.
Bottom Line Up Front: To cut right to the chase, I find the Nano Puff insulated jacket to be a much better wear fit overall (and from a quick survey of my friends). If you need to make a quick decision, pick up the Nano Puff here as the better choice.
Main Differences Between the Nano Puff vs ThermoBall?
The main differences between the Thermoball vsNano Puff are:
The Thermoball has a more tapered waistline
The Nano Puff is slightly less puffy (easier to pack and layer).
The Nano Puff tends to fit better (for more users)
The Nano Puff has better built-in wind protection
The Patagonia Nano Puff uses more recycled materials (better for the environment)
Both the Nano Puff and ThermoBall are excellent jackets all on their own – they are incredibly well-made, priced reasonably for the quality, and have hundreds of happy customer testimonials backing them. But if you're stuck between the Nano Puff and ThermoBall but can only have one, it's worth it to dive deeper and really see which jacket comes out on top in warmth, the most breathable fabric, and more.
Both the Nano Puff and ThermoBall insulated jackets come in various jacket types as well as vests, or hooded jackets, but for the purposes of an even comparison, this review will focus on the basic full-zip standard Nano Puff and ThermoBall.
Here is how the Nano Puff and ThermoBall insulated jackets stack up against each other.
Design and Features of the Nano Puff
Patagonia's Nano Puff is one of their most popular jackets and has even won an Editor's Choice award for Climbing Magazine. This is a fairly classic jacket, with an attractive quilted pattern, and is available in both men's and women's styles. Customers love this jacket for its versatility, warmth, and overall weather-proofness.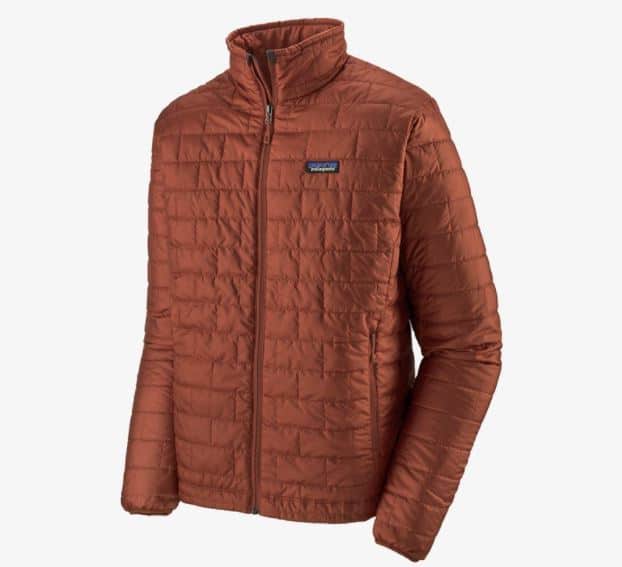 Nano Puff Specs and Features:
Classic full-zip quilted jacket
Offers wind and water protection
Insulated with 60G PrimaLoft Gold
Fabric and fibres made of recycled materials
Fabric is bluesign approved
Elastic Cuffs
Men's sizing from XS to XXL (10 color options)
Women's sizing from XXS to XL (7 color options)
Regular fit allows for layering
Retails for $139 to $199 (check here for latest prices, sizes, and colors)
Typically those that spend significant time outdoors have an even deeper appreciation for brands that strive to use recycled materials that are eco-friendly. Patagonia really did a great job with their Nano Puff synthetic insulated jackets in this aspect. The shell and lining of the jacket are 1.4oz of 22D synthetic polyester fabric, with 100% of it coming from recycled sources. The shell also has a DWR finish to keep the rain and moisture at bay.
Patagonia has been working with bluesign, a Swiss company that specializes in producing materials that are safe for the environment, workers, and customers, since 2000. The Nano Puff is a bluesign approved jacket which means extra effort was spent in ensuring this insulated jacket was created in a way that conserves resources and has the least impact on the environment during the manufacturing process.
One of the most impressive things about the Nano Puff insulated jacket is how lightweight and compact it is compared to how much warmth it offers. Patagonia uses 60Gs of PrimaLoft Gold Eco insulation, which is synthetic insulation (synthetic jackets) that is as eco-friendly as it is effective.
PrimaLoft Gold Eco is made of 55% recycled materials, which is a great addition to the other post-consumer recycled materials used in this insulated jacket. PrimaLoft Gold is extremely thermally efficient and maintains incredible warmth even when wet (approx. 98%). This insulation is water repellent and hand combined with the water-resistant shell.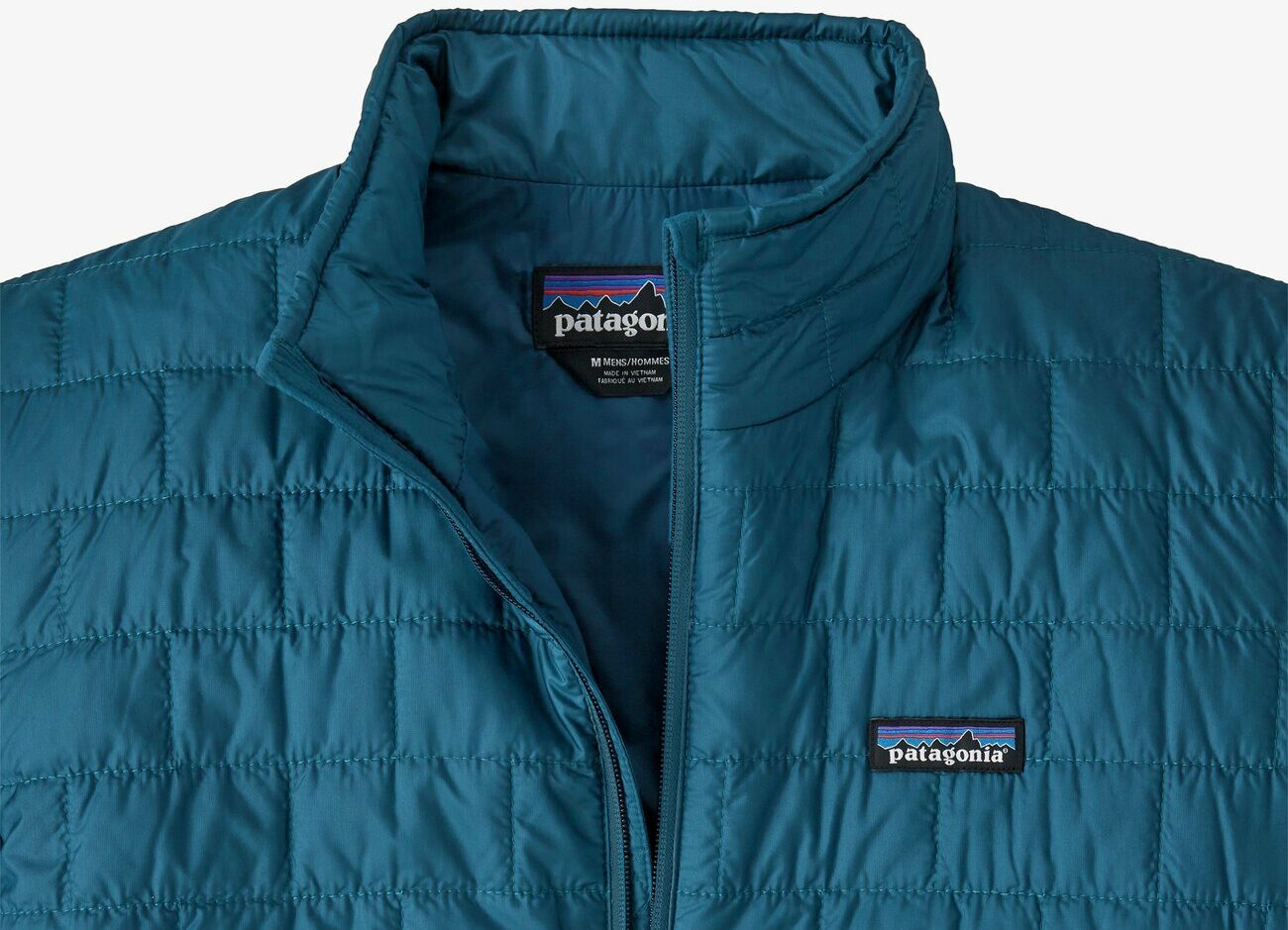 There are no temperature ratings on insulated jackets, which is normal, but it seems as though most consider the Nano Puffinsulated jacket to be a good standalone jacket for mild to moderate winter wear. The regular fit of the jacket leaves enough room to easily layer under it and wear the jacket on top. You can also put a parka or heavy shell over the top for really cold excursions.
The super warm Nano Puff can easily be folded down and stuff into its own pocket for easy storage when not in use. This is handy for hiking/backpacking trips where the mornings and evenings are cold but the afternoon is too warm for an insulated jacket.
Design and Features of the ThermoBall
Since the breathable and insulated Nano Puff has been around for longer some Patagonia fans believe the ThermoBall was a TNFs effort to make their own Nano Puff.
There are certainly some similarities but that could be said about any number of popular insulated jackets of this type. Regardless of customer loyalty, it is obvious that the ThermoBall insulated jacket is still an excellent choice.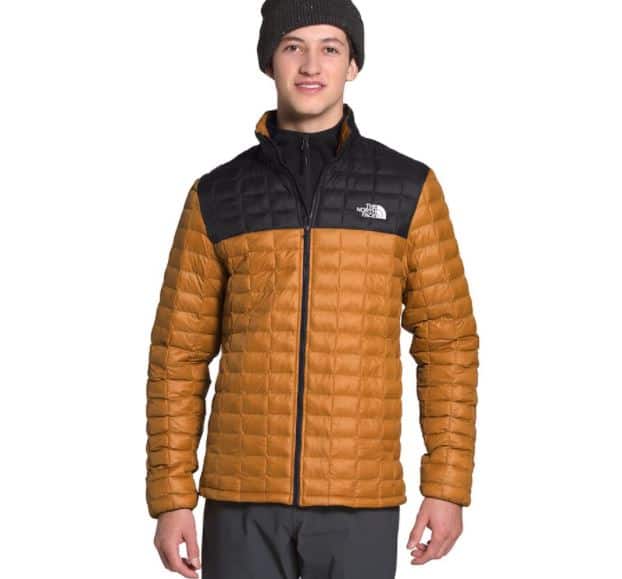 Thermoball Specs and Features:
Classic full-zip jacket with the typical fit
Focuses on protection from cold, wet weather, and rain.
Insulated with 33G of ThermoBall PrimaLoft
Made with bluesign approved materials
Elastic Cuffs for cinching
Shell 15D 100% nylon fabric
Men's sizing from XS to XXL (15 color options)
Women's sizing from XS to XL (15 color options)
Retails for around $199

Other Alternatives to Thermoball and Nano Puff

While I clearly prefer to wear the Nano Puff here, there are some other options (like the Micro Puff Hoody hooded jacket) worth checking out if either of the above options isn't a great fit.

Patagonia Men's Micro Puff Hoody | Patagonia

The best warmth for weight of any jacket we've ever built, the Micro Puff Hoody delivers ultralightweight, water-resistant, down-like warmth with PlumaFill synthetic insulation, a revolutionary featherlight down alternative.

Check Price

We earn a commission if you click this link and make a purchase at no additional cost to you.




Patagonia Men's Down Sweater Jacket | Patagonia

The perfect warmth for just about everything, our classic Down Sweater is lightweight and windproof with a 100% recycled polyester ripstop shell and 800-fill-power Advanced Global Traceable Down (goose down certified by NSF International to help ensure the birds that supply it are not force-fed or live-plucked.

Check Price Buy at Amazon.com

We earn a commission if you click this link and make a purchase at no additional cost to you.




One of my FAVORITE Jackets - Atom LT by Arc'Teryx

Rarely do I find a jacket that has insulation to keep me warm AND the flexibility to support high intensity activities. The Atom LT is the perfect mid-layer. Best of all, the patented stretch technology means you are not hindered at all.

GO with the Atom LT

We earn a commission if you click this link and make a purchase at no additional cost to you.




The North Face Men's Thermoball Eco Insulated Jacket | Backcountry

Whether you're layering up for a particularly snowy day at the resort, or you just need a light insulated jacket for daily wear, you can check off all the boxes with The North Face's Thermoball Eco Jacket. This easy-to-layer puffy features a slim wear-anywhere profile with reliable synthetic insulation and an eco-friendly construction.

Check Price Buy at Amazon.com

We earn a commission if you click this link and make a purchase at no additional cost to you.

Sam Hardy is an outdoor enthusiast with a penchant for survival skills. He writes about the great outdoors and his favorite equipment here.