British brand Rab has come a very long way since founded in the attic of a small, terraced house in the mining town of Sheffield back in 1981.
From those humble beginnings, the vision of founder Rab Carrington has blossomed, with Rab having developed into a trusted, world-wide brand adored by thousands for its steady output of high-quality kit carefully dialed-in to meet the unique needs of the climber and mountaineer.
Since its introduction in the spring of 2016, Rab's Kinetic Plus Jacket has whipped up something of a frenzy among outdoors-goers just about everywhere and, some claim revolutionized wet-weather outerwear by offering a long-awaited solution to the problem of under-insulated hard shells and leaky softshells.
But does this jacket really merit all the gushing hype we've been hearing?
Read on to find out in our in-depth review of the Rab Kinetic Plus Jacket, right after we take you through our buying advice for those in the market for a hybrid hardshell-softshell jacket.
What is a hardshell-softshell hybrid?
Traditionally, outerwear for outdoor pursuits has fallen into two fairly distinct categories: hardshell and softshell (as long, that is, as we're classifying down and fleece jackets as insulating layers!).
"Hardshell" refers to that variety of jacket that is designed to be both waterproof and breathable, firm to the touch, and, typically, worn on top of insulating layers owing to its own lack of insulating fabric. Softshells, on the other hand, are more insulated, flexible, mobile outer shells that are highly breathable and better suited to high-output activities but limited in terms of weather resistance.
In recent years, however, advances in fabric technologies have blurred the lines between the two type of jacket, with more and more garments appearing on the market that combines features and attributes from both in an effort to bring the user the best of both worlds.
For us – the would-be wearer of these garments – that's very good news. The long-standing limitations of out-and-out softshells and hard shells respectively are well-documented, with the former lacking waterproofing capacities and the latter lacking comfort, warmth, and breathability.
And while many early attempts at creating hybrids were best forgotten, these days a small handful of hybrid jackets are available that bridge the gap between the two styles of the jacket with very minimal compromise on the most desirable attributes and characteristics of each type.
What to look for in a hardshell-softshell hybrid jacket
Waterproofing
The true test of any jacket claiming to be worthy of the title of 'softshell-hardshell hybrid' will be how well it fuses the features and functionality of both types of garments and what compromises it makes in order to do so.
The most important of these features is waterproofing: while many softshells over the years have offered excellent DWR (durable water-repellent) coatings or hardshell-Esque membranes that have brought them close to the performance of out-and-out hard shells, none have quite given us the confidence we need to leave the hardshell at home on those iffy days when the weather forecast suggests we might be in for a bit of soaking.
So, how do we know just how waterproof any claimant to the title of softshell-hardshell hybrid will be without putting it to the test to see just how soggy it lets us get?
As with hardshell jackets, the easiest way to determine how waterproof a hybrid jacket will be is to look for the hydrostatic head rating in the product description or specs.
In a few words, hydrostatic head (HH) refers to the tests and ratings used to gauge the waterproofing capacity of any jacket's fabric and can be used to differentiate between varying levels of waterproofing.
The HH rating of any jacket is tested by measuring how much water pressure its fabric can withstand before allowing water to seep through. This is done by placing a lab test tube over the fabric and filling it with water, thereby increasing the amount of pressure on the fabric.
The HH rating of the fabric, which is given in millimeters, is determined by the point at which the fabric begins to leak. For example, if the fabric starts leaking with 15,000mm of water pressure, then its hydrostatic head rating is 15,000mm.
Until recently, very few softshell jackets cited a hydrostatic head rating owing to the fact that they did not use a waterproof membrane but relied solely on a DWR coating for water resistance, meaning any HH rating would likely have been too low for classification as 'waterproof'.
In more recent hybrid models, however, HH ratings are becoming more and more common and should be used as a guideline to determine how well the jacket will perform in wet weather. The figures below offer a guide on how you can expect various hydrostatic head ratings to translate into performance when out on the trails:
10,000mm = Can deal with moderate rain showers but unlikely to keep you dry in a downpour or sustained rainfall over the course of a day. Jackets with this rating also have a tendency to leak at certain pressure points on the fabric, for example, where the straps on your backpack press down on the shoulders.
20,000mm = This is the maximum HH rating deemed necessary by some jacket manufacturers and offers very solid waterproofing in even very heavy and sustained rainfall.
30,000mm = Garments with this rating are equipped to deal with even the heaviest downpours and withstand the added pressure placed on the fabric by strong winds and contact with backpack straps or the terrain.
Breathability
Breathability refers to any material's ability to allow excess body heat and perspiration to flow from inside to out. This is a key feature in any item of outdoor attire for the simple fact that without it we can overheat, become as drenched in our own sweat as we might have otherwise been by rainwater, and even expose ourselves to an increased risk of hypothermia—water conducts heat away from the body much faster than air and, should we allow ourselves to cool down, all that sweat can quickly become the bringer of far worse ills than just a dose of the chills or mild discomfort.
As with water resistance, breathability has its very own lab-produced metric, which is known as the Moisture Vapor Transmission Rate (MVTR). The MVRT of any garment is measured by determining how much water vapor seeps through the fabric over a 24-hour period in lab tests and is typically given in product specs as g/m2/day or g/m2/24h.
To give you an idea of how different breathability ratings translate into performance for the user, we've added a short guide below:
5,000 g/m2/day — Most likely to be found in rain shells intended for use in extreme conditions and low-output activities or budget models of an urban rain jacket, this low breathability count is unlikely to cut the mustard for those hiking in warmer conditions or doing more aerobic activities such as trail running, ski-mountaineering, or snowshoeing.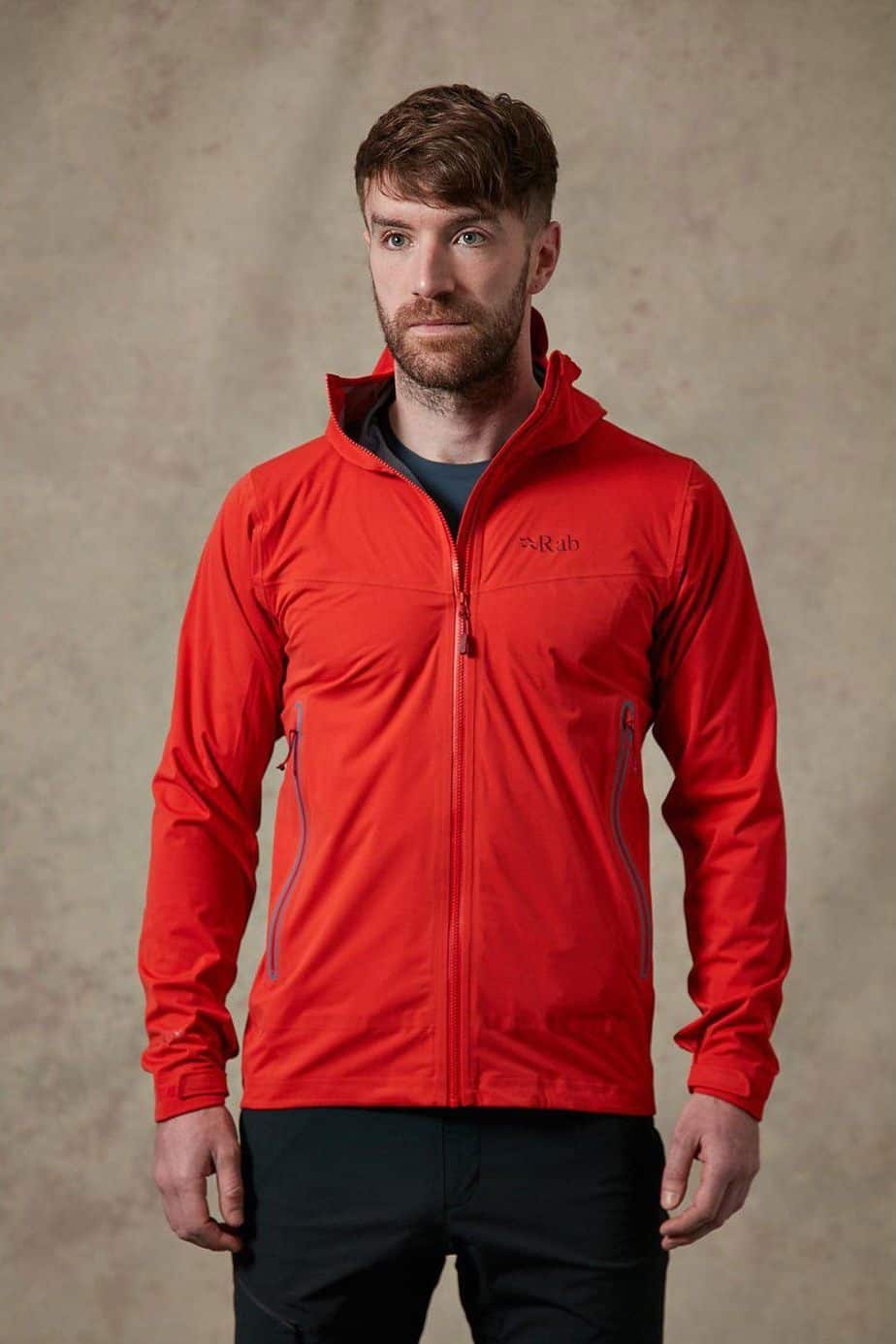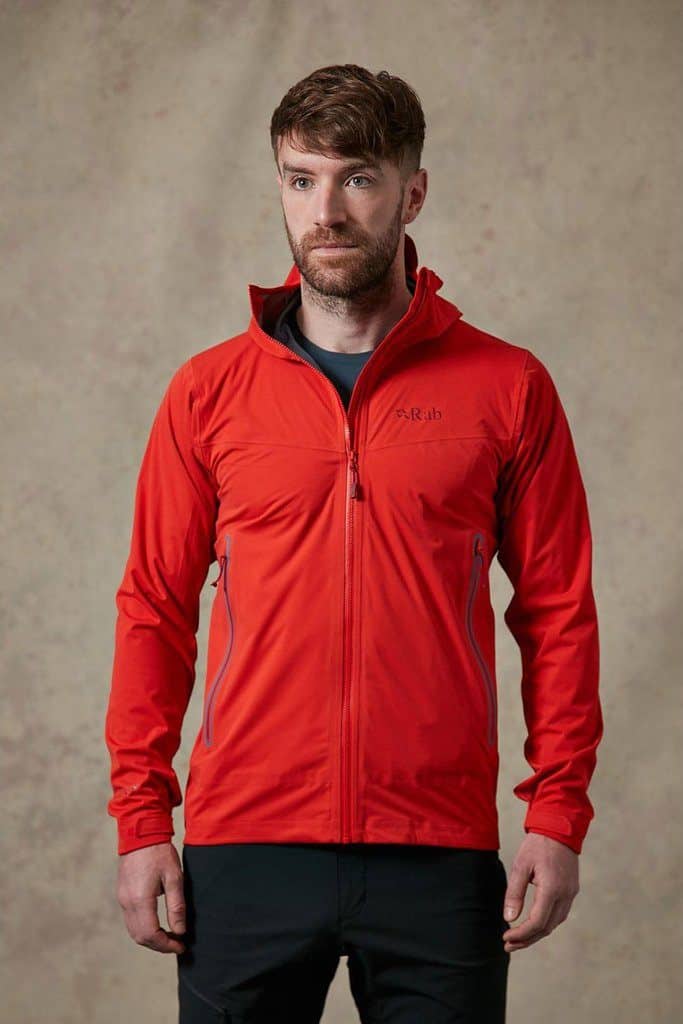 10,000 — 15,000 g/m2/day — Most models of performance jackets fall within this range, which is more than adequate for all but the fastest-paced, intense, and high-output activities.
20,000+ g/m2/day — Hybrid jackets with this breathability rating are ideal for those prone to excessive perspiration or who intend to use the jacket in warmer climes or particularly intense, aerobic activities like fast-paced hiking, trail running, or ski-mountaineering.
Tip!: The finer details of your jacket's construction can also be significant contributors to its overall breathability—features such as mesh pockets, pit zips, adjustable hems, adjustable wrist closures all help to improve your jacket's ability to shed heat and moisture when need be.
Warmth and wind resistance
One of the main benefits of opting for a hybrid model of the jacket over an out-and-out hardshell is the superior insulation many hybrid models offer.
While hardshell typically offer more solid wind resistance, the tight-knit construction of most hybrids coupled with wind-blocking membranes and fleecy inner linings usually makes them a better bet for cooler conditions.
The warmth any hybrid jacket offers can usually be gauged by its weight, with heavier models normally featuring some form of the insulating layer. With regard to wind resistance, hybrids that use either a waterproof or windproof membrane far outperform those without, but often at a cost to breathability.
Comfort
One of the factors that get us most excited about the rise of softshell-hardshell hybrids is the anticipated arrival of more models of jackets that redress one of the age-old downsides to hardshell outer layers – that is, their lack of comfort.
While many pricey models of hardshell jacket score reasonably high in the comfort stakes, for the most part, this class of outerwear has always been defined by a degree of stiffness, crinkliness, lack of mobility, and lack of next-to-skin comfort.
If you choose to buy a softshell-hardshell hybrid, therefore, this is one feature that should certainly feature high on your tick list of must-have attributes – without it, to put it a touch bluntly, you might as well be wearing a hardshell.
Hybrids up the game in the comfort stakes compared to hard shells by using stretchier, mobility-enhancing fabrics that allow for a fuller range of movement and also, in some cases, incorporate a fleece or similar liner that makes them far more comfortable when worn against the skin or over a thin baselayer..
Weight
One of the features of traditional softshells that has seen many a gram-counting adventurer shun this type of garment in favor of a hardshell worn in combination with a lighter mid layer or baselayer is their relative heaviness compared to rain shells.
While many ultralight rain jackets might offer almost bombproof weather protection at a weight of fewer than 9 ounces, the vast majority of softshell jackets on the market fall into the 10-ounce-plus weight category and, of course, offer very limited weather protection.
When choosing a hybrid jacket, your parameters weight-wise will largely be determined by personal preference. That said, it's worth bearing in mind – particularly for those doing activities where weight is more likely to be an issue, i.e. climbing – that over a certain weight the benefits brought by a hybrid jacket will likely no longer suffice to make them a more attractive or practical option than a lightweight hard shell.
Mobility
One of the main benefits of hybrid jackets is their integration of more mobile materials that allow the wearer to move more freely. These materials may be used throughout the jacket or only in inserts strategically located where we need the most flexibility and 'give'.
The degree of stretch in hybrid jackets can vary significantly from one model to another and the best way to get a handle on how mobile a jacket will be – if, that is, you can't make it into a store to try one on – is to read user reviews online and to check the composition of its fabrics.
As a general rule, the higher the elastane or spandex content in the fabric, the more mobile the jacket will be. While this feature isn't a dealbreaker for hikers or backpackers, for climbers and mountaineers it is one of the most important in justifying the purchase or use of a hybrid jacket over an out-and-out hardshell.
Fit
The ideal fit in any jacket is largely a matter of personal preference, but how you plan to use the jacket will also play a big part in just how tight or loose-fitting you should go.
If you intend on using the jacket in colder climes, then it's well worth opting for a looser fit so as to allow space for a few additional layers underneath. If, however, you're generally a warm-weather adventurer or involved in activities where keeping bulk or excess material to a minimum is desirable—i.e. rock climbing, cycling, skiing—then a tighter fit is likely to be a better option.
Features
Hood: This feature can, for many, make or break a jacket's overall practicality and usefulness. While most brands now have their hood designs down, we still occasionally come across the odd rogue model on the market that is prone to flap in our face, drip moisture in your eyes, or which can't be stowed away when not in use due to a lack of adjustment points, cinches, velcro tabs, or wired brims. If you wish to avoid a world of frustrations, insist on all of the above. And if you plan on using your jacket while climbing or mountaineering, helmet-compatibilty should be non-negotiable—without it, you'll be setting up your dome for some serious discomfort
Wrist closures: Adjustable wrist closures allow you to cinch the wrist down to prevent drafts, wear gloves of varying thickness, and pull the sleeves back to the forearm to cool off when need be. If you're a climber or mountaineer, we'd recommend looking for low-profile velcro closures to avoid snagging on rocks or gear and to allow for a full range of movement at the wrist
Adjustable hems: These allow you to eliminate drafts in cooler temps or let them in when things get a bit balmy, and also help to prevent the bottom of your jacket riding up over your backside
Pockets: Pockets should be large enough to stow any items you want to keep at hand while hiking/climbing/cycling/etc. and located high enough on the torso that they can be accessed without removing your harness or backpack's hipbelt. While a duo of hand-warmer pockets is the bare minimum we'd expect, having at least one chest pocket is usually handy in that it allows you to compartmentalize your bits and bobs (usually more of a requirement in winter when, in addition to maps, compasses, GPS devices etc, you may well want to keep a hat, gloves, or handkerchief on your person)
Zipper: Look for a robust, YKK zipper with a draft-excluding storm flap and toggles that make zipping up and unzipping easier when wearing gloves
Got all that? Great! Now that we know what to look for in a softshell-hardshell hybrid jacket, let's get down to our review of the Rab Kinetic Plus.
Rab Kinetic Plus Review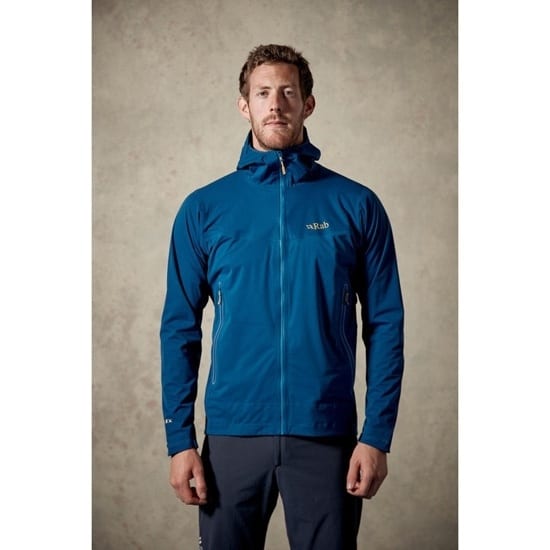 Waterproofing
The Kinetic Plus' propriety Proflex waterproof membrane is perhaps the feature that makes it more of a standout than any other. With a hydrostatic head rating of 10,000mm, its resistance to the wet stuff is comparable to many out-and-out hard shells and far superior to any out-and-out softshell we know of.
While a 10k HH rating is unlikely to keep you dry in a serious downpour, it's more than adequate in light showers or moderate, sustained rainfall.
For comparison, the Marmot Precip, one of the most popular budget hiking and backpacking jackets on the market in recent years, has an identical HH rating, is far less breathable, and doesn't have the Kinetic Plus' sealed seams—another winning feature that vastly enhances its overall waterproofness in foul weather.
At the other end of the scale, the high-end Arcteryx Beta AR has a hydrostatic head rating of 28,000mm, a slightly lower breathability rating (25,000 g/m2/24h), weighs almost twice as much, and will set you back over $100 more.
The bottom line? The Kinetic Plus[/easyazon_link] is ideal in variable weather conditions and moderate showers but on those days when heavy rainfall is expected, we wouldn't leave home without a more robust, traditional rain shell along the lines of the Arc'teryx Zeta SL or Rab's aptly named Downpour Jacket.
Breathability
The exceptionally high breathability rating of 35,000mm/m2/24h on the Kinetic Plus might lead you to think that it is, well, porous rather than purely breathable, but the aforementioned hydrostatic head rating has already demonstrated that this is a jacket more than capable of fending off moderate precipitation and not prone to leakage.
Traditional hardshell typically boast breathability ratings in the 10k to 20k range, with the very rare exception scaling to the heights of 25k. This being so, the Kinetic Plus is an absolute winner in terms of its ability to shed excess body heat and perspiration.
This combination of outstanding breathability and waterproofing makes the Kinetic Plus jacket not only superbly versatile but also a true game-changer for those who practice high-output, highly aerobic activities like ski-mountaineering, trail running, or do their hiking in warmer climes or at a faster pace than most.
Warmth and wind resistance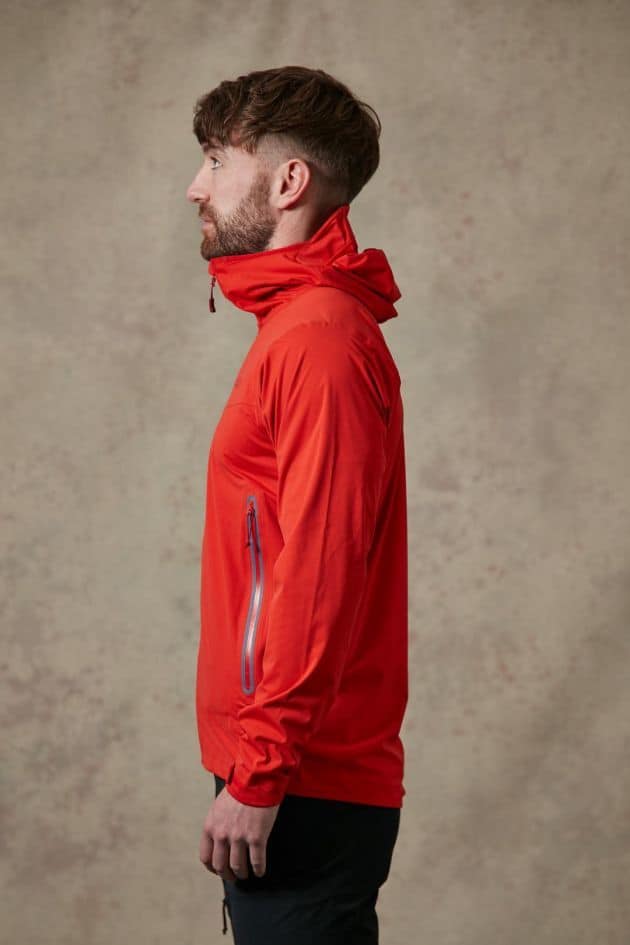 Although the Kinetic Plus has no insulating fabric to speak of, its fabric is far more substantial than that of your average windproof jacket or lightweight hardshell and, as such, it feels slightly warmer than most other jackets in its weight class.
That said, this jacket is geared towards summer or shoulder-season use and is unlikely to provide enough insulation in colder temps (below 45/50 Fahrenheit) unless you're moving fast or wearing a substantial mid layer underneath.
Comfort
The Kinetic Plus uses an ultra-stretchy knit polyester exterior and brushed polyester lining with Rab's proprietary Proflex PU membrane sandwiched in between. These layers on either side of the membrane are made of high-gauge knitted polyester, which gives the jacket an amazingly comfortable feel, even against the bare skin.
All told, the Kinetic Plus feels more like a traditional softshell than anything boasting a 10k hydrostatic head rating and using a waterproof membrane and has none of the stiffness or crinkliness common to most hard shells.
Mobility
The stretchiness of this jacket—largely a result of its use of a PU membrane—is one of its most appealing features. For those who want more mobility and a full range of unobstructed movement in the arms, shoulders, and torso, the Kinetic Plus is as impressive an option as any we've come across and far outshines any hardshell rain jacket in this particular metric.
As you might have guessed, this outstanding performance in terms of mobility makes it ideal for rock climbers and anyone else not keen on the oft-cited 'drag' and restricted movement common to out-and-out hard shells.
Weight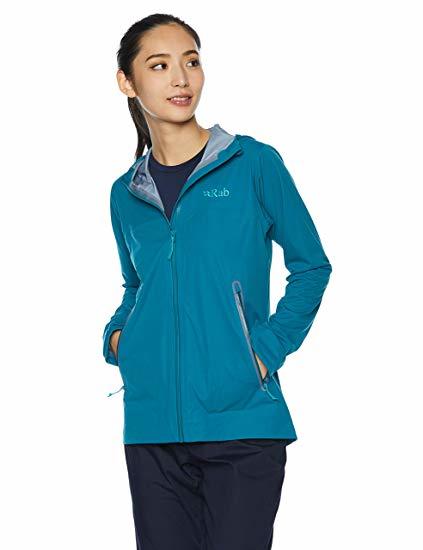 Tipping the scales at a mere 10.5 ounces (298g) in a size Large, this jacket is just about as light as softshells come and comparable to many out-and-out performance hard shells.
The Arc'teryx Beta AR, for example, weighs in at 16 ounces and the Outdoor Research Optimizer at 12.9 ounces. While it may not perform quite as well as either of these jackets in terms of waterproofing, the Kinetic Plus will appeal to buyers looking for a more comfortable and mobile jacket for use in less extreme conditions.
Fit
The Kinetic Plus Jacket has a slim, athletic cut that minimizes the amount of fabric that can catch in the wind. This makes it a great choice for skiers and climbers but not ideal for those doing their hiking in colder weather as there's limited space for added layers underneath unless you buy a size up.
One of the redeeming features of this slimmer fit is the jacket's stretchy material, which has far more 'give' than most other models of hybrid jacket.
In terms of the finer fitting details, this jacket features a drop-back hem that sits a little lower on your posterior than on your waist. One notable drawback, however, is the absence of a drawcord to tighten things up in the hem.
Although the stretchiness of the material does mean the jacket tends to hug your figure and prevent the jacket riding up, the lack of any means of cinching the hem means there's leeway for a draught or two to sneak inside.
Features
2 hand-warmer pockets – These are large enough to store gloves, a map, or GPS device comfortably and positioned above where a backpack's hip belt or harness crosses your midriff, thus allowing for easier access
Stows away into its own stuff sack with a carry loop that allows it to be hung on your harness
Velcro cuffs – Rarely snag, effectively keep out H20, and are very low-profile
Hood – The hood on the Kinetic Plus marks a distinctive break from the mold of jacket hood designs. It features a stretchy rim that sits snugly on your dome and, well, feels like a bit of a giant sock over your forehead. While this design was a slight cause for concern on first appearances, it works well in keeping the fabric out of your face and in blocking wind and drips from the wired peak on the laminated brim. As with the rest of the jacket, the stretchy material gives you a full range of movement, this time in the neck, shoulder and head. A velcro tab also allows for rear adjustment and lets you cinch the hood down when not in use. The one downside to the hood, however, is that it is not helmet-compatible (though, in its defense, we should add that, unlike many other hardshell or softshell hoods, this one doesn't feel too uncomfortable when worn under a helmet)
Zippers – Robust, 1-way YKK® AquaGuard® VISLON®
Hem – Stitch-free for comfort but not adjustable
Thumb loops – Nope!
Comparison Table: Hybrid, Softshell, and Hardshell Jackets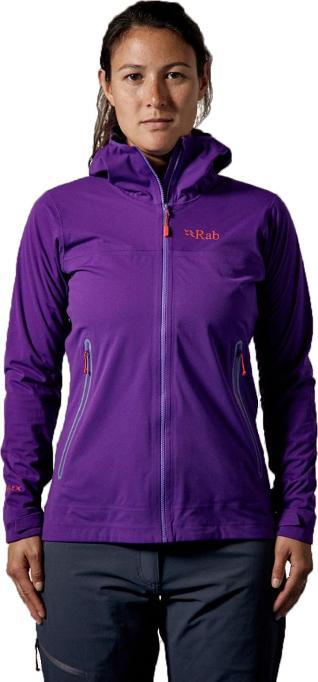 | | | | | | |
| --- | --- | --- | --- | --- | --- |
| Model | Type | Waterproofing (Hydrostatic Head rating) | Breathability (Moisture Vapor Transmission Rate) | Weight | Cost |
| Rab Kinetic Plus | Hybrid | 10,000 | 35,000 | 10.5 oz. | $$ |
| Arcteryx Beta AR | Rain shell | 28,000 | 25,000 | 16 oz. | $$$ |
| Arc'teryx Gamma MX Hoody | Softshell | DWR only | 15,000 (estimated) | 19.9 oz. | $$$ |
Rab Kinetic Plus Jacket FAQs
1. Does this jacket run true to size?
Yes. While the fit is a little more athletic than that featured in many hardshells, the stretchy fabric has plenty of 'give' to accommodate lower layers or a bit of a beer belly(!).
2. Does this come with a stuff sack?
Yes. The jacket tucks away into its own pocket and features a hang-loop that allows you to clip it to your harness.
3. Does this jacket have pit zips?
No. While this may seem like a fairly large oversight, the Kinetic Plus' outstanding breathability means it isn't much of an issue in practice.
The Rab Kinetic Plus Jacket: The Verdict
If we could sum up the Rab Kinetic Plus in three words they'd be light, mobile, and (extremely) versatile. These characteristics, combined with its outstanding breathability and very decent waterproofing, make it a downright winner for summer hikers and mountaineers, climbers, backpackers, and anyone else looking for a more comfortable jacket than an out-and-out hardshell and a more practical option than an out-and-out softshell. In short, this is a hybrid softshell-hardshell jacket in the true meaning of the word!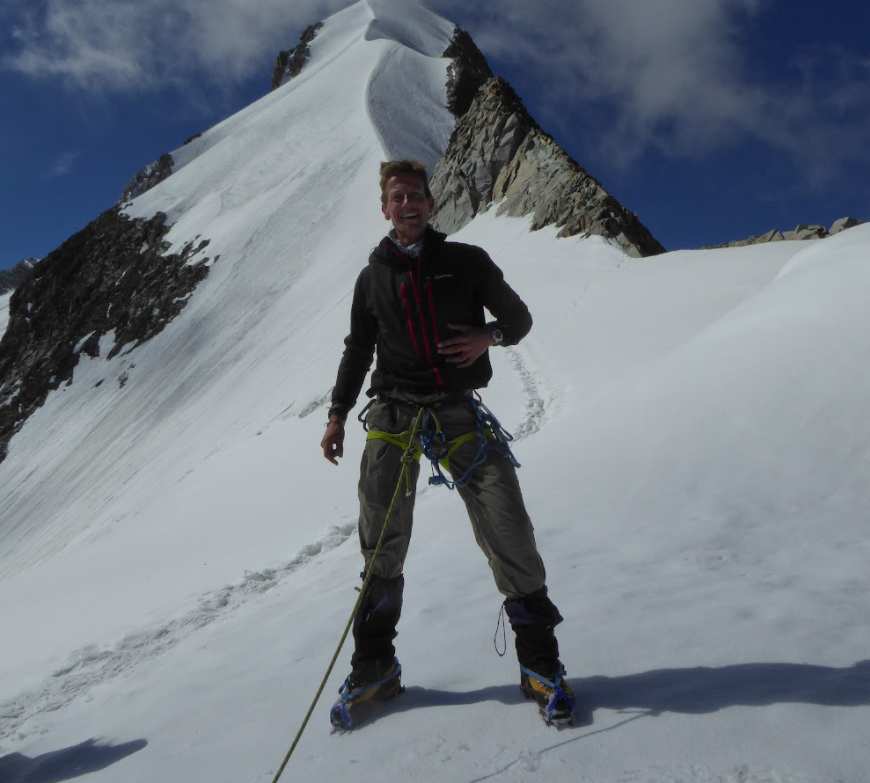 Kieran James Cunningham is a climber, mountaineer, and writer. He's climbed a handful of 6000ers in the Himalayas, 4000ers in the Alps and loves nothing more than a good long-distance wander in the wilderness.
Kieran has climbed many mountains in the
Himalaya
Karakorum
Rockies
European Alps
UK
To give some context on a 6000-foot climb—that would be a 555 story building. Keep in mind that there are no elevators to the top.
He now divides his time between the Italian Alps, the Scottish Highlands, and Brooklyn, New York.