Since owner Yves Chouinard founded his brand back in 1970, Patagonia has become virtually synonymous with quality and ethical production practices.
Whenever we purchase a product with those little silhouetted mountains backed by a multi-hued sunset, we know we're getting something that's well made, built to last, and produced with a degree of environmental conscientiousness that puts other big brands to shame.
One category of the Patagonia range that has proved to be inordinately popular over the years is its insulating mid layers. From its beefy, classic fleece pullovers to its plush down jackets, few brands have introduced quite so many classics to the world of outdoor attire.
Two mid layers whose various iterations have cemented their place at the top of this list of classics are the Patagonia Down Sweater and the Patagonia Nano Puff, a duo of long-term favorites amongst hikers, backpackers, climbers, and campers alike.
For many buyers in the market for a lightweight, highly packable, a warm insulating layer, the final stage of the decision-making process often comes down to a toss of the coin between these two incredibly popular options.
In this article, however, we aim to show you that there's more that separates these garments than meets the eye and to help you make an informed, coin-free decision on which will be best for your activity type and needs.
Before we get down to our comparison of the Down Sweater and Nano Puff, let's first take a look at a few of the metrics in which we might gauge any mid layer's merits.
Main Differences Between Patagonia Down Sweater vs Nano Puff
The main differences between Patagonia Down Sweater vs Nano Puff are:
Patagonia Down Sweater

is filled with 800-fill-power goose down, whereas

Nano Puff is filled with 60g of PrimaLoft Gold Eco Insulation.

Patagonia Down Sweater is great as a mid-layer option, whereas Nano Puff is more versatile.

Patagonia Down Sweater offers better insulation while dry, whereas Nano Puff continues to insulate even when wet.

Patagonia Down Sweater weighs 13.1 ounces, whereas Nano Puff weighs just 11.9 ounces.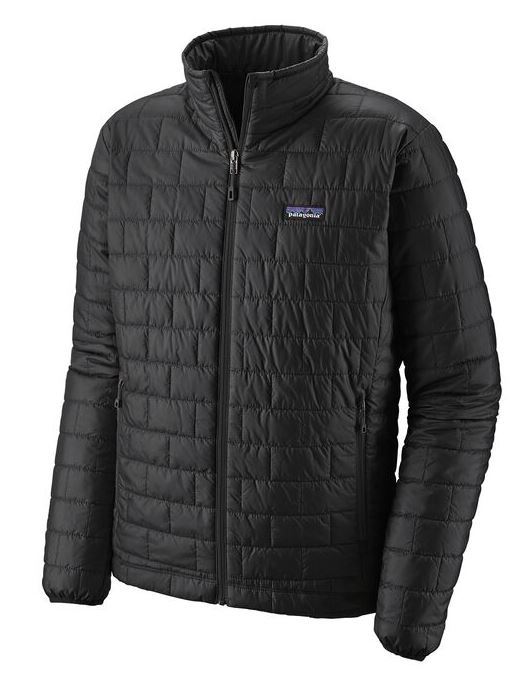 I Personally Prefer the Nano Puff
For me, having an wet weather insulation is important. I prefer this versatility, even if the Down Sweater offers slightly more dry insulation. This is mainly because I like to where my mid-layers in variable conditions.
Check Deals at Patagonia
Learn More
We earn a commission if you click this link and make a purchase at no additional cost to you.
The Layering System
Understanding the mid layer's place in the traditional three-part layering system can help to simplify the decision-making process when it comes to parting with the $ for your future go-to mid-layer
The layering system is composed of three principal layers: the base layer, the mid-layer, and the shell or outer layer.
The baselayer's main function in the layering system is moisture management—that is, wicking the sweat away from your body and transporting it to the subsequent layer, the mid-layer.
The shell layer's job is to protect the mid-layer and base layer from precipitation while also letting the sweat and heat wicked by these lower layers escape in order to avoid overheating and saturation by perspiration.
The mid-layers purpose in the layering system is to provide insulation, i.e. warmth. This is true whether the mid-layer is worn as an outer on top of the base layer or between the base layer and a shell layer. Contrary to what many are apt to believe, mid-layers work by trapping your body heat close to your body as opposed to actively generating heat. In colder conditions, the mid-layer is crucial in maintaining body heat as base layers and shell layers are not designed to provide insulation.
What to Look for in an Insulating Midlayer
When buying a mid layer the key components to consider include the following
Insulation
Breathability
Weather resistance
Weight
Construction and durability
Fit
Features
Insulation
As mentioned above, the main purpose of the mid layer is to provide insulation. This is achieved by the use of a variety of fabrics, with the most common being down, fleece, other forms of polyester, and even merino wool.
When choosing a mid layer with a down or synthetic fill, we often come across the term "fill power" accompanied by a number between 300 and 950. This number refers to how many cubic inches of loft one ounce of fill can produce in laboratory testing. The higher the fill power, essentially, the greater the loft and insulating capacity the down or synthetic fill used in any product will have.
That, however, only tells half the story…
Two jackets may provide exactly the same amount of warmth but have very different fill powers. This is because jackets or garments with a higher fill power (say, 900) will use less down to provide the same warmth as a garment with a lower fill power (say, 400). The difference is that the 400-fill-power jacket will almost certainly weigh considerably more than the 900-fill-power jacket. As such, fill power is more of a concern if weight and portability are an issue as opposed to warmth alone.
While a number of other factors contribute to how warm a down jacket will be, the spec that gives us the best indication of insulating capacity is the jacket's fill weight.
A jacket's fill weight refers to the amount of fill stuffed into a jacket to provide insulation. In a few words: fill power indicates quality, while fill weight indicates quantity. As such, a jacket with a fill power of 900 and a fill weight of 6 ounces will not be warmer than a jacket with 500 fill power and fill weight of 12 ounces. The take home? The heavier the weight of the insulating material, the warmer a jacket will be.
While not all manufacturers list the full weight of the insulation used in their garments, this can usually be found by doing a little bit of research online or by checking the garment's labels or tags in the store.
Breathability
Breathability is a key component of any item of clothing used in the layering system.
Whether you're wearing your mid-layer between your base layer and an outer shell layer or without a shell layer, if it lacks breathability then fairly soon things are going to get mightily sticky under the collar. When this happens, both your baselayer and mid-layer can become saturated in sweat, which is not only not the most comfortable state of affairs but can also lead to hypothermia in extreme cases.
So, how do we know just how breathable (or not) a down mid-layer will be?
Generally speaking, there is usually a trade-off between warmth and weatherproofing and breathability. This means that, as a general rule, thicker down mid-layers that use some form of water-resistant shell fabric are liable to be less breathable than those that are lighter and use no water-resistant shell.
In addition to the shell material and fill weight, the baffle design (how the down is stitched into the jacket/sweater) can have a significant bearing on how well it with breathe, with grid-patterned designs usually working better than tubular designs.
Comfort
More than maybe any other item in our layering system, the mid layer is all about comfort, whether it's a favorite fleece hoodie, a go-to down jacket, or a beefy merino sweater.
Beyond the fabric type, however, gauging how comfortable a midlayer will be without trying it on can be a tricky business. Our advice? Before buying, take some time to read user reviews to uncover any notable failings comfort-wise and study any images of your would-be midlayer to check whether it has the type of fit—regular or athletic—that you prefer.
Features
A number of "bonus" features can contribute significantly to any down mid layer's performance, comfort, convenience, and general usability. We've added a short description of each below:
Thumb Loops
This small feature may seem like nothing to write home about but can make a huge difference when out on the trails, allowing you to prevent cool air entering and warm air escaping at the wrist in cooler conditions.
Zipper
Many models of mid layer these days use a zipper-free design. While this has its benefits, a full-length or quarter-length zipper provides you with the quickest and most effective way of cooling down when need be and a little more in the way of versatility—when approaching an uphill section on your hike or temps rise briefly in variable conditions, simply pull down the zippers to increase airflow and then zip up again to "batten down the hatches" if things start to turn a touch nippy.
Hood
In any mid layer, a hood is a very useful feature to have for a number of reasons, most notably because it provides insulation for your dome, ears, and can stop drafts entering at your collar, adds versatility (can be used on and off throughout the day), and, in most cases, will provide more warmth than a hat or the hood in your outer shell.
The hoods found in some models of a mid layer are more effective and functional than others. The attributes that make for a good hood are:
A peaked rim that prevents the fabric from falling down over your eyes
A cinch at the collar that lets you stop drafts sneaking down your neck
A rear cinch that lets you adjust the hood to the size of your head
A frontal cinch that allows you to reduce the size of the opening when the weather takes a turn for the worse and to prevent the hood blowing back off of your head
Pockets
While not an obvious deal-maker or deal-breaker, having a duo or trio of nicely sized pockets in your mid layer can make a big difference to its overall convenience and functionality. If wearing the mid-layer alone (that is, without an outer shell), a pair of sizable pockets will not only give you a place to put your paws if temps are cool but also somewhere to stow a map, GPS device, or camera will save you the hassle of having to doff your pack every five minutes to take readings or snap your shots
One thing to look out for when buying a mid layer is the positioning of the pockets. Many models position the pockets just above the hip, which is fine if you're not wearing a backpack but means you'll have difficulty accessing the pockets when using your pack's hip belt. Other models place the pockets higher up on the torso, making for easier access.
Drop-Back Hem
A "drop-back hem" (a.k.a "drop-tail hem") refers the extra material added at the back of some mid layer models to cover the top of your posterior and prevent cold air sneaking in at your waist. This is a very handy feature to have when hiking with a backpack, climbing, or scrambling because in each of these scenarios garments without it tend to ride up and expose your midriff and lower back.
Pit Zippers
Once only featured in softshell or hardshell outer layers, pit zippers are now making inroads into the world of midlayers and down jackets and can provide a very simple and effective "heat dump" in that area—your armpits—most prone to saturation with sweat.
Got all that? Great! Then let's get down our review…
Review: The Patagonia Down Sweater vs The Nano Puff
Insulation
Both the Patagonia Down Sweater and the Nano Puff offer an excellent warmth-to-weight ratio thanks to very different but equally impressive insulating fabrics.
The Nano Puff's quilted baffle pattern is filled with 60g of PrimaLoft Gold Eco Insulation, which is made with 55 percent recycled polyester and, Patagonia claims, retains 98 percent of its insulating capacity when wet. The Down Sweater, on the other hand, uses 800-fill-power goose down with a fill weight of 3.4 ounces.
So, what does this mean as regards the performance of each garment out on the trails?
Both the Down Sweater and the Nano Puff are, essentially, lightly insulated mid layers made for shoulder-season use or winter use in more aerobic and demanding activities. That said, there are a few subtle differences that make each garment better suited to certain conditions or activities.
The Down Sweater's beefier insulation makes it a great mid-layer option for colder temps and ideal for high alpine pursuits like mountaineering or skiing, whether worn as an outer or under a waterproof shell layer.
The Nano Puff's lighter weight and scantier insulation mean it offers a little more versatility and is ideal for hiking, backpacking, or wearing around camp at night in summer months or the shoulder seasons, but is unlikely to offer quite enough warmth when temps hit the low 40s (Fahrenheit).
Breathability
While neither of these garments is a particularly high performer in terms of breathability, the Down Sweater just edges it over the Nano Puff in this particular feature.
The Nano Puff's solid liner and water-resistant, windproof face fabric are excellent features in terms of protection from the elements, but both detract significantly from the jacket's ability to let the hot air escape, particularly during more aerobic activities.
While the Down Sweater also uses a DWR finish, the waterproof-breathable face fabric does just enough to make it a viable outer layer for cold-weather hiking or the mid layer in a three-part layering system when temps really take a turn for the frigid.
The bottom line? Both of these jackets are good insulators and provide decent wind and water-resistance when worn as an outer, but neither is likely to win any awards for its capacity to breathe…
Weather Resistance
The Down Sweater and the Nano Puff's shell and lining are both treated with a DWR (durable water repellent) finish. This means that both garments are more than capable of dealing with very light precipitation, but are far from being waterproof.
As mentioned above, one significant advantage of the Nano Puff over the Down Sweater is that it continues to insulate even when wet, whereas the fabric in the Down Sweater can easily saturate in sustained or heavy precipitation and then loses most, if not all, of its insulating capacity.
This being so if you happen to be the type of hiker prone to forgetting essential items of gear (your shell layer, in this case) or are loathe to take off your pack to put on and take off your rain jacket every ten minutes in changeable weather, the Nano Puff is a far safer bet.
In windy conditions, the Nano Puff's close, brick quilting pattern and horizontal quilt lines give it a slight edge over the Down Sweater's tubular baffles, which are prone to letting in drafts at the stitching when things are particularly breezy.
Construction and Durability
The face and liner fabrics on the Down Sweater and the Nano Puff are very similar, with the Down Sweater using 1.4-oz, 20×30-denier, 100% recycled ripstop polyester face fabric and a 1.4-oz, 20-denier, 100% recycled ripstop polyester liner, and the Nano Puff using 1.4-oz, 20-denier, 100% recycled ripstop polyester face fabric and a 1.4-oz, 20-denier, 100% recycled ripstop polyester liner.
While to try to differentiate between the two in terms of performance and durability would be splitting hairs, the main take-home from these specs is that both garments are relatively tough and more than capable of dealing with a bit of rough and tumble, the odd confrontation with trees and rocks, and offer superior abrasion and tear-resistance to many other models of insulating mid-layer (see, for example, the Patagonia Micro Puff, which uses only 10-denier face and liner fabric).
The only downside is the construction of either of these garments is the Nano Puff's tendency to snag and for the stitching in its quilted baffles to come undone over time. While this is not a major issue if you are wearing it under a shell layer, it does impact the jacket's durability and means you'll have to tread quite carefully if or when wearing it as an outer.Z44
Weight
Weighing in at just 11.9 ounces, the Nano Puff is one of the lightest and most compressible insulating mid layers out there. As mentioned above, however, its more meager fill means it sacrifices a little in the way of warmth in order to achieve such a favorable pack weight.
At 13.1 ounces, the Down Sweater offers a slightly better warmth-to-weight ratio and is lighter than many of its peers in the down mid-layer market that offer comparable performance and insulating capacity.
The Down Sweater packs down to a respectable 9.5 x 7.25 x 4.5 inches and the Nano Puff a mere 6 x 7.5 x 3.5 inches, making both models highly packable and portable. The only difference in this respect is that the Nano Puff regains loft relatively quickly after being stowed in a stuff sack whereas the Down Sweater, like all down products, can lose loft and performance if scrunched up for long periods of time.
Fit
Both the Nano Puff and the Down Sweater use a "regular" cut. This style may be either a pro or a con to different users, depending on how you like your mid layers to fit, but a few more general observations can be made about the design of both models.
The standard fit on both of these garments means that there's usually plenty of room for lower layers for slimmer users but, on the downside, maybe a little too much excess material when worn under an outer shell, particularly if you do high-performance activities where minimization of bulk is a priority or simply prefer a more close-fitting, athletic fit. Despite weighing more and using more lofted insulation, the Down Sweater is only marginally bulkier than the Nano Puff.
Both jackets use hem cinches that allow you to adjust the jacket's tightness around your waist even when you have both hands inside the pockets and have elasticated cuffs with more than enough stretch to accommodate a beefy winter glove.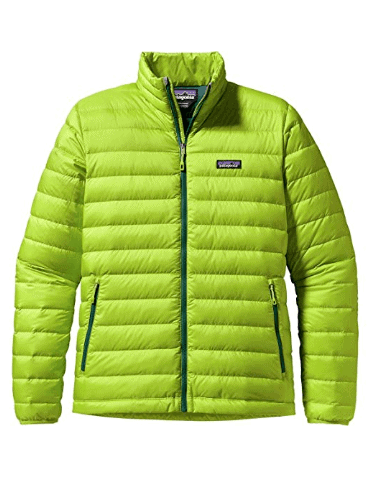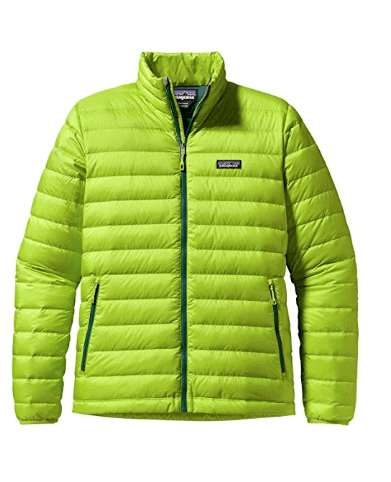 Important Features
The Nano Puff and the Down Sweater boast an almost identical set of features, which includes:
Zippered hand-warmer pockets
Large internal zippered chest pocket that converts into a stuff sack (and has handy a carabiner clip-in loop to boot)
Interior storm flap on the central zipper
Zipper garage at chin for next-to-skin comfort
Elastic cuffs
Adjustable hem (can be adjusted by pulling cord in hand pockets)
* The hoodie version of both garments has an elasticated (but not adjustable) hoo
The only small gripe we have with regard to the features in both of these jackets is the location of the pockets, which are situated directly behind where your belt crosses your waist when wearing a backpack and can't be accessed without first unclipping the hipbelt. A small hassle, to be sure, but a hassle nonetheless…
Comparison of Table
| | | |
| --- | --- | --- |
| | | |
| Shell fabric | 1.4-oz 20×30-denier 100% recycled polyester ripstop | 1.4-oz 20-denier 100% recycled polyester ripstop |
| Liner fabric | 1.4-oz 20-denier 100% recycled polyester ripstop | 1.3-oz 22-denier 100% recycled polyester |
| Fill | 3.4 oz. of 800-fill-power Advanced Global Traceable Down | 60-g PrimaLoft® Gold Insulation Eco 100% polyester |
| Weather resistance | DWR finish | DWR finish |
| Weight | 13.1 oz | 11.9 oz. |
| Pack size | 9.5 x 7.25 x 4.5 inches | 6 x 7.5 x 3.5 inches |
| Best use | Alpine, hiking | Hiking, backpacking, recreation |
Patagonia Down Sweater vs Nano Puff: The Verdict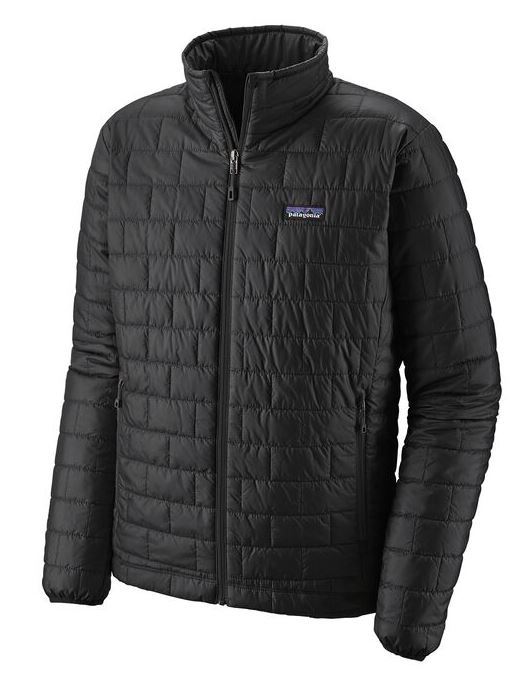 I Personally Prefer the Nano Puff
For me, having an wet weather insulation is important. I prefer this versatility, even if the Down Sweater offers slightly more dry insulation. This is mainly because I like to where my mid-layers in variable conditions.
Check Deals at Patagonia
Learn More
We earn a commission if you click this link and make a purchase at no additional cost to you.
Any outdoors person in the market for a light, warm and versatile midlayer could do an awful lot worse than put the Patagonia Down Sweater and Nano Puff at the top of their shortlist. Both of these garments offer an excellent warmth-to-weight ratio, durable fabrics, exceptional comfort, and above-average performance compared to other mid layers in their price range.
Picking between the two is a tricky task and will ultimately come down to how you plan to use the jacket (or sweater).
For colder, shoulder-season outings or higher alpine excursions (whether hiking, skiing or mountaineering), the Down Sweater offers just that little bit of extra insulation required to beat the brrr.
For hiking at lower altitudes, backpacking, camping, belaying, or just a super comfortable, lightweight jacket to throw on for everyday use in temps between 45 and 65F, the Nano Puff is likely to be the better choice.
Further Reading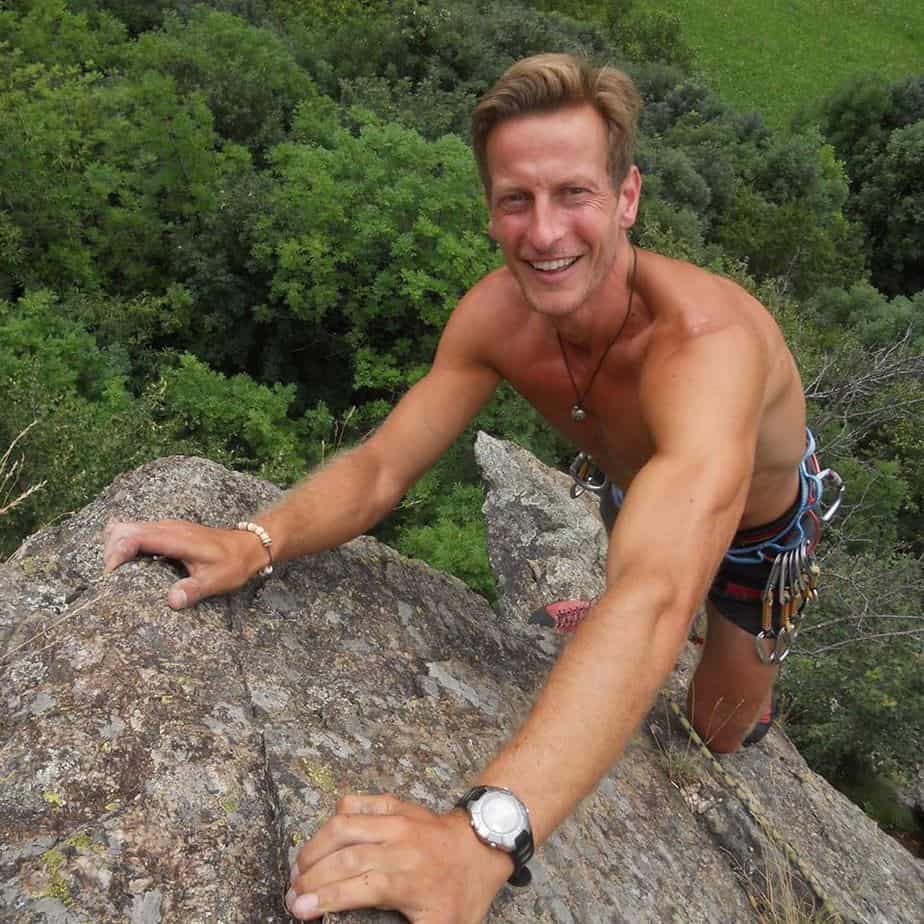 Kieran James Cunningham is a climber, mountaineer and writer based in the Italian Alps. He's climbed a handful of 6000ers in the Himalayas, 4000ers in the Alps and loves nothing more than a good long-distance wander in the wilderness.