The outdoor clothing market is saturated with literally hundreds of softshell jackets that boast varying levels of appeal to varying types of backcountry adventurers.
While softshell jackets are made to offer an all-action, high-performing happy-medium between hardshell rain jackets and insulating mid-layers by definition, only a small handful of these jackets turn out to live up to the billing or be well suited to different activity types, whether that activity is hiking, climbing, ice-climbing, mountaineering, mountain biking, skiing, camping, trail running, cycling, or backpacking.
When we got our hands on the Montane Dyno Stretch softshell jacket, we were keen to find out if it would be one of this handful and live up to the rave reviews we'd heard from various users.
Below, we'll bring you our findings with our in-depth review of the Dyno Stretch, right after a little buying advice for those in the market for a softshell jacket.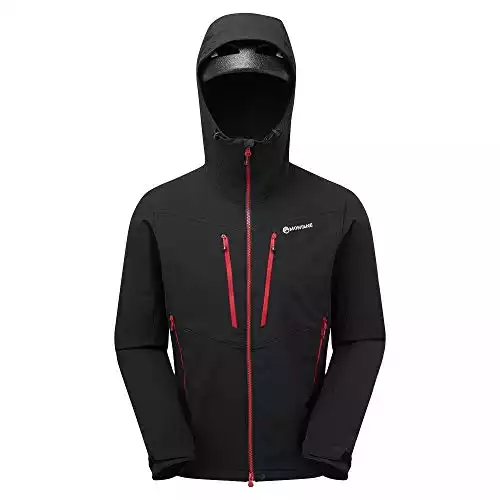 Montane Mens Dyno XT Softshell Jacket | Amazon
The Montane Mens Dyno XT Softshell Jacket is a technical, lightweight & durable down coat ideal for keeping you warm when you most need it in the great outdoors, from mountaineering to sitting at basecamp and everything in-between. Granite Stretch softshell fabric provides unrestricted movement, enhanced protection and high levels of durability.
Buy at Amazon.com
We earn a commission if you click this link and make a purchase at no additional cost to you.
What is a Softshell Jacket (and What Should It Do…)?
Softshell jackets come in a variety of forms but are typically designed to offer a halfway house between an insulating mid-layer and a hard shell outer. They can be used alone or as part of a layering system and are generally a good choice for more aerobic activities than beefy mid-layers or waterproof shells owing to their ability, for the most part, to provide light insulation in combination with moderate water-resistance, improved flexibility, and outstanding breathability.
The term "softshell," however, is a bit of an umbrella term that might be applied to jackets with very different materials, design characteristics, performance profiles, features, and flaws. Every year, moreover, the big brands come up with newfangled designs or use new materials that stretch the boundaries of the definition.
In a nutshell, the most accurate working definition reads along the lines of the following: a weather-resistant (not weather-proof), highly breathable, mobile, a stretchy garment that is highly versatile owing to its ability to be used as a mid-layer or outer layer and is intended for use in more aerobic pursuits.
Do I need a hardshell rain jacket or a softshell jacket?
While certain conditions will be ideally suited to the use of either a hardshell rain jacket or a softshell jacket, the simplest way to answer the above question is to say that if you plan on spending a lot of time in the outdoors and like to mix up your activity type throughout the year, then you almost certainly need both.
The biggest differences between hardshell and softshell jackets are as follows:
Hardshells are waterproof; softshells are only water-resistant
Softshells offer superior breathability and comfort
Hardshells are windproof; softshells are only windproof if made with a windproof membrane
Hardshells provide better weather protection at a lighter weight
There is an argument, voiced by a few old-school outdoors-goers, which holds that a softshell jacket is a form of a luxury item that could easily be foregone should we make better use of our rain shell and base layers or mid-layers.
However, for those of us keen to dial-in our clothing to the demands of varying activities and maximize comfort and convenience, a softshell layer is all but indispensable, allowing us to match our getup more precisely to the conditions we encounter.
The main drawback to softshell layers is their lack of waterproofing. This being so, a good, general rule of thumb to work with when packing for any trip is that, unless the skies happen to be pristine and the forecast favorable, if you need one, you need the other, too.
Types of Softshell Jacket
These jackets use woven nylon face fabric to provide protection from both the wind and different levels of precipitation. Typically, stretch-woven jackets are made with a superior degree of mobility to membrane-lined softshells and provide excellent breathability and decent weather resistance.
Most of these jackets use a DWR (durable water-repellent) treatment that causes water to bead up on the surface rather than saturate the material, while the weaved construction allows for the simultaneous transfer of water vapor (i.e. sweat) from inside to out.
These characteristics make stretch-woven jackets a great choice for those taking part in more aerobic activities. The only downside to DWR-treated jackets is the lifespan of the treatment – after repeated use and washing, the DWR coating will eventually deteriorate and require reapplication.
As is the case with many hardshell garments, some softshell jackets are made with a laminated membrane molded inside the face fabric.
This membrane provides enhanced weather protection but typically does so at a cost to breathability. As such, jackets that feature this type of membrane are best suited for less aerobic activities and those more concerned with weather protection than performance.
In recent years, a number of hardshell-softshell hybrid jackets have begun appearing on the market. As you might imagine, these jackets offer the best of both worlds by providing the weather resistance of a hardshell in combination with the flex, mobility, comfort, and breathability of a softshell.
The downside? In most cases, these jackets cost a pretty penny and usually compromise on the breathability or weatherproofing offered by an out-and-out softshell or out-and-out hardshell respectively.
What to Look for in a Softshell Jacket
Windproofing
The bottom line with regard to windproofing is that it's a great feature to have, but almost always comes at a cost in breathability.
Generally speaking, softshells with a windproof membrane or particularly tight weave that blocks wind well breathe better than most waterproof/breathable hard shell jackets but not as well as softshells that have no membrane or use a more relaxed weave.
When buying your softshell jacket, it's a good idea to have a list of must-have features at hand and to bear in mind exactly how you plan on using the jacket most of the time. If you envision doing highly aerobic activities in which you'll be working up a serious sweat, we'd recommend opting for a jacket without an integrated membrane and that has a looser weave.
If, however, you're looking for a jacket that provides light weather protection and decent insulation in slower-moving activities where high levels of breathability are quite so all-important, then jackets with a membrane, tight weaves, and thicker insulation might be a better option.
Water resistance
The most important thing to bear in mind when buying a softshell is that even those models with the best weather-resistance of the lot will be just that – water-resistant, not waterproof. What this means in practice is that softshells will, for the most part, keep you dry in light precipitation and short-lived showers but are by no means a substitute for a hardshell rain jacket.
Insulation
The amount of insulation a softshell provides can vary greatly from jacket to jacket, with some ultralight models that are designed for trail running, cycling, and climbing offering little to no insulation and other models using an interior fleece lining that adds warmth and comfort but can detract from wicking and breathability.
The bottom line here is that the degree of insulation you require will depend on both how and in what conditions you plan on using the jacket.
Insulated softshells are a great choice for colder conditions and less aerobic sports like general hiking in the shoulder seasons or winter, ice-climbing, or springtime skiing, but will likely lack the breathability required to keep things dry inside the jacket in warmer conditions or high-activity sports like mountaineering, climbing, snowshoeing, trail running, or cycling.
Breathability
One of the most attractive characteristics of softshells, in general, is their superior breathability compared to hard shells and insulating mid layers. As with other features, however, the more weather protection a softshell provides normally impacts directly on breathability.
Wind-resistant softshells that use a tighter weave to block wind are typically the most breathable but, on the flip side, usually, offer less weather protection. Membrane-lined softshells, on the other hand, usually offer the best weather protection but compromise on breathability.
Neither type of softshell is objectively better than the other, however, and the ideal choice for you will depend on your activity type: as a general rule, the more fast-paced and aerobic the activity, the more breathability you will need.
Durability and toughness
If you happen to do any sport in which your clothing is likely to be exposed to a bit of rough treatment – i.e. mountaineering or rock climbing – then it's well worth choosing a jacket that has reinforced panels in the elbows and that is made with slightly heavier, tougher materials with solid abrasion resistance.
Mobility
One of the main benefits of choosing a softshell jacket over a hardshell rain jacket is the degree of stretch – and, thus, mobility – the former provides. As with other features, the degree of stretch in softshells can vary significantly from jacket to jacket.
The best way of knowing just how flexible and mobile any jacket will be is to do some digging and read user reviews, check the elastane or spandex content in the fabric (the higher the better!) and look for mobility-enhancing features like a drop-back hem, stretchy inserts, and elasticated cuffs that can be pulled up to the elbows when needed.
Weight
A good short-hand guide that usually gives us an immediate idea of the performance characteristics of any softshell jacket is how much it weighs. As a general rule:
Softshell jackets that weigh under nine ounces are likely to be designed for trail runners or summer hiking and will probably offer excellent breathability but limited water and wind resistance
Softshell jackets that weigh between nine and eighteen ounces are more likely to be designed for winter and shoulder-season hiking and offer superior water and wind resistance at the cost of some breathability
Heavier softshell jackets usually offer superior insulation, water and wind resistance but have limited breathability, though this should still be superior to that found in many hardshells
Fit
The ideal fit in a softshell jacket is largely a matter of personal preference, but how you plan to use the jacket will also play a big part in just how tight or loose-fitting you should go.
Climbers, trail runners, and cyclists tend to prefer a tighter fit in order to limit the amount of material flapping around in the wind or which can snag on rocks, branches, etc. Hikers, skiers, and all other users, however, might want to opt for a slightly roomier fit that allows them to wear a more substantial baselayer or mid layer underneath.
Features
Wrist closures: As in any type of jacket, we always recommend opting for adjustable wrist closures as these will allow you to cinch the wrist down to prevent drafts, wear gloves of varying thickness, and pull the sleeves back to the forearm if temps get warm enough to expose a little skin but not quite enough to ditch the jacket and rock your baselayer alone
Adjustable hems: As with adjustable wrist closures, these allow you to eliminate drafts or let them in when temps pick up and also help to prevent the bottom of your jacket riding up over your backside
Pockets: Good pockets should really be a given, but all too many manufacturers still produce garments with pockets that are too small to hold maps, phones or other large items you might need at hand and are located behind the hipbelt on your backpack – precisely where they can't be accessed easily! To save yourself these frustrations, be sure to check the whereabouts of the pockets on the jacket and read a few user reviews to make sure you are not selling yourself short on pocket space
Helmet-compatible, adjustable hood: While most hikers and backpackers have no need for this feature, if you happen to be a cyclist, climber, or mountaineer it should be somewhere very near the top of your list of must-have features. Not only does this feature allow you to wear the hood over your helmet and thus spare you the discomfort of wearing it under your helmet, but also prevents the rest of the material on your jacket riding up and exposing your midrift
Thumb loops: This seemingly negligible feature is an excellent addition to any midlayer, allowing you to prevent cool air entering and warm air escaping at the wrist in cooler conditions or vice-versa when things start heating up
Zipper: A full-length or quarter-length zipper offers the quickest and most effective way of cooling down when need be—short of, that is, shedding the layer entirely—and so offers an upgrade in versatility compared to zipper-free, pullover-style jackets
Now that we've covered all the things to look for in a good softshell jacket, let's get down to the business end of things with our review of the Montane Dyno Stretch Jacket.
Type
The Dyno Stretch Jacket is a lightweight, non-membrane mountain jacket specifically designed to meet the needs of summer and shoulder-seasons mountaineers and climbers. The Chameleon 3 fabric used in the Dyno Stretch is wind resistant and abrasion resistant whilst still being breathable fast-drying, and high-wicking.
Windproofing
Although the Dyno Stretch does not use a windproof membrane, its super-tight weave and use of the Chameleon 3 fabric make it a solid performer in terms of wind resistance. There are, granted, many softshell jackets on the market that offer superior protection when things start getting a bit blowy but, for the most part, these jackets either fall into the hardshell (and, thus, less breathable and mobile) category or weigh considerably more.
Water resistance
The Dyno Stretch uses a DWR finish in combination with a very tight weave to provide enough water-resistance to deal with light or short-lived showers. This makes it a great choice for hikers, cyclists, and climbers looking for a jacket that provides excellent breathability, moderate wind-resistance, and more comfort and versatility when in changeable mountain conditions.
While it won't keep you dry in a downpour, this is a solid performer in a light rain that will save you taking your hardshell on and off on those days when the wet stuff can't make up its mind whether it's coming or going, or as a slightly cozier alternative to your rain jacket.
Breathability
If the Montane Dyno Stretch Jacket has one selling point that makes it a standout amongst its peers, it's breathability. The non-membrane, Chameleon 3 fabric offers exceptional performance when you're working hard by regulating your temperature and wicking moisture in a hurry, thus making it a great choice for climbers, alpinists, cyclists, trail runners, and fast-moving hikers alike.
Durability and toughness
One of this jacket's most admirable features is its ability to deal with a little bit of roughness and tumble. Its abrasion resistance is rated to 20,000+ at 12.5k PA, which, in layman's terms, means it will escape most coming-together with rock, trees, and whatever other inanimate aggressors you might meet none the worse for wear.
Perhaps the most important thing with regard to this jacket's ruggedness is that it is offered without compromising on breathability – not something that can be said of all softshells designed for climbing and mountaineering.
Mobility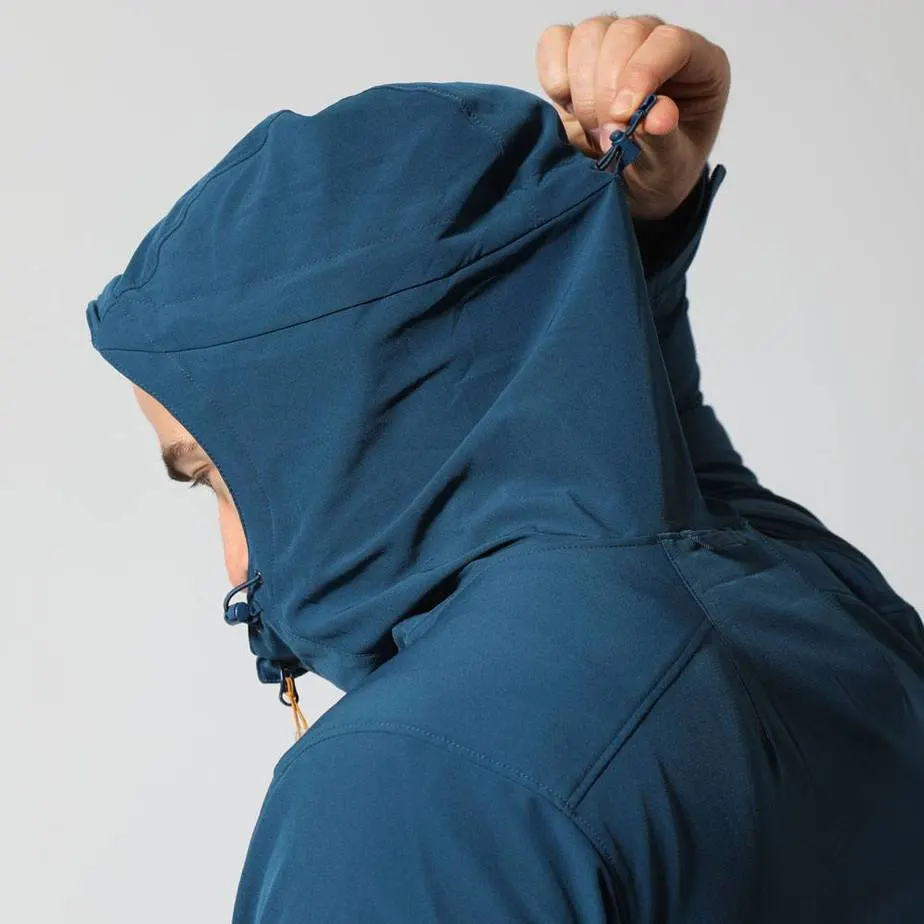 As the name suggests, the Dyno Stretch is also a winner as regard mobility and is marketed towards users who hold this as one of the most important features in their garments.
The Chameloen3 fabric has a four-way stretch which allows for completely free, unrestricted upper body movement, a feature that will appeal to those who prefer a tighter fit but don't want to compromise on a range of motion as a result. It also has an articulated 'active back' and technical tailoring around the arms that prevents arm lift raising the lower hem whilst reaching high.
While these features will appeal to all users, it makes the jacket particularly suitable to those doing more dynamic sports that require a full range of movement in the upper body.
Weight
Weighing in at just 13.7 ounces in a size medium, the Dyno Stretch is neither a heavyweight nor a lightweight. While there are lighter options out there that offer superior wind resistance and insulation, however, the Dyno Stretch's added ounce or two are more than justified by its outstanding abrasion resistance and a full set of features.
Fit
Another characteristic working in the Dyno Stretch's favor compared to the vast majority of its peers is the painstaking attention its creators have paid to comfort, practicality, and mobility.
While the more general fit of this jacket might be termed 'athletic,' it's in the details that it really stands out. In addition to a drop-back hem and helmet-compatible hood, the designers at Montane have included articulated arms and an articulated back that allow the user a full range of movement without dragging the jacket's material up their midriff or forearms, thereby making this one of the most mobile jackets currently on the market.
Also, owing to the Dyno's four-way stretch, those who like a closer fit can shoot for a smaller size without worrying about restricted movement.
Features
Hood: Helmet-compatible, fully adjustable, and with a wired peak for easy readjustment, side volume compression for a close fit around head or helmet, and an internal elastic loop and hook on the rear compression drawcord that allows you to stow the hood away when not in use
Zippers: The ergonomic, lightweight front zipper is two-way, meaning it can be used to vent even when wearing a rucksack or harness. It also features a full-length draught excluder and an internal storm flap
Pockets: Two mesh-lined hand-warmer pockets and two chest pockets, all of which are large enough to hold a map, GPS device, or phone. These are also situated so as to be accessible when wearing a backpack strap or a harness and use ergonomic pullers that make them easy to use when wearing gloves
Wrist Closures: Velcro-adjusted to allow for a tight fit around your wrist or gloves and wide enough to let you roll up the sleeves.
Adjustable hem: check!
Drop-back hem: Check!
The Dyno stretch also features a handy chin-guard lined with brushed microfleece to provide added comfort in the mouth and chin area when fully zipped up.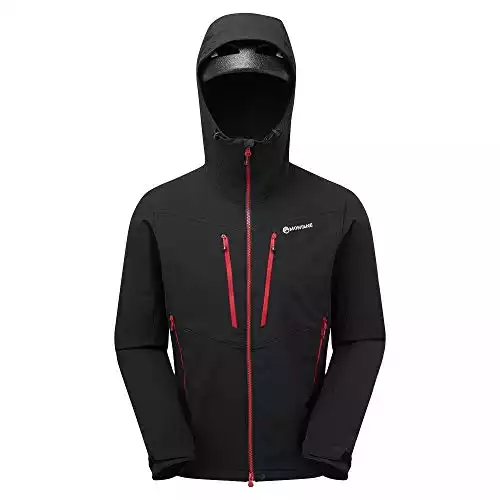 Montane Mens Dyno XT Softshell Jacket | Amazon
The Montane Mens Dyno XT Softshell Jacket is a technical, lightweight & durable down coat ideal for keeping you warm when you most need it in the great outdoors, from mountaineering to sitting at basecamp and everything in-between. Granite Stretch softshell fabric provides unrestricted movement, enhanced protection and high levels of durability.
Buy at Amazon.com
We earn a commission if you click this link and make a purchase at no additional cost to you.
Montane Dyno Stretch Jacket FAQs
Question: How waterproof is this jacket?
Answer: This jacket is water-resistant, not waterproof. It uses a DWR (durable water-repellent) coating that will shed light on precipitation but is not capable of fending off heavy showers.
Question: Is the sizing accurate?
Answer: Yes! These jackets run true-to-size.
Question: Is this jacket suitable for winter?
Answer: While this will depend on where you happen to be in the world, the insulation in the Dyno Stretch is minimal and the jacket is best suited to summer or shoulder-season outings.
Question: For which activities is this jacket best suited?
Answer: Thanks to its outstanding mobility provided by the stretchy materials, the articulated back and arms, and its superior ruggedness to most other softshell jackets on the market, this jacket should be a shoo-in for climbers and mountaineers looking for a hard-wearing workhorse to see them through summer or shoulder-season multi-pitch climbs or high-mountain ascents.
That said, this jacket is also extremely comfortable when worn over a baselayer and will no doubt win the approval of many a backpacker and hiker who value practicality over the coziness of fleece-lined softshells.
Montane Dyno Stretch Jacket: The Verdict
This lightweight, high-performing, fully-featured jacket is an absolute steal at the current price. If you're looking for a softshell jacket that prioritizes weather protection and/or insulation, then there are better options out there, but for a jacket that offers nigh-on peerless breathability and mobility, is ideal for summer outings and high-intensity activities, and scores as highly on comfort as it does on performance, the Dyno Stretch is very hard to beat.
Other Recommended Softshell Jacket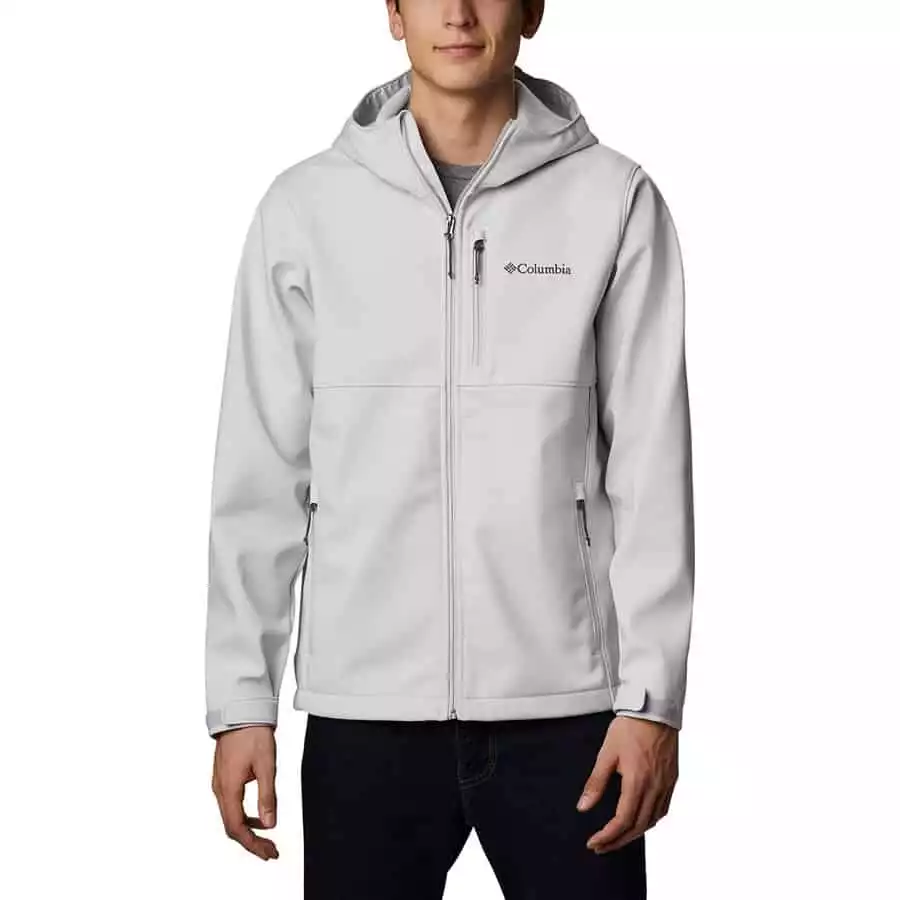 Columbia Ascender Softshell Hooded Jacket - Men's | Backcountry
The Columbia Men's Ascender Softshell Hooded Jacket performs just as well on your daily commute to work as it does on a two-day backpacking trip. Its wind- and water-resistant fabric works to keep you warm and dry when the skies turn gray, and the flattering fit looks stylish in any setting. A drawcord hem and adjustable cuffs let you seal in your body heat, and also make this jacket an ideal layering piece for colder temperatures.
Check Price
We earn a commission if you click this link and make a purchase at no additional cost to you.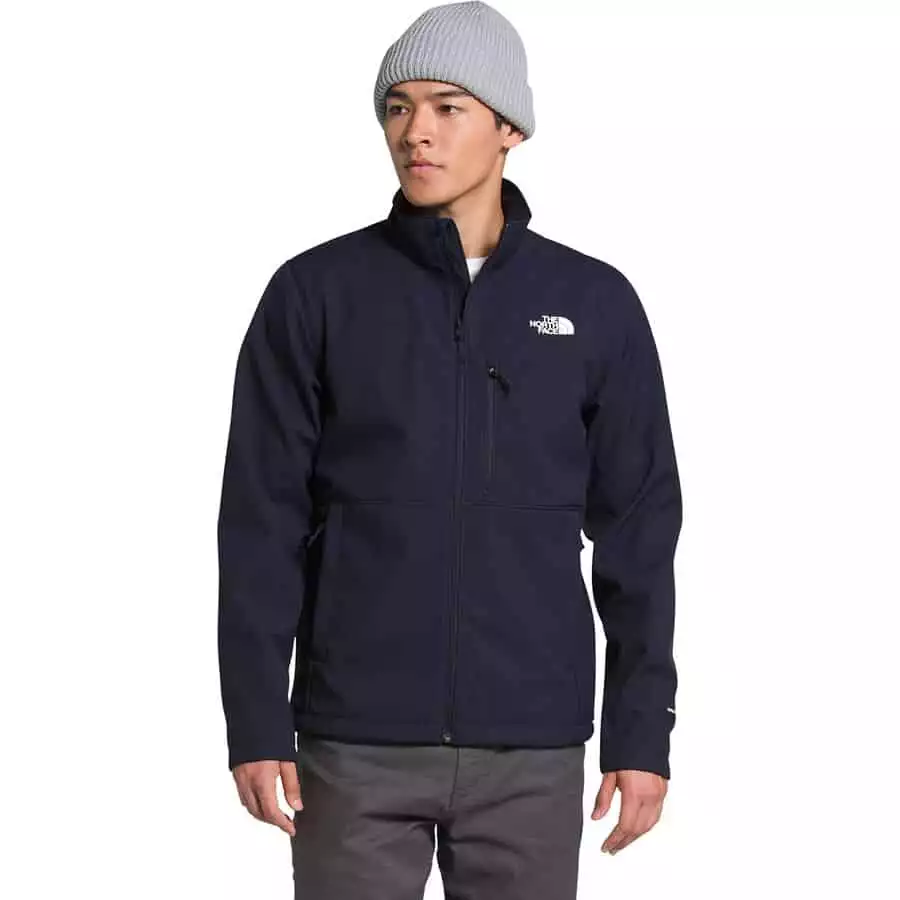 The North Face Apex Bionic 2 Softshell Jacket - Men's | Backcountry
Protect yourself from chilly, changing weather on your next adventure with The North Face Apex Bionic 2 Softshell Jacket. This protective softshell features The North Face's WindWall fleece construction for wind and water-resistance, as well as optimum breathability for active pursuits. And, to seal out chilly air, the drawcord hem keeps breezes from stealing precious body heat. The Apex's relaxed fit lets you move unhindered without being overly loose for casual use.
Check Price
We earn a commission if you click this link and make a purchase at no additional cost to you.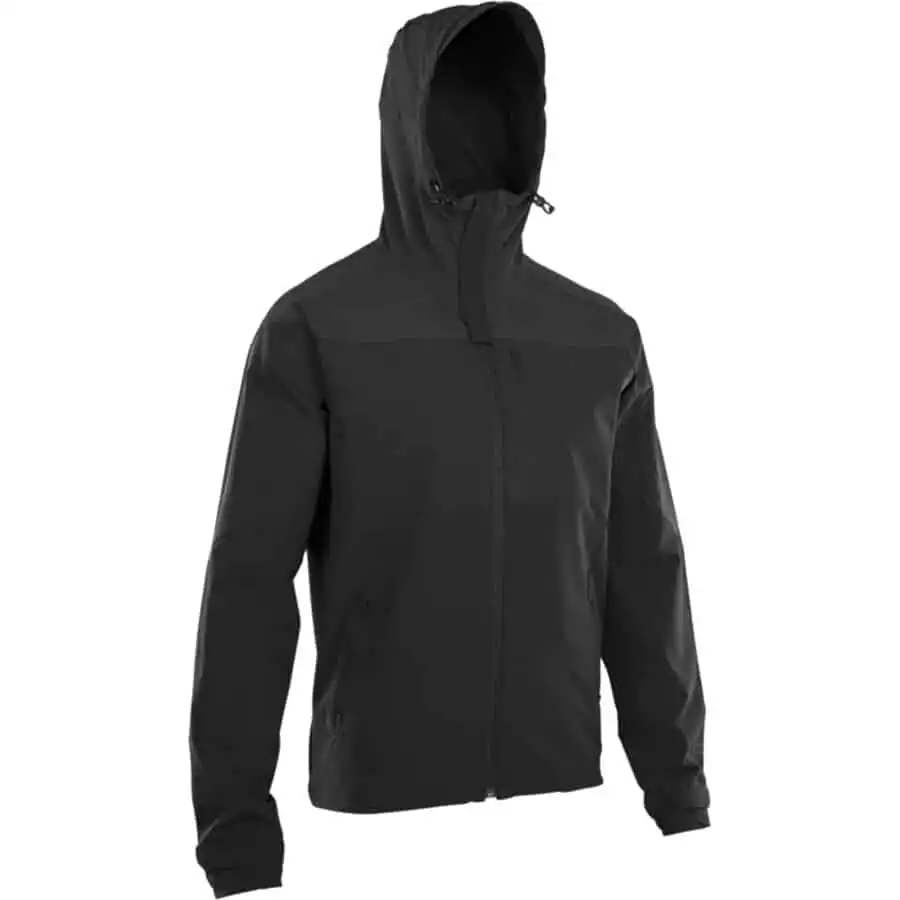 ION Shelter Softshell Jacket - Men's | Backcountry
With a bike-specific cut, the Shelter Softshell Jacket offers lightweight and breathable protection for our ride. Four-way stretch fabric ensures flexibility in all directions so comfort is maintained riding in and out of the saddle, and a helmet-ready hoot conveniently keeps us covered. Durable water repellent treatment stops rain from seeping through, but it also protects us from muddy runs on the trails.
Check Price
We earn a commission if you click this link and make a purchase at no additional cost to you.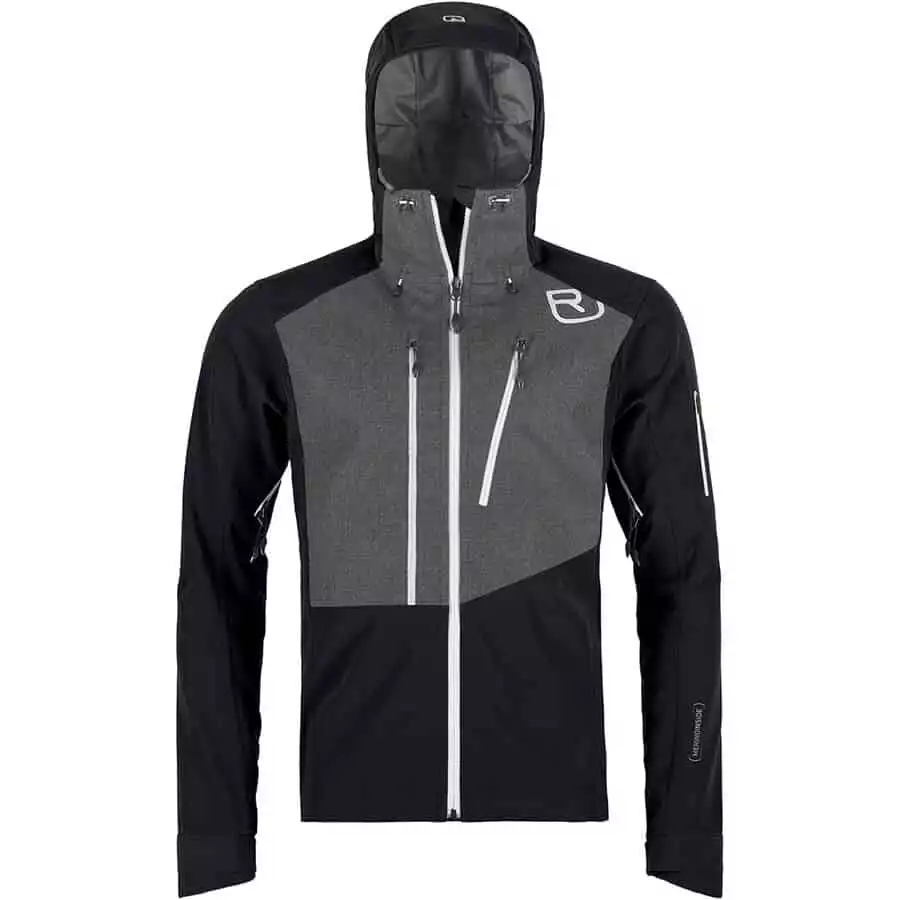 Ortovox Pordoi Hooded Softshell Jacket - Men's | Backcountry
Hardshells can be overly protective and restricting when we're backcountry skiing, and the Ortovox Pordoi Hooded Softshell is here to provide the solution. Developed for backcountry skiers who really get after it, this technical softshell boasts a merino wool lining and reactive membrane for outstanding temperature regulation. This jacket provides a touch of protection needed for brisk breezes and snow spray, as well as the stretchy performance we need for skinning and skiing.
Check Price
We earn a commission if you click this link and make a purchase at no additional cost to you.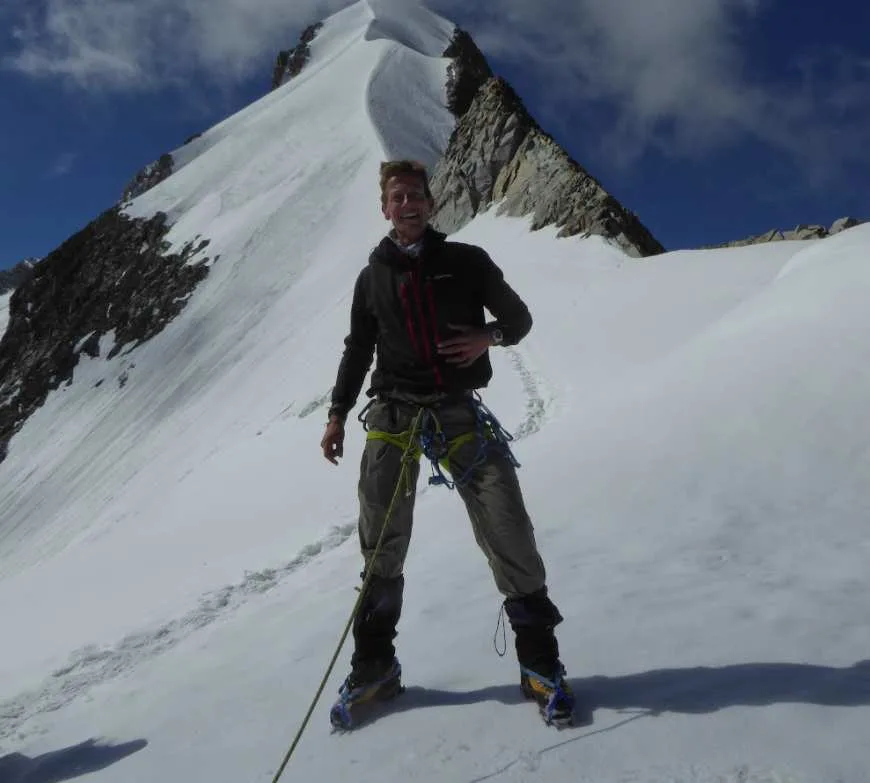 Kieran James Cunningham is a climber, mountaineer, and writer. He's climbed a handful of 6000ers in the Himalayas, 4000ers in the Alps and loves nothing more than a good long-distance wander in the wilderness.
Kieran has climbed many mountains in the
Himalaya
Karakorum
Rockies
European Alps
UK
To give some context on a 6000-foot climb—that would be a 555 story building. Keep in mind that there are no elevators to the top.
He now divides his time between the Italian Alps, the Scottish Highlands, and Brooklyn, New York.