A pocket knife can come in handy in a broad range of outdoor situations, which is why you should emphasize quality over price while searching for an EDC knife. This Benchmade Bugout vs Griptilian comparison will grant you a deep insight into these two Benhmade's knife families.
At first, it can be difficult to notice the differences between a Benchmade Bugout vs Benchmade Griptilian knife as they share more than just a few features. However, a closer look at the features reveals a number of differences between these two knife families that ultimately affect their performance.
So in this article, we are going to help you understand how these two Benchmade's EDC knives are different and which one has more to offer.
Main Differences Between Benchmade Bugout vs Griptilian
The Main Differences Between Benchmade Bugout vs Griptilian are:
Benchmade Bugout knives can have two different blade styles, whereas Benchmade Griptilian knives can have three different blade styles
Benchmade Griptilian features blades that are 3.45'' long whereas the blade length of Benchmade Bugout knife is 3.24''
Benchmade Bugout knife is 7.46'' long when opened, whereas the open length of the Benchmade Griptilian knife is 8.07''
Benchmade Griptilian can have a handle made of G10 or nylon, whereas the handle of Benchmade Bugout knives is made from Grivory or CF-Elite materials
Benchmade Bugout knives weigh 1.85oz whereas the Benchmade Griptilian weighs 3.79oz and 3.88oz
Key specifications of Benchmade Bugout vs Griptilin Knifes
Benchmade Bugout vs Griptilian feature comparison
Despite being one of the most recent additions to Benchmade's offer of EDC knives, Bugout models have become, in a relatively short time, one of the brand's most sought-after products.
Besides the regular size, the company also offers the Bugout Mini version of this knife that is even more compact and lightweight than the original version.
The manufacturer lets you customize your Bugout EDC knife by allowing you to choose the blade style or the handle material so that you can find the option that best matches your expectations.
These knives are designed for everyday use and their features enable you to carry them with you wherever you go.
Its weight and size make the Benchmade Bugout knife a vital piece of hiking gear as it is made from materials that can cut through almost anything. Check out our guide to packing a hiking backpack for more information about the equipment you should take with you on a hiking trip.
Benchmade Mini Bugout Folding Knife | REI
Small enough for a mint tin, yet big enough for adventure, the Benchmade 533 Mini Bugout fine-edge knife maintains the configuration of its full-size counterparts in an ultralight 1.5 oz package.
Check Price
We earn a commission if you click this link and make a purchase at no additional cost to you.
Key features
Available with plain drop-point and serrated drop-point blade styles
The blade is made from CPM S30V steel
Equipped with the Benchmade's AXIS® mechanism
The handle can be made from Grivory or CF-Elite materials
The length of the blade is 3.24''
Reversible Mini Deep Carry clip
The Benchmade Bugout knife weighs 1.85oz
Design and materials
All models from Benchmade's Bugout family have the same design and are made from the same materials. However, the manufacturer lets you select the blade style and the handle material of your Benchmade Bugout pocket knife.
The Grivory or CF-Elite materials used to create the handle are essentially plastic, but they are durable enough to withstand daily usage.
However, a plastic handle may not be what you expect to find on a high-end knife, like Benchmade Bugout regardless of how durable the material is.
Also, the color options are limited, as you can only choose between Black, Blue and Ranger Green handle colors. All versions of Benchmade Bugout have the same dimensions and weight, as their length when closed is 4.22 or 7.46 when opened.
These knives weigh just 1.80oz, which means that they are small and lightweight enough to fit inside a pocket. They also feature a reversible mini deep carry clip that enables you to attach the knife to a belt or a pocket when you are not using it.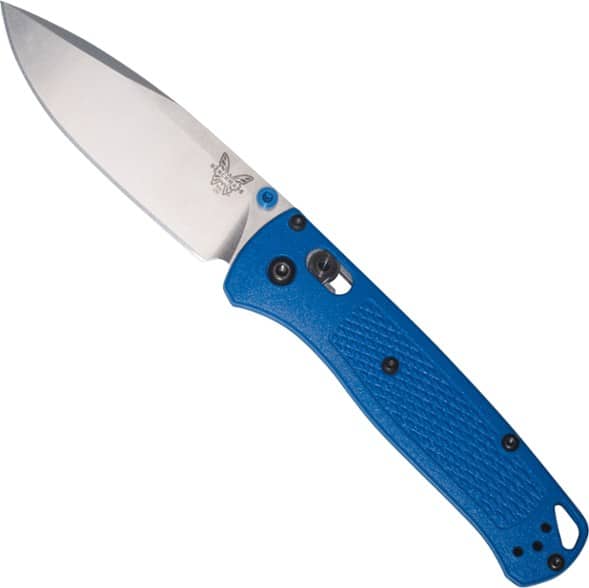 Benchmade Bugout Knife | REI
Benchmade 535 Bugout drop-point fine-edge knife was designed with modern outdoor adventurers in mind, incorporating lightweight, robust materials in an extremely slim, yet ergonomic package.
Check Price
We earn a commission if you click this link and make a purchase at no additional cost to you.
Blade performance
You can choose between plain drop-point and serrated drop-point blades that are made from the CMP S30V stainless steel. The CMP Cru-Wear steel is famous for its durability as it isn't likely to get damaged even when it is used for heavy-duty applications.
In most cases, you will be using a Benchmade Bugout knife to slice an apple or to cut a rope and this type of stainless steel will enable you to perform these actions with ease. The blade length is 3.24'' regardless of the style you choose, as well as the thickness of the blade that is set at 0.90''.
The AXIS® mechanism that is commonly used on Benchmade's knives features a hardened spring-loaded bar that pushes the blade out its position, while two omega-shaped springs and a stop pin that keeps it firmly in place.
Although susceptible to daily wear and tear this locking mechanism is highly efficient.
Other noteworthy features
Despite being relatively small, the Benchmade Bugout knife has excellent ergonomics, and it feels comfortable in your hand. The polyester handle features a high level of texturing that provides sufficient friction so that you can keep a firm grip on the knife.
Also, the handle's spine contains a mild jimping that further enhances the knife's traction properties and ensures that you can't hurt your hands or fingers while holding the knife.
To get the knife open you need to press one of the anodized thumb studs that are located so close to the handle that they can be hard to reach. The knife features phosphorus bronze washers that are commonly featured on Benchmade's pocket knives that utilize the AXIS® mechanism.
Reliability
It may be too early to say how durable the Benchmade Bugout knife really is, as it has been just a few years since the brand launched this series. However, several features indicate that this is a highly durable pocket knife capable of high-end performance.
The blade doesn't become dull quickly, and once it does it can be easily sharpened. Also, the stainless steel material won't corrode if you frequently expose the blade to water which enables you to keep using this knife without having to worry if the blade is going to lose its properties over time.
Benchmade provides LifeSharp service that includes cleaning, oiling, and sharpening your Bugout knife free of charge. What's more, all knives from the Bugout series are covered by the Lifetime Warranty that enables you to replace a Bugout knife you purchased.
Besides being one of Benchmade's most popular models, Griptilian is also among the best survival and camping knives you can find on the market. The manufacturer offers a broad spectrum of different variations of this knife, but their features and performance capabilities are the same.
All knives from the Benchmade Griptilian family can be customized as you can choose a blade style, the handle material, or the blade finish. The manufacturer also offers the Griptililan Mini that is basically a smaller and lighter version of a Griptilian knife.
All Benhmade's knives from the Griptillian series are perfectly suited for use in any outdoor setting as they are sharp enough to cut through most materials, while compact and lightweight enough to fit in a pocket.
Although some Benchmade Bugout knives have features that are similar to the models from the Griptilian series, they are not regarded as the brand's flagship model, an attribute that is still associated with Griptilian knives.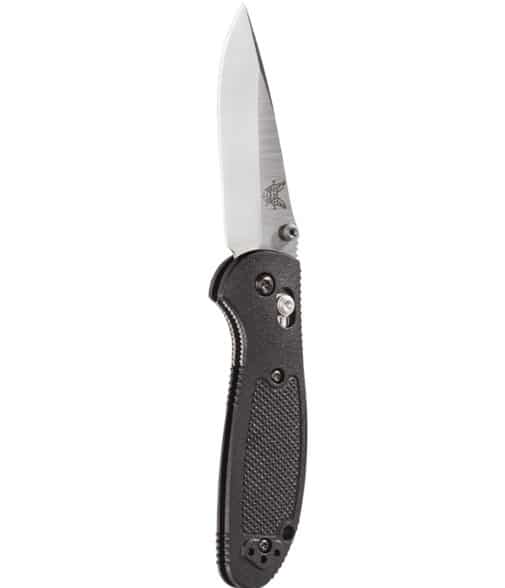 Benchmade Mini Griptilian Fine-Edge Knife | REI
With a fine-edge CPM-S30V stainless-steel blade in a satin finish, the Benchmade 556-S30V Mini Griptilian® fine-edge knife offers excellent functionality for a multitude of cutting tasks.
Check Price
We earn a commission if you click this link and make a purchase at no additional cost to you.
Key features
Griptilian knives can have plain drop-point, serrated drop-point, or sheepsfoot blade style
The handle of Griptilian knives is made from G10 or nylon materials
A Griptilian knife weighs between 3.79oz and 3.88oz
Griptilian knives utilize the AXIS® locking mechanism
The length of the blade is 3.45''
Standard reversible tip-up clip
The blade is made from 58 to 60 HRC S30V stainless steel
Design and materials
A Griptilian knife is certainly not the most elegant EDC knife you'll ever see, but it is one of the most functional knives you can get. You can customize Griptilian knives by selecting one of three available blade styles or choosing the materials from which the handle is made.
Unlike knives from the Bugout series, Griptilian knives are available in a variety of different colors and blade finishes. You should keep in mind that the available color options depend on the blade style you select.
Griptilian knives are bulkier and heavier than Benhmade's knives from the Bugout series. So, a classic drop-point blade Griptilian knife weighs 3.88oz, while the version of this knife that features a Sheepsfoot blade weighs 3.79oz.
The closed length of this EDC knife is 4.62'', while its open length is 8.07'' and it won't occupy too much space in your backpack.
Benchmade - Griptilian 551 Knife | REI
Manufactured in the good ol' USA, the Benchmade 551-S30V Griptilian® fine-edge knife offers all-around functionality with a premium, locking drop-point blade.
Check Price
We earn a commission if you click this link and make a purchase at no additional cost to you.
Blade performance
You can choose between plain drop-point, plain sheepfoot, and serrated drop-point blade styles that all have a length of 3.45''. The manufacturer uses S30V stainless steel that is corrosion resistant and highly durable to produce these blades.
The blade material has a 58 – 60 HRC rating which indicates that it is easy to sharpen and hard enough to be used for demanding applications. Blades of Griptilian knives are thicker than those that can be found on Bugout knives, as their thickness is 0.115''.
Knives for both of Benchmade's series are equipped with the same AXIS® locking mechanisms that keep the blade firmly in position. However, these locking mechanisms tend to wear out over time and you may have to replace them if you start having trouble opening or closing the knife.
It is worth adding that the edge of Griptilian's blade doesn't become dull quickly even if you frequently use this knife to cut hard materials.
Other noteworthy features
The handle of the Benchmade Griptilian knives is ergonomic, and as the name of the series suggests it is easy to keep the grip. Like the handle on the Bugout models, the handle of a Griptilian knife has a texture that improves the traction and prevents the night from slipping from your hand.
However, the handle can wear out after a few years, but that won't affect the knife's performance significantly. To open a Benchmade Griptilian knife you just have to press an easily reachable anodized thumb stud and the blade will be held firmly in position by the AXIS® locking mechanism.
Griptilian knives are equipped with Benchmade's standard clips that are featured on numerous brand's products. This reversible tip-up clip enables you to quickly stash away a Griptilian knife in your pocket without worrying that it will move around or cause you discomfort.
Reliability
Knives from Benchmade's Bugout and Griptilian series are not cheap, but Griptilian knives are a somewhat more affordable option.
Throughout the years Benhmade's Griptilian models have earned a reputation of highly functional and durable knives that have the ability to cut anything from food to hard materials.
All models from this series are eligible for the manufacturer's LIfeSharp Service which enables you to keep them in perfect conditions for free.
Benchmade offers a lifetime warranty for all knives from the Griptilian family but you should bear in mind that this warranty doesn't include damages that occur as the result of wear and tear.
The Benchmade Griptilian knives are among the most reliable knives on the market as they remain functional for years. Read our full review of the Benchmade Griptilian knife for more information about its features.
Benchmade Bugout vs Griptilian – Pros and Cons
Pros
Compact and lightweight
Blades are made of high-quality stainless steel
Excellent ergonomics and high traction
The mini deep-carry reversible clip offers a broad range of storage options
Cons
More expensive than EDC knives with similar features
There are only a few available handle designs
Pros
Offers three different blade style options
Excellent locking mechanism
Handle materials are durable and difficult to damage
Blades are easy to sharpen
Cons
Griptilian knives can be too large to carry in the pants pocket
The clip-on these knives is not a deep carry pocket clip
The best alternatives to Benchmade Bugout vs Griptilian EDC knives
Finding a pocket knife you can use on a daily basis shouldn't be too hard, since there are so many different models available. Benchmade Bugout vs Griptilian knives cost more than a hundred dollars which may seem a bit excessive for a knife that is designed for mostly light applications.
However, such an abundance of available options can make it difficult to choose an EDC knife that meets your demands. That's why we've shortlisted a few of the best alternatives to Benchmade and Griptilian EDC knives, so let's take a closer look at their features.
Made entirely of stainless steel, the CPKT Pilar folding knife can perform most daily cutting tasks with ease. The knife has a clip point shape and a plain edge, and you can't opt for a different blade style as the manufacturer doesn't allow you to customize this knife.
The CPKT Pilar is heavier than Benchmade's Bugout and Griptilian EDC knives as it weighs 4.16oz, despite having a length of just 5.94''.
This foldable knife doesn't have a clip which can make it difficult to carry it in a pocket, while its stainless steel handle may be uncomfortable to hold for a long time.

CRKT Pilar Folding Knife | REI
Minimal design meets maximum utility. The CRKT Pilar is a super compact everyday carry folding knife with distinctive minimalist design that's low-profile and understated when tucked away.
Check Price
We earn a commission if you click this link and make a purchase at no additional cost to you.
There are only a handful of foldable pocket knives that have better features than the Spyderco Paramilitary 2.
A G10 ergonomically shaped handle, a stainless steel drop-point blade, or the ambidextrous clip position are among the reasons why this knife is so highly appreciated by outdoor enthusiasts.
At 4.8oz this knife is heavier than either of Benchmade's models, but this doesn't have any impact on its performance capabilities. It is also worth noting that models from the Spyderco's Paramilitary series are more expensive than Benchmade Bugout vs Griptilian knives.
Read our Spyderco Paramilitary 2 review to find out more about this EDC knife.
Spyderco Para Military 2 Signature Folding Knife | Amazon
An improved classic and undeniably one of Spyderco's most popular and in-demand designs, the Para Military 2 distills the world-class performance of our legendary Military Model into a more compact, pocket-friendly package.
Buy at Amazon.com
We earn a commission if you click this link and make a purchase at no additional cost to you.
02/01/2023 02:14 pm GMT
The minimalistic design of the Kershaw 1660 knife makes it a stylish and highly functional option for anyone in need of a knife that can cut food or plastic with the same level of efficiency.
The knife's drop-point Sandvik 14C28N steel blade is 3 inches long and its plain blade is remarkably easy to sharpen.
The Kershaw 1660 has a 410 steel handle that is corrosion resistant but it may not be as comfortable as handles made of nylon, Grivory, or CF-Elite materials. Check out our Kershaw 1660 review for more information about this EDC knife.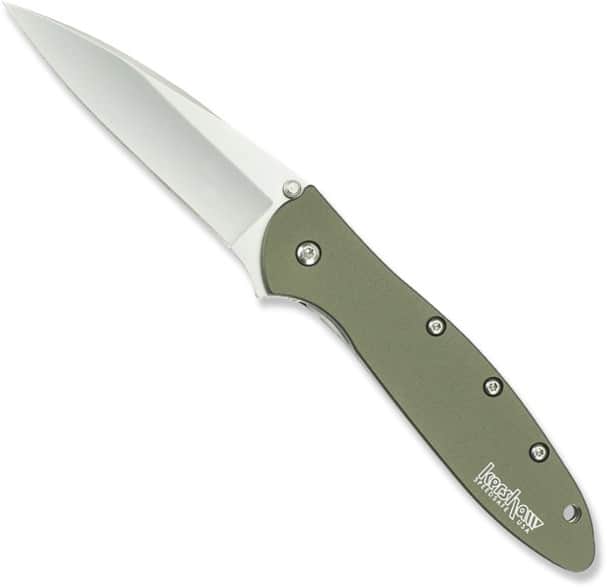 Kershaw Leek Knife | REI
One of the most popular Kershaw designs, the slim and durable Kershaw Leek knife opens smoothly with one hand and cuts through your outdoor slicing and piercing tasks with ease.
Check Price
Buy at Amazon.com
We earn a commission if you click this link and make a purchase at no additional cost to you.
The Verdict: Which Benchmade's EDC knife is more reliable, Bugout or Griptilian?
The design and features of the Benchmade Griptilian and Benchmade Bugout are similar, so it is hard to say if one is better or more reliable than the other.
Models from Benchmade's Bugout series are considerably lighter and somewhat shorter which makes them easier to carry. Moreover, their blades are made from stainless steel that is virtually impossible to damage.
On the other hand, Benchmade Bugout knives are more expensive than the EDC knives from the Griptilian series and their reliability still hasn't been properly tested.
Was this Benchmade Bugout vs Griptilian comparison useful? Let us know in the comments or read our guide through the best knife sharpening systems that will allow you to keep the blades of these Benchmade knives sharp.
FAQs About Benchmade Bugout vs Griptilin
Question: Is Benchmade Bugout a durable EDC knife?
Answer: Benchmade released the Bugout series just a few years ago, which is why it is difficult to say how durable these EDC knives are. However, they are made from high-quality materials that are corrosion-resistant and difficult to damage.
Question: How often do I have to sharpen a Benchmade Bugout knife?
Answer: Although they don't become dull quickly Benchmade Bugout knives have to be sharpened on a monthly basis if you want to maintain their sharpness at the same level.
Question: What is the difference between Benchmade Griptilian and Griptilian Mini?
Answer: The Griptilian and Griptilian Mini are made from the same materials, but the lengths of their blades, as well as their weight, differ due to the size difference.
Question: Do all versions of Benchmade Griptilian knives have the same weight?
Answer: The weight of a Benchmade Griptilian knife depends on the blade style you select since models that have drop-point blade style are slightly heavier than the models that are equipped with sheepsfoot blades.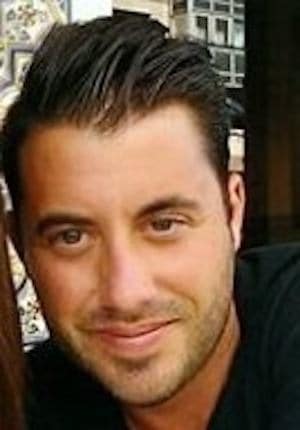 David is a strong advocate of outdoor-related activities and has many years of experience backpacking and hiking around the world, including the Italian and Austrian Alps in Europe as well as central and southern Asia.
Locally, he has also led many groups cycling through Vermont, Nova Scotia, and Wisconsin. David constantly uses and tests the latest gear for the outdoors, which in turn allows him to help others make more informed buying decisions. He's excited to share more of his knowledge and to see others enjoying the great outdoors more because of his advice and recommendations.