Everybody needs a comfortable mid-layer jacket. It doesn't matter whether you're camping, hiking, mountaineering, climbing, cross-country skiing, or doing something else, and it doesn't matter whether it's fall, a cold winter, or spring.
[mv_video doNotAutoplayNorOptimizePlacement="false" doNotOptimizePlacement="false" jsonLd="true" key="ttzcbrqrarhtpmcjh7wr" ratio="16:9″ thumbnail="https://mediavine-res.cloudinary.com/v1555940965/hntwdhogsuqpu6rde57f.jpg" title="Arc'teryx Atom LT Hoody Review" volume="70″]
The mid-layer jacket is there to keep you warm and wind-protected when you need it, while not taking up space or adding much weight to your pack when you don't.
The Arc'teryx Atom LT Jacket excels at all of those things. In fact, I'm not going to beat around the bush here: I think the Atom LT (the adjustable hood version) is the best mid layer jacket on the market, and I think you should buy it. Here's why.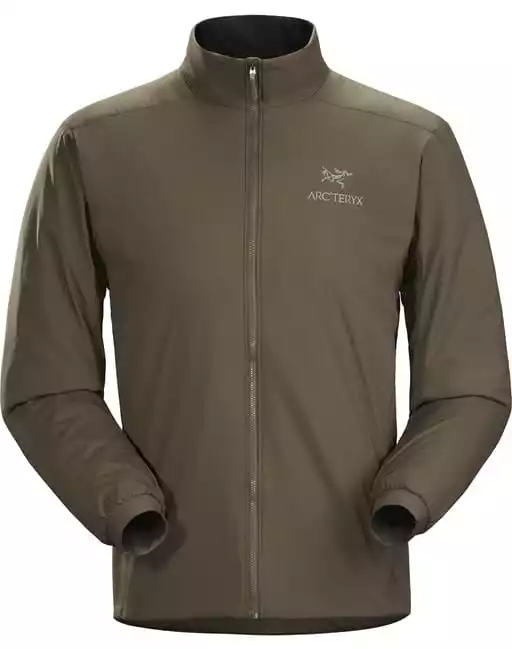 One of my FAVORITE Jackets - Atom LT by Arc'Teryx
Rarely do I find a jacket that has insulation to keep me warm AND the flexibility to support high intensity activities. The Atom LT is the perfect mid-layer. Best of all, the patented stretch technology means you are not hindered at all.
GO with the Atom LT
We earn a commission if you click this link and make a purchase at no additional cost to you.
Synthetic vs Down? Not this time
The Atom LT is a synthetic jacket, and usually choosing synthetic means sacrificing weight and packability in favor of the security a synthetic insulated jacket provides (since synthetic materials will keep you warm and comfortable even if they're wet, whereas wet down is useless).
But that's not a trade-off you need to worry about with the Atom LT. At 12.2 ounces, the Atom is lighter than many comparable down mid-layers, not to mention most of the competing synthetic fabric options.
Yes, there are a few jackets that go lower – Mountain Hardwear's Ghost Whisperer hooded down jacket is just over 8 ounces, for example – but is it really worth sacrificing the insulation power when the jacket is wet just to save less than four ounces? Not unless you live in an area with really dry temperatures where you're sure the jacket you wear never going to get wet or need any water-resistant treatment while hiking outer.
Moreover, the Atom LT is, unlike some other synthetic fabric jackets, eminently packable which makes it a great jacket. It can squish down into its own pocket if you like packing jackets that way, but personally, I feel comfortable just cramming it into my pack wherever there's room. I haven't yet encountered a space small enough that the Atom LT wouldn't fit.
Before discussing the Atom LT's performance, it's worth mentioning that this jacket also sports a bunch of very worthwhile features, including:
Taffeta shell outer layer with a DWR treatment for protection against temperatures that bring cold wind and rain
Adjustable hem helmet-compatible hood
Elastic cuffs and an elastic hem cinch at the bottom to seal in warmth
Two handwarmer pockets and interior pocket for storage
The warmth factor
The Atom LT is insulated with 60 g/m2 of Arc'teryx's own Coreloft insulation (synthetic fabric fibers), and it's enough that this jacket will keep you relatively warm.
Make no mistake – this is a mid-layer, not a belay jacket. No 12-ounce jacket is going to keep you warm in freezing conditions when you're hiking or standing around without at least another windbreak layer on top of an insulation layer below it. But the Atom LT works remarkably well in any layering system. And because it's lightweight and air permeable but breathable, it can be worn in a variety of conditions.
Personally, I toss it in my pack even in summer if I'm going to be hiking somewhere above treeline – if it's windy enough up there that I get cold when I'm standing still (again, some air-permeable qualities), I can always pop it on and warm right up.
In the shoulder seasons it serves a similar purpose, staying in my pack when I'm moving but coming out to give me a little extra warmth on the cooler/windier days when I'm standing still. In winter, it's my go-to mid-layer, and it usually stays in my pack during the approach hikes unless it's a particularly cold day, but as I get higher and the air gets windier and colder, at some point I'll put it on and often not take it off again until the day is over.
Breathability and motion
I can keep the Atom LT on while I'm working in winter because unlike lots of jackets out there, the Atom LT is incredibly flexible and breathable.
This is true mostly because of the stretch panels running down the sides under the arms of the jacket, where the insulation gives way to Polartec Power Stretch, a stretchy fabric that's a bit like fleece: less insulating but immensely breathable and stretchable with a four-way stretch technology.
You'll lose more heat through these panels than you do through the regular insulation in the rest of the jacket, but that's kind of the point. Their stretchiness makes the jacket great for high-mobility activities like climbing, and the permeability allows the jacket to bleed off some of the extra heat and moisture you generate when moving so that you're not overheating.
Those panels do have one downside – even with the DWR treatment, they're not particularly waterproof, so if it starts raining, they're going to get wet. Since it's synthetic, the Atom LT will still perform much better than down when it's wet, but that doesn't mean you want to wear it when it's wet if you can avoid it. You'll want to be sure you have a shell to throw on top of it if the weather turns.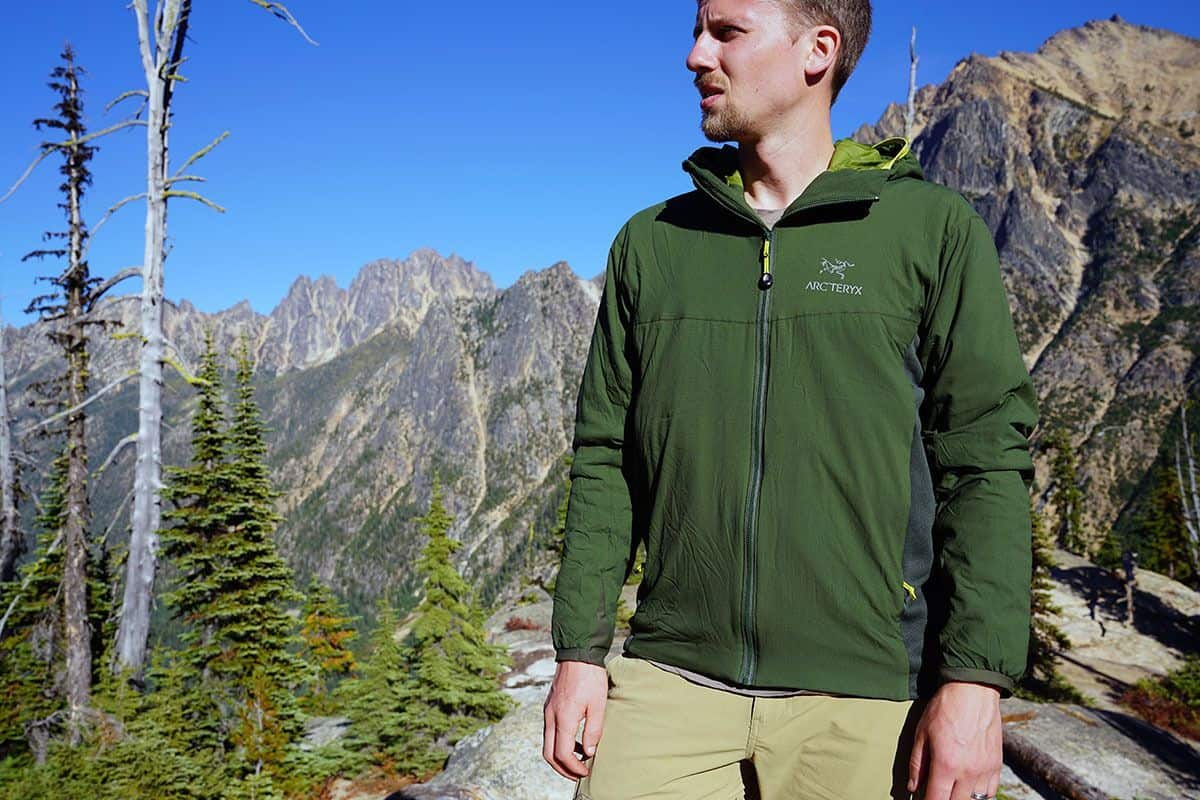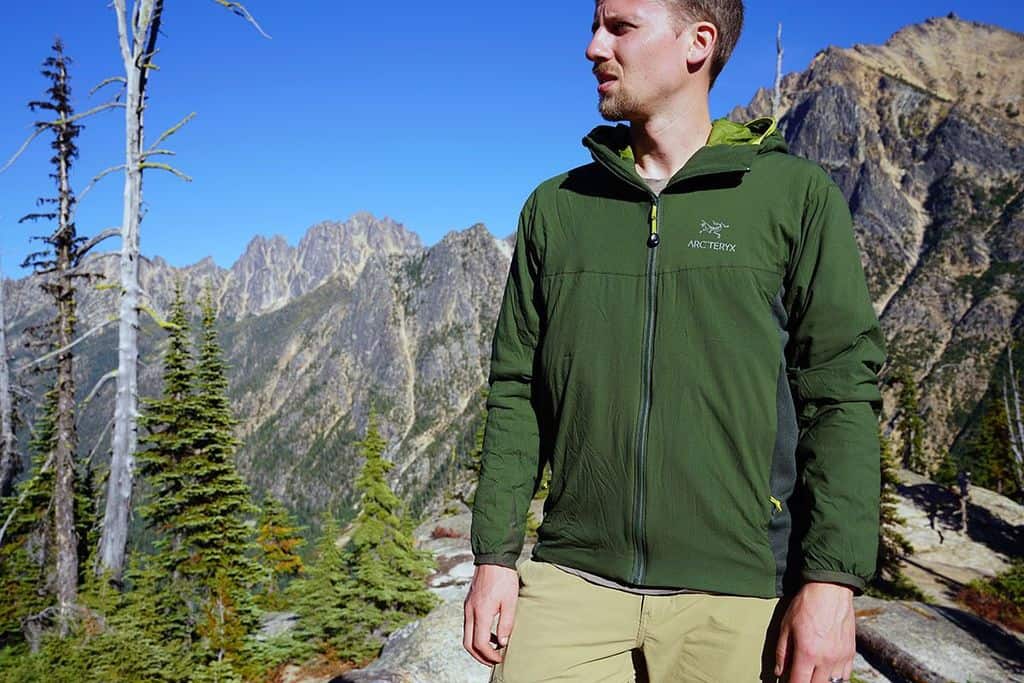 Comfort, style, and price
One of the hallmarks of the Arc'teryx brand has always been a certain eye for style, and the Atom LT is one of their best-looking pieces in my opinion.
Its slim cut makes it flattering enough that it'd be great even just for wearing around town, and the subdued matte finish means that it's a bit less "loud" looking than many other high-end mid-layer jackets. It is certainly, for example, more attractive than the best down mid-layer on the market: the bumpy, shiny Mountain Hardwear Ghost Whisperer.
Style aside, it also just feels great to wear. It's so lightweight that putting it on feels like donning a little slice of a cloud. It adds genuine warmth and wind protection while making you feel like it isn't even there.
But the best part of the Arc'teryx Atom LT is the price. Arc'teryx gear isn't just famous for being stylish, it's also famous for being pricey. And while the Atom LT does have a fairly high list price (around US$260), unlike a lot of Arc'teryx gear you can find it on sale pretty regularly at a fraction of that price. Even at its list price, it's cheaper than the aforementioned Ghost Whisperer.
Check out the latest rates here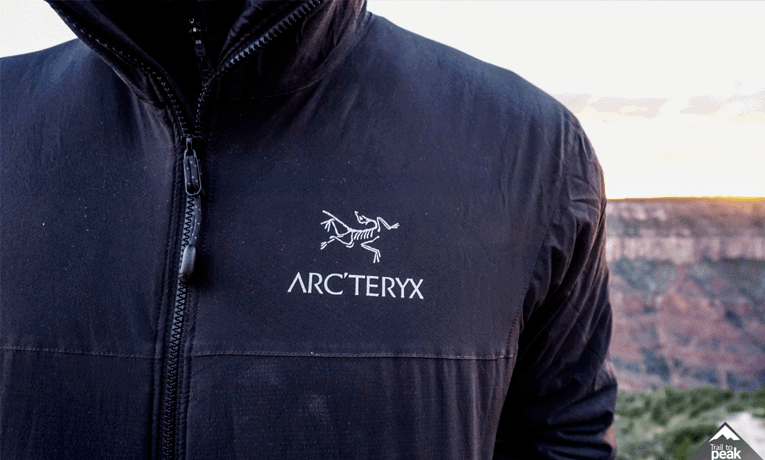 Arc teryx Atom LT Jacket –

The Only Downside

It's probably obvious that I love the Atom LT, and I haven't really experienced any problems with it. But it's worth pointing out that there is a tradeoff for its incredible lightweight and packability, and that's durability.

It's a very well-made piece of gear, and it's not going to fall apart after a month of use or anything, but it is made of thin fabrics, so if you do something like walk too close to a sharp nail or snag the tooth of an ice screw on it, chances are you're going to tear the jacket.

That said, I've taken mine on every trip over the past year, and it hasn't suffered so much as a scratch just yet, so it is reasonably durable. For whatever it's worth, if I tore a hole in it tomorrow and it couldn't be repaired for some reason, I would order another one. The fact that it's not as bomber as a heavier jacket is something to keep in mind, but not a good reason not to buy one as far as I'm concerned.

The only other minor gripe I have is that it does NOT come with a stuff sack in a standard order. However, one way to work around this is to basically stuff it into it's hood, which accomplishes something similar.

(It's also worth pointing out that if you accidentally poke a hole in it or something, Arc'teryx will repair it for "a nominal fee", and if it breaks due to some defect in material or workmanship, Arc'teryx will fix or replace it for free, so be ready to wear and tear).
Frequently Asked Questions [FAQ] About the Atom LT
How warm is the Atom LT?
Answer: The Atomo LT is rated down to about 38 degrees Fahrenheit in our experience with moderate to light activity. With layering, the Atom LT can go much lower e.g. an outer shell or baselayer. High intensity activities will obviously push the rating down a bit as well.
How do I clean the Arc'teryx Atom LT?
Answer: The best way to clean the Atom LT is to use a residue free soap. If you do not have this, you can use normal detergent, just be sure NOT to use fabric softener and do a rinse wash after to remove residue. Best cycles are warm/cool water, gentle or tumble dry on low.
Arcteryx Atom LT Alternatives
I always find it hard to make decisions like this completely in a vacuum. Here are some other similar cold weather jackets that the team at AOG have reviewed and evaluated. Some we really loved – like the Patagonia Nano Puff – but still might not be perfect for everyone:
The Verdict: Is the Atom LT Worth the Money?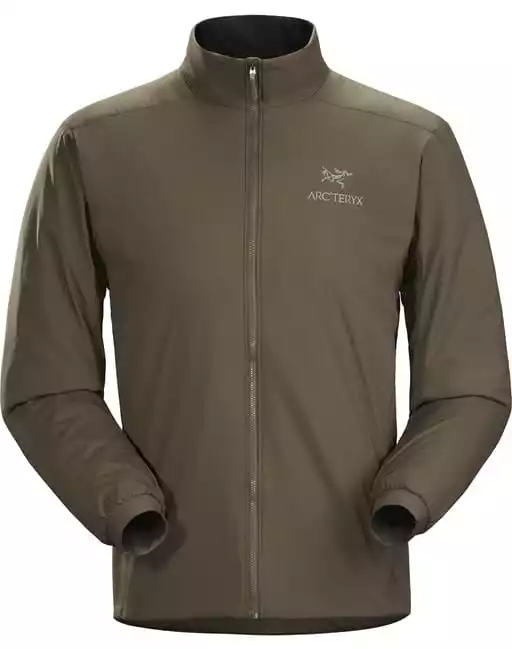 One of my FAVORITE Jackets - Atom LT by Arc'Teryx
Rarely do I find a jacket that has insulation to keep me warm AND the flexibility to support high intensity activities. The Atom LT is the perfect mid-layer. Best of all, the patented stretch technology means you are not hindered at all.
GO with the Atom LT
We earn a commission if you click this link and make a purchase at no additional cost to you.
Buy it. The Atom LT is an incredibly useful and versatile piece of kit for the outer that also offers style and will keep you comfortable. I don't recommend paying the list price for it unless money is no object to you, but it won't be difficult for you to find a better deal – and to be frank, even though the list price is on the steep side, it's probably worth it.
Where to Buy it? I prefer to order directly from Arc'teryx for more direct returns, customer support, and fixes (if needed).
Further Reading
If you are still stuck, check out some of these outdoor jacket resources: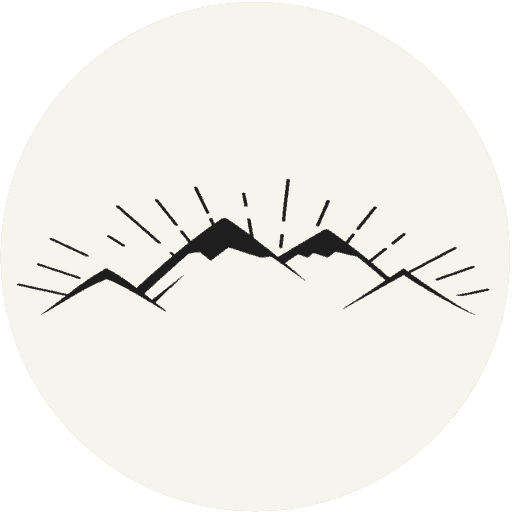 The All-Outdoors Guide team is comprised of enthusiastic experts that enjoy helping others that aspire to be better at outdoor fun. Part of that is making sure you have the right gear and information when it's time to go out and have fun. Some of our team have accomplished amazing feats like climbing 6000 feet to the top of mountains, others have explored every dirt trail they could find and we even have some people that have backpacked solo on various continents. No matter what our readers want to learn and do, our team is here to help them accomplish those goals.