Even if you leave every other survival tool at home when you venture out, don't leave your knife. It's an invaluable tool for providing you with the necessities of life, especially shelter, fire, and food. With a good knife you can cut and shape the materials you'll need to build yourself a temporary home or set tactical traps for small animals.
You can collect and prepare tinder and kindling, and together with the right stone strike a spark to ignite it. If your traps catch a rabbit, or you manage to spear a fish, a knife is an essential tool for turning it into food. A knife is an invaluable tool; all you have to do is make sure you have the right one for you.
In this instance, check how to find the perfect knife for you, which features to look for, and for the end, check the Spyderco paramilitary 2 review which is our personal choice!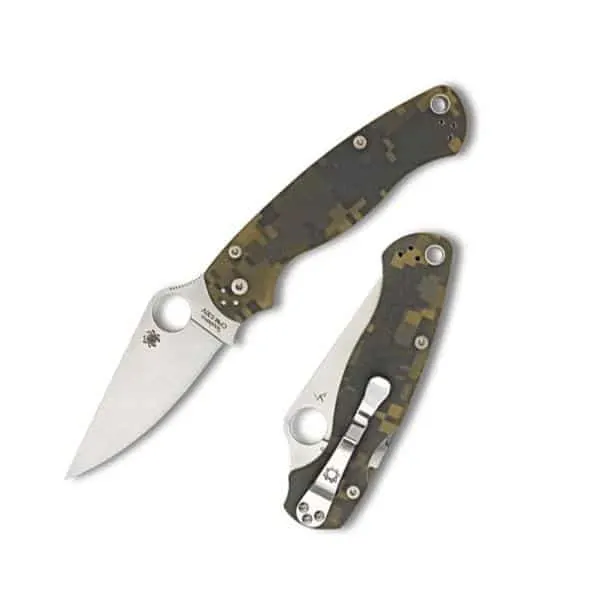 Choosing the Right Knife is Important
The choice of knives on the market is huge and covers a massive spread of design, size, and quality. All of these matters – any knife is capable of cutting, but some designs are of high quality and specialized and aren't that effective as general-purpose tools.
A cheap knife is (usually) more likely than a more expensive one to fail when you need it most. And of course, it doesn't matter how great a knife is if it's so big and heavy that you end up not carrying it.
Big knives have their place; there's no doubt about that. If you want to process large game animals, or baton your way through heavy branches, you're going to need a large, sturdy blade to get it done. For a hunting trip or minimalist camping in the woods, a fixed blade and stainless liner is a great tool to have with you.
For most hiking trips it's not necessary though, and as an everyday carry knife, a fixed blade is usually a poor choice. They're hard to carry discreetly, for a start, and lots of people don't want to walk around with an obvious knife on their belt.
Put it in a pocket and it's going to be slower to get into action than a folder because you'll still need to keep it in the sheath to protect you from the blade. By the time you've got it out and removed the sheath, you could probably already have got the job done with a good folder.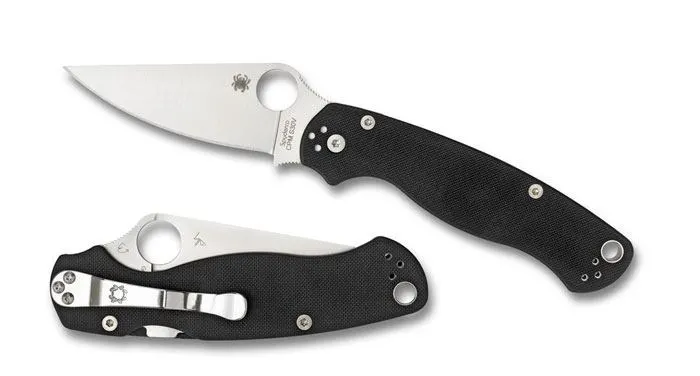 How to Evaluate a Good Knife
So for an everyday knife, you're best going for a quality folder, ideally, one that's small and light enough you don't notice it in your pocket but with enough blade length to handle most cutting tasks. Usually, something between 2.5 and 4 inches of blade is enough. There are also a few details to consider, such as these:
Blade style. Folders come in many styles, and each has its own plus and minus points. Tantō and sheep's foot blades are extremely strong, but not ideal for fine work. Spear or clip points can have fragile tips but are great for piercing. Usually, a drop or pocket clip point is the most versatile option.
Blade Material. You have two choices here – stainless or carbon steel. Stainless is easier to maintain, but the diamond-like carbon takes and holds a better edge. The gap's closing though, and some modern stainless steels are almost as good as carbon. For most people, the lower maintenance needs make stainless the best choice.
Handle Material. Traditional options are available – the most common on folders are bone or wood – but modern handle materials are more robust and less affected by moisture or temperature. Steel or titanium is extremely rugged; synthetics give the best grip.
There are a lot of good quality folders that fall onto the right size bracket and use top-grade modern materials, and often it comes down to picking a maker whose style you like. One popular style belongs to Spyderco, whose distinctive blades revolutionized the pocket knife market in the early 1980s.
Their range has been constantly updated since then, and one of the most popular current models is the Paramilitary 2: a classic style military model fluid action folder.
Spyderco Para Military 2 Signature Folding Knife
Features at A Glance:
44-inch blade
Compression lock
G10 composite handle
S30V stainless steel blade
Reversible belt clip
Fully ambidextrous operation
DLC Coating
Size: Spyderco's Paramilitary 2 fits in at the mid to large end of the EDC category. Opened, it's about 8¼ inches long and 3.44 inches of that is the characteristic leaf-shaped Spyderco blade.
In general appearance it's very similar to the original Paramilitary or a scaled-down version of the Military, which makes sense – it was designed for fans of those knives. It's been thoroughly revised though and includes a lot of great new features.
Design: Pick up the Paramilitary 2 and you'll be struck right away by its quality feel. It's not too heavy, at 3¾ ounces, but does feel reassuringly solid. The handle is made up of a skeletonized steel liner lock with G10 grips on top, and it's very similar to the original Paramilitary.
Even though the knife does not have an axis lock, there are a few ergonomic improvements though; the back end has been slimmed down to give a better fit in most hands, and the whole shape has been subtly tweaked.
Handle Overall the handle is about half an inch thick and very comfortable to hold. There's a choil just behind the pivot to give a firm grip for heavy cutting, but it's also easy to use different holds without discomfort.
Some reviewers have complained about a handle bias in the weight but that isn't really an issue. Fatigue shouldn't be a problem when using a folder anyway – knives like this are light enough that weight bias isn't an important factor, and in any case, it's not that far out of balance.
Blade: Looking at the blade you can tell right away it's a Spyderco. The cutting edge is a fraction over three inches long and has slightly more belly than most Spydercos; it also has a full flat grind, so it takes an extremely good edge. The blade material is S30V, one of the most popular stainless steel.
Thickness has been reduced slightly from the Paramilitary and the point is very fine; it seems slightly fragile at first but it really isn't. A knife like this isn't designed to be used as a pry bar, and the slim tip is perfect for fine work. The straight-back textured layer terminates in the usual thumb hole, and behind that is some nice jimping for your thumb.
Compression Lock Mechanism: The assisted opening mechanism and the locking mechanism is where a lot of the improvements have been made, and it shows.
Spyderco para Military 2 Signature 8.24″ Folding Knife | Amazon uses a new bushing pivot system, and it's one of the smoothest around; the blade pivots open very easily, with minimum effort, then snaps precisely into the open position. The opening is made even easier by the thumb hole, which is slightly larger than normal.
It gives excellent purchase, even if you're wearing gloves, and of course, it's just as easy to use with either hand. Once it's out the Spyderco compression lock holds it in place. This really an incredibly strong compression; a substantial tab locks into the tank, and the chances of it ever failing are basically zero. The lockup is extremely positive, too; there's no movement in the blade at all.
Carriage: This knife also offers some good carriage options. It comes with a large belt clip, held on by three screws. The handle has four sets of tapped holes to let you fit the clip for tip-up or down carry on both sides.
There's also a large lanyard at the butt end, and this has been enlarged from the Paramilitary. It's now big enough to easily take two thicknesses of 550 cord and has stainless steel liners to eliminate wear on the handle.
Final Take: Overall Spyderco Para Military 2 Signature Folding Knife is a worthy successor to the original and a great option for anyone who wants the Military's features in a smaller package. The knife is available in a total of four color options – plain or black blade, and black or digital camo.
There are occasional special editions too, but they're hard to find. In fact even the standard ones aren't always easy to get hold of; they sell out pretty fast even at the list price of just under $200. That should tell you something about just how good this knife is.
Verdict: An excellent, high-quality folder at a very tempting price. It's solid, comfortable and the blade is fantastic. A perfect EDC knife.
Further Reading on Knives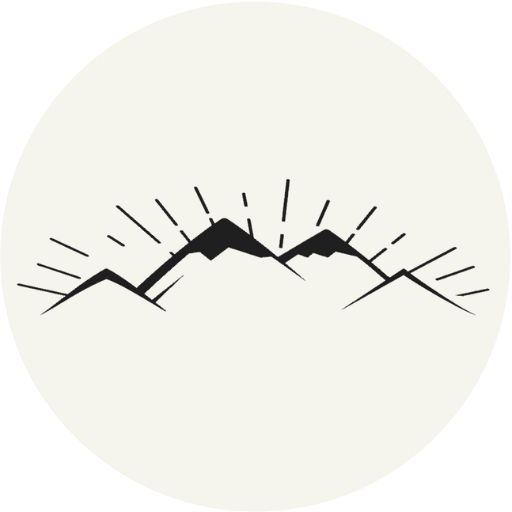 The All-Outdoors Guide team is comprised of enthusiastic experts that enjoy helping others that aspire to be better at outdoor fun. Part of that is making sure you have the right gear and information when it's time to go out and have fun. Some of our team have accomplished amazing feats like climbing 6000 feet to the top of mountains, others have explored every dirt trail they could find and we even have some people that have backpacked solo on various continents. No matter what our readers want to learn and do, our team is here to help them accomplish those goals.