For everyday carry, a good folder is most people's knife of choice, but when you head outdoors something a bit more substantial has its advantages. A larger blade is one common benefit of a belt knife, but don't overlook solidity. Even the best locking mechanism is going to struggle if you start batoning, but a fixed blade with a full tang just sucks it up.
A lot of people prefer their fixed blade knife to be on the large side – they use it for heavy work and keep their folder for where precision and a razor edge are needed. That makes sense if you carry a folder every day because you can add the bigger tool to your gear when needed, for example when you go hunting.
There's another option though, and that's to pick up a smaller, but still rugged, belt knife then gets something really big for heavy cutting. If you want to clear brush, trip branches, or split firewood no regular knife is going to outperform a machete or kukri, or even an ax. That leaves a place for a compact fixed blade that can do everything a folder can and more.
Small fixed blade knives are nothing new. While some hunters opt for a large knife others have always favored blades less than five inches long. There's a large selection in this size bracket, ranging from tactical models to traditional hunting styles.
Some of the nicest ones come from Germany and Scandinavia, where they've always been popular for dressing smaller game and general outdoor use, and Sweden has a particularly good reputation for this sort of cutlery. That sort of leads to the Fällkniven F1 – a blade that thousands of people describe as the best knife they've
ever owned.
A traditional small hunter brought up to date with awesome steel and modern materials, this is a military favorite too. It's not hard to see why.
Fällkniven F1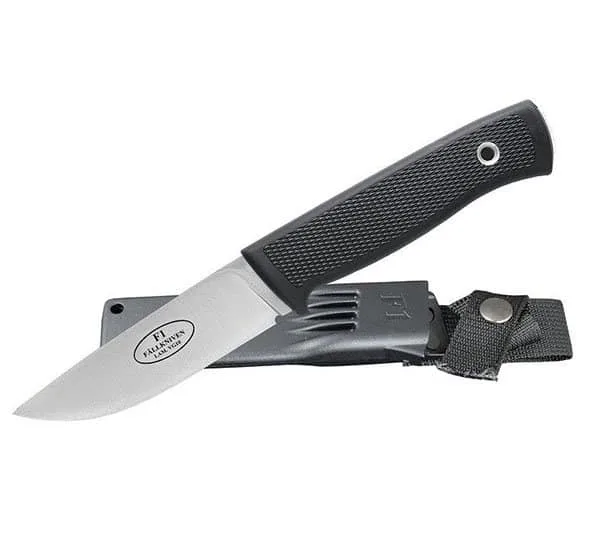 Features At A Glance:
8 inch drop point blade
Full tang
Directly molded Thermolon handle
VG10 stainless steel blade
First Take
Pick up the Fällkniven F1 for the first time and you can easily find yourself looking for the lock to close it. It's such a neat and compact little knife that it seems like it should be a folder. Take a closer look though, and you'll see that it's an incredibly tough fixed blade. Don't let the small dimensions fool you; this is a top-grade knife designed to military levels of robustness.
It's quite affordable too; the list price is in the $200 range as of this writing, depending on the handle and blade color you opt for, but it can be found for $125.
Design
The F1 is a simple design. It has an overall length of 8.3 inches, and 3.8 inches of that is the blade. It weighs six ounces without the sheath, which isn't a lot but feels surprisingly hefty for such a small knife. That's explained when you look at the thickness of the blade. It's a full tang design, although the tang is completely covered by the
handle material.
Starting with the handle, it's a fairly neutral shape. It's slightly biased towards a saber grip, with a modest palm swell and shallow finger groove just behind the guard, but you can easily shift towards a different hold when required – there's nothing to get in the way.
The shape protects against slipping hands pretty effectively; there's a swell at the pommel end and a small but very functional half guard. Slippage shouldn't be a problem anyway because both sides of the handle are molded with a checkered pattern that gives an excellent grip. Wet or bloody hands will still hold their grip firmly and it's effective with most gloves too.
Full Tang
Some reviewers have speculated about the size of the tang because it's not visible. You can relax because the F1 has a full tang. Fällkniven chose to mold the handle completely around it for a couple of very good reasons. One is strength; a one-piece molded handle is usually going to be stronger than riveted or screwed-on scales. The other is insulation.
This is a Swedish knife designed to perform in extremely cold weather, and bare steel isn't a desirable feature in those conditions. For the same reason the grommet lining the lanyard hole is recessed, so there's no way your skin will contact bare metal.
If there's one gripe about the handle it's that lanyard hole. It's placed nearly an inch in from the pommel, further than seems necessary, and unless you have very small hands it's in the area you'll be gripping. If you actually use a lanyard this is likely to be uncomfortable. It isn't a major issue but it's surprising Fällkniven did it this way when every other aspect of the design is so perfect.
Blade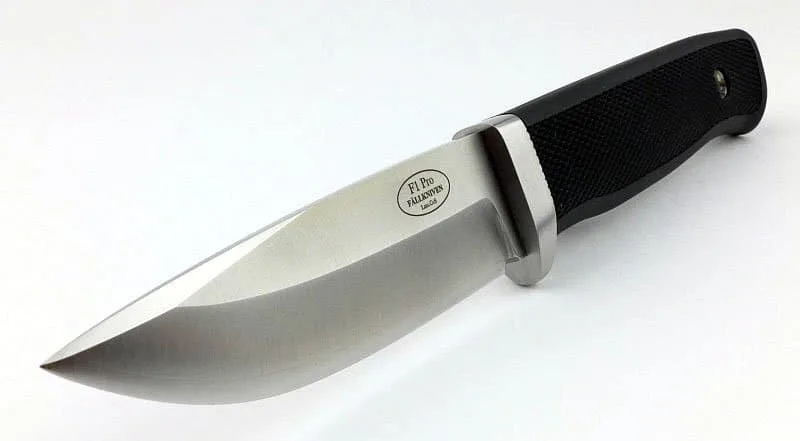 So let's move on to the blade. There's no other way to describe it – this is a work of art. It's almost, but not quite, a straight back design; there's a shallow drop from about halfway along the back. The result is a point that's fine enough for precise work without losing much in the way of strength.
This blade has a lot of strength, too. At the guard it's 4.5mm – nearly a fifth of an inch – thick, tapering progressively towards the point. There's a tiny choil in front of the guard but the cutting edge has been made as long as possible.
The real secret of the blade is the steel. The alloy used is VG10, hard steel that retains an excellent edge but can be brittle. Fällkniven have solved this problem by going for a laminated blade.
The multiple layers of metal add resilience without compromising its hardness and cutting ability. The result is a blade that will take a truly surgical edge, and hold it for an amazing length of time. You'll need a decent stone to resharpen it, but once you have that the simple shape means it's not a difficult task.
Fällkniven modeled the F1 on a classic Scandinavian hunting knife style, and it's an excellent choice for any hunter who wants a compact blade. Its uses go well beyond that though, and this will serve perfectly as a general-purpose outdoor knife.
It's too small and light for effective chopping, but the blade's massive strength means it can handle moderate batoning very effectively. The F1 has been the standard-issue survival knife for Swedish military pilots since 1995, and if that's not enough for you the US Navy and USMC have also tested and approved it.
Sheath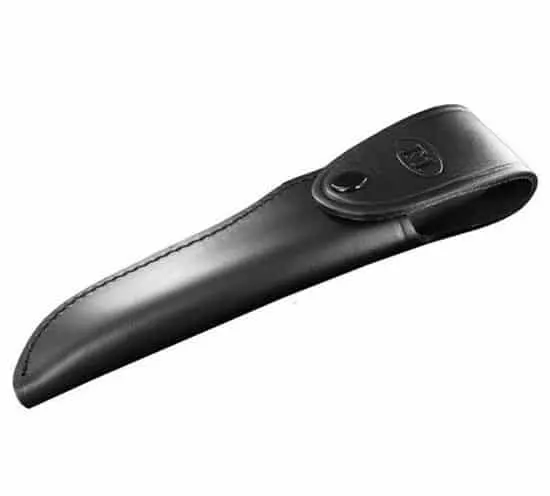 No belt knife is complete without a sheath, and Fällkniven offers two very different ones for the F1. One of them is a molded Zytel holder with a big web belt loop and retention strap; there's a friction retainer built-in. Be aware that it comes in left and right-handed models – it's not ambidextrous.
Two lanyard holes at the bottom also handle drainage. This is a very robust item, and shouldn't need any care and attention beyond an occasional wash.
The second sheath is a traditional Swedish leather style. This is not made for quick access; it has a full flap that completely covers the handle of the knife when closed. It does give you a more discreet way of carrying the F1 if that's important to you. A more conventional leather sheath with a long belt loop, friction retention, and no flap is available as an accessory.
Overall Take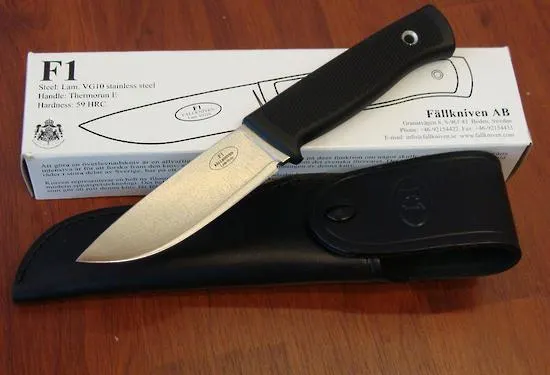 So overall this is an extremely tough little knife that's capable of a lot more than its small size suggests. It's great for hunting and general outdoor use, and it's one of the few fixed blades that's a realistic option for everyday carry. If you're in the market for a new belt knife give this one a serious look.
Verdict: Smart design and amazing steelwork together to make an efficient and 100% dependable knife.
Suggested Falkniven F1 Alternatives
Helle Temagami – A very similar laminated 3.5-inch blade, but an exotic handle laminated from leather, horn, and birch. As beautiful as it is practical.
SOG Field Pup – If you want just a little bit more blade, the Field Pup has 4.75 inches and a highly ergonomic rubberized handle.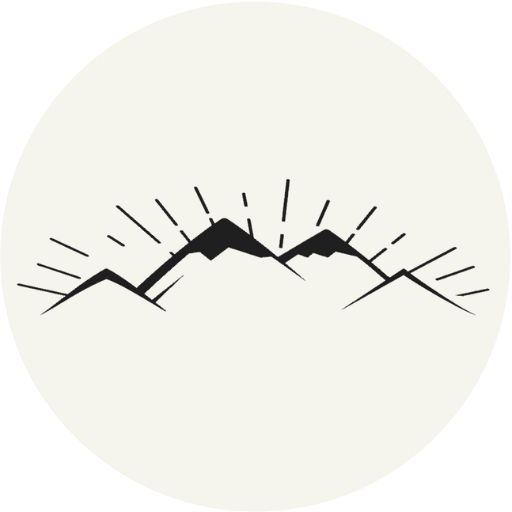 The All-Outdoors Guide team is comprised of enthusiastic experts that enjoy helping others that aspire to be better at outdoor fun. Part of that is making sure you have the right gear and information when it's time to go out and have fun. Some of our team have accomplished amazing feats like climbing 6000 feet to the top of mountains, others have explored every dirt trail they could find and we even have some people that have backpacked solo on various continents. No matter what our readers want to learn and do, our team is here to help them accomplish those goals.