The Mountain Hardwear Exponent Rain Jacket is a lightweight shell that's intended for outdoor activities, including climbing, cycling, hiking, and skiing, on rainy or snowy days.
This jacket has fantastic waterproofing while remaining breathable. The jacket is also both durable and lightweight, giving you the freedom to move in it however needed but without worrying about damaging or tearing it.
In this article, we're going to start by giving you information about choosing performance rainwear. We'll then give you a full overview of the Exponent jacket, followed by a deeper comparison of its main pros and cons. Note that we're mainly going to be talking about the men's Exponent jacket in this review, but that we will briefly mention the women's jacket in a specified section.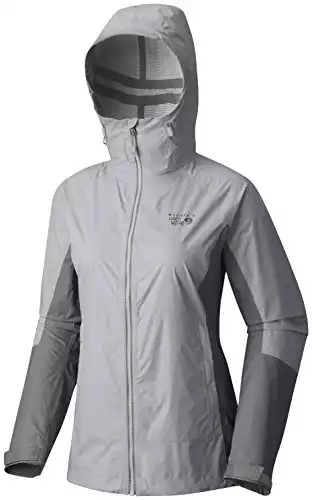 How to Choose a Rain Jacket
In order to choose the right rain jacket for you – and determine if the Exponent is a good match for your needs – it's important to first understand rain jacket terms and technology.
In this section, we're going to go over the information we feel will be most important to assessing the Exponent for yourself. As we talk about the different features of rainwear, we'll point out where the Exponent excels.
Breathability
When a jacket is breathable, that means it can transfer sweat vapor. The moist, warm arm that's trapped inside the jacket is attracted to the colder, drier air outside, which is when the transfer occurs. The more efficient the transfer, the less clammy and the drier you'll feel.
Outdoor brands have tried to nail down this technology for years. While there isn't a universal type of testing, certification or standard, you'll find that the Exponent jacket has excellent venting, mainly thanks to its vented underarms.
Fabric
While materials will vary between brands or jacket models, performance rain jacket fabric has either a coating or membrane that is able to block rain while remaining breathable.
Rainwear usually has a durable water repellent (DWR) finish that will cause precipitation to bead up and roll off the fabric. Being water repellent is different from being water resistant – water resistance refers to the overall ability of the rainwear to prevent water from penetrating the fabric.
Layers
In order to keep you protected, rain jackets have a coating or membrane between layers. The outer layer repels rain and withstands abrasion and the inner layer protects the inside of the jacket from wear-and-tear. There are three types of rain jacket designs: two layers, 2.5 layers, and three layers.
The two-layer design is quieter than other designs, meaning the jacket won't be noisy as you move. This is the type of rainwear that's best for urban areas or travel. A 2.5 layer jacket is the lightest option you can find; this is the type of construction the Exponent has. A three-layer jacket is the most robust type you'll find and it's best for harsh environments, like hiking in the backcountry.
Water Resistance vs. Waterproof
Every jacket offers some amount of water resistance – there's more protection from wet conditions than if you didn't have the jacket at all. Beyond that, though, it's important to understand the difference between water-resistant jackets and waterproof ones. Knowing this will tell you just how much water protection the jacket can offer.
Water Resistant
Water-resistant jackets are breathable and can handle light rain for a limited amount of time. However, if the rain lasts for a long time or starts coming down either heavier or sideways, a water-resistant jacket isn't going to be much of a help.
Waterproof
This means that the jacket can keep out even heavy rain. While the actual testing standards will vary from manufacturer to manufacturer, a jacket that's called "waterproof" should stand up to downpours.
Waterproof + Breathable
Not only will this type of jacket keep you protected from rain, but it will also vent your sweat so you don't overheat. This type of jacket is good for outdoor activities that work up a sweat – so, hiking vs. running errands.
These jackets offer a sort of waterproofing both inside and out, keeping precipitation off your skin and also getting rid of perspiration as best as possible. Note that this is the type of jacket the Exponent is and we talk a lot more about the Exponent's breathability later on.
Waterproof + Non-Breathable
An example of a waterproof, non-breathable jacket is a poncho – the rain will stay out, but you'll get hot if you start to exert yourself. These jackets aren't a good choice for any type of outdoor exercise.
Other Features
Adjustments: Rain jackets often have a drawcord along the bottom hem and, if the length is on the long side, on the waist as well. It's also useful if the jacket has adjustments on the wrists so that you can close the sleeves tightly when it's cold, rainy, or windy, then open them up for more venting.
Hood: Rain jackets usually have an adjustable hood with a brim. The key here is to adjust the opening so that you can cinch it to keep out water. Sometimes, the jacket will have a removable hood or a stowaway pocket in the collar.
Packability: The lighter and less bulky the fabric is, the easier it will be to pack. Some jackets, including the Exponent, have a pocket that serves as a storage pouch.
Pockets: Some rain jackets have just one or two pockets while other jackets will have several. In general, the more pockets, the higher the price tag. If you're going out on a short hike, having a jacket with a lot of pockets can be helpful because you could possibly leave your backpack at home. Hand pockets, like the ones on the Exponent, are along the hip belt and won't get buried under shoulder straps if you do wear a pack. There may also be a pocket with a port for your headphone wire. If you have a rain jacket intended for travel, there may be hidden interior pockets for extra security for your belongings in crowded areas, like airports.
Seam Taping: Fully seam taping makes a jacket truly waterproof. Even if the jacket has seam taping in the hood and the shoulders, it may not be entirely waterproof – it could just be water resistant.
Ultralight Design: Ultralight jackets will be specifically designed to limit weight. The jacket may be made from high-quality fabric but have few additional features, like pockets.
Vents: The performance of rain jackets should have some type of venting. Most will have underarm "pit" zips, while some will also have torso pockets with mesh lining for extra venting.
Zippers: Zippers could be found on the front of the jacket, the pockets and/or the underarm vents. In order to keep water from getting through the zippers, the jacket should have some type of coating or flap. Coated (or laminated) zippers can be difficult to operate. On the other hand, full flaps add weight, so you won't find them on ultralight designs.
Pricing
When it comes to how rain jackets are priced, prepare to pay a little more for better quality. While rain jackets may feel light and therefore not worthy of a steeper price tag, what you're really paying for is the research, development, and testing of rain jacket technology, which is all directly related to how well it can perform in less-than-perfect conditions.
Overview of the Exponent Jacket by Mountain Hardwear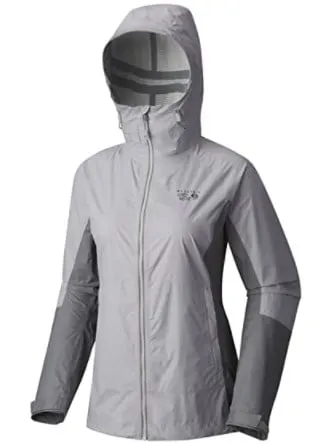 The Exponent jacket by Mountain Hardwear is a fantastic, breathable, waterproof jacket. It can also stand up to some windy conditions (though for heavy wind, you may want a different type of jacket).
Right now, the men's jacket comes in four colors on the Mountain Hardwear website: Manta Grey, Black, Dark Zinc, and Rustic Gold. It comes in five sizes: small, medium, large, extra large and double XL.
Features
2.5 layer hardshell
2-way adjustable hood
40D ripstop shell fabric that's both durable and lightweight
AquaGuard VISLON center front zipper that's water resistant and easy to use
Handwarmer pockets that are covered and zippered
Packable and can stow away in its own pocket
Underarm zips for when you're working up a sweat
VaporDry technology makes this jacket breathable and comfortable
Velcro wrist adjustments
Fit
Most customers find that the Exponent is true to fit and is comfortable, even when climbing and wearing a harness and a helmet – it's not too bulky for advanced outdoor activities beyond casual hiking. Also, most customers find that the Exponent is roomy enough to add a base layer for warmth.
While most customers say that the fit is true to size, some find that it runs a little small, particularly in the shoulders and sleeves. For the most part, though, most customers feel the fit is perfect.
While you may find it easy to put a layer on underneath even when ordering the jacket in your regular size, if you're going to need extra or bulkier layers (like for being outdoors in snowfall), consider getting the next size up.
Refer to the size chart here.
Return Policy
If you order from the Mountain Hardwear website, you can return your jacket within 60 days of the date of purchase. Note that the jacket has to be in its original condition, which means unworn and with the tags still attached. That means that you can try the jacket on for fit and comfort, but you shouldn't test it out on a hike if you think you may return it.
Pros and Cons of the Exponent Jacket by Mountain Hardwear
In this section, we'll talk some more about Exponent's features that stand out and cover its (very few) drawbacks.
Pros
Can keep you dry even in heavy rain, thunderstorms, or snow. Can handle windy conditions, too, such as the wind you may experience when sailing.
Underarm zips for venting help expel heat when you start to get sweaty or too warm, allowing for airflow around the core while keeping you dry.
Hood cinches with an adjustable cord in the back, making it easy to get the right fit whether you're wearing a helmet or not. There's a visor in the front, too, which provides extra protection against rain.
Velcro wrist adjustments instead of the uncomfortable and non-adjustable elastic you'll find on many rain jackets.
Convenient hand pockets that you can easily access even if you're carrying a pack.
Perfect fit (for most customers).
Cons
While most customers find that the fit is perfect, some have complained that the fit is too snug to fit a layer underneath. In many cases, this can be easily solved by ordering the next size up.
If you're going to be in high wind with rain, sleet, or snow, this jacket may not be able to stand up to the elements. It's fine for windy conditions when you're cycling or skiing, but for extreme weather, opt for a different jacket.
Male vs. Female Exponent Jacket by Mountain Hardwear
The women's Exponent Jacket by Mountain Hardwear comes in three colors: Black, Headlamp, and BluePrint. It comes in five sizes: extra small, small, medium, large, and extra large. You can find information about sizing and fit here.
Other than colors and sizes (both available sizes and sizing information), the women's Exponent is the same as the men's in terms of fabrics, technology, performance, and fit.
Final Verdict
If you're going to be moving around outside for something like climbing or hiking, you absolutely need a breathable jacket.
If you think you could get caught in heavy rain, you can't opt for water resistance over waterproofing. When it comes to those two needs, the Exponent totally has you covered.
It's practically impervious in anything but extra harsh conditions and it can easily pack away when you no longer need it. Unless you're one of the few who has an issue with the fit, this jacket will be comfortable even with a warm layer underneath. With its 60-day return policy, we feel that there's almost no reason to not give the Exponent a try.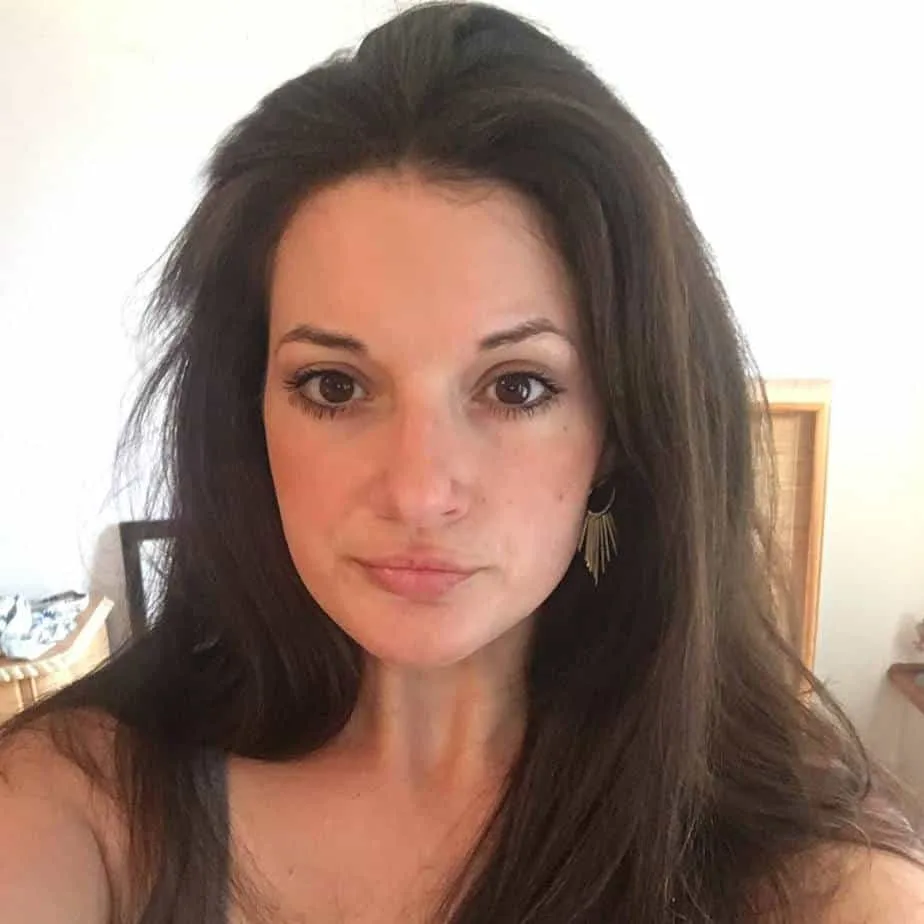 Lindsay is an adventurous soul and a columnist in New York. She's a frequent hiker around the park in the Hudson Valley. Her backpack and boots are ready when nature calls. She has figured out tricks that will make that uphill struggle calm your soul.