All of the best hardshell jackets for outdoor activities have the same two core features as they are both water-resistant and windproof. In this Outdoor Research Realm Jacket review, we are going to look at the features this hardshell jacket offers besides the resistance to wind and water.
The Outdoor Research Realm Jacket may not be one of the brand's high-end models, but it still offers sufficient protection under harsh weather conditions. More importantly, it enables you to remain mobile as it ensures that you can keep the full range of motion of the upper body.
Consequently, this hardshell jacket is equally efficient during steep ascends and causal walks in nature. Let's take a closer look at the features of the Outdoor Research Realm Jacket.
Key specifications of the Outdoor Research Realm Jacket
| | |
| --- | --- |
| Material | AscentShell™ 3L 20D nylon and 12D Polyester backer |
| Breathability | 30.000 g/m2 |
| Hydrostatic resistance | 15.000mm |
| Hood type | Wire-Brimmed Halo Hood |
| Number of pockets | 2 chest pockets, 1 inside pocket |
| Zipper type | YKK® AquaGuard® and YKK® AquaGuard® Vislon Zippers |
| Weight | 11.2 oz |
| Latest price | Check latest price here |
Core features of the Outdoor Research Realm Jacket
Outdoor Research offers a broad range of clothing items and equipment designed for alpinists, hikers, or backpackers. That's why it is not surprising that the brand's hard and softshell jackets are so widely appreciated by professional athletes and hobbyists.
You can choose from a broad range of differently priced hardshell models and choose the one that best fits your budget. Although equipped with different features, all of the brand's hardshell jackets offer excellent protection against the wind, rain, or even snow.
The Outdoor Research Realm jacket is a great all-around hardshell you can use in a broad range of contexts and in both mild and harsh weather conditions.
Design and fabrics
Despite having a somewhat conventional design the Realm jacket fits perfectly into any outdoor outfit. This OR's hardshell jacket is available in several different colors including Lemongrass or Black, but the manufacturer doesn't offer models that are designed specifically for women.
This jacket is available in sizes that vary from XS to XXL so chances are that you will be able to find a model that fits you perfectly without much difficulty. The exterior of the Realm jacket doesn't offer anything you wouldn't expect to find on a hardshell jacket.
Its fit trim is characteristic for this type of jacket, while the location of the pockets is a bit unusual as it only features a pair of chest pockets. The Wire-Brimmed Halo Hood is helmet-compatible so that you don't have to take your helmet off in case you need protection against the rain or wind.
The AscentShell proprietary electrospun laminate fabric that contains 20D nylon is used for the jacket's front layer, while the backer is made from 12D polyester.
Overall functionality
The material from which this jacket is made provides a high level of breathability while protecting you from strong wind. According to the manufacturer, the material from which this hardshell jacket is made has 30.000g/m2 per 24 hours of air permeability.
A high degree of breathability indicates that some amount of air will go through the jacket which in turn will keep you cool even in warm weather. Even though it has a trim fit the jacket offers enough space for several layers of clothes in case the air that gets through is too cold.
The underarm DynamicReach™ panels and movement mirroring stretch ensure that your mobility is in no way limited by the Realm jacket. The YKK® AquaGuard zippers enable you to secure the chest pockets and keep the items you're carrying with you dry.
The internal pocket is large enough to hold medium-sized items, such as a pair of gloves or a smartphone, but it may be difficult to fit larger items.
Weight and comfort
The Realm jacket weighs just 11.2oz, and it reduces the weight you have to carry as it is one of the lightest hardshell jackets on the market. Also, you can pack this jacket so that it occupies a minimum amount of space in your hiking backpack.
Also, high breathability ensures that you can keep the jacket zipped without having to search for a way to cool down. This Outdoor Research jacket is designed to keep you comfortable regardless of how strenuous the activity you're performing is.
The jacket is long enough to cover the hips but it is likely to move up once you start moving. The sleeves should cover the wrists even when your arms are not in the downward position.
The hood has a length of 30 inches which makes it large enough to cover the helmet entirely and it is fully adjustable so that you can tighten it in accordance with your needs.
Durability and water resistance
This Outdoor Research's model doesn't perform as well in heavy rain conditions as the models made from GORE-TEX®. Even so, it is designed to withstand exposure to large quantities of water without getting soaked.
Also, all seams on the jacket are fully tapped which prevents water from leaking through the stitches. However, the seams are not perfect, and you may have to deal with loose stitches, especially in the area around chest pockets.
Besides allowing you to shake raindrops off the jacket, The AscentShell™ fabric is also incredibly difficult to damage. This allows the jacket to remain in great condition over the years, even if you are using it during challenging outdoor activities.
Range of applications
Mountain biking, hiking, or backpacking are just a few contexts in which you can wear the Outdoor Research Realm jacket.
This jacket is lightweight and it has a fit trim so it won't slow you down too much while you're cycling or add unnecessary weight to the equipment you take on a hiking trip.
Even though it is both windproof and water-resistant, this hardshell jacket is not suited for extremely cold weather conditions. Its excellent breathability enables you to wear it during the summer months, but you may feel uncomfortable if the temperature is below 40F.
In addition, the elastic cuffs keep the sleeves in place enabling you to hold your arms above the head which makes the OR's jacket suitable for rock climbers and alpinists.
Upkeep
The materials from which this jacket is made don't soak up the sweat and they make it difficult for the dirt to stick to them.
As a result, you won't have to spend too much time on the upkeep of this hardshell jacket especially if you are just using it for light outdoor activities.
The Realm jacket is machine washable, so all you need to do when you want to clean it is toss it into the washing machine and choose one of the cold water programs. Other than washing there isn't anything else you have to do to keep this jacket clean.
Cost
The Realm jacket isn't one of the brand's most affordable models, since the least expensive Outdoor Researcher's hardshell can be purchased for less than a hundred dollars.
You will have to spend around $300 on a Realm jacket which makes it a rather pricey option for most outdoor enthusiasts.
However, if you compare the price of this hardshell jacket to other waterproof models that are made of GORE-TEX® you'll realize that the Realm jacket is much less expensive than some of the brand's more popular models like the Archangel or Hemispheres.
All OR's models come with the Infinite Guarantee® that covers all defects of the materials, but it doesn't include accidental rips or any other type of damage that occurred as a result of regular wear and tear.
The pros of the Outdoor Research Realm Jacket
Excellent protection against the wind and rain
The AscentShell™ fabric offers almost 100% protection against the wind. It also handles prolonged exposure to water well, as it won't get soaked even if you walk for hours in the rain.
Great breathability
The OR's Realm jacket enables you to stay cool by offering 30.000g/m2 per 24 hours of air permeability. This helps reduce the user's sweating in highly strenuous situations, but you should bear in mind that you may find this jacket a bit too cold if you don't tend to run hot.
Lightweight
This OR's model weighs just 11.2oz which makes it suitable for all contexts in which extra weight can limit your mobility. Also, the stretchable material adjusts to your movements allowing you to move without any restrictions
Made from durable materials
This OR's model is made from 20D nylon and 12D Polyester backers that ensure it can stay in good condition for a long time. However, this hardshell jacket is not indestructible and accidental rips and tears can occur.
Limited lifetime warranty
Outdoor Research offers a warranty that covers all structural defects of their products, so if any of the parts on your Realm jacket brakes down without an apparent reason you will be able to repair it or replace it.
The cons of the Outdoor Research Realm Jacket
Not suited for extremely cold weather
Even though the Realm jacket offers supreme protection against the wind, it isn't warm enough to be used at temperatures lower than 40F.
Awkwardly positioned pockets
This OR's model features just two chest pockets that may be difficult to access quickly. The lack of hand pockets has been one of the reasons why the Realm jacket was criticized.
The best alternatives to the Outdoor Research Realm Jacket
Durability, protection against the elements, or the ability to reduce the accumulation of sweat are among the most common reasons why hikers and all other outdoor enthusiasts opt for hardshell jackets.
Despite being windproof and water-resistant, the OR's Realm jacket is not often mentioned in conversations about the best hardshell jackets on the market mainly because it is made of AscentShell™ fabric instead of GORE-TEX®.
We've selected several hardshell jackets for you to consider if the OR Realm jacket doesn't meet your expectations.
Mammut Nordwand Pro HS
There are only a handful of hardshell jackets that can provide better protection against the elements than Mammut Nordwand Pro HS.
This Mammut's model is designed for use under harsh weather conditions as it is using the GORE-TEX Pro material for waterproofing and 80D X 80D fabric for the denier. Also, the Pro Stretch panels extend your range of motion and make it easier to use the climbing equipment.
The jacket also has two front pockets that are compatible with a climbing harness as well as a number of external and internal pockets that are equipped with waterproof zippers. The chin protector is made of soft microfleece and it helps prevent cold air from reaching the jacket's interior.
The Mammut Nordwand Pro HS is considerably more expensive than the OR Realm jacket, and you should only opt for it if it is a piece of equipment you really need. Read our Mammut VS Arc'teryx jacket comparison to find out which brand offers better products.
Arc'teryx Beta AR
For nearly 20 years the Beta AR model has been a permanent fixture in Arc'teryx's offer of hardshell jackets, and with a good reason, as this jacket is lightweight and incredibly durable. The Beta AR has a 40D denier and GORE-TEX Pro waterproofing layer.
The combination of these materials makes this jacket water-resistant and windproof, allowing you to perform activities like skiing or alpine climbing effortlessly.
This Arc'teryx's model features a large number of pockets that provide you with enough space to store all items you may need while the helmet-compatible DropHood allows you to adjust it to your current needs.
The collar on the Beta AR jacket provides additional protection against the draft and the bottom hem keeps the jacket in place while you're moving. Read our full review of the Arc'teryx Beta AR to get more information about this hardshell jacket.
Dynafit Radical
Designed primarily for backcountry skiing, the Dynafit Radical jacket has the ability to provide protection against the snow, rain, wind, or sun.
Like all hardshell jackets made of GORE-TEX, the Dynafit is waterproof and breathable which enables you to stay dry regardless of how strenuous is the activity you're performing or the current weather conditions.
In addition, all seams are fully sealed which ensures that water can't reach the jacket's interior through threads. Pit vents are also among the features that increase the jacket's breathability, while its hip length makes it easier to match it with other waterproof clothing.
The Dynafit Radical is a medium weight hardshell jacket as it weighs more than 15lbs, and its wrist cuffs leave much to be desired as they don't have the capacity to keep sleeves in place.
What's more, this Dynafit's model is more expensive than the Realm jacket, but it doesn't offer much more than the OR's hardshell jacket.
FAQs
Question: Is the OR Realm jacket suitable for all seasons?
Answer: This jacket is not warm enough for high altitudes or winter conditions, as it is designed for temperatures higher than 40F.
Question: What is the largest size of the OR Realm jacket I can get?
Answer: The largest available size of the OR Realm jacket is XXL, but you should check the brand's size chart before you purchase this model.
Question: How long is the OR Realm jacket?
Answer: Like most trim fit hardshell jackets, the OR Realm is designed to reach the user's hips. This makes it compatible with other outdoor clothing.
Question: Are OR Realm jackets available in different colors?
Answer: Yes, they are. The most common color versions of this jacket are Lemongrass and Black, but the manufacturer also offers other color options
Final Thoughts – Is the Outdoor Research Realm Jacket better than its competitors?
Protection against the elements and excellent breathability are the two main reasons why hardshell jackets are the go-to option for most fans of outdoor activities.
The Outdoor Research Realm Jacket is certainly not the brand's flagship model, but it is still a high-quality jacket that can protect you against strong wind or heavy rain. In our opinion, the extra cost is very well worth it as you will get a durable hardshell jacket you can use for anything from mountain biking to backpacking.
In case you would prefer a jacket that has a GORE-TEX waterproofing membrane we suggest getting the Mammut Nordwand Pro HS if you don't mind the hefty price or the Arc'teryx Beta AR if you would prefer a more affordable option.
Did you find this Outdoor Research Realm jacket review useful? Share your opinion with us in the comments or check out our guide to finding the best jackets for the outdoors.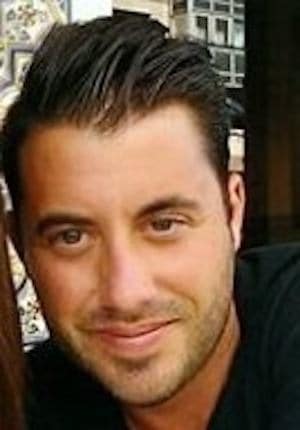 David is a strong advocate of outdoor-related activities and has many years of experience backpacking and hiking around the world, including the Italian and Austrian Alps in Europe as well as central and southern Asia.
Locally, he has also led many groups cycling through Vermont, Nova Scotia, and Wisconsin. David constantly uses and tests the latest gear for the outdoors, which in turn allows him to help others make more informed buying decisions. He's excited to share more of his knowledge and to see others enjoying the great outdoors more because of his advice and recommendations.