Outdoor exploration is always an exhilarating adventure regardless of where you are. When it comes to being prepared to take on the challenges that are unavoidable while on your journey, there are several different tools, accessories, and hiking kit that you'll want to have by your side such as (belt pockets, waist straps, quality, and adjustable backpack like the Mystery Ranch Scree Backpack, a bottle for water, first aid kit, and of course, quality sports wear).
Depending on your experience level, the specific items and accessories that you carry with you in your hiking kit during your journey will vary significantly however there will usually be one thing in common and that is that you will be carrying a lot of gear regardless.
Packing all of your essential exploration or camping equipment without using a backpack is impossible, you will need a high-quality overnight backpack to make sure your items are protected and ready to go.
There are several different premium outdoor backpack brands and options out on the market for you to choose from. All of these different selections come with specific features and capabilities which allow you to optimize the overall efficiency of your outdoor adventures.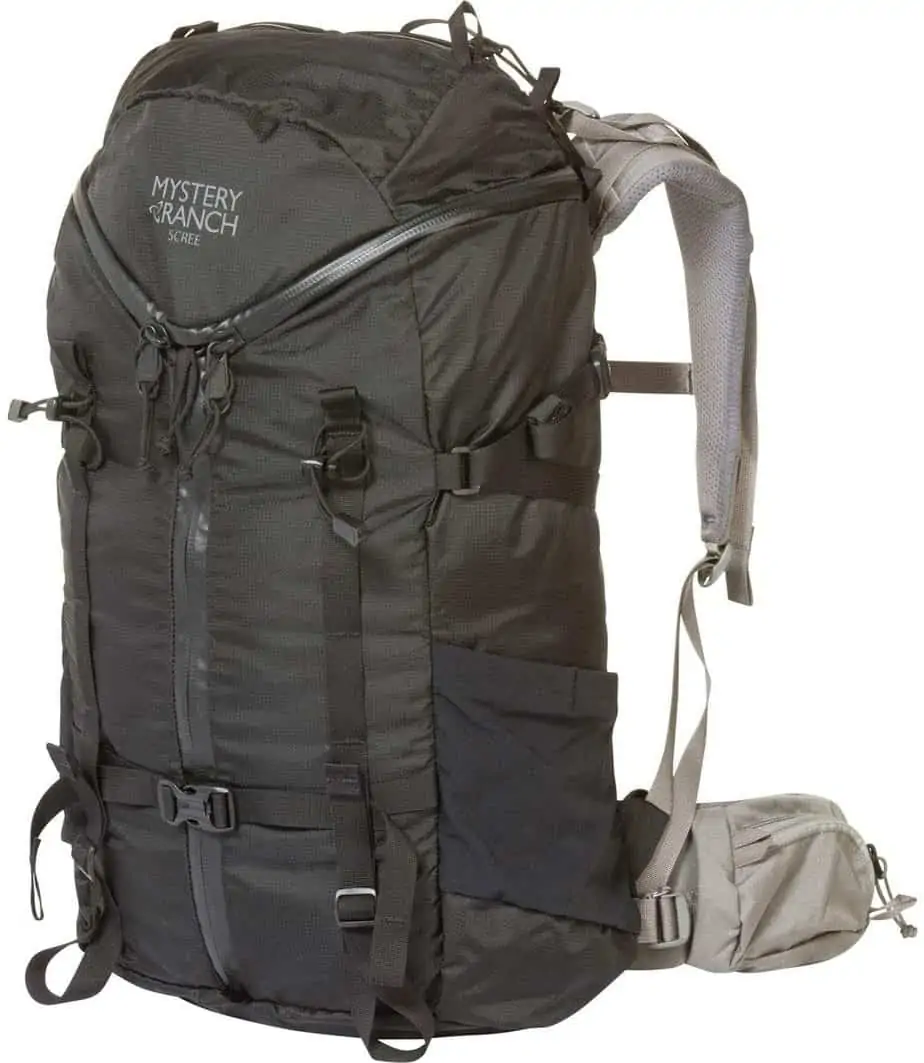 Since every terrain type presents a new challenge to the adventurer, it's important to purchase a utility backpack that can withstand virtually anything you throw at it.
If you like to explore locations that are very similar in terms of their terrain type and difficulty, you should purchase a utility backpack based on the specific needs you have as they relate to the obstacles you commonly face while out in nature.
Because there are so many different brands and options to choose from when it comes to selecting the right backpack, making your final decision about which one is right for your specific needs can be a bit of a challenge.
One of the most popular and top-rated brands for backpack brands is Mystery Ranch Scree, this company produces a wide range of different utility backpacks and portable storage options designed for those that have a passion for exploring nature and what different terrains have to offer.
A favorite selection from the company is their Scree daypack which has a lot of intuitive and useful design features for a very particular type of outdoor exploration enthusiast. If you're tired of looking for a utility daypack that has the features you need only to come up empty-handed, today is your lucky day.
In this guide, we're going to provide you with an in-depth review of the Mystery Ranch Scree daypack and all of the various capabilities it has to offer to those interested in optimizing the way they carry their outdoor gear.
We love the Scree by Mystery Ranch. This daypack may be a bit pricey, but overall, it is an excellent mid-sized daypack that offers a ton of versatility and easy access to important gear. While we can't necessarily recommend this pack for work or school, we highly recommend it for outdoor adventures!
To begin, let's look at a brief history behind the company that produces this daypack so you can get a better view of exactly what to expect from their product.
History Behind the Company: Mystery Ranch

Mystery Ranch has been in business since 2000 manufacturing and producing a wide range of different carrying accessories and systems for applications such as hunting, the military, and much more. The company is based out of Bozeman, Montana and it is a worldwide brand with global distribution and production facilities.
The people behind Mystery Ranch are Renee Sippel-Baker and Dana Gleason who have been close friends and partners since 1978.
The precursor company to Mystery Ranch is Dana Design which was started by the couple in 1985. Since its inception, the company has worked to become a dominating player in the field of load storage and carriage accessories throughout the world.
When the company was at its height, Dana Design had 3 separate full-time manufacturing and production facilities which employed a total of 200 employees.
All of this led the company to eventually be sold to the K2 Corporation in 1995 when Dana and Renee decided to retire from the business overall. After being in retirement for a few years, the pair decided that they were not satisfied with retired life and decided that they wanted to get back in the business.
This decision is what led the pair to kickstart the Mystery Ranch brand that many people know and love today.
Now that we've gone over some brief history about the company, it's time to look at exactly who the Mystery Ranch scree was designed for, so stay tuned for the Mystery Ranch Scree Backpack Review.
Who is the Mystery Ranch Scree for?
When it comes to outdoor exploration, everyone has different needs in terms of the features they find most important and essential while out on an adventure. The Mystery Ranch Scree daypack was crafted for those individuals who need instant access to all of the tools and accessories in addition to a variety of different storage areas to carry those accessories.
The backpack is very spacious, and it allows you to carry around all of the most important tools that you'll need to successfully carry out your outdoor explorations without being limited by storage capacity or a lack of mobility.
The Scree backpack has an innovative three-zip panel storage insertion design which makes it easy for you to store all of your essential equipment deep inside the interior of the pack.
One of the most intriguing things about this backpack is that it has a double loading option functionality, which means that you can choose to unzip the top of the backpack to load it from the top or you can unzip the backpack from the center in order to load it in the middle.
This backpack is perfect for very heavy-duty hiking and outdoor exploration equipment in addition to any other light to heavyweight accessories you may be carrying.
It also comes with two lid positioned zippered pockets which provide extra storage and organizational space for all of your various items and equipment. It also has a deep hydration pouch feature inside of the main storage component which allows you to easily keep refreshments like water or any other hydrating products you may want to bring with you.
Now that we've gone over exactly who the Scree daypack is for, it's time to take a look at a summary of the core specifications that you'll gain access to when utilizing this backpack.
Summary of Specifications: Mystery Ranch Scree
Before deciding to purchase this daypack for your outdoor exploration needs, you need to understand and see a summary of all the specifications that you will potentially benefit from if you decide on this backpack as your chosen outdoor daypack option.
In the following section, we're going to go over all of the core specifications that you can expect to access while using this daypack.
Summary of Specifications
Weight- 3.1 pounds or 1.4 kilograms
Volume- 1,953 cubic inches or 32 Liters
Dimensions- 26" x 14.5" x 11" (66 x 37 x 28 centimeters)
Torso Length- Small, Medium, and Large size variables which can all be adjusted can fit 16"-21"
Hip Belt Length- Fixed Small, Medium, Large, can fit up to 29"-39"
Fabric- 420D Robic Nylon Fabric & YKK integrated Zipper
Max Recommended heavy loads between 45-50lbs.
All of these features and design specifications can benefit outdoor adventure specialists and enthusiasts of all types. The unique design elements that come as an integrated part of this daypack make it a very portable yet sustainable and durable option for serious outdoor explorers and hobbyists alike.
You'll also be able to store a large number of small items inside of your daypack for easy access and carrying capabilities.
Now that we've gone over all of the core specifications about the Mystery Ranch Scree, it's time to take a look at the core features and capabilities you can expect to unpack when using this utility backpack.
Core Features: Mystery Ranch Scree
As you may expect, when you're out on the trail it's important to be able to access all of your equipment as fast as possible so that you can respond to any environmental changes or potential threats in advance.
Because of this, you need to ensure that the daypack you select is capable of giving you access to all of these core features and capabilities to ensure that you will be able to optimize your outdoor adventure experience.
You'll want to make sure that you read all of the information included in this section fully to ensure that you understand all of the important features you'll gain access to when utilizing this daypack.
Versatile use Function
The Mystery Ranch Scree is a very capable and versatile daypack that is packing some serious power and versatility options.
This utility backpack is equipped with an adjustable yoke which allows you to easily set the daypack into the perfect configuration to meet your height and overall body dimensions. This system adds a lot of versatility to this utility backpack overall and makes it compatible with a wide range of different body types and shapes so anyone can use it for their outdoor exploration needs.
It also has a 3-zip closure and opening feature which allows you to easily store and transport all of your equipment however the unique thing about it is that you can either load the backpack from the top, through one of the panels integrated into the daypack.
For accessing the top of the backpack, all you need to do is unzip the two zippers located diagonally at the top of the backpack design. If you're trying to access equipment located near the bottom of your daypack, you'll need to unzip the entire backpack going from the length of the backpack in order to reach the lower compartment.
Durability
This utility backpack was built for performance and versatility as it is made using 420D Robic Nylon material which provides an immense level of abrasion resistance to the design overall.
The material itself is very heavy-duty and thick and also comes with a premium feeling rubber lining that acts as a water-resistant barrier for all of your valuables and the backpack overall.
Daisy Chain integrations
The Scree has an integrated two rows of daisy chains located on the exterior face of the daypack. You can rig this backpack up to carry virtually any item on the outside of your utility backpack with ease.
They are great for carrying climbing helmets however you can also add shoulder straps and cords to the backpack so that you can haul virtually anything.
Sizing Space
One of the best things about using this utility backpack for all of your outdoor travel and exploration needs is that it comes with an integrated 32 liters of total storage space which makes it easy for you to store large items and accessories with ease.
There are no limits on the amount of equipment or tools that you can carry when using this daypack, everything from energy bars, to camera batteries and more will fit with ease.
Textile Manufacturing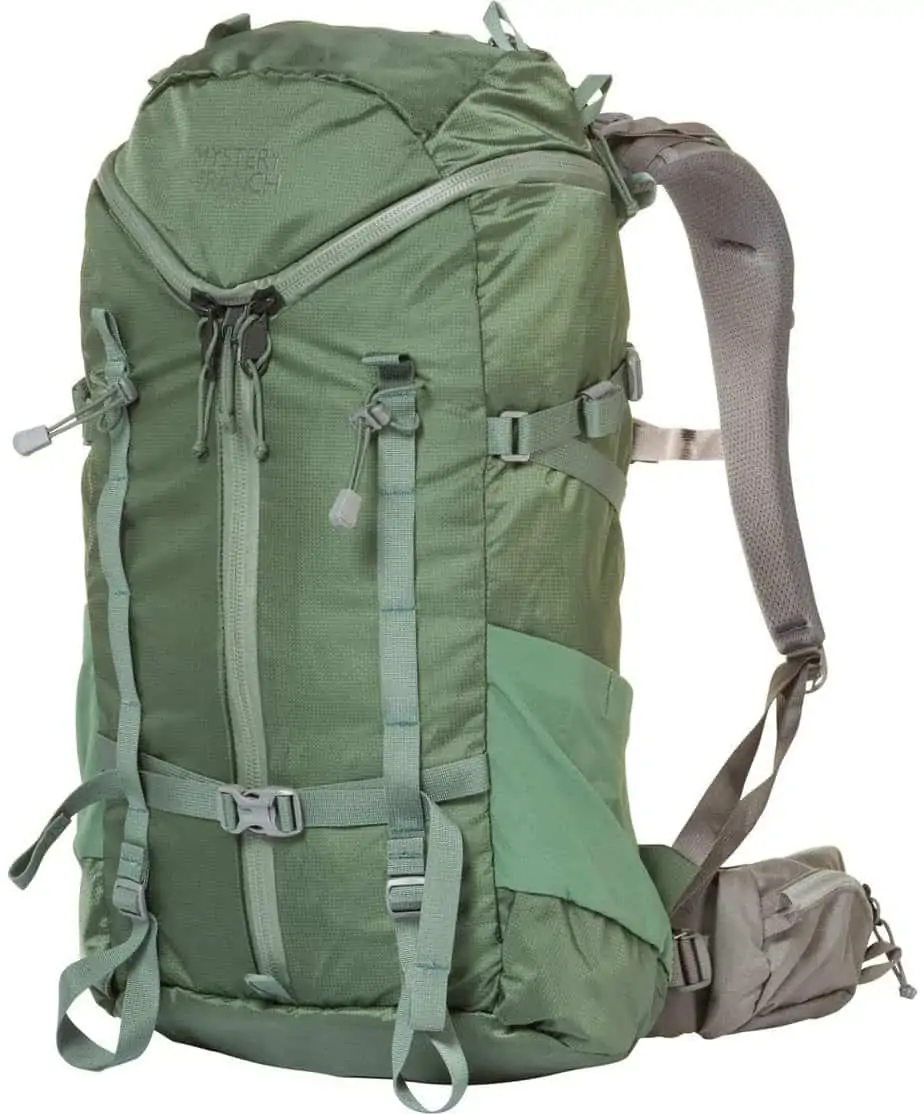 This utility daypack is equipped with double-layered patterning along the bottom for durability and resistant to cutting and abrasions.
It also has an integrated liquid reservoir insert which makes it easy for you to stay hydrated while on the go regardless of how long or difficult and taxing your adventures are. It also has other integrated water bottle pockets so that you can easily access all of your water bottles and other hydration sources.
All of these various design elements combine to create a high-quality outdoor backpacking option that will suit the needs of virtually any type of outdoor adventure enthusiast or hobbyist.
You should also keep in mind that all of these features provide very distinctive benefits and advantages to certain types of outdoor survival experts and for those that simply like to indulge in what nature has to offer.
You will want to consider your personal needs and interests as they pertain to the type of terrain you traverse on a regular basis, the type of threats and other variables that you may come up against, in addition to the type of equipment that you carry on your person regularly.
Now that we've gone over all of the core features of the Scree, it's time to take a look at some of the main pros and cons that you can expect while utilizing this backpack.
Pros & Cons: Mystery Ranch Scree
The Scree is packing an immense amount of very useful and innovative features that help to excel and elevate the experience of the individual using this daypack.
While there are a lot of beneficial features and capabilities offered by the Scree, there are also some cons about using this daypack for all of your hiking, camping, traveling, and climbing needs.
To make sure that you're able to utilize this carrying pack to its fullest potential, we're going to list all of the main pros and cons that you can expect to encounter when using the Scree for your outdoor accessory and luggage carrying.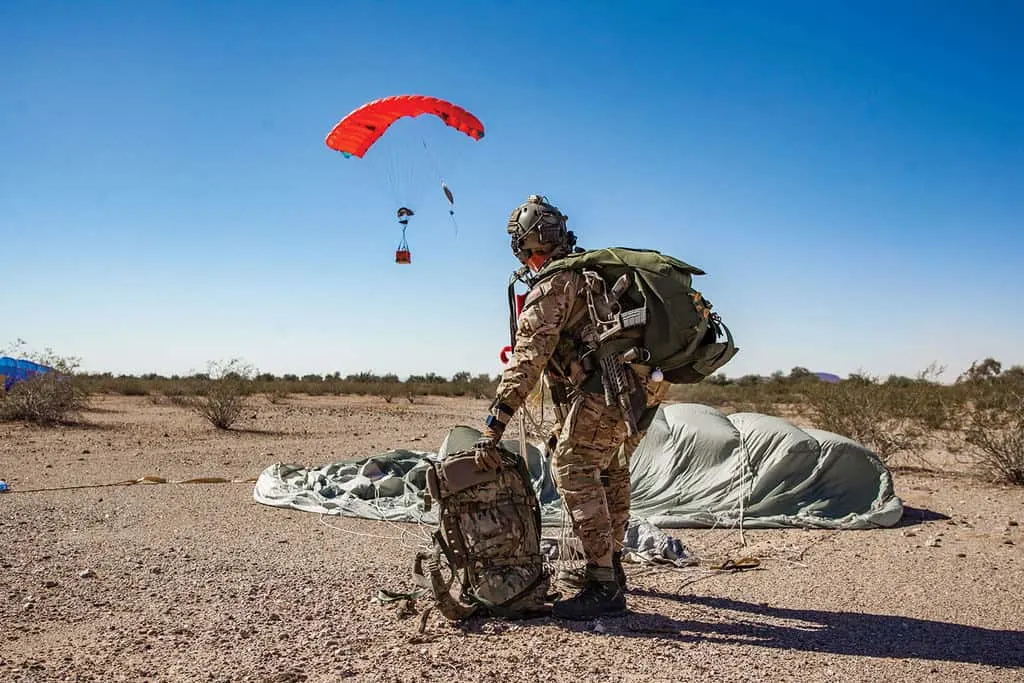 Make sure that you read the entire following section in full so that you can ensure you're making the right purchase decision when it comes to whether or not this backpack is the right option for your specific outdoor needs.
Scree Pros
A 3-Zip design makes it easy for you to access all of your necessary travel and outdoor exploration accessories with ease.
Integrated hydration reservoir inserts make it easy for you to carry water bottles and other sources of hydration for your hikes or any other outdoor trips you may be going on.
Integrated water bottle pockets that make it easy for you to store bottles of water to replenish yourself while on the trail
Double-layered bottom storage compartment that protects your items and valuables from abrasions and cuts while out traversing different environments
Made from durable 420D Robic Nylon fabric that comes with YKK zippers
Two rows of integrated daisy chains for extra carrying and hauling capabilities
Scree Cons
Limited sectioned off storage compartments
These are the main pros and cons that anyone can expect to encounter when using this daypack as your chosen method of carrying around all of the important tools and accessories you need to optimize your outdoor adventures all the way around.
Alternative Recommendations
If none of the features we've covered above seem to fit your specific needs in terms of the amount of versatility, functionality, and protection you receive when using a particular carrying pack option for your outdoor exploration needs, you're in luck.
In this section, we're going to list all of the main alternative recommendations if the Scree does not seem like a fit for you.
#1 Exos Bravo Tactical Assault Backpack
The Exos Bravo Tactical Assault Backpack has a maximum storage capacity of 34 liters total which allows you to store and hold a variety of different accessories, tools, and equipment that you'll need while on your journey in nature to ensure that you consistently experience a safe and robust hiking trip.
It also comes with an integrates allotment of 2073 cubic inches of space that holds a hydration bladder which makes it easy for you to stay on top of your game at all times while out exploring nature.
This utility backpack is made from high-quality 600D polyester which provides an impenetrable layer of protection against cuts or sharp edges piercing in your backpack while in use. It also features a double-stitched grab handle that has a ventilated mesh padding insert for extra support near the shoulder and back area.
This backpack also comes with a utility-style cord that pulls from the side to the front allowing for easy adjustment of the overall seal and protection level that you experience when using your bag.
This utility backpack also has heavy-duty zippers which make it very durable and long-lasting in terms of being able to withstand constant use over time in different environments. It also comes with an integrated load compression system which helps to offset the total weight that you're carrying.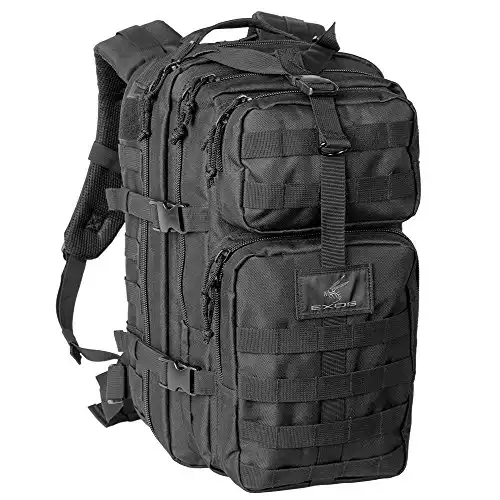 #2 Maxpedition RIFTBLADE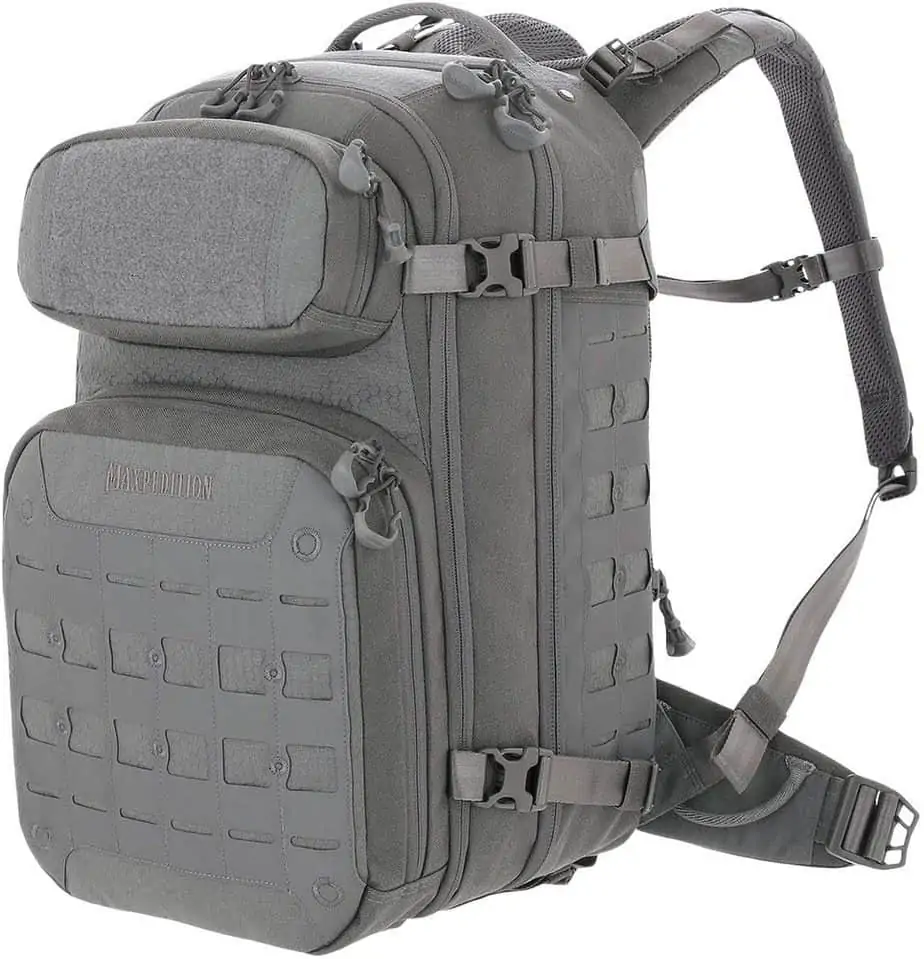 The Maxpedition RIFTBLADE is made from a 100% nylon material mixture which provides ultimate scratch and cut resistance to the overall design of this backpack.
On the outside of this utility backpack, you will find a padded pocket that also has four side compression straps that take the pressure off of the zippers when being filled up. This backpack also comes with a lattice attachment system that allows you to add modular attachments to the backpack with ease for increased storage capabilities.
This daypack also has a middle-looped lined compartment that comes with a clamshell opening design which makes it easy for you to access everything that is stored inside of your unit.
It also has an integrated main compartment which can be locked using a locking mechanism and with zippered pockets. It also has a hydration reservoir with dual hydration ports which makes it easy for you to stay hydrated no matter how rough or treacherous the terrain that you're traveling on is.
It comes with a middle looped lined compartment that makes it easy for you to open the pack via its clamshell design. It also has a double-sided security lockout strip which helps to keep the contents of the bag inside of the bag itself.
#3 East West U.S.A RT516 Tactical Backpack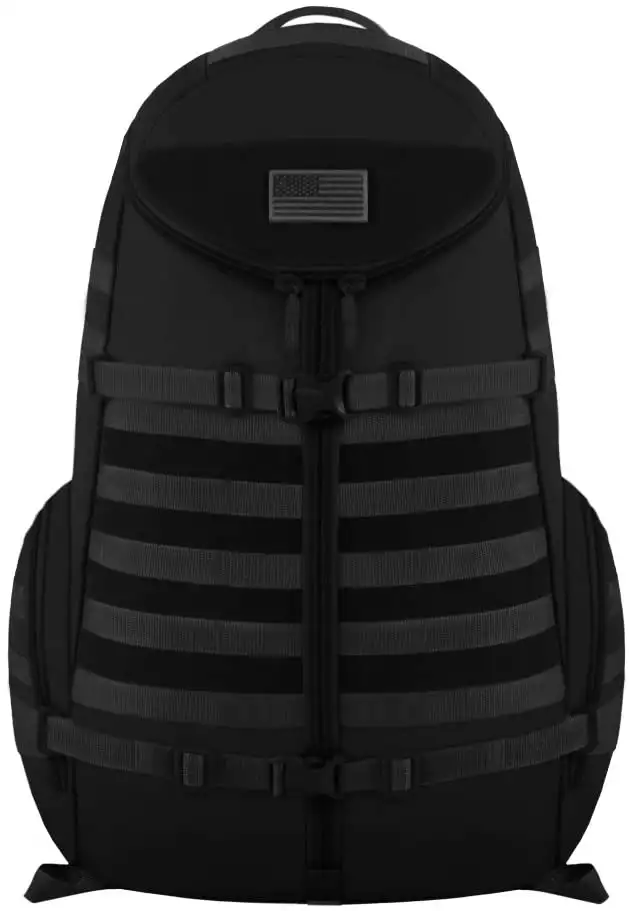 The East-West U.S.A RT516 Tactical Backpack is a multi-camouflage hiking backpack that was specifically designed for outdoor hunting, sporting, and exploration.
This backpack gives you the ability to open its interior contents by way of using the zipper that runs from the top to the bottom of the pack itself. This utility backpack comes with two integrated side pockets which provide you with more than enough room to store and access the key items and acrospires you'll need while on your journey.
It also has a unique feature that gives you the ability to install multiple small attachments to the backpack for increased carrying capacity and mobility support.
#4 CamelBak Transformer 102oz Black Backpack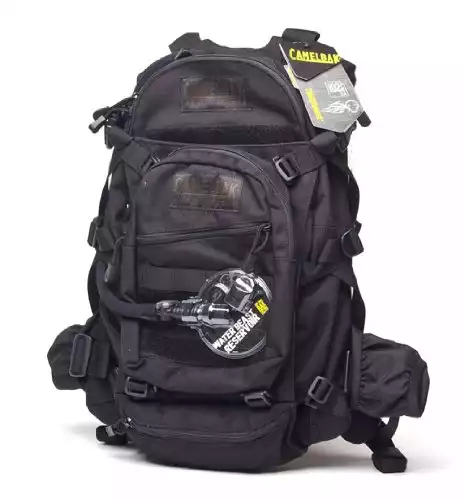 The CamelBak Transformer 102oz Black Backpack comes with an integrated hydration insert that makes it easy for you to stay refreshed and energized while out on virtually any type of terrain that you may be experiencing.
It comes with an integrated front storage pouch that expands on the total amount of storage space offered by the two rear compartments. This daypack also has a unique attachment compatible design in addition to having a bottom portion storage compartment which makes for 4 separate areas of storage space on this backpack alone.
If you're looking for an affordable and easy-to-use daypack that can handle all of the regular factors you face on a daily basis, this is a good option for you to choose.
#5 DIRECT ACTION Dragon Egg Tactical Backpack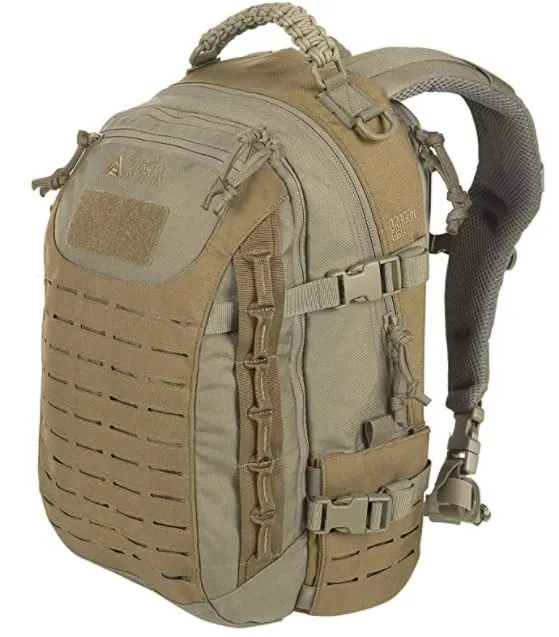 The DIRECT ACTION Dragon Egg Tactical Backpack features a flexible and lightweight design that makes it the perfect option for professional outdoor adventure enthusiasts and even security enthusiasts such as training military or police officers.
This backpack also has a patented combat ventilation system that allows natural airflow to enter the bag to keep the user comfortable while using the carrying bag. It is made using laser cuts that provide a snag-free and water-resistant barrier against you and the external elements in your immediate environment.
This daypack comes in several different colors and camouflage variants which allows you to get the right fit for any occasion you may be packing this storage bag along with you.
#6 Tenzing 6000 Back Country Hunting Backpack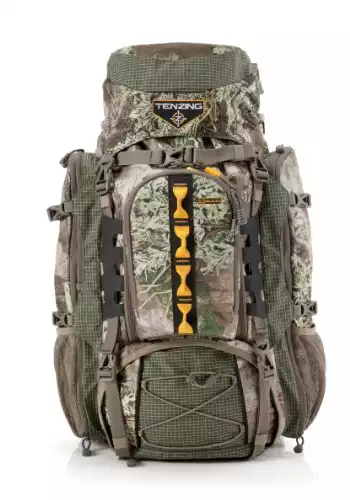 The Tenzing 6000 Back Country Hunting Backpack has a total storage capacity of about 6,013 cubic inches which is more than enough to store all of your most needed items that are critical to the way that your experience nature and the outdoors.
This backpack also has two rigid aluminum frame stays in addition to a fold-out gun-carrying boot and a fold-out for a bow. 20 total storage compartment that has pockets for you to store completely separate sleeping bags and it also comes with two rigid aluminum frame stays on the interior.
This backpack also comes with a detachable fanny pack which extends the amount of storage space included in this backpack significantly. It also comes with a breathable meat storage compartment so that you can store your fresh harvest without worrying about it going bad or becoming contaminated on the way out.
Our Honest Opinion
When it comes to whether or not we would honestly recommend the Mystery Ranch Scree, there are a few key things that you have to consider. One of the main reasons why we would highly recommend the Scree is for its intuitive design and robust capabilities in terms of how many items and accessories you can store within it.
It's also made out of very durable materials which ensures that all of your valuable items and tools will be safe while out in nature. Its 3 zipper design allows you to access all of the compartments installed on the backpack.
If you're looking for a high-quality and reliable utility backpack that can store a lot of items without the need to worry about it tearing or becoming damaged during the process, the Mystery Ranch Scree is the perfect option for you.
Conclusion
Use all of the information we've included in this guide to help you make the right decision about whether or not the Scree is the right outdoor adventure backpack for your needs.
Consider your specific needs as they relate to the type of environments you will be engaging with on a regular basis and how much storage space you'll need for your accessories and other important items. Always consider these variables when deciding so that you can be sure you're making an educated decision about what to spend your money on.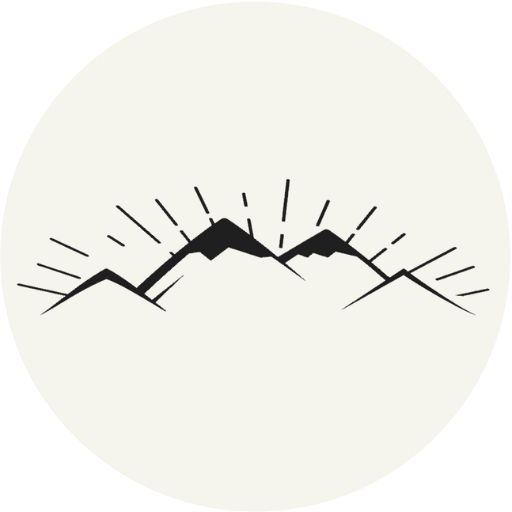 The All-Outdoors Guide team is comprised of enthusiastic experts that enjoy helping others that aspire to be better at outdoor fun. Part of that is making sure you have the right gear and information when it's time to go out and have fun. Some of our team have accomplished amazing feats like climbing 6000 feet to the top of mountains, others have explored every dirt trail they could find and we even have some people that have backpacked solo on various continents. No matter what our readers want to learn and do, our team is here to help them accomplish those goals.