If you're looking for a fun-filled outdoor camping experience with your family or friends, Wisconsin can be a great choice. You can never fall short of camping options in Wisconsin.
The state is surrounded by Lake Michigan and Lake Superior in the north, the Chequamegon-Nicolet National Forest, the Mississippi River in the south-east, and several other parks and lakes nearby. At every corner, every turn, you'll encounter splendor. So, if you're looking for adventurous and unique outdoor camping experiences, we suggest you try Wisconsin this time around.
In our guide to the best camping in Wisconsin, we'll discuss 20 popular camping spots in the state. Our outdoor experts have visited each of these and put together this guide to make the camping spot hunt easy for you. Let's jump straight into the camping guide.
20 Best Camping Locations in Wisconsin
Hurry, get ready with your camping gear!
We've explored 30 beautiful camping spots in Wisconsin to help you pick the best one for your outdoor adventure.
Big Bay State Park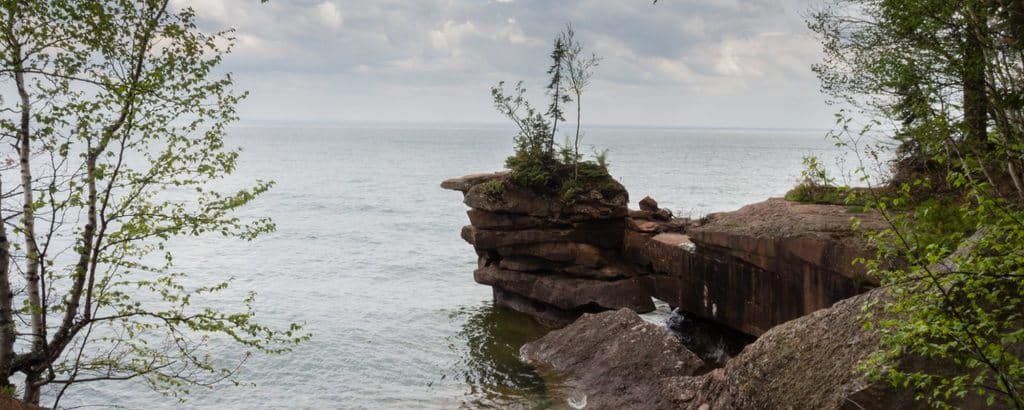 The Big Bay State Park is located at the northmost end of Wisconsin, on Madeline Island. The popular camping spot comprises a variety of hiking trails and the peaceful shore of Lake Superior. You can sit at the shore for hours together and enjoy the beauty around Lake Superior.
You can easily reach the park on a ferry from the Bayfield Country. You can also take a boat ride from a private parking at the island or a public parking at the Bayfield Country. When it comes to camping, you can enjoy quality time with your family and friends at the waterfront, explore sea caves, and play with the Canadian geese. You can also go fishing or swimming in the freshwaters of Lake Superior.
Devils Lake State Park
The Devils Lake State Park is the largest and most popular campgrounds in Wisconsin. At merely 360 acres, the lake is small but sandy beaches and open grounds that surround the lake make great spots for camping, especially during the summers.
While none of the camping sites are close to the water, a cemented trailhead takes you out of the campground toward the lake shore. The lake-park is conveniently located north of Madison and is easy to reach. The nearest public boat stop is located approximately 3 miles south of East Devil's Lake State Recreation Area.
Rock Island State Park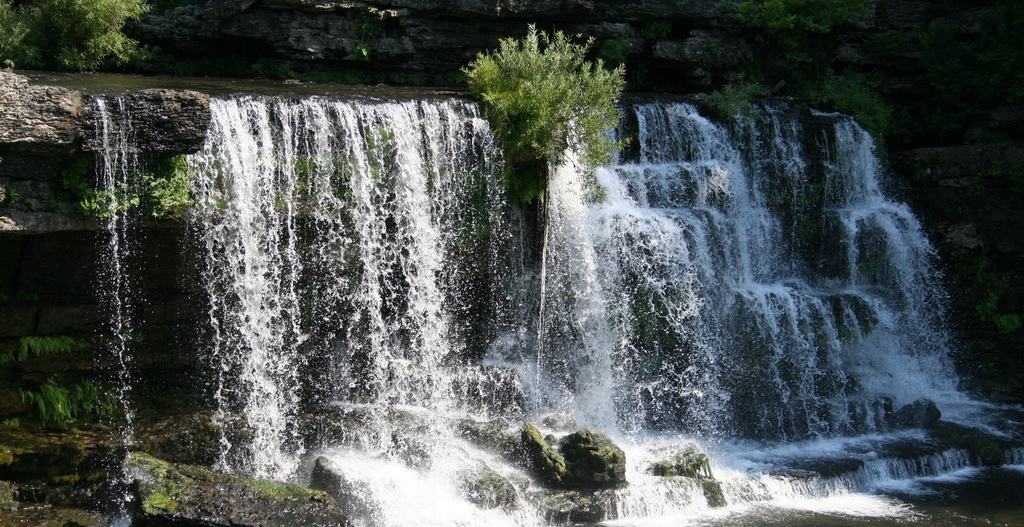 The Rock Island State Park comprises 2 campgrounds with almost 20 camp locations available throughout the year. Each camping location is equipped with a charcoal grill, lantern hanger, fire ring, electrical and water hookups, and picnic tables.
To camp at the Rock Island State Park, you need to board a ferry from the mainland Washington Island, followed by another ferry from Washington to reach the Rock Island. Most campsites are located on Lake Michigan and Green Bay areas of the island. All in all, Rock Island is a remote island with a series of stunning beaches and hikes.
Harrington Beach State Park
The Harrington Beach State Park is barely 25 miles north of downtown Milwaukee. The park features some of the most spectacular, sandy beaches on Lake Michigan, a scenic lake with beautiful hiking routes.
The Harrington Beach State Park comprises a 75 unit campsite with a plethora of amenities. However, you need to make a reservation before you reach the campground. The campsite organizes a variety of fun and frolic activities for people of different age groups such as morning hikes, thru hikes,candlelight hikes, fishing and so on.
The park even has adaptive equipment for campers with mobility impairment such as sit skis and wheelchairs. The best thing about this campsite is that you can even take your pets along. Many areas of the campsite are pet-friendly!
Mirror Lake State Park
The Mirror Lake State Park is approximately 3 miles south-west of Wisconsin Dells and covers more than 2000 acres. Almost 50% of the lake is surrounded by sandstone bluffs that make excellent locations of birdwatching, canoeing, kayaking, swimming, and so on.
You can also spend quality time in picnic areas, wooded campsites, and long and scenic trails. The park remains open between 6 A.M. and 11 P.M. daily and you need to register at the park office for camping.
Apostle Island
The Apostle Island campsites are managed and operated by the National Park. The island comprises 3 types of campsites: Individual (equal to or less than 7), Group (equal to or less than 8), and Zone (equal to or less than 5).
Zone camping is typically primal camping without any amenities. In the case of Zone camping, you can camp anywhere you'd like to, as long as you're not close to the other campsites. Like the campgrounds in other State Parks, you need to register and get a permit for camping on the Apostle Island. Out of the 21 Apostle Islands, camping is permitted on 19 islands only.
Some places that you can explore from your campsites include the Mainland Sea Caves, Eagle Island, York Island, Sand Island, Little Sand Bay, Devils Island, and Long Island.
Peninsula State Park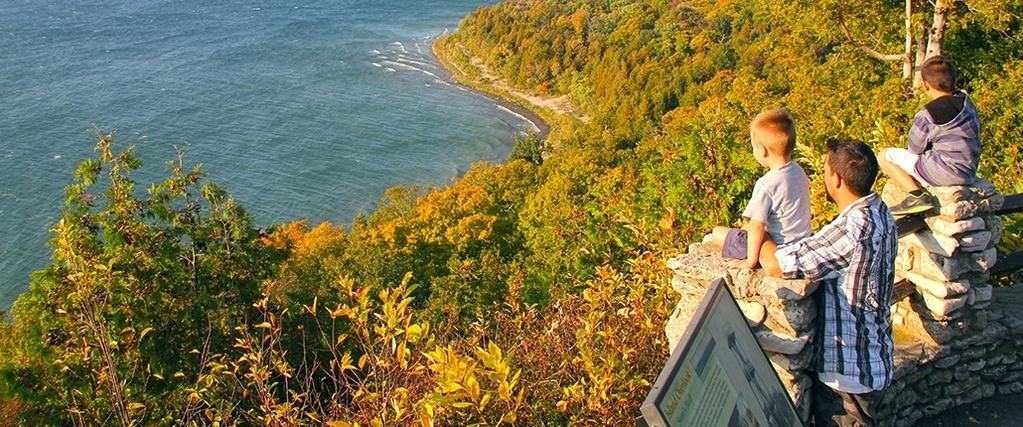 The Peninsula State Park is located in Door Country and comprises more than 450 campsites for individual campers, as well as large families looking for outdoor adventures. The park also has a splendid sandy beach, an old lighthouse, a summer theater, and a golf course.
The campsites are spread throughout the 4000-acre State Park and offer a variety of luxurious amenities such as showers and flush toilets for campers. 4 popular campsites of the Peninsula State Park are Nicolet Bay, Tennison Bay, Welcker's Point, and Weborg Point.
Black River State Forest
The Black River State Forest is located in the west-central portion of Wisconsin and offers a wide range of camping opportunities for camping enthusiasts. You can canoe down the Black River to reach a primal campsite, ride a bicycle or an ATV for fun, search for the rare Karner blue butterfly, watch the stunning sunset, and enjoy a peaceful time with your loved ones.
The area comprises 5 campsites that include:
Indoor group camp
Outdoor group camp
Castle Mound family campground
Pigeon Creek family campground
East Fork family campground
You can reserve the Castle Mound family campground starting May 1 to beginning October, East Fork and Pigeon Creek family campground from the Thursday prior to Memorial Day to Labor Day Weekend, the indoor group campground any time of the year, and the outdoor group campground between mid-April and the end of November.
Brunet Island State Park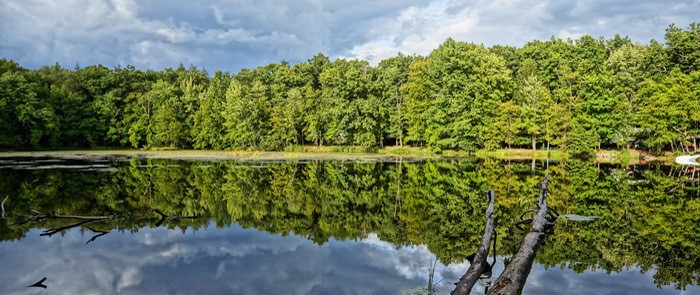 The Brunet Island State Park is located along the banks of River Chippewa and comprises campsites on a river-island.
From rental canoes and kayaks to beautiful hiking trails along the riverbank, you can make the most of your time here adventuring outdoors. Brunet Island comprises 2 campgrounds that are available on the first-come-first-serve basis. You can register online or dial 888-947-2757 to make a reservation.
The North campground comprises 45 campsites that have no electricity. They are located on River Chippewa's shoreline. Whereas, the South campground comprises 24 campsites that have electricity and other amenities such as flush toilets and showers.
High Cliff State Park
The High Cliff State Park is located on the eastmost shore of Lake Winnebago, the largest inland lake in Wisconsin.
Situated on limestone cliffs, the park overlooks the magnificent Lake Winnebago and offers a variety of camping opportunities for outdoor lovers. You'll find 2 campgrounds in the High Cliff State Park, namely, the Family campground and the Group campground.
The Family campground comprises approximately 112 campsites out of which only 32 have electricity. The Group campground comprises 8 campsites. Both campgrounds are open for reservation between April and October. In the Family campground you can access a flush toilet and a shower building if you're staying overnight. Not only this but registered campers can also use a garbage/recycling station and a sanitary dump station for free.
Bagley Rapids Campground
The Bagley Rapids Campground is located along the River Oconto, in the Chequamegon-Nicolet National Forest. The terrain is completely different from the campgrounds discussed above and requires you to stay ready for wild adventures. Nothing can match the sound of the Bagley Rapids gushing next to the campsite.
Almost 30% of the 30 campsites are situated next to River Oconto. From berry picking to trout fishing, sightseeing and swimming, you can enjoy a variety of day-time adventures.
The campgrounds are flooded with campers on weekends and weekdays are somewhat less crowded. So, if you're looking for complete seclusion, we recommend visiting the campgrounds on weekdays. However, it's important to note that there's no reservation system here. All campsites are available on a first-come-first-serve basis.
Gordon Dam County Park
The Gordon Dam County Park is situated in the Douglas County Forest. The location of the park makes it a popular camping destination. The campsite beautifully sits on a waterfront with benches and picnic tables on either side.
The campground is open during the summers and provides complete services from 2 Fridays before Memorial Day to 1 week following Labor Day. Off-season camping is also offered at the Gordon Dam County Park. The campsite also makes a perfect spot for sportfishing activities. Please note that all campsites are available on a first-come-first-serve basis and there's no reservation policy.
Northern Highland American Legion State Forest
The Northern Highland American Legion State Forest provides ample modern, primal, and group camping opportunities. All in all, the state forest has 4 campgrounds: Big Musky, Crystal Lake, Clear Lake, and Firefly. Together, the 4 campgrounds have approximately 355 campsites.
While these campgrounds have flush toilets, showers, and paved roadways, they do not have electrical hookups. If you have a permit, you can use generators, but for limited periods. You'll also find pit toilets and hand-pumped water throughout the campsites.
The Northern Highland American Legion State Forest is a paradise for bird lovers, where one can easily spot ducks, eagles, loons, and ospreys. You'll find almost 75% of the state bird species in this forest around the year. Another striking feature of the park is that it is situated near the picturesque Willow Flowage Scenic Waters spot.
Rustic Timbers
If you want to make the most of your Door County experience, you cannot afford to miss the Rustic Timbers campsite. Only 3 miles south of the splendid Egg Harbor, Rustic Timbers is situated in the middle of Door County.
The family-friendly campground comprises 140 massive wooden campsites, 6 charming rustic cabins, 120 seasonal campsites, 9 luxurious deluxe cabins, and a lot more.
Since it is located in the middle of Door County, you can easily access different State Parks including the Peninsula State Park from Rustic Timbers. You can also visit the scenic sand beaches at Jacksonport or the boat launch and beach at Murphy County Park.
Chequamegon-Nicolet National Forest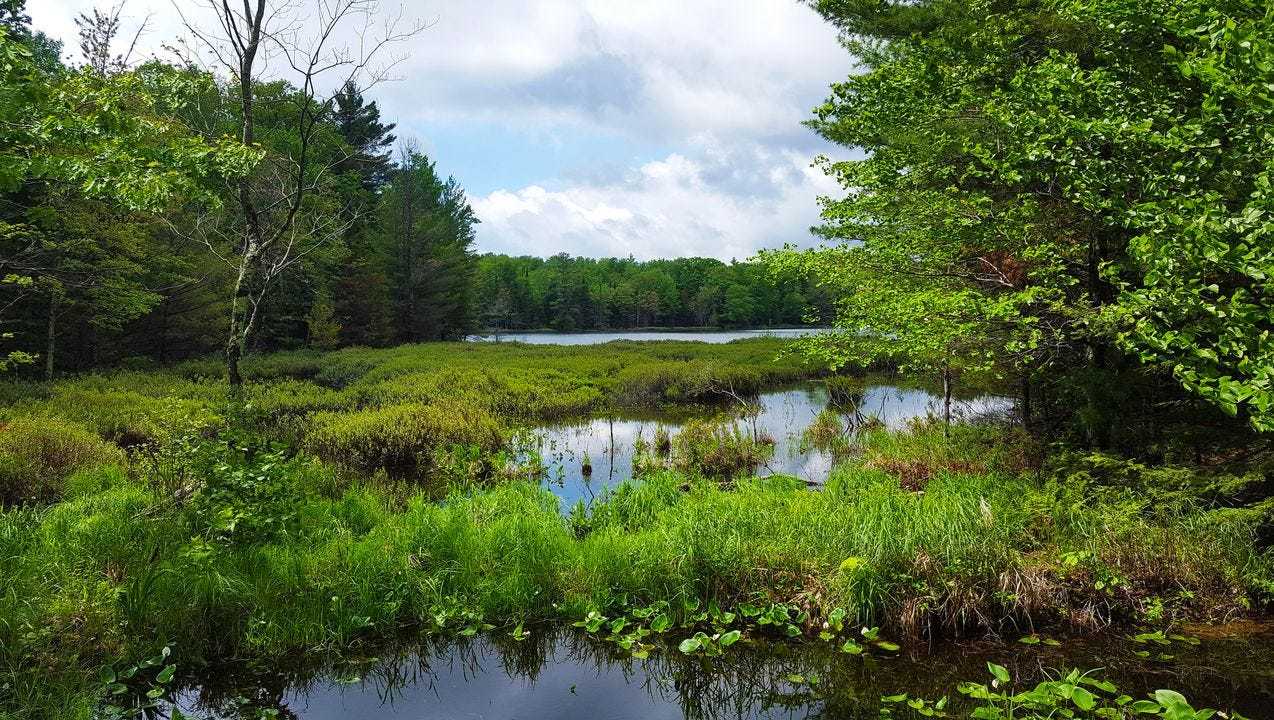 If you're looking for a mix of adventure and experiment, the Chequamegon-Nicolet National Forest camp can be a thrilling option.
From creating your own campsites to riding RVs in a dense forest, the Chequamegon-Nicolet National Forest camp has something different to test the expertise and skills of each camper. You can never get bored here!
The campground offers different types of camping opportunities such as:
Campground camping
Dispersed camping
Group camping
RV camping is the most popular camping type here and the RV locations range from the lakefront to the deep woods.
Patricia Lake Campground
The Patricia Lake Campground is a family campground with many interesting campsites. It's located near downtown Minocqua and the Minocqua Lake chain. The surroundings are calm and quiet.
The massive wooded campsites are motorhome, tent, and trailer-friendly. Different types of RV campers are also allowed. Gasoline motors are not allowed around Patricia Lake. Other adventure activities include basketball, volleyball, shuffleboard, and hikes along beautiful sandy beaches of the lake.
Buckhorn State Park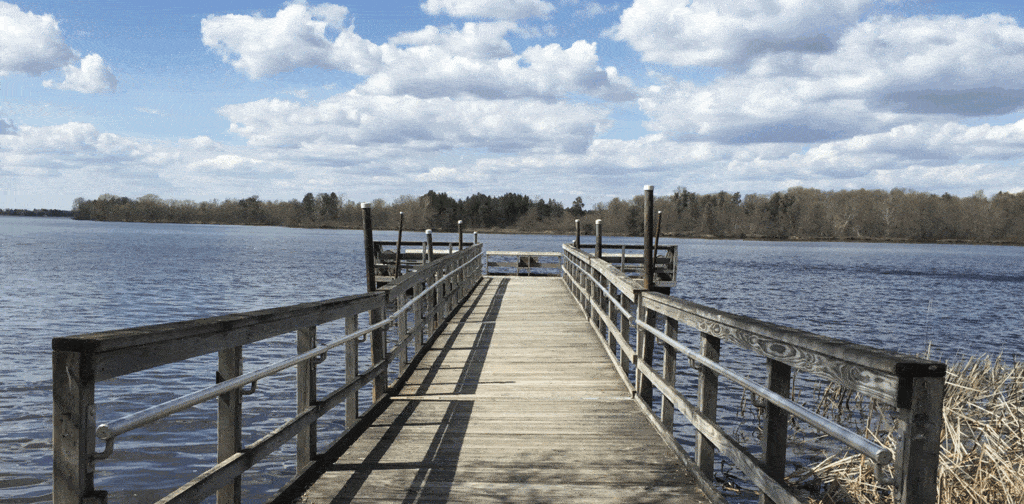 Buckhorn State Park is located on the head of Castle Rock Lake. The State Park comprises remote tent camping, a large campground for families, fun activities such as boating, fishing, swimming, and a serene self-guided canoe hiking adventure.
All in all, Buckhorn State Park is home to 68 family campsites, 50 cart-in campsites, an outdoor group camp and an accessible cabin for campers with disabilities.
Huckleberry Acres
If nature's hidden gems excited you, Huckleberry Acres can make a great campsite option. Situated in the middle of Wisconsin, the tiny private campground (family-owned) is a delight for campers.
Our experts loved the fishing pond and swimming pool. The fishing pond comprises an island in the center around which you can canoe and kayak. The campground also has a bar & grill, as well as a general store, open 365 days. The different campsites include:
Rustic campsites
Group campsites
Electric & water campsites
Seasonal campsites
Copper Falls State Park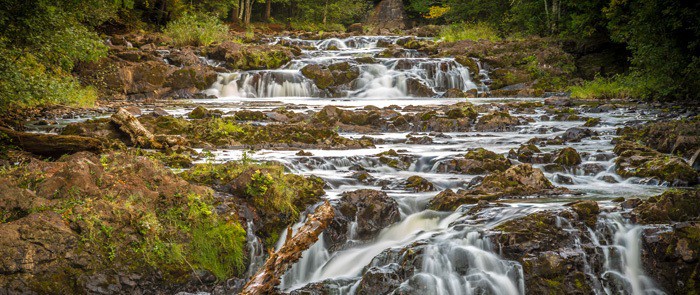 With 2 campgrounds and 3 beautiful waterfalls, Copper Falls State Park can be a good option for camping with your family. The Park is situated in northern Wisconsin and comprises 17 miles of hiking trails that take you close to the waterfalls, as well as the flora and fauna of northern Wisconsin.
Within the Copper Falls State Park, you'll find the Loon Lake beach where you can relax and swim. You can also make Copper Falls State Park as your basecamp and visit other State Parks (Amnicon and Pattison) with waterfalls from here.
Wyalusing State Park
Wyalusing State Park is situated near the Mississippi River. The State Park offers a wide range of hiking trail, biking trails, fishing opportunities, and camping options. The family campgrounds comprise 109 regular campsites, while the group campground comprises 5 campsites that can hold 130 people.
Even though the State Park does not have its own beach, you can hike 2 miles away to the Wyalusing Nature preserve beach and relax amid the scenic views.
Final Thoughts
As you can clearly see in this guide, there's no dearth of campgrounds in Wisconsin. The state has a lot to offer and our experts enjoyed their stay at all the campgrounds listed above. Whether you're a nature lover or an outdoor adventure enthusiast, we bet you'll leave the camping options discussed here. Each Wisconsin campsite has something unique to offer.
Did you find our guide to the best camping spots in Wisconsin useful? Share your thoughts in the comment section below. Also, if you have any concerns or queries, drop us a note, and we'll get back to you soon.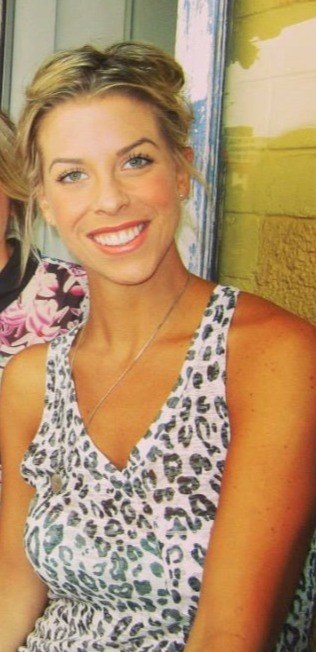 Jodie Chiffey loves the outdoors. If you aren't sure where to find her, check the nearest dirt trail. She loves being outdoors and spends a good deal of time reviewing products like clothing, footwear, and other outdoor gear.
Jodie is a full-time blogger who reviews a lot of the products for us. She writes many of our backpacking gear reviews, outdoor skills advice, and information, and helps visitors find the best destinations for backpacking, camping, hiking, and a lot more.
If Jodie's friends have a travel or outdoors question, they know who to ask and that's why we featured on our website. Now you can get the same great advice her friends enjoy, so you know where to go and what gear to take with you.