Arizona, also known as The Grand Canyon State, is one of the best places in the US to enjoy hiking outdoors. From the hottest North American desert through majestic canyons to snowy hilltops, the sixth largest state in the US provides great conditions for many different hiking delights, and it has a lot to offer to both beginners and experienced hikers.
The state of Arizona is also culturally and historically unique. A whole quarter of its territory belongs to Native American reservations – Navajo, Apache, Mohave and numerous other tribes have called this place their home for many centuries. Traces of their ancestors and their once-thriving culture can be found everywhere and provides for an attractive bonus along many of Arizona's trails.
There are also beautiful falls, meandering rivers, and even hot springs to keep every nature enthusiast satisfied, motivated – and sure to come back for more.
The Best Hiking Trails in Arizona – Our Top Picks
Further below, we've compiled our list of some of the best hiking trails in Arizona. Of course, there are several things you should know before you plan your first hiking adventure in Arizona. Here are our general tips and advice.
What you should know about hiking in Arizona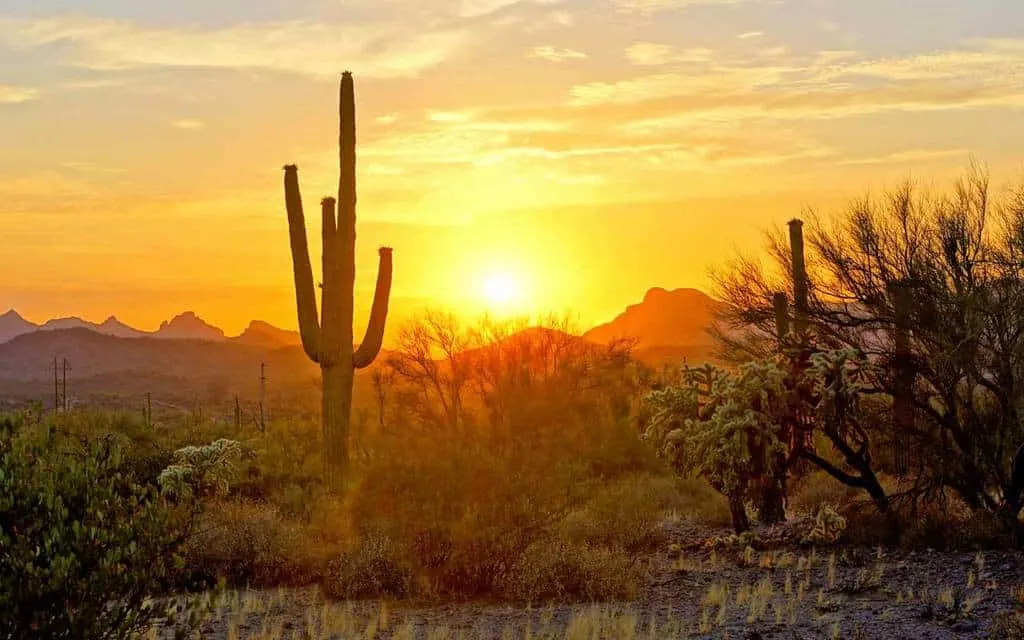 As the sunniest US state, Arizona has some distinct specifics that shouldn't be underestimated… Incidents and even deaths associated with heat exposure are not uncommon in basically any of its natural parks, wilderness areas, and even urban territories.
Other factors to consider include rough and slippery terrain in Arizona's arid environment, weak or completely missing cell phone signals in many canyons and parts of the desert, and the presence of several potentially dangerous insects and animal species.
The following tips should help you to prepare for your Arizona hike responsibly:
Weather
Arizona consists of several different climate zones: Low Altitude Desert, Mid-Altitude Desert, High Altitude Desert, and Cool Plateau Highlands. Its climate, in general, ranges from arid to semi-arid, but the actual conditions on Arizona trails can differ greatly.
While hiking in Sonoran desert and canyons can be unbearably hot in the summer, pursuing some of the trails in Arizona's high mountains can include weltering through heavy snows in the wintertime. Some of the trails are even seasonally closed to avoid possible accidents, others require you to obtain an official permit during the harshest months of the year.
Always do your research regarding the weather thoroughly and responsibly. Prepare for several different scenarios, and bring more water than you think you are going to need. If you're not used to similar conditions, begin with easy trails and never hike alone. Let your confidence grow proportionally with your experience.
Clothes and footwear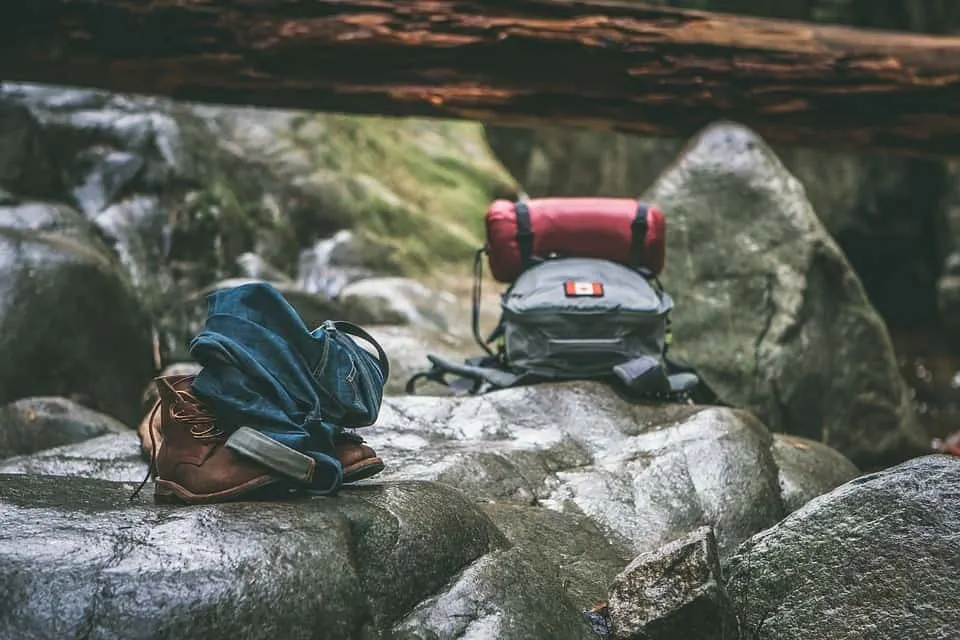 According to anticipated conditions on your trail, always wear proper outdoor clothes with useful features. Your ideal trekking apparel should let your skin breathe and cope with excessive perspiration in the heat of the day, or keep you warm and dry in the coolest environment. Wear comfortable outdoor pants that don't limit your movement, have some convenient pockets, and dry quickly.
Even when you think your trip won't take long enough for the weather to change significantly, always think about the possibility of a sudden shift or accident. A good outdoor jacket can literally save you in case of emergency…
Of course, don't forget to wear sturdy hiking shoes with a reliable grip. Even if you think the trail should be easy, flat, and safe, good shoes are a must. If you plan to refresh by dipping in some water hole, river, or spring along the way, consider packing some light water shoes too.
Camping equipment:
Unlike some of the other states, Arizona imposes very little limitation regarding camping. You are basically free to camp anywhere you like. Just make sure to put out your fire properly, and don't stay at one place for more than 14 consecutive days.
Given this freedom, camping in Arizona is extremely popular and highly enjoyable. Get yourself some quality tent and other camping gear, and split some of the most demanding Arizona trails into numerous days. It will allow you to enjoy your hike without rushing. Not to mention the spectacular night sky above your head, which will improve your overall Arizona hiking experience tremendously.
Dangerous animals:
Arizona is home to several dangerous creatures that could pretty much ruin your trip in case of the unlikely, yet not impossible attack. Though you can't diminish the risk of encountering them completely, knowing these species and their natural habitat can go a long way.
Gila monster is the only venomous lizard in the United States. This protected species is a nocturnal creature and attacks humans only in self-defense.
Arizona is home to thirteen species of rattlesnakes, so the possibility of meeting them is higher than you might otherwise believe. Beware of the characteristic rattling sound that warns you not to come closer. Move calmly and steadily away from it.
Venomous brown spiders and even the infamous black widow spider can be encountered in the state of Arizona. In case of getting bitten, immediately seek medical help. If you can get proper treatment before the symptoms start to affect you heavily, you should be fine in the end.
The Colorado River toad, also known as the Sonoran Desert toad, is a poisonous species that grows up to 7.5 inches. Its poison can paralyze or even kill an adult dog, so it definitely should be avoided. Keep an eye on your kids and pets. Don't let them interact with these toads.
Some other potentially dangerous Arizona species include tarantulas, bark scorpions, killer bees, poisonous centipedes, and coral snakes. Your best chances to avoid serious consequences in case of attack are conditioned by getting help promptly.
Now when you know the essentials, here's our list of top 10 hiking trails in Arizona.
Bright Angel Trail, Grand Canyon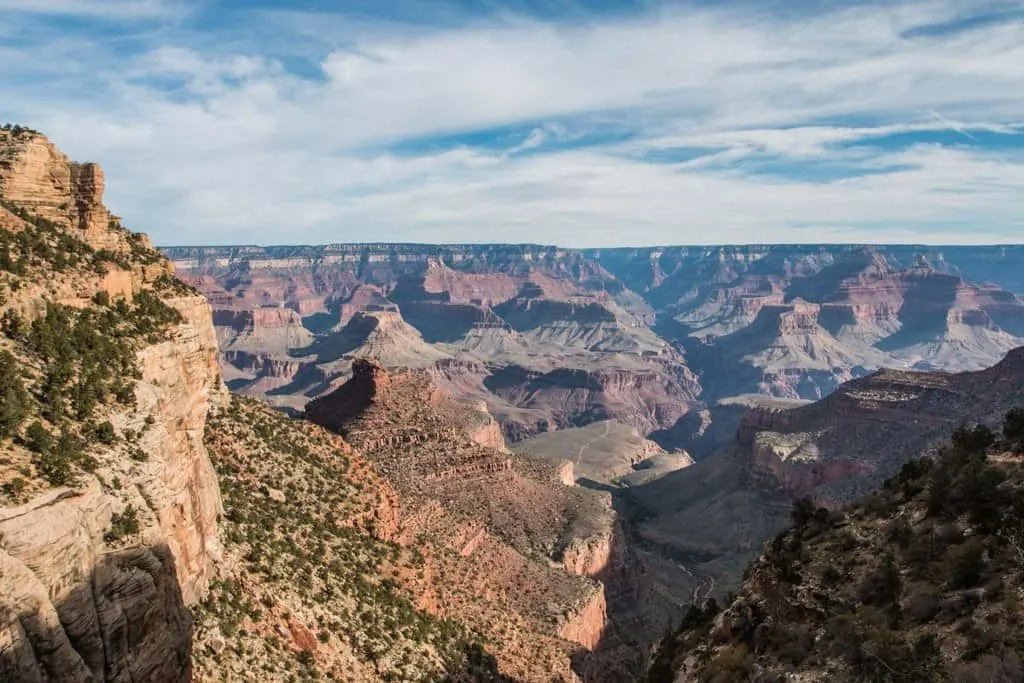 Beautiful Grand Canyon area has many amazing hiking trails, but this one really is a classic and one of the most popular ones in the park. Following a well-marked and relatively trafficked trail, you're going to approach the canyon from its southern rim. It's going to be steep and strenuous, and you should be prepared for some dramatic drop-offs along the way. But the spectacular views and the complexity of your experience will be totally worth it in the end.
This trail is very well maintained and there are several rest stops and water stations along the way that make it bit easier. You are going to finish right at the banks of the Colorado river – at 2,680 ft it represents the lowest point of the trail. You can stay overnight at one of the designated campgrounds, but don't forget to get your permission first at the Backcountry Information Center. Because of the high numbers of visitors, camping here is regulated and limited permits are given to those who come first.
| | |
| --- | --- |
| Distance | 17.4 miles (shorter alternatives possible) |
| Elevation gain | 1,526 feet |
| Trailhead | Grand Canyon Village |
| Difficulty | Strenuous. Steep descent and climb to and from the canyon. |
| Insider tip | Keep in mind that the most difficult part of this trail awaits you at the very end, when you'll need to climb back up from the canyon. Save your energy and know your limits. |
Echo Trail, Camelback Mountain, Phoenix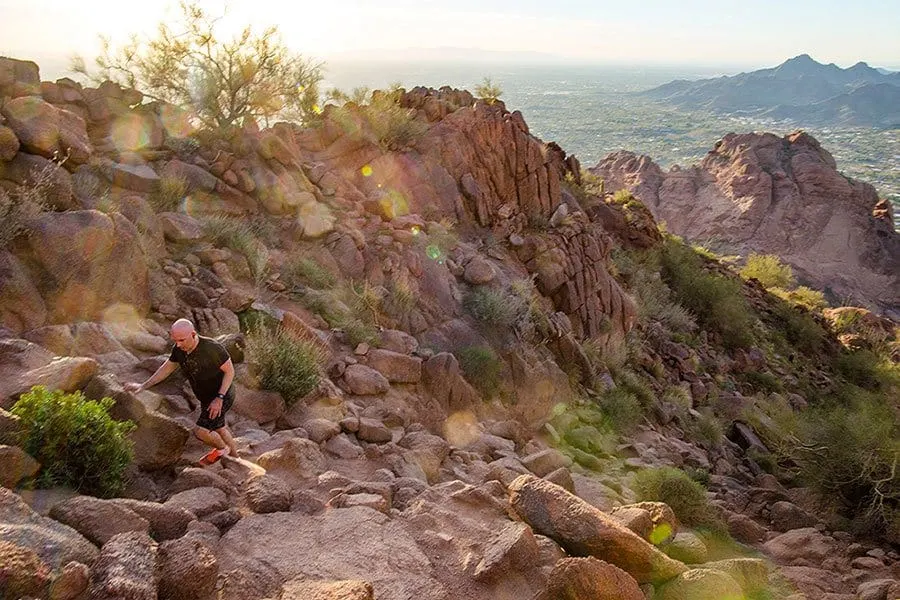 Camelback Mountain is the greatest natural dominant of the city of Phoenix. Echo trail leads you all the way up to the top. There you can enjoy unbeatable 360° views of the city and the wider metropolitan area. Just don't underestimate the trail's difficulty based on its urban surroundings – this place is statistically responsible for more emergency rescue operations than any other hiking trail in Arizona!
What makes this half-day hike so demanding is the "deadly" combination of steepness and extreme temperatures. Many visitors don't bring enough drinking water and get dangerously exhausted in places, where perfect concentration is a must. Set your foot on the trail early in the morning (it opens at 6:30 AM) to avoid the heat of the day and beat the crowds. Alternatively, you can also hike this trail in the late afternoon and enjoy the majestic sunset from atop.
| | |
| --- | --- |
| Distance | 2.4 miles |
| Elevation gain | 1,423 feet |
| Trailhead | 4925 E McDonald Dr |
| Difficulty | Demanding, some very steep sections with boulder scrambling. |
| Insider tip | You can combine or alternate this trail with neighbouring Cholla trail (Cholla Lane trailhead), which is a bit longer and less steep. |
Tom's Thumb Trail, McDowell Sonoran Preserve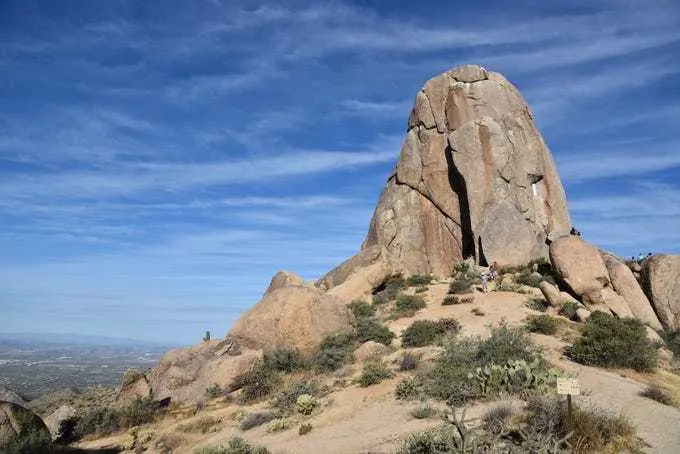 This relatively short but strenuous switchback trail is one of the most popular hiking destinations in the greater Phoenix area. It's managed by Scottsdale's McDowell Sonoran Conservancy, which organizes some interesting sports and cultural events in the area too.
As its name suggests, the greatest highlight of this trail is the thumb-like granite formation (approximately 1.4 billion years old) towering 140 ft above the ridgeline. You are going to reach it in about 1.5 – 2 hours of constant ascent.
There is no source of water available on the trail, so make sure you have plenty of it with you. There's also no shade along the way, it's therefore highly recommended to start walking as soon as the gates open in the morning. The trail consists mainly of dirt and gravel and is relatively smooth. Wear some proper hiking shoes with a nice grip, and beware of occasional mountain bikers speeding down from the top.
| | |
| --- | --- |
| Distance | 4 miles |
| Elevation gain | 1,128 feet |
| Trailhead | N 128th Street |
| Difficulty | Moderate to difficult. |
| Insider tip | Tom's Thumb was named after Tom Kreuser, famous local rock climber, who climbed the rock first in 1948. The place still attracts many climbers. Watching them doing their stunts is always enjoyable. |
Peavine Trail, Watson Lake, Prescott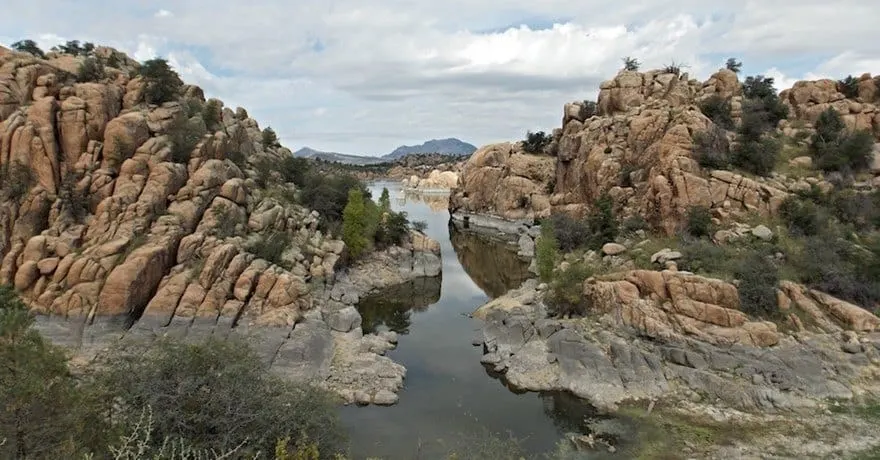 Next on our list of best hiking trails in Arizona is Watson Lake, a beautiful oasis in the middle of an arid plains north of Prescott, Arizona. This lovely reservoir is dotted with impressive granite formations and provides opportunities for various sports including biking, kayaking, and hiking, of course.
If you want to get the best views of the lake, use the Peavine Trail, which is recognized as one of the best (if not the very best) in the area. Although it is quite a long trail, it's a rather mild and enjoyable walk with little elevation gain. It can be completed by anyone with good stamina.
Watson Lake with Granite Dells provides for gorgeous and extremely photogenic scenery. Make sure to start walking early in the morning – this way you can avoid rushing and enjoy all the beauty at your most comfortable pace. This is a great hike for people who are not used to high altitudes, you can even bring your dog on a leash along. If you'd like to add a bit more adventure to this experience. follow marked paths off the main trail to experience some more demanding terrain.
| | |
| --- | --- |
| Distance | 11.9 miles |
| Elevation gain | 462 feet |
| Trailhead | 1624 Sundog Ranch Road |
| Difficulty | Moderate. Mostly flat and safe. |
| Insider tip | Parking near the trailhead is free on Wednesdays! |
Seven Falls, Sabino Canyon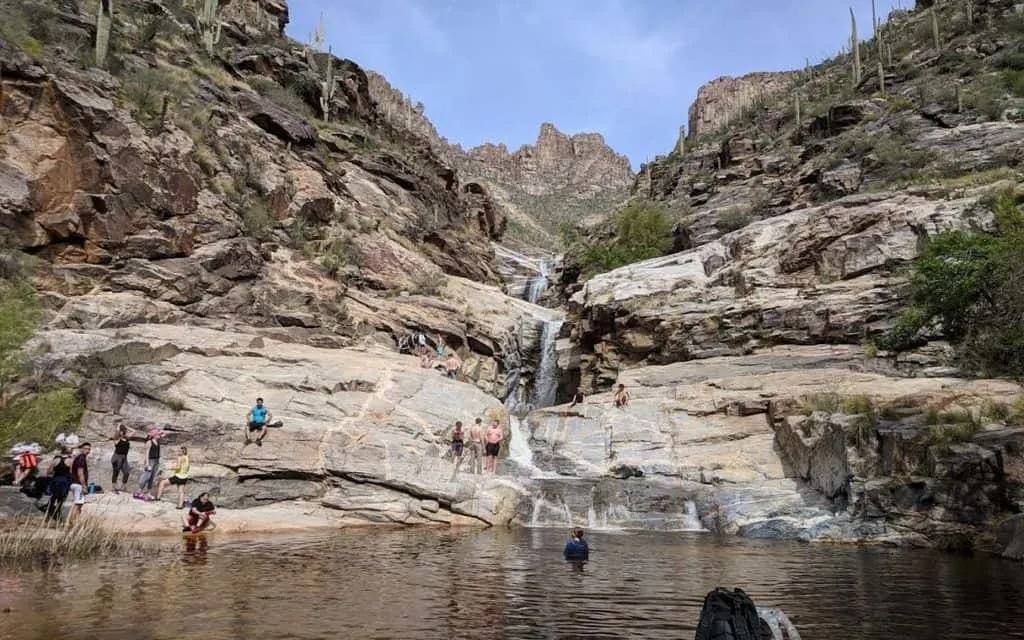 Not one, not two, but seven falls await for you in the middle of Sonoran desert on this popular trail, which can be found in the greater Tucson area. For the best experience, avoid summer months. Late winter or early spring is the best time to visit this place not only because of the weather, but also due to the amount of water that fills the river and makes the chutes spectacularly bustling.
Be prepared to hop some rocks in the river bed and eventually get a bit wet. If you're unsure what shoes should you wear for such amphibious hike, check our useful guide here.
You can make this hike significantly easier (and very much family-friendly) if you use the tram that cuts the trail in half. This way you can make the whole trip in about 2 hours. Save 4 hours for the trip if you plan to walk the trail on your own. Keep an eye out for saguaro, cholla, ocotillo, and some other typical desert plants along the way. The trails ends with tempting natural swimming pools, dipping in is at your own discretion.
| | |
| --- | --- |
| Distance | 8.2 miles |
| Elevation gain | 902 feet |
| Trailhead | 5900 N Sabino Canyon Rd, Tucson |
| Difficulty | Moderate. Use the tram to cut the trail in half if needed. |
| Insider tip | Come in spring to see the Sonoran cactuses in bloom. |
Horseshoe Bend, Glen Canyon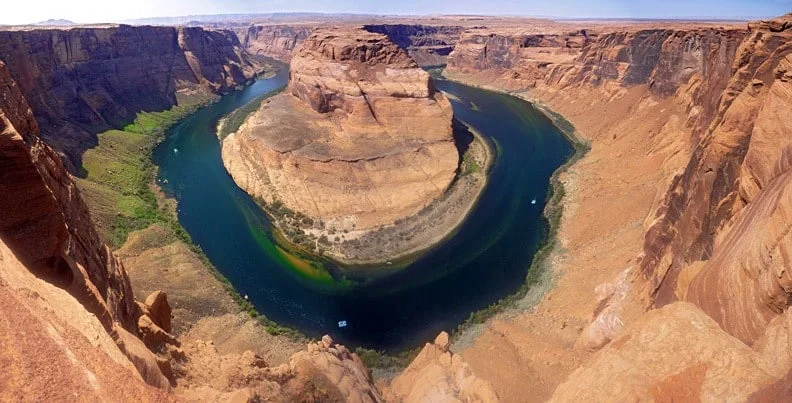 How could we forget about the Horseshoe Bend, Arizona's flagship natural sight located in the vicinity of the city of Page? This easy trail leads to 1000-foot drop-off overlooking the incised meander of Colorado river. It truly is an emblematic natural monument, probably the most famous river bend in the world. The Horseshoe Bend trail is only 1.5 miles long, and it will suit literally anyone.
Of course, all of the above means that you will never have this place for yourself. To make this experience as good as it gets, come here very early in the morning, preferably during the weekday. This will make parking in the limited parking lot much easier too. If you can't stand the idea of being in a crowd, there are also some private companies offering tours on a privately owned land in the vicinity.
| | |
| --- | --- |
| Distance | 1.5 miles |
| Elevation gain | 200 feet |
| Trailhead | Horseshoe Bend, US 89, Page |
| Difficulty | Very easy. Just prepare for the lack of shade and bring enough water with you. |
| Insider tip | Instead of jostling in a crowd of 500+ visitors at the sunset, come in the morning to catch the sunrise. |
Hieroglyphic Trail, Superstition Wilderness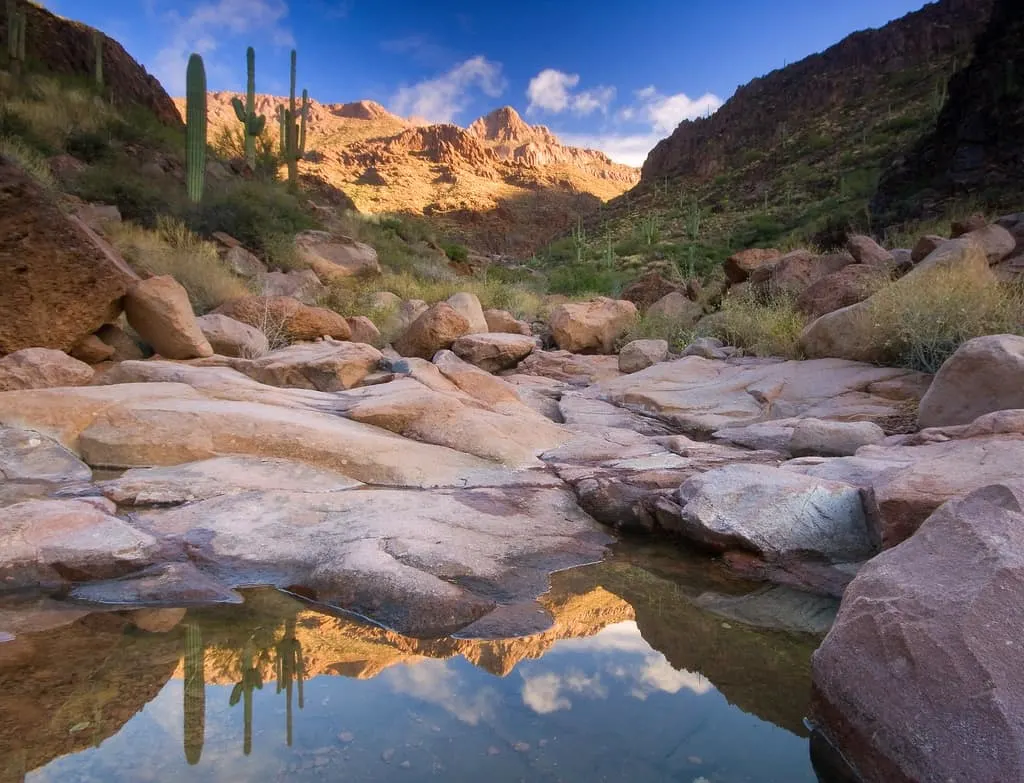 Beautiful desert scenery, wildlife, and original petroglyphs are just some of the numerous incentives to do this moderate hike. It is located in the Phoenix metropolitan area, in a location that was very important to Hohokam Indians. Hohokam tribe inhabited this region some 1,500 years ago, and it's known mainly for the construction of the most complex canal network in ancient North America.
Aside from the evidence of ancient Indian culture, there are also many natural sights to admire. Keep an eye out for different kinds of cactuses, lizards, and even snakes. In early spring, you can even spot small waterfalls at the end of the trail. The trail itself is relatively simple and undemanding, though you will have to cross some rocks and cope with almost 600 feet elevation gain.
| | |
| --- | --- |
| Distance | 2.8 miles |
| Elevation gain | 567 feet |
| Trailhead | E Cloudview Avenue, Gold Canyon |
| Difficulty | Moderate, relaxing trail with mild incline. |
| Insider tip | Park properly in the official parking lot. Cars parked along the side of the road are being towed promptly. |
Nankoweap Trail, Grand Canyon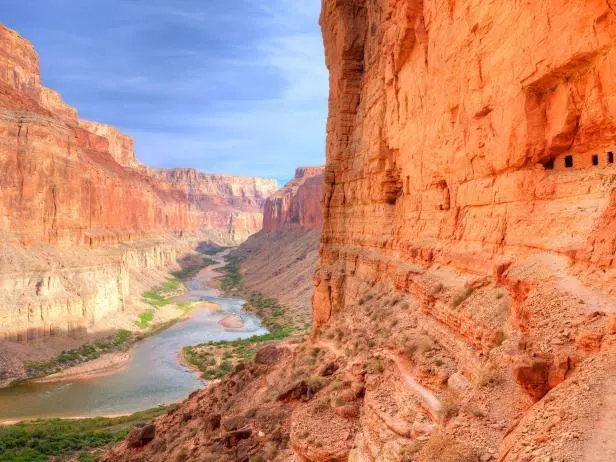 Nankoweap trail is a wonderfully challenging hike located near the Grand Canyon's North Rim. It is an unmaintained trail that can be recommended only to the most dedicated and experienced hikers, who are used to long-distance trekking in harsh conditions.
It is also the hardest trail leading to the canyon with little traffic and no source of drinking water or shade. Plan your trip thoroughly and responsibly. Prepare for some scary drop-offs on slippery terrain too. In short, this trail is not for the faint-hearted for sure.
On the other hand, incentives to push your limits on this trail are really high. There are tremendous views of the canyon, which you are free to enjoy in absolute peace and silence. This path has an interesting history too. Legend has it that this was an old Indian route for smuggling stolen horses from Utah. To enjoy this trail to the fullest, reserve at least 2-3 days for it. There are numerous small campsites along the way.
| | |
| --- | --- |
| Distance | 13.9 miles |
| Elevation gain | 6,040 feet |
| Trailhead | Point Imperial Road |
| Difficulty | Very difficult. |
| Insider tip | Keep an eye out for the Nankoweap granaries, ancient ruins of storages cut into sandstone around 1100 AD. |
Arizona Hot Springs, Lake Mead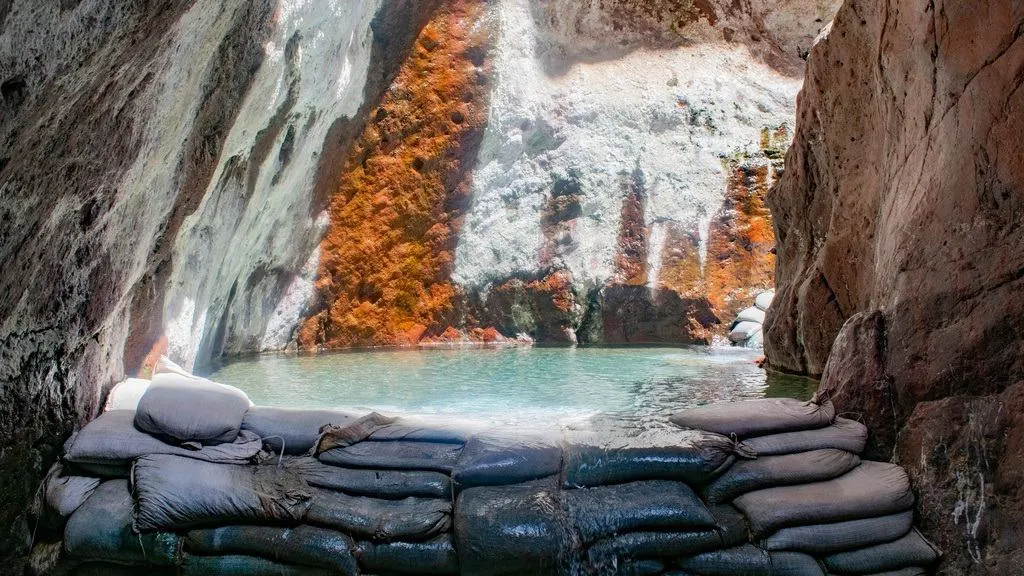 Arizona Hot Springs is also known as Ringbolt Hot Springs. They can be found just south of the Hoover Dam, along the Colorado River, and in the close vicinity of state borders between Arizona and Nevada. The springs attract many visitors searching for a relaxing bath in picturesque natural surroundings. To earn your right to soak in it, you will have to complete an almost 6 miles long loop trail that takes about 3 hours in total.
Reserve some additional time for the springs, which are set in a colorful slot canyon. They are really hot, though, so expect to walk through them rather than fool around. If you eventually need to cool down, you can climb the ladder that leads to the freezing Colorado river. This natural spa really has it all!
| | |
| --- | --- |
| Distance | 5.9 miles |
| Elevation gain | 1,223 feet |
| Trailhead | X76F+6V Willow Beach |
| Difficulty | Moderate. |
| Insider tip | Best time to visit this trail is from October to May. The trail is often closed during the summer months due to extreme heat. |
Humphrey's peak, Kachina Peaks Wilderness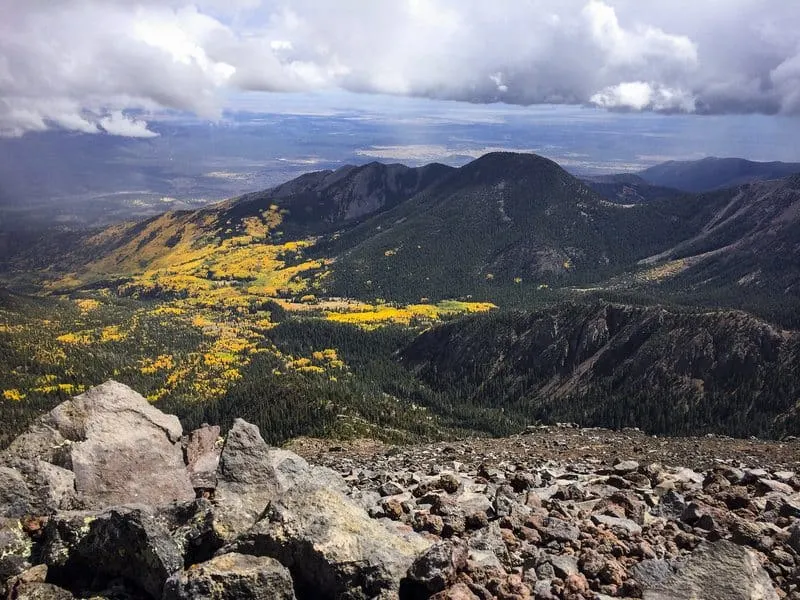 As Arizona's highest peak, Mount Humphrey's surely cannot miss on your hiking bucket list. It towers impressively 12,633 feet above sea level, and the trail leading to its top is accordingly strenuous and demanding. Nevertheless, it attracts relatively high traffic, and most of its visitors can reach their goal without significant problems. The path begins at Arizona Snowbowl, the most popular ski resort in the state. Then prepare to ascend in sharp switchbacks all the way to the top.
You are going to spend about 7-9 hours on the trail and cross different eco-zones along the way. This mountain represents the only place in Arizona with Alpine type tundra. During the colder months, prepare for loads of snow and ice. Bring your crampons, poles, and snowshoes to cope with the wintery terrain safely. You're also going to need a permit to do this trail in the winter, which can be obtained at Agassiz Lodge.
| | |
| --- | --- |
| Distance | 10 miles |
| Elevation gain | 3,000 feet |
| Trailhead | Arizona Snowbowl Ski Resort |
| Difficulty | Hard, only for experienced hikers. |
| Insider tip | Humphrey's Peak is high enough to cause altitude sickness. If you don't have experience with such altitude, take it slowly and listen to the signs of your body. |
Best Hiking Trails in Arizona –

Conclusion

Arizona is home to tough, uncompromising natural beauty. It is full of wonderful sights that cannot be compared to anything else you might have seen before anywhere in the world. If you're craving to explore some of the hottest and driest locations in the US, you will have plenty of opportunities here.

But you can also head to Arizona's deep pine forests and climb the snowy peaks of its highest mountains to discover a very different face of this state.

We hope you found our guide to hiking in Arizona useful. If you're ready to explore the Grand Canyon State further, you can also check out some of our other articles. Here's our list of great hiking trails in Phoenix and our guide to hiking in the Sedona area. You can also find some inspiration in our hiking guides for different states. How about hiking in Alabama or Oregon?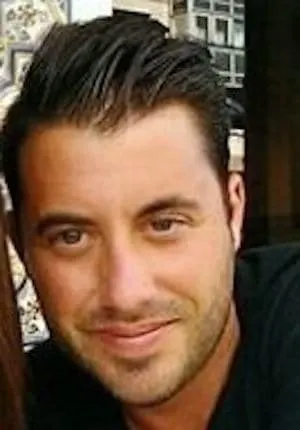 David is a strong advocate of outdoor-related activities and has many years of experience backpacking and hiking around the world, including the Italian and Austrian Alps in Europe as well as central and southern Asia.
Locally, he has also led many groups cycling through Vermont, Nova Scotia, and Wisconsin. David constantly uses and tests the latest gear for the outdoors, which in turn allows him to help others make more informed buying decisions. He's excited to share more of his knowledge and to see others enjoying the great outdoors more because of his advice and recommendations.