Wonderful Texas is the second-largest state in the US. If you're a fan of comparisons, it's approximately two times bigger than Germany, and it contains all sorts of natural environments ranging from great coastal plains through belts of deep woods to rocky canyons and high mountain ranges. No surprise that the Lone Star State offers almost unlimited possibilities for those, who come here for the outdoor pleasures.
Whether you prefer rugged desert plains or lush forests and greenery, Texas is not going to disappoint you. It is home to 120 impressive state parks offering hundreds of attractive trails that will suit both the experienced outdoor enthusiast and reserved beginners.
In fact, the vast amount of possible itineraries can even be a bit intimidating, if you don't know where to start. And that's the main reason why we put together this extensive list of the best hiking trails in Texas, designed to help you with making the right decision.
But first of all, read through our list of things you really need to know before embarking on your first Texas outdoor adventure.
What you should know about the
best hiking trails in Texas
When it comes to hiking, Texas is a heaven on Earth. It is home to some of the prettiest nature parks in the country, and its long-distance hiking trails are widely considered some of the best in the whole of the US. If you're planning to explore its natural beauty for the very first time, you can surely prepare for a great adventure.
However, Texas also has some specifics that definitely should be observed and understood before you tie your boots and hit the trail:
Weather
Notorious Texas heat should always be taken into account when you're planning your hikes. If you're not used to hiking in extreme temperatures, you should definitely avoid the warmest months of the year as the temperature can easily reach scorching 100 – 105°F in June.
Being on the ridge without any natural shade in such harsh conditions can quickly become unbearable – and potentially dangerous. For the most suitable weather, plan your Texas hiking in spring or fall. The weather will be much milder and, as a nice bonus, you will be rewarded by freshness and greenery.
Footwear
Good hiking shoes are a must on the Texan trails! The terrain is mostly dry and rough, loosen rocks should be expected too. Many trails include some boulder scrambling, and you'll probably have to face some major drop-offs too. Slippery trainers are far from suitable in such terrain.
Hydratation
Did you know that it's possible to lose as much as 2 liters of water per day due to the perspiration? When you go hiking, remember to always bring enough drinking water with you.
Though many of the trailheads are located near the visitor centers and offer all the necessary amenities, other hikes may simply begin at some provisional parking lot. There are rarely any facilities along the way, so you may pretty much end up with what you brought with you. Choosing a good water bottle can make a great difference too.
Planning
When it comes to planning your hikes, you should always be honest with yourself. Ask yourself these simple, yet extremely important questions: Are you in good shape generally? And are you feeling your best today? How much experience do you have hiking in similar conditions? How suitable do your equipment be for the chosen track? Are you prepared for a plan B if something unexpected happens?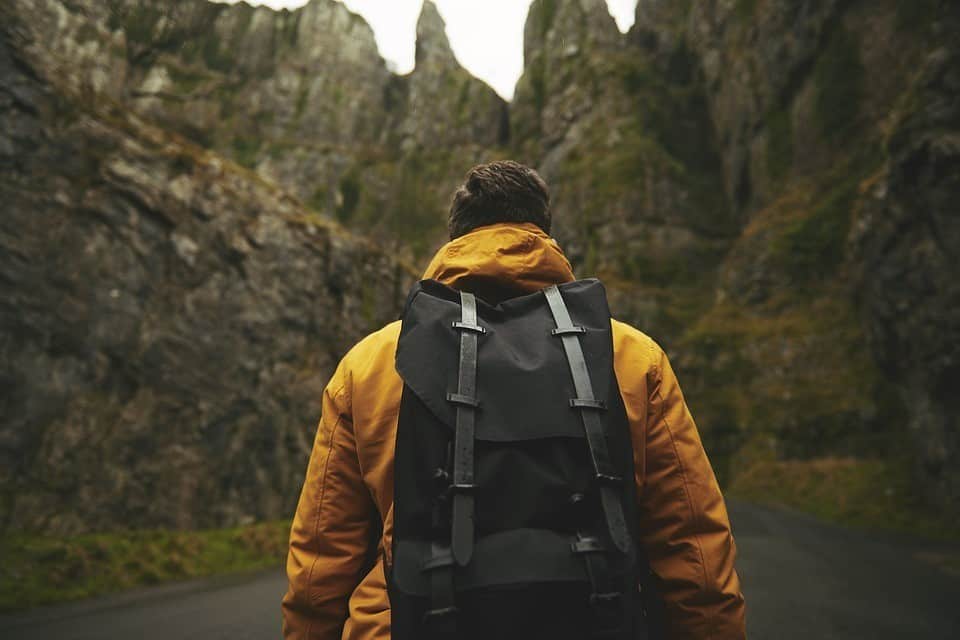 Though most of the trails in Texas are pretty well maintained and relatively safe, you should never underestimate the great outdoors. Most of the accidents can be prevented by more responsible planning.
Animals
Wilderness = wildlife. When hiking, you should always be prepared for the unlikely, yet not impossible situation of encountering some potentially dangerous species. In Texas, these include mountain lions, bobcats, venomous snakes, ants, spiders and scorpions, bears, coyotes, and coydogs.
Though none of them consider human their natural prey, there are some situations that can result in attacks with possibly serious consequences. What can you do to minimize the risk? As for the mammals, it's good to make sure that the animals know about your presence long before you actually stand face to face. In 99% occasions, animals will rather run than fight.
As for the snakes and insects, all you can really do is watch your steps. Some hikers prefer to carry a wand and use it for disturbing unclear terrain before them.
Equipment
When it comes to vital orientation and communication in the terrain, don't rely on your standard cellphone. Many canyons and remote trails in Texas are not covered by stable cell signal, not to mention the risk of running out of battery when you need it the most, or the risk of damage related to weather, dirt, hard impact, etc.
Instead, invest in sophisticated outdoor gear that can make the real difference. Some of our favorites include Garmin 64st and Suunto Traverse, but there are many others on the market too.
Best Hiking Trails in Texas – Our list
Now when you know the essentials, here's our list of top 10 hiking trails in Texas.
Guadalupe Peak, Guadalupe Mountains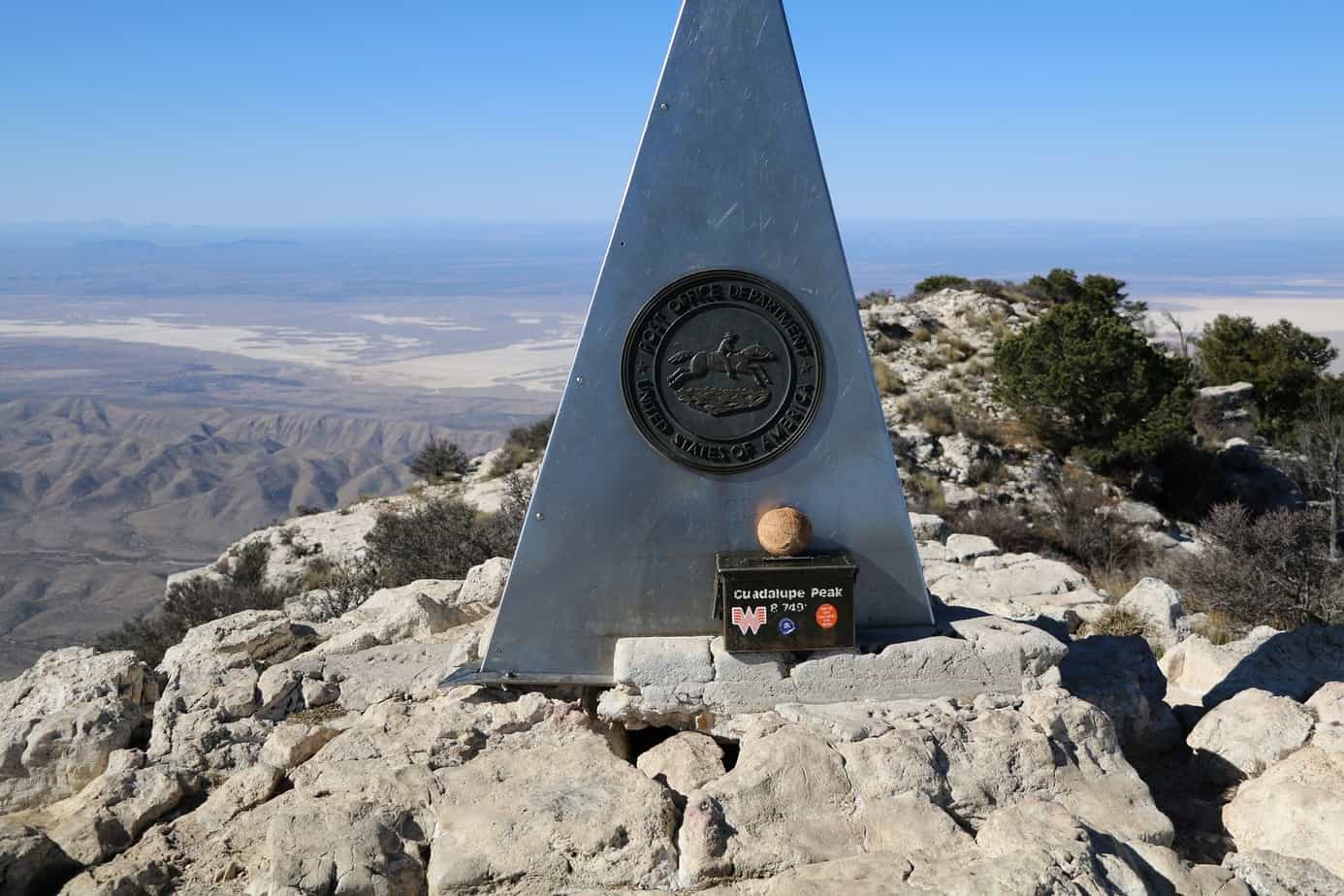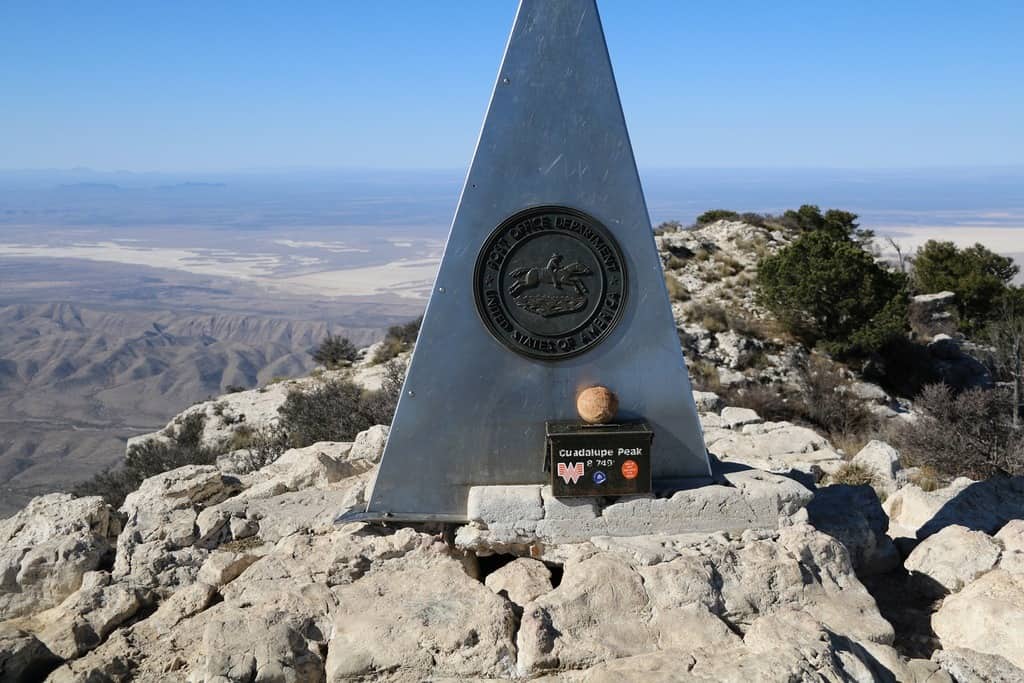 Why not start this list with the highest point in the state of Texas? Guadalupe Peak towers 8,749′ above the adjacent salt basin and represents the hiking "Mount Olympus" of Texas. Although this 6-8 hours long roundtrip is rather steep and demanding, you don't need to be a serious climber to set your foot on the top. Just prepare your muscles and nerves for almost 3,000 feet elevation gain. You will be rewarded by the breathtaking panoramic views that will totally make it up to you.
Start your trip at the Pine Springs Visitors Center for proper checking in and actual information about the state of the trails. Don't let the first miles of the trail put you off – this is the steepest and most demanding part of the whole trip. Hold on, it's only going to be better from now on!
| | |
| --- | --- |
| Distance | 8.1 miles |
| Elevation gain | 2,867 feet |
| Trailhead | Pine Canyon Drive |
| Difficulty | Strenuous. Presence of some exposed cliffs. |
| Insider tip | You can use the horse trail instead of the hiking one. It will add one extra mile to your trip, but the climb will be less steep. |
Gypsum "Sand" Dunes, Guadalupe Mountains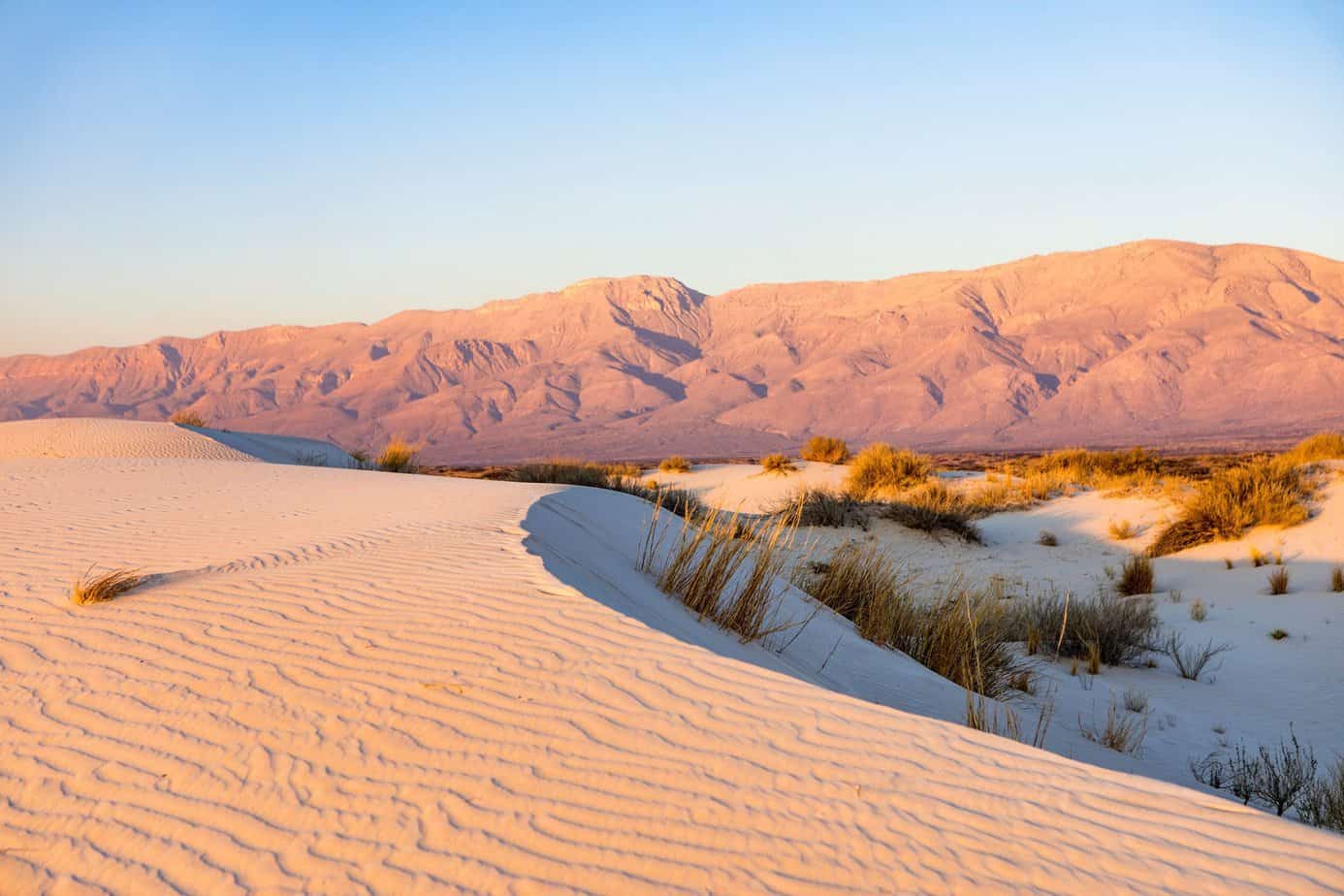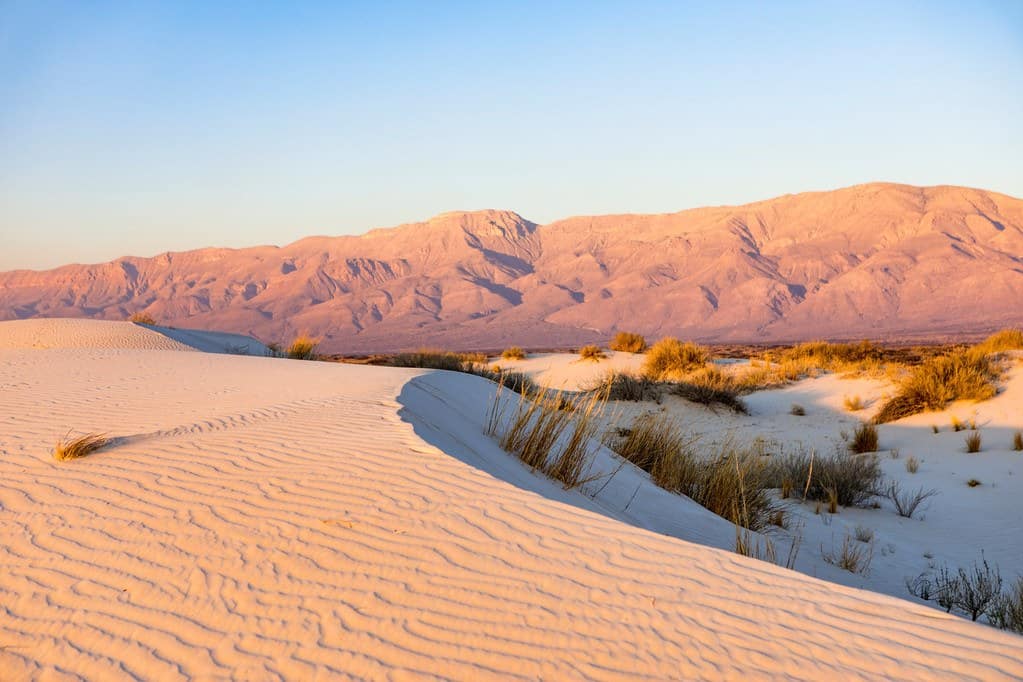 While in Guadalupe Mountains National Park, don't forget to visit the amazing Gypsum Dunes located near Dell City. Seeing 2,000 acres of shining white dunes that were sculpted by millions of years of erosion caused by wind, water and earthquakes are simply amazing. Of course, you don't have to keep looking – the best way to enjoy this beauty is to walk through it and feel it under your feet.
In comparison with Guadalupe Peak (above), this will be a piece of the pie. You can do it on a recovery day after the big climb. Just park your car at the designated picnic area and walk for about 20-30 minutes to reach the dunes. Now you can explore the area freely as long as you like – just keep in mind that staying here overnight is not permitted. Enjoy the spectacular salt basin sunset and get ready to hit the road.
| | |
| --- | --- |
| Distance | 3 miles |
| Elevation gain | 50 feet |
| Trailhead | Private road 1576 (Highway 62/180) |
| Difficulty | Easy and safe for everyone. |
| Insider tip | Beware of the access road – it's all sandy. |
South Rim, Big Bend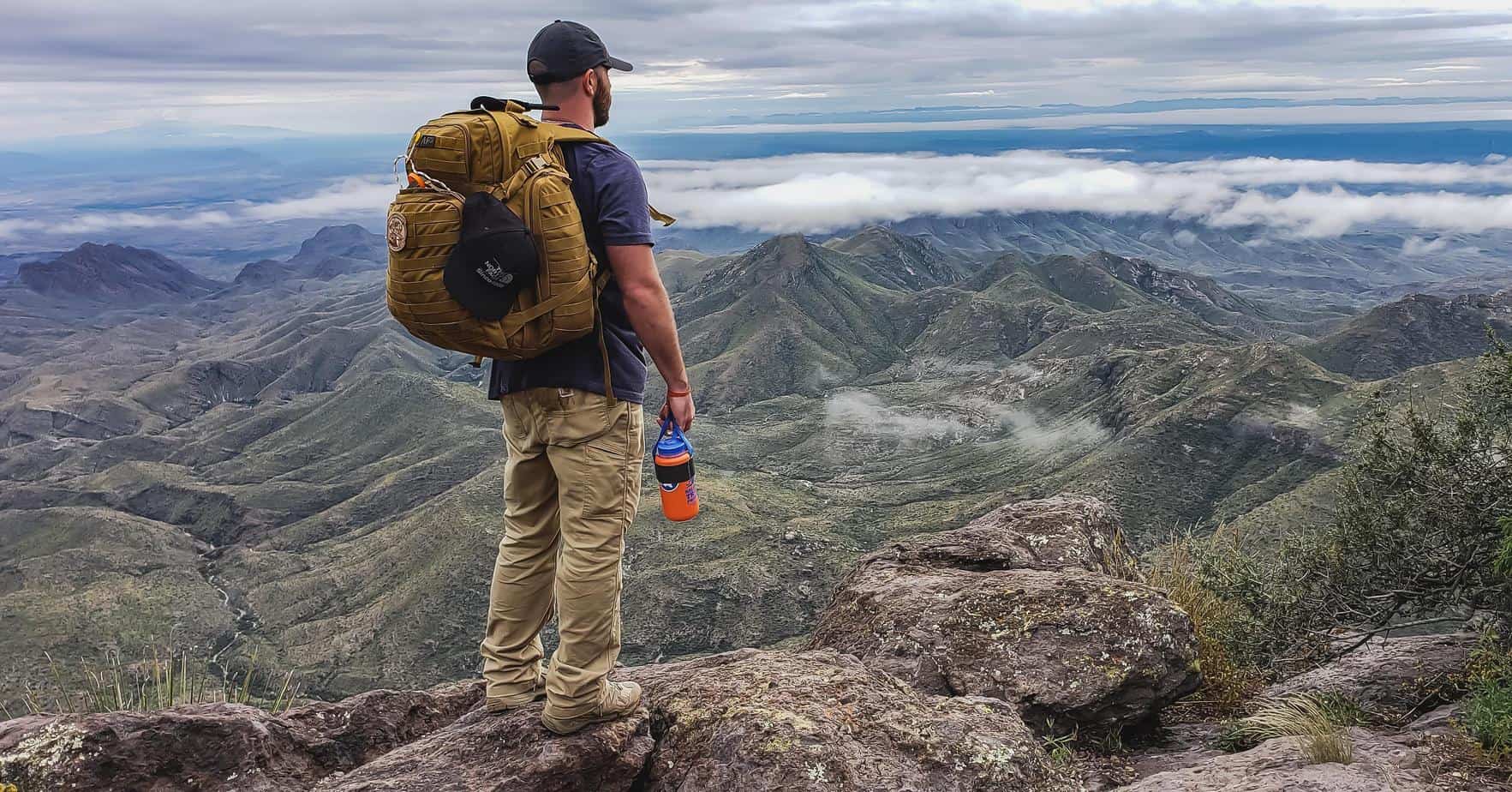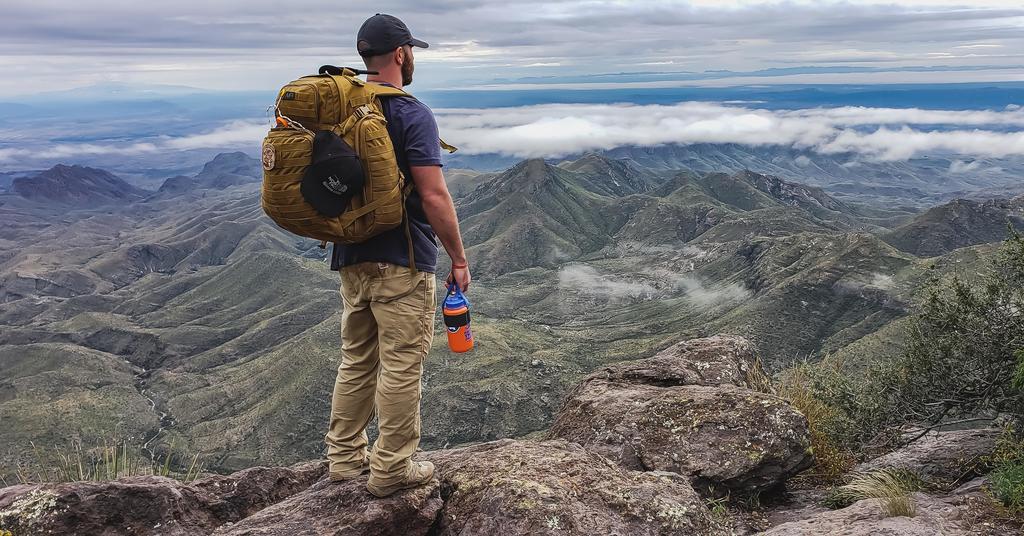 Big Bend National Park located in the Chihuahuan Desert is currently one of the most attractive and visited parks in Texas. It offers many rewarding trails for every taste and preference. The South Rim trail belongs among the harder ones, but at the same time, it's also a very popular trail.
The great thing is that you can adjust this loop to your abilities and time constraint. Hike up the Laguna Meadows trail for the shortest and most commonly used way (approximately 12 miles), or choose the hardest route by adding the Emory Peak Trail along the way (approximately 17.5 miles in total).
Either way, you will be rewarded with mesmerizing views all the way to Mexico. Keep an eye out for some interesting rock formations along the way too! Just don't underestimate the hot weather and rough terrain. Although this beautiful trail starts off easy, be prepared for some demanding climbs and steep slopes.
Difficulty level: Moderate fitness and experience required. The longest loop is suitable only for the toughest hikers. Insiders tip for you: Watch out for the falcon nesting period. It can affect access to some parts of this loop.
| | |
| --- | --- |
| Distance | 12 – 17.5 miles |
| Elevation gain | 2,000 – 2,410 feet |
| Trailhead | Chisos Basin Visitors Center, Chisos Basin rd. |
| Difficulty | Moderate fitness and experience required. The longest loop is suitable only for the toughest. |
| Insider tip | Watch out for the falcon nesting period. It can affect access to some parts of this loop. |
Ernst Tinaja Trail, Big Bend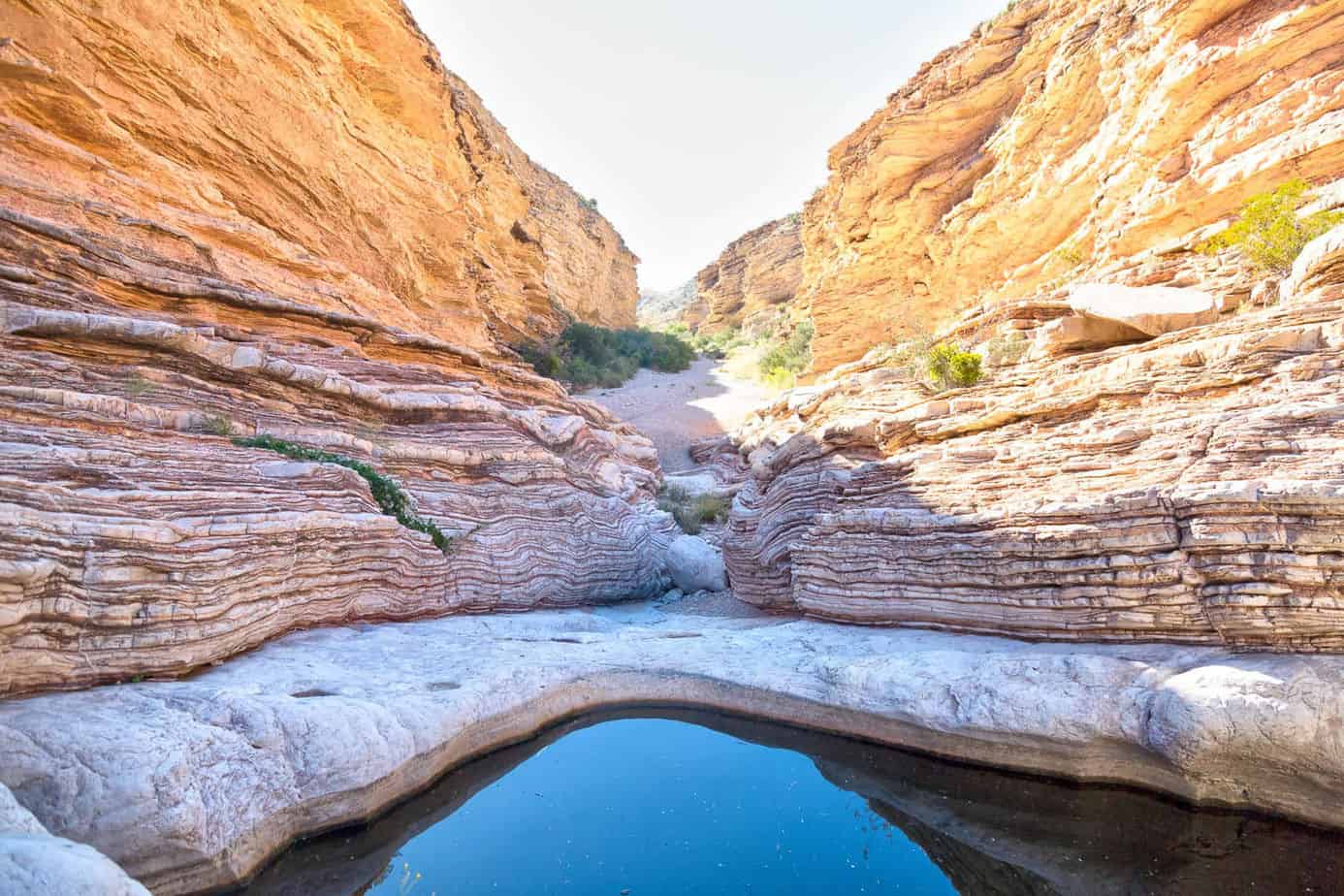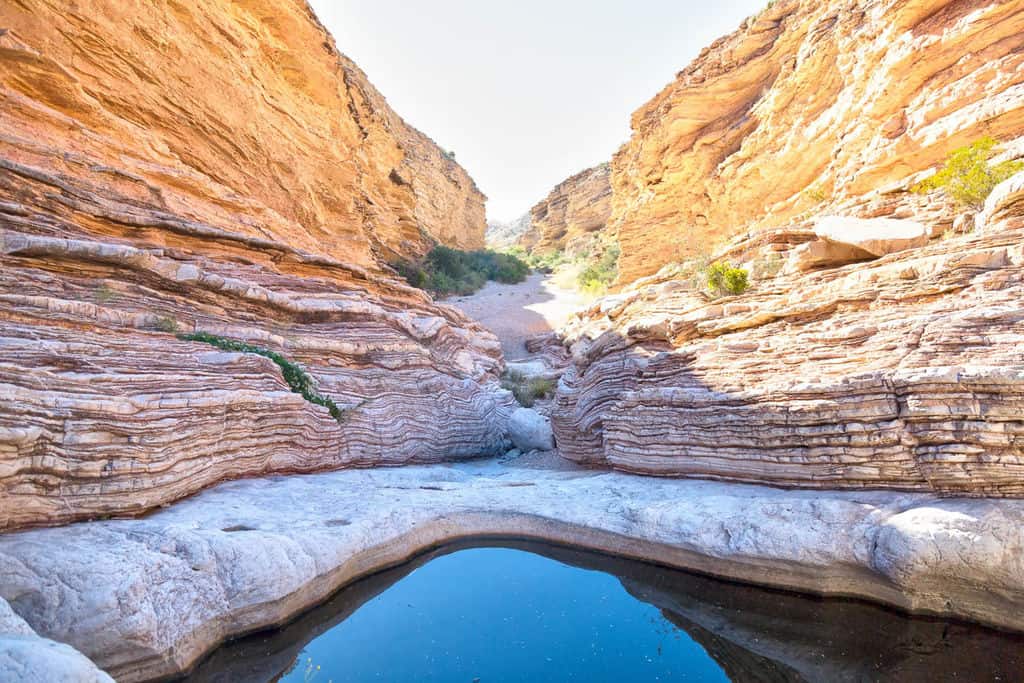 This undemanding trail is a hidden gem. It's ideal for families and groups with kids or older / not-so-fit people. But it's pretty enjoyable for serious hikers too. Thanks to the rough dirt road that provides access to the trailhead, it can take longer to get there than to do the hike itself (1.9 miles only).
Nevertheless, the mind-puzzling limestone formations on this trail are definitely worth the detour. As a bonus, you are most likely going to have this place to yourself, as it's not even included in most of the hiking maps of the area.
The rather comfortable walk ends with an impressive watering hole (tinaja). Wild animals use it as a source of drinking water, so keep your camera ready for some possible fauna sightings. Just be careful around the waterhole's edges – once you get into the water, it's nearly impossible to climb out on your own. Deers and even mountain lions were found drowned in here!
| | |
| --- | --- |
| Distance | 1.9 miles |
| Elevation gain | 131 feet |
| Trailhead | Old Ore Road |
| Difficulty | Easy, mostly flat and rather short. Some easy boulder-scrambling may be required. |
| Insider tip | On your way back, stop by the gravesite of Juan De Leon, 26-years old man who was shot and killed at the scene in 1932. The mysterious crime was never resolved. |
The Lighthouse Trail, Palo Duro Canyon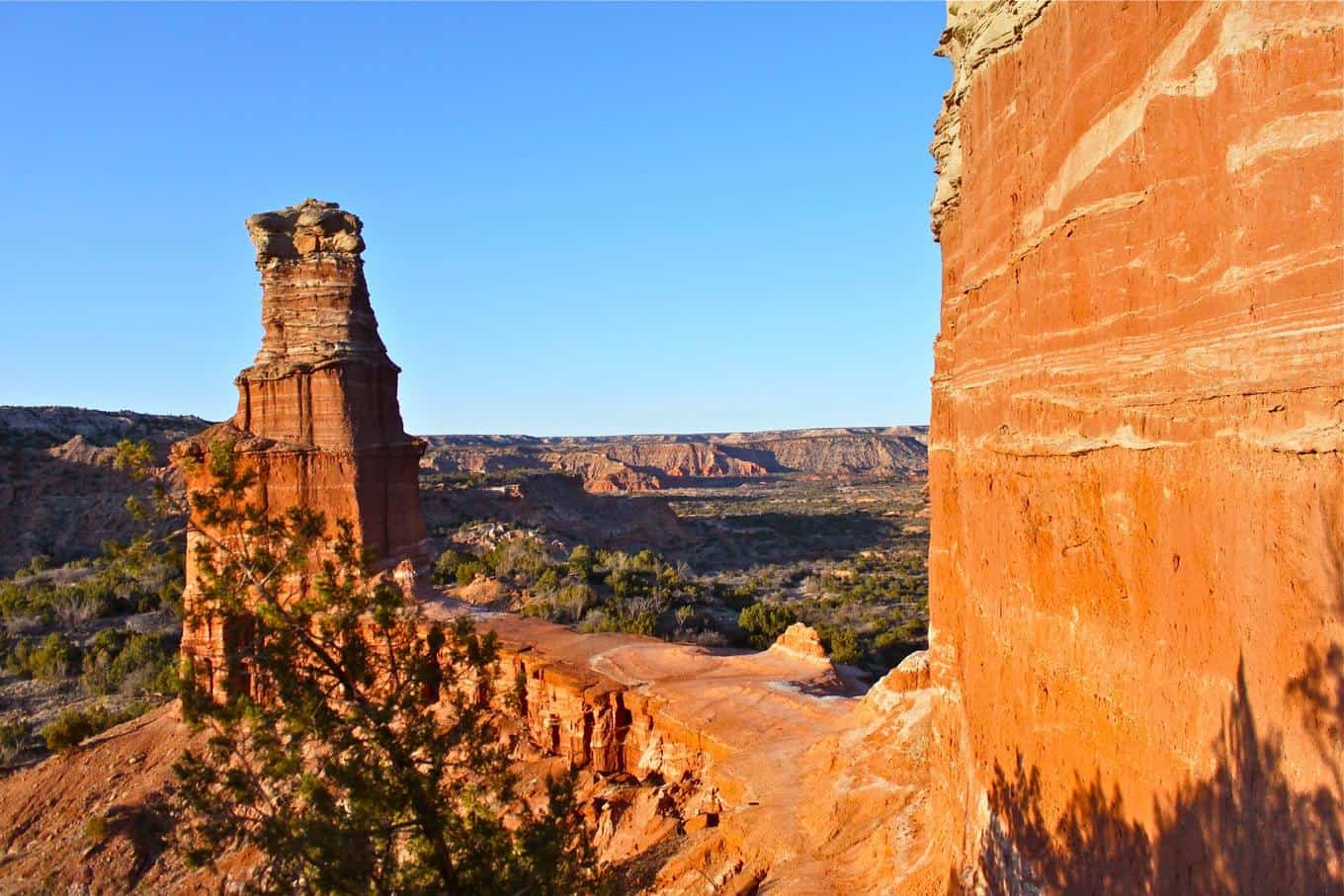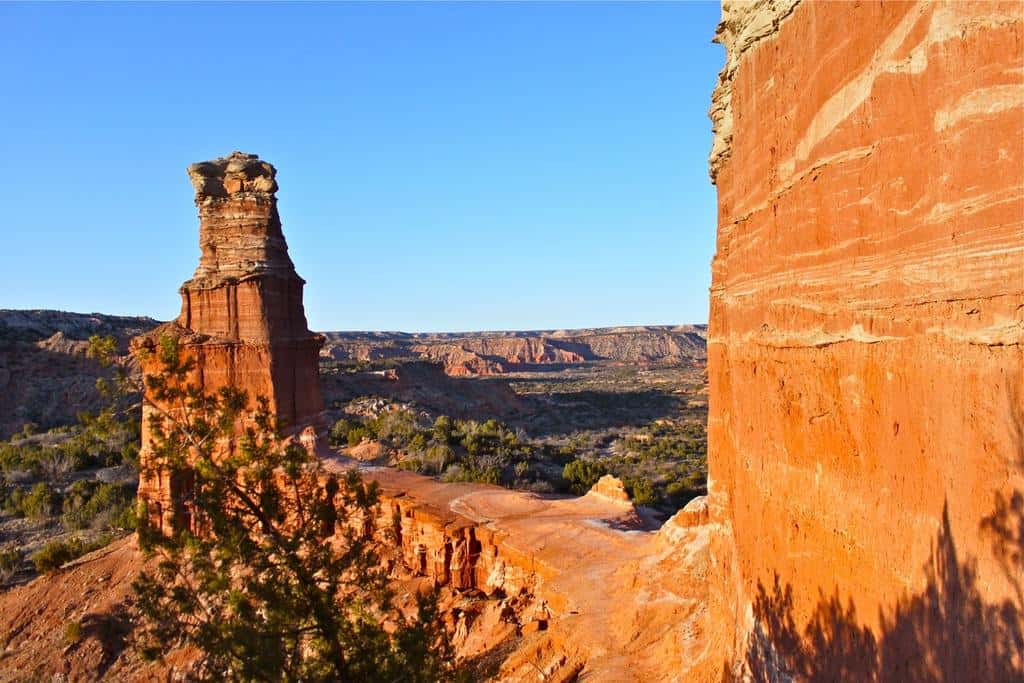 Palo Duro Canyon State Park is located some 25 miles from downtown Amarillo and is easily accessible by car or motorhome. It offers many miles of wonderful scenic trails, but the most iconic must surely be The Lighthouse Trail. It's moderately long and moderately difficult, and it provides many opportunities to admire the natural beauty of this area.
The greatest highlight of this 5.7 miles long out-and-back trail is a beautiful rock formation resembling a lighthouse, which gave the trail its name.
The best time to visit this trail is from September to May. But if you can't avoid the hottest months, at least make sure to bring plenty of water, good sunscreen and some quality bugs spray (horse bugs tend to be quite irritating here). You can also begin walking early in the morning to avoid the worst heat. The trail takes about 3 hours in total and offers some truly gorgeous views.
| | |
| --- | --- |
| Distance | 5.75 miles |
| Elevation gain | 940 feet |
| Trailhead | State Hwy Park Rd 5 |
| Difficulty | Moderate fitness and experience required in combination with good tractions shoes. |
| Insider tip | The marked path ends with a picnic area and good views of the Lighthouse formation. But if you're still full of energy, you can scramble a bit higher, right to the feet of the Lighthouse. Views of the canyon are much better from here. |
Pedernales Falls Trails System, Pedernales Falls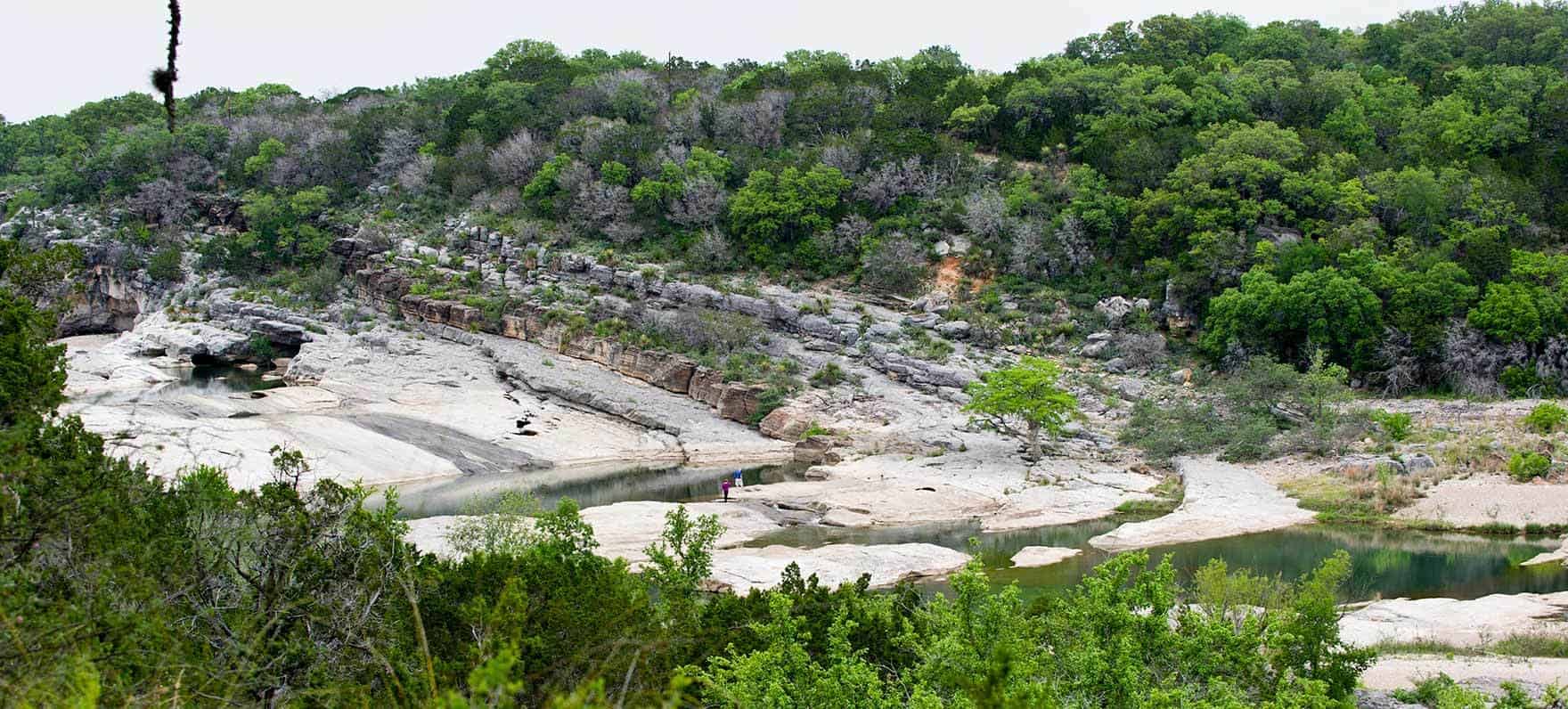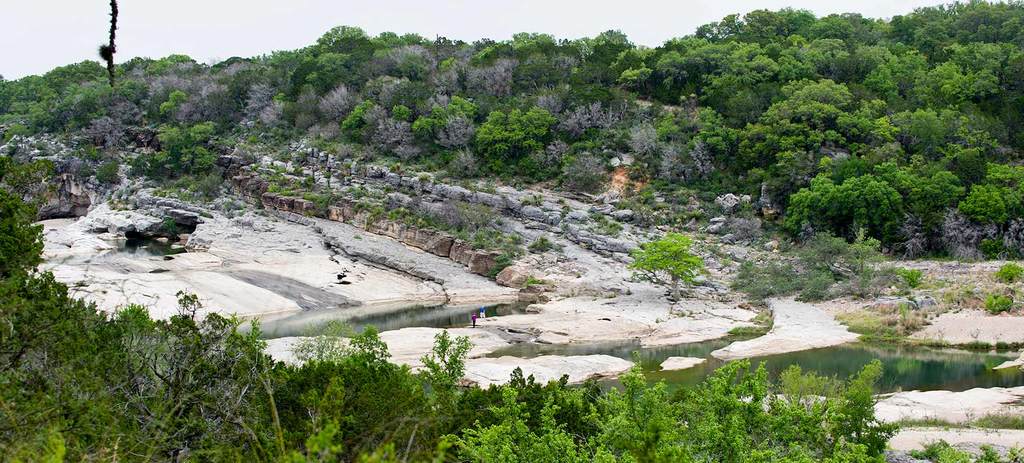 Pedernales Falls State Park spreads just about 42 miles from Austin, Texas, which makes it one of the most visited parks in the state. But don't let that put you off – you will have many opportunities to escape the crowd's thanks to the dense web of numerous trails in this area.
As its name suggests, the greatest attraction around is a river with falls. Although they are nowhere near as dramatic as some other falls in the country, Pedernales is very likable thanks to the beautiful surroundings and laid back ambiance.
You can take an easy stroll there and back that won't take you more than an hour. Or you can explore this place for a whole day, discovering its hidden gems at your own pace. If you need some time to relax and refresh, there's even an area designated for swimming.
| | |
| --- | --- |
| Distance | 0.6 miles (basic loop) |
| Elevation gain | 104 feet |
| Trailhead | Park Road 6026, Johnson City |
| Difficulty | Easy |
| Insider tip | You can combine the Pedernales Falls with the Wolf Mountain Trail, which leads around springs, ancient ruins with cemetery and other interesting spots. All trails in the area are well marked in this interactive map. |
Lone Star Hiking Trail
Now, this is something for the long-distance trekkers. Beautiful, 96 miles long Lone Star Hiking Trail is the longest continuous trail in Texas. It starts near the community of Richards and ends close to the city of Cleveland, Texas. It's a well-marked path that can be enjoyed all year round, but most of its visitors prefer either winter or spring due to the mild weather and lush nature.
There are three main sections of the trail ranging from 9.2 to 60 miles. You are free to choose, whether you want to spend here just one day or a whole week. After all, primitive camping is allowed all along the trail.
There are many attractions on the Lone Star Hiking Trail – meandering rivers and streams, calm ponds and lakes, plenty of fauna and flora. Although the trail itself isn't too demanding nor dangerous, keep in mind that there are not many facilities for stocking up on food and water along the way. To be on the safe side, try to bring everything you need with you.
| | |
| --- | --- |
| Distance | 9.2 – 96 miles |
| Elevation gain | 3,576 feet (if completed) |
| Trailhead | Trailhead 1: Forest Road 219, Richards |
| Difficulty | Depends on the length you want to cover. Some parts of the trail are crossing roads, be careful about the traffic. |
| Insider tip | Free camping is prohibited in the deer hunting period. You will have to use designated camping areas instead |
Summit Trail, Enchanted Rock Area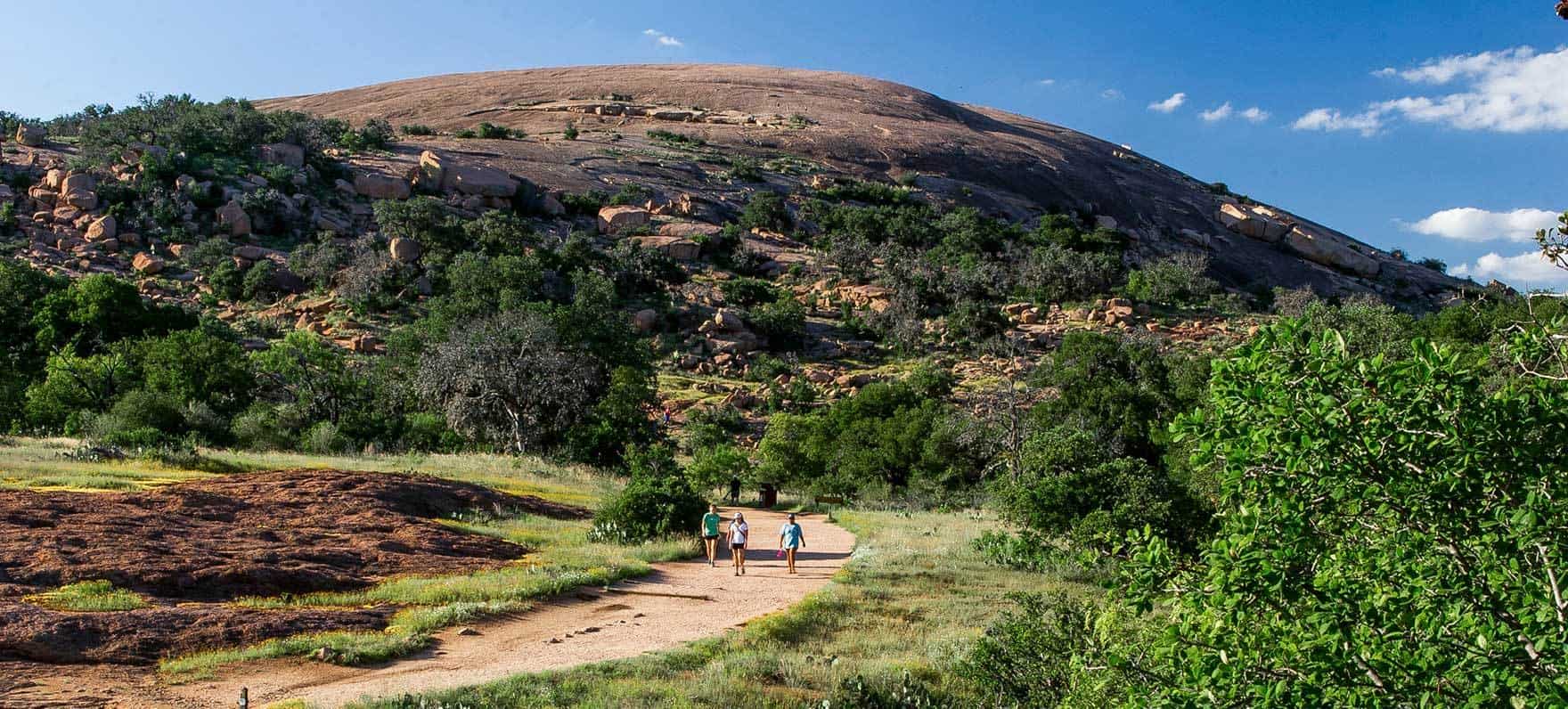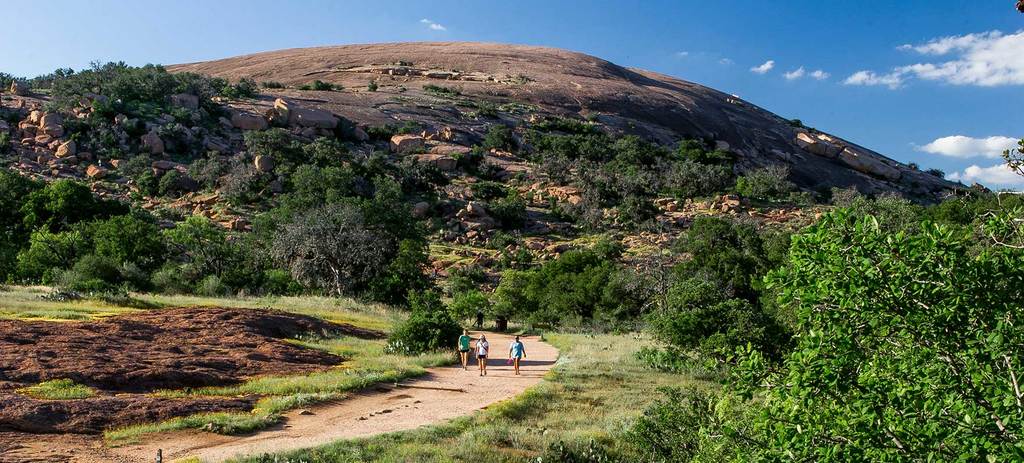 This beautiful trail near Llano, Texas will lead you to the top of the pink granite peak called Enchanted Rock, which towers 425 feet above the surrounding country. The hike usually takes less than a half-day, but your body will surely get the stretch it deserves on its steep slope. Known as "the trail every Texan should do in his / her lifetime", this exercise is really worth it in the end.
You will probably like to sit atop and soak the beautiful views in for some time before you're ready to return. As its name suggests, the Enchanted Rock is believed to have special spiritual character. After all, you will surely feel its magical ambiance for your own. Archaeological evidence proves that
this hill has been visited by people for at least 12,000 years now, and it's popularity only seems to increase with time.
Once you reach the broad summit, you will see several vernal pools. These are no "puddles" but rather tiny and fragile ecosystems of its own. Make sure to avoid any physical contact with them, it helps with preserving this magical place for future generations.
| | |
| --- | --- |
| Distance | 1.3 miles |
| Elevation gain | 419 feet |
| Trailhead | Ranch Rd 965, Fredericksburg |
| Difficulty | Easy to moderate. |
| Insider tip | If you don't feel like climbing to the top, you can also make a loop trail around the hill and admire it from below. |
Mount Livermore, Davis Mountains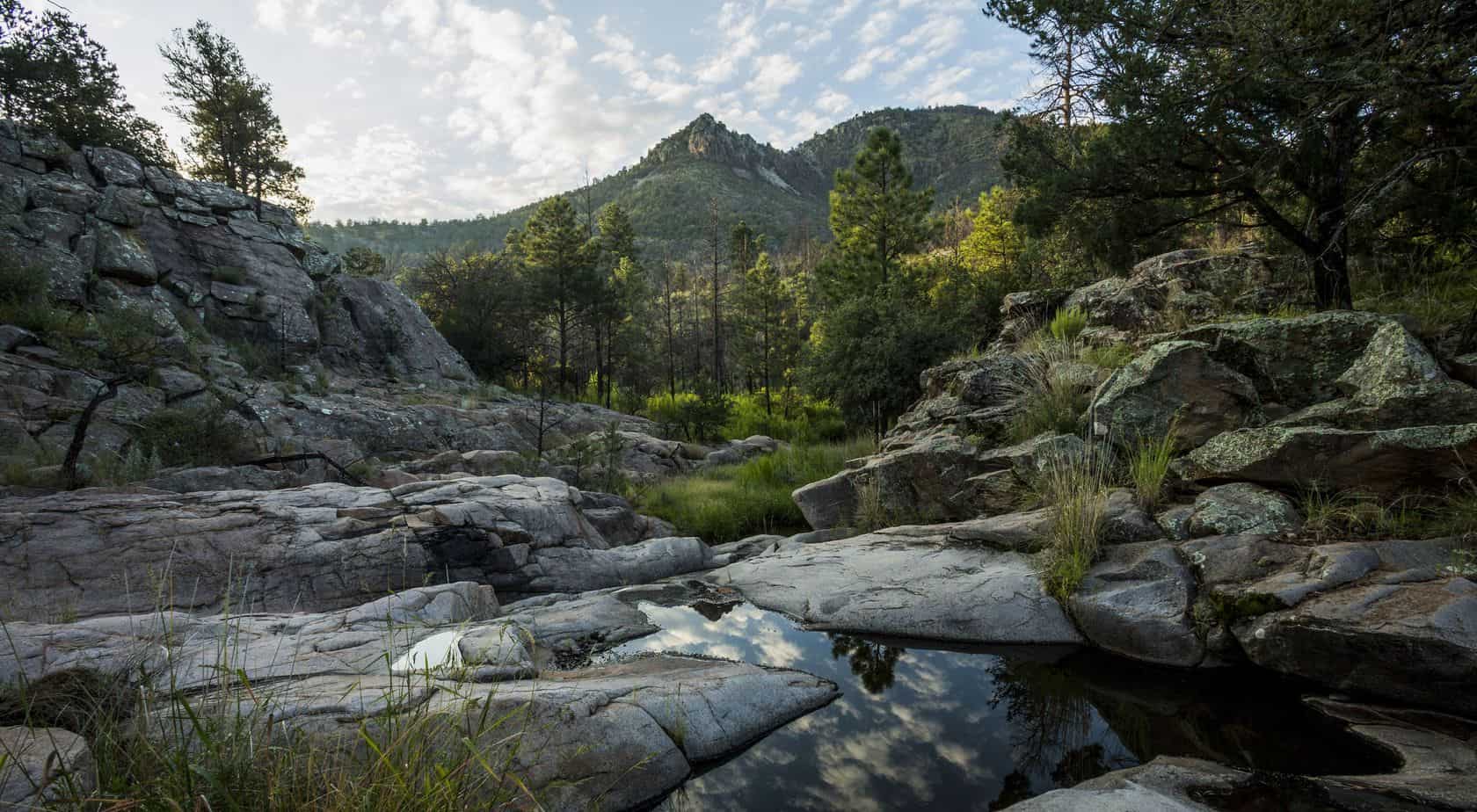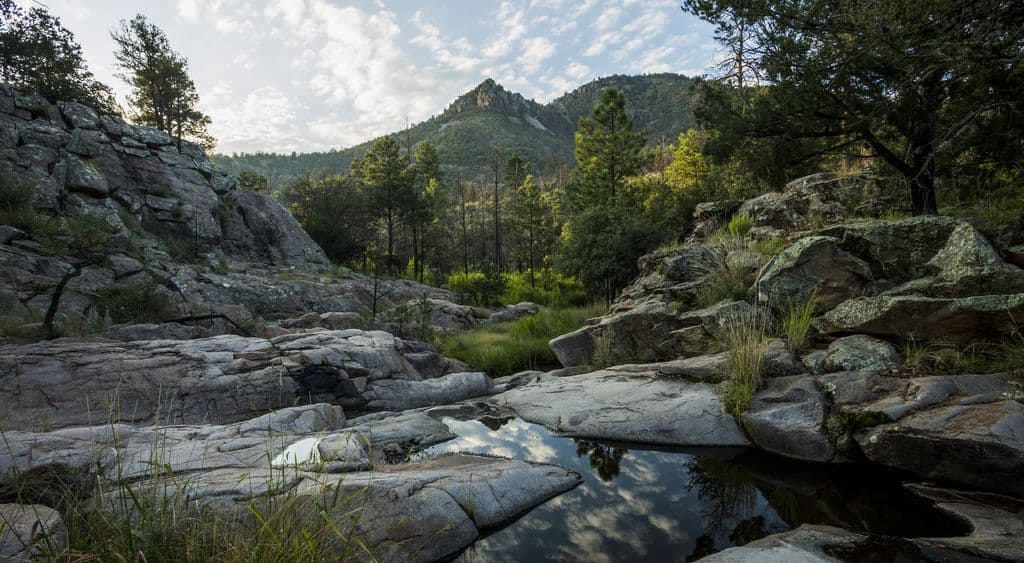 The Davis Mountains are the second-highest mountain range in Texas. They are also considered to be one of the best-preserved mountains in the state. This also means that you can't simply turn up at the trailhead and hike – first of all, you need to contact The Nature Conservancy organization, which owns a large portion of this land, and arrange your permission with them.
Open dates (usually at weekends) are publicly announced on their website well ahead. Of course, these logistical complications are rewarded by the opportunity to be somewhere off the beaten path and see nature in its best condition.
The trailhead can be accessed from both San Antonio (east) and El Paso (west) directions. The trail is very well marked, firstly following jeep tracks on a dirt road and later separating into some proper scrambling sections. The highest point of the ridge is called Bald Peak, and it's clearly recognizable from afar. Expect this hike to take about 4-5 hours in total. Breathtaking views are guaranteed!
| | |
| --- | --- |
| Distance | 6 miles |
| Elevation gain | 1,800 feet |
| Trailhead | 20 mi west from Fort Davis on TX-118 |
| Difficulty | Moderate. Some exposed parts in the final section. |
| Insider tip | The Nature Conservancy is a volunteering organization that works hard to maintain our natural wealth in the best possible condition. Donations are always highly appreciated. |
Eagle Point Trail, Caprock Canyons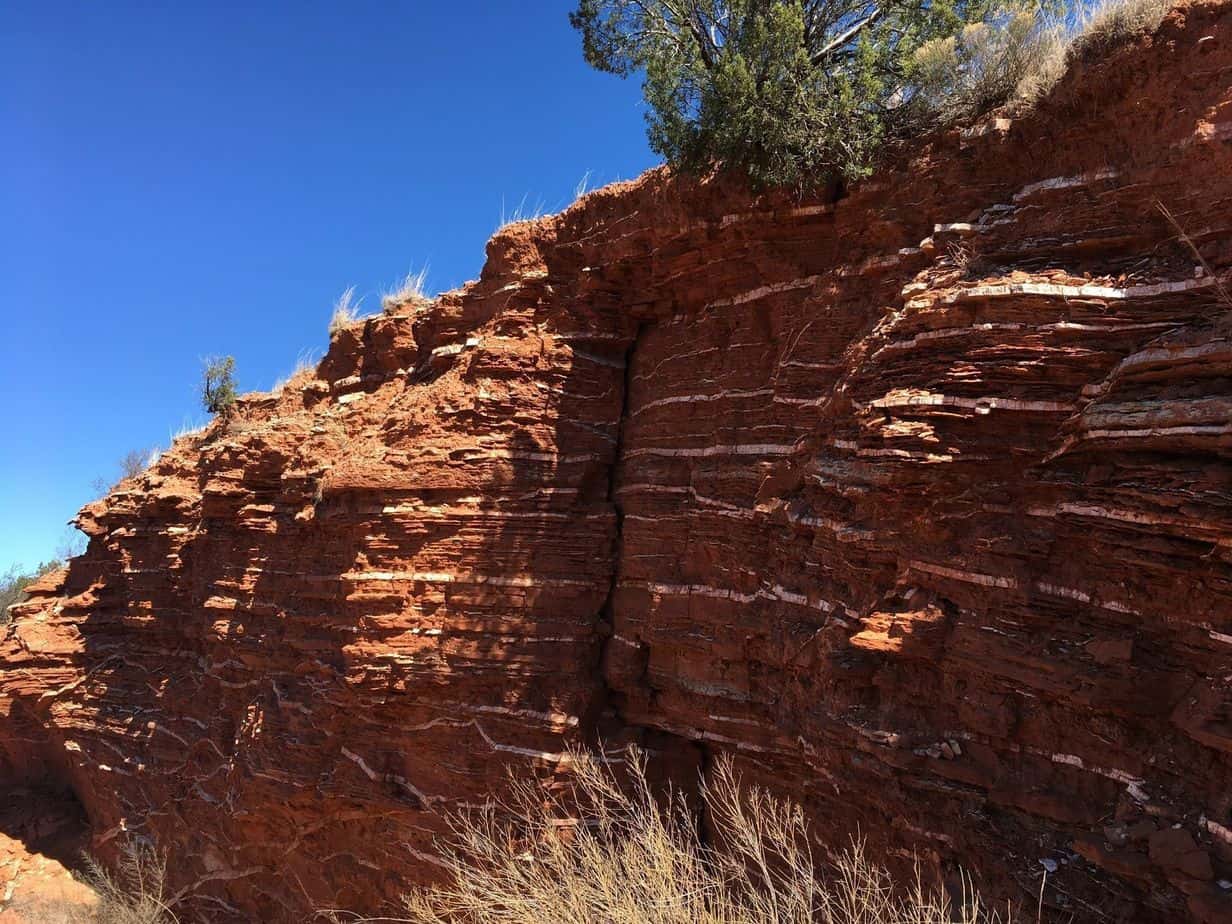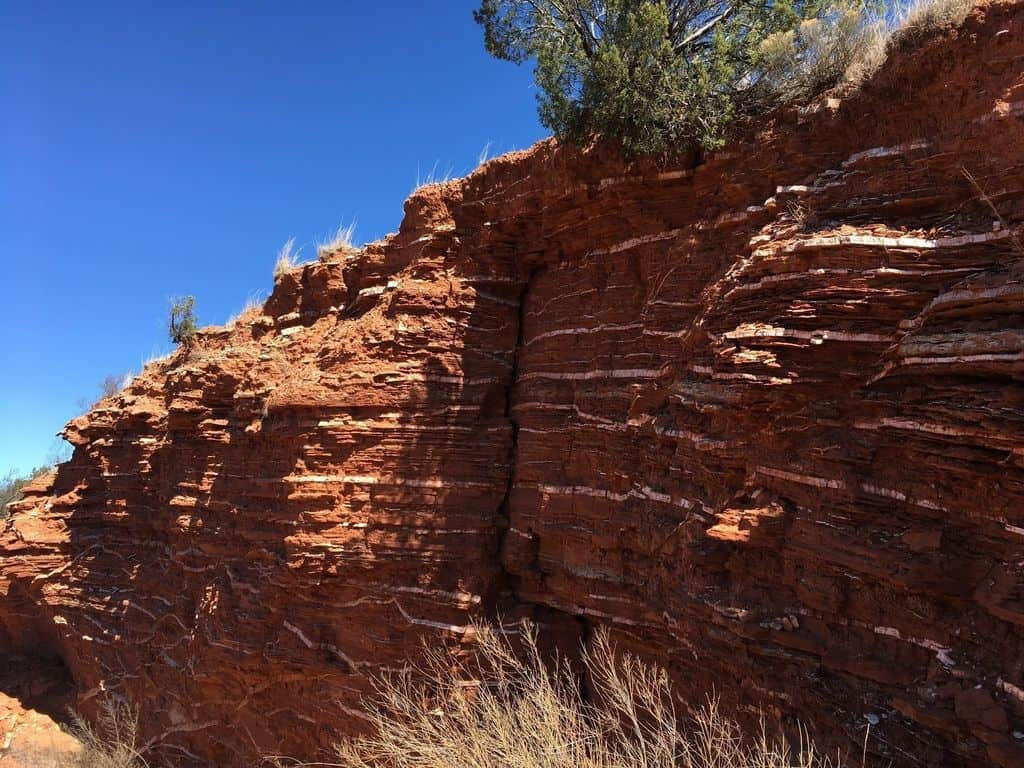 The beautiful Eagle Point trail is located in Caprock Canyons State Park, which offers more than 90 miles of lovely hiking trails. Although all of them are undeniably attractive, this particular one has two great incentives in one. Firstly, it leads all the way to the natural rock bridge, where you can sit on a bench and admire the force of nature.
Secondly, the chances are really high that you will be able to spot some wild roaming buffalos here! Get your camera ready and enjoy these spectacular encounters.
To make the entire experience even greater, stay the night at a local campsite. One of them is located near Lake Theo and can be easily reached directly from the Eagle Point Trail. What could be better than waking up at sunrise to see wild bison enjoying their "pool time" by the lake?
| | |
| --- | --- |
| Distance | 4.3 miles |
| Elevation gain | 449 feet |
| Trailhead | Caprock Canyon Park Road |
| Difficulty | Undemanding, one of the mildest trails in the park. |
| Insider tip | Once you reach the natural bridge, search for the small path that will lead you right beneath it. It looks much more impressive from below. |
Best Hiking Trails in Texas – Conclusion
Whether you consider yourself a hiking beginner or an experienced adventurer, Texas is a very good place to be. It has dozens of short loops with attractive goals, tens of demanding climbs for spectacular views, and several long-distance trails in true wilderness. Once you start exploring some of these hiking trails in Texas, you will most probably keep coming back for more.
Whichever trail to chose to try, don't forget to plan well and get the right equipment. For some useful inspiration and good advice, check out our useful guides to finding the best outdoor backpack and survival gear.
And while you're still in Texas, read our lists of beautiful hiking trails in Austin and Dallas areas too.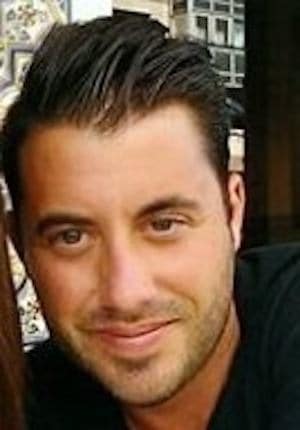 David is a strong advocate of outdoor-related activities and has many years of experience backpacking and hiking around the world, including the Italian and Austrian Alps in Europe as well as central and southern Asia.
Locally, he has also led many groups cycling through Vermont, Nova Scotia, and Wisconsin. David constantly uses and tests the latest gear for the outdoors, which in turn allows him to help others make more informed buying decisions. He's excited to share more of his knowledge and to see others enjoying the great outdoors more because of his advice and recommendations.