Anyone that enjoys hiking, cycling, and exploring outdoors for hours at a time will need a good-quality backpack. Standard backpacks can be a bit overkill for some outdoor enthusiasts that only need a pack large enough for a few essentials – such as snacks, a rain jacket, and a hydration bag. The ideal alternative to a backpack is a daypack.
Daypacks have a smaller capacity than a standard hiking/camping backpack. Most importantly, unlike a simple, small casual backpack (like the ones you'd use for school or travel carry-on) true daypacks offer proper back support like you'd expect of a hiking backpack. This is important for maintaining proper posture and feeling comfortable while hiking.
Osprey Packs is a highly respected brand that manufactures packs and bags of all types. They offer a number of different daypacks, which you'll find in the Hiking category.
These hiking packs are smaller in capacity than standard backpacks, yet feature a technical design that will impress even the most experienced hiker. Osprey's Daylite pack is one of their best daypacks and a model that has very high marks when it comes to customer reviews.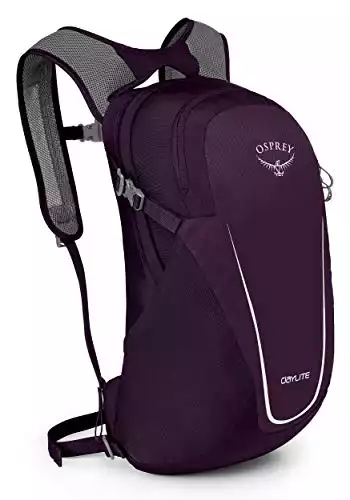 Design and Features of the Osprey Daylite
The Osprey Daylite is a fairly simple daypack at first glance. The original design of the Daylite wasn't actually a daypack at all, but instead, a removable pack that Osprey had designed for their larger camping backpacks. After customers started finding how useful the attachment daypack was, Osprey decided to create the Daylite as we know it today.
The Daylite checks off all the boxes for a quality daypack. It's lightweight, has a simple, user-friendly design, and it's durable enough to handle normal wear-and-tear you'd expect of a hiking pack. Additionally, it's very comfortable to carry and is priced extremely well.
Here is a rundown of the specs and features of the Daylite.
13L capacity with dimensions of 18H x 9W x 9D
Weighs in at only 1 lb
Pack body made of 210D Ripstop Double Diamond Nylon
Accent and bottom fabric is 400HD Nylon Packcloth
Comes in 8 different colors, including neutrals and brights
Designed for Hiking, Everyday and Travel
Retails for $50.00 direct from Osprey
Compatible as an add-on pack for other Osprey backpacks
Large open panel main compartment
Side mesh pockets for water bottles or other gear
Front pockets with mesh organizer and key clip
Spacer mesh foam shoulder straps with handle
Interior sleeve used for tablet or sleeve for a hydration reservoir
Mesh and slotted foam back panel for breathability
The Daylite is simple enough that it's uncomplicated to use, letting you just grab it, pack it, and go. However, a few of the added features really help to make this backpack a winner.
Advantages of the Osprey Daylite
Here are the four main advantages of the Osprey Daylite
Versatility in Use
The Daylite is a very versatile daypack. Osprey lists on their page that it's designed for Hiking, Everyday, and Travel. Weighing only 1 lb and being quite compact in size, the Daylite is a great substitute for a standard backpack when movement and weight are important.
You can take the Daylite out onto a day-long hike one day, use it to carry books to school the next, and pack your carry-on items next time you have a flight. The Daylite is also ideal for traveling/exploring urban areas as you'll have a place to stow maps, GPS, booklets and brochures, and other items you collect on the way.
Comfortable Back Panel and Harness Design
One of the most uncomfortable feelings is a sweaty, sticky back on a hot day. Daypacks tend to not be as breathable as standard backpacks, perhaps because their smaller size leads manufacturers to believe mesh and other fabrics to not be as important.
Osprey went a different path and included mesh and slotted foam in the shoulder harness and back panel. This makes the Daylite very comfortable to wear for long periods of time in hot weather.
Compatibility with Other Packs
The Daylite was originally an add-on daypack that came with other Osprey backpacks. Although it's now a standalone bag, Osprey designed it to be compatible with some of their other packs. The Daylite will work with the Aether/Ariel, Volt/Viva, Sojurn, and Porter series backpacks as well as the Ace 75 and Farpoint 80.
Being able to use Daylite as an add-on gives the customer a lot more value from their purchase. Normally you'd have to purchase a separate daypack and standard backpack. By going with the Daylite you can choose a standard pack from the compatible models and have much more space and overall versatility.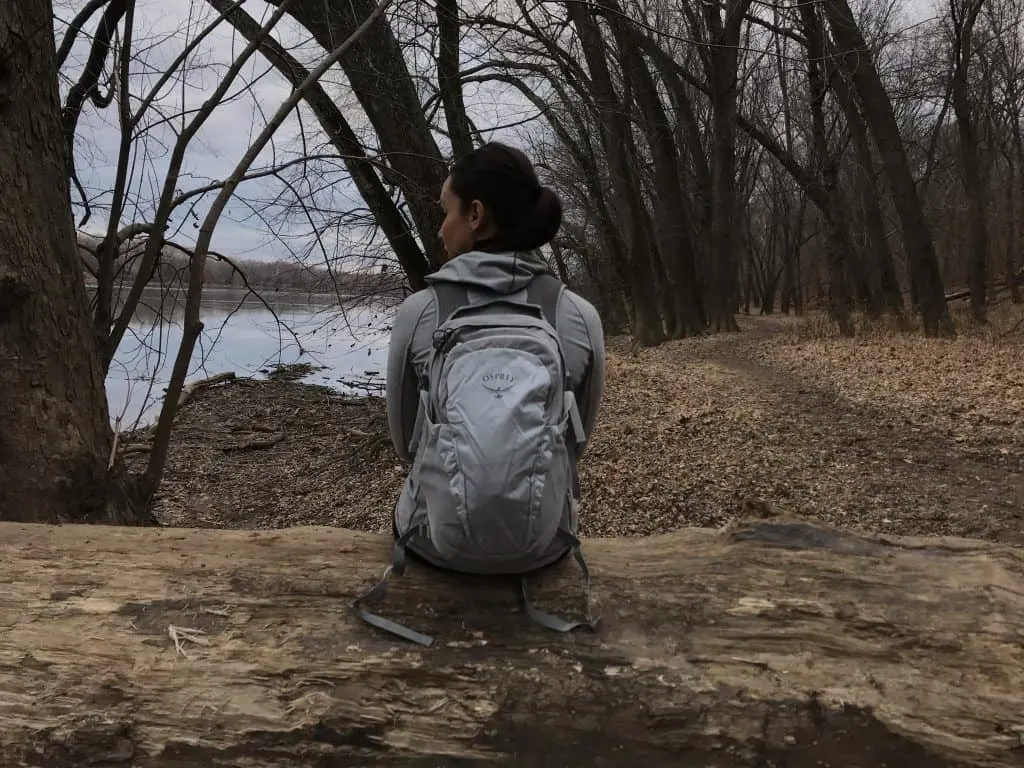 Nice Selection of Colors
Although a lot of brands are starting to offer more color options, usually daypacks have a poor selection. The color selection that Osprey has for the Daylite is quite impressive.
There are 12 colors to choose from, which include Eggplant Purple, Real Red, Sagebrush Blue, Tahoe Blue, Black, Dark Blue Orange, Stone Grey, and Primrose Yellow. The colors are very rich and beautiful in tone. Plus the fabric used for the body of the backpack has a nice sheen that looks very sleek.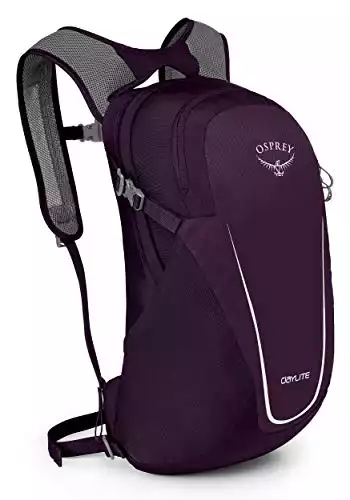 Disadvantages of the Osprey Daylite
There are two possible issues to keep in mind before buying the Osprey Daylite.
Very Compact Capacity
The Daylite is only a 13-liter backpack, which is quite compact even for a daypack. For many customers, this is a wonderful size and very useful for hiking, walks, travel, etc.
The compact size isn't really a disadvantage but is something to be aware of if you're used to full-size backpacks. If you want a bag that you can load clothes, snacks, and other gear into, the Daylite might be too small.
Mesh Pockets Not Great for Bottles
The mesh pockets on the Daylite are great for stowing away small gear, snack bars, and other items, but some have found that they don't work well for water bottles. Larger water bottles, like Hydro Flask and Nalgenes, might not first very well into the side mesh pockets.
It does seem that smaller bottles (16oz – 20oz) that are slim in design fit well. The pockets could be a drawback if you rely solely on water bottles.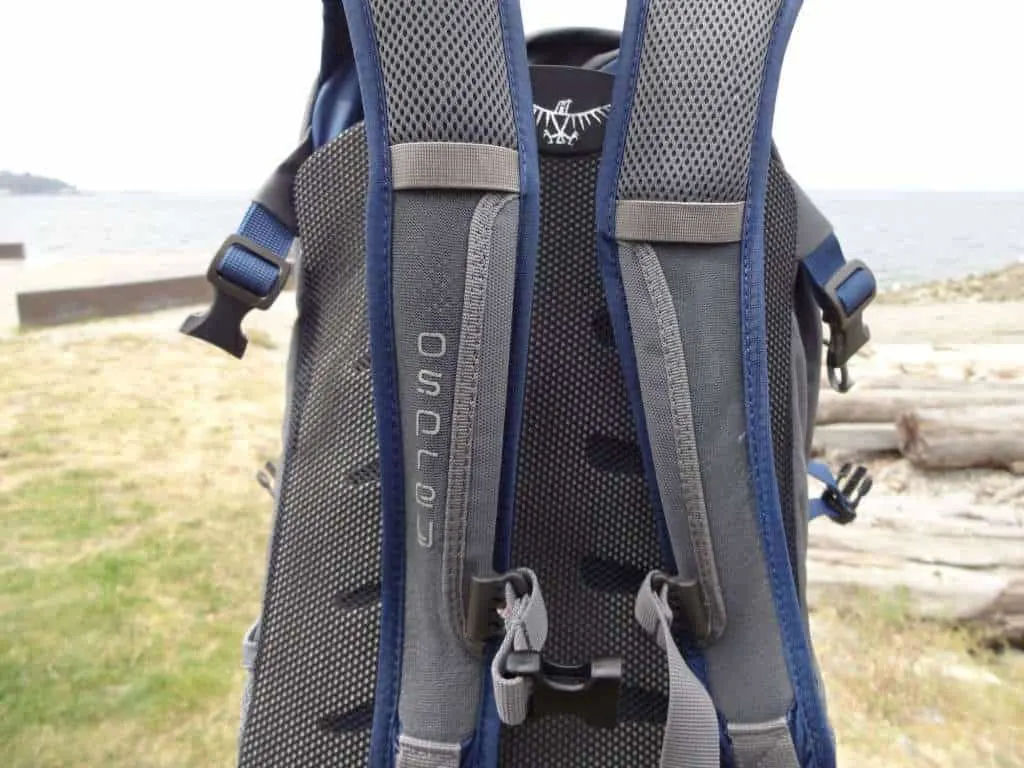 Should You Buy the Daylite?
All in all, the Osprey Daylite is a superb daypack for hiking and other activities that will take you away for a few hours at a time. It isn't large enough for serious hiking or overnights, but then again Osprey didn't design this pack for that purpose. The Daylite has hundreds of positive reviews and many agree that as long as you use it as intended, you won't be disappointed.
Keep in mind that if you really love the Daylite but need more space, Osprey also makes the Daylite Plus. The Daylite Plus is very similar to the Daylite, but is larger in capacity (20L), has an additional front panel pocket, and a vertical zippered front pocket.
The Daylite Plus is otherwise identical to the Daylite in design and compatible as an add-on with the same bags mentioned above. You'll also have one additional color option with the Plus, along with the same 12 that come with the original.
If you need a very well-made, reliable daypack that you can use for a variety of different activities, the Daylite original or Daylite Plus will be two excellent models to choose from.
For more information, read about the Very Best Daypacks for Hiking here!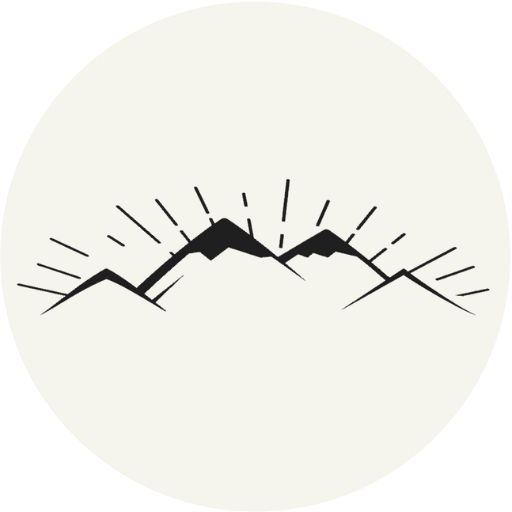 The All-Outdoors Guide team is comprised of enthusiastic experts that enjoy helping others that aspire to be better at outdoor fun. Part of that is making sure you have the right gear and information when it's time to go out and have fun. Some of our team have accomplished amazing feats like climbing 6000 feet to the top of mountains, others have explored every dirt trail they could find and we even have some people that have backpacked solo on various continents. No matter what our readers want to learn and do, our team is here to help them accomplish those goals.