A couple of decades ago the only real way of classifying backpacks was by size. Small ones were daysacks for carrying everyday essentials, school books or your raincoat; large ones were rucksacks for hiking.
For the military market gear manufacturers simply took one of their standard designs and made it in camouflage or olive green fabric, and that turned it into a field pack.
Load carrying gear has moved on a lot in the last few years though, and modern tactical packs incorporate a lot of specialist features that set them apart from civilian hiking gear. Most of these features are designed for the special requirements of military or law enforcement work but a lot of them are very handy for hikers, too.
For example, you can get a lot of gear that mounts on standard MOLLE loops, and any good tactical pack will be generously supplied with those. Hydration system compatibility? That's as useful on the Appalachian Trail as it is on patrol in Afghanistan.
Selecting the Best Tactical Backpack
Military-style packs come in two basic sizes. Large rucksacks now often include MOLLE loops but they're not really tactical packs; they're designed to carry a heavy subsistence load – which can weigh up to 90 pounds – and they're basically huge bags with straps and an internal frame.
True tactical packs are designed to carry essential gear while letting you move fast and do your job. They're more compact than a full-size rucksack, and usually, have lots of internal and external compartments so you can pack equipment in a way that lets you get at what you need in a hurry.
Soldiers often carry a tactical pack under the flap of their rucksack; if they encounter the enemy they can ditch their heavy load, grab the tactical pack and go straight into combat. The pack contains the extra ammunition, water, and first aid kit they need right now – they can come back for their sleeping bag, spare socks, and MREs when they've won the battle.
For outdoor sports, hiking or SHTF use tactical backpacks have good and bad points, and they certainly won't suit everyone. They're usually heavier than a daysack with the same capacity, for example. It can be hard to fit a sleeping bag or tent inside because a lot of their volume is in external pockets or divided internal compartments.
If you're planning on lightweight backpacking a tactical design probably isn't for you. For more information on the best pure lightweight backpacks, check out this page.
On the other hand, they're very robust, which makes them perfect for hunting or scrambling – snagging on trees or rock isn't going to faze them. The numerous compartments also make it easy to organize sporting gear. With plenty of pockets and zippered dividers, you can choose a place to stow each of your essentials, then go straight to it when you need it.
That has obvious potential for preppers looking for a good bug-out bag; when you need that gear seconds could count, and you don't want to waste them rummaging through a jumble of kit.
Weigh up what you're looking for in a backpack and decide if a tactical design is what you need. If it is, here are three you should check out.
The 3 Best Tactical Backpacks – Let's Get Dirty
Condor Compact Assault Pack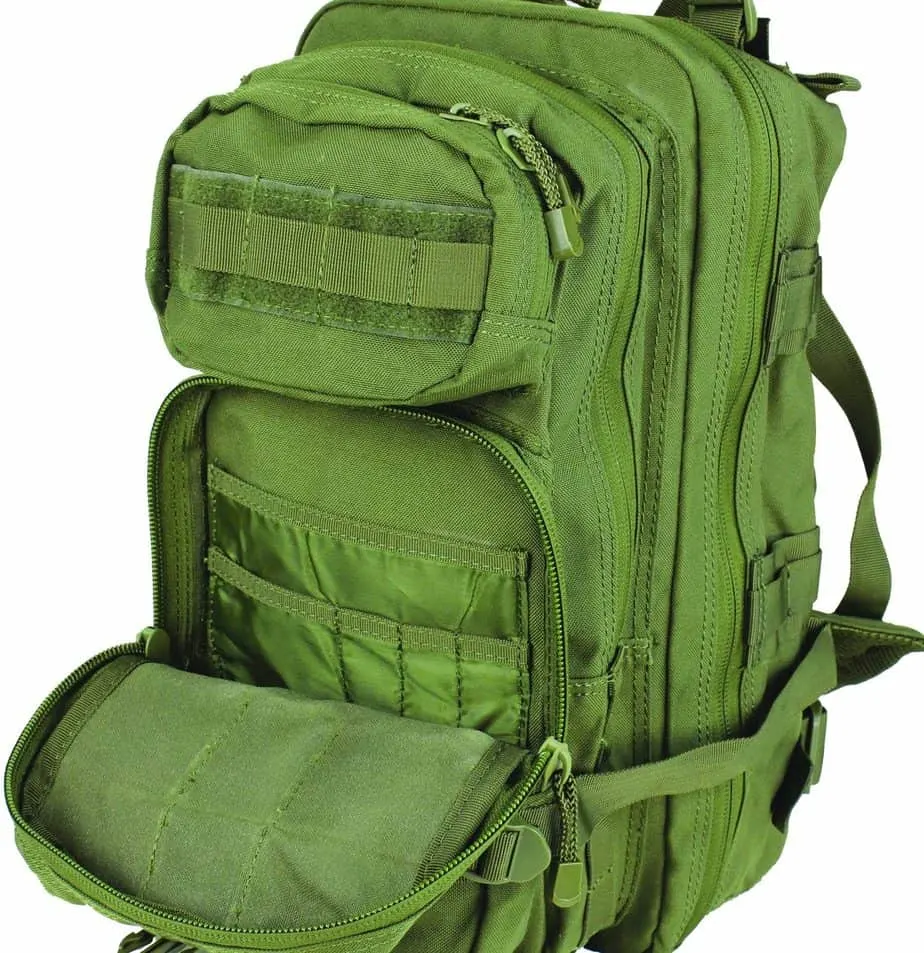 Features at a Glance
22-liter capacity
Four compartments plus two internal pockets
Hydration compatible
Detachable waist belt
Sternum strap
Side compression straps
This is at the smaller end of the range for tactical packs, and its 1,362 cu in (22.3 liters) capacity makes for an ideal grab and go bag. It's not big enough for hiking unless you're a hardcore ultralight backpacker – but if you are its construction is light enough to make it a viable option.
The Condor has four separate compartments. The main one is 18" by 10" by 5" and contains two internal pockets, one mesh and one zippered. A generous zipper runs around both sides and the top so you can get quick and easy access to all the contents, although you can't quite open it out and lay it flat on the ground.
There's a sturdy webbing carry handle on the top of this compartment, and either side of it is a lift-up tab secured by hook and loop fasteners that reveals a hole for a hydration system hose. The compartment itself has plenty of room for a Camelbak along with your other essentials.
The second compartment is slightly smaller and flatter – it's two inches deep – but perfectly sized to hold a tablet or small netbook if you want to use this as an EDC pack. Again you can unzip it most of the way around. On the front of it are two external pockets – a small one on top and a larger one underneath – with a total of three rows of MOLLE loops.
Compression straps run from the lower pocket round both sides and the top of the pack, so once you've loaded it you can tighten things down and prevent your gear from rattling around.
This is an affordable pack – you can pick it up for around $70, but generally well-constructed. You might find a few loose threads but that's just a cosmetic issue.
Key points, like the zippers, are high quality and solidly put together. It's more than tough enough for EDC or as a bug-out bag. It's also available in half a dozen colors including plain black, olive green, MultiCam or red.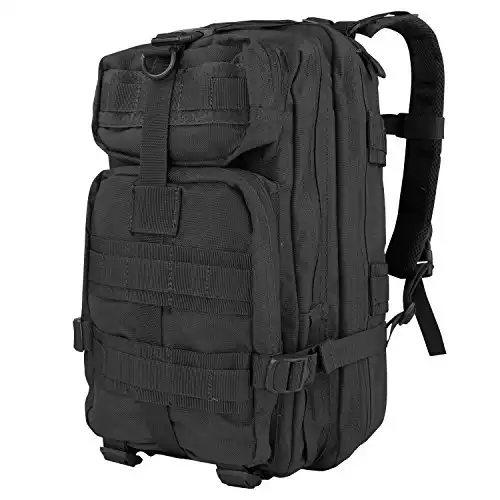 Verdict
Too small for an ambush patrol in Helmand, but just right for the office or as a grab and go bag in your car.
Monstrum Tactical BPA01 3 Day Backpack
Features at a Glance
40-liter capacity
Seven compartments with internal organizers
Hydration compatible
Water-resistant lining
Detachable shoulder straps and waist belt
With a 40 liter, or 2,400 cu in, storage capacity the Monstrum Tactical BPA01 can carry a lot more gear than the Condor, but it's still reasonably lightweight – if you need a pack for short hiking trips this could be just what you're after. It can carry a decent load in comfort and gives you a bunch of handy packing options.
The main compartment of the BPA01 is 20" by 14" by 8.5", so there's plenty of space for a compressed sleeping bag and bivvy. A mid-size lower compartment is ideal for stashing your stove and rations; there are also two side pockets big enough to take a water bottle.
There's a zippered flat pocket on the rear and a top pouch for small items, and finally, an internal compartment that will hold a hydration system or a laptop with up to a 15" screen. The front of the pack and both side pockets are generously supplied with MOLLE loops.
This is a good quality pack that's well put together from premium materials. Most airlines will allow it as carry-on baggage – for tidiness you can detach the shoulder straps and waist belt, and carry it with the top-mounted grab handle. That also makes it perfect as a bug-out bag you can easily take in the car.
Store the straps in one of the side pockets and it's a lot less likely to snag on the parking brake as you prepare to make a run for it. Expect to pay between $80 and $100.
Verdict
An excellent all-around pack, big enough for a two- or three-day hiking trip.
5.11 Tactical Rush 72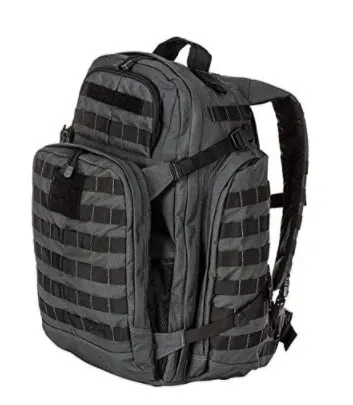 Features at a Glance
55-liter capacity
Seven compartments with internal organizers
Hydration compatible
Water resistant lining
The "Tactical" in this company's name isn't a marketing gimmick. 5.11 Tactical's equipment is popular with regular soldiers, military contractors, and law enforcement, and there's a good reason for that – it's professional quality gear made to keep working despite massive abuse. Their Rush range of patrol packs is a perfect example.
The Rush comes in three sizes named for the number of hours they'll hold supplies for, with the Rush 72 being the largest.
The Rush 72 is the most expensive pack we're looking at here, and the heaviest. It retails for around $200 – you can find it on sale for about $135 For the latest prices and discounts, check here– and weighs close to four pounds empty.
That's because it's practically bombproof; it's constructed from ultra-tough 15D nylon with heavy duty stitching and a PU water repellent lining.
The main compartment measures 23" by 14" by 8.5" and has four internal pockets, including three zippered mesh ones. Two hydration ports covered by hook and loop tabs flank the top grab handle; there's a fleece-lined pocket on top for ballistic glasses (or your favorite shades) and another zippered pouch on the front with two internal pockets.
The front compartment of the Rush can be completely unzipped and folded open for easy access to its seven internal pockets, which include two rifles and one pistol mag holder.
Side compression straps hold it to the main compartment and the space between the two has partial mesh side gussets, so loose gear can be quickly stuffed in there. A padded rear compartment will hold a hydration system (or a 15.3-inch laptop). Finally, there are two side pouches, each large enough to hold a two-liter water bottle. These also have internal pockets.
The exterior of the Rush is covered in MOLLE loops, and there are two hook and loop pads on the front for attaching tactical recognition flashes or unit patches. The waist belt and shoulder straps are heavily padded for comfort under load, and there's an adjustable sternum strap.
None of the straps are removable; 5.11 believes that's a gimmick that just creates potential failure points. The Rush 72 is a very tough and extremely versatile pack. If you expect your gear to take a beating you'll welcome its ruggedness. The incredible array of pockets and compartments makes it an ideal medic pack too.
This is an expensive item, but in return, you get real military functionality.
Verdict
Thousands of troops in Iraq and Afghanistan have bought the Rush 72 with their own money. There's a reason for that: It's excellent. For the latest prices and discounts, check here.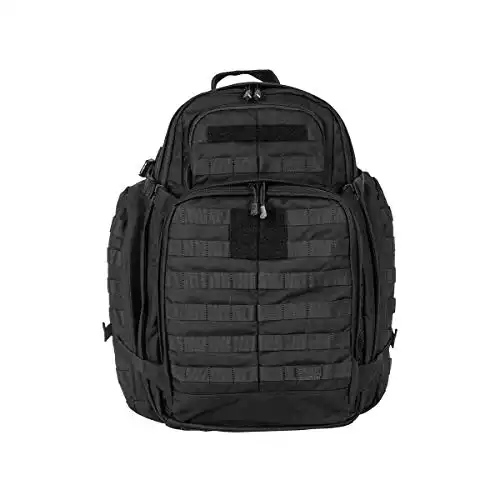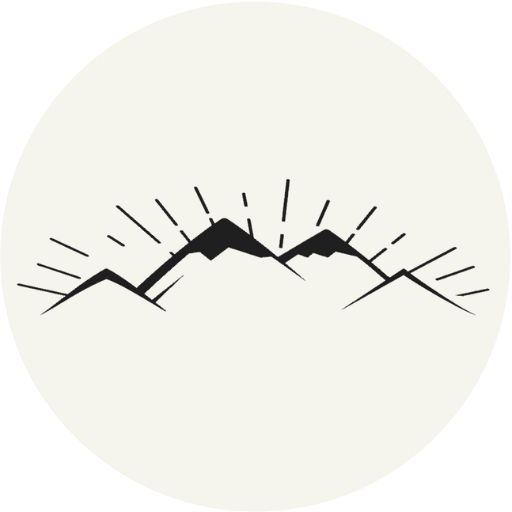 The All-Outdoors Guide team is comprised of enthusiastic experts that enjoy helping others that aspire to be better at outdoor fun. Part of that is making sure you have the right gear and information when it's time to go out and have fun. Some of our team have accomplished amazing feats like climbing 6000 feet to the top of mountains, others have explored every dirt trail they could find and we even have some people that have backpacked solo on various continents. No matter what our readers want to learn and do, our team is here to help them accomplish those goals.