Sling backpacks are a unique style of pack that may be preferable over backpacks or messenger bags. Best Sling backpacks are somewhat of a balance between messenger bags, which are carried over one shoulder, and backpacks, which don't allow for easy access.
Messenger bags, also called shoulder bags, are common for travel and short commutes. They allow you to carry a fairly good amount of gear in a comfortable way, but most importantly they allow for quick and easy access to the bag and any hidden pocket compartment without having to take it off.

Backpacks and daypacks will require you to remove the bag in order to access the interior. Backpacks are the most common bag used for outdoor activities as well as the most comfortable and ergonomic.
Sling backpacks offer the best of both worlds. A sling-style pack is worn across the body, similar to a messenger bag, but this type actually fits the body shape, just like a backpack, perfect to carry your personal items like a water bottle and cell phone.
The travel sling will be located on your back, but it easily slid over with the strap to allow you to retrieve items from inside without having to take the whole bag off your shoulder. Additionally, sling backpacks tend to offer more of a backpack function than a messenger bag.
This means more compartment pockets, greater storage space, and other technical features you'd expect of a well-designed backpack or daypack-like padded compartment.

Those that enjoy a messenger bag but must travel a good distance or venture into the outdoors and need a travel backpack will quickly realize how uncomfortable this style is.
All of the weight sharply being pulled down will lead to a sore shoulder. Carrying the shoulder strap across your body, similar to a sling-style, might help at first but can lead to back, neck, and additional shoulder pain as messenger bags are simply not designed for this purpose and cannot be comfortable.
Sling backpacks give you a very similar experience, but without the discomfort in the shoulder, especially if you happen to be carrying a heavier load like a small laptop.
A travel backpack is always a wonderful choice for outdoor activities, hikes, long walks, and any other type of travel where being comfortable is the most important option. However, there are certain activities you may be doing where a traditional backpack may be a hindrance.
A very good example of this is bird or wildlife watchers and photographers that need a camera padded compartment or comfortable camera sling.
Photographers are particularly fond of sling backpacks as they allow them to carry a decent amount of camera gear comfortably and in a way that is safe. A sling bag won't swing around and unbalance them while hiking to a location, something a messenger bag can do, yet it still allows them to easily access their camera and gear without having to take the pack off as they would with a backpack.
When it comes down to it, a sling shoulder backpack is a wonderful piece of gear for people that want to keep things light and comfortable, as well as easy access, especially if it's water-resistant.
Sling backpacks aren't ideal for long hikes but may be used in place of daypacks for shorter hikes, bike rides, and general traveling around with the storage space for all you need to carry in a padded pocket compartment or hidden pocket.
As with any other style of strap backpack, when searching for a sling backpack you want the best pack you can afford. Here are some of the best sling backpacks designed for outdoor activities and traveling.
Patagonia Atom Sling Bag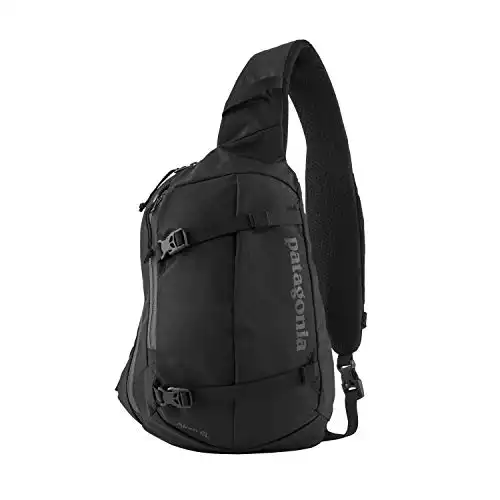 Patagonia is a very well-known outdoor gear brand, so it comes as no surprise that along with their range of backpacks and daypacks is a highly recommended sling backpack. The Atom Sling 8L is an 8-liter capacity travel sling pack that retails for $59.00. Patagonia offers this model in a huge range of 8 colors.
The water-resistant Atom Sling Bag is a "take-everywhere classic sling" that offers both a comfortable feeling and organization. The Atom has two different compartments along with a padded tablet sleeve and an additional large shoulder strap pocket for your cell phone. It is made of durable 630D nylon and has been treated with a DWR coating for water repellent.
The Atom has an asymmetric harness design that offers a close fit to the back with the shoulder strap. This pack doesn't flop around and maintains a pretty sleek fit, making it perfect to carry for outdoor activities. It also has a mesh panel and harness to help keep things cool. Due to the asymmetric harness, it does mean you are limited to carrying this pack only across your right shoulder.
Red Rock Outdoor Gear Rover Sling Pack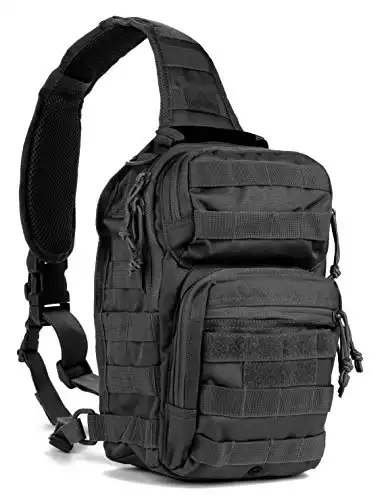 The Red Rock Outdoor Gear Rover Sling was originally designed as a concealed carry pack but works very well for outdoor activities.
The Rover Sling retails for $39.99 direct from Red Rock, but can often be found for $10 less on Amazon. It comes in 11 different colors, the majority of which are tactical or camouflage. The pack weighs 3lbs and has a total capacity of 9 liters.
One very cool feature of the Rover is that it has an ambidextrous shoulder adjustable strap, meaning you can wear this sling shoulder backpack over either shoulder. The main strap has a quick release buckle as well as a grab and a go handle on the top. The Rover has two external compartment pockets for stashing small items and the main interior compartment with a slip pocket. This main interior also has a sleeve for a tablet.
The outside of the Rover has MOLLE webbing which is useful for attaching pouches and other gear. The Rover is a very durable sling bag, made of 600D polyester and stitched together very well. It offers very nice comfort and usability. If you enjoy a tactical look at your outdoor gear, this sling bag is right up your alley.
Under Armour Compel Sling 2.0 Backpack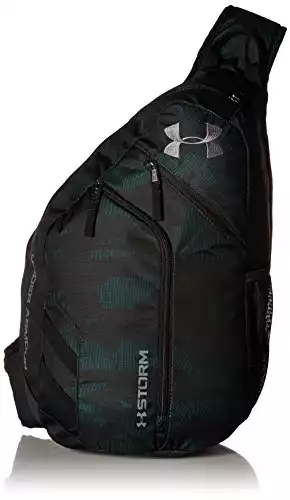 Under Armour is another major brand, though it focuses mostly on fitness gear and apparel. The Compel Sling 2.0 is almost like having your gym duffel turned into a sling.
This is actually a very athletic, attractive sling bag complete with Under Armour's logo boldly on the outside. It retails for under $55 and is available in black with silver or silver with pink.
The water-resistant Compel Sling is designed more for casual, travel, and gym carry, though it certainly can be used to pack some gear out on a short hike to a campsite or your favorite swimming hole. It offers just about 16L ofc carry capacity, clearly making it a beefier sling bag than most. The main compartment also features a sleeve large enough for a 15″ laptop, which is quite the upgrade from most slings only offering space for a tablet.
This 100% polyester pack is surprisingly durable and water repellent, thanks to the UA Storm technology exterior. The padded strap crossbody is design for a comfortable feeling but is also complete with HeatGear material to wick moisture and keep you cool. Additional features include a front zip pocket for small gear, an extra valuables pockets, and a side water bottle pocket compartment.
If you've been experiencing sore shoulders from your messenger bag or find it frustrating to use a backpack, a quality sling backpack might be just the solution you need.
Many find that a sling backpack can easily replace a messenger bag and makes for a good alternative to a backpack when the circumstance is right. Those that often travel by public transit, train, or plane will also appreciate the usability of a sling backpack when they aren't exploring the outdoors.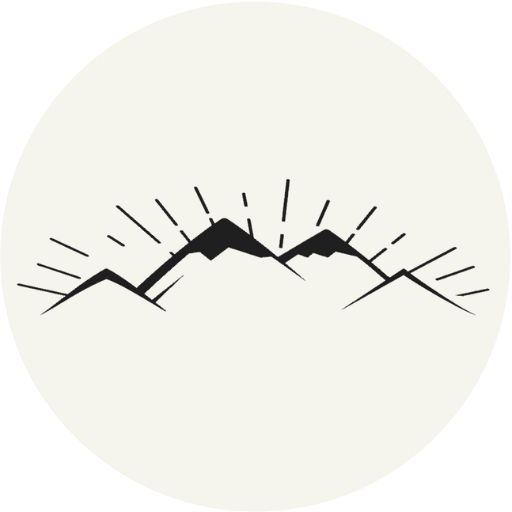 The All-Outdoors Guide team is comprised of enthusiastic experts that enjoy helping others that aspire to be better at outdoor fun. Part of that is making sure you have the right gear and information when it's time to go out and have fun. Some of our team have accomplished amazing feats like climbing 6000 feet to the top of mountains, others have explored every dirt trail they could find and we even have some people that have backpacked solo on various continents. No matter what our readers want to learn and do, our team is here to help them accomplish those goals.