Gregory Mountain Products, often referred to as simply Gregory, is a brand with a colorful history beginning in 1977. Gregory's founder, Wayne Gregory, always had the goal of creating backpacks that were innovative, comfortable and ergonomic in design. The reputation of producing quality, durable and original backpacks has only continued.
Award winning Gregory backpacks come highly recommended by both amateur and serious outdoorsman alike. Women will also be thrilled to know that their needs have been kept in mind with Gregory's female-specific anatomically ergonomic bags. One of these bags is the Deva 60.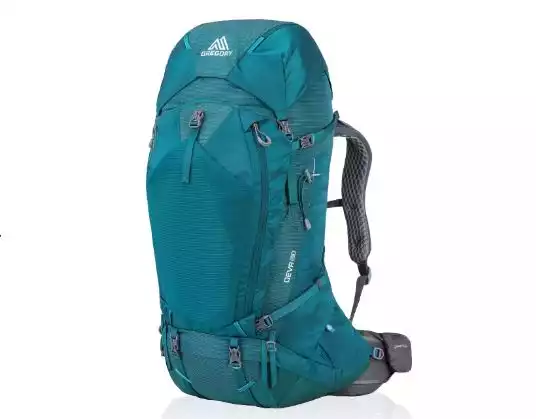 Deva 60 | Gregory
Built for long weekends and beyond when comfort, fit and features are all on your priority list
Check Price
We earn a commission if you click this link and make a purchase at no additional cost to you.
The Deva 60 is a recent award winner and you'll be hard-pressed to find anything but glowing praise for this model. Women who are tired of having a sore back and uncomfortable hot spots on their shoulders from inferior backpacks can rest assured that this bag will fit like a glove and wear as comfortably as they could want.
Main Specs and Features
The Deva 60 is loaded with features. The basic specs and sizing include:
Internal frame made from a combination of thermo-molded polypropylene and HDPE with a single aluminum stay
Three size options available:

XS – 58L capacity, 5lbs 5oz weight, torso 14" – 16"
S – 60L capacity, 5lbs 8oz weight, torso 16" – 18"
M – 63L capacity, 5lbs 11oz weight, torso 18" – 20"

Three color options:

Sepia Gray
Bodega Blue
Egyptian Blue

All 3 sizes have a 50lbs Comfort Zone load weight
Access on top, front and back
Primary materials are 210D double-diamond ripstop nylon and 210D x 420D flat weave nylon
Total of 8 pockets on or inside of the bag
Specs aside, the main features and tech used in the creation of this backpack include:
Response AFS women-specific suspension system is designed with the average female body in mind
Suspension system includes a pre-curved EVA foam harness + hip belt for comfort as well as hot spot and wrinkle protection
Response suspension system includes load transfer panels which move independently and incorporates the hip belt to ensure the angle of the body
Hip belt has load transfer panels which move independently to ensure you carry the weight of the bag properly based on your hip angle and movement
EVA foam back panel is thermo-molded to hold its shape and includes a textured lumbar pad to prevent backpack slippage
3 methods of backpack access make your gear easy to get to
Interior of backpack has built-in reservoir sleeve as well as two different tube exits for use with a tube and bladder hydration system
Numerous zippered pockets for organizing and keeping small gear secure
Specific water bottle pocket comes with a bungee to keep a heavy, full bottle strapped down
Backpack has easily accessed stash pockets and top lid
With this list of features it's no surprise that the Deva 60 is so highly praised and is an award winning backpack. Features aren't everything though, but don't worry. The Deva 60 performs just as perfectly out in the field as it sounds in text.
Major Advantages of the Deva 60
As a winner of Backpacker Magazine's 2015 Editors' Choice Gold Award, it goes without saying that this backpack really has a lot going for it.
The very foundation of this backpack's design has set it up to succeed. Gregory's AFS Suspension is not just a pretty piece of technology, but really a system that is quite impressive. Women are anatomically different than men and move differently than men. These anatomical differences mean some women, particularly those who are more petite, find that unisex or men's backpacks are uncomfortable after some time of wear.
The AFS suspension system solves this issue easily. The molded EVA back panel is rigid enough to offer plenty of support. The additional lumbar support pad not only keeps the backpack in the right place but also ergonomically holds your back in proper posture for hiking.
This lumbar pad is also treated with a special "elastomeric gription" technology to prevent slipping, even if the wearer may be wearing only a thin shirt or a sport's bra.
The hip belt works into the suspension system and works flawlessly when it comes to support the brunt of the weight without discomfort. Just like the harness, the hip belt is made from LifeSpan EVA foam which is recurved to fit the shape of a woman's natural shape. The hip belt is also uses Gregory's Auto-fit system to ensure a
proper fit.
Moving to the access points and general storage of this backpack, the Deva 60 continues to impress. As mentioned earlier there are 3 access points to this back. The main compartment access has a drawstring closure which makes it easy to open up quickly. The top lid of the backpack is removable if you need to drop weight but makes for a handy area for storing little gadgets.
A very cool feature of this backpack is that the top lid isn't just removable but versatile- instead you can configure it into a fanny pack.
Aside from the main compartment there is a large front pocket and dual pockets on the sides as well as on the hip belt. Special water bottle pockets are hidden away from view and cinched down with bungees so you won't need to worry about a bottle falling if you bend over or lose your footing.
If you don't use water bottles you will be happy with the water reservoir sleeve which keeps your water bladder secure and protected. There are dual drinking tube ports depending on which side you prefer
water access.
The DDR and flat weave nylon fabrics of this backpack are light weight but not weak. You can expect the Deva 60 to hold up very well to abrasions and snags. The close knit weaves help prevent stains and also helps to repel water. This bag doesn't come with a rain cover so you should expect to buy one if you often hike in wet weather as the shell of backpack is only somewhat water resistant.
The zippers on this backpack are all DWR coated to help prevent water from entering any pockets or compartments. The bottom panel of this backpack is made from two layers of wear-resistant fabric which also offers a little water protection if you need to set the backpack down on dewy grass or other light moisture.
Downsides of the Deva 60
Out of all of its features and advantages there are only 3 disadvantages of the Deva 60:
Very large women may find the medium (M) size to be too small
The backpack isn't waterproof and doesn't come with a rain cover
Lumbar support pad may cause discomfort in women with previous back health issues
Most of these downsides pertain to special circumstances and the average woman will be more than happy with the Deva 60. If you have concerns it is always a good idea to contact Gregory customer service for help.
Final Take on the Deva 60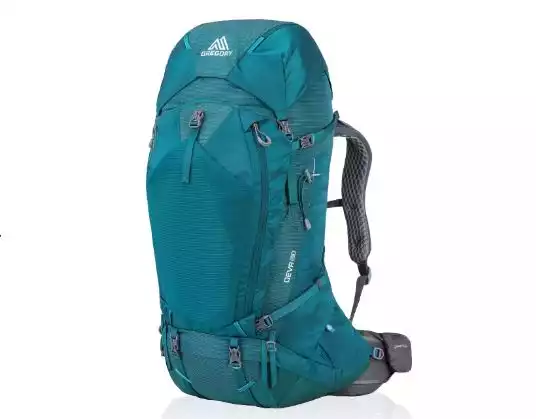 Deva 60 | Gregory
Built for long weekends and beyond when comfort, fit and features are all on your priority list
Check Price
We earn a commission if you click this link and make a purchase at no additional cost to you.
The Deva 60 is really made to please women who are tired of ill-fitting backpacks will be thrilled with this model. If you need a weekender backpack or one for week long trips with ultra-light gear, take a moment to check out the Deva 60. You can see here (For the latest prices and discounts, check here).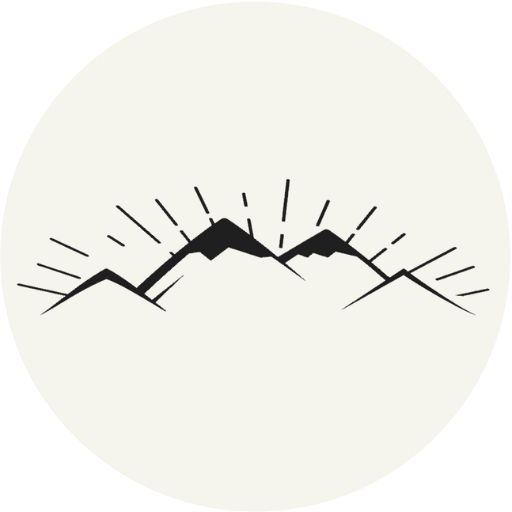 The All-Outdoors Guide team is comprised of enthusiastic experts that enjoy helping others that aspire to be better at outdoor fun. Part of that is making sure you have the right gear and information when it's time to go out and have fun. Some of our team have accomplished amazing feats like climbing 6000 feet to the top of mountains, others have explored every dirt trail they could find and we even have some people that have backpacked solo on various continents. No matter what our readers want to learn and do, our team is here to help them accomplish those goals.